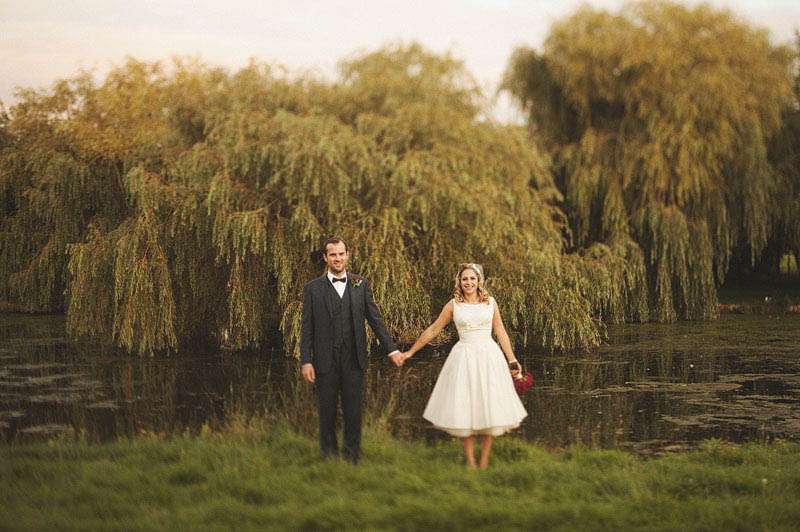 Natasha & Charlie are the kind of couple that wedding photographers dream of – creative, unique in their inspiration and totally in love. The bride told me all about their vintage festival wedding. It may have rained for their outdoor ceremony, but it certainly didn't damper their spirits!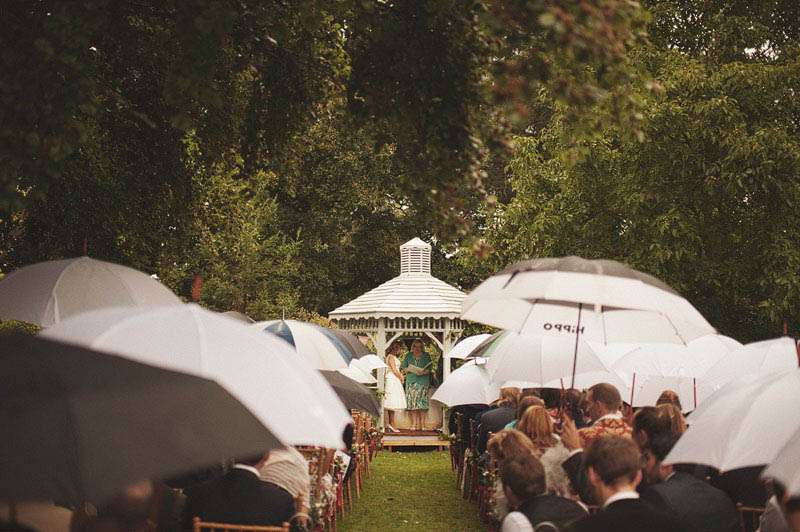 "Even though I had prayed for months for sun on our wedding day, it still rained! I thought that this would ruin the day as everything we had planned involved being outside – including the ceremony. Just before we were due to go down, the wedding organiser at Maunsel House said that it was raining and tried to convince me to move everything inside. But I couldn't bare the thought of not getting married under the beautiful bandstand as this had been my dream from the start – so I made everyone stand outside with umbrellas! It actually turned out really well and everybody loved it – the pictures of everyone with umbrellas looked great as well!"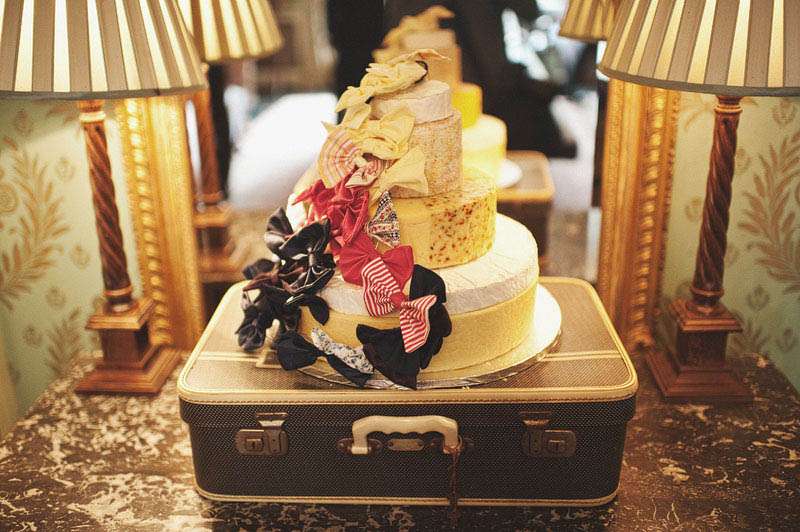 "Even though we are from London we both knew that we wanted to celebrate our big day somewhere further afield," the bride continued. "We are also huge music festival fans so the idea of a festival-style, open air wedding was really appealing for us. We saw about 5 places before we finally settled on Maunsel House. With a licensed bandstand set in the grounds for wedding ceremonies and a roofed Pergola for outside dining, it totally fitted the bill for our outdoorsy festival theme."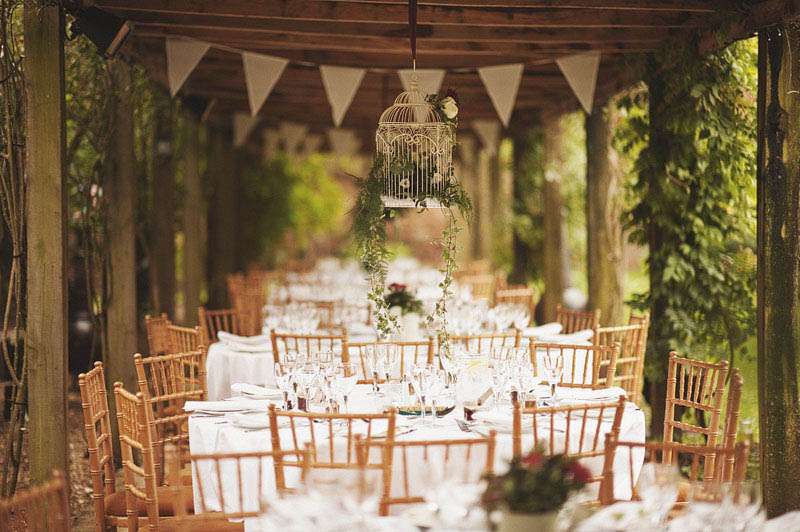 "We really wanted the wedding styling to reflect our personalities and our love of vintage things, so we began trawling car boot sales for trinkets and props to start creating the look." Natasha continued. "As an alternative to the standard marquee uplighting, we bought loads of cheap old lampshades in different colours and shapes to hang from the centre of our marquee. We lit some with bulbs and others with fairy lights creating a vintage living room effect."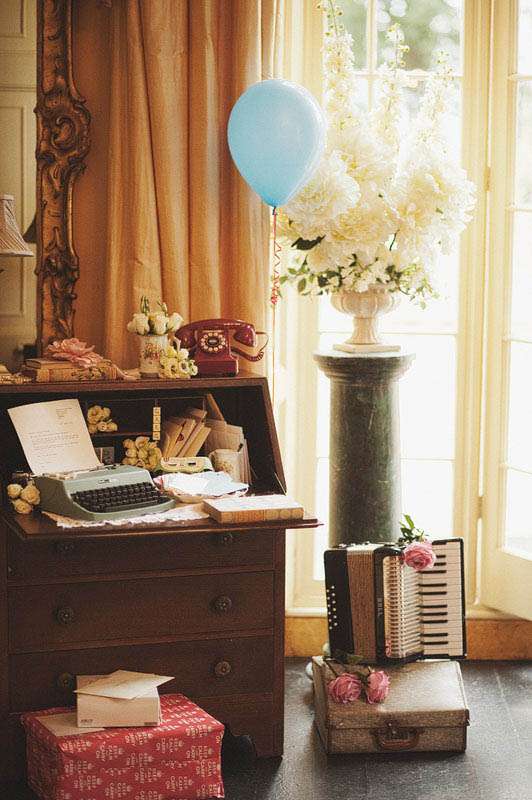 "I also found a beautiful 1950's record player on eBay which we set up in the main hall playing 'The Sound of Music' soundtrack to guests as they arrived. Instead of a table and traditional guestbook, we hired an old 1920's bureau from The Little Wedding Helper and put a typewriter on there with a typed welcome letter to our guests. Kirsten, our wedding helper styled it beautifully with our vintage books and telephone as well as some flowers and luggage tags for our guests to write messages to us."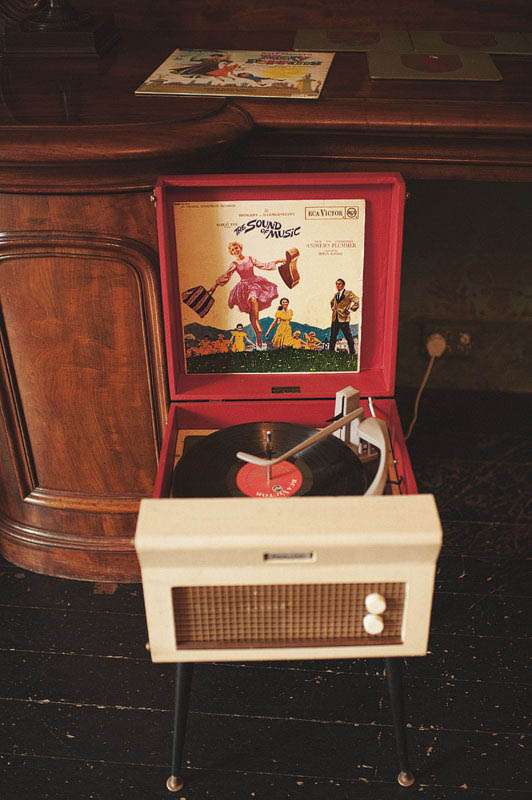 "We used old scrabble sets to create our table names which were all based on the different festivals we had been to over the years and the walkways were adorned with hundreds of metres of vintage style bunting made by myself, my mum and my mother-in-law. We also made satin bows from the left-over bunting material to decorate the wedding cake (a delicious cake of cheese!) and little jars of home-made chutney for our wedding favours. My mother-in-law sketched a lovely drawing of the garden bandstand (where we had the ceremony) for the cover of our Order of Service booklets and we included poems and readings, as well as the words to our our Elton John and Kiki Dee Sing-a-long."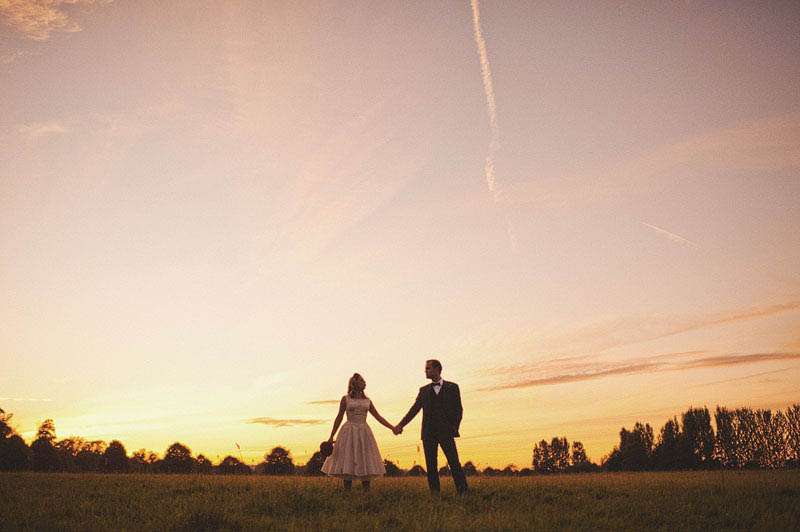 Thank you so much to Natasha & Charlie and wedding photographer Ed for sharing these today.