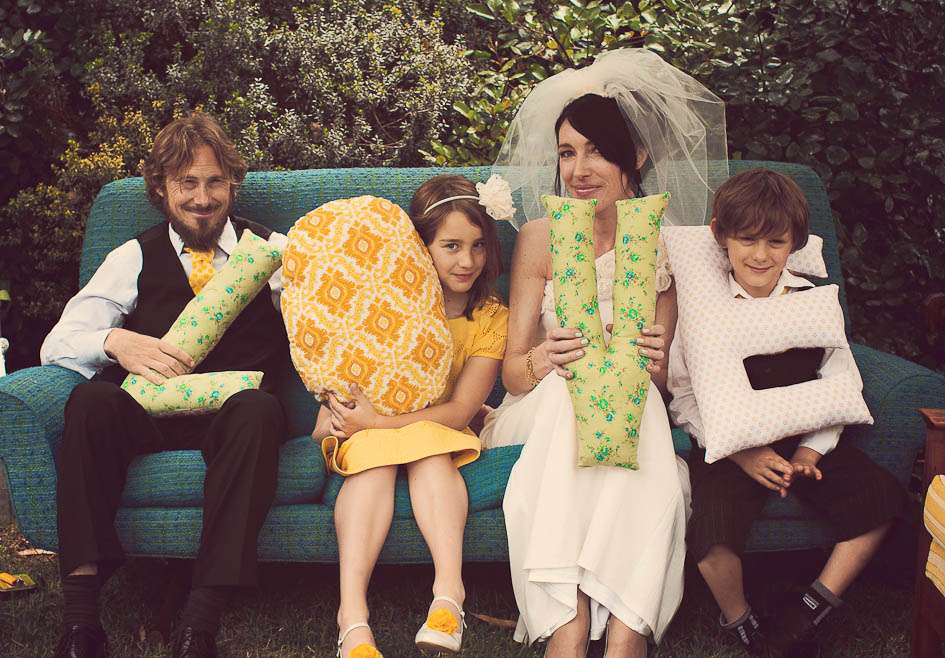 Adam & Kim were married at home in their back garden in front of a retro caravan that they'd bought especially for the occasion! The entire day was DIY as they wanted their wedding to be about all the things, and the people, that they love.
"Our love and what we love is what inspired our wedding day. We wanted to create something that was very personal and a signature of our relationship," the bride explained. "Each part of the day was special and unique to us; even the format was flipped to the traditional idea of many. I found the traditional wedding magazine's a bore and wondered if there was something wrong to not admire these staged, stuffy epic weddings. It wasn't until I delved more on the internet that I found that I wasn't the only one who felt this way and that others were creating some fabulous and unique days of their own. Rock n Roll Bride was a site that made me feel at home."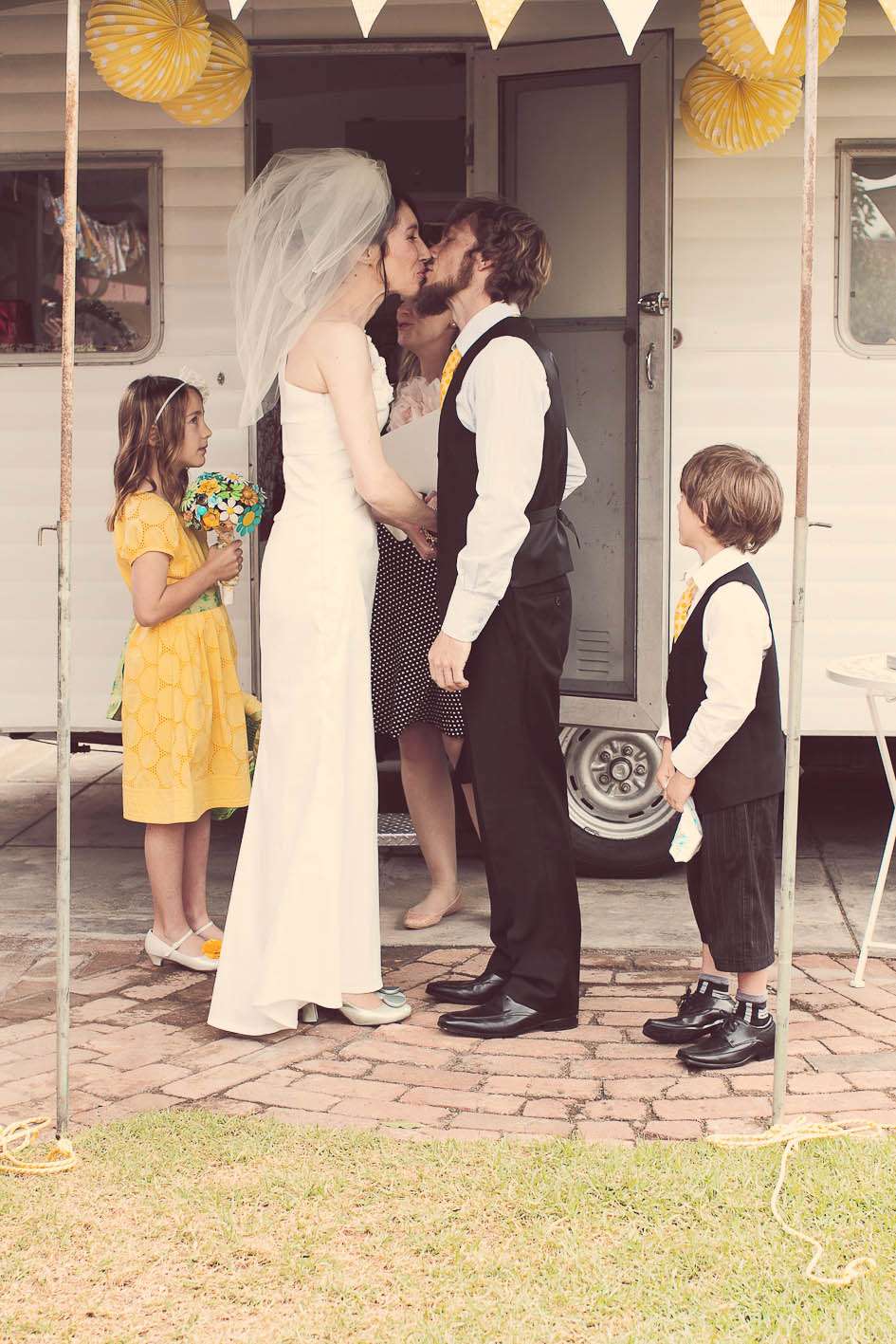 "The 1973 Viscount, Retro Caravan was the first thing we bought with the wedding in mind, " Kim continued. "It became such a pinnacle part of the day, becoming both our meeting point for our nuptials and also our honeymoon accommodation. Our guests even used it on the day to store all the gifts they bought along. Adam spent many hours transforming and restoring it into our retro delight, we named her Lola."
"We decided to have both the ceremony and reception at our home. It was the first home we had purchased together and this made it all the more special hosting such a special event. It felt like a large house warming and celebration of love all in one. Constructing the day had to be unique to make it flow and be enjoyable, given everything was at the same location. We met at the house in the morning, with both of Adam's children (Milena & Ziggy) and all spent some time with our photographer Renee to get some photos before everyone arrived."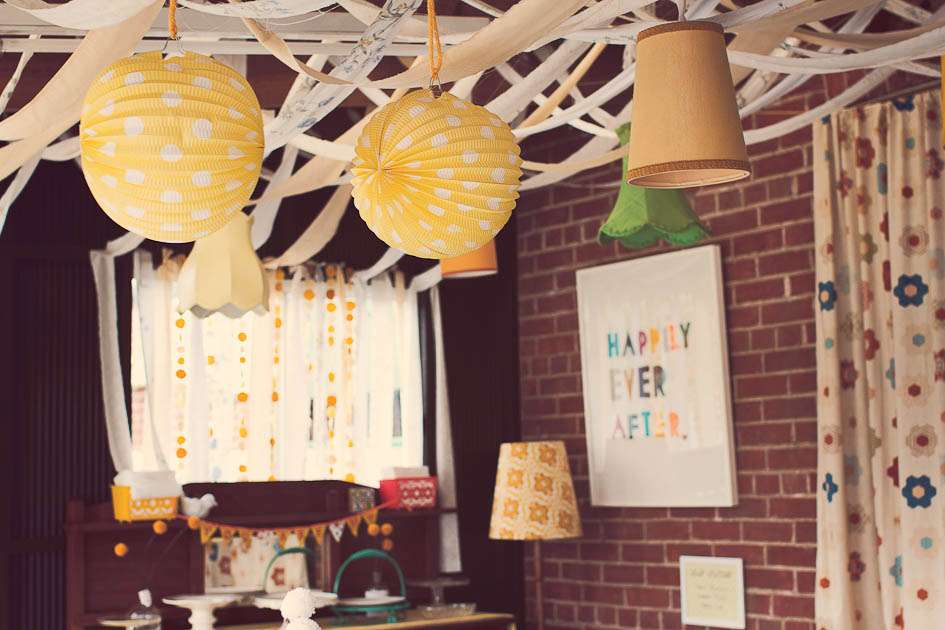 "We decided to put a lot of ourselves into both the ceremony and the reception. We wanted it to reflect us both as individuals and also as a beautiful blend of two. Every detail was a personal signature of us and what we loved. All the decorations we made or personalised ourselves and our backyard was transformed into our own collection of vintage and retro delights. I spent months scouring Etsy and eBay to collect the vast amount of vintage brooches which I used to create my bouquet. It was so much fun getting different brooches every day in the mail and seeing the colours and designs starting to come together. It makes me smile each time I see it now remembering all those nights I spent hunting for brooches."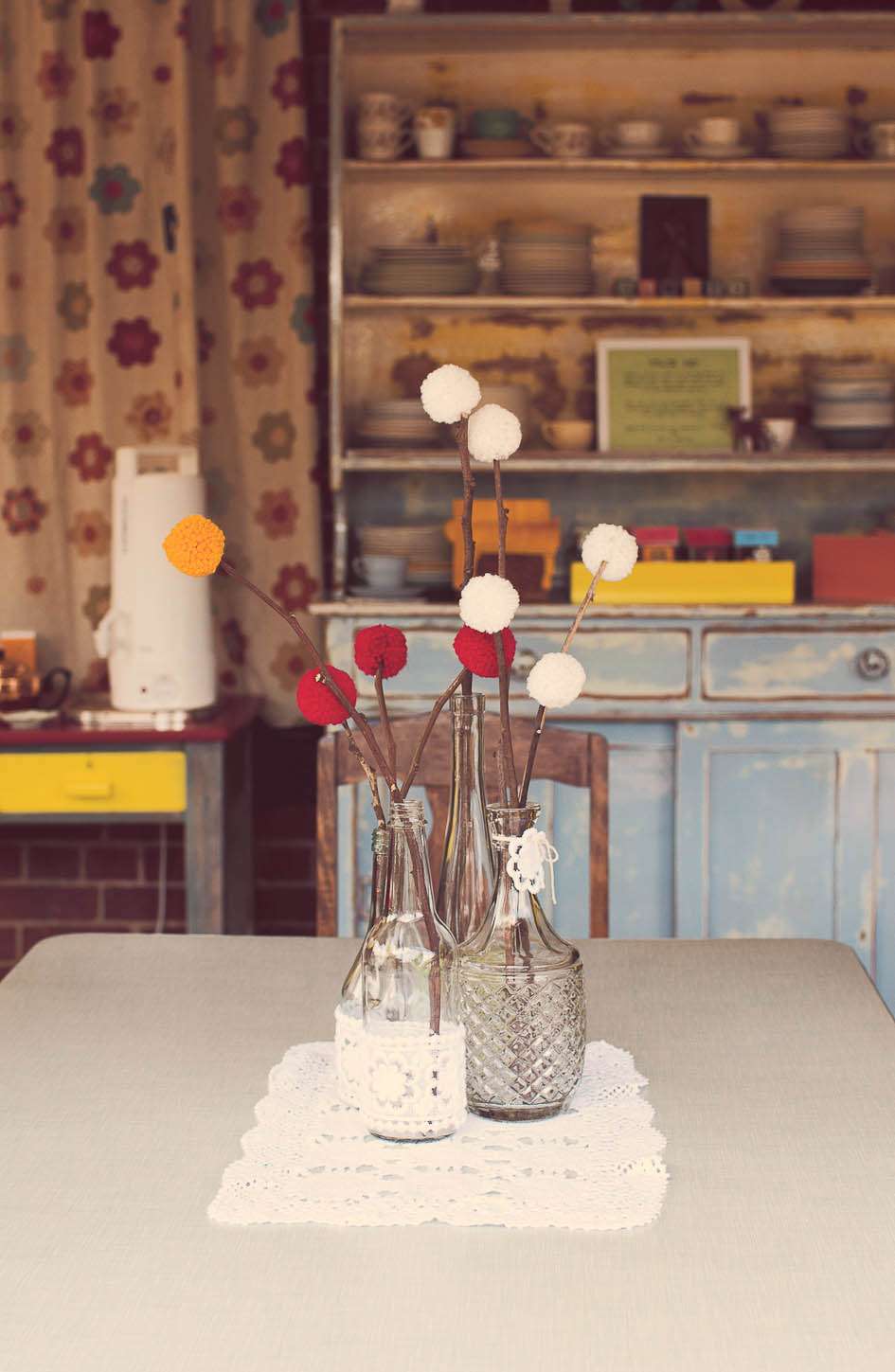 "We didn't want to use fresh flowers so I decided to make pom pom flowers for the tables. These were easily made with a pom pom maker and some felted wool. The bottles were vintage ones collected at thrift shops, with doilies tied around some of the flutes. I also made the cake toppers, fabric garland, cushions and drew the VW design for the guests to finger stamp and sign for the day. The VW beetle was the perfect choice, as we owned one and also used it on the day as our getaway car. It is another lovely reminder of who shared our beautiful day."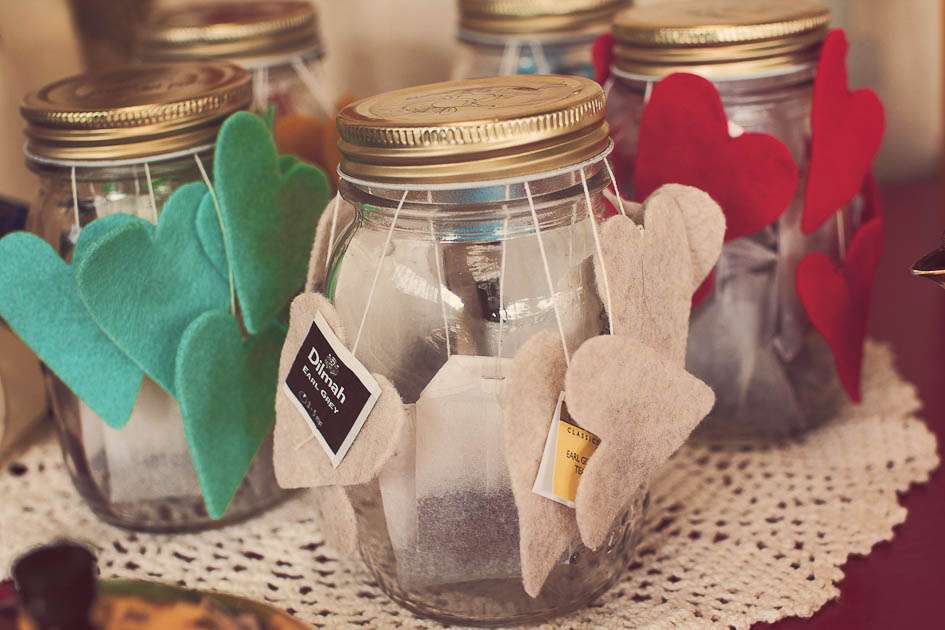 "The back veranda was transformed with a collection of different lampshades we found and Adam painted. The streamers were torn, vintage sheets and the felt garlands were made by myself in yellow felt. We wanted the colours to pop and create a fun atmosphere."
As well as the DIY elements, keeping their wedding small, intimate and all about family was just as important to Kim & Adam. "We only had 6o guests," Kim continued. "We didn't want to miss getting to speak to each and every person on the day. We didn't want to have a large, fussy, bridal party and instead decided, it was much more important to include Adam's children in the ceremony. It was very important to us both that they were part of it as we were becoming a new family. They were wonderful and had such fun helping to plan small details. Both children even help me cut out the vintage book hearts for the confetti."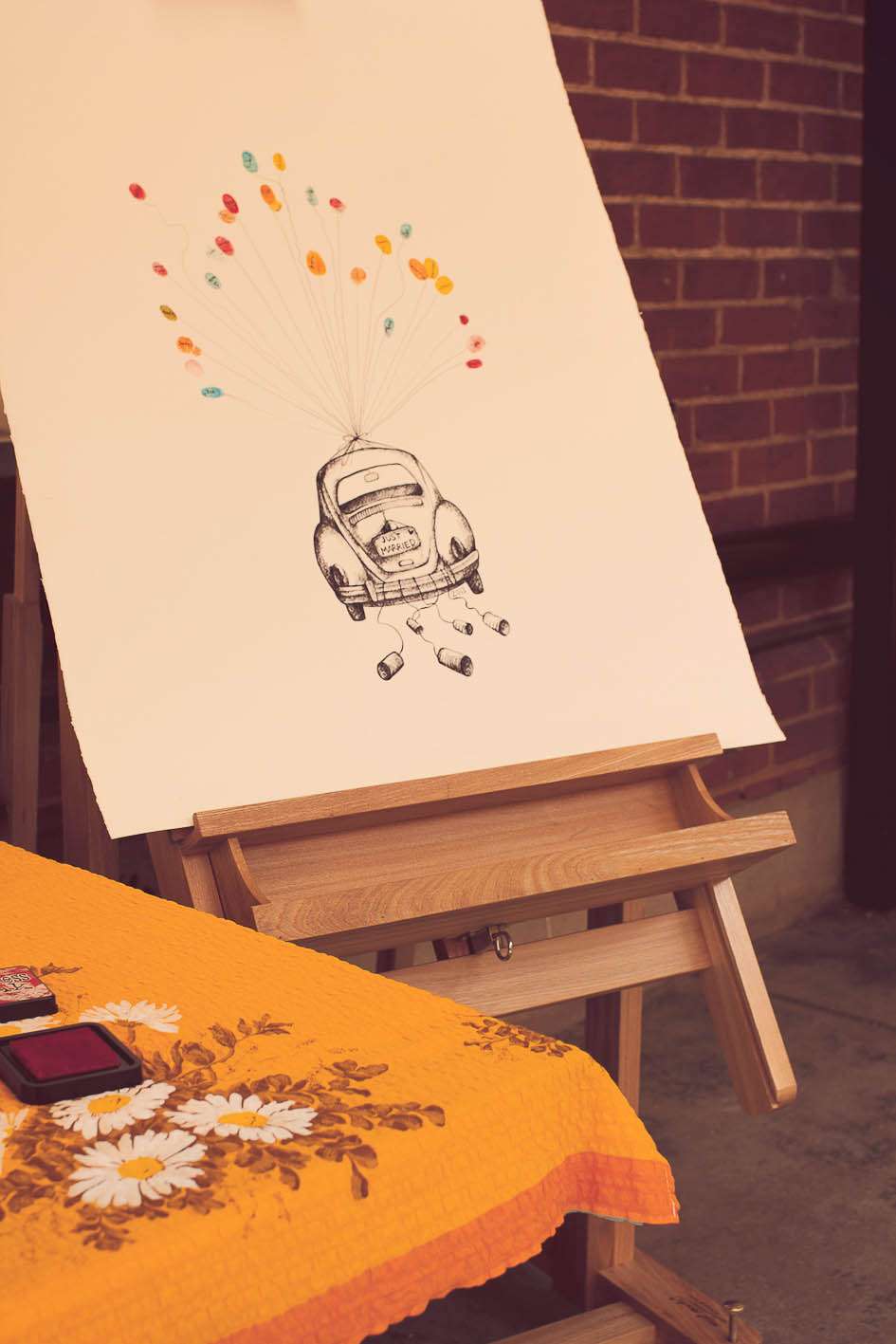 Thank you to Adam & Kim and their photographer Renee for sharing their gorgeous day with us today. I'm so honoured that by blog was able to help you plan such a beautiful and special wedding.
Supporting Cast:
Photography Credit: This is Epic Photography
Bride's Dress: Vicious Threads on etsy
Bride's Headpiece: Velvet Owl on etsy
Groom's Tie: Me and Matilda
Stationery: Ello There
Caterers: Two Brothers Catering