Two full time jobs quit, 795 blog posts written, internet idols met and a mammoth trip to America under our belts – phew we've made it to the end of 2011. Oh what a year it's been, where do I even begin?!
As we hurtle towards 2012 with open arms, I thought I'd go back through the blog and share my top 12 weddings of the year, by month, as well as a few personal highlights that I've hit along the way. 2011 has been a HUGE year for Rock n Roll Bride but here's to making 2012 even bigger!
Boy oh boy I feel giddy just thinking about what's round the corner (one HUGE ASS thing in particular, I'm sworn to secrecy but I'll be able to share it soon I promise).
Be sure to pop back tomorrow for part deux, July – December. I'd also love to know what your weddings of the year were and why in the comments section below. Happy New year lovers!
January
I left my job as a TV producer to run the blog full time (you can see a video of my farewell here, oh how we cried!) I also launched Rock n Roll Bride TV. I wanted to do some video blog posts as I love watching other people's myself. Gosh though, this year has been so mental I really haven't done as many as I wanted to. I'm going to try to resurrect this idea next year if you fancy it? You can see all the Rock n Roll Bride TV episodes here.
Our wedding was also featured in Wedding Ideas Magazine for a second time (!) and I tried my hand at floristry.
Wedding of the Month – Debs & Richie's Budget Friendly, Crafty & Vintage Wedding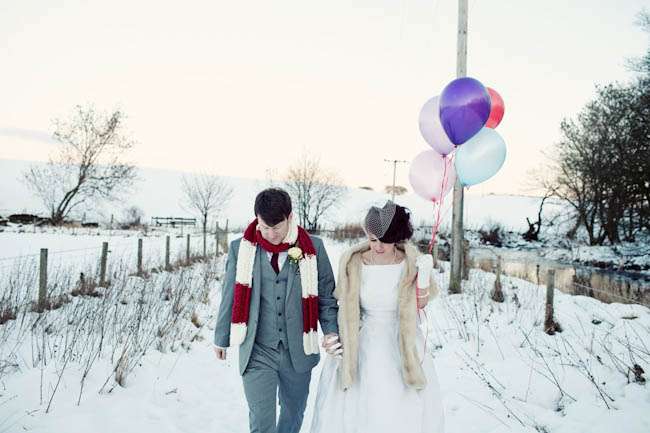 Photography Credit: Emma Case Photography
Other notable Blog Posts:
January press round-up
Online Negativity & Comment Policy 
Help Me Find a Rockabilly Style Wedding Dress
Vegan Shoe Ideas 
February
I modeled for the incredible Magpie Vintage for their brand new vintage clothing line… I even got on a horse! (full shoot here)
I came up with the concept for and organised the Big Fat Wedding Bloggers photo shoot, a collaborative project to show just what the UK wedding blogging industry has to offer. It went down incredibly and was featured in at least two mainstream media magazines. I also attended Mark Niemierko's infamous Valentines Party at Browns Bride.
I exhibited as a special guest at the first Designer Vintage Bridal Show and I got to meet so many of my readers in two days, it was faaaabulous!
Wedding of the Month – Lisa & Theis' Intimate Malibu Pier Wedding
Photography Credit: Feather Love Photography
Other notable Blog Posts:
February press round-up
How to dress your flowergirls
Make Your Wedding Day About You 
March
I walked the catwalk at Luella's Boudoir Bridal Show (my first ever catwalk experience, oh Lord it was terrifying… even more terrifying when I found out someone was videoing it!) and I went to the By Appointment Only party in Mayfair which was waaay too posh for me. They did light the whole building pink though. Win.
I admitted defeat and gave up my Photography Friday posts. You know, sometimes it's much better to admit something is not working and think about what else you can do. It's a good job I did too, because on a Friday I now blog my Post It Notes which have been incredibly popular. Hurray!
Gareth & I did a 'Beloved' photo shoot with Marianne Taylor. These are definitely my favourite photos of us together.
Emma & Pete got married. Their surprise wedding was amazing. Even I cried…and I never cry at soppy stuff!
I was also interviewed by Photo Night Live, a web-based show about wedding photography.
Wedding of the Month – Margaret & Edi's INCREDIBLE "Blows-Everything-Else-Out-of-the-Water" Gothic Alice in Wonderland Wedding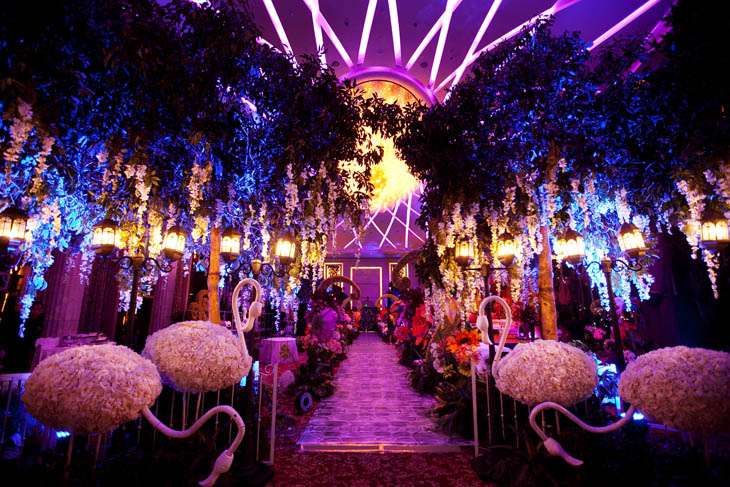 Photography Credit: Freyja Photography
Other notable Blog Posts:
March press round-up
How to…Crochet Your Own Cupcake Garland (DIY Tutorial by Twinkie Chan)
Help me dress my skinny groom!
Alternative & Non-Strapless Wedding Dress Ideas
April
I hosted the second Rock n Roll Bride party in London. Over 200 of you (the venue's full capacity!) made the trip down to drink cocktails and rock out in the photo booth with me. Oh baby, what a good night that was. Since this, many other wedding bloggers have followed suit and organised their own parties and industry gatherings, some of which I've been lucky enough to attend too. Wooo, we all love a good party in wedding blog-land.
I was photographed by Alex Macnaughton for his book, London Tattoos which was released in September (purchase here) as well as by Eye Imagine Photography for an exhibition at Reading Museum. WEDDING Magazine invited me to attend their cover shoot where I was able to see exactly what went on and report back for you.
…Oh and I turned 27, Gareth turned 32 and we celebrated our 3 year wedding anniversary!
Some Royals got hitched too I think…
Wedding of the Month – Jaclyn & Joseph's Rock Star Wedding
Photography Credit: Tanja Lippert Photography
Other notable Blog Posts:
April press round-up
How to…Make Your Own Fabric Bouquet
A Vintage Great British seaside shoot (with a pug!)
Elbie & Derek's Opulent & Eclectic DIY Wedding 
May
I was asked by Mark Niemierko to speak at his wedding planners acadamy about wedding blogging. I must have done OK, because he invited me back again in October!
I took part in the Rock n Riot shoot with some of Birmingham's best and most alternative wedding suppliers. I think we rocked this one! (full shoot here)
I erm…caused a bit (OK a lot of) controversy within the UK wedding industry with this little blog post, Bridal Fluff, Air Kisses & Wedding Industry Fakery. I still stand by what I said though, down with faux wedding industry fluff I say!
I went to Alice, the first Rock n Roll Bride intern's, Hen Do.
Wedding of the Month – 'No Rules, Just Right' – Amanda & Tyson's Party Hard Weekend Wedding
Photography Credit: Matt Miller for Our Labor of Love
Other notable Blog Posts:
May press round-up
Charlotte & Chris' Bush Hall, Gig Wedding
Hitchfest part two – Vegas style!
My Top 10 White Bridesmaid Dresses
Lisa & Alex's Las Vegas Wedding & Ten-Pin Bowling Party!
June
Gareth quit his job in IT to work on the blog full time.
My besties Lucy & Debs came to visit me in Reading. We went out and partied HARD (there's video evidence…) A few days later Lucy found out she was preggers! Whoops. Tristan is due in January. SO EXCITED.
I went to a pre-release screening of Bridesmaids organised by Charley and I launched the Rock n Roll Bride planning notebooks and wallplanners (these are both still available to purchase through notonthehighstreet.com here and here).
Alice (in Weddingland – the first Rock n Roll Bride intern) got married! (full wedding here)
Gay marriage was legalised in New York. YEY!
I caused another stir with my 'How to Pose' post. Most of you LOVED it but some stuffy old wedding photographers got their knickers in a twist over it, thinking I was trying to do them out of a job (as if). Clearly that wasn't my intention at all! However the many many emails I got from you lovely brides-to-be to tell me how this post made you feel more comfortable having your photo taken on your wedding day made it ALL worth it!
Wedding of the Month – Barbara & Mark's MC Motors Wedding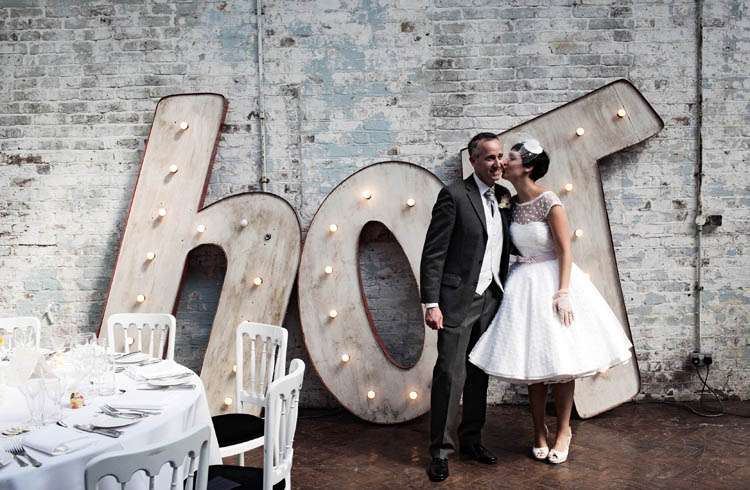 Photography Credit: Nick Tucker Photography
Other notable Blog Posts:
June press round-up
"Hello, my Name is Kat and I am a Twitteraholic": The Latest Social Network Trend – The Twidow™
Tory & Joel's Two-Day Vintage & Rock n Roll Wedding 
Shane & Lisa's Budget, DIY and One-Hell-Of-a-Rock-n-Roll-Party Wedding
See you back here tomorrow for part two?