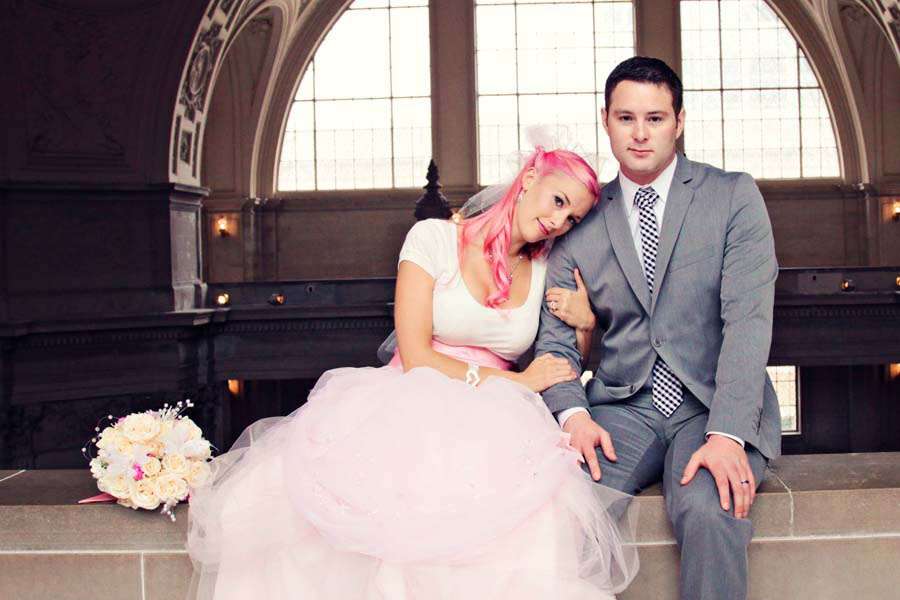 I don't say this lightly, but Lenore & Ryan's wedding may be my wedding of the year! I simply love everything about it – from the bride's incredible pink ensemble, to the family-central cuteness of the whole thing. I've also realised that I definitely need to add some more giant bows to all my outfits.
I don't know about you but I kinda want to live in this wedding…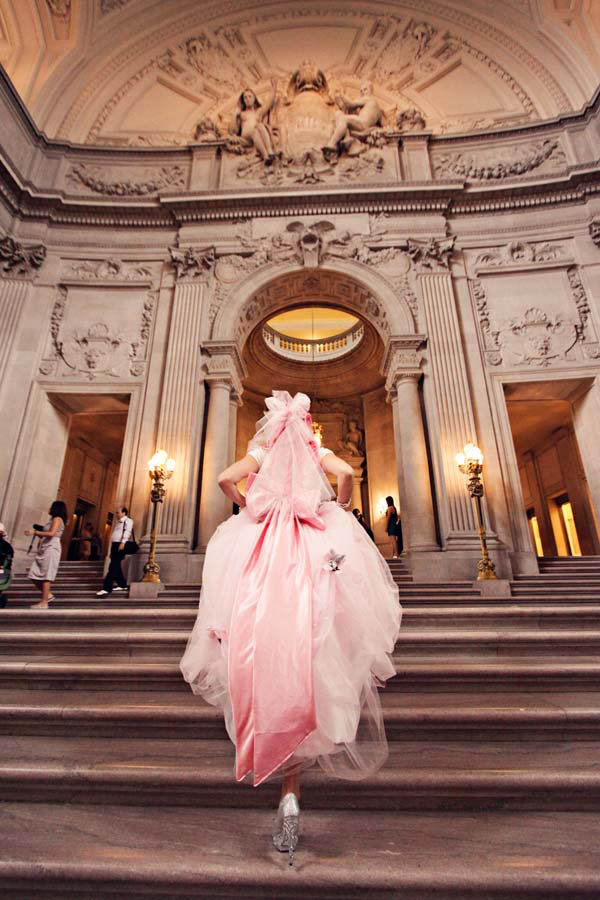 "Ryan and I met through a LDS church dating site," Lenore told me. "We both were recently divorced with small children, he has two and I have three.  We dated for a year and then put our family together in a legal ceremony at City Hall.  Latter Day Saints weddings (Mormon) are typically performed at temples and are extremely sacred simple ceremonies without any of the typical wedding flare (no walking down the aisle, etc), but Ryan and I had both been married in the temple the first time around.  We wanted our children to feel like they were included and involved in our families joining together.  We were tempted to hold a large wedding and even planned an event at a local theater, but in the end we decided that in order to preserve the sacred nature of the LDS temple we would be married at the courthouse instead."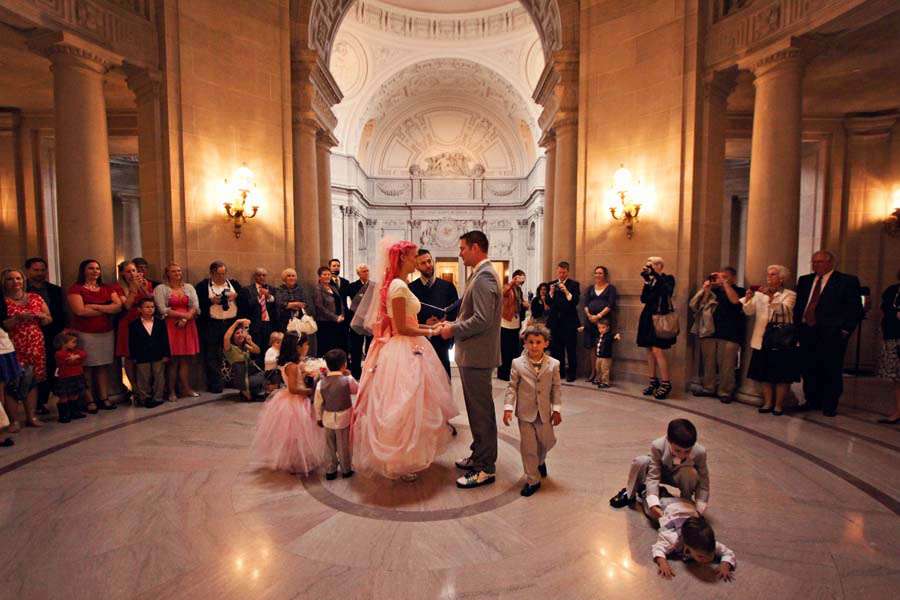 The couple didn't have a reception and their ceremony was open to anyone who wanted to come along, "The San Francisco Courthouse happens to be a beautiful building," Lenore continued. "Typically the Commisoners only allow six guests to witness the wedding and they are usually performed in small courtrooms.  It's a ten minute ceremony – no frills.  You stand there with the commissoner and he or she marries you.  When we showed up in all our pink glory with hoards of children and about forty relatives (I'm from a family of 10, he's from a family of 8 – typical Mormons!) the Commissoner had mercy on us and married us in the Rotunda in front of all our surprise guests.  We didn't send out invites, we just posted on our blog and facebook the when and where and people showed up.  It couldn't have been a more casual and romantic affair, centered on family."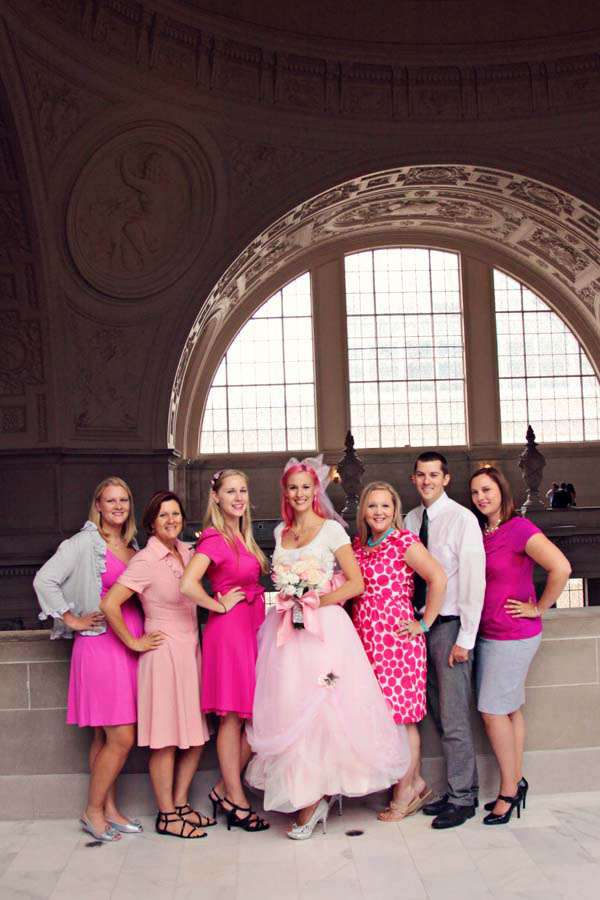 I know you're all dying to know about Lenore's outfit right!? Well she bought a vintage prom dress from etsy and customised it herself. She gathered up the layers of tulle and picked some of them up with clips. She then cut the top off to make it into a skirt, and wore it with a white tee-shirt and a big (awesome) pink bow! She even made her own veil by gathering up a load of tulle and tying it in a bow.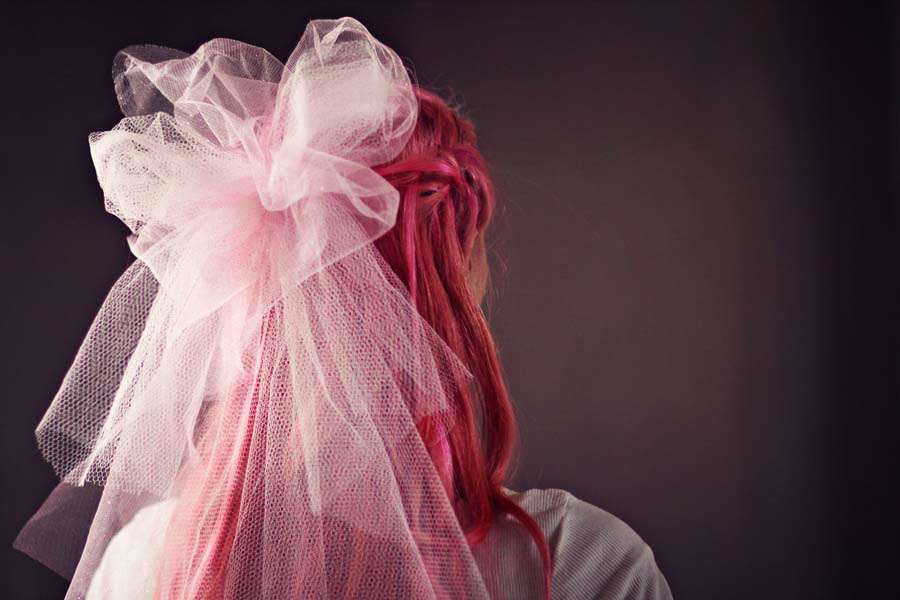 Similarly she bought some plain silver shoes and punk-rocked them up with studs, rhinestones, and broken mirrors. The good news is though that she's now set up her own etsy store to sell them. Erm I WANT!!!!!
"Mormons dress very modestly:  they have to cover their shoulders and reach the knees.  This makes finding a wedding dress a real challenge," she explained. "When I saw Lola's Bad Ass Punk Rock bridal shoot on Rock n Roll Bride I thought:  I can make that work for me.  A fabulous skirt with a simple modest shirt ($12 from Marshalls — a discount retailer).  My mother can sew and we watch a lot of Project Runway together — we knew we could cobble together a dress ourselves."
"Our wedding theme was 'punk rock is in your soul'," Lenore concluded. "We're Mormons. We're parents. We're suburbanites. We're professionals. And that is as hardcore as any lifestyle."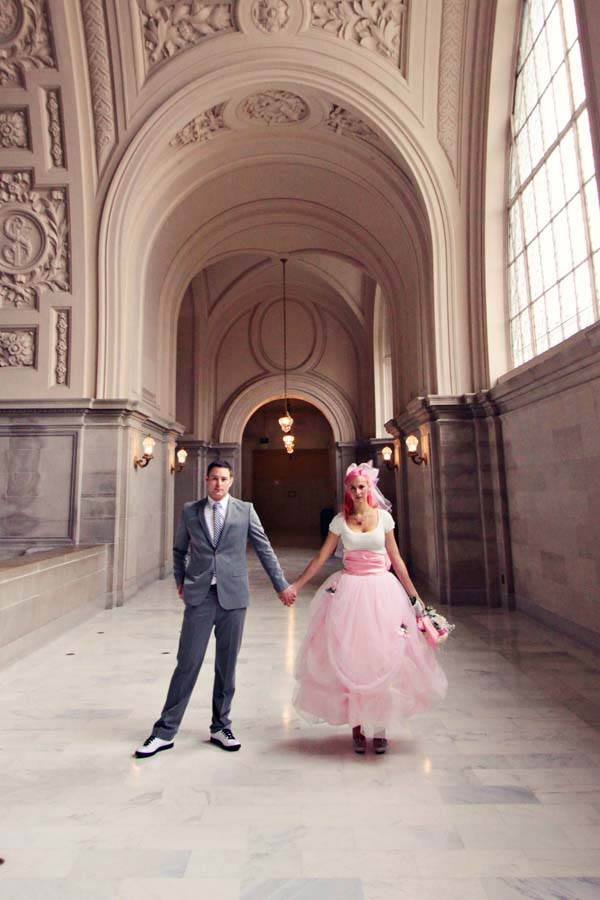 "The second time around was so much more fun.  There was none of the pre-wedding day freakout.  We didn't waste a bunch of money on food for other people.  Nobody was obligated to come and chat with strangers.  No stress.  People get so caught up in the Wedding Machine.  They think they need the expensive dress, the expensive location, the super fancy cake. What brides don't realize is that two things last:  the pictures and the new family relationship.  Other than that, a wedding is just a day.  It can be done beautifully without breaking the bank.  The only thing we splurged on was our amazing photographer, Rachael McCall."
I just DIE. I know you guys are gonna love this as much as I do.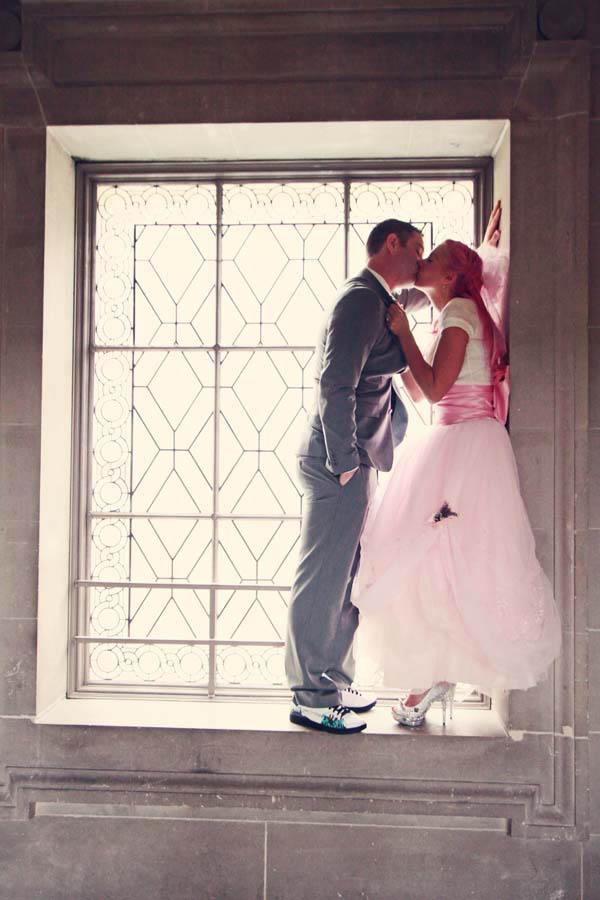 You HAVE to click through to the gallery to see more of these babies…
Huge congratulations to Lenore & Ryan and their kids (Julian 7, Jordan 5, Miranda 4, Jude 3, and Silas 1) and much love and thanks for sharing your incredible wedding with us today.
Photography Credit: Rachael McCall
Ceremony Venue: San Francisco City Hall
Bride's Dress: DIY
Bride's Shoes: DIY (selling via her etsy store, Norface5)
Bride's Headpiece: DIY
Bride's Jewellery: Betsey Johnson
Bride's Engagement Ring: One Garnet Girl on etsy
Groom's Outfit: Zara (suit), Adidas (shoes), PennLivieFinery on etsy (tie)
Cupcakes: DIY
Flowers: DIY
Car: Their own minivan
Flowergirl's Dress: DIY
Pageboy's Bowties: PennLivieFinery on etsy