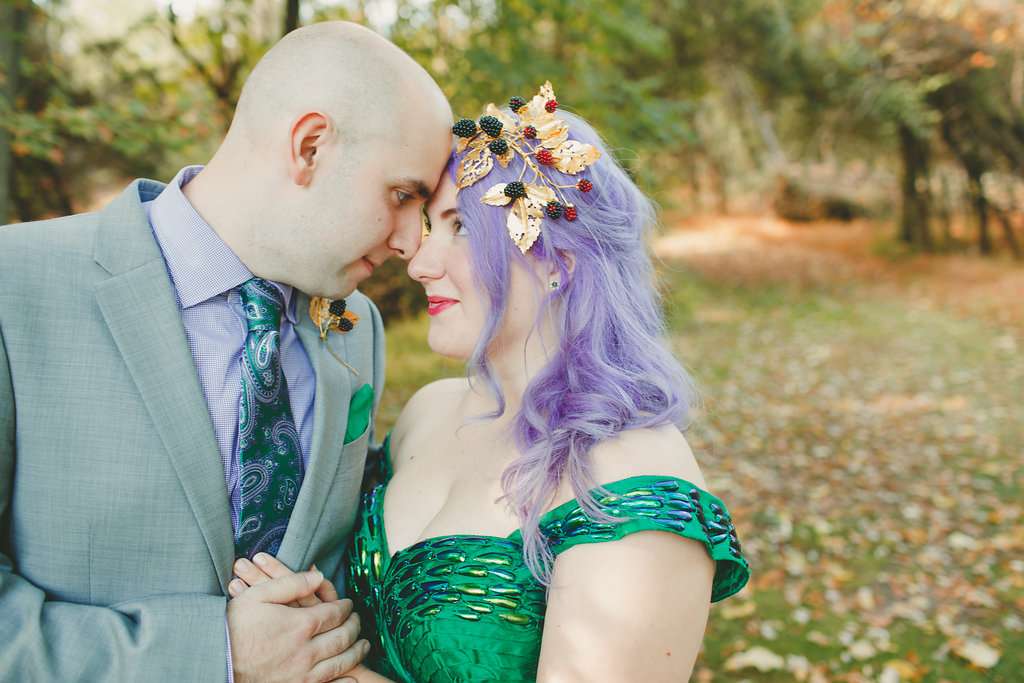 Emi and Phil were married in their own back garden. They had a relatively small budget, so they wanted to do as much as they could themselves. They didn't have a theme, they just wanted it to be laid back and fun for everyone.
"Phil and I had a brainstorming session where we sat down and wrote a few words we wanted to describe our wedding". said Emi. "The words were fun, easy, comfortable, Mariachi band, simple décor, cupcakes, unique, and awesome. Then we had a list of words that we DIDN'T like which were rules, stuffiness, formality, show-offy, pretentious, themed, boring, and fancy. Then we tried to follow that loose rubric when doing our planning."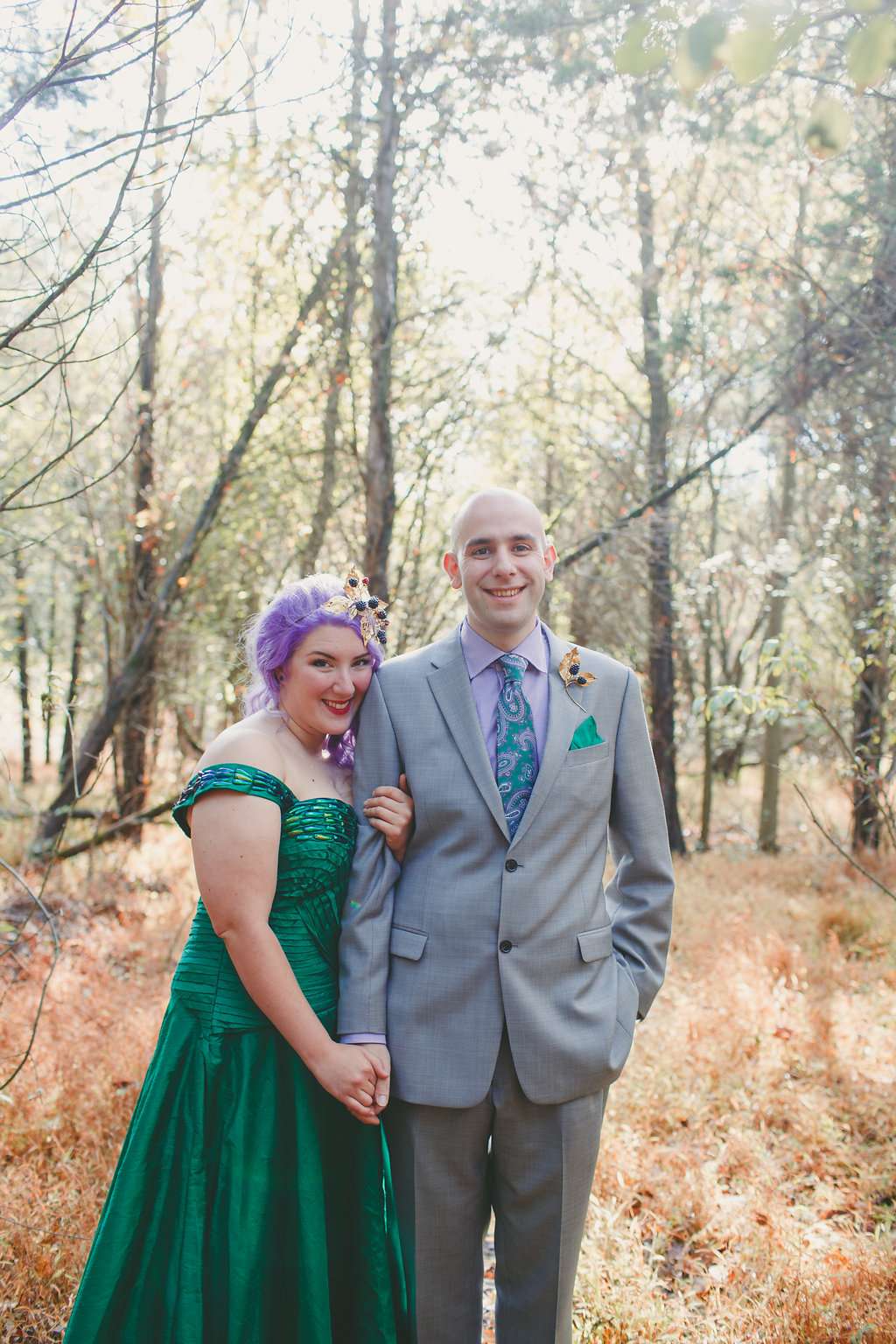 The bride wore an amazing emerald silk dress made Cargill Custom Costumes. She made her own headpiece from gilded copper and attached glass blackberries by Elizabeth Johnson to it!
"So much of our wedding was created by our talented loved ones", the bride continued. "My dad, Jim, built the AMAZING outdoor bar. Our friend Michael constructed our dance floor while Collin and Tristen applied the glitter (very enthusiastically, may I add; Tristen fashioned a 'glitter application tool' by strapping a bottle of glitter onto a large bamboo pole). Phil's mom made the outdoor linen curtains, and Phil's dad grew the succulent gardens for the table décor."
"My bridesmaids helped finish an unloved clawfoot tub to hold the beer in and another made an amazing glitter 'Beer' sign for it. She also made leaf garlands to decorate the dance floor area of the tent. And, of course, our yard underwent a large amount of work to make it pretty; it would not have been possible without the help of our friends. Nailing the food was very important to us too. We wanted a pizza truck and although it was one of the more expensive items, it was so worth it!"
"We did most of our wedding on a small budget", she explained. "The thing that saved us the most money was being flexible about traditions. We chose the things that were important to us to have, and anything we didn't particularly care about we scrapped entirely. Champagne toast would be a perfect example – it's utterly wasteful to pour a glass of champagne for every single wedding guest when they can just toast with their own drink of preference."
"We also tried to hire local, smaller businesses or friends to be our vendors whenever possible. The finger-food for the reception was catered by the little sandwich shop down the road that we love; our cupcakes were made by our friend Mattia who bakes desserts in his spare time. We also saved money by asking our friends and family to help us DIY a lot of the elements of the wedding."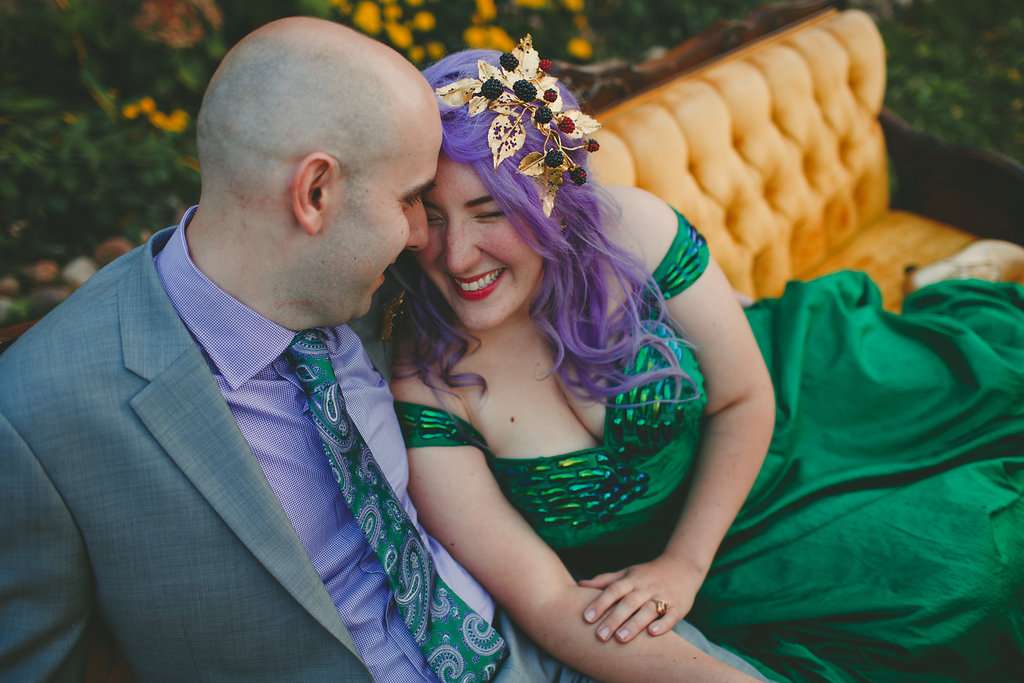 "The wedding was just so awesome", she concluded. "It's so great to mash up all of your favourite people in one amazing party. We got SO MANY HUGS, danced like crazy, and smiled until our faces hurt. The only thing we wish we'd done differently was to have shelled out the money to have a videographer. The day goes by SO FAST, and I would have loved to have a way to relive all of those moments again. We were lucky enough to have the ceremony captured by our friend Robbie, and it was so wonderful to get just that little snippet."