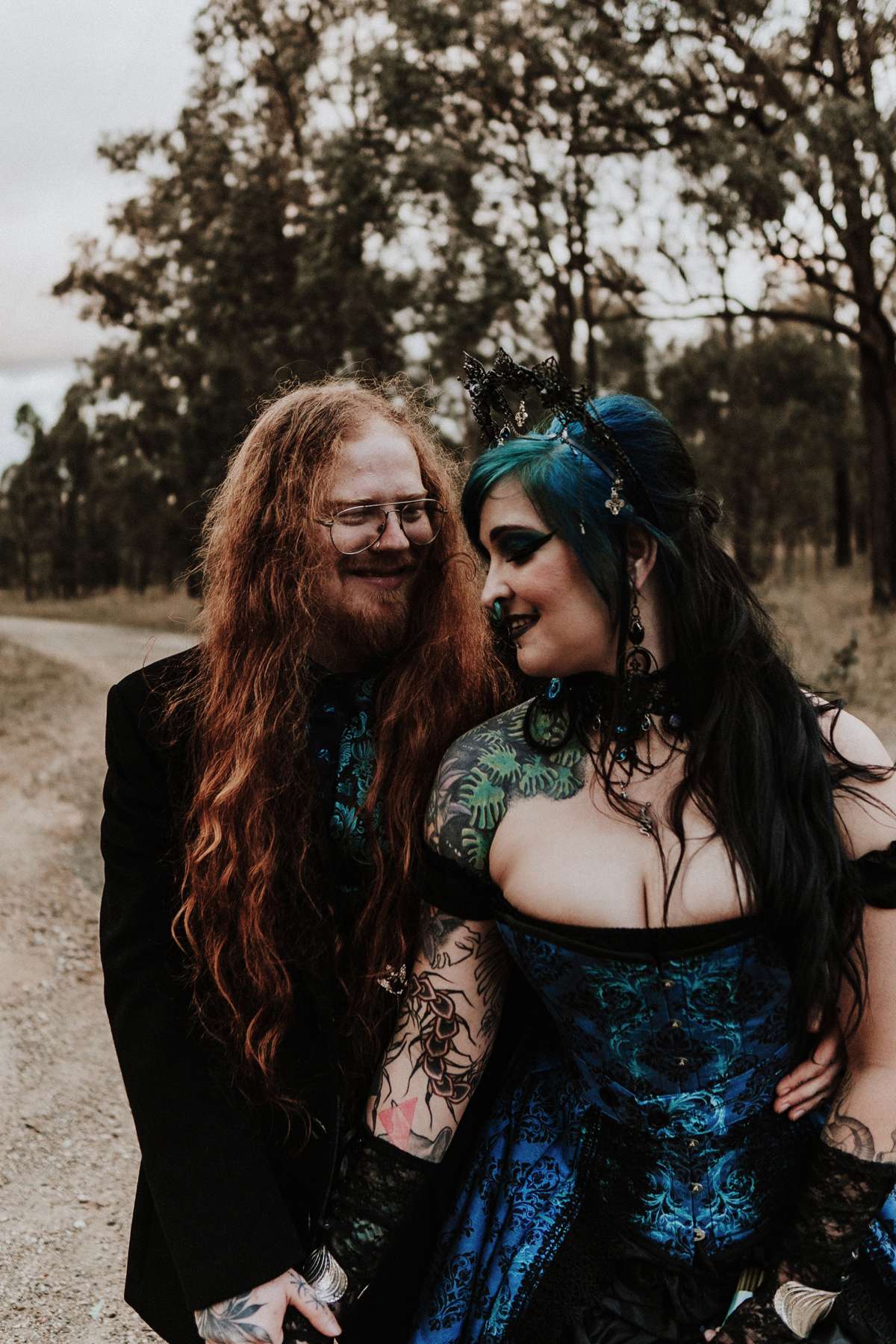 In the heart of the Australian bushland, Kookaburra Hideaway in Hunter Valley specifically, Kalli and James celebrated their love in their own uniquely styled way. Goth kids at their core, their DIY wedding was inspired by the Victorian gothic style they love and wear in their everyday lives.
They decided on a distinctive colour scheme made up of the bride's two favourite colours – turquoise and black, "Neither myself nor James are very 'traditional people and both wanted something beautiful, interesting and eclectic to match our style", Kalli told us.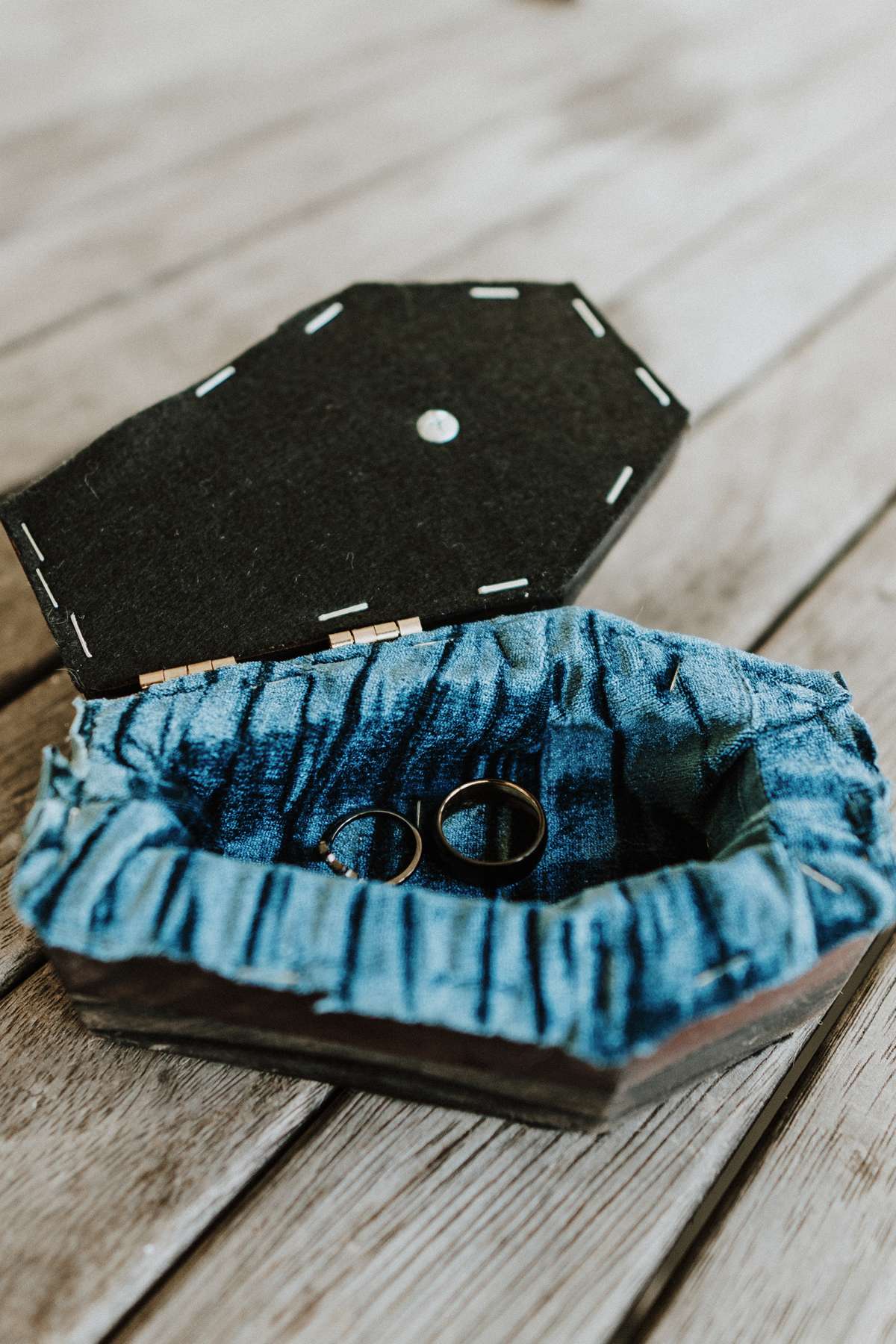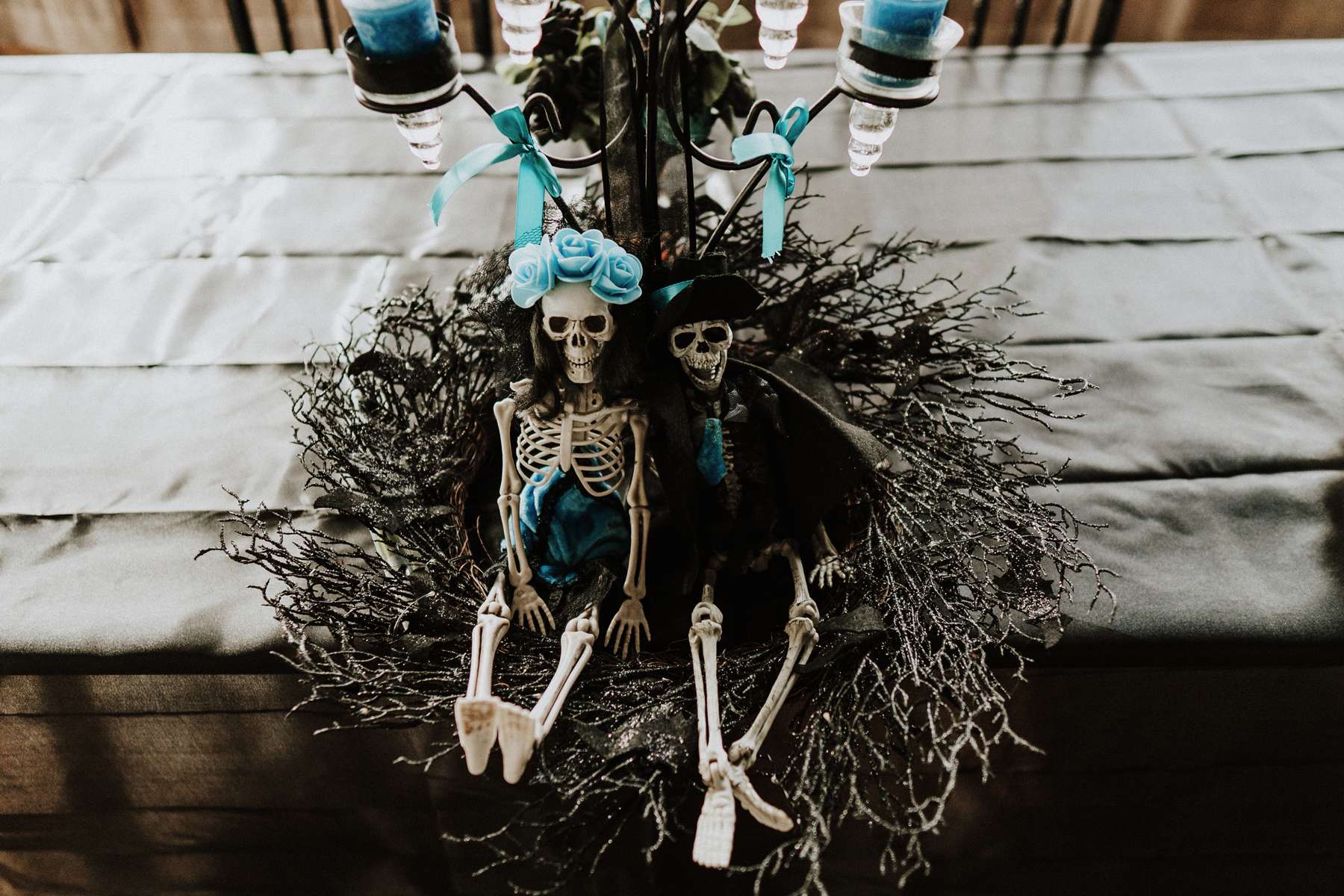 The bride wore a blue and black outfit, which she put together herself. Her corset, shirt and skirt came from Gallery Serpentine and Dracula Clothing and her crown was MemoriaObscura who she found on Etsy, The bridesmaid's outfits were from Attitude Clothing while the groom's attire was found at Ken Lane Menswear.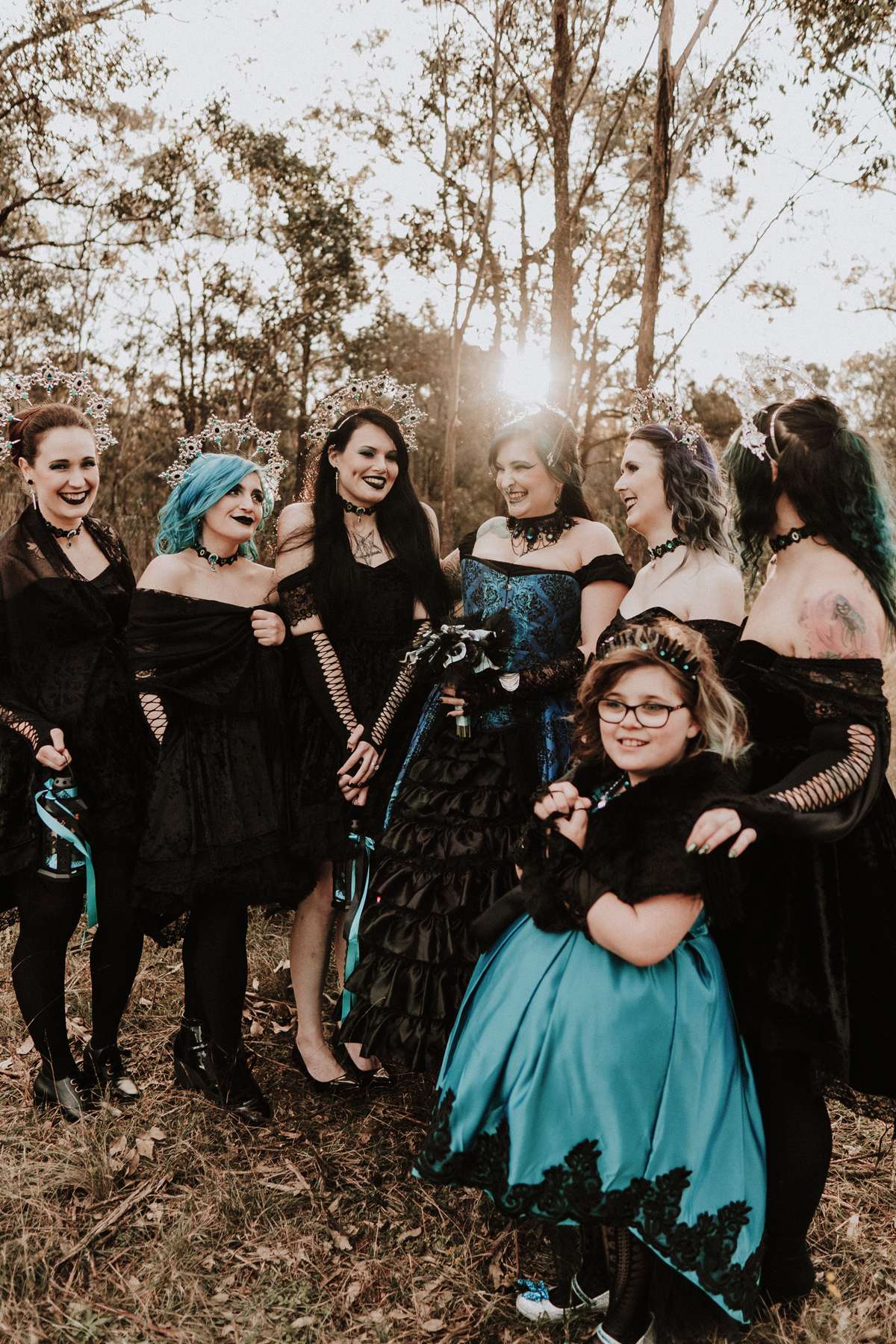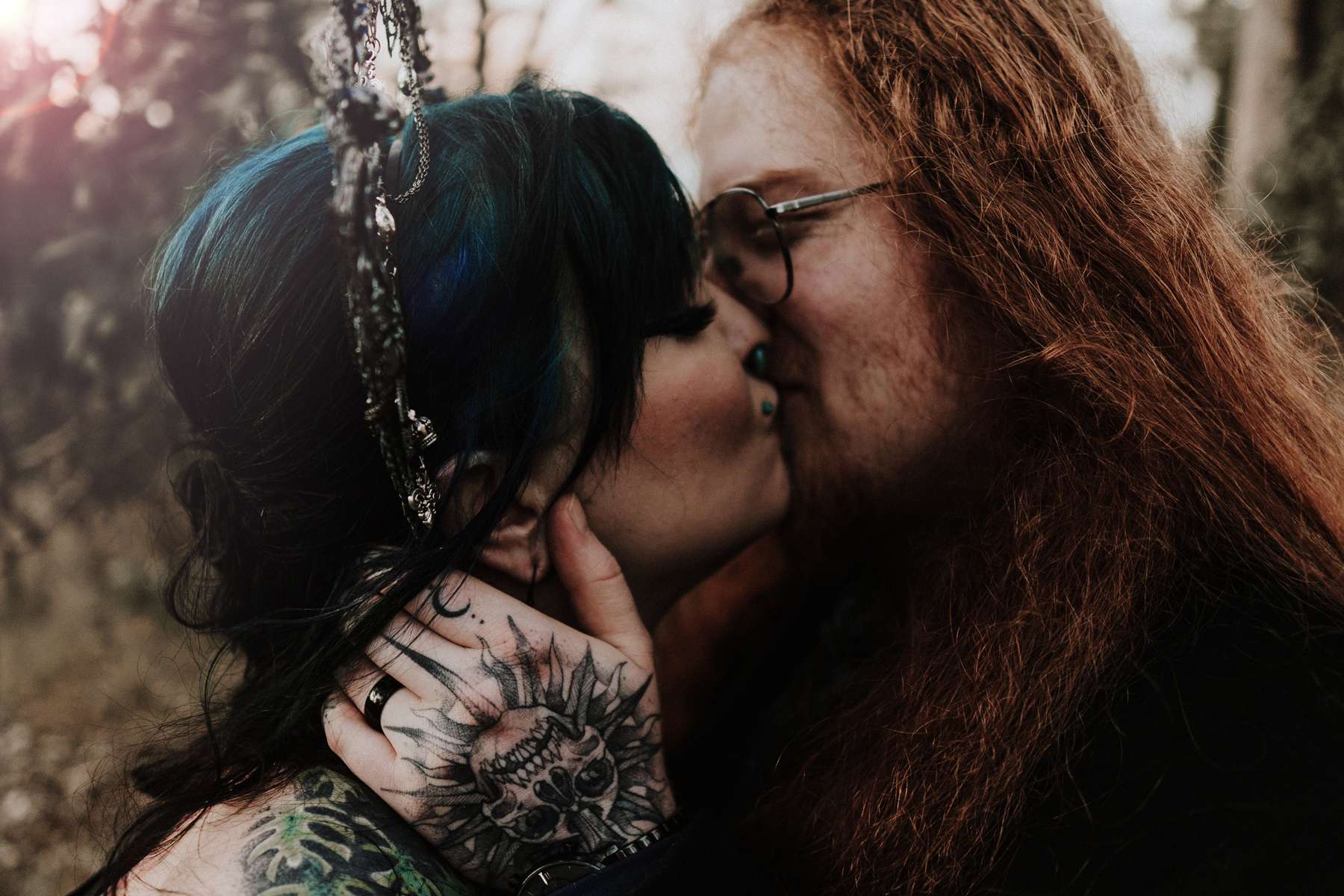 The couple did as much as they could themselves, pouring their hearts into crafting their decorations. Recycled mason jars were adorned with black lace and apothecary labels, bell jars were filled with black roses and string lights, and ethically sourced goat and sheep skulls from neighbouring farms all contributed to the mystique of their theme. They sought out unconventional and alternative wedding suppliers for everything else. such as their green and black cake by Caked by Beck and their wedding photographer Wild White Photo Co.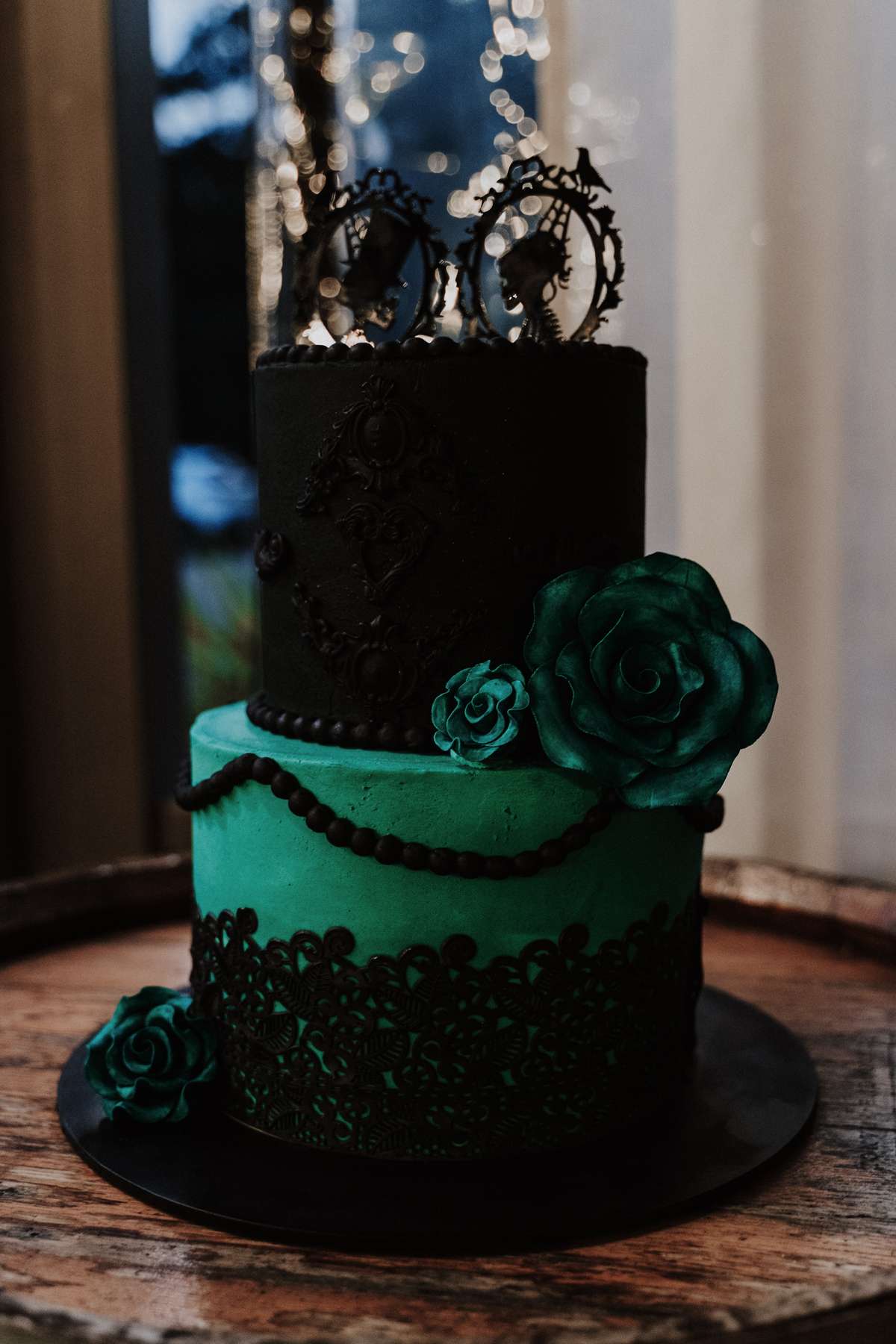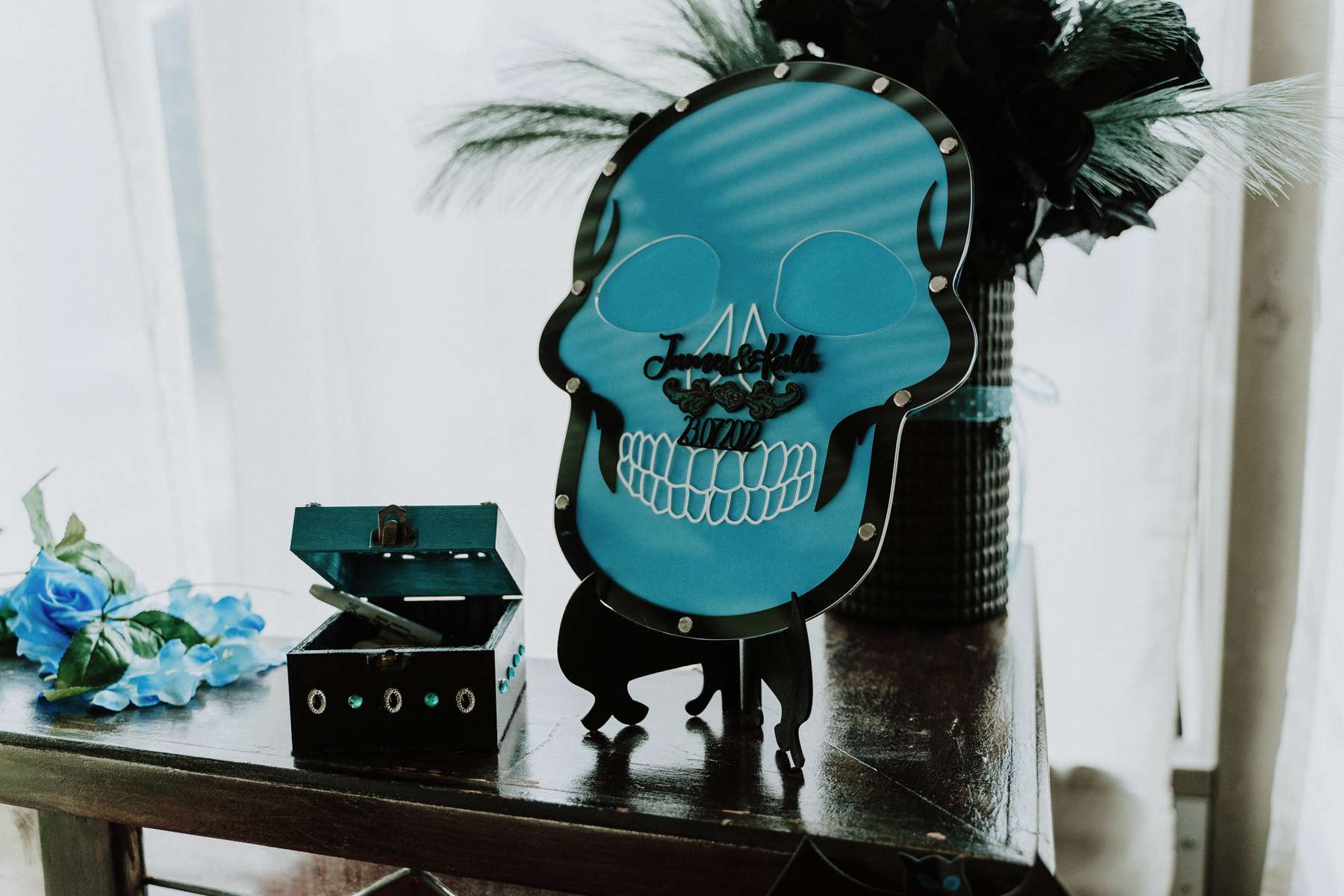 However, looking back, Kalli realised that she had stressed unnecessarily over all the small details and that the wedding would have been just as amazing without them. "I stressed about everything down to napkin rings and chair sashes", she said. "Yet, in the end, it all turned out beautifully even without those small things. Nothing like that even occurred to me on the day, I was too busy enjoying myself."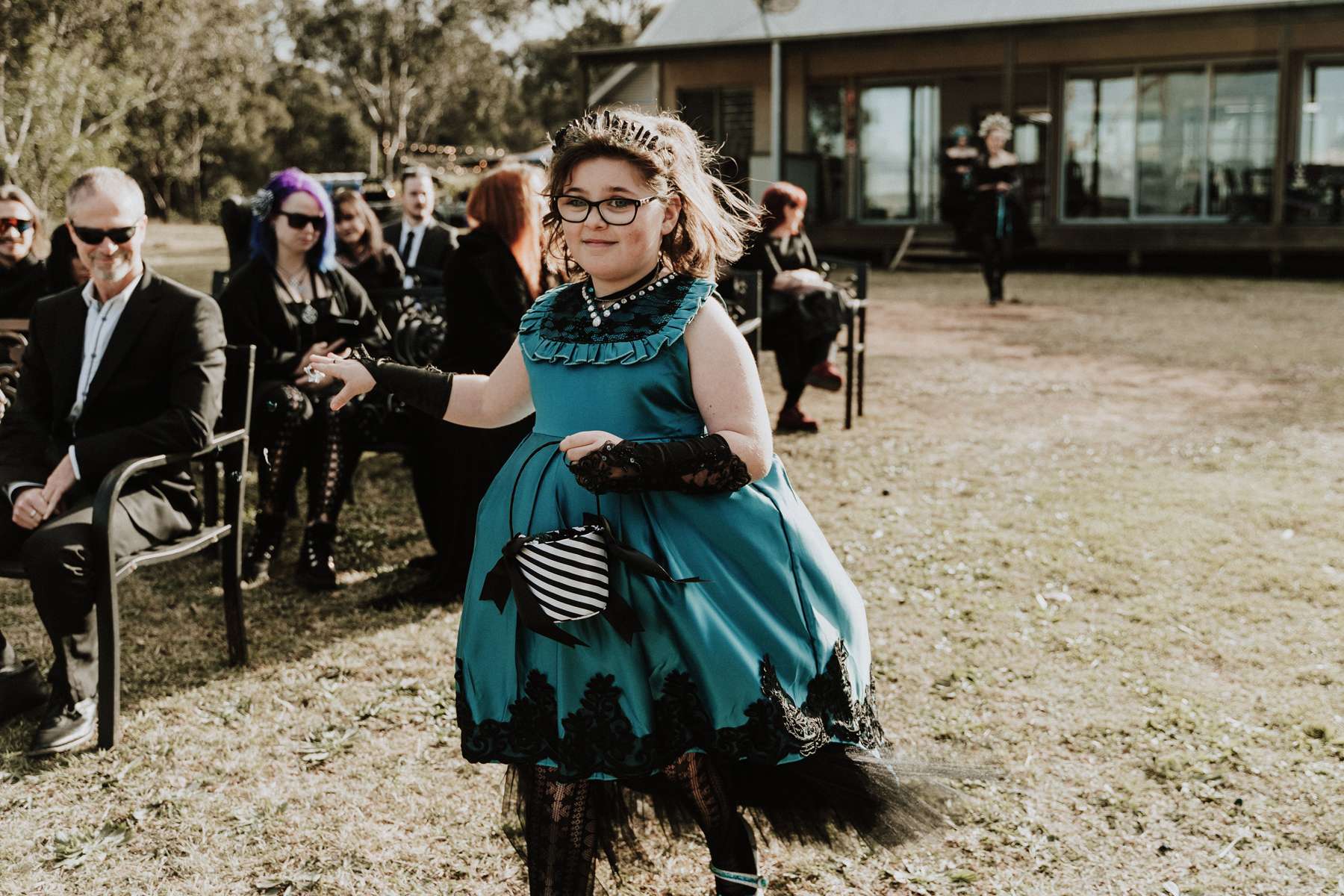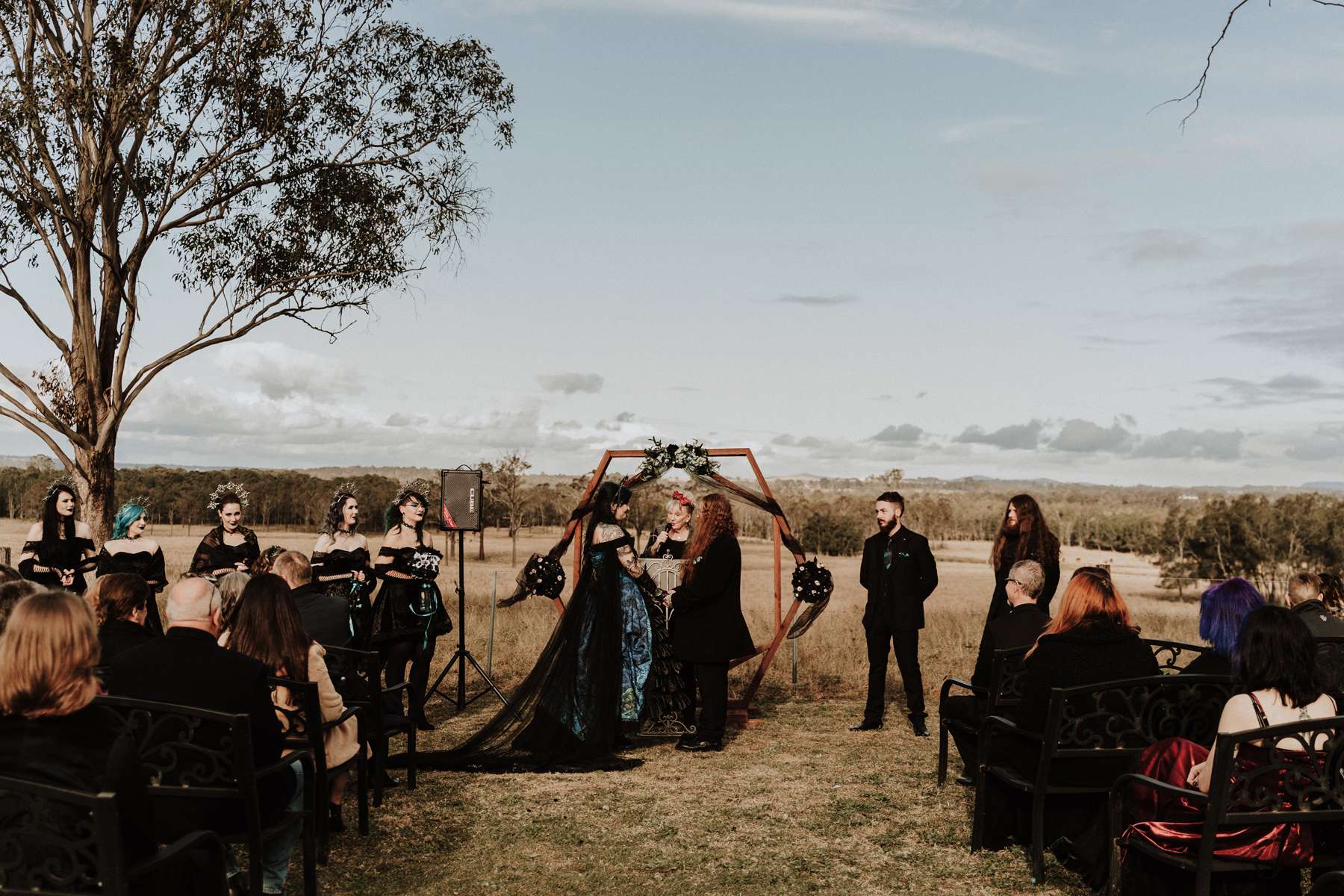 Their ceremony was the real highlight of the day. Val, their celebrant and venue owner, played a significant role in making it a memorable experience. The bride walked down the aisle to Smother Me by The Used and the couple exchanged their self-written vows.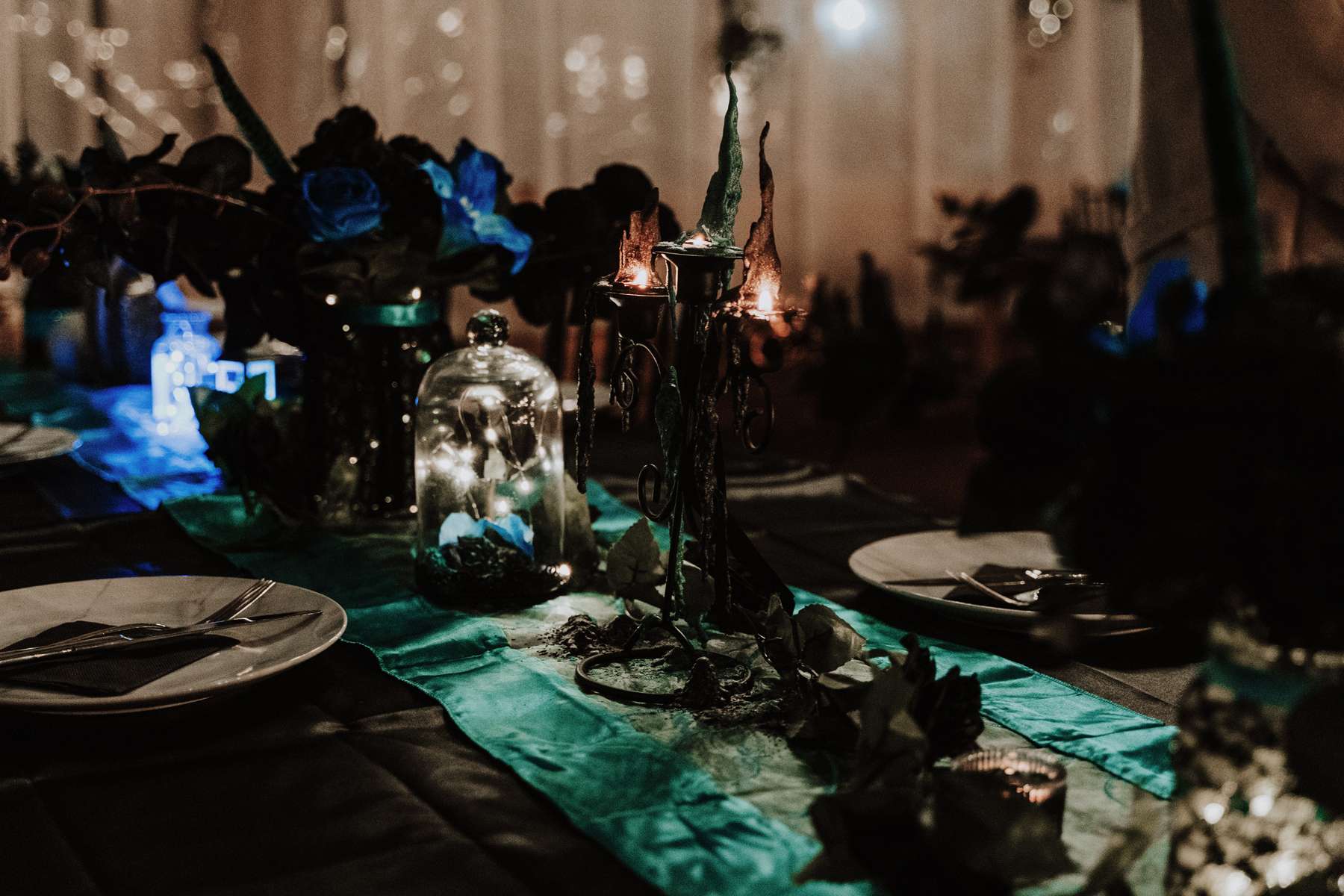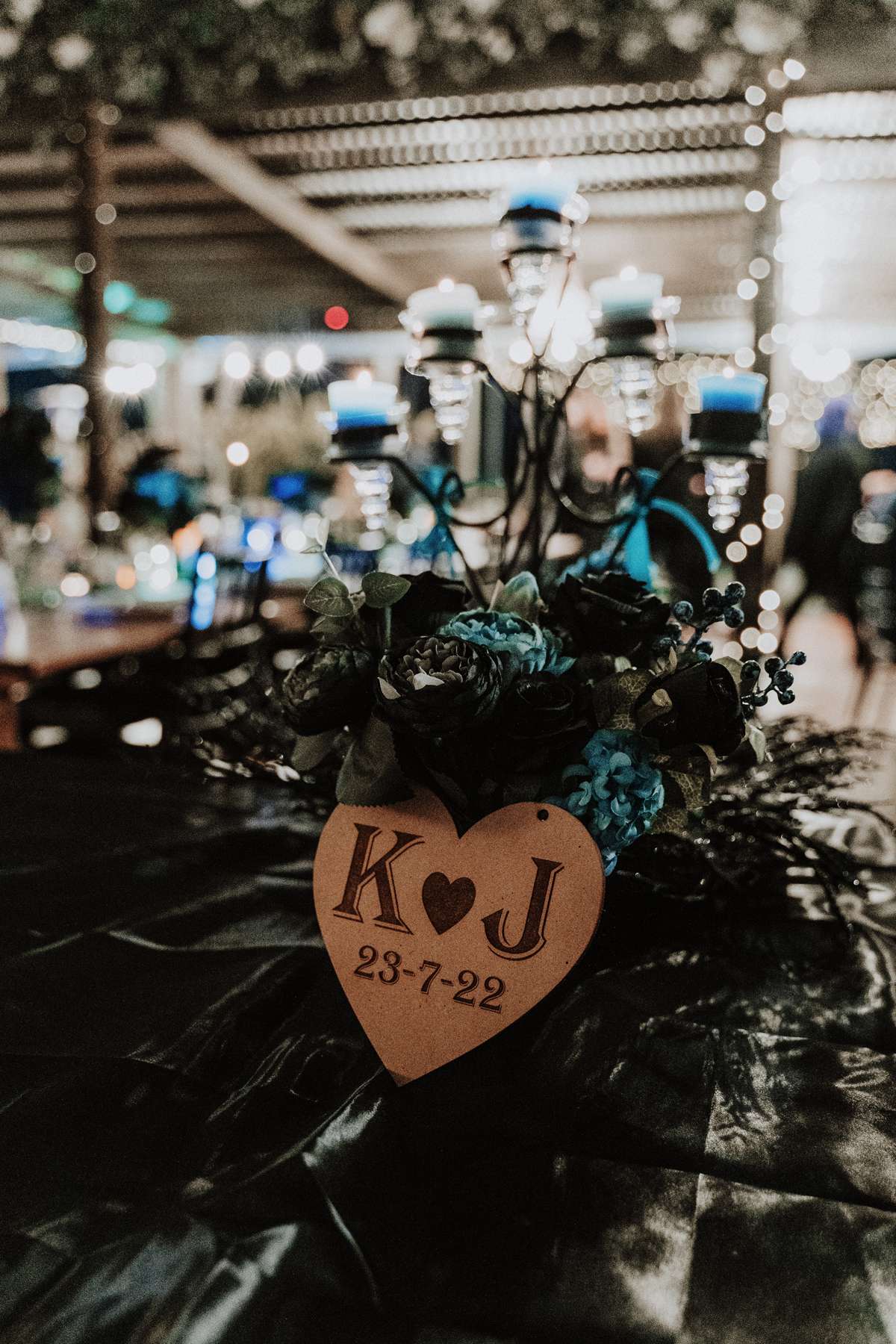 The reception was the best night of their lives. A buffet-style dinner service accommodated various dietary requirements for their guests. The drinks flowed, and there were some surprise musical performances. "The reception was easily the best night of my life so far!" Kalli remembered, "There were a few lovely surprises we were treated to over the course of the evening, including my mother, father and sister performing a musical number together! My mum had also secretly organized for a fire dancer who did a mind-blowing performance for our guests, Being a classically trained opera singer, I also serenaded my new husband for all our guests. That was pretty awesome."