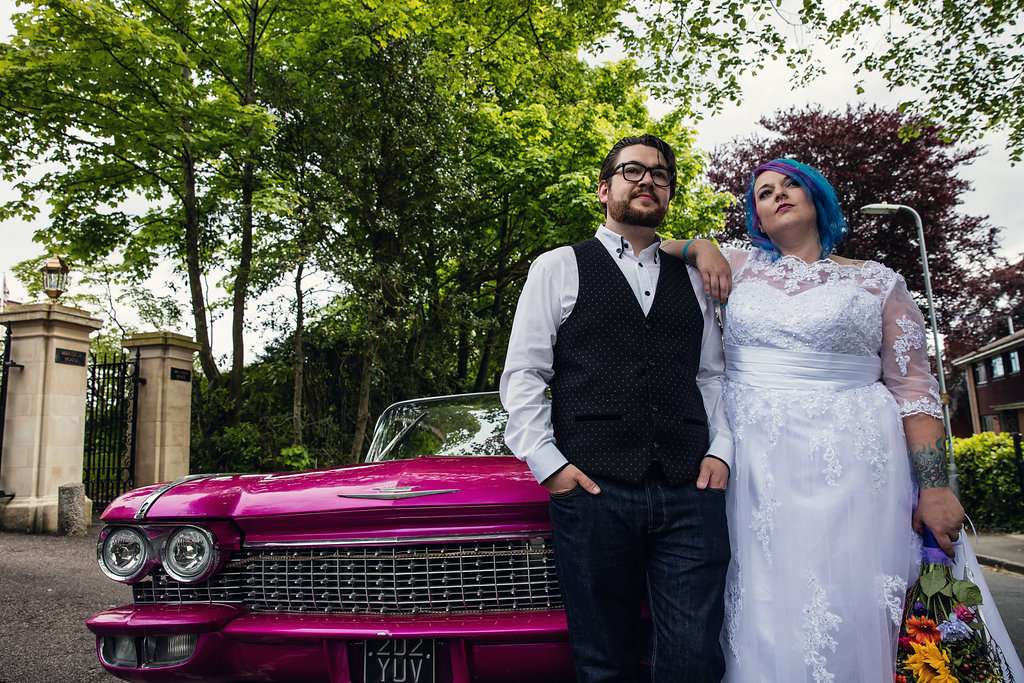 Bex and Keith wanted wedding without the fuss. They wanted it to feel like them. They had a budget of £4000 (and spent just under that!) and we were married on a Monday in Newport.
"We met through a mutual friend", began Bex. "It was our love of movies that attracted us together, since we were both avid movie lovers with crazy, ridiculously huge DVD collections."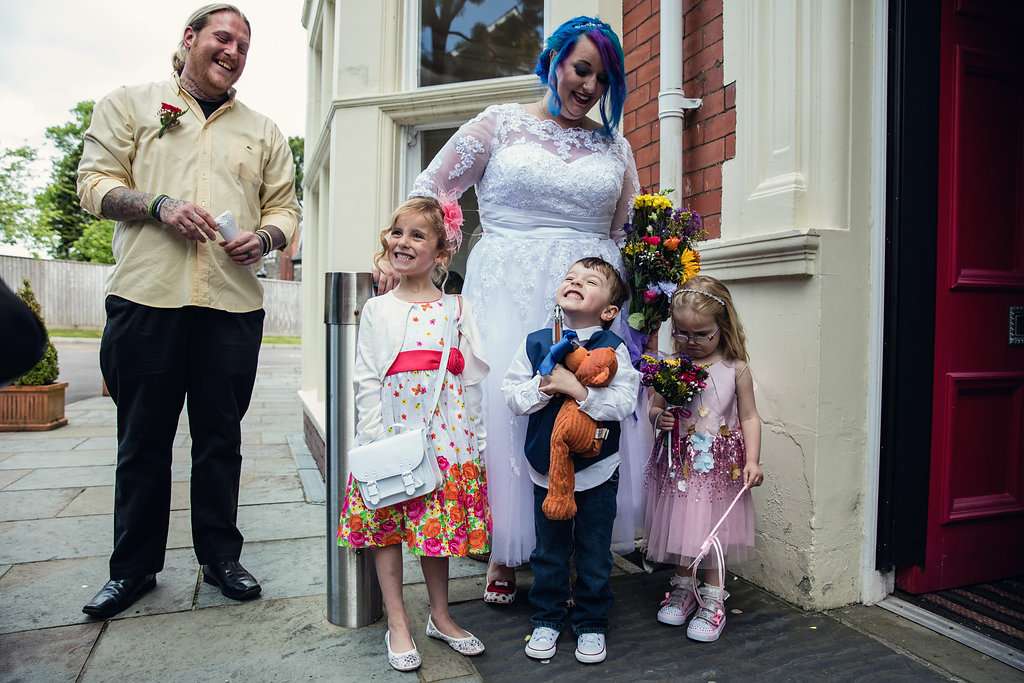 "Their register office ceremony was small, low key and at 11am on a Monday morning. "Having our ceremony at an unconventional time saved money, it also felt really fun. Some of our friends took the time off work and it felt like the same kind of naughty when you go to the pub during the day on a bank holiday. We aren't religious so we decided from the beginning that we would get married in a registry office. The ceremony was very low key, but rammed to the rafters with our friends and family. My best friend and future sister-in-law was my bridesmaid and my younger brother gave me away. Our son wanted to be Doctor Who so he couldn't come without his sonic screw driver, while our daughter had to be a pink fairy so obviously she needed her pink wings and wand."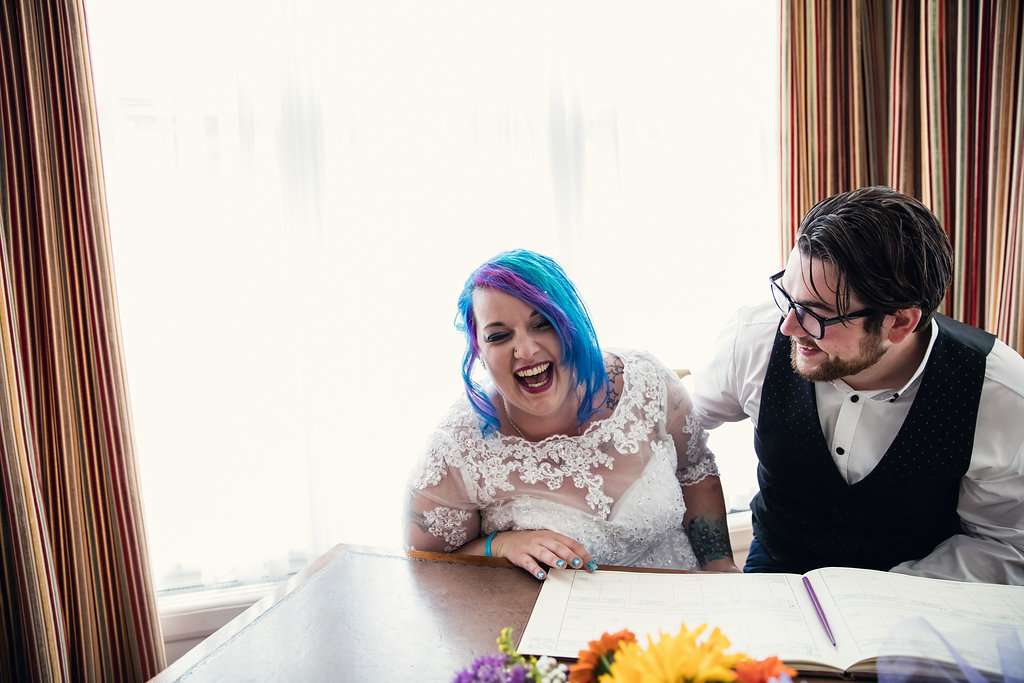 "The pair of us had written our own statements to be read during the ceremony. Keith's were beautiful and heartfelt and made me cry. While I promised him that if he was ever to turn into a zombie I would shoot him. All our music from the ceremony was from films or TV and while we were signing the registry our son was break dancing to the Muppets Life's A Happy Song. It was awesome and surreal at the same time.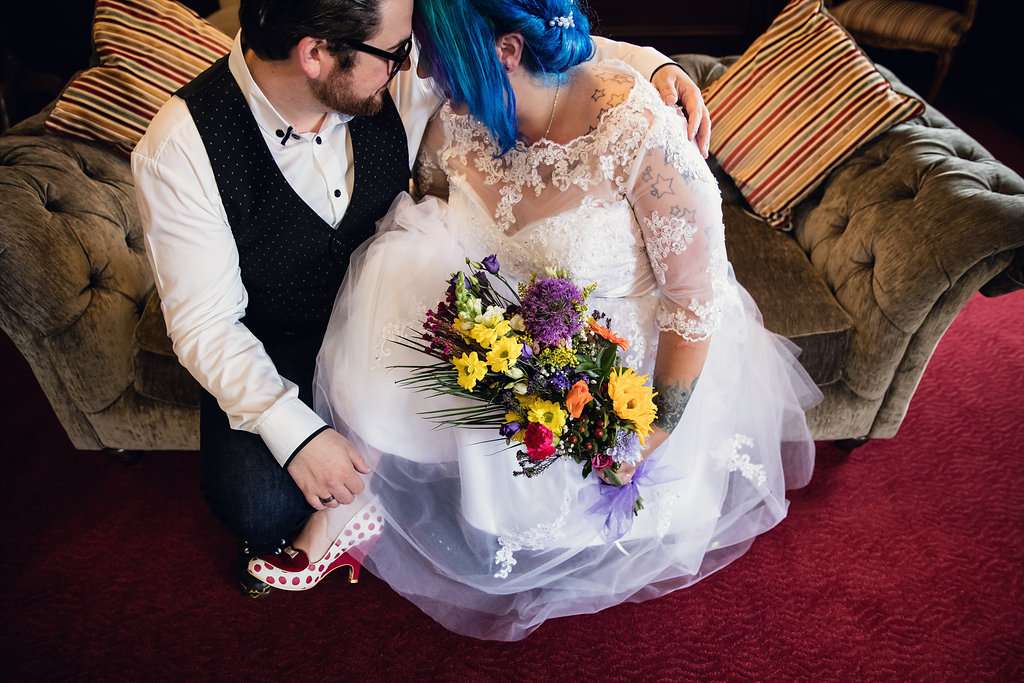 Their wedding theme could be best described as 'taking a bunch of the random stuff that we love'. "We had Lego, dinosaurs, retro films and cartoons. We threw it all in a metaphorical bag, poured a shit ton of rainbow colour and glitter in there, gave it a shake and poured it back out. In other words, there was no real theme just a bunch of awesome random stuff that we love."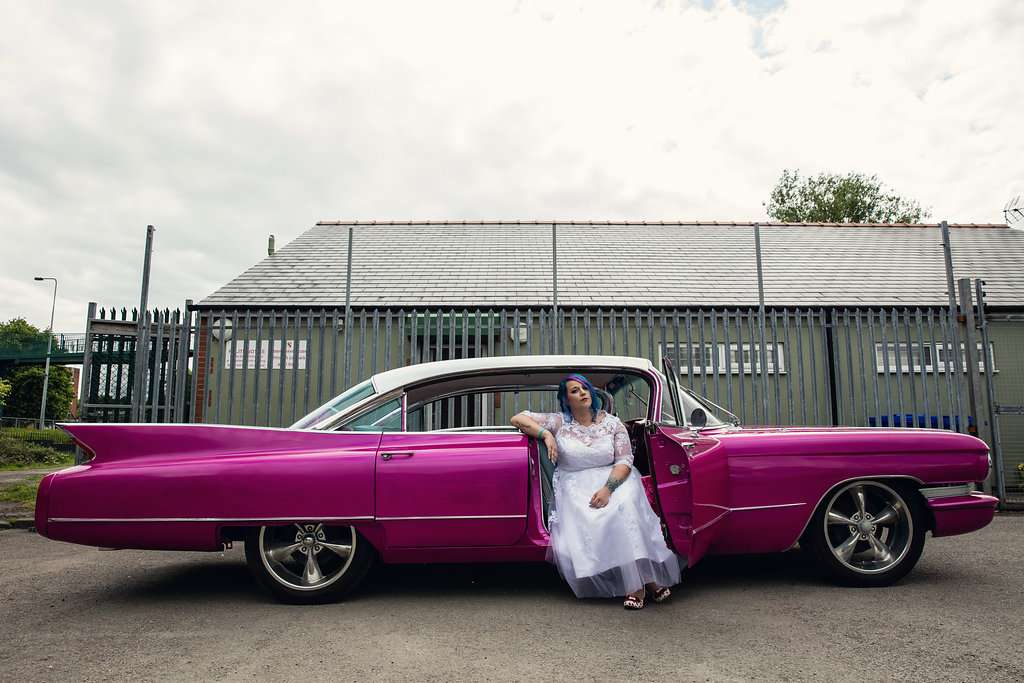 "We were inspired by having a wedding without all the red tape. We wanted somewhere where our kids could have fun, we wanted it to be a wedding that was also a party. We didn't want people panicking about speeches and stuff, which is probably a good thing because I got up to say thank you and totally forgot what I was going to say when I went near the microphone!"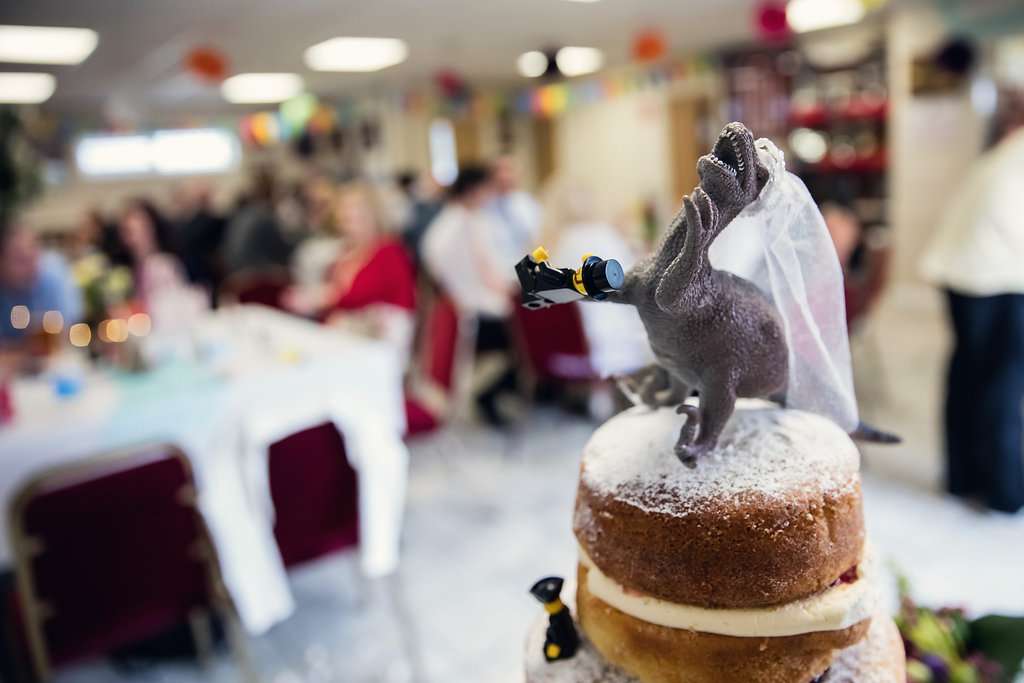 "The one thing I wish I knew before we started planning was how much other people will STRESS YOU OUT!" Bex laughed. "We knew wedding planning was going to be stressful, we laughed about it and watched an entire season of Bridezillas while laughing about it. We took everything in our stride but then people started with the well-intentioned (but not very helpful) advice. Saying things like 'Oh you can't it like that' or 'Your dress can't be like that' or "You can't have blue hair!' It got so bad that at one point we both threw our hands in the air and say 'Balls to it, let's elope!' We have two kids, and when they were born we had the exact same thing happen though! I wish we had known earlier to just ignore these people and not let it get to us because none of these people were actually wedding experts!"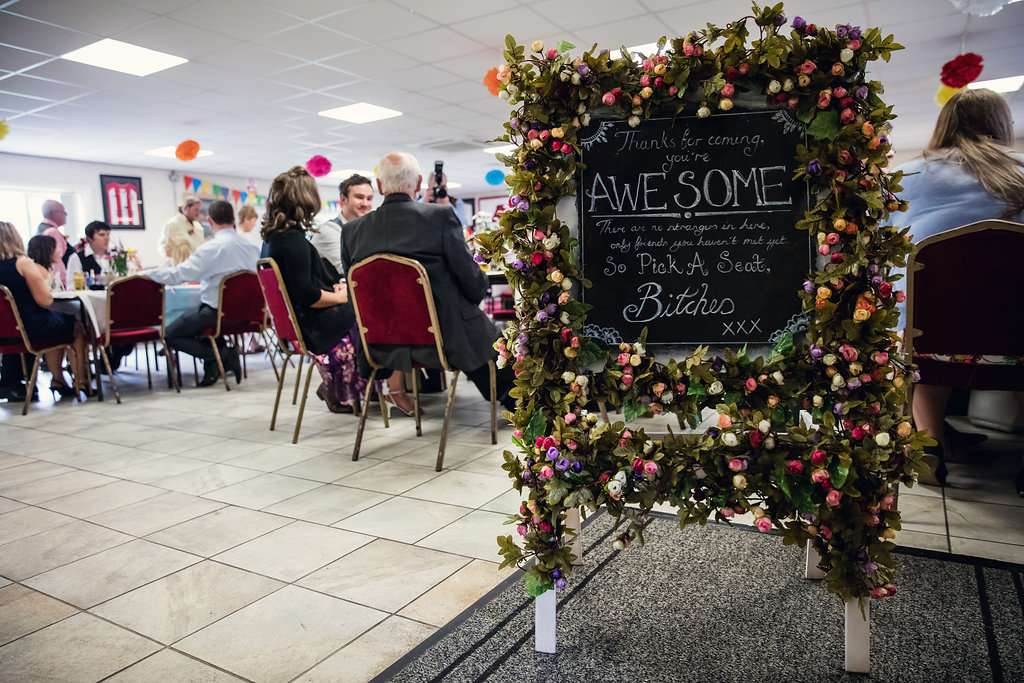 "Our biggest expense was our photographer, the absolutely fantastic Sassy, and she was worth every single penny and more! Keith is the selfie king in our house so we wanted to find
someone whose work we not only loved but also made us (well me, with my sack load of body confidence issues) feel comfortable in having my photograph taken. We couldn't have asked for a more amazing photographer. I have never felt so comfortable having my photograph taken before."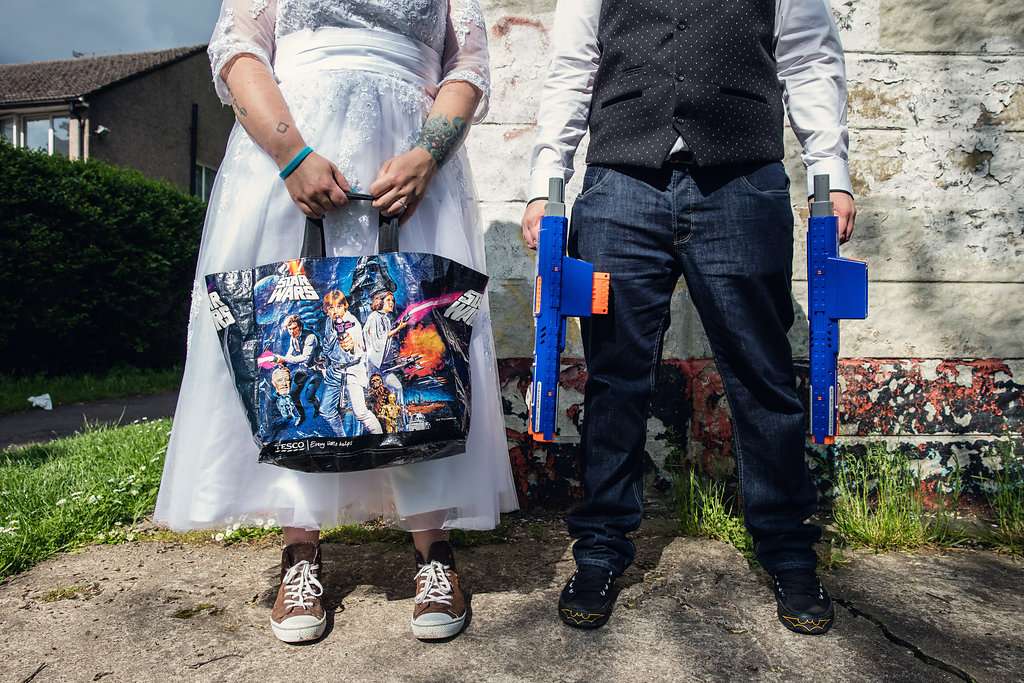 "We found Sassy through Rock n Roll Bride and it was amazing to say to her 'We don't want a billion traditional posed photos, a few to keep the family off our backs but please go and do your thing, find what you think will be amazing'. Photos were something I would never have dreamed of trying to save money on, especially after speaking to one of my close friends and she told me she never looks at her wedding photos because they are bad. I cant stop looking at ours because I love them so much!"
"Our advice to other couples would be to keep doing what you are doing. If you love it, then its going to be fucking awesome."