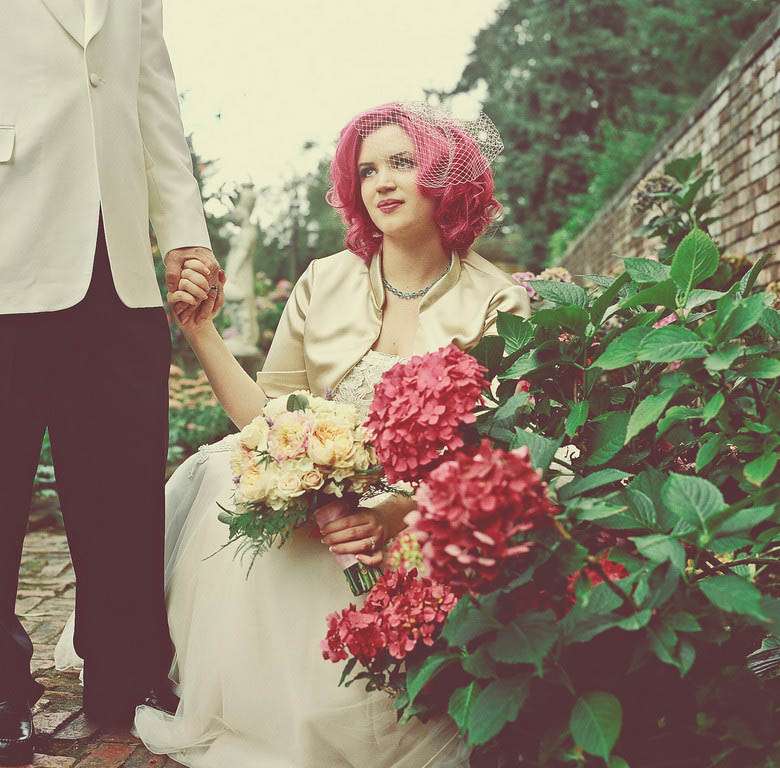 I have a certain affinity with this bride…can anyone work out why?! Cryptic huh? In fact you lot know me so well that I was sent links to this wedding by no less than five readers telling me I had to feature it as they all wanted to know more about this gorgeous wedding. Well, you asked…and I delivered. I'm so chuffed!
Melinda & Stu were married in September at Thornewood Castle, Tacoma, WA. "My husband had always envisioned getting married in a European Castle," began the bride. "Unfortunately, I knew if we did that we'd have a very lonely wedding with just us and our parents, so we had to set our sights closer to… well, this continent. I didn't think it would be possible to find what Stu was envisioning in the Pacific Northwest, until I stumbled across Thornewood Castle. The Tudor manor house was originally build in England in the 1500's, but in 1910 it was moved brick by brick and reassembled on it's current site on American Lake in Tacoma, WA. We had the ceremony in the sunken rose garden, and the reception in the great hall, dining room, and loggia."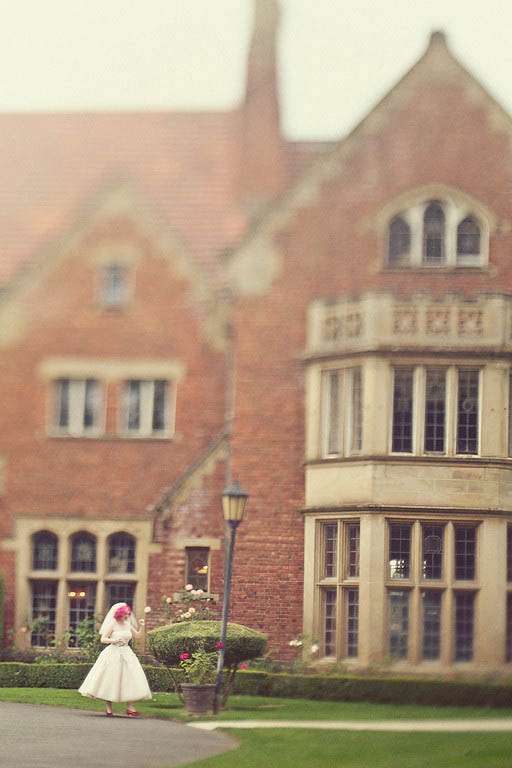 Melinda wore a stunning Justin Alexander dress (number 8465) which looks incredible on her. A total Rock n Roll princess dress! She continued, "When I was growing up, my Mother used to have a business designing and tailoring custom wedding gowns. I think because I'd grown up around them and the Bridezilla customers she worked for, I shied away from ever envisioning myself as an eventual bride. So when Stu popped the question, I had a lot of catching up to do in terms of even just nailing down what a wedding is actually made of, and what felt right for Stu and I as a couple."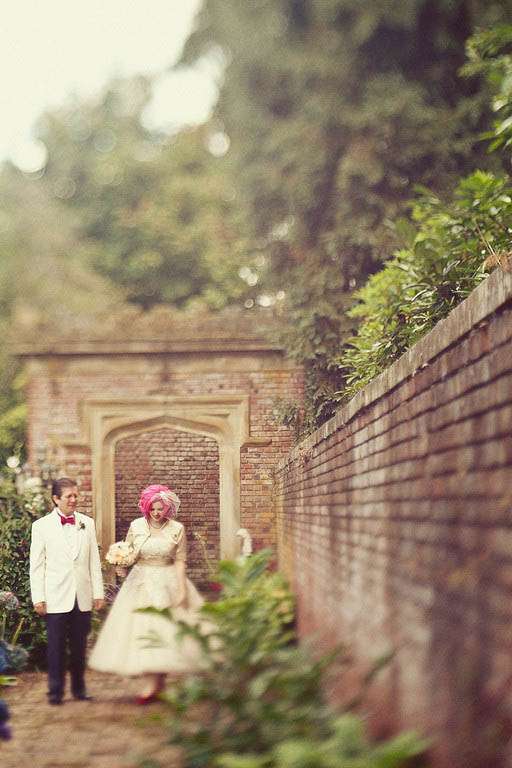 "My Mom actually was the one to find my dress for me. I had tried on numerous dresses at 4 or 5 different shops and was starting to feel like the right dress for me just didn't exist.  Every dress I tried on seemed to either try to make me look like a sex-bomb, woodland nymph, or a girly-girl princess – not to say those are bad things to be, but they weren't me. I wanted something fun, classic, informal, and retro. I was almost to the point of attempting to sew something myself, when my Mom sent me an email full of dress links for me. Right at the bottom was a link to Justin Alexander 8465 and from the moment I saw the dress I knew that it was the one for me, no doubts in my mind."
With her perfect dress Melinda wore sparkly red, custom made 'Ruby Slippers' replicas from Cybertosh on etsy. "I loved the look of wedding dresses with bright shoes, and ruby slippers just seemed right for me. The Wizard of Oz was the first movie I think I ever saw and I've loved it for as long as I can remember. I think these are probably at least the 10th pair of ruby slippers I've owned over my lifetime (although these are certainly the most accurate!)" She made her own veil and head piece and wore heirloom jewellery. To match his bride, who actually dyed her hair pink especially for the wedding (and she's kept it pink since!) Stu wore a white dinner jacket and pink bow tie which Melinda made herself.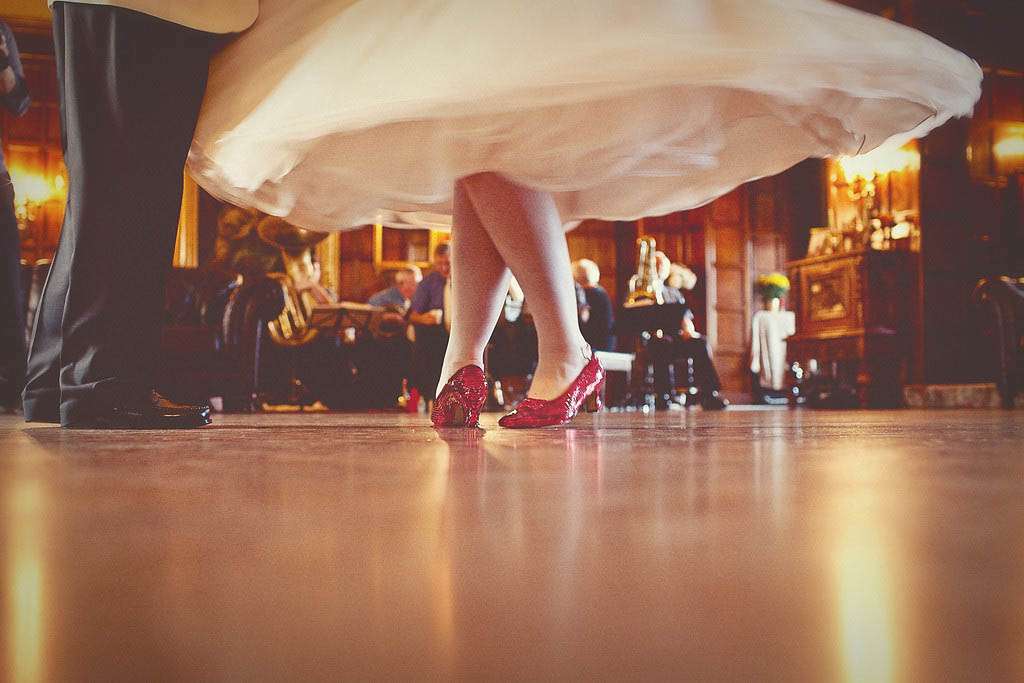 Their wedding party consisted of 4 bridesmaids and a groomsmaid (instead of a groomsman!) They were all asked to choose their own black dress so they would be happy with what they wore, and the groomsmaid surprised them on the day bu wearing a black bow tie!
The reception was a Rock n Rollin' party with cupcakes and dancing. The couple booked a Jazz band to play them into the night. "The first two things we booked for our wedding that set the tone for everything else were the castle itself, and the Uptown Lowdown Jazz Band. I was amazed that they were local, available on our date, and within our price range. They were one of my favorite things about the wedding. Loved it."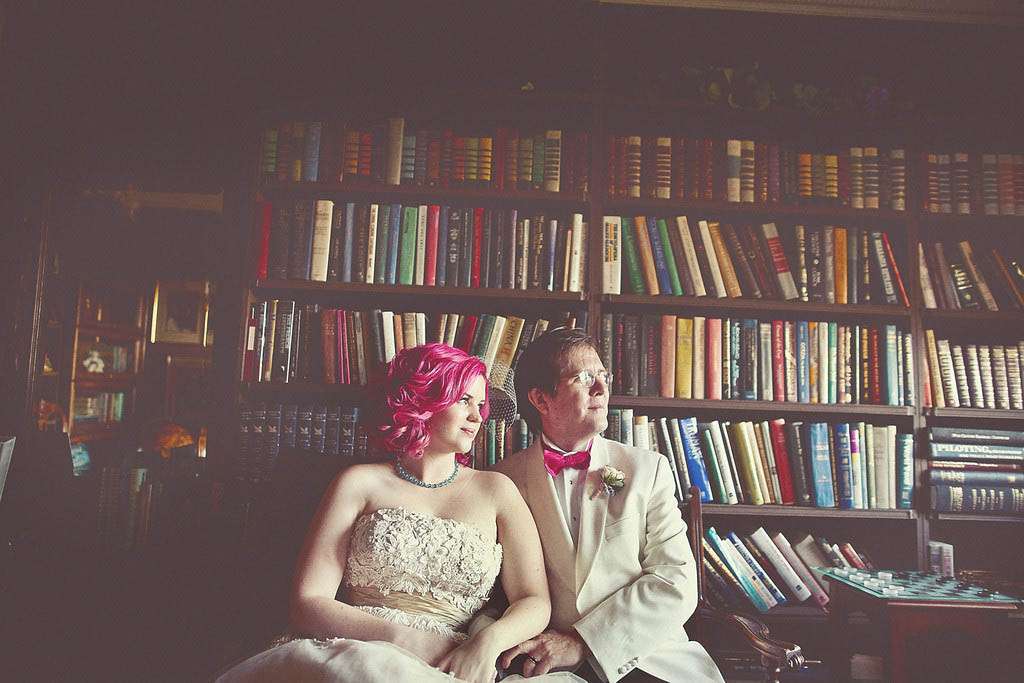 Massive pink-haired love to Melinda & Stu for sharing their gorgeous wedding with us today and of course to Heather at  One Love Photo for sending over her stunning images.
Photography Credit: One Love Photo
Venue: Thornewood Castle, Tacoma, WA
Bride's Dress: Justin Alexander 8465
Bride's Shoes: Cybertosh on etsy
Bride's Head piece: DIY
Bride's Jewellery: Heirlooms, Vintage, bride's own
Groom's Bow tie: DIY
Cupcakes: Cake Royale
Flowers: Paisley Petals
Coordinator: Bobbi Roth
Band: Uptown Lowdown Jazz Band