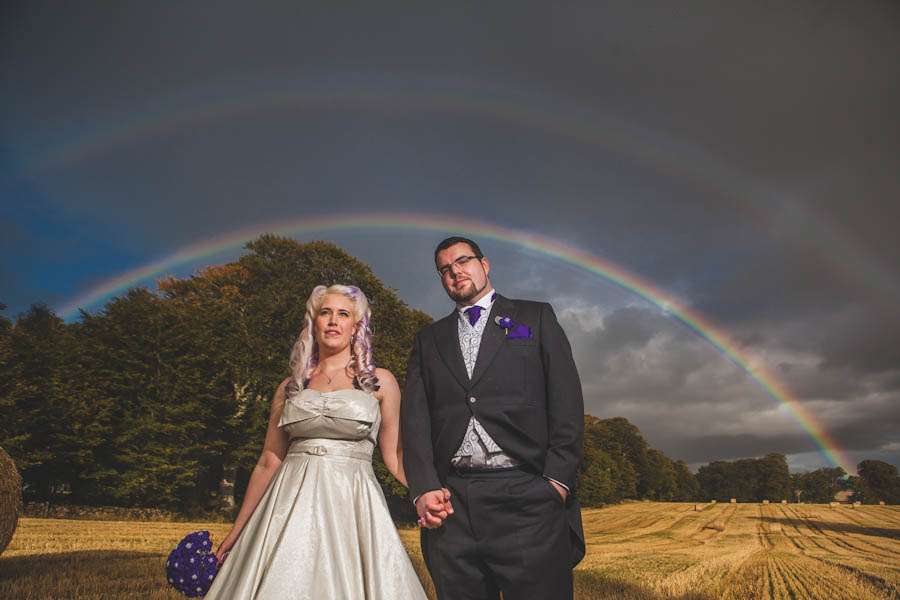 Purple. Dinosaurs. Peacocks…
These were the things that inspired Lauren & Matt's October wedding. Although the theme wasn't really intentional, by incorporating the things they just really liked it totally worked!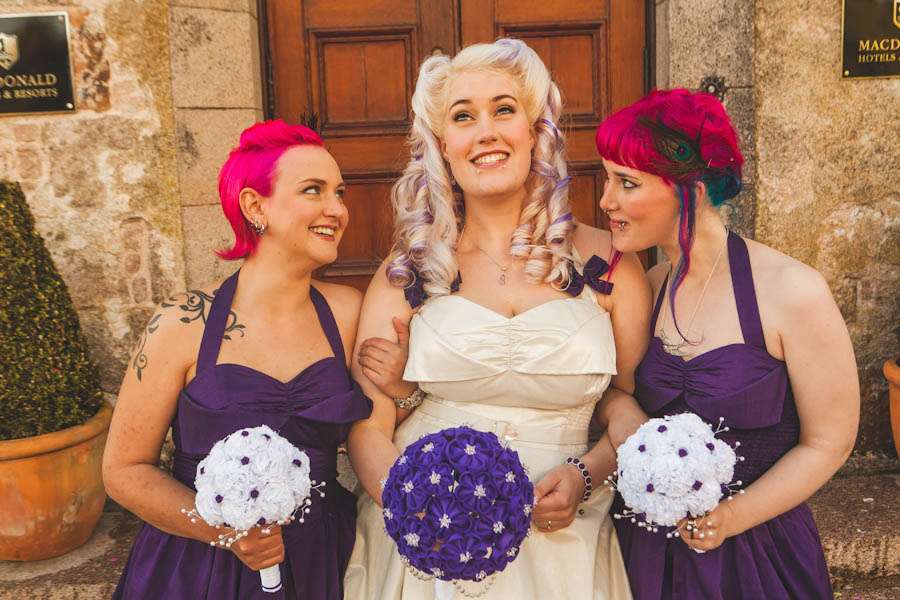 "Our ethos for our wedding was that we were going to what we wanted and not what people expected", wrote Lauren. "We picked and chose aspects of tradition that we liked and binned those we didn't. We had a humanist ceremony which isn't like a registry wedding – it's a lot more personal. We tied a Celtic knot which we practiced loads before hand! My friend did the reading of 'A Lovely Love Story' by Edward Monkton, which is about dinosaurs and dinosaurs are awesome!  One of our other close friends gave us the book as an engagement present and we thought it was apt as a reading. We also had a dinosaur cake topper!"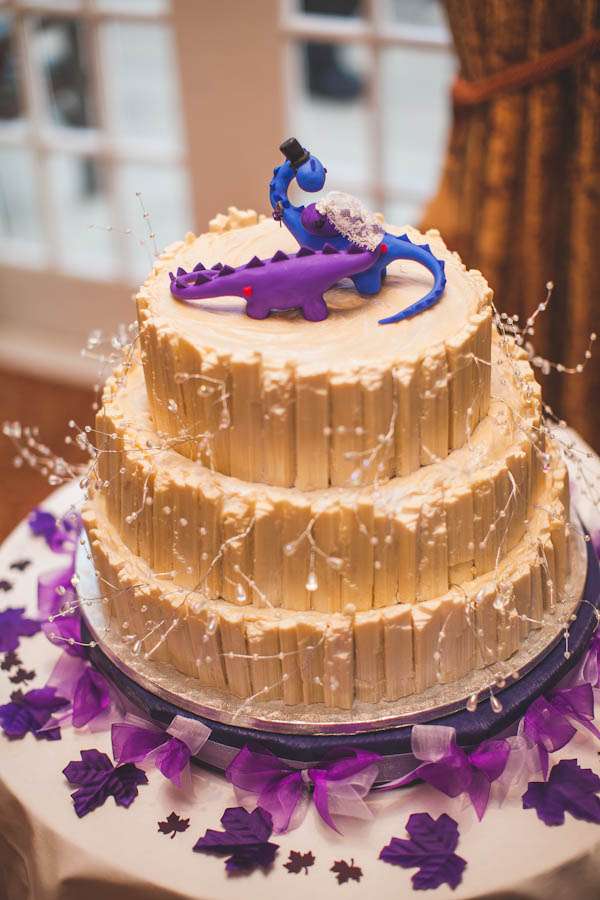 "We added a lot of personality to our wedding it was more quirky and less elegant and a ton of fun", she continued. "I think a lot of the DIY and handmade elements really added to the day – especially the dinosaur card box!"
Lauren had her dress custom made by Whirling Turban. "I'm not a girly girl at heart so I was never going to have a traditional dress", she explained. "I had my dress custom made and was so glad that I did, especially with the purple crinolines. I got my bridesmaids dresses to match the style but in purple. My sister always has pink hair and my best friend always changes the colour of hers so they both decided they wanted to match in hair colour for the wedding. I think they looked awesome!"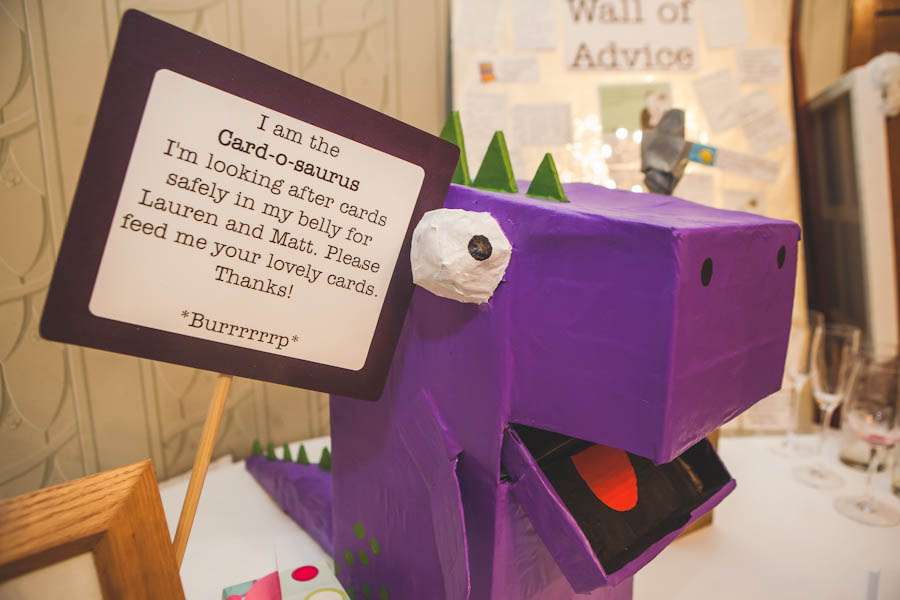 "One of the best moments of our day was one of the little silly things", Lauren concluded. "Our first dance was 'Do You Love Me?' by The Contours which we had practiced a swing style dance to. We had to do jumps and lifts but I had never actually done it in my dress. I was a bit apprehensive before they called us to do our first dance, but I snuck Matt into the ladies toilets quickly to practice the jump in the ruffles of my dress! I'm not sure what people may have thought seeing us come out of the ladies toilet together with me patting down my skirts but it made us laugh! The dance went really well and went down a storm!"
The evening concluded with fire dancers as entertainment. Matt's cousin is part of a fire dancing troupe and so they came down to close the evening. It went down really well and photographer Chris got some amazing shots of the couple amongst the flames!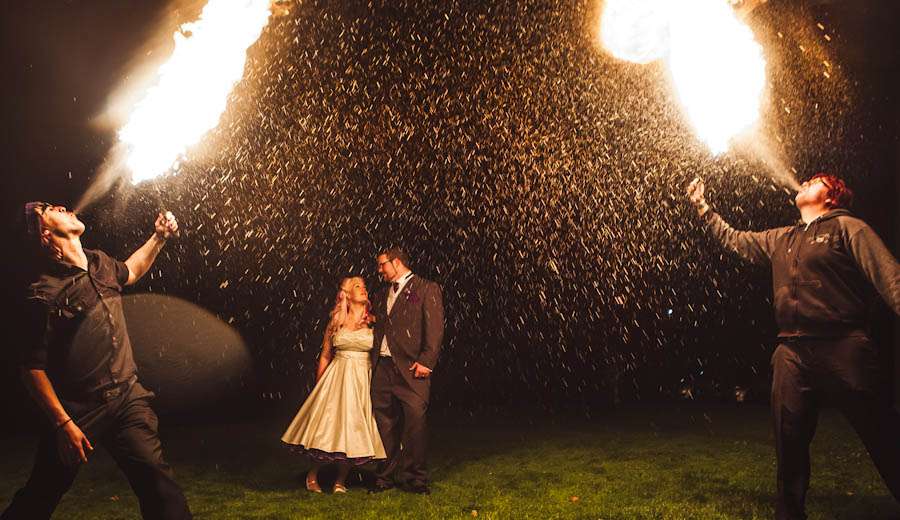 So awesome. Thank you to Lauren & Matt and wedding photographer and all round awesome dude, Chris Barber for sharing with us today.
PS If you're of a nervous disposition, be careful looking through the gallery – the groomsmen wore kilts… with nothing underneath apparently!
Supporting Cast:
Photography Credit: Chris Barber Photography
Venue: Pittodrie House, Aberdeen
Bride's Dress: Whirling Turban
Groom's Outfit: Slaters
Bridesmaid's Dresses: Whirling Turban
Cake: DIY
Flowers: DIY
Hair & Make Up: Nici Tait
DJ: Bruce Cameron
Stationery: DIY