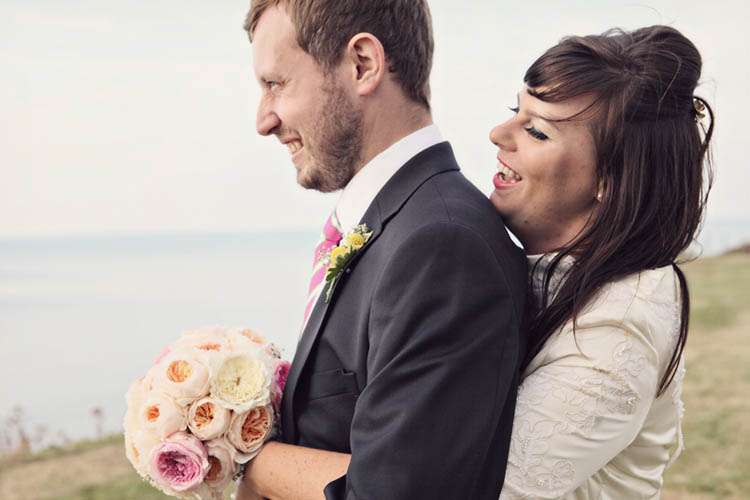 Emma & Morgan's Welsh wedding has really put a smile on my face today. Everything about the day was personal, was sustainable and was perfect for them. The couple got married at The Hive and Ice Cream parlour in Aberaeron. They actually had two ceremonies through the course for the day. Firstly a smaller and more personal ceremony at The Hive, joined by just close family and friends. Then, once they got to the reception, they had a second ceremony amongst all 120 of friends. Their DIY heavy reception was held in a marquee in "Charlie's Field" that looked out across New Quay Harbour, Wales – the exact spot that Morgan had proposed!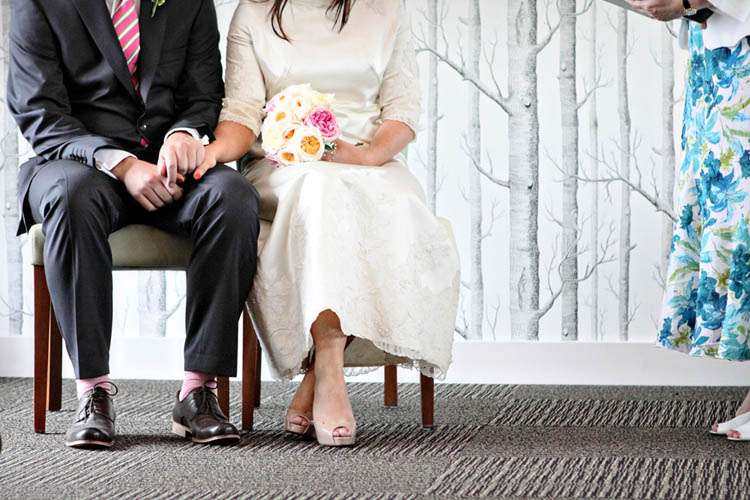 Emma wore two dresses on the day and in keeping with their sustainable, salvaged and recycled vibe, both were vintage.  Dress number one was from Vintage Vixen, and the second she found on Etsy. Her shoes were a stunning pair of Louboutins, bought for her by her Mum as a special treat for the day! Emma kept her accessories to almost a minimum with her shoes and dresses stealing the show.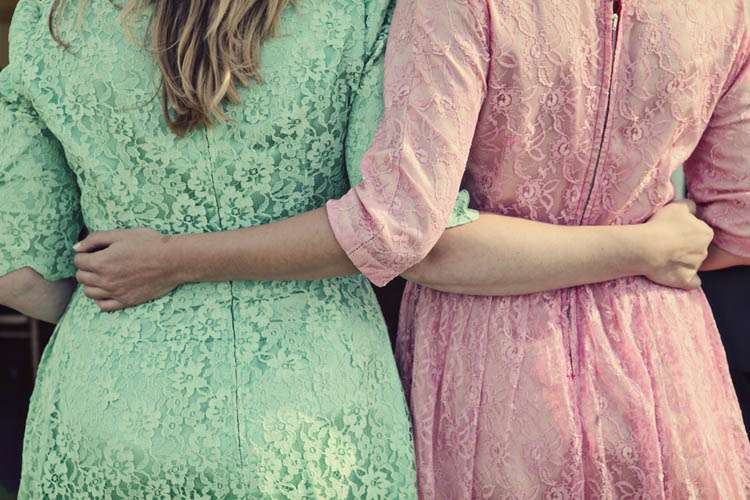 Locally sourced flowers, a cake made by the Mother & Aunt of the bride and fabulous and sustainable vintage and second hand finds really made their day unique and perfect for them. "As much as possible we wanted to have a sustainable approach to our wonderful day, but we don't think that needs to be a conspicuous decision (highlighting to everyone how 'green' you are) or compromise your dreams for the day – luckily it meant salvage/reuse/vintage were more than firmly on the table!" the bride told me "As much as possible all our suppliers were local to the area, with the hope the money stayed in, and benefited, the local economy. Our invites were designed by my brother, the card from a UK paper mill specialising in post consumer recycled card and printed by a wonderful friend at her home. We spent a year collecting items from charity shops (people need to know about Oxfam's online shop!) ebay, etsy and the odd overpriced vintage shop in the east end of London. The tea tins were from ebay – I quickly discovered it's quite a competitive collectors interest in the UK, so old milk bottle and beer bottles as flower containers also made a great addition to the table centres – slightly less competitive than tea tins, but they too have their hard core followers on eBay!  Food was sourced locally by a local caterer (a delicious veggie buffet proving you can go without meat, but a Welsh, organically reared hog on the roast if you couldn't resist!) and all our wine was from France minimising air miles on what was the biggest volume of alcohol on the day. Desserts were made by family and friends. We mini-mooned in Wales too, doing our best to support local businesses and independents."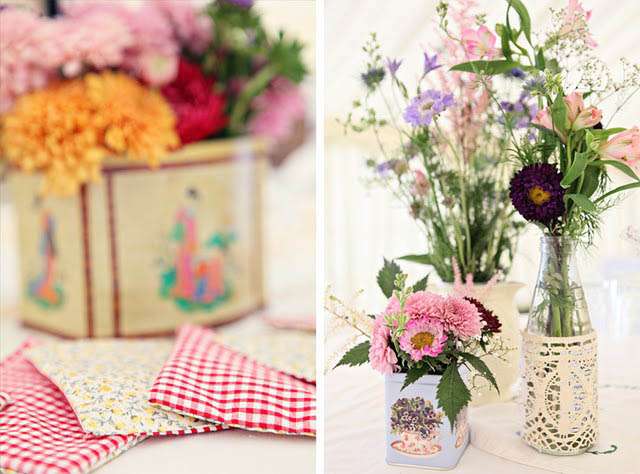 The week before the wedding Emma spent time with family and friends at a rented cottage nearby the reception venue where they crafted to their hearts content. They created most of the stunning decorations that filled the marquee –  from the brightly coloured felted hearts to the hanging pom poms. Emma's Man of Honour and her Mum even patiently stitched the fabric coasters that were given as favours to each guest. Every detail was hand created by Emma, her family and friends.
Huge thanks to Emma & Morgan and their awesome photographer Debs for sharing this utterly gorgeous wedding with us today
Photography Credit: Debs Ivelja Photography
Ceremony Venue: The Hive and Ice Cream parlour
Reception Venue:  "Charlie's Field"
Bride's Dresses: Vintage Vixen and Vintage Blue Moon on Etsy
Bride's Shoes: Christian Louboutin
Bridesmaid's Dresses: Beyond Retro
Flowers: DIY
Cake: DIY
Invitations: DIY
Hair/Make Up: DIY
Decor: DIY