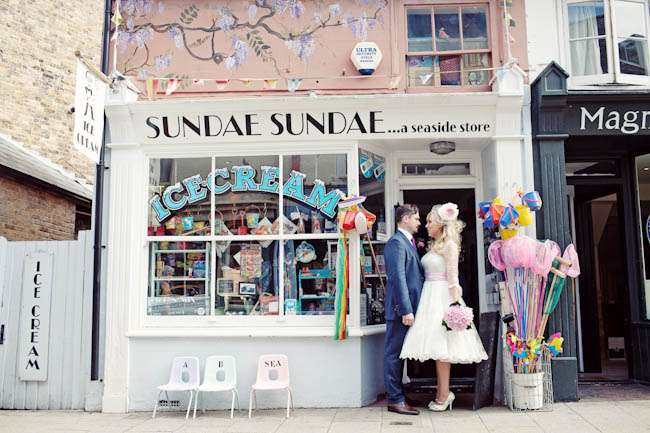 Sinead & Dan were married in Whitstable at Beacon House, with a reception afterwards at the groom's parent's house. The great thing about Beacon House is that it's one of the only wedding venues in the UK that's licensed for an almost outdoor wedding, on the porch of the house, overlooking the beach. However it's a small venue, hence why like a lot of couples Sinead & Dan moved to another venue for their reception.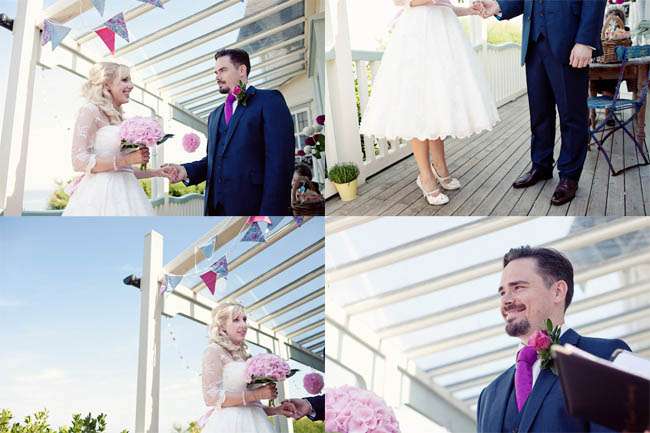 "Beacon House is the most beautiful house, we fell in love with it and Katrina the owner as soon as we arrived for the first visit," the bride told me. "We married on the veranda with just 20 of our closest friends and family, with the beach as our backdrop. Instead of an aisle, I walked along the seafront to meet Dan at the top of the stairs, while a guitar and sax played. It was perfect, even if there was a 70yr old man in teeny tiny Speedos sunbathing on the beach while the ceremony took place! Our reception was in Dan's parent's garden. We found that a lot of venues imposed a lot of rules, you had to use their caterers, their bar service, corkage charges, end times, car parking etc. Having it at home gave us so much freedom and it felt so comfortable being there."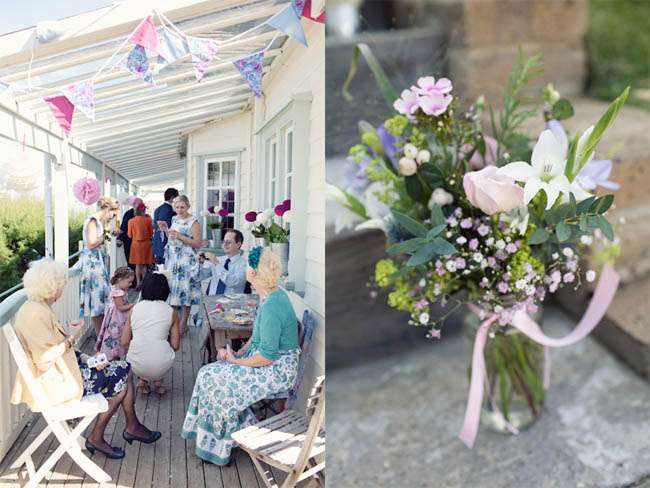 The couple made their wedding their own with all the personal touches and details. Most things were collected over the years by trawling car boot sales and second hand shops and were things they already owned. They also found a lot of items on etsy or were handmade by friends. "We wanted a small intimate handmade wedding and an amazing reception – great music, great food with exciting and interesting decor. We are so lucky living in Whitstable, with a close-knit community of amazing businesses, I was keen to source everything as local as possible."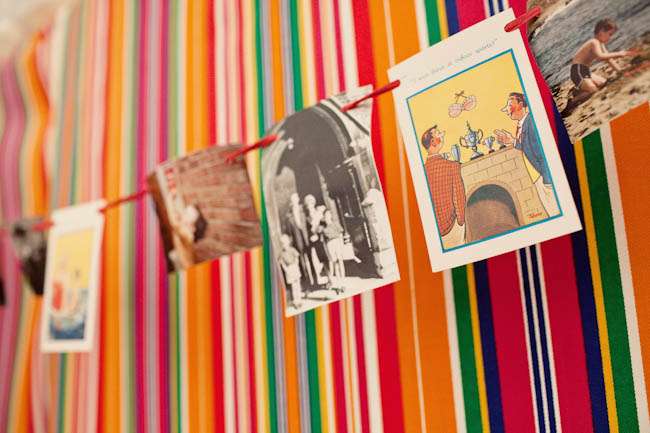 "We wanted our friends and family to come to our wedding and feel as they would if they were on holiday; relaxed, comfortable and ready to have fun," Sinead explained. "We had a marquee in the garden, but I was keen to make it less marquee like, so we covered the walls of the marquee in deck chair fabric and dotted some choice 1950s style furniture around. I absolutely loved the detail in the planning, and sourcing just the right things…we served the bubbly in Babycham glasses that I had collected over the year and I used lots of 50s children's annuals and board games as centre pieces and to decorate the furniture and it just wouldn't have been right without the 'Kiss Me Quick, Squeeze Me Slow' hats for the photobooth."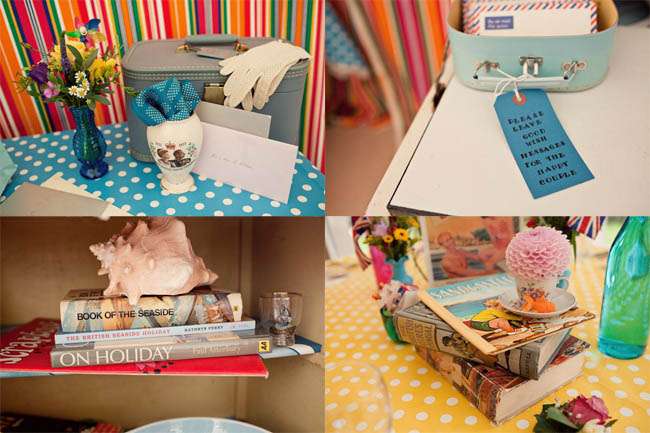 "We had sticks of rock and cones of fish and chips as favours with a raffle in the evening! Our friend made us our very own seaside peep board as a wedding present, which provided hours of entertainment. I loved looking around and seeing our friends and family smiling, laughing and taking pleasure in all the detail, the details that me and Dan had so much fun gathering and putting together."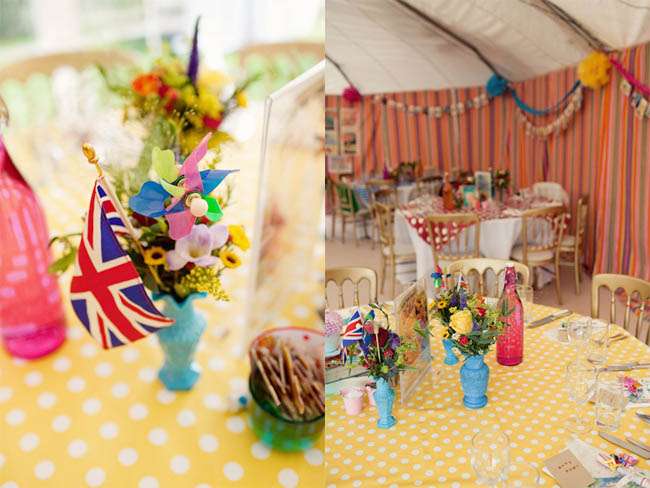 Sinead wore a Candy Anthony wedding dress and it was the first wedding dress that she tried on! "As soon as it was on I knew I had to get married in it," she continued. "I always knew I wanted a tea-length dress, that 50s look is just so feminine and pretty. I wanted a huge petticoat underneath, it just felt so much fun and really girly. It was also important to me to have a dress that gave me freedom to move, I wanted to cuddle people and I wanted to dance the night away. The slightly shorter length was perfect for that. I've heard about a lot of brides that looked amazing on their day but couldn't move a lot or sometimes even breath very well – I don't understand that logic. The Candy Anthony dress also allowed me to create a different look in the evening, I took off the sash and lace overlay. I had a tiny bow belt to put on and a matching pillbox hat, I found a blue cashmere cardigan to put on top. I love my dress so much and the girls at Candy Anthony are so lovely!"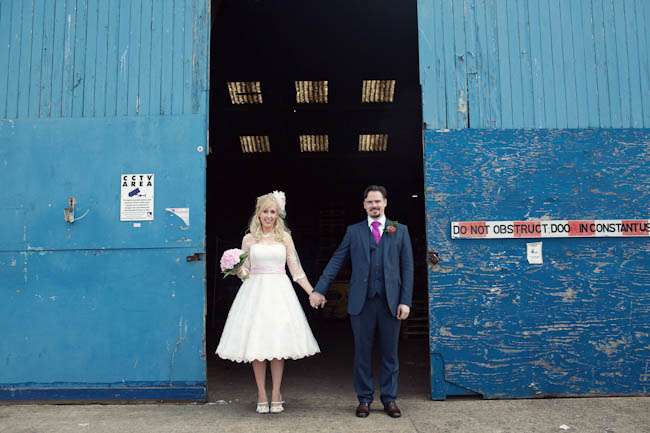 "Someone said to me recently, that they wondered if homemade weddings like mine and the weddings that feature on blogs such as Rock n Roll Bride, put pressure on brides to make everything themselves and find newer and more creative ideas," Sinead concluded. "I felt quite pissed off about this (particularly as the person works in the industry) because in my experience it was the exact opposite. I think there is so much pressure on brides full stop, but particularly at the beginning when everyone is offering their ideas, hopes and sometimes expectations of your wedding. I felt a certain amount of pressure to do things a certain way – the traditional way. Blogs such as Rock n Roll Bride reassured me and encouraged me to make our wedding exactly how we wanted it. Having the freedom to be able to put our personality into our wedding was incredible and I think forums that showcase these weddings, simply inspire and reassure other brides. It's not about keeping up with others it's about realising it's ok to put your stamp on your wedding and a great place for idea sharing!"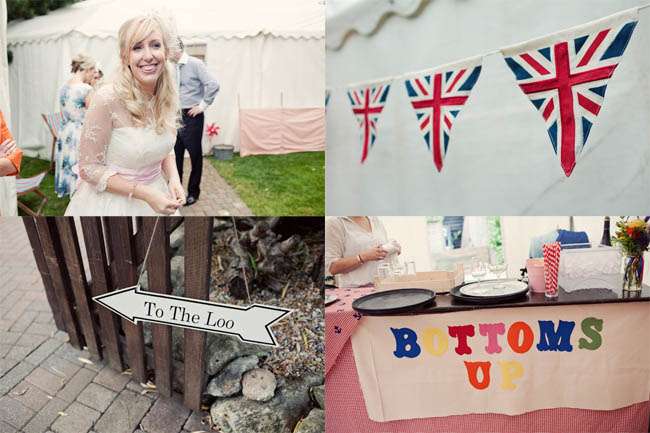 Hear hear Sinead, couldn't agree more! Thank you so much to Sinead & Dan and their photographer Emma Case for sharing this wedding with us today.