When Dianne & Andrew's wedding landed smack bang in my inbox, alongside the email from their awesome photographer Jonathan Canlas which read "I think this wedding is RIGHT up your alley, 7 month's pregnant bride and SUPER Rock n Roll" I was a little bit excited. Was I right to be? Hell YES baby!
I have to say, I'm actually a little bit honoured to feature this wedding. Not just because clearly the photographs and the wedding are gorgeous, but because the family appear to have gone through so much, yet come out happier and healthier on the other side. The bride explained;
"Wow, this turned into a huge undertaking answering all the questions.  I am glad that you asked them, because while you only will take the links from the answers, it forced me to write about my wedding which I had been putting off due to taking care of my baby and frankly, being so damn tired, this was the last thing I wanted to write about.  Which is sad, because the fact that my husband and I made it to a wedding day is no small feat."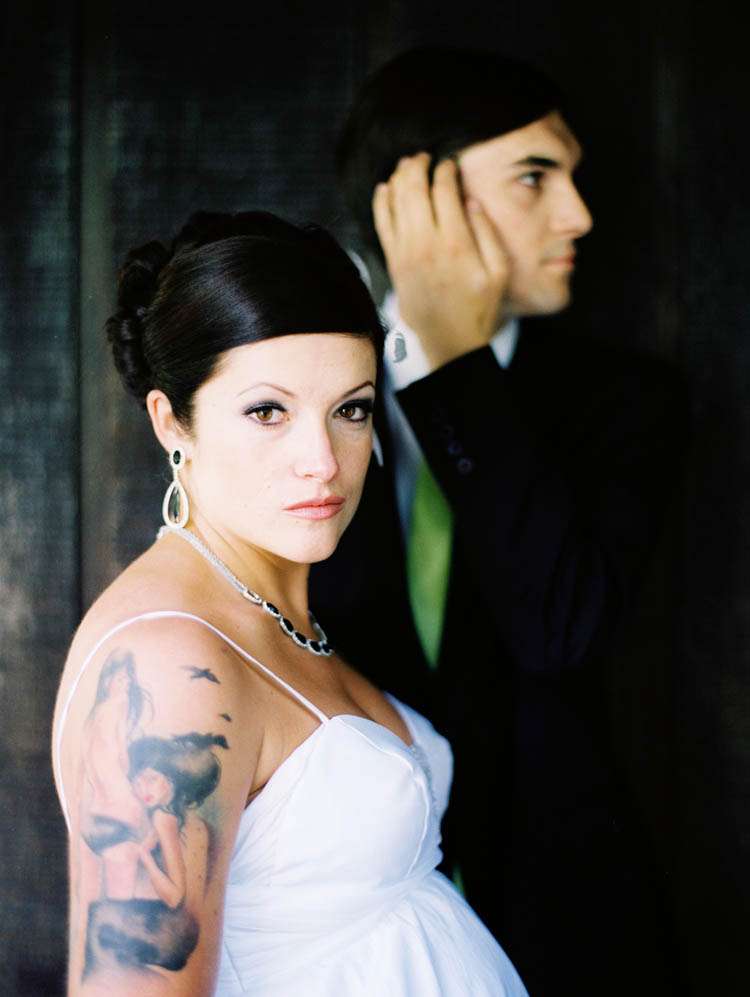 "In the last year, we have dealt with drug addiction, rehab, an accidental pregnancy, sobriety, a wedding, and a few weeks later, our son.  I loved answering all these questions because it reminded me that just because our situation is far from what is typically considered ideal, it is ideal for us, and I would not have changed a thing about it.  I will be sure to mention you on my blog, your site is a righteous reminder that where love and beauty can be found is not always on a magazine stand in the check out line."
Humbling. So humbling.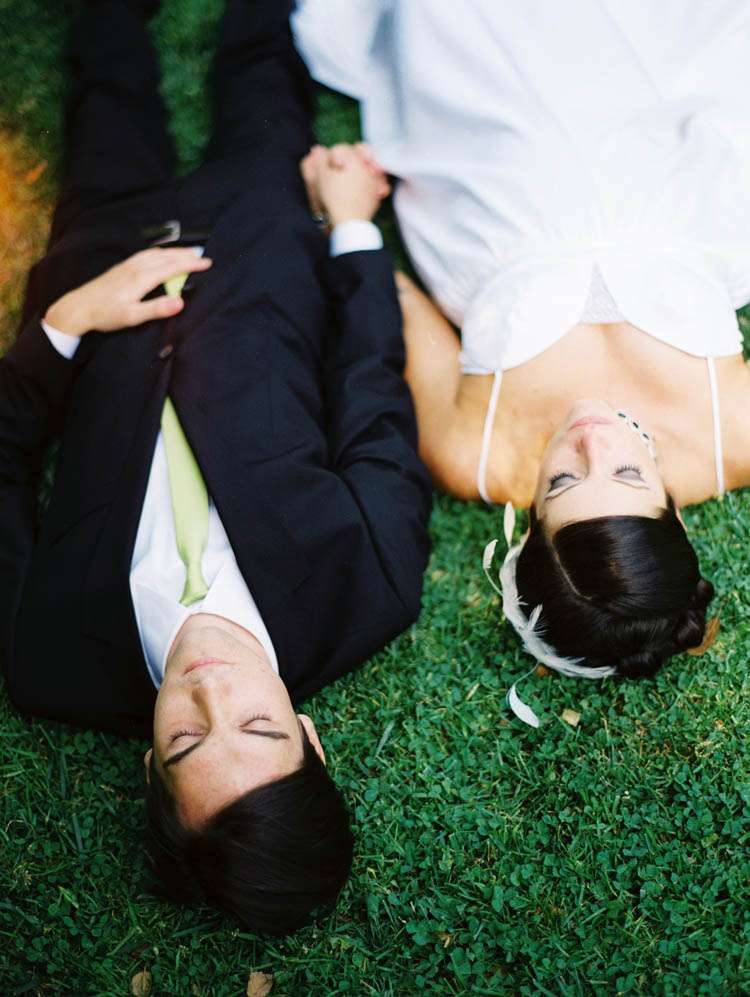 Anyway, onto the pretties! The wedding was a small and intimate one and took place in Andrew's parent's backyard (ceremony & reception.) "I wanted it at a place where everyone felt cozy and at home," Dianne continued. "Most venues are for larger weddings and I felt that the atmosphere of our wedding would be lost on such spacious grounds.  And let's not discount the fact that this venue is free.  It is a great thing living in Southern California, the weather allows you to hold some pretty fantastic parties right at home."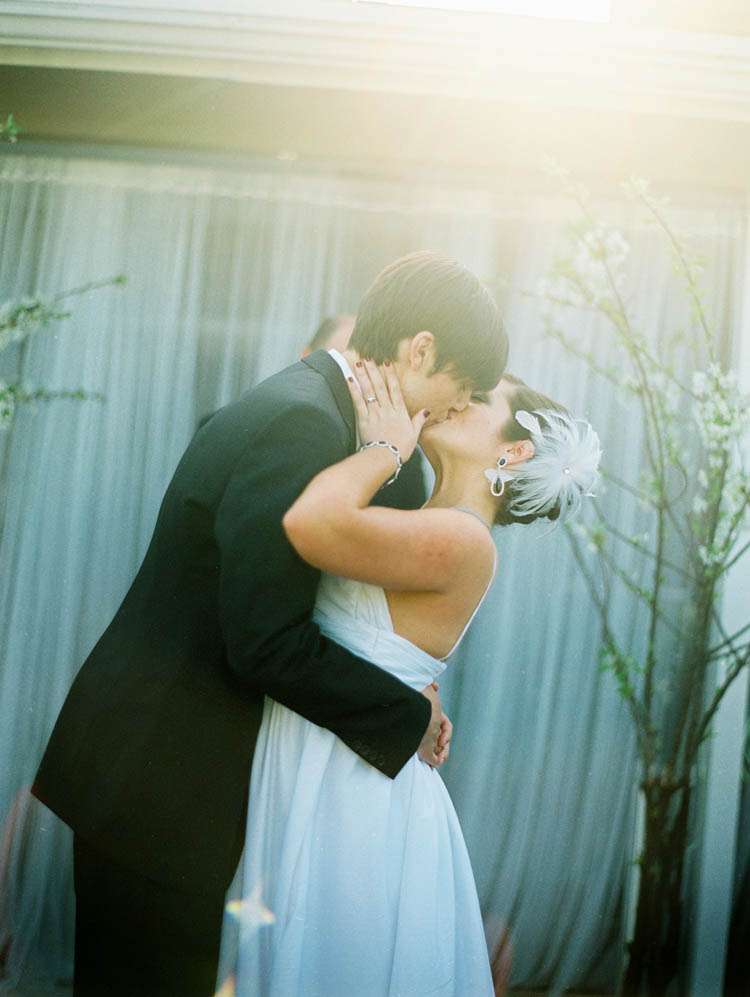 The whole day was a very relaxed and personal one – with no bridesmaids or groomsmen and a buffet for the food. In Dianne's own words, "with an addict and many Mormons on the guest list, the bar tab was also pretty small! The setup of the backyard worked great for our concept.  The house has a large back patio that is partially covered and then that drops off to a decent sized grass area.    We put up layered gauzy drapes around the covered part of the patio, and set up the food buffet style under there, along with the cake.  Guests came in down the side of the house and sat where they pleased at large round tables.  Andy and I stood up on the uncovered part of the patio for the ceremony.  After the ceremony was done, we pulled aside the drapes and people got up and served themselves to drinks and food while Andy and I made the rounds to the tables to thank our guests for coming.  I thought this made more sense than having a reception line, especially because I did not have bridesmaids.  Besides, I was almost eight months pregnant and standing still very long made the blood pool in my feet so I preferred walking around.  I also secretly like walking in my dress, feeling the train drag behind me, I felt very important and as the youngest of five kids, loved every second of being the center of attention."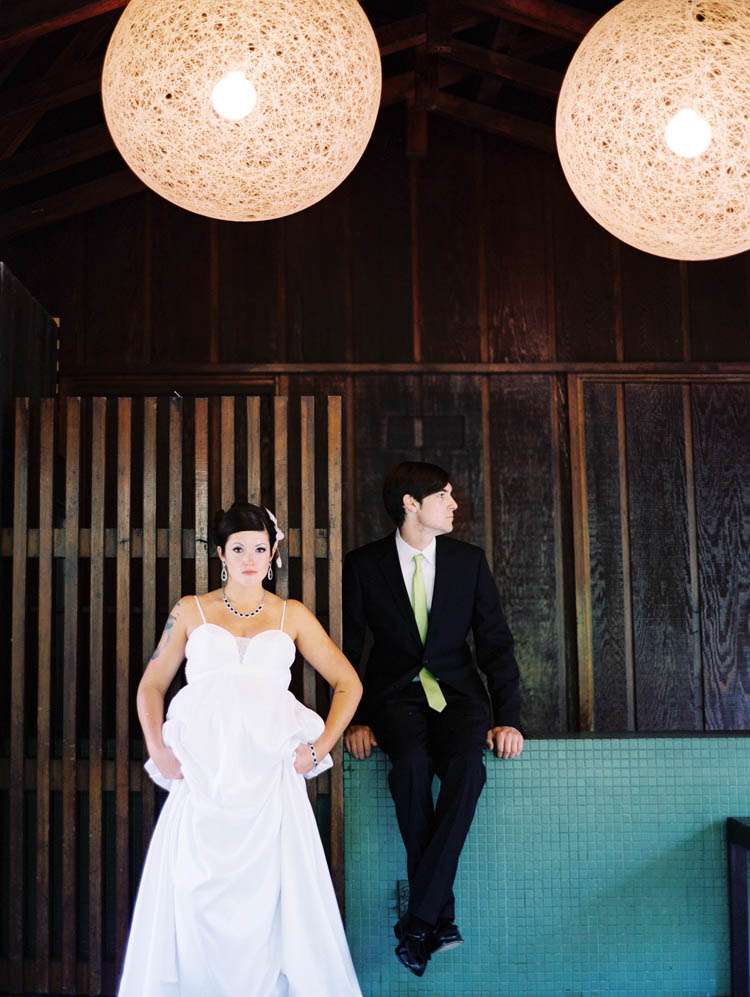 Being 7 months pregnant, a 'traditional' wedding dress was pretty much out of the question, and all the maternity wedding dresses Dianne found were pretty horrific. So she decided to go for a dress that would simply accommodate her bump, which meant empire waisted. "When I realized that this cut would work for a bride eating her weight in baked potatoes daily, I suddenly remembered a great dress I saw in a mediocre movie.  Mediocre is being nice by the way.  I googled 27 Dresses, sister, and wedding dress.  Up came the dress from the movie I loved and best of all, a site that made it!" The dress was by Amsale.
"The great thing about a shotgun wedding, you are forced to find shortcuts, and those shortcuts almost always save you money," the bride concluded. " The lavish parts of weddings demand time, and time we did not have, so we had to compromise and it worked out for the best."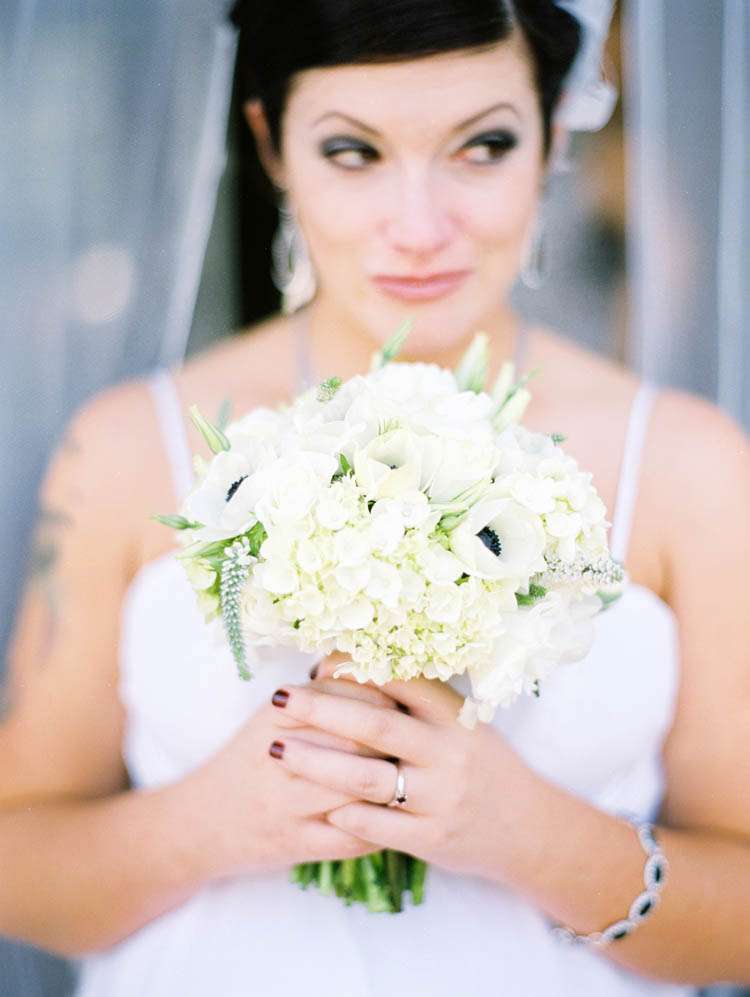 "You ask what we think made us Rock n Roll and really, isn't our wedding the epitome of Rock n Roll?  Or rather, the culmination of it all?  Sex, drugs, and Rock n Roll, right?  That third party in my middle region in all the photos can testify to the sex part of that catchphrase.  The last year of our lives can most certainly tell a tale or two pertaining to drugs.  And as for being Rock n Roll, we are simply two bad-asses that wanted a mix of tradition and the modern us, simultaneously present as we officially became a family."
HUGE thanks to Dianne & Andrew for being so open and honest in telling their story and of course, to their incredible photographer Jonathan Canlas for sending these over in the first place
Photography Credit: Jonathan Canlas Photography
Venue: Andrew's Parent's Backyard
Bride's Dress: Amsale
Bride's Shoes: Athena Alexander Saphire sandals in white at Nordstroms
Bride's Headpiece: David's Bridal
Bride's Jewellery: Macy's
Groom's Suit: Hugo Boss
Groom's Shoes: Cole Haan
Groom's Tie: Urban Outfitters
Cake: made by a family friend
'Expecting' Cake Topper: Magical Day
Flowers:  Macall Floral Design
Hair: Jen Knudsen
Make Up: DIY
Bride's Tattoos (not done especially for the wedding!): Nice Guy Tattoos by Tom Haubrick
Invitations: DIY (through Costco)