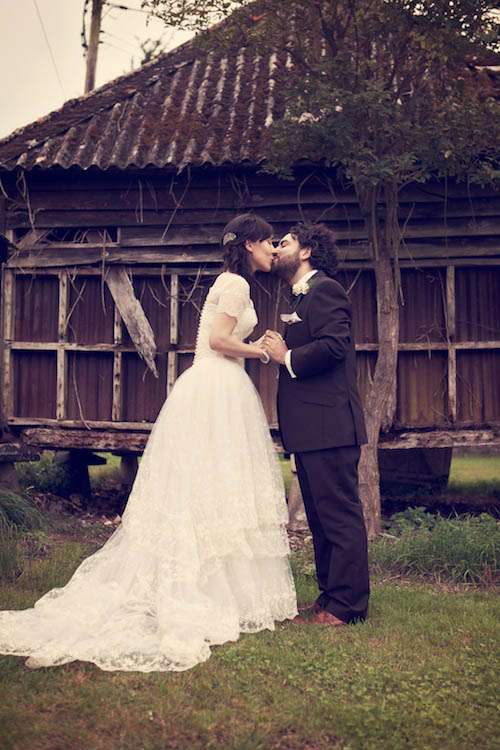 Warning: this post has a hell load of photographs and I ain't going to apologise for that. I literally couldn't cut them down! I am so excited about Lindsey & Adriano's wedding I can hardly contain myself. The gorgeous bride and her musician husband had a beautiful and quirky vintage-themed wedding at Farbridge, West Sussex.
"Our inspiration was easy we just collected things we love and are interested in," the bride told me. "I love all things vintage because I love that it has history and seems to have so much more personality than many modern things. I find that vintage things were made to last and made with care and skill unlike most things today are made to be disposable and are not designed to last. I wanted our day also to have lots of elements of fun so I came up with the idea of an ice cream sundae bar so guests could be kids again, make a mess and choose whatever topping they wanted! We also bought a kiss-o-meter for a bit of fun, it was from an American site and was from the 60's. In the reception barn at Farbridge they also had a projector. One of my favourite films is Cinema Paradiso, there is a scene at the end of the film which is called the kissing scene which features lots of kisses from famous old black and white films. We played this scene on repeat on the the projector to add another dimension to the room. We had a wedding cocktail which we served in jam jars and bought some quirky straws too.All these things were good talking points for the guests and added elements of fun and interaction."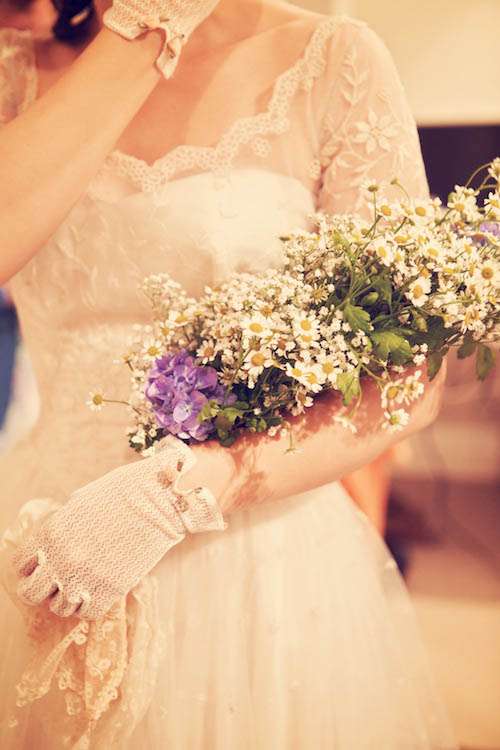 Lindsey wore a vintage dress that she found online at The Vintage Bride. The American site was the first place the bride visited when deciding on what she wanted to do for the wedding and after seeing the beautiful, one of a kind gowns she was sold on the theme. "Finding a dress was one of the first steps I took in beginning to organise our wedding. I first looked on the web and found this site, fell in love with the dress and bought it. A bit risky but the lady who runs the site, Rosie, says that if your dress is not right she will give a full refund which is quite unusual for an online site. So I took the risk. It arrived in a beautiful box tied with a big pink ribbon and it was  quite magical moment to open up revealing my dress for the first time, perfectly wrapped including a lovely lavender scented parcel. It was love at first sight."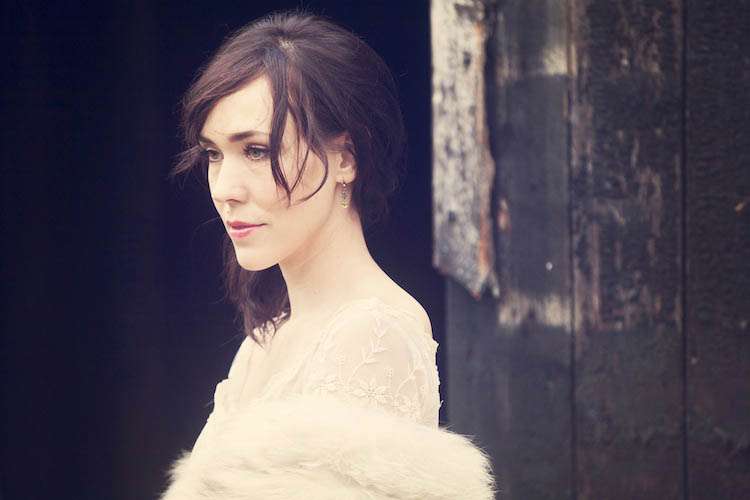 With her dream dress she wore bright red, bowed Kurt Geiger shoes which really added an element of fun to her outfit. In her hair she placed an antique art deco brooch which she got from Gray's Antiques in London. She also had Edwardian diamond & peridot earrings and a 1950s fur stole from the same place.  For the final touches, her bespoke "Mrs Buffone" knickers were from Ell and Cee and her waist clincher was from What Katie Did. Finally, her very favourite accessory was her vintage lace gloves which belonged to her late Granny Josephine Wain. They were very special to her to wear on the day.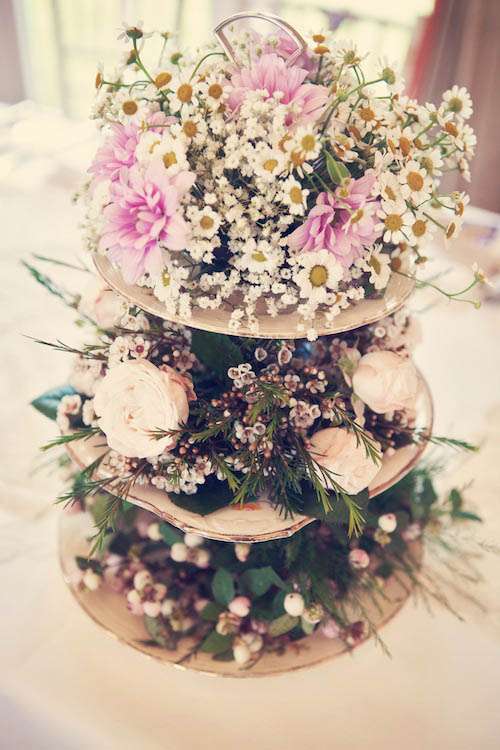 The couple put a lot of DIY details into their day including making their Polaroid cake topper and collecting different vintage tins for the flowers and unusual things such as the lady head vase and bird vases from Ebay. They found a lot at Alfies Antique Market off Marylebone high st in London including unusual 1950's spaghetti poodles and interesting salt and pepper shakers which they bought for the tables.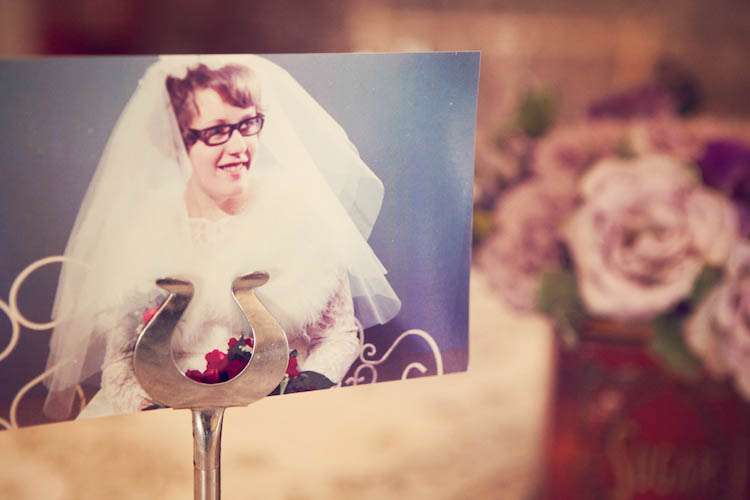 Finally, they chose to have pictures of kitsch weddings instead of table numbers to show where the guests what table they were to sit at. They used old fashioned luggage tags as place name settings and the bride hand wrote them herself.
Huge thanks to Lindsey & Adriano and the amazing Lisa Devlin for sharing this utterly gorgeous wedding with us today
Credit: Devlin Photos
Venue: Farbridge
Bride's Dress: The Vintage Bride
Bride's Shoes: Kurt Geiger
Bride's Jewellery: Gray's Antiques
Bride's Gloves: Vintage
Groom's Outfit: Ozwald Boateng of Savile Row
Groom's Shoes: Paul Smith
Bridesmaid's Dresses: LK Bennett
Bestman Suit: Zara
Usher's Suits: Sherry's of London & suit retro shop in East Berlin (Blue Velvet)
Cake: Mela at Kicca Cakes
Flowers: The Blacksmith's Daughterin Petersfield
Music: The Shellac Sisters
Hair/Make Up: DIY
Favours:  Lavender filled hearts made by Caroline Love
Mismatched Crockery: Pretty Vintage
Vintage tablecloths: Tea Times of Godalming
Caterers: Jacaranda