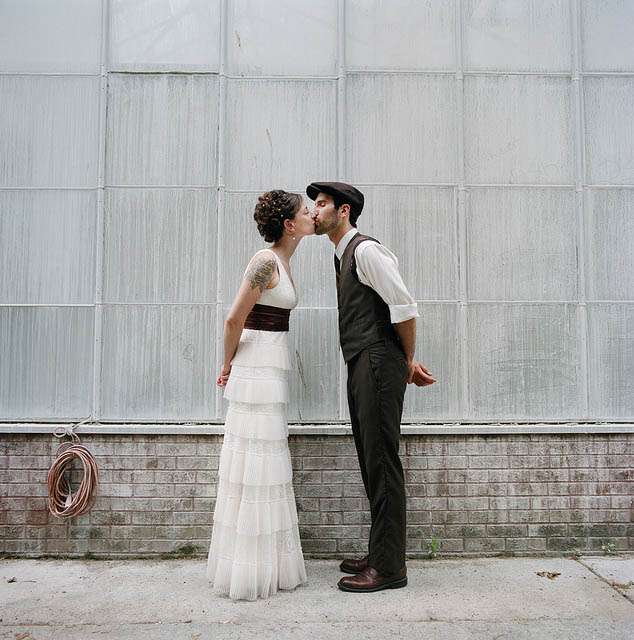 I hope you've been enjoying our much more frequent visits to the 'How to…' series. After reading your survey responses (full report to come soon) it was one of the things that was most requested. This week I asked Carina Romano of the fabulous Love Me Do Photography (based in Philadelphia) to address the subject that a lot of brides feel nervous about – how they're going to look in their wedding pictures.
Don't forget, I love hearing from you all so if you have any burning questions about anything wedding, business or blogging related be sure to shoot me an email and either myself or one of my carefully selected army of amazing guest posters will try and help out.
♥   ♥   ♥
Make Up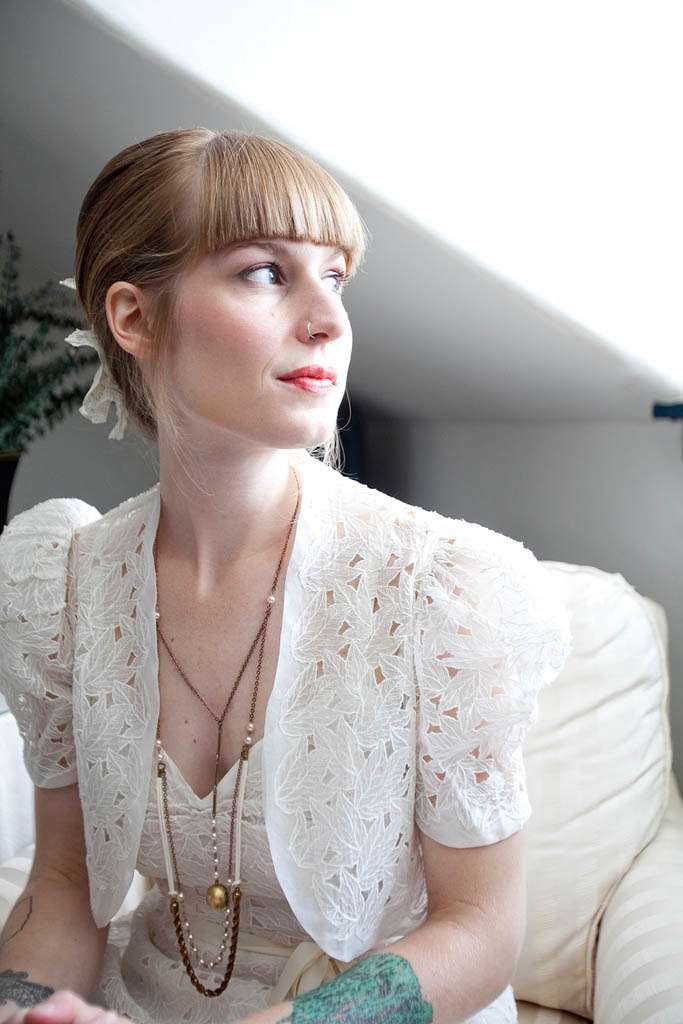 If you're afraid of your makeup looking fake, book a make up artist who specializes in natural looking make up.  A good make up artist should know how the camera is going to translate the look of your skin.  If you have oily skin, you're going to want to put something on that so that the flash of the camera doesn't reflect off your forehead. 
Relax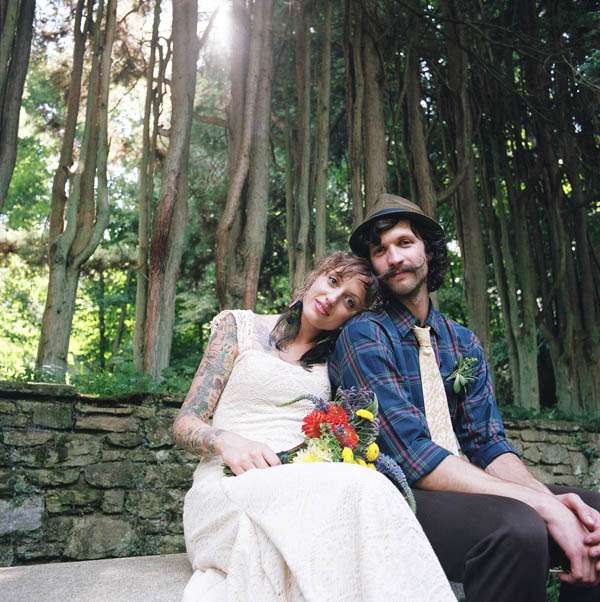 Make sure you're in the right state of mind before having your picture taken.  Any negative emotion will be apparent through your face in your pictures.  Make sure you're allowing yourself to be relaxed.  Go to a spa the day before, make sure you get a good night's rest, give jobs to your bridesmaids and groomsmen so that you're not having to do everything yourself (that's what they're there for!), have a drink!  A wedding day is stressful, you don't want to have to look back on your pictures and see that you have a furrowed brow in all your shots. 
Time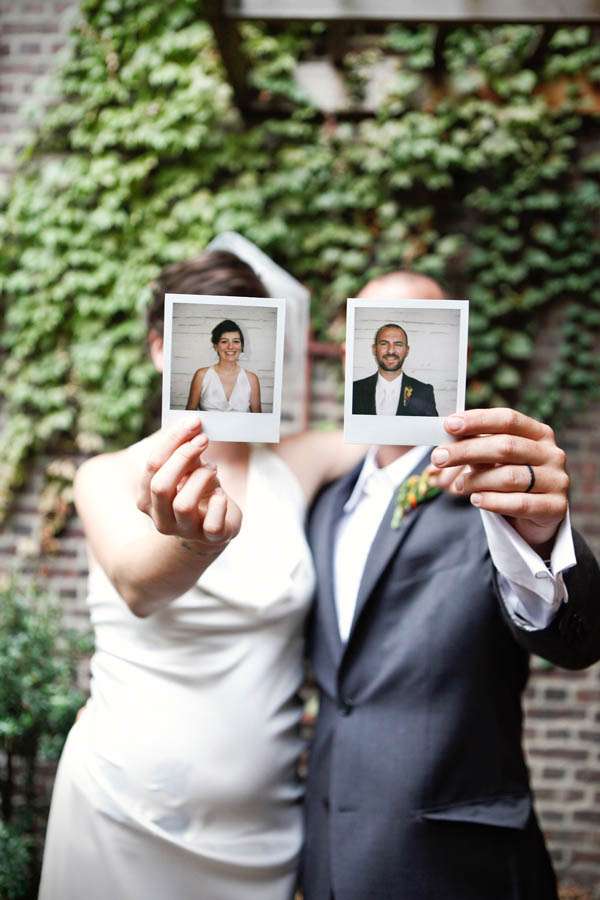 Give yourselves plenty of time for photos when planning your schedule of the day.  If you don't allow much time for portraits to be taken, then both you and your photographer are going to feel rushed or even worse, stressed, and that will come out in your pictures.  Sure, a great photographer can take good pictures in a very slim amount of time, but it's always better to allow more time for those creative juices to flow.
Meet your Photographer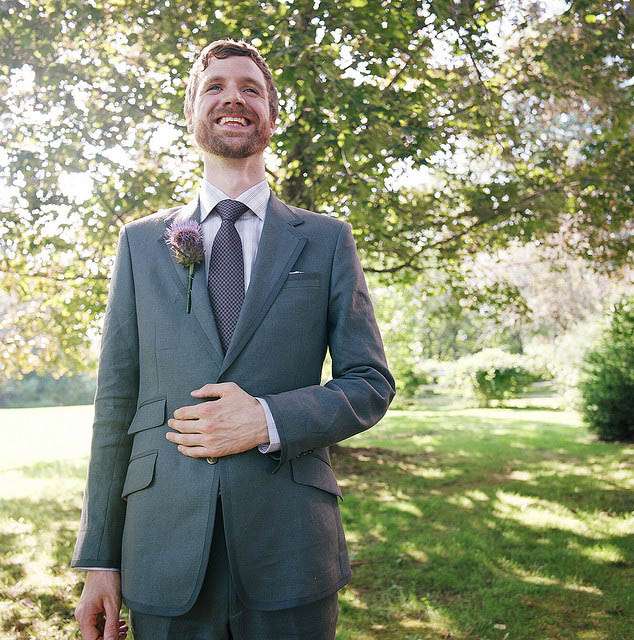 Meet with your photographer in person beforehand. Part of the photographer's job is to help you feel natural in front of the camera.  They're the one vendor that you will be spending the most amount of time with.  You don't want the first time you're ever meeting with them be your wedding day.  More importantly, you should be able to get along with them.  What I like to do when meeting with clients is to ask them personal questions like: how did you two meet, how did you get engaged, what is your favorite style of art or artist, what are your favorite musicians, if you could have your dream house, how would you decorate it?  This give me, the photographer, information on the couple's tastes and style, and it allows me to then interpret that into what kind of photo will really suit their unique personalities.
Have an engagement shoot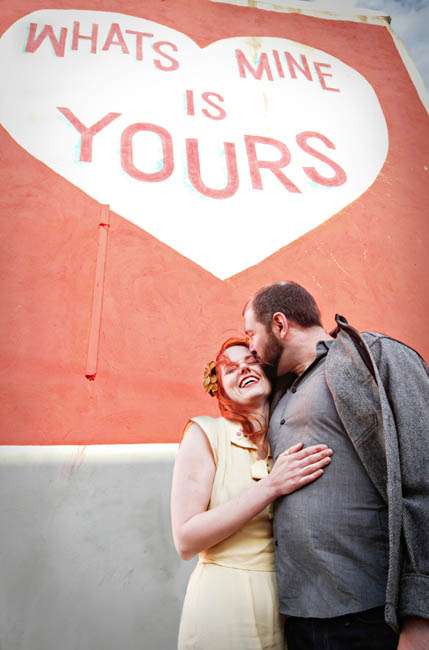 If you're really nervous, book an engagement session with the photographer.  This can be your "trial" run for photos.  You'll get to spend them with your photographer, see how they work, and how you interact with them and the camera.  This will also get you used to getting your picture taken, and you'll see a finished product before the actual wedding to ease any nerves.
Be Yourself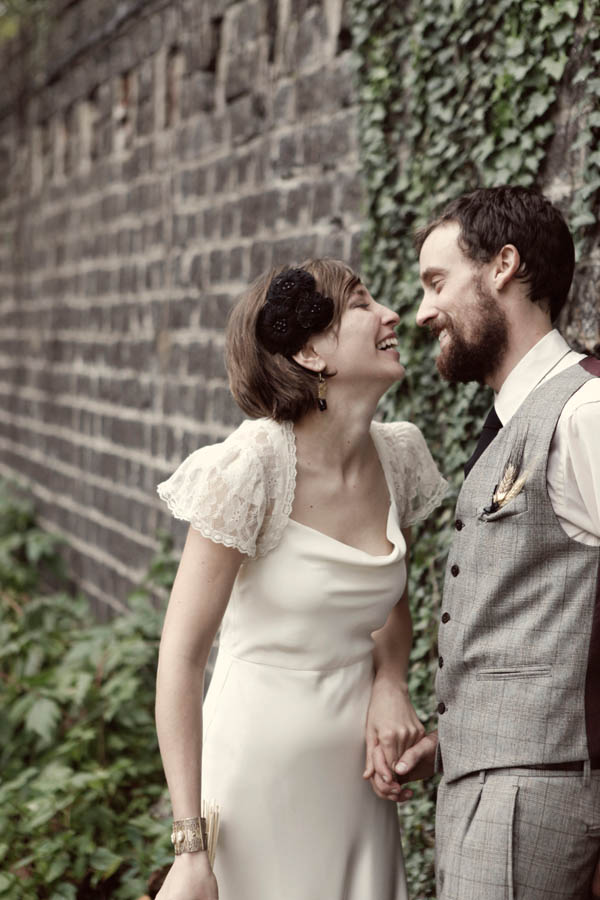 When a camera is pointed at you, this doesn't mean that you have to look into the lens and smile.  No stiff poses.  If you feel like you're straining yourself, you'll probably also look like you're straining yourself.  You should not need to hold a pose more than a few seconds.  If you do, you'll end up looking like this: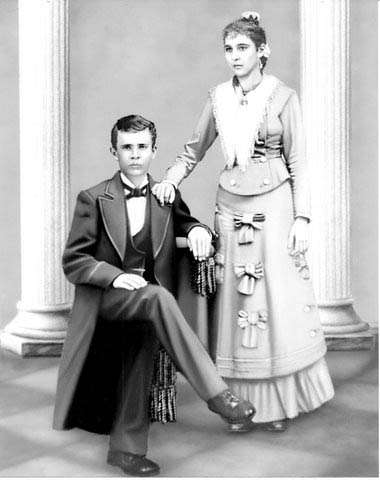 Pretend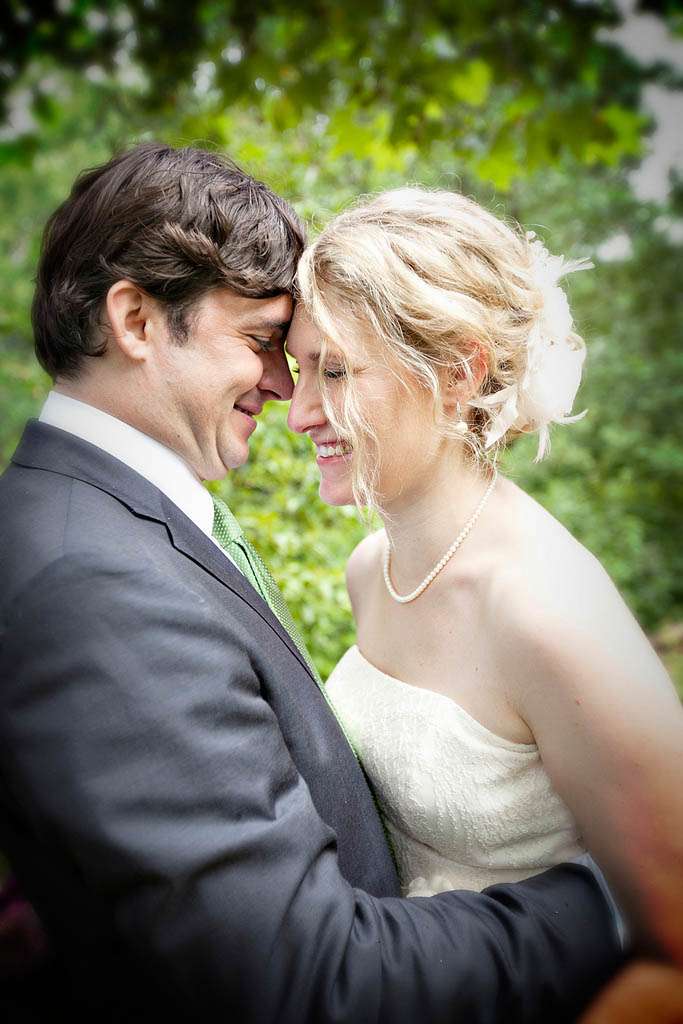 A good way to get natural, genuine photos is to pretend that the photographer isn't there at all.   Once you shake the feeling of being watched, you can then start behaving naturally.  The best kissing shots are captured this way: you're kissing your spouse because you want to and you love them, not because your photographer is telling you to.
Trust your photographer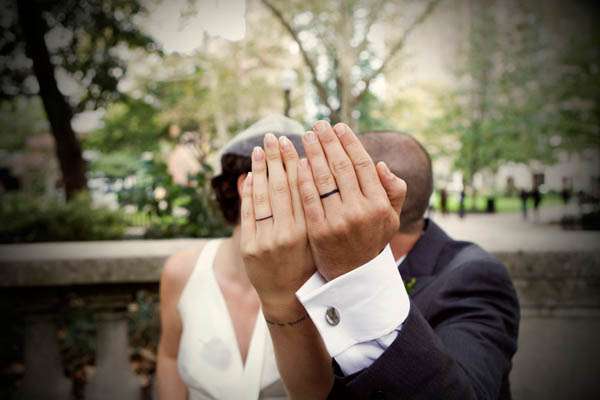 You hired them because they make great images and you like what you've seen.  A good photographer will edit out and awkward photos, leaving only the good ones for you to keep forever and ever.  Your photographer might suggest a pose that you might not be into.  You can either (a) be honest with your photographer and tell them that you're just not into it, or (b) trust that they might know what they're talking about and go for it!  You don't want to be somewhere in the middle, not sure, because again, it will come out in your photo that you're not into it. 
Have fun!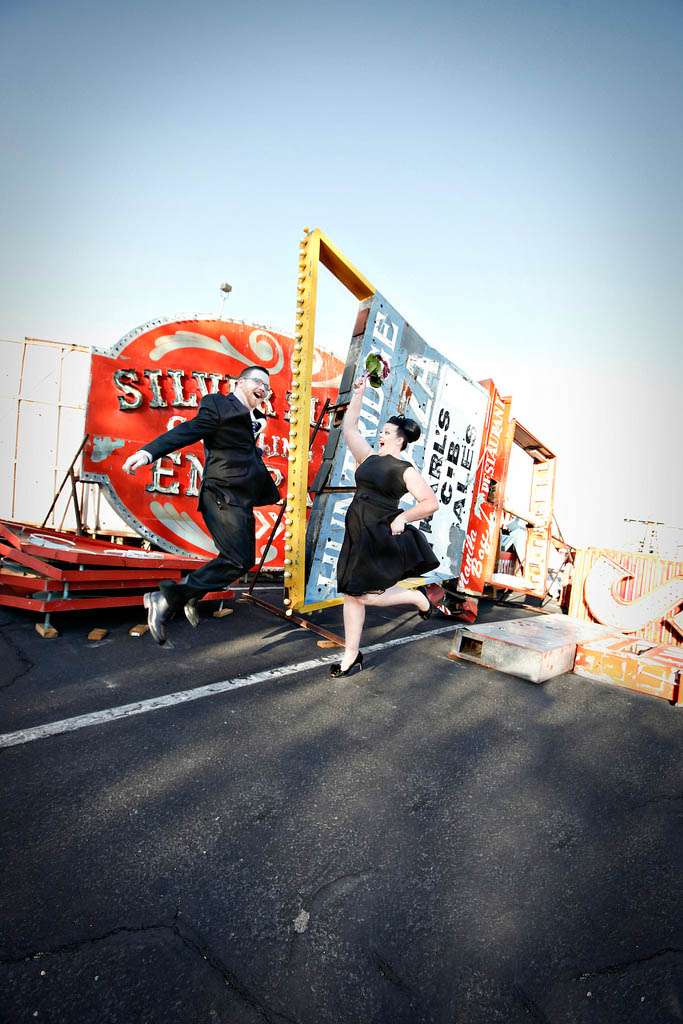 And most importantly, have fun!  Do something extreme!  Do what you want to do, have a good time, act how you would act with friends, enjoy the moment.  It's not often that you spend hundreds (maybe thousands) of dollars on a photographer, might as well live it up!