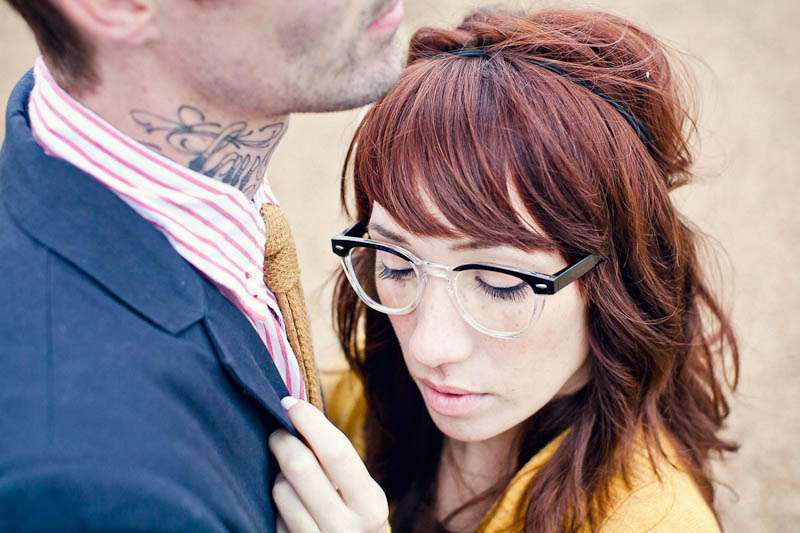 Photography Credit: Sweet Caroline Photography (full wedding here)
Last week I received the following email from bride-to-be Tiffany…
Dear Rock n Roll Queen,

My name is Tiffany and I've been a quiet reader for a while. Reading your blog has always gotten me excited for my own wedding and I'm happy to say, that after 8 years, me and my fiance are going to get married. It'll definitely be diverse since his parents are Scottish, mine are American and he is Canadian.

But, I digress.

You see, I have a problem. I look at weddings on your blog, admire how unique they are and can't help but want mine the same way. After all, I'm a weird, unique dork. I wanted my colors to be neon green and hot pink, with glow sticks in my bouquet, splatter paint tablecloths, video game favors, lego bride and groom toppers and so much more. But my fiancé is so old-fashioned and ORDINARY. He doesn't want our wedding to stand out and be memorable.

So I toned down EVERYTHING. Ordinary favors, ordinary toppers, light green and light pink… nothing unique. The problem? I don't wanna be upset at my own wedding because there is nothing of me there. Me and my fiancé both LOVE video games but he'd rather decorate our wedding with flowers?! He said that weddings should be approached with maturity, but when I look at your pictures, it's obvious that people are fine with letting your inner child out.

Anyway, I'm getting married in September and I wanted your advice. How should I approach Ian again? I already talked about compromising. I just figured, with your expertise, you would understand and know how to handle it.

Much love, Tiffany
So I mulled this over and emailed Tiffany back to ask if it was OK to share her email and offer some advice via a blog post. I figure that way, if any more of you are having similar woes you can benefit from this too.
I actually got chatting to the ever wise Roo about this topic as she's had some experience with feeling like her wedding ideas were being stifled too, and so we decided that she'd address this subject. She's good at that is our Roo…
♥  ♥  ♥
Dear Tiffany,
When Kat forwarded your message to me, my interest (and empathy) was immediately piqued. You see, I too am stifling my inner child for the sake of my wedding – for the most part, anyway. Like you, this blog has long been bookmarked as a constant source of fantasy wedding inspiration, and when Lamb and I got engaged I was beyond excited at the prospect of all my scrapbooking coming to life. I figured that our dreamy dream wedding would soon be a reality, but as luck (well, yours and mine) would have it, I was mistaken. Like you (again), there have been aspects of our wedding planning that I would say have been – for lack of a better word – hindered. Unlike you, however, the culprit isn't my husband to be; the culprits are our parents.
We have had to compromise on a lot of decision-making surrounding our wedding – from what part of the country it'll be in, to what kind of venue we'd like, what type(s) of entertainment we could have on offer – even down to the cake. As frustrating as it is, it's important to remember that there are solutions; it just takes a certain amount of patience and a lot of forward thinking.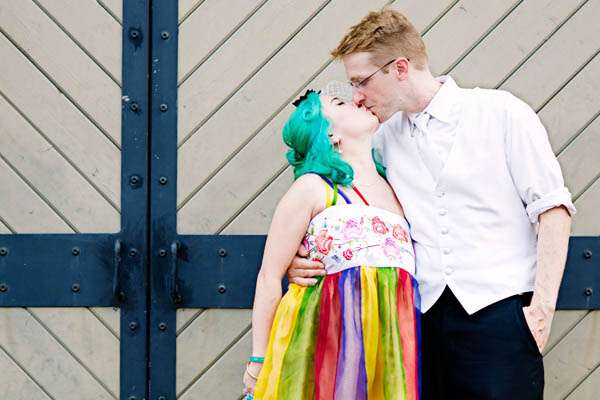 Photography Credit: The Rogue Magnolia (full wedding here)
My first suggestion is to show your fiancé the above e-mail. When Kat suggested posting it to the blog, you were keen for us to keep it verbatim, names and all. I think this in particular speaks volumes about your predicament, and I really believe that if your fiancé knew the extent to which you've gone just to seek advice, he'd actually start to listen. This is more than confiding in a friend – this is confiding in thousands of readers who I am sure will jump to your aid with their anecdotes and understanding. Your fiancé has to realise and recognise your desperation.
There are certain parts of our wedding that we changed for the benefit of our families, and at first I didn't think I would get over it. Most notably, I figured I'd never be able to accept that our wedding is in a different part of the country than we had originally hoped for; now, though, I'm glad that we had to compromise, because it turns out that Brighton (our initial dream destination) isn't host to the type of venue that we actually want (somewhere we can host the ceremony and reception). Similarly, I wanted a confetti cake instead of a traditional fruitcake, but both of our mothers felt strongly that we should keep it traditional. So, we have. The compromise was easy, because while the taste of the cake keeps our families happy, the look of it is our decision. I had hoped that we would hire in a photobooth for the reception, but my mum wasn't keen on the idea (whether this was for monetary reasons or down to personal taste, I don't quite remember). To combat the problem, I've decided that we'll make our own photobooth and fund the materials ourselves. I'm confident that once my mum sees the good job we're going to make of it, she'll be one of the first in line to strike a pose!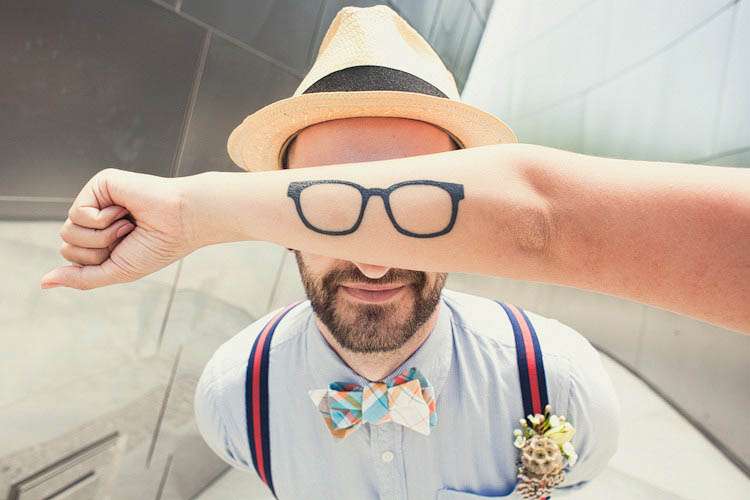 Photography Credit: Marianne Wilson  (full wedding here)
You say that your fiancé holds the belief that weddings 'should be approached with maturity', and that's fine. I know that I am quite obviously biased, but I do feel that he's left himself blinkered to just how creative your wedding could be. When I read that you were both into gaming, I immediately thought of one of my favourite styled shoots: these Super Mario wedding ideas from Green Wedding Shoes. I love how it manages to take the game's key elements and yet style it into something that is still aesthetically amazing for anyone who isn't familiar with it. In short, it's not obviously a gaming theme (at least, I don't think so) and I think that something like this could work from the 'mature' angle that your fiancé prefers. Show him this example, and look through it together. I'm sure you've shown him images of things you'd like to take as inspiration for your own day, but why not have him read some of the testimonials of your favourite weddings? Perhaps he'd start to soften if he knew the backstory to some of the weddings you admire, and the choices those couples have made.
When our parents expressed their disapproval of us getting married in Brighton, one of Kat's first suggestions was to hold our wedding ceremony wherever our parents wanted, and to follow it with a huge, no holds barred party wherever we wanted, full of all our personal touches. This would be my second suggestion as a solution to your problem. You can even stick closely to the wedding theme by wearing your dress all over again, except this time you can do cartwheels in it, just like your inner child would insist you do.
Photography Credit:  Lehua Noëlle Faulkner via Green Wedding Shoes
I think that right now is an apt time to open up the floor to the readers – they're a wise bunch, you know. At times like this I think it's always surprising to find just how many other people have experienced the same dilemma, and perhaps your fiancé will take heed not only of the lengths you've gone to in order to reach a solution, but also of the pearls of wisdom from lots of other people who sympathise and hope that you can work things out. Above all else, I hope to load up the blog one day in October and see your crazy, colourful wedding featured! Good luck!
With love,
Roo (AKA Rock n Roll Jester)