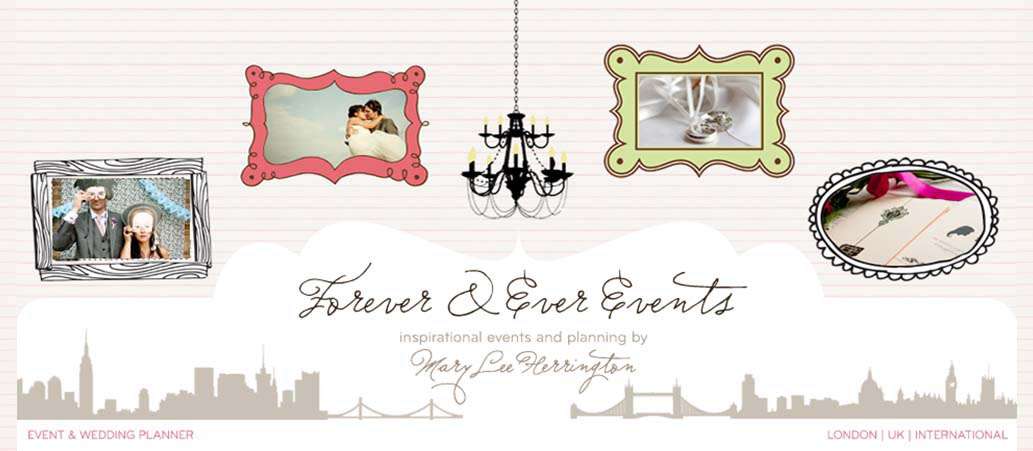 I get loads of emails from you lot asking me advice on all manner of wedding planning related matters and while I'm easily able to reel off a long list of fantastic photographers I know or recommend some awesome dress companies, when it comes to wedding venues…well I'm as clueless as you are!
We had a massive drama with our wedding venue (they cancelled three months before our wedding day – but that's a story for another time!) so needless to say finding the perfect venue for your Rock n Roll wedding is not my speciality! However luckily for me (and you!) I know someone who knows all about the very best and coolest venues in the country. I asked my good friend Mary Herrington of Forever & Ever Events if she'd be able to start up a feature for me, showcasing some of her favourite and most Rock n Roll wedding venues all over the country, First up London…
♥  ♥  ♥
I can't tell you how cool I felt when Mrs. Rock n Roll herself approached me about guest blogging on the topic of Rock n Roll venues in London.  Seriously felt like I had gotten the official seal of cool approval.  My mind started racing through the mental rolodex, considering all the many amazing venues in my books, and I realized that I needed to stop and think about what makes something Rock n Roll. As you all know, a Rock n Roll Bride wedding can be punk rock, hip hop, down home, urban chic, tattooed, but at the same time, Rock n Roll Bride is also about beautiful weddings –every single featured wedding is full of jaw-dropping photography, romance, high style and just the pretty.  And that's just it: what makes everybody stop and take note is the fact that every single one is different and unique.  So rather than assume that all of you want the same kind of venue that evokes rustic elements or architectural design or a space you can DIY, I knew the best way to approach this mammoth task was to think of unique qualities about each venue that stand out, that will get guests talking, that will be awesome for a rock band, or a jazz band, or a venue that will provide the outdoors indoors, or exude laid back cool, or that will give you a wicked setting rife with kick ass photo ops. It was clear I needed to give you a wide range in both style, size and economy, but all of which have something extra-ordinary.
Without further ado, here is a list of 10 wedding reception venues that should satisfy your different Rock n Roll sensibilities.
You can't get more Rock n Roll than Shoreditch.  Right off the bustle of Old Street, the Town Hall, while situated in the thick of uber hipsterdom, does not attempt to be trendy.  Far from it, the building's interior harks back to Edwardian times, with gilt-edged walls, stained glass windows as well as an orchestral bay, all preserved in its historic state. However, staying true to Shoreditch's alternative energy, the motto speaks quietly to the venue's Rock n Roll spirit: "More Light, More Power", a motto etched on its crest and in the stained glass windows (check out the photos of me in the venue below!).  The main Assembly Hall has its own elevated and built-in stage, perfect for your wedding band and holds 350 comfortably for a dinner and dance set-up, while, for smaller weddings, the Council Chamber downstairs can hold 80+ comfortably for dinner and dance.  Licensed for civil ceremonies, it is also entirely flexible – no on-site caterers or furniture, so you are free to bring in whatever and whoever you want.  Hire charges range from £3,000-4,000 + VAT.  And the most Rock n Roll of all: readers with any Forever & Ever wedding planning service will get a 10% discount on hiring Shoreditch Town Hall on bookings made prior to 1st February 2011.  For more details on this special offer, contact me directly at info@foreverandeverevents.com and make sure to refer to Rock n Roll Bride.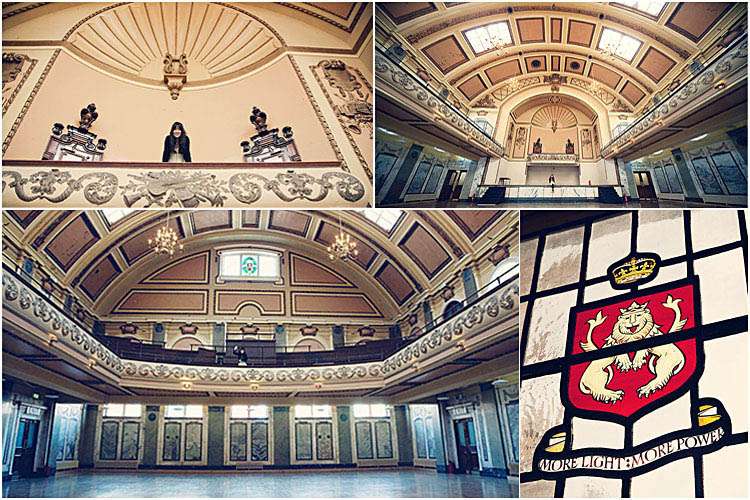 Shoreditch Town Hall, 380 Old Street, EC1V 9LT, 0207 739 6176.
If you're sick of the frumpy and old, why not go for contemporary and chic with the Design Museum's floor-to-ceiling glass windows and balcony, from which your guests can soak up the amazing London skyline and direct view of Tower Bridge.  The Riverside Hall can accommodate up to 250 guests and has white walls and marble floors, a perfect blank canvas for you to create a look and theme that is not dictated by design relics of a bygone era.  You can even arrange for your guests to have private viewings of the galleries from 7pm-11pm.  The museum now also holds a license for civil ceremonies.  Get your design on!
Design Museum, 28 Shad Thames, SE1 2YD, 0207 940 8262.
3.  The Hill
This gastropubis not your ordinary local – think, moss green walls, gold moulding, art deco chandeliers and sconces and antique chairs upholstered in moss green and plum velvet, all paired with rustic farm-house tables. You get the entire venue to yourself – that includes the bar, the main dining space, an alcove room and a garden already decorated with fairy lights.  If you want a barbecue reception, the garden is a real gem that can easily be turned around and elevated to chic standards. For those on a tighter budget, check this out: no booking fee, just a straight-forward minimum spend of £6,000 for food and beverage on weekends (£4,000 on weekdays), a flexible kitchen willing to work with you on a personalized menu, or a kitchen which your own caterers can use, and 10% off when you pre-order bulk supply of more than 12 bottles of wine (which, I assume, most Rock n Roll receptions will surpass).  This is a perfect reception venue for a laid back rock n' roller.
The Hill, 94 Haverstock Hill, NW3 2BD, 0207 267 0033.
The name says it all: there is a garden on the roof.  But this isn't just any garden on a roof, this is a garden with streams, barbecues and flamingoes.  I don't know about you, but having flamingoes at your wedding reception is insane (and in a good way).  Who wouldn't want a hot pink bird strutting around with guests?  The Roof Gardens also offer a kick-ass view of London while completely removed from its hectic pace.  There are 3 gardens on the roof: the Spanish Garden, the Tudor Garden and the English Woodland (where the flamingoes reside).  The indoor space is also licensed for civil ceremonies.
Kensington Roof Gardens, 99 Kensington High Street, W8 5SA, 0207 368 3971.
5.  Vinopolis
You are guaranteed to have very happy guests if your wedding reception is held in a wine cellar.  And at Vinopolis, you're not just guaranteed a stock list of incredible vintage, but you'll also get a gorgeous setting with vaulted arches and exposed brick. The spaces are also versatile for your numbers – from 100 in the Academia room to 200+ in the Great Halls and Mezzanine. With their own in-house lighting team, they can provide uplighting and spotlights that will complement the architectural features of the venue and the colour palette of your choice.  You can also add a unique touch to your reception by setting up a wine tasting bar for your guests.  Vinopolis also offer bespoke tastings where you and your bridesmaids can experience selections and learn about different vintages on your oh-so-tasteful hen night. Also licensed for civil ceremonies.
Vinopolis, 1 Band End, SE1 9BU, 0207 940 8322.
You may recognize the building from the film Notting Hill (a film which, despite Rhys Ifans' participation, is not exactly Rock n Roll, but nevermind).  This Georgian building is so pretty and idyllic, you will simply be shocked that it's in London proper.  Not only that, it is on Hampstead Heath!  Far from the dark, cavernous interiors that is the detriment of so many venues in this country, this venue has got plenty of spaces to accommodate your numbers: from the Adam Library with up to 60, to the Orangery and East Wing for parties up to 120. And nothing like a bit of cultcha: your guests can gawk at Rembrandt's Portrait of an Artist and Vermeer's The Guitar Player, both of which are displayed on the ground floor with the likes of Gainsborough and Van Dyck. And remember what I said about the Heath right on the doorstep? – you can put up a marquee (so long as it's approved by the venue), where your guests can catch the sunset and truly feel like they've gone out to the countryside for your big day (but via London Underground).
Kenwood House, 0207 973 3416.
7.  The Forge
Home of the original London punk scene, Camden is also home to an exciting wedding reception venue that combines gourmet Italian cuisine and cool minimalist design with – you will flip at this – a rock venue!  Caponata & The Forge is actually one big space that opens out from the restaurant and bar to the music venue in the back.  You have all the sound equipment and lighting built in to the venue to create a truly Rock n Roll wedding reception.  As you can see from my visit photographed below, the space includes an upstairs bar (perfect for your cocktail reception) and its ground floor restaurant opens out into a courtyard with high ceilings and skylights.  They also have a rad "living" wall with vines and leaves climbing up (sort of like a vertical garden), a perfect backdrop for photos and even a make-shift photo booth!  This is all connected to the concert venue in the back with its own stage, where you can rock out until 2am!  And the most Rock n Roll of all: you can get a 5% discount of room hire and catering – just quote Rock n Roll Bride when contacting me at  info@foreverandeverevents.com about a wedding planning package.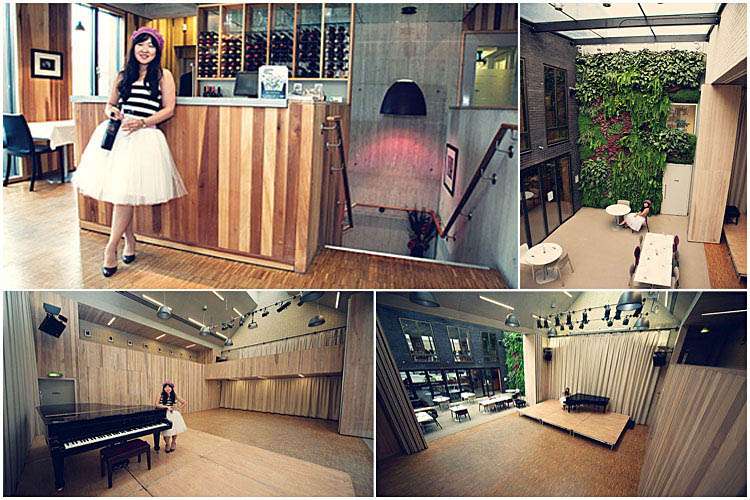 Caponata & The Forge, 3-7 Delancey Street, NW1 7NL, 0207 383 7808.
8.  The Gun
Whether or not you're having a shot gun wedding, having a wedding reception at a place called The Gun just screams Rock n Roll.  I mean, how Rock n Roll would it be to get married at a church, followed by celebrations at "The Gun"? – I can already see an ironic wedding invitation right there!  Not only that, the main dining room has archways that are stuffed with firewood, the riverside terrace overlooks the city of London and Docklands, and the Sundeck provides a vast open space for an outdoor cocktail reception or an evening barbecue. This venue can be hired out exclusively and seat up to 110 for a seated dinner.  And at the Gun, you can rock it out until 2am.
The Gun, 27 Coldharbour, E14 9NS, 0207 515 5222.
If you're like me, you love The Big Lebowski and bowling. And, to me, bowling shoes will forever be an iconic symbol of understated cool.  But even if you don't exactly go bowling on a regular basis, a wedding in a bowling alley is just sooooo Rock n Roll.  After the I Do's, guests can team up, drink and place their gutter balls or strikes.  Unlike Holly Star Lanes of Lebowski fame, this is no ordinary bowling alley – Biscuit Pin at Shoreditch House is chic and modern, with its own private bar, cool fixtures, modern furnishings and ironic attention to detail that you can't expect anywhere else but Shoreditch.  If you worry about guests having too much fun and forgetting it is a wedding reception, it is just a 2-lane bowling alley, so you don't have to worry about guests forgetting about you.  Adjoining the bowling alley is Biscuit Tin, where you set up for dinner, dance and partying.  Also licensed for civil ceremonies.
Shoreditch House, Ebor Street, E1 6AW, 0207 739 5040.
10.  Barbican
If your heart is set on a garden wedding, but you are based in London, then look no further than The Barbican.  In the heart of the city of London, The Barbican has an indoor conservatory fully licensed for civil ceremonies. The conservatory is like a garden-meets-tropical rainforest, yet landscaped with arches and foot bridges, perfect for "outdoor" photos and an "outdoor" cocktail reception.  The ceiling is a series of large glass panels, streaming in natural light (so, even when London skies issue a sprinkle or two, you are protected from the rain while fully enjoying the benefits of a garden!).  Adjoining the conservatory is the Garden Room – a vast open plan space that has a capacity of 200+ for seated dinner and dance.  The walls are very Bauhaus/mid-century, which means it won't overpower your event décoror dictate what you can do to decorate it in your Rock n Roll way.  Searcy's is the exclusive caterer for the space and their food is top notch. And the most Rock n Roll of all:  with any Forever & Ever planning service, you can get a 50% discount off the Barbican's room hire rates for 2011.  Inquire for more details at info@foreverandeverevents.com.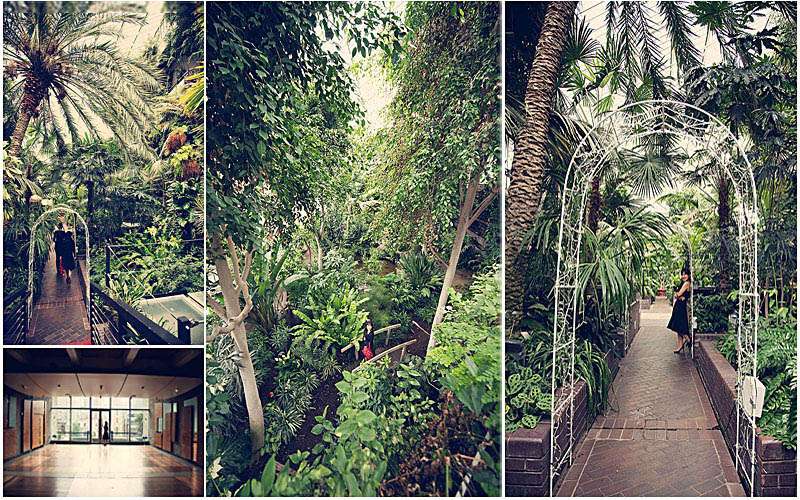 The Barbican Centre, Silk Street, EC2Y 8DS, 0207 382 7246.
This list is just a taste of some Rock n Roll venues in London, but ones where you are bound to create an awesome wedding that reflects your individual Rock n Roll style.  There are so many amazing venues in this town and lots of ways to be creative and individualistic for your big day.  If you're curious for more Rock n Roll tips on planning or styling, drop me an email at info@foreverandeverevents.com or find me at http://www.foreverandeverevents.com.
All the images in this post were photographed by Caro Hutchings Photography
Rock on, Brides!  MLH x.
♥  ♥  ♥
Huge thanks to Mary and Caro for working so hard on this feature! If you, the Rock n Roll Bride readers want our help finding your perfect venue, why not drop me an email with your location (we can do worldwide – I know some international planners that can help too!) and we'll see if we can get it in the next installment!