This is a wedding I have been looking forward to featuring for over a YEAR! I first heard about Vishaka & Dean's plans for a circus themed wedding from their friend Rhiannon Burton of Under the Cherry Moon who was designing them some custom invitations and props for the wedding. I knew from chatting to Rhiannon all that time ago that I would love the wedding and I certainly wasn't wrong!
Vishaka & Dean got married last summer (The wedding has been featured in this month's Brides magazine, hence the epic wait until I was allowed to feature them!)  in Corsley, Wiltshire. The theme for the day was a circus-inspired day of fun. There was dressing up and a trampoline; there were hay bales and a secret treehouse with munchies hidden in it; there was a strong man and a lion, a lucky dip and a big top and come the evening time there were smores, sparklers and a bonfire. The tables were named after different circus acts and the place names were badges that the guests could wear later.
Vishaka & Dean even made the strong man and lion backdrop and 15 guests entered cakes to their baking competition, which provided desert.
Aaaaah-mazing. I certainly think it was worth the wait don't you? Be sure to check out the full vendor list after the 'jump' and all the images – the attention to detail is utterly incredible.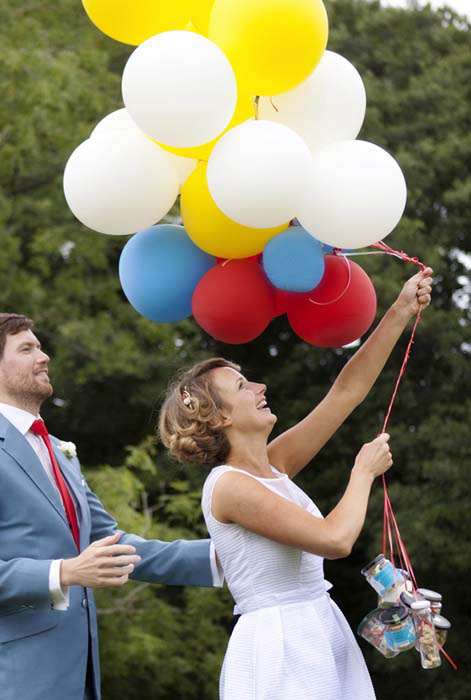 Huge thanks to Vishaka & Dean, photographer's Cara & Nye of Lillian & Leonard and Rhiannon of Under the Cherry Moon for working with me on this awesome feature. LOVE!
Credit: Lillian & Leonard
Stationary, Styling, Centrepieces – ie all the wedding Pretties: Under the Cherry Moon 
Ceremony Venue: St Margaret's Church
Reception: The Manor
Bride's Dress: "Lucky", by Issa
Bride's Headband: Cherry Chau
Bride's Shoes: Russell and Bromley
Groom's Suit: Bespoke from A Suit That Fits
Groom's Red Tie: Swagger and Swoon
Bridesmaid's Dresses: Topshop, Gap, and Warehouse
Bridesmaid's Shoes: Office