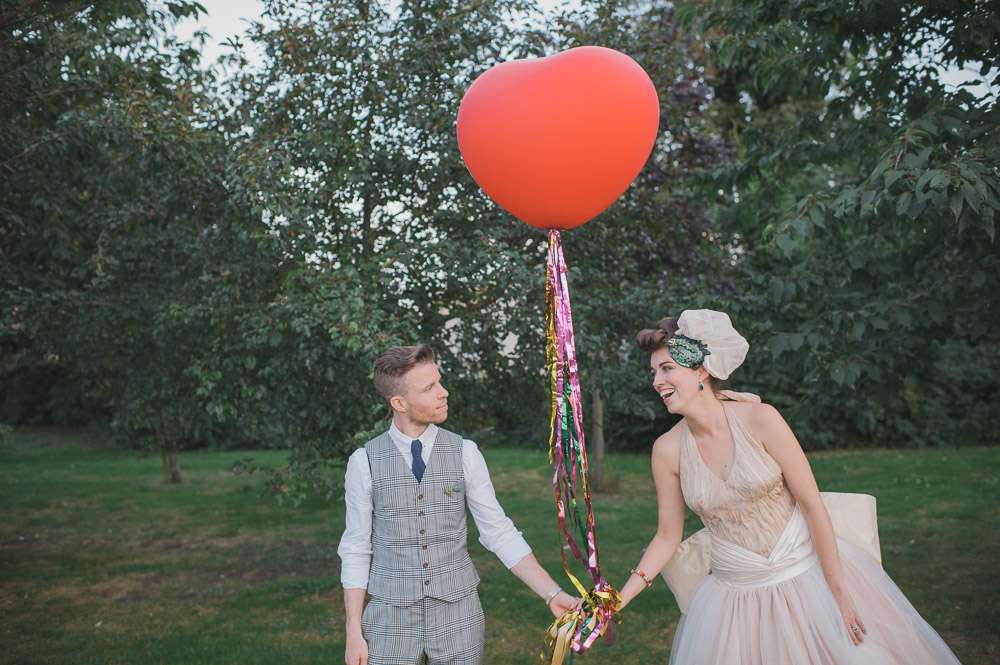 When Theo & Lisa started an online campaign to get Craig David to perform at their August wedding, they never really thought they'd pull it off. But if you don't ask you don't get and all that…and with the help of their YouTube video that went viral, Mr David did in fact show up to the wedding and perform to their astonished guests! "We met in Oceana nightclub", began Theo. "Lisa thought I really had the movement of a dancer! Craig David's music brought us together and having him there at the wedding was literally a dream come true."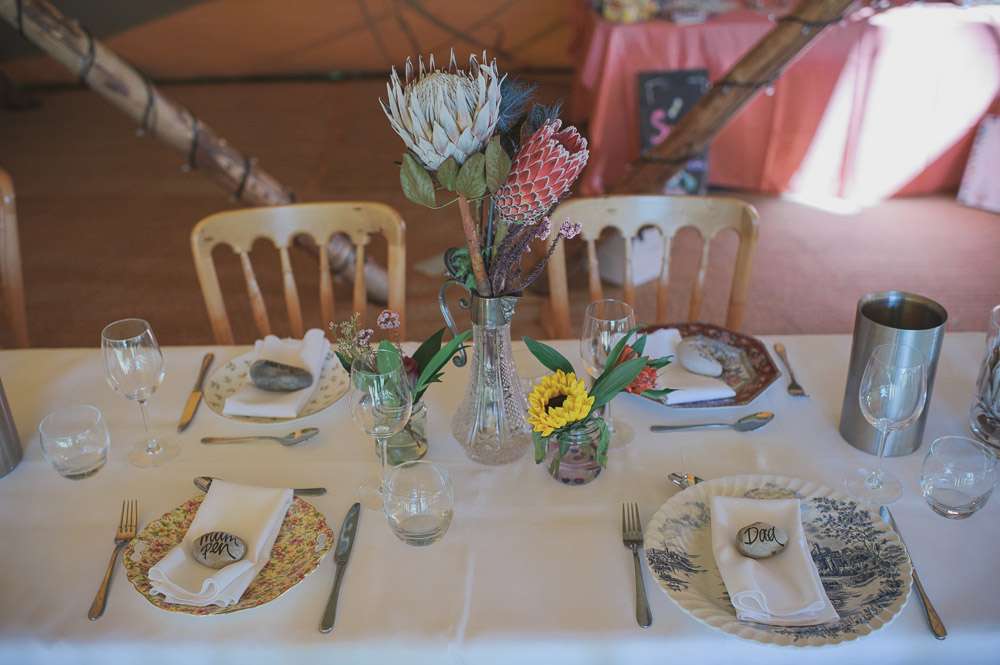 "Our wedding was inspired by everything we love", continued Lisa. "Music, fashion, friends and family. It really was a giant party. We didn't want anyone to pay for anything apart from their travel there. For us, this was a party to celebrate everything our incredible friends and family have done for us over the years. We had a free bar which was one of the best things we did. The wedding was held in my dad's back garden and we also had a camping village at the bottom of the garden where 90% of our guests camped-including myself and Theo! We sent a 'tent tag' with our invites, and asked everyone to deliver a tent to our house one week before the wedding. We then put them all up so they were ready for everyone when they arrived!"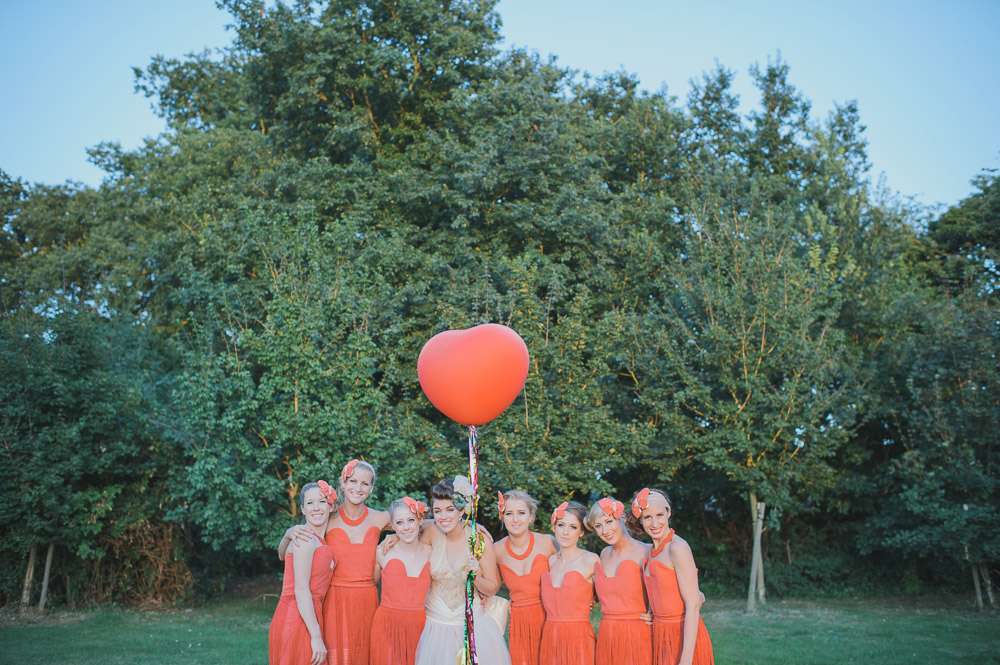 This stylish couple knew they wanted anything but traditional wedding attire. Both Lisa & Theo designed their own outfits and had them made by Manolo. The bridesmaids wore fashion forward orange gowns from Aqua. Instead of bouquets Lisa and her bridesmaids carried heart balloons. The evening entertainment kicked off with a 'dance off' between the girls and the guys and for it Lisa changed her skirt for sequinned gold hot pants!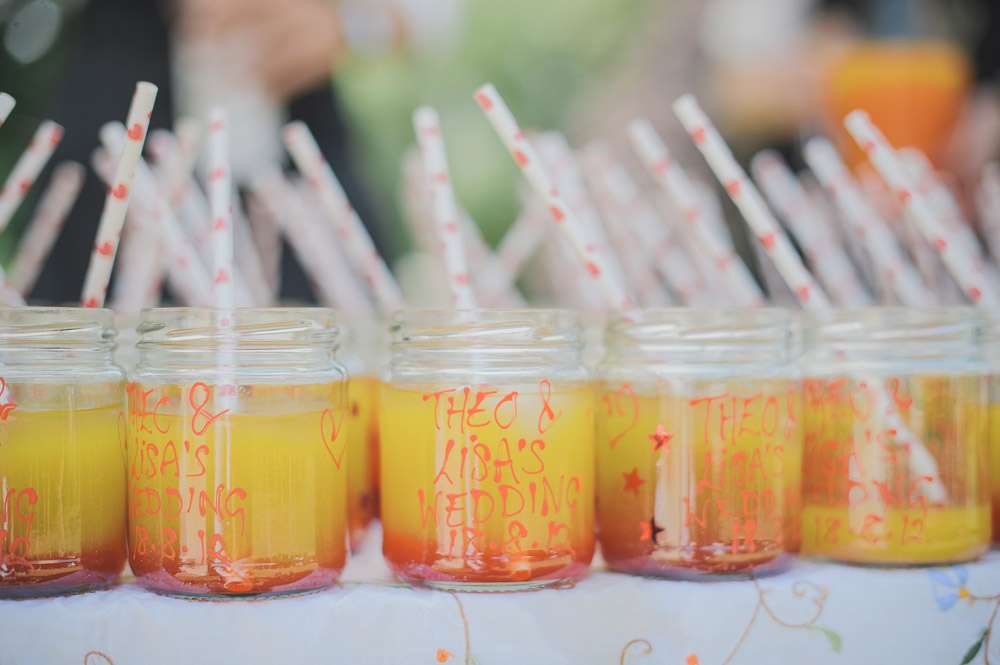 The reception was set up in a tipi which they completely decorated themselves. Everything was hand made from the cake (by a friend) to the centrepieces and the stationery. "I handed painted jam jars for every guest with their name on one side and 'Theo & Lisa's wedding 18.8.12' on the other side", Lisa continued. "On arrival, the guests collected cocktails in their jam jars (mango and peach with vodka and grenadine decorated with glitter and heart straws). They then used these as their glasses all night and took them home. Many of our friends still use them as glasses, or have used them to plant flowers etc."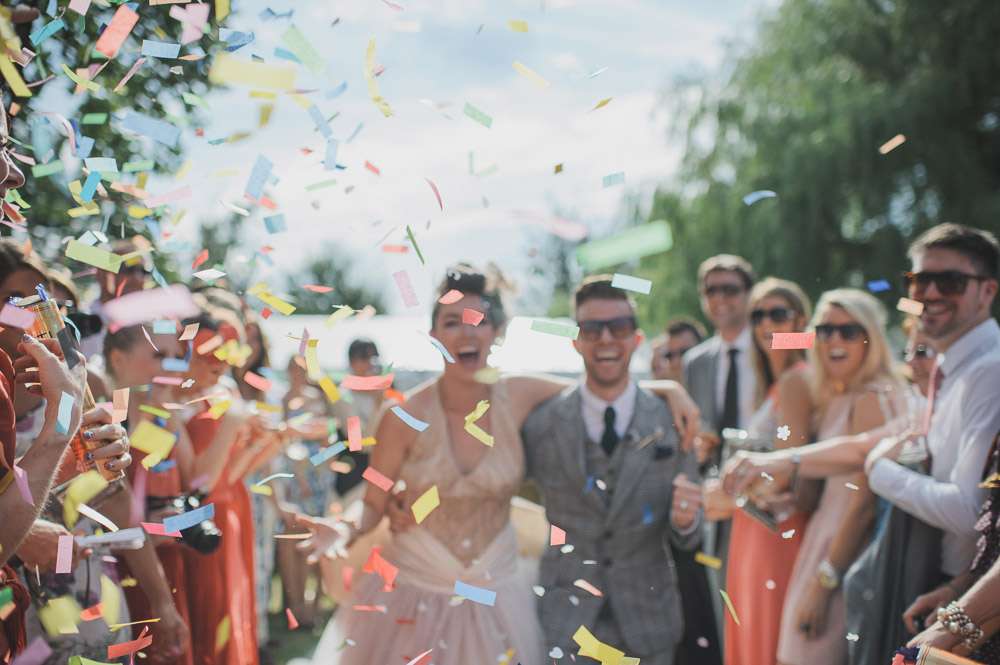 "My friends created the most amazing decorations for the marquee by spray painting hula hoops, wrapping flowers round them and hanging chandelier pieces from them. They were beautiful. Myself, my Mum and Theo's sister hand made about 100 meters of bunting. We also printed off over 500 pictures of friends and family from fun times in our lives, and hung them like bunting around the Tipis. There was at least three pictures of everyone that attended the wedding. This was a great talking point."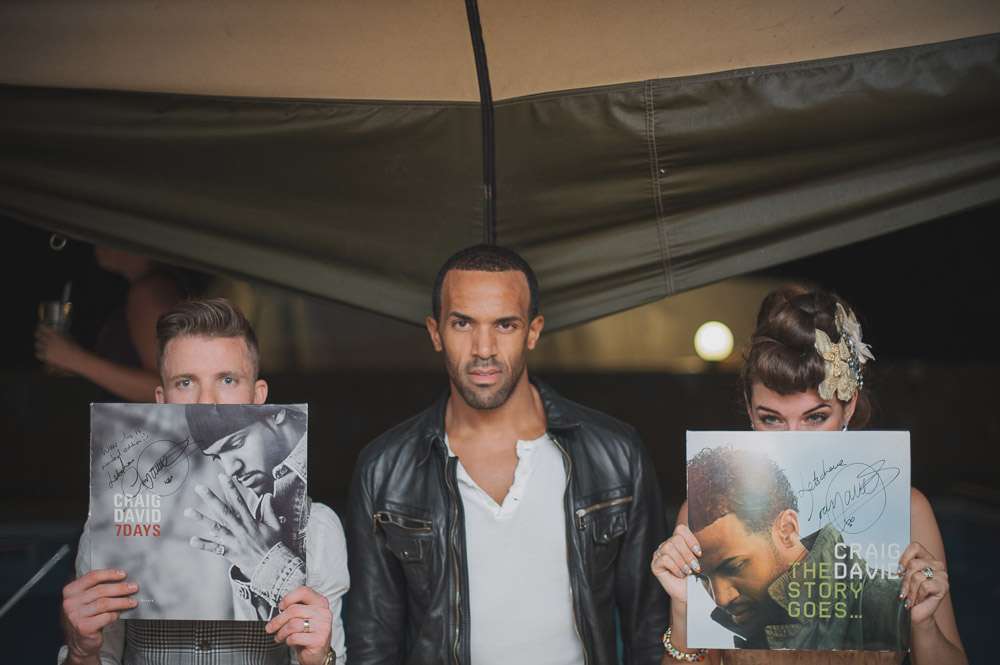 "I couldn't pick one favourite moment", the bride concluded, "I loved literally everything. "It was even more incredible than we could have wished. The genuine fun had by all our family and friends was awesome. It was a celebration for them too and a thank you for their support throughout the years. Obviously Craig David's arrival and performance was overwhelming and immense! I loved the fact that everyone partied until 6am and said it was the best wedding they'd ever been too. It made it just so special. Then afterwards, watching the video. I'm so glad we had it filmed, you can't be everywhere at all times and so to have that footage is priceless.
Thank you to Theo & Lisa for sharing their amazing wedding with us today. I also blogged their equally stylish engagement shoot which you can see right here.
Suppliers
Photography: O&C Photography
Video: TPAK productions
Venue: Home
Bride's Dress: Manolo
Bride's Shoes: Christian Louboutin
Bride's Headpiece: Tana Payno Del Rio
Groom's Attire: Manolo
Bridesmaid's Dresses: Aqua
Cake: DIY (friend)
Flowers: Ely Market
DJs: Craig David, Ben Harrington, Mark Lockett, Gee Gaudere
Stationery: DIY
Catering: BIG Day Catering
Photo Booth: Retro Me