I woke up this morning to the news that the Rock n Roll Bride Mad Hatter shoot had been blogged by Irregular Choice shoes! Seriously, how glad am I that Vivienne Westwood didn't deliver my shoes on time and Irregular Choice saved the day? I feel like all famous and stuff…
I thought then it only appropriate that I blogged this gorgeous Irregular Choice bride that I'd been planning to blog this week. I saw a few pictures of bride Sophie-Jayne in her amazing Ian Stuart dress and Irregular Choice shoes on the Schuh facebook page (they blogged about our shoot too!) and knew I had to find out more about this wedding. Sophie-Jayne & Jason got married at Sophie's old College by a Reverend who used to be one of her teachers. After the very personal ceremony, everybody was transported to Sophie-Jayne's parent house for the reception in her Dad's Old Route Master Bus!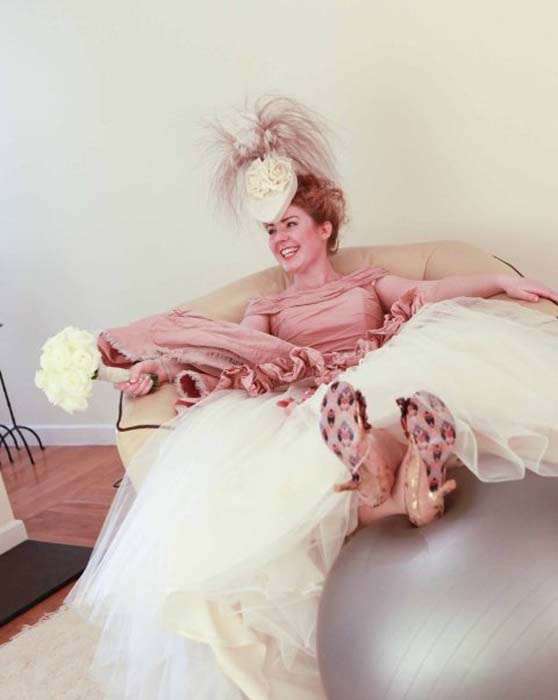 "We had a Spiegel Tent as the "marquee" in the garden – it was incredible! I have seen many Shakespearean productions inside them – and had totally fallen in love with the space – and when thinking of a tent for the reception – it seemed like a perfect choice! I got my own stage! (is that very self obsessed?!)" Sophie-Jayne laughed.
"The theme of our wedding came from my elaborate imagination!" Sophie-Jayne continued "and all the bridal magazines – on how NOT TO do it! Everything in them – I didn't want! I knew I needed different – I've never really conformed to the "white bride" idea, I'd always wanted to get married in biker leather on a Harley – but – I think – thankfully to my parents and my hubby – I grew out of that stage! I wanted theatrical. . . and most of all – a party… something for everyone to have a good old knees up!"
She based her outfit around the shoes that she fell in love with, she teamed the shoes with an Ian Stuart gown ("I would marry that man if I could! What an amazing designer – so theatrical!" she said!) and a little hat by Philip Treacy.
Thanks to Sophie & Jason for sharing their incredible day with us today!
Credit:  Robert James Photography
Ceremony Venue: Falkland Islands Memorial Chapel at Pangbourne College
Reception Venue: Parent's back garden
Bride's Dress: Ian Stuart
Bride's Shoes: Irregular Choice
Bride's Hat: Philip Treacy
Hair stylist: Kaye McNab
Bridesmaid's Dresses: Custom made
Caterers: Touch of Taste
Caberet Performers (during dinner!): Beyond the Barricade
Evening Performance: That'll Be The Day