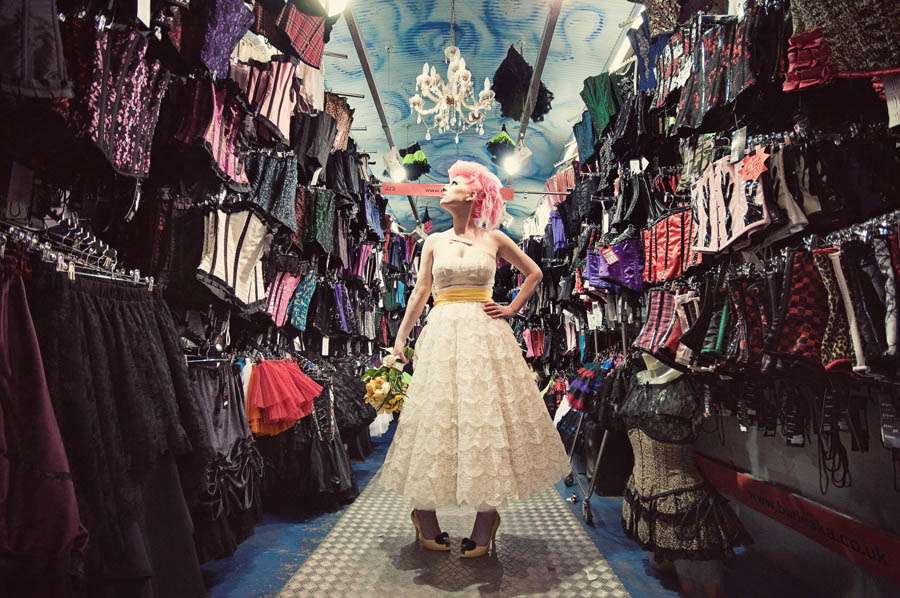 First of all, well done to everyone for all your patience. I have been very cruel and teased you for weeks about this new project (especially on Twitter hehe!) but I'm pretty sure you're going to forgive me when you see what I've been up to…You must also forgive me for the super wordy nature of this post, but there has been so much work behind the scenes to make this shoot happen that I can't possibly do it justice without an epic explanation.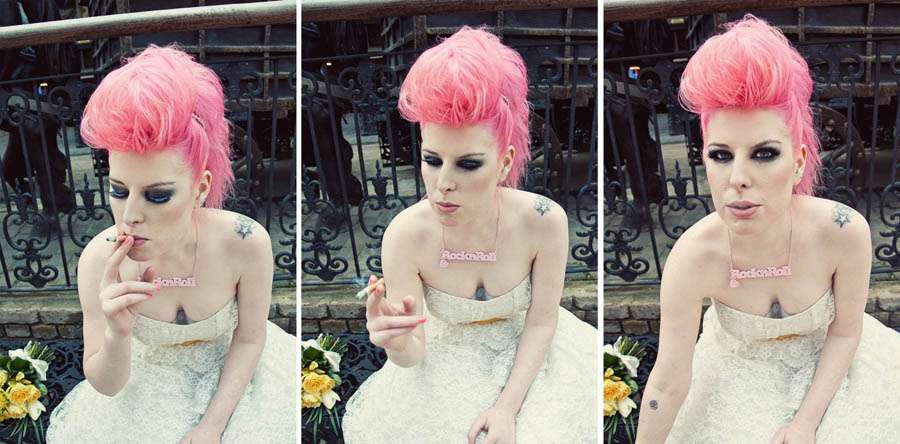 The Photographer… 
A little while ago, the amazing Emma Case and I were talking about how crazy our lives are; about how everything seems to have exploded over the last few months and about how many awesome people we've met. "Let's do a shoot together" one of us said "hell yeah!" said the other. After we'd decided to actually go through with it and (as Emma later confessed to me) after a major bit of "OMG what the hell am I doing"/freakin' out about it, a date was set. We didn't really know what the plan was. "Let's just go and have a play" we said. 
Then I got-to-thinking. I know so many amazing wedding vendors, who I recommend to my readers all the time, wouldn't it be great to try and get some of them involved too? Then, we would not only have a proper amazing set up to work with but it'd be a fantastic opportunity to share some love and really show you what this kick ass group of wedding warriors can do!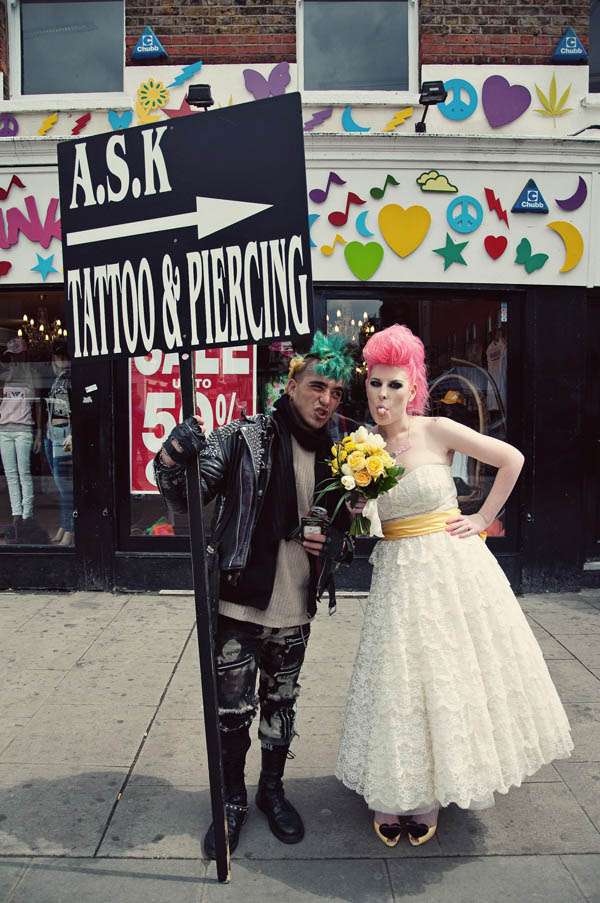 The Vintage Dress… 
So, I pondered, if I could die and go to wedding heaven, what dress would I wear? Vintage, short, layered, big bow…Fur Coat No Knickers of course! I send the gorgeous girls Emma & Laura an email  "Hi girlies" I started "you may not of heard of me, but I've got a blog called Rock n Roll Bride and I'm doing a photo shoot with Emma Case…" The response was almost instant and a resounding "Hell YES! We would love to be involved!" It turns out that not only did a lot of their brides actually read Rock n Roll Bride already, but that Emma Case was pretty much the most popular photographer amongst their customers too! I couldn't believe I was going to get to wear one of their dresses and Emma pretty much flipped out with excitement to be able to visit the shop and meet the girls. 
A few weeks later I went to visit the Carnaby St store and tried on some of the most beeeautiful dresses I have ever  EVER seen. We narrowed the search down to this gorgeous original 1950's number with beautiful vintage tiered lace to which we added a maaahuusive yellow bow (to match my Vivienne Westwood shoes which I just had to wear!) The girls also gave me a beautiful fur stole to wear for a few shots.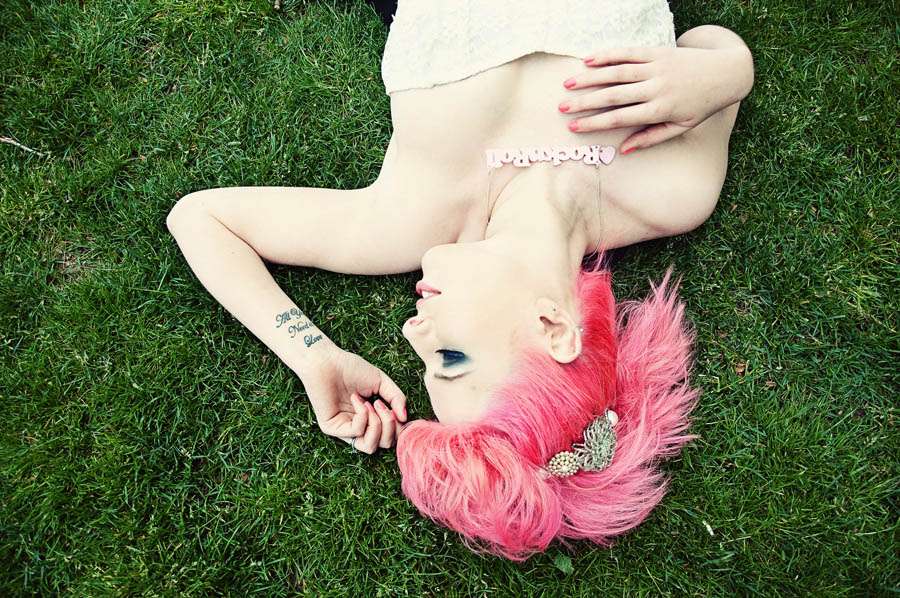 The Bespoke Hairband… 
After securing such a gorgeous gown I needed a headpiece to match and who could be better than the wonderful Magpie Vintage? I've got to know Lisa in particular very well over the last few months and she was more than enthusiastic when I told her about the shoot concept. She offered to make me a bespoke piece to wear and told me to go on the hunt for some vintage pieces that she could use. I rummaged through my ever-expanding jewellery collection and found a few charity shop/passed down/forgot-I-had-them numbers which Lisa said were perfect. I would never have thought of putting together a collection of earrings and brooches into a headband and she even used a broken bracelet to run along the band. Lisa, you are genius!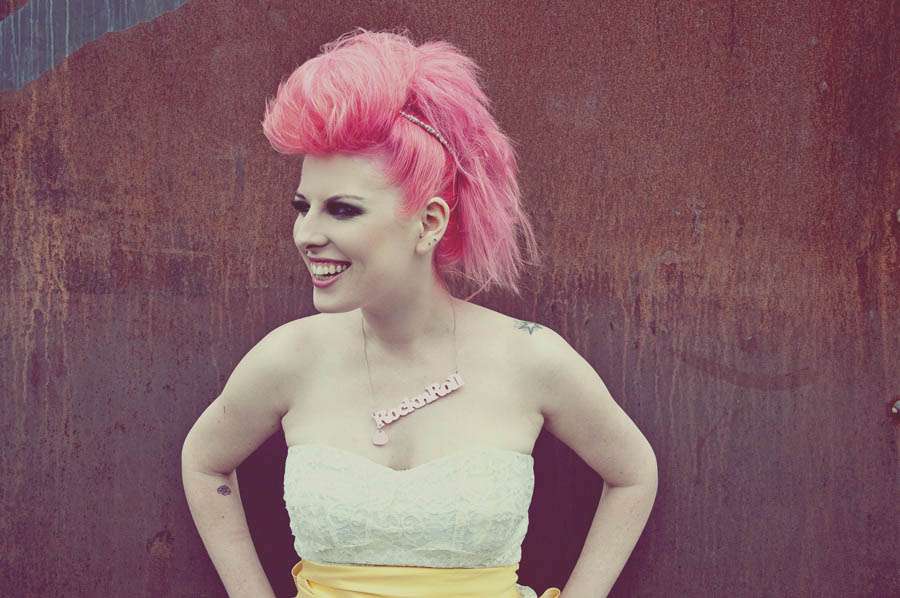 The Faux-Hawk… 
Next came my hair and make up. As you saw earlier this month, I was lucky enough to go to the Julia Boggio Studio Opening where I was able to catch up with a load of old friends as well as meet a whole bunch more! I bumped into Sev of The Hepburn Collection who did my hair for my Vintage Boudoir shoot with Julia. I happened to mention to him that I was planning this new shoot and he insisted I let him do my hair for it! Literally eeeek …he is so fantastic it is not even funny. 
Sev is by far the best and most amazing hairdresser I have ever met. I sent him a woolly description of what I was after over email and on the day, within 10 minutes, I was transformed into the faux-hawk sporting punk rock bride you see below.  I literally cannot recommend him enough. Book him for your wedding now!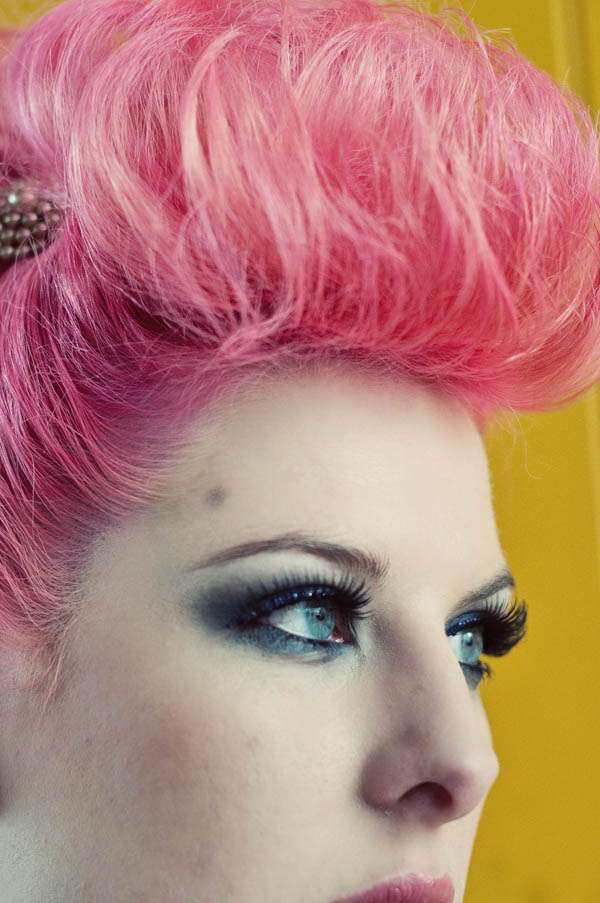 The Scene-Girl Make Up… 
At the same party I met Lina Cameron. Again we got talking about what we do and after I told her Sev was helping out with my hair she told me she would love to do my make up. Lina has worked with a number of celebrity clients including Scarlett Johansson, Sienna Miller and Sadie Frost (who was actually the appointment after me!) as well as being a regular in glossy magazines giving her make up tips. ARRRGH!! AMAZING! 
On the morning of the shoot, Emma and I headed to Lina's Central London studio where we were greeted by a very excited make up artist. We looked over some books and I told her my ideas. She went to work quickly on my dramatic black eye make up and epic false eyelashes (I ended up wearing 2 pairs at once!) Lina was amazing. Seriously amazing. She was so excited, enthusiastic and a total pleasure to work with. She loved trying something new and would be so fabulous for any Rock n Roll Bride! My make up didn't budge all day. When I got home at 10pm my make up looked as fresh as when we left her studio and for the record, Gareth loved it! All I had to do was re apply some lip colour a few times and top up the powder at lunch time. Awesome.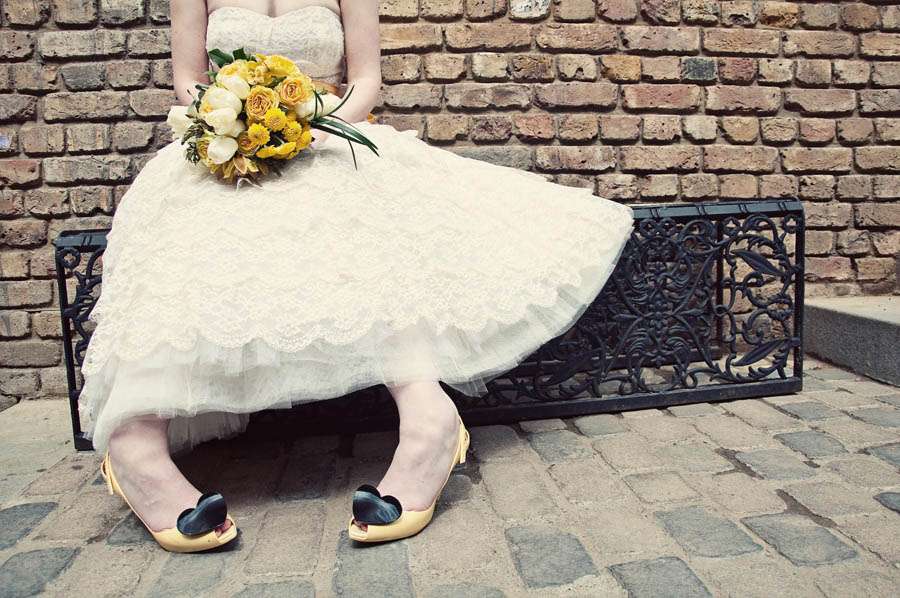 The Blooms… 
A few days before the shoot I wondered if we might be able to get some flowers to use. I called wedding planner and general fountain of all wedding knowledge – Penny Merricks of TigerLily Weddings to see if she could put me in contact with someone who might be able to help. She told me that she'd ask her friend Chantal of Chantal Flores Design to call me and see if we could work something out. This was the day before the shoot, but after a brief phone call (while she was at the flower market) she knew exactly what I wanted and bought the flowers then and there. She said she would happily get some blooms to us the next day!  They we're beeeautiful and I haveto say, a lot more gorgeous than what I had for my own wedding. We decided to go for yellow to match the bow I'd picked on my dress and of course my Vivienne Westwood shoes.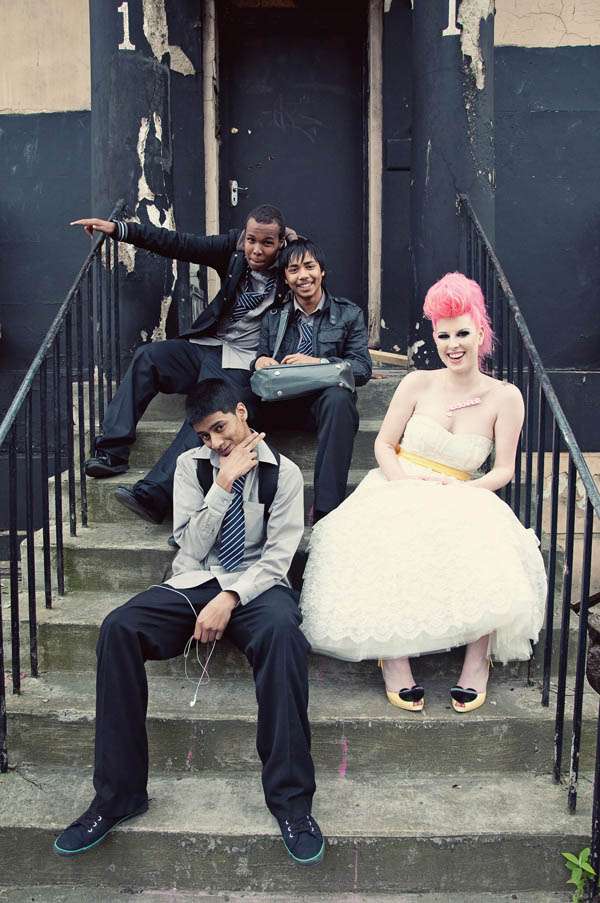 The Locations… 
After being preened to within an inch of my life, Emma and I headed into the unknown. We decided to start off in Camden as if anything we wouldn't feel so self-conscious being there as Camden is a notorious  hang out for punks, rockers and everything in between. We ended up staying there all day. We found so many gorgeous and unusual locations and the people were all so lovely. Pretty much everyone we asked were happy to let us shoot in their shops (and even some sweet old ladies in a crumbling but oh-so-gorgeous Church were happy to oblige) that there was no need to move on.  I got 'papped' many times by tourists and locals alike, probably wondering who this crazy chick dressed like a punk rock bride was! 
We had a few ideas of where we'd like to shoot, but as these things usually go we spotted so many places as we were just wondering around that pretty much any plans we had went out the window. My favourite locations were the bright yellow wall (goes great with the yellow bow etc!) the green grass (pink + green = love) the decrepit old house (including the hilarious school boys who shouted 'oi , oi, let us be in a picture!' from over the road) and the old church (which was literally falling down) and in the most incredible corset shop, like ever.  We also shot in a record store, in the Stables market, in a retro clothes shop and on the Tube. Everyone was so nice and pretty much everyone we asked let us use their property for a mini photo sesh.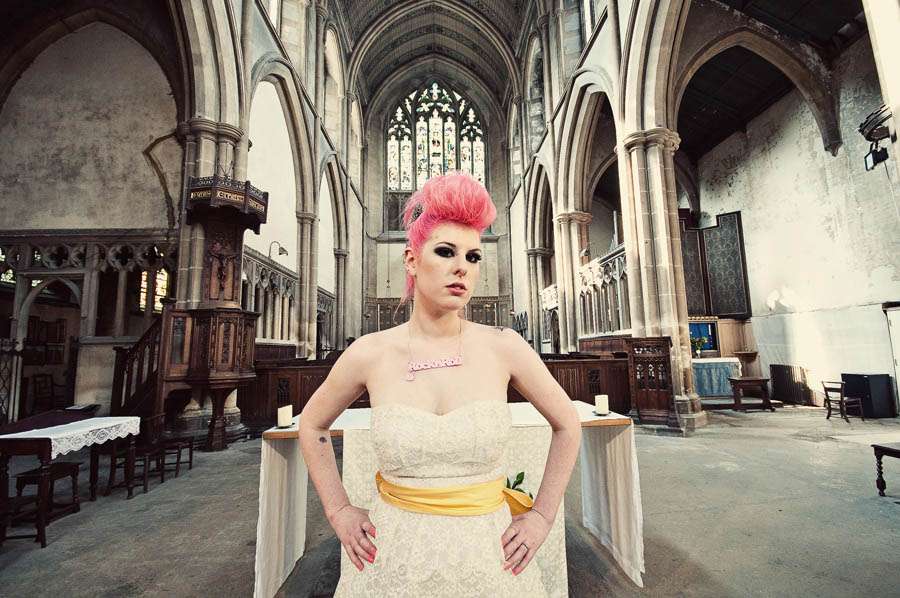 Share the Love… 
I can not thank these guys for letting me go mad with my idea and helped me out in making this shoot a reality. Show them some love already! 
♥  Photographer: Emma Case – available for weddings, engagements and all your photographic needs. Based in Birmingham but is available for events all over the UK and overseas.
♥  Dress: Fur Coat No Knickers – based in Central London. They stock only genuine vintage dresses and they start from £450 (average spend after alterations and accessories is about £1000) The also stock accessories, jewellery, shoes and pretty everything you could want to fulfill your vintage fantasies! Call them for an appointment NOW!
♥ Hair: Severin Hubert of The Hepburn Collection. Based in Surrey but are available to work all over the UK and overseas. Prices are on application.
Sev & Roz of The Hepburn Collection would like to offer 10% off any booking made when quoting 'Rock n Roll Bride'
♥  Make up: Lina Cameron. Based in central London (just off Regent Street)
Lina would like to offer £100 off your wedding make up if you are getting married on a Friday or a Sunday in 2010. All you have to do is mention Rock n Roll Bride when you contact her.
♥  Hair band: Magpie Vintage – Prices for pieces made with your own items of vintage jewellery range from £100 – £300 approx depending on the detail. One of a kind and bespoke pieces can be found on their website and items can be made to your own specifications.
♥  Bouquet: Chantal Flores Design. West London based florist who has worked with many celebrities, michelin starred restaurants and top London hotels. Chantal serves the whole of the UK and has even done wedding abroad. Prices are on application.
♥ Special thanks to: Penny Merricks – Tigerlily Weddings, North London wedding planner extraordinaire. Prices are on application.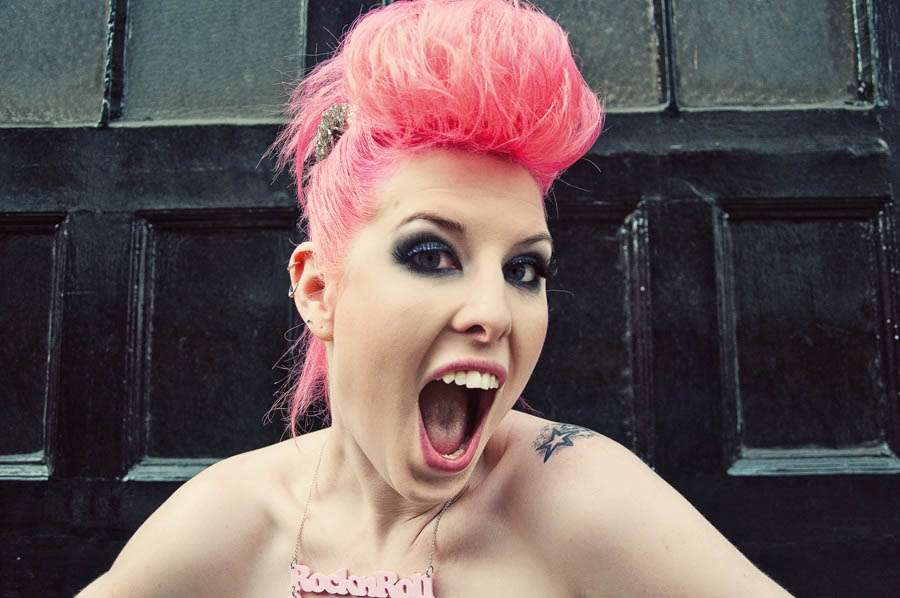 The Final Touches… 
My shoes are Vivienne Westwood Lady Dragon's (the yellow ones seem to be out of stock on the Vivienne website right now),  my 'Rock n Roll' necklace is from Tatty Devine and my nail varnish is from Nail Girls (called Pink # 14)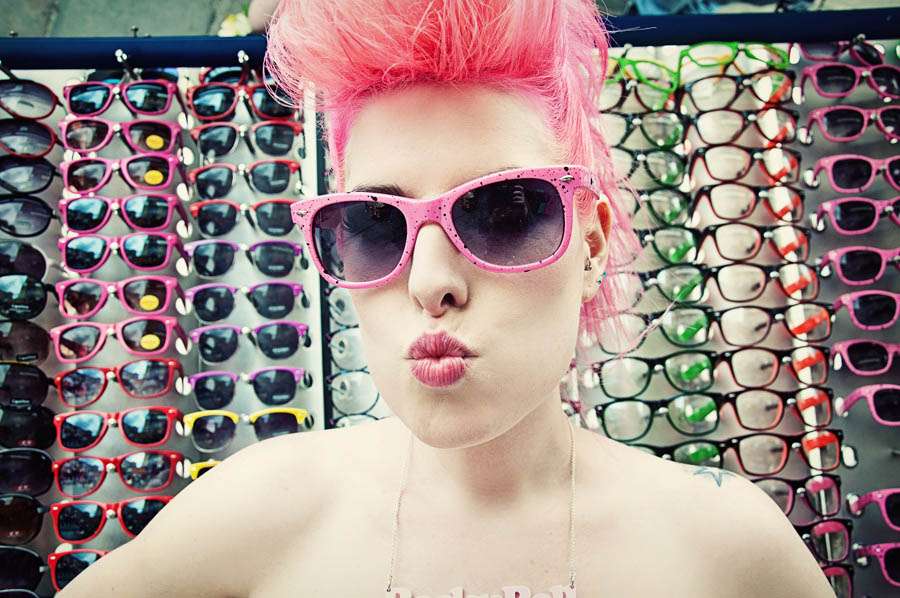 The Results…(squeeeal!) 
I hope you enjoy the images as much as we did creating them. Be sure to give everyone that helped out a whole lotta love in your comments. They deserve it! What is your favourite? I'm sorry but I literally can't choose!