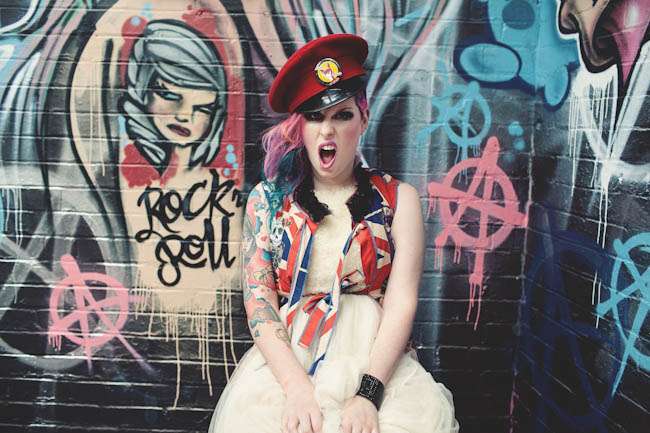 First of all, a big load of love to everyone who took the time to comment, tweet, facebook or email me about the 'Rock n Riot' shoot yesterday. As ever I have been blown away with your love and support. I'm thrilled with the results but I always have to go one step further huh? So today I have the behind the scenes shots from Emma Case and video awesomeness from Pete Smyth & Simon Clarke to share.
But that's not all, the styling genius that is the Ava team have also kindly popped by to explain a bit more about how they executed this epic (this word keeps cropping up in relation to this shoot…but seriously, I don't think anything else could describe it as well!) styled shoot.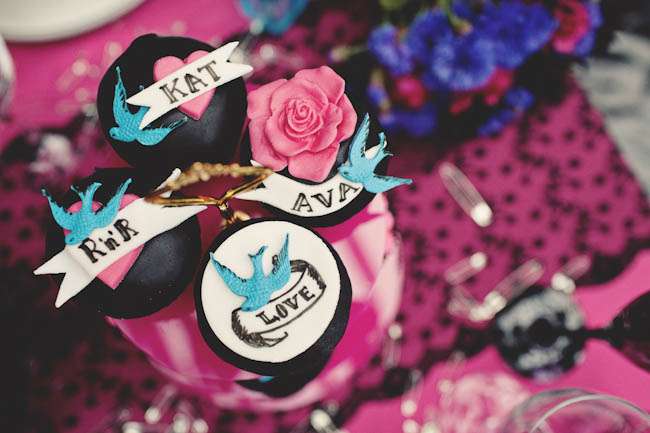 Amy Grzegorzek, one third of Ava Event Styling explains, "When we're given such an out there brief as the punk riot, it's important to do our historical research first. It's a big part of our styling process and something we relish, working out which are the key elements of a particular era is like cherry picking from a giant visual cake! Punk was such a massive part of changing peoples opinions not only on how we looked but how we look at each other. It had its biggest impact in the 1970's but it opened the floodgates for the diversity in fashion we enjoy today. For Ava this meant we could push the boundaries, using products and props not normally associated with weddings. Safety pin table confetti, taxidermy and a black skull & cross bone wedding cake… Not your normal day in the registry office!"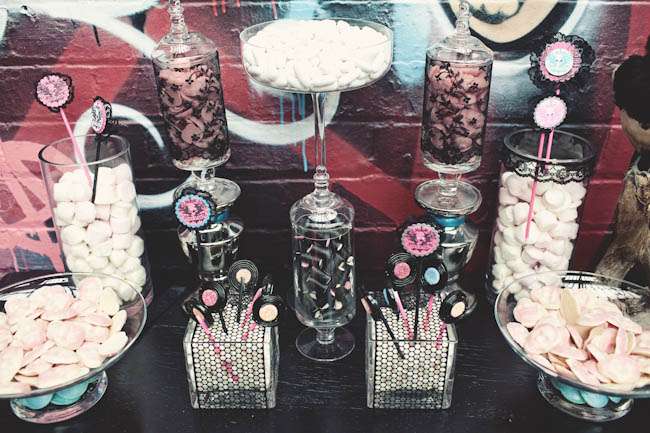 "Even the neon food colouring used for the cupcakes had to be imported from the U.S. and they were decorated to complement the tattoo theme of the day. A feature of our work is the level of detail we strive to achieve, from the the huge scale personalised graffiti wall down to the pink sticks in the cake pops. It's this kind of attention to detail that pulls together such an avant garde theme."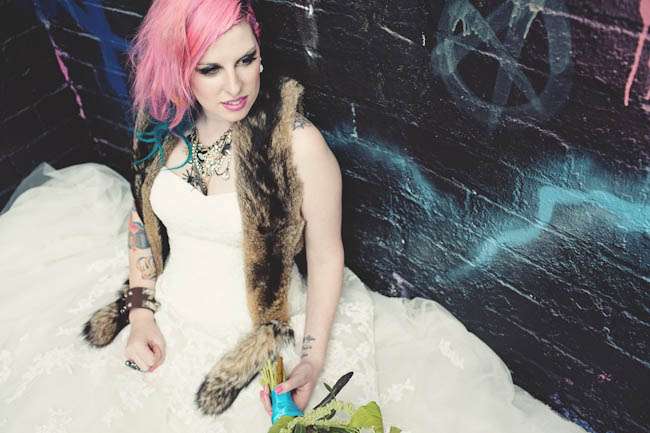 "The flowers used were a mixture of English garden classics and structural tropicals put together more for there textural clashes rather than prettiness. We love to challenge the preconceived ideas in all areas and break from the norm. We are really lucky to be surrounded by like minded independent business owners wanting to do something different. Clare at The Wedding Club let us have free reign to select from their incredible dress collection and was keen to get less well known designers showcased. We even used a dress from a final year fashion student Hannah Wilkins-Webb, it's important to us to encourage new creative talents. Terry Terry jewellery stepped right up to the mark too with his stunning funky range punk inspired bling."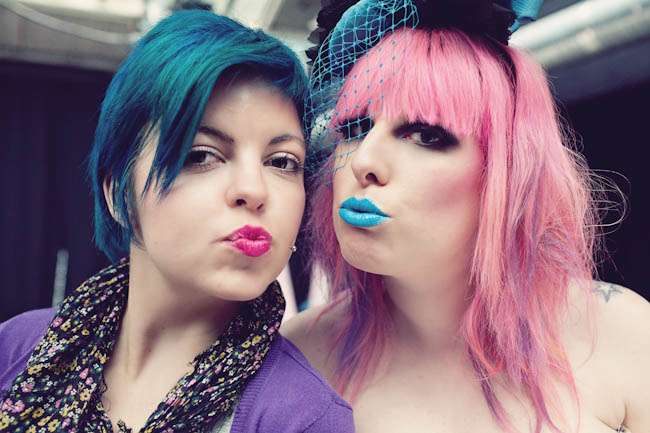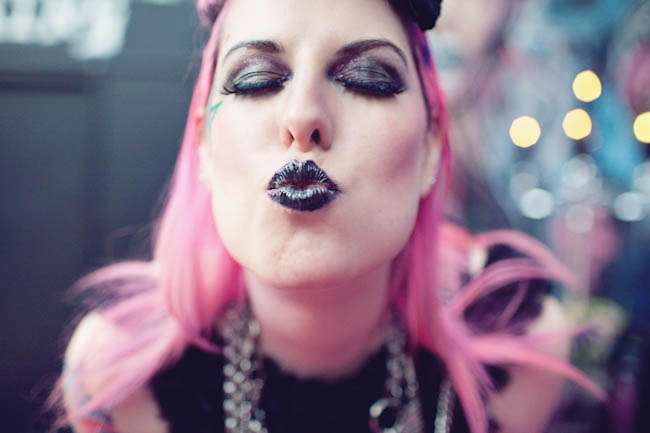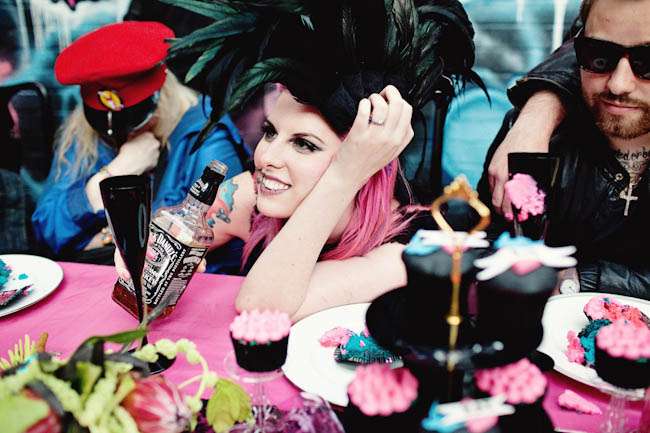 Pretty awesome hey? Man, I love these guys – they make me look good! Enjoy, and don't forget to watch the video below (and have a little dance) it rocks.
I also procrastinated a bit this morning and made this…just cos…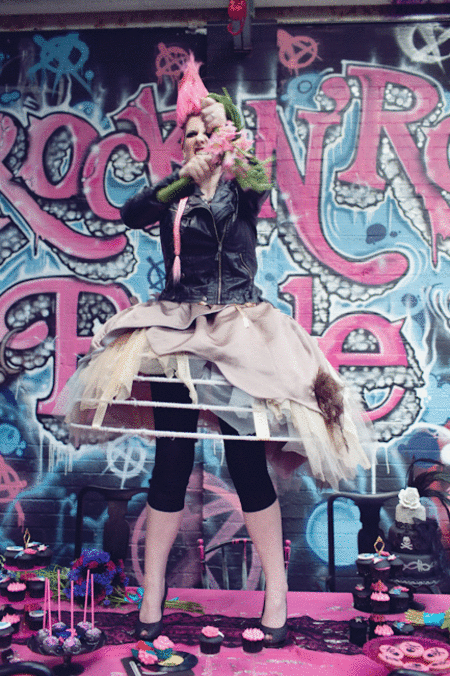 Full gallery below…
♥ Photography: Steve Gerrard Photography
♥ Behind the scenes photography: Emma Case Photography
♥ Video: Pete Smyth for Emma Case Photography and Simon Clarke Video Production
♥ Styling: Ava Event Styling
♥ Flowers: Little A (Amy Grzegorzek)
♥ Cakes: The Boutique Baking Company (Vickie Pritchett)
♥ Product hire & candy bar: Bonne Fête (Amanda Plester)
♥ Dresses: The Wedding Club & Hannah Wilkins-Webb (final year student at the University of Central England)
♥ Headpieces: Sharper Millinery
♥ Jewellery: Terry Terry
♥ Vintage accessories: Top Banana, Birmingham
♥ Fashion Styling Adviser: Patti Bell pattibellnumber1@yahoo.co.uk
♥ Graffiti: Hoakser hoaksah@hotmail.com
♥ Hair & Make Up: Elbie Van Eeden