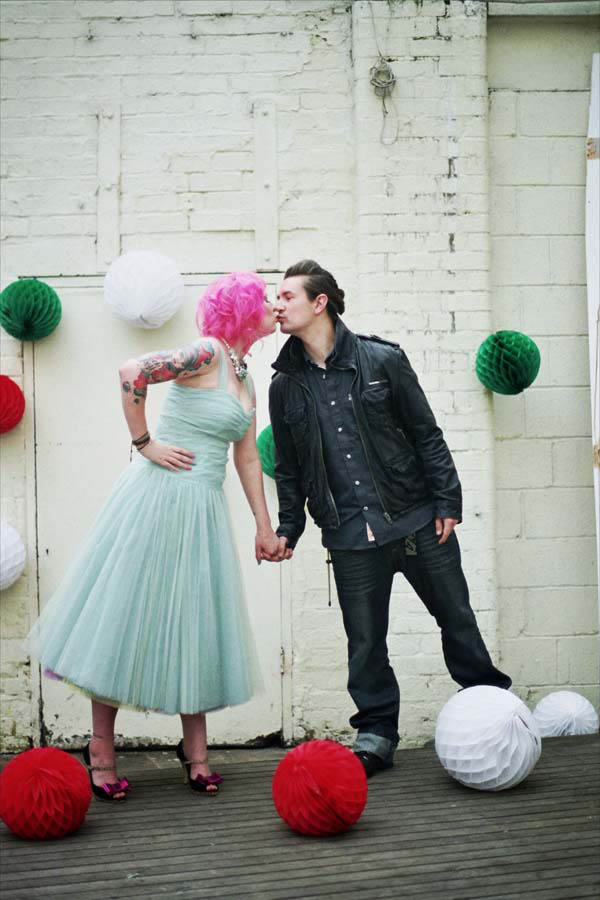 I know what you're thinking…Christmas stuff already woman?! Well just hear me out would ya?*
I've known wedding photographer Ashton Jean-Pierre ever since we both went to Emma Case's wedding back in March. I don't think we managed to talk on the night, but after the event I saw some of his incredible photos (that he just took on his iPhone!) on facebook and so I got in contact to ask if I could share some of them on my blog. He said yes and we've chatted online ever since.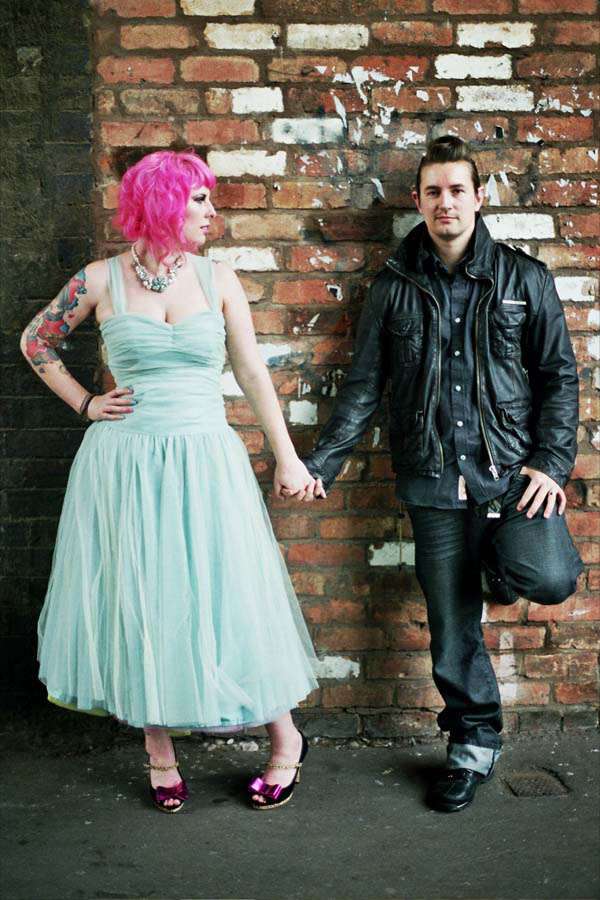 Ashton is deaf which makes no difference at all when communicating online, but when he asked if Gareth & I would like to do a mini shoot with him I was a teeny tiny bit nervous on how we would get on in 'real life'. However I needn't have worried. Ashton is so expressive and animated that it's actually pretty easy to have a conversation. Although I didn't know any sign language before we met, we were easily able to chat by gesturing and using a good old fashioned pen and paper to write things down when my feeble attempts and signing prompted confused expressions all round.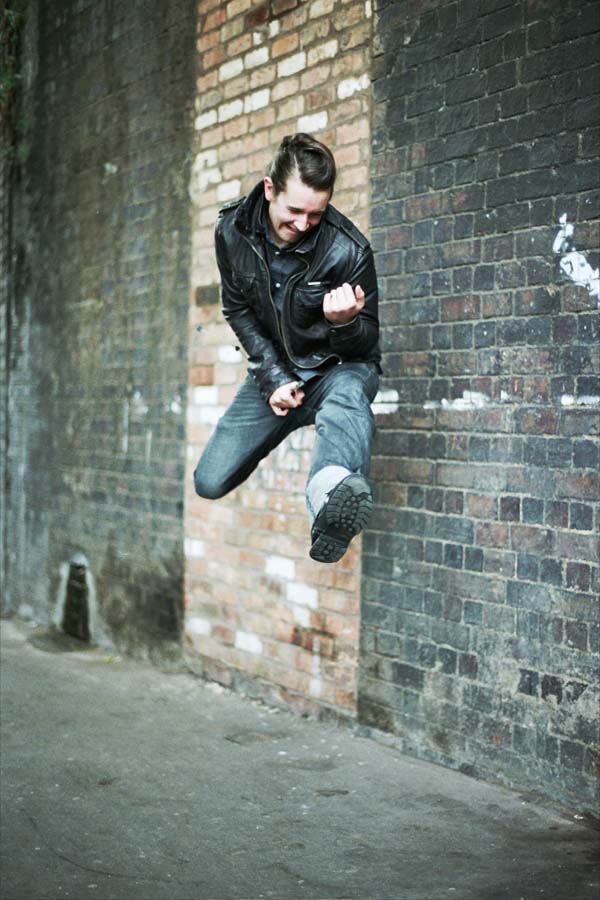 This is definitely one of my fave shots from the whole shoot…how cool does Gareth look?
The reason for the shoot was that Ashton was being profiled for See Hear on the BBC, their show for the deaf community. They are doing an arts special (to be broadcast on 30th November on BBC2) and they wanted to film him doing his job and interview him about what it's like to be a deaf wedding photographer. I clearly am a huge fan of his work so I was so excited to be asked to take part.
So, last Wednesday Gareth, Elbie and I were up at the crack of dawn (and I mean crack…Elbie had to get up at 4.45am!) to get to Birmingham for the shoot.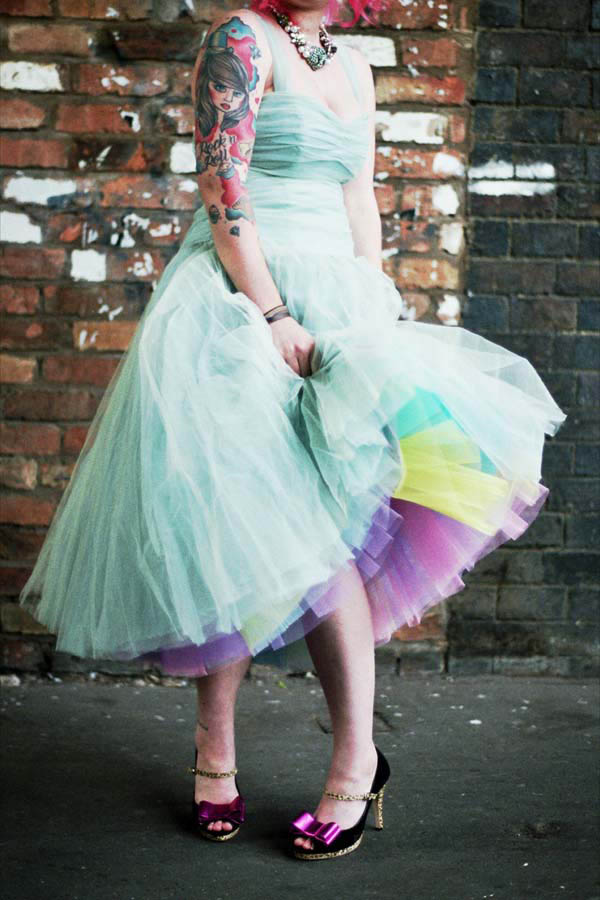 The BBC wanted our shoot to have a Christmas theme because of when the show is going out on TV. However not being a fan of Xmas-tack, we decided to strip it all back and keep it simple…a low-key Christmas if you will. This is more Ashton's style anyway.
I decided I wanted to wear this green vintage dress, which had been altered for me by the Fur Cost No Knickers ladies into a 1950's shape (I think it was originally an 80's prom dress) and so the idea for a 1950's Christmas was born.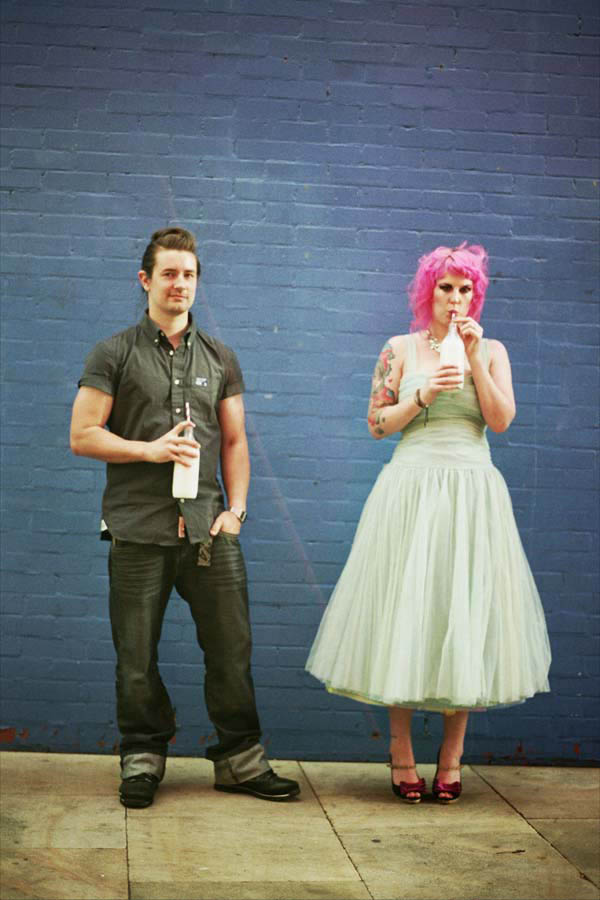 side note: remember I gave up drinking for a month? Well I didn't have a hope in hell of getting into this dress three weeks ago and now I can. Wooo!
I researched some 50's hair and make up ideas online, but after looking at a lot of prim and proper hair styles and perfectly applied make up, Elbie and I decided that wasn't really 'me' and so we decided to mess it up a bit. This photo of Madonna was the main inspo for my slightly disheveled hair style and shape of the eye make up. We also channeled this look and added it to my eyes. Of course I needed glitter too…glitter makes everything better.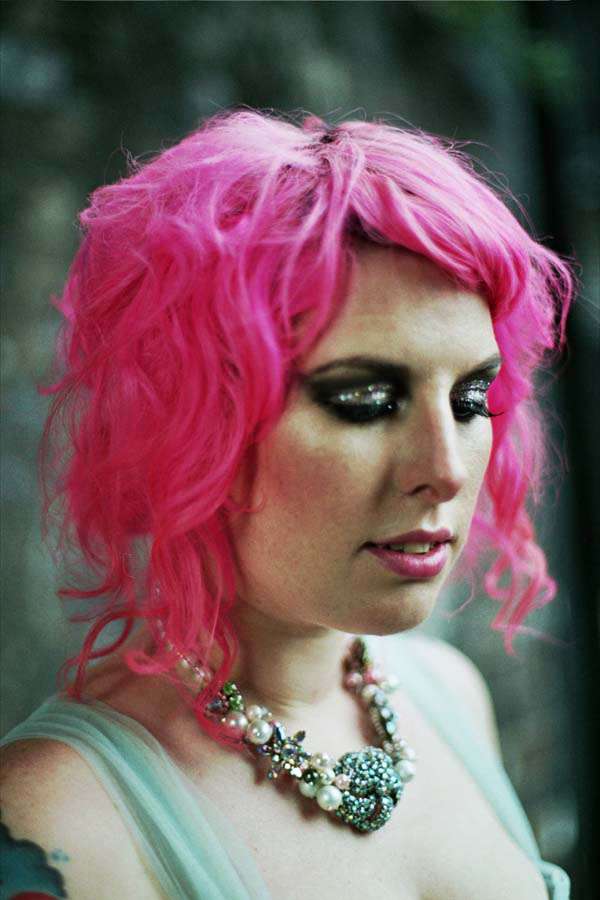 Photographer Steve Gerrard kindly let us invade his studio to get ready (and be interviewed for the show) in.
The shoot went really well. Ashton was so easy to work with and we had such a laugh… although I'll be honest I did get a bit nervous when he was standing in the middle of the road to get a shot – cue manic waving in his direction when cars were coming!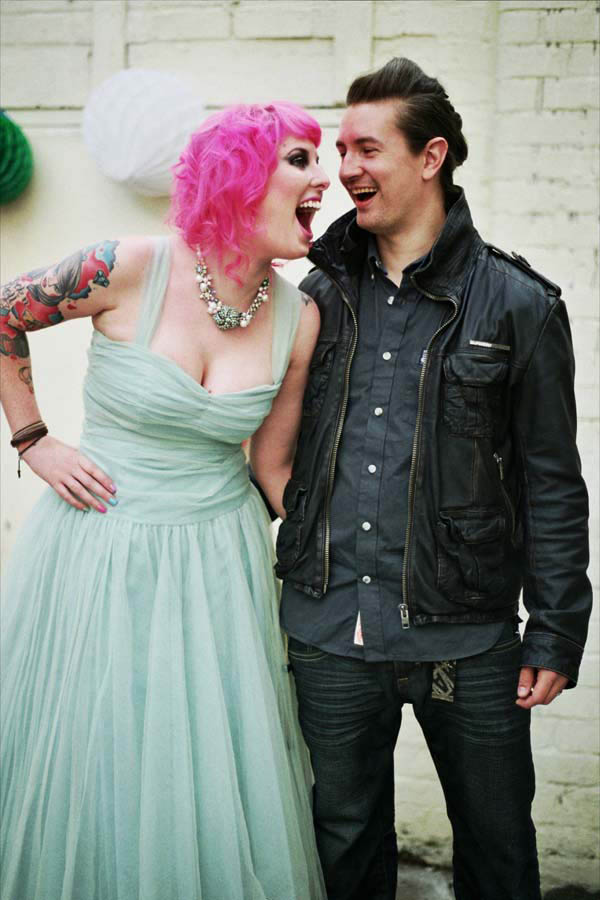 Ashton shoots film as opposed to digital images. He's so passionate about film photography and it's completely inspiring to see him talk about it. There are a lot of wedding photographers experimenting with film photography at the moment, but Ashton shoots exclusively with it. When the BBC were interviewing him about his love of the format his eyes just lit up…and looking at these images I can see why he loves it so. Don't get me wrong, I adore digital photography, but there really is something magic about film. It's so tangible and permanent. It has such a natural, pure and raw quality and the texture and colour is like nothing else.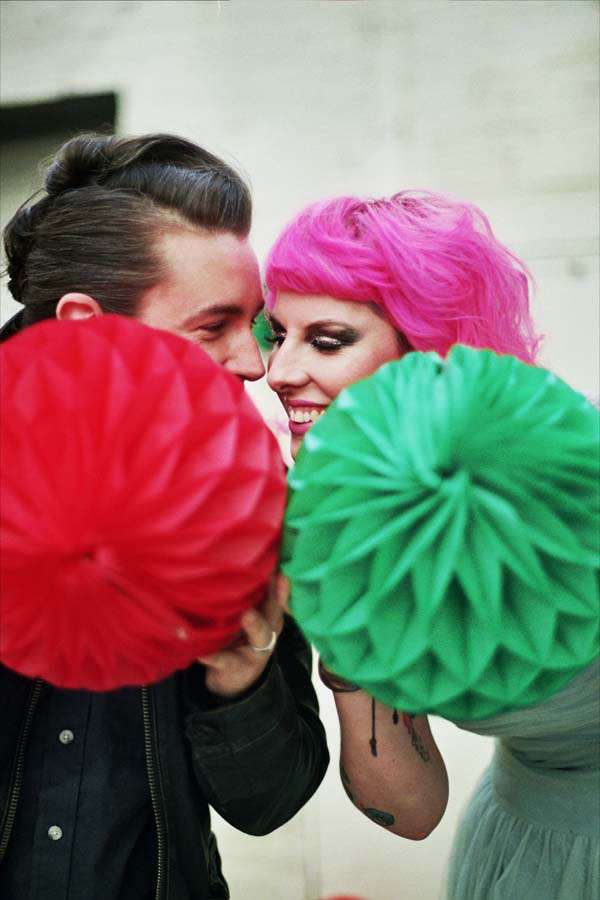 I have a little background in the medium, and I've always been a fan. I shot and developed my own black and white film in my A-Level photography course (although I was never really any good...And I was scared of the dark dark room that you had to go into to take the roll out of the canister!) Our wedding was shot in film too.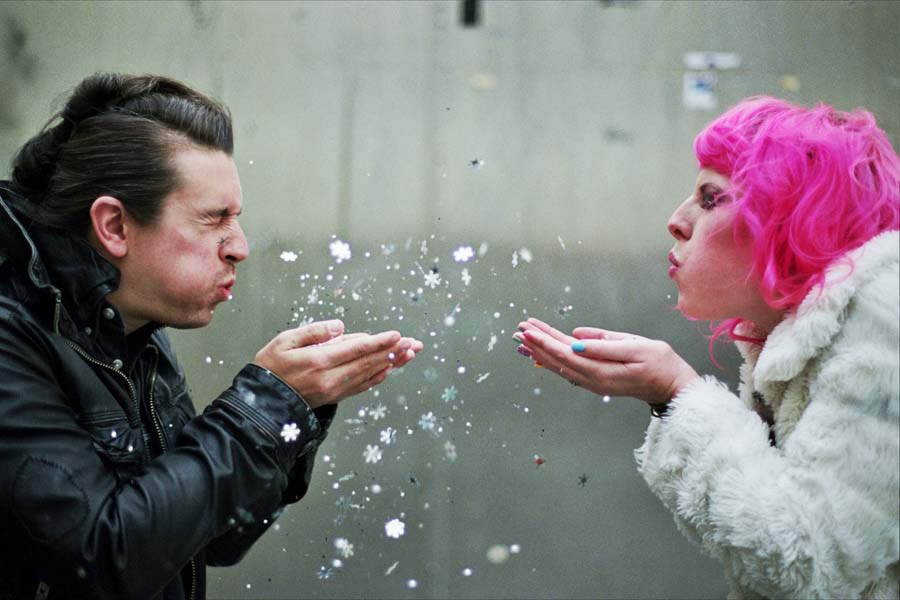 We has a great day and I can't wait to see the show on BBC2. But for now, I hope you enjoy some of my favourite photos from the day.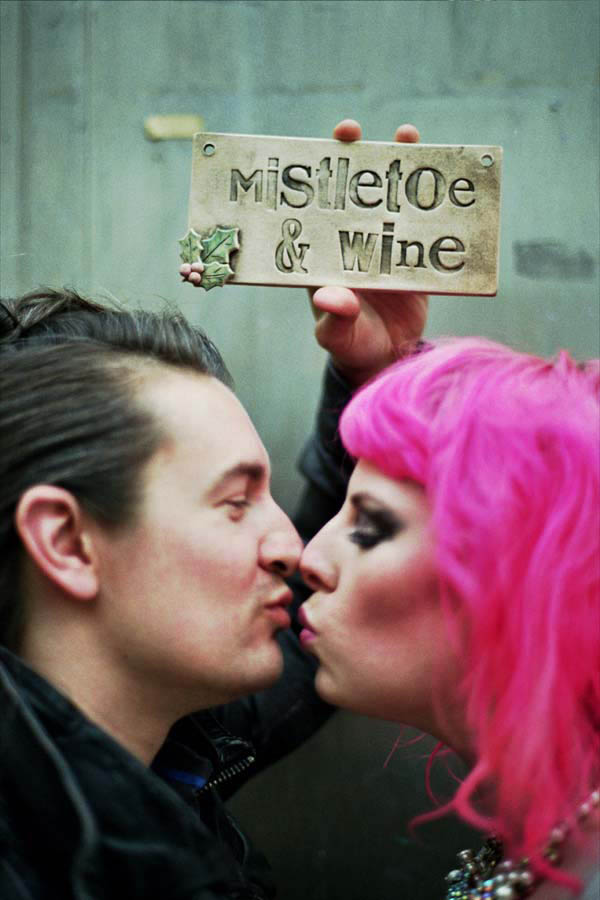 *Remember, this time last year I was still working at the shopping channel and would have had Christmas 'cheer' thrust upon me since mid-September (seriously…the Christmas set goes up in the first week of October!) So for me, only starting to think about Crimbo at the beginning of November is pretty late!
Thanks to all the suppliers who helped us bring this shoot together so quickly (listed after the gallery…)
♥ Photography Credit: Ashton Jean-Pierre
♥ Dress: Vintage dress altered (shortened, neckline changed, straps added and rainbow petticoat made) by Fur Cost No Knickers (this is the same dress that I wore for the London Tattoos book shoot. Recognise it?)
♥ Shoes: Upper Street
♥ Necklace: Magpie Vintage
♥ Faux Fur Jacket: Elbie's
♥ Gareth's Jacket & Shirt: Superdry
♥ Pom Poms & Stripy Straws: Peach Blossom
♥ Clay signs ('Mistletoe & Wine' and mini reindeer): Cherrypie Lane
♥ Flashing mini snowman/confetti: Morrisons
♥ Rock n Roll Bride logo: Cutture
♥ Hair & Make Up: Elbie Van Eeden