That time has come again when I have to put into words a day of so much epicness that it's hard to know even where to begin. My latest big photo shoot was the brainchild of myself and florist Amy Grzegorzek of Little A in Birmingham. We first met at the Designer Vintage Bridal Fair in February and after seeing her beautiful vintage-inspired table settings, we got talking about working on a collaboration. She told me how she was about to launch Ava Event Styling, alongside Amanda of Bonne Fête and Vickie of The Boutique Baking Company, so a shoot like this would really be the very best way to enter the scene with a bang!
"I'd love to do something really mental one day, shake things up a bit" Amy told me. "Yeah…like a punk themed wedding?" I asked. Amy's face lit up like a child on Christmas morning and I'm pretty sure she let out a little squeal. "Yes! OMG yes, can we do it?!" …well put it this way, she didn't have to ask me twice.
After the show Amy and I emailed regularly with ideas on how to bring this theme together. It was important to us that the punk vibe was authentic – none of this fancy modern or 'faux' punk themeing. We we really wanted to go all out to try and do this the best way possible and to get some real trailblazers on board. Genuine vintage pieces from the 1970's were to be paired with wedding dresses, taxidermy, a rock band and Patti Bell in tow. I was literally chomping at the bit to get started and when 18th May finally rolled around I leapt out of bed at 8am eager to get my punk on.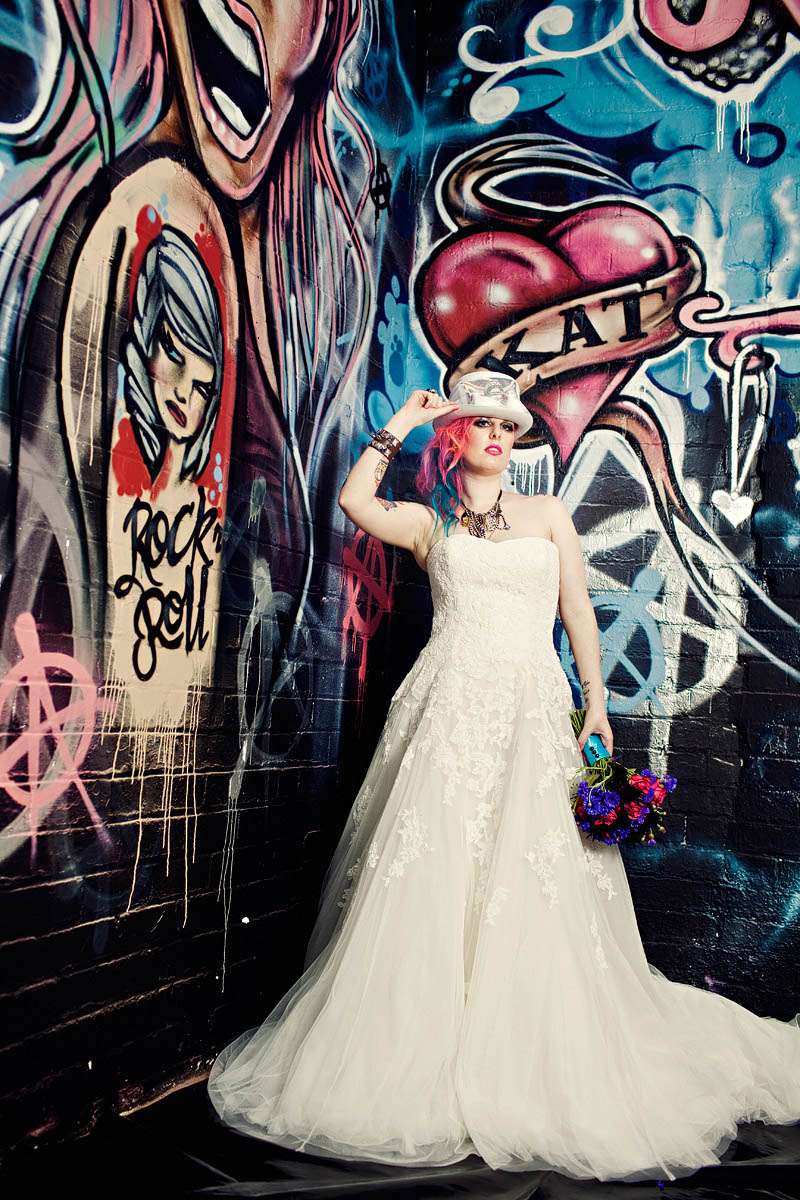 ♥  ♥  ♥
The Location
The shoot was held at The BOXXED warehouse in Birmingham, a venue used for parties and gigs. The walls are covered in incredible graffiti by Hoakser (who's a bit of a Birmingham legend) so it really did provide the perfect raw backdrop to host our shoot ideas. I arrived with Emma, Pete & Elbie and as I was getting my bag from the car I heard a little squeal from Emma, who had gone in before me."Oh my God Kat…come in here NOW and see this!" And this is what a saw. Incredible huh? To say I was nervous after seeing all the work that had gone into my very own custom Rock n Roll Bride graffiti background would pretty much be the understatement of the century. It all suddenly felt very…well…epic.
The Styling
Amy, Vickie and Amanda all run their own wedding businesses (credited below) but they have just joined forces to create Ava Event Styling, a boutique wedding styling company. They are the perfect team and all bring their own unique expertise into the threesome. They worked SO HARD to pull everything for the shoot together and they created some utterly beautiful (and tasty!) treats for us to play with. Tomorrow, I'll be blogging the behind the scenes pictures and video so be sure to pop by at midday to read more about what exactly went into all these details.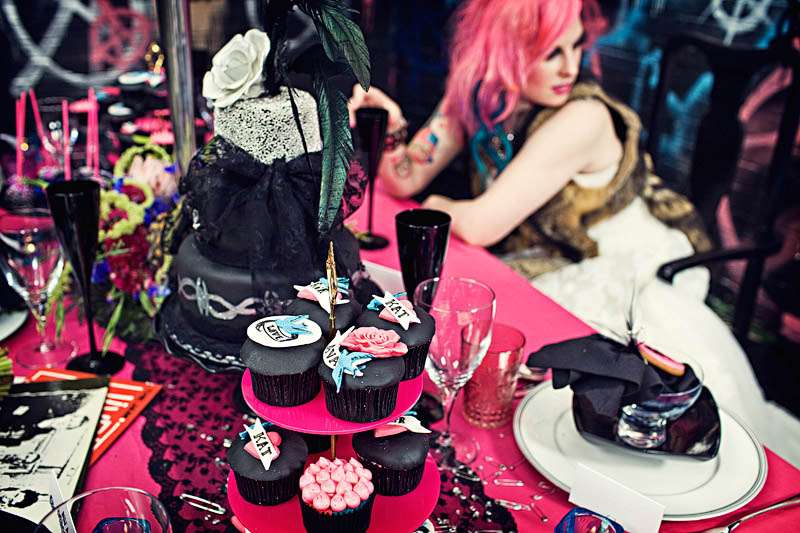 The Photographer & Videographer
When the punk theme was decided, Amy and I got chatting about which photographer to ask to shoot. To me, Steve Gerrard was the obvious choice. A real life Rock Star photographer, Steve is as comfortable in a mosh pit shooting Metallica as he is rocking a wedding reception. I was so excited when he agreed to work with us because I just LOVE this guy and it goes without saying that his work is incredible. His photographic style couldn't have been more perfect for the punk aestectic we were going for.
My bestie Emma Case and her husband Pete also tagged along for the day. Emma shot the behind the scenes images and Pete helped out videographer Simon to film us doing stupid stuff… (you'll see both tomorrow!)
Emma also provided the most vital role of the day which was to make me laugh/scream/and generally not lose the plot on this mental 11 hour shoot.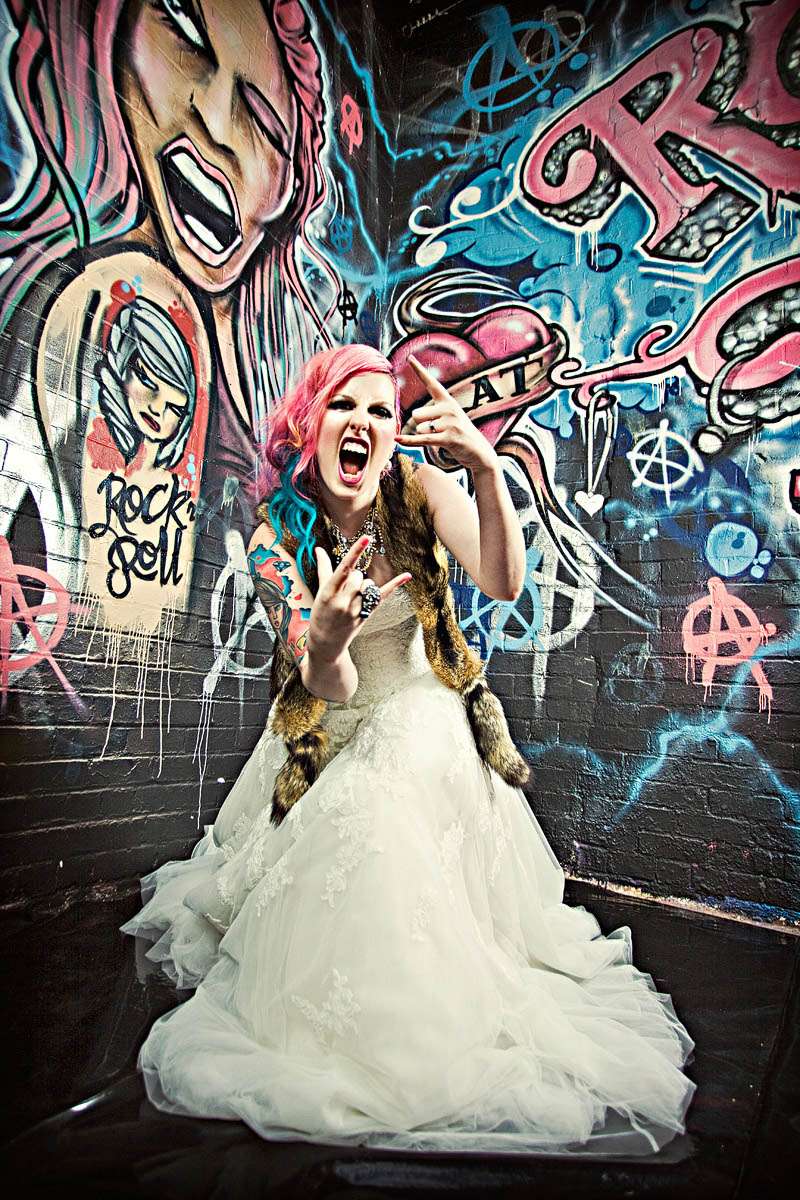 Hair & Make Up
Who else could I have asked but Elbie Van Eeden? I love her and her work more than life itself. I first met Elbie when I asked her if she'd like to work with me on the 'Mad Hatter Bride' shoot and I haven't looked back since. We've worked together on numerous shoots and projects since then and she is my faaaavourite hair and make up artist ever. Fact. She is so creative it's unreal and we really did go to town with the punk theme.
We researched punk hair and make up styles in the run up to the shot, but we were keen to bring the ideas up to date and…erm…wearable. OK maybe we didn't quite achieve that one, but how could I say no to blue or black lips?! And a Pink Mohawk with purple and glitter stars sprayed on the side of my head? Come on, that was too awesome to say no to!
Please will someone rock one of these mental looks for their wedding day? I'd die to see those photos.
Patti Bell
When Amy and I first brainstormed the shoot ideas, she mentioned that she knew a 'punk legend' and wouldn't it be amazing if we could get her on board? In actual fact I don't think 'legend' even covers it! Patti is an incredible woman. In the 1970's she hung out with Sid Vicious and The Sex Pistols, and these days she is still as punk rock as ever. Even though she's a pensioner (I know, you wouldn't believe it!) every Sunday she gets up at 3am to take the bus to The Electric ballroom, in Camden to sell her awesome hats, jackets and accessories. Not only was I super excited to meet her, but she kindly let us borrow many of her items for the shoot. I was obsessed with the tartan and union jack jackets, and the hats were by far some of the coolest things I've ever seen. Authentic punk rock doesn't get better than this.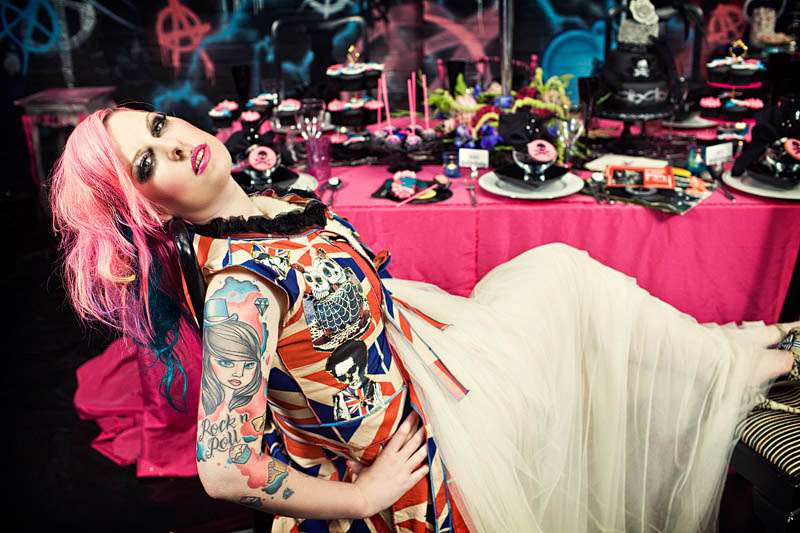 The Band
The idea for the final shot of the day was a 'last supper' – i.e. the most punk rock wedding party ever! Patti Bell guest modelled as the 'Mother of the Bride' alongside myself, Elbie (her new blue barnet made her the perfect 'bridesmaid') and local band, Guile. I loved this shot because it really brings together the wonderful styling and showcase the whole shoot idea it brilliantly – plus is was super fun to have some other models in there with me!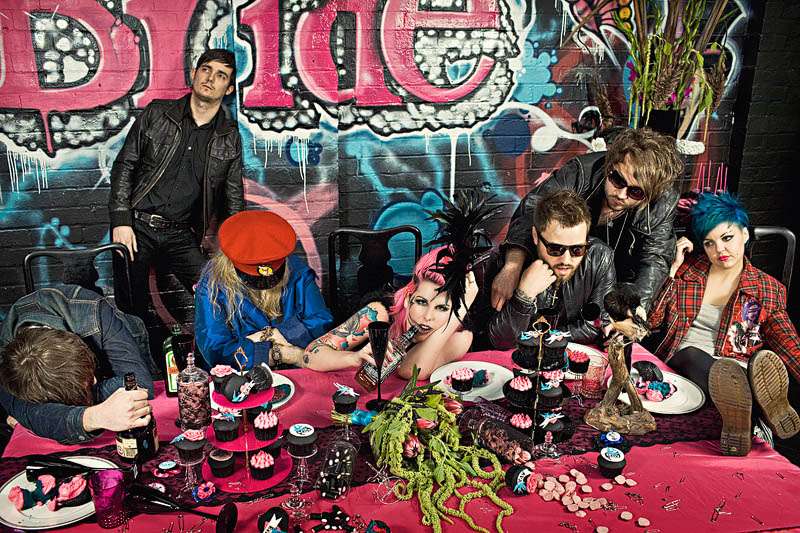 ♥  ♥  ♥
I'm writing this at 7am so putting my thoughts and everything I want to say into cohesive prose is pretty difficult right now… but in all honestly, there really is no way my simple words can express my gratitude to everyone who worked so hard on creating such a BAD ASS project. You are all rock stars. I was blown away by everyone's hard work and dedication to creating something so unique and creative. I just hope my mug did all the hard work justice!
Tomorrow I'll be sharing the behind the scenes images and video, and some more details on the props and styling from the Ava Event Styling team. Be sure to pop back at midday to get even more Rock n Riot in your life.
On Monday I'll also be posting something a little new and exciting related to the shoot. Would you be interested in getting your hands on some of your very own Rock n Riot memorabilia? Well come back early next week for your opportunity to get your hands on some of these images for realz…Rock n Riot in print? Something that you can actually hold in your hands and show off to your friends? Yes please!
♥  ♥  ♥
Outfit Credits:
Look 1 – Blue Lips
Dress: Pronovias
Belt: Stylist's Own
Hat/Veil: Sharper Millinery
Bracelet: Terry Terry
Blue Lip Gloss:  OCC Make Up
Look 2 – Union Jack Jacket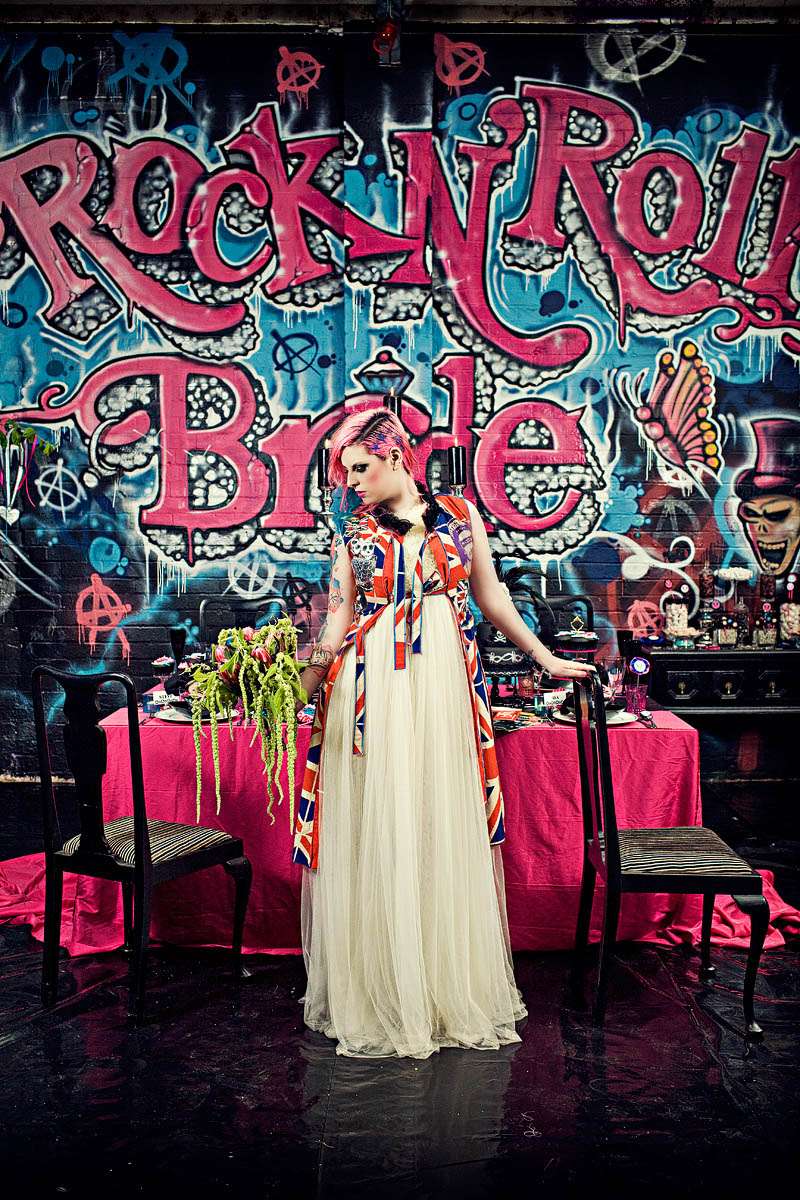 Dress: Arisa Fukumoto
Union Jack Jacket/Customised Blazer: Patti Bell
Shoes: Iron Fist
Hats:  Patti Bell
Look 3 – Fur Stole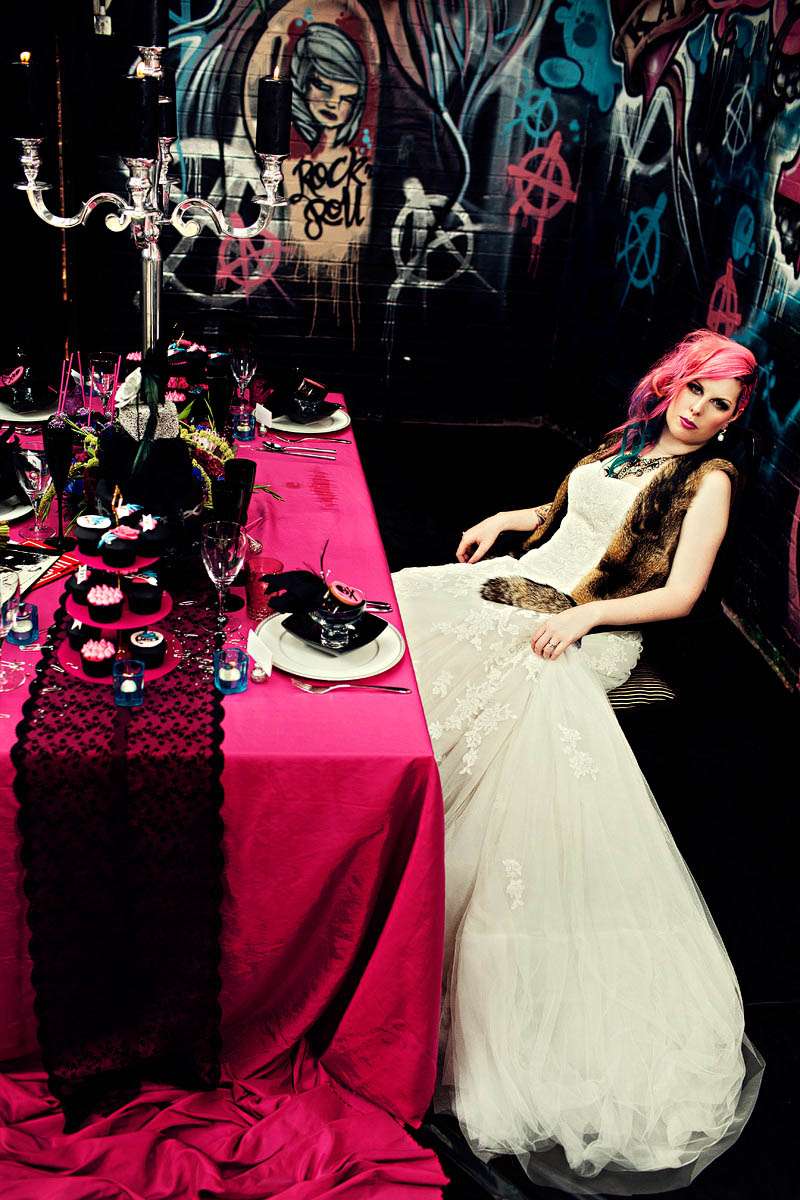 Dress:  Pronovias
Fur Stole: (Vintage) Top Banana, Birmingham
Jewellery: Terry Terry
Look 4 – Lady Gaga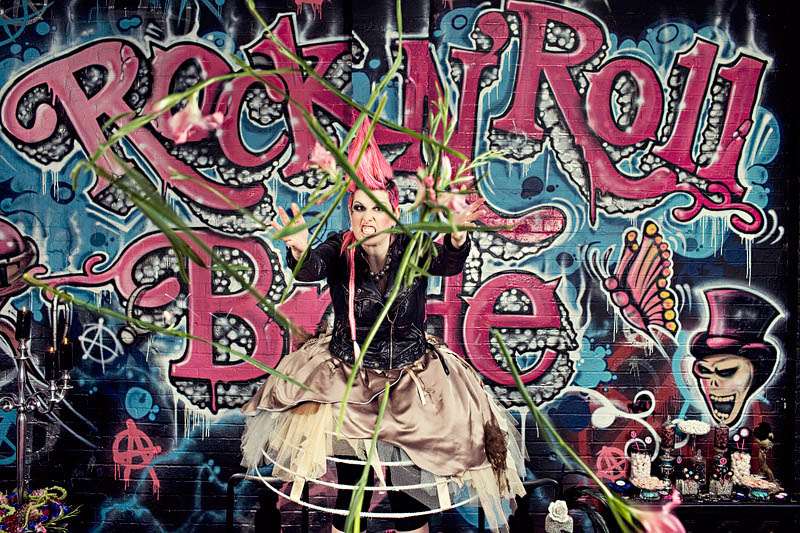 Skirt: Hannah Wilkins-Webb (final year student at the University of Central England)
Leather Jacket: Stylist's Own
Leggings: Stylist's Own
Shoes: Dorothy Perkins
Jewellery: Terry Terry
Look 5 – Feathered Bride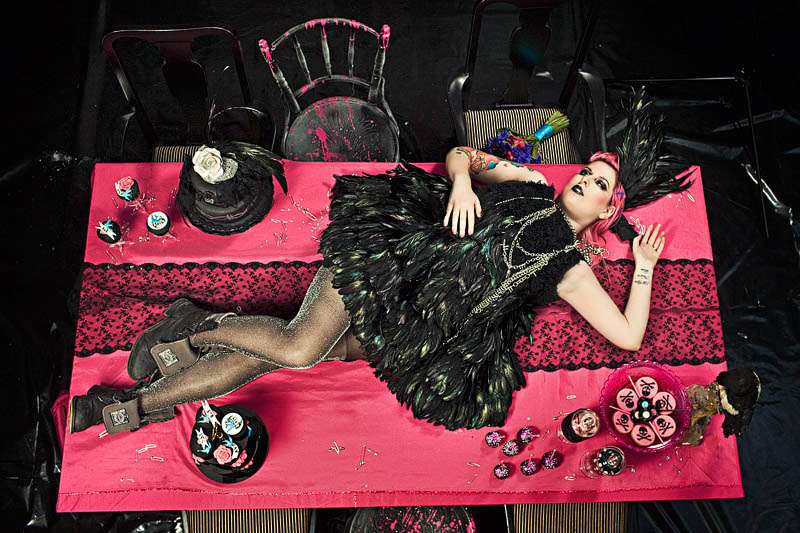 Dress: Arisa Fukumoto
Jewellery: Terry Terry
Tights: Vintage
Feather Wrap: (worn as feather Mohawk) Patti Bell
Black Lipstick: OCC Make Up
Boots: Superdry
And to close the night, we did this…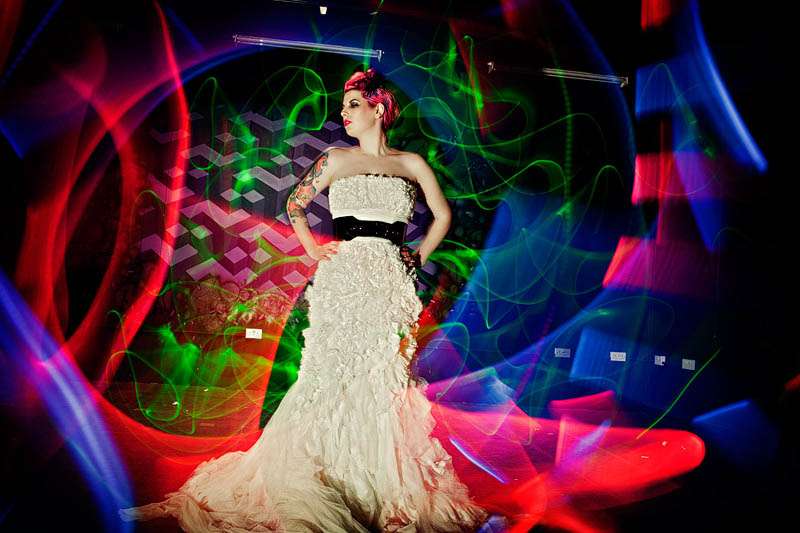 Check out the full set below…
♥ Photography: Steve Gerrard Photography
♥ Behind the scenes photography: Emma Case Photography
♥ Video: Pete Smyth for Emma Case Photography and Simon Clarke
♥ Styling: Ava Event Styling
♥ Flowers: Little a (Amy Grzegorzek)
♥ Cakes: The Boutique Baking Company (Vickie Pritchett)
♥ Product hire & candy bar: Bonne Fête (Amanda Plester)
♥ Dresses: The Wedding Club & Hannah Wilkins-Webb (final year student at the University of Central England)
♥ Headpieces: Sharper Millinery
♥ Jewellery: Terry Terry
♥ Vintage accessories: Top Banana, Birmingham
♥ Fashion Styling Adviser: Patti Bell pattibellnumber1@yahoo.co.uk
♥ Graffiti: Hoakser hoaksah@hotmail.com
♥ Hair & Make Up: Elbie Van Eeden