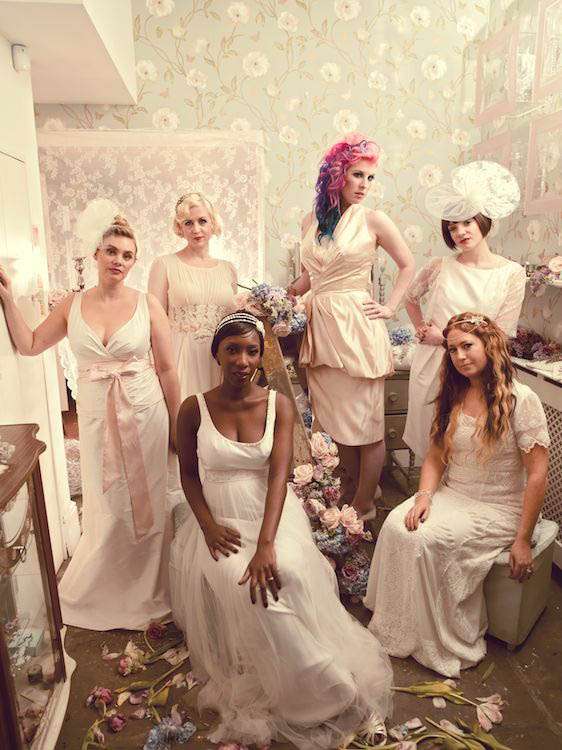 What do you get when you cross 6 wedding bloggers, The Wedding Photographer of the Year, London's most stylish & gorgeous wedding boutique and a Hasselblad? Why, The Big Fat Wedding Blogger's Photo Shoot of course!
My inspiration for this shoot came from the fact that I had seen a lot of big brands in The States using fashion bloggers to model for and promote their new lines. I loved the idea and thought it could really work for the UK wedding market. After all, wedding blogs are the new wedding magazines right?! I approached Rachel at Wimbledon-based Luella's Boudoir if she'd be up for letting us run wild in her shop and thankfully she loved the idea!
Then came the daunting task of choosing a photographer. No mean feat when you know hundreds of them! After much deliberation Rachel and I decided upon Lisa Devlin, someone who I've become great friends with over the past year or so. I called Lisa and pitched my idea to her…and thankfully she also loved it! A few days later Lisa called me with the exciting news that she's just been awarded Wedding Photographer of the Year by the British Journal of Photography and WEDDING Magazine.
"OMG Huge congratulations!" I squealed, remembering how she'd once told me that winning a photography award was on her list of things she wanted to achieve in her career. "I know" she replied, "and the best thing? I've won my DREAM kit from Hasselblad who sponsored the awards…and we can use it for our shoot!" (and they even offered a wind machine…Lisa didn't have to ask me twice whether I wanted to use it for my shot!)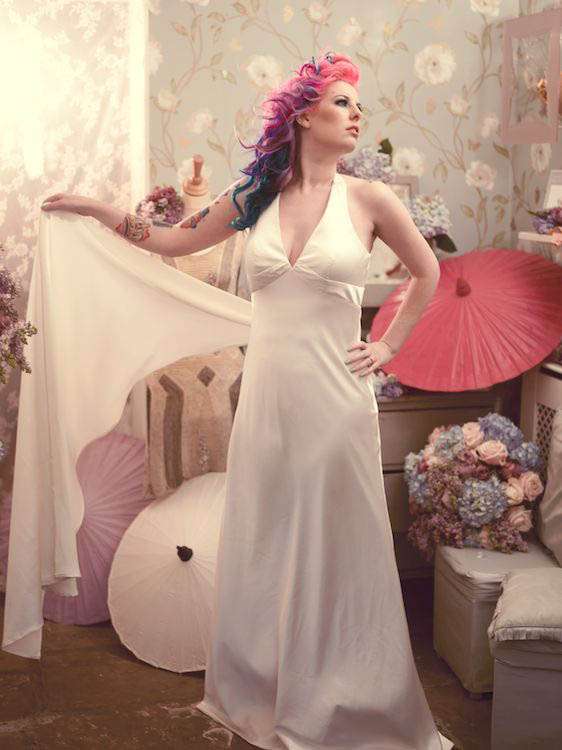 For those non-photography geeks out there, getting lent a Hasselblad is kind of a big deal. Not only is this a camera worth about £30,ooo (and that's not including the lights, wind machine and Mac that they also let us borrow!) but it pretty much blows any other DSLR out of the water in the quality of image!
Lisa explained all the techy goodness to me, "In layman's terms, Hasselblad is a medium format camera and its all about the increase in image quality due to its massive sensor. The files are much bigger than 35mm DSLR and there are a lot more pixels. This is a camera for high end fashion and advertising work, the detail is phenomenal even when you crop in a lot. You get a lot more in the shadows and highlights and if you need to do any image recovery (if you've shot too light or dark) there is a whole lot more there to work with. The latest camera, which is what they gave us has a fancy focus system called True Focus which allows you to lock focus on any part of the image then recompose your shot. Once you get the hang of it, it is pretty useful especially when shooting at wide apertures which I do most of the time."
"You can also shoot straight to computer into their dedicated processing software, which is what we did. This is very useful as you see exactly what is going on and can even control everything from the screen. So if you wanted to, you can shoot from a directors chair with a flunky doing the camera work! It has an eye-level viewfinder and can be held pretty much in the same way as a 35mm DSLR so I found it surprisingly easy to handle."
Fancy huh?!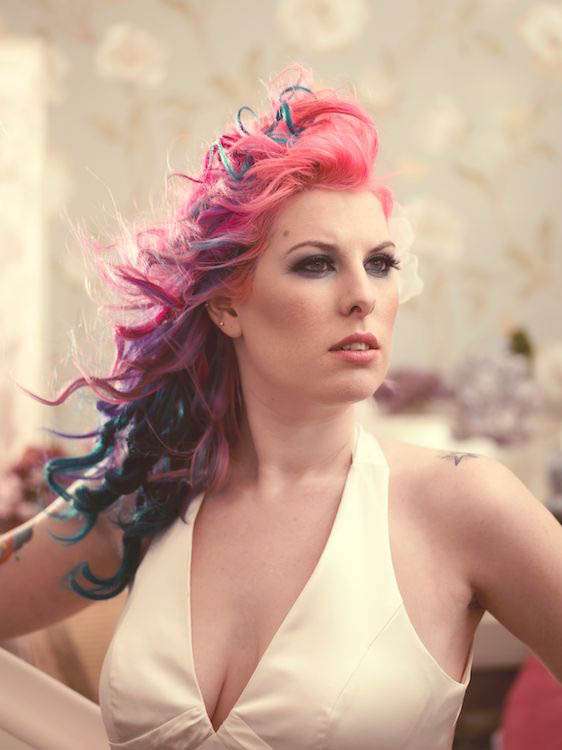 Everything seemed to be falling nicely into place. Now all I needed was willing models.
It was important to me to pick bloggers who really stood out – bloggers with a strong sense of identity, both in themselves and their blog themes and ideas. Then I thought that having each of them styled to match the genre of their blogs would work really well. Not only then would the images be authentic, but we could use them to show some different bridal style ideas.
So I asked Charley of London Bride (quirky, British, cute bride), Kelly of Boho Weddings and Events (bohemian bride), Amma of Beyond Beyond (modern bride), Annabel of Love my Dress (vintage bride) and Alexis of OMG I'm Getting Married (bridesmaid – Alexis is getting married this year and didn't want to be seen as a bride just yet!) if they'd like to come play dress up…and guess what? They all said yes!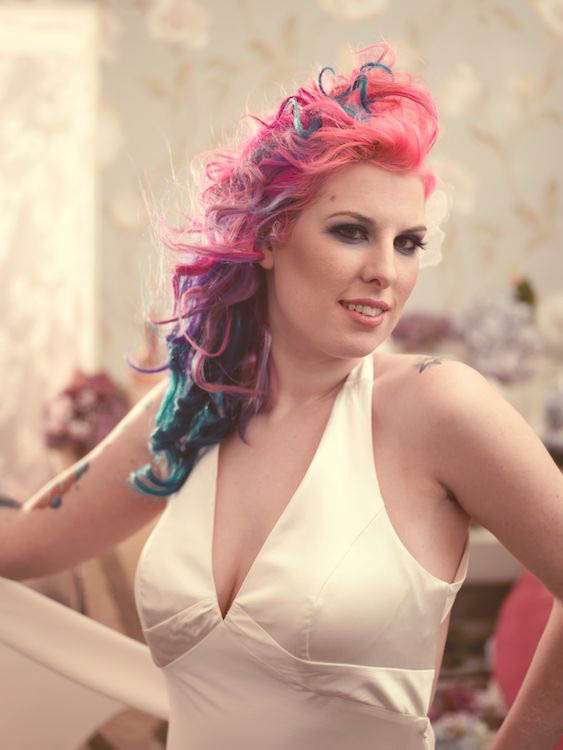 You absolutely MUST head over to all these girl's blogs to see their full set of images and to find out exactly what they are all wearing…(you can get a sneak peek in the behind the scenes video below, but be assured, you will want to go check out all of their images. These girls are SMOKIN') Click the links below to see their full sets…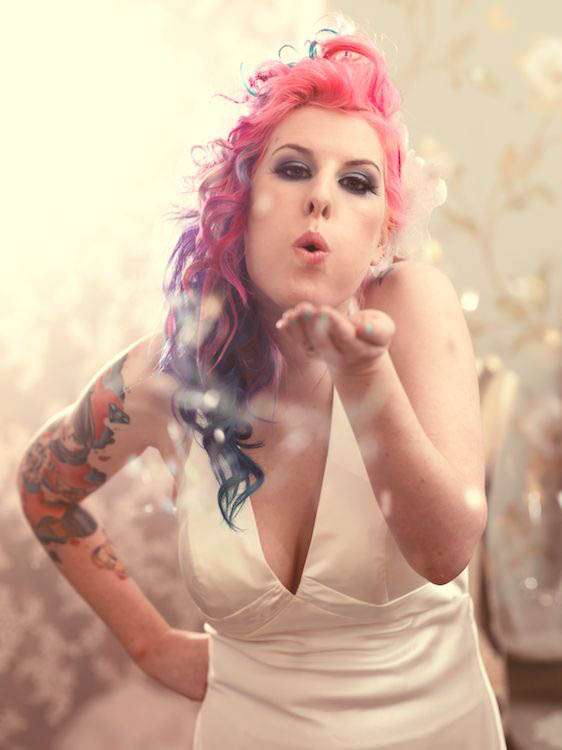 But wait! There appears to be a certain pink haired blogger missing from this list! Well, as you all know I am always well up for a bit of posing. Oh I do love a good photo shoot. For this shoot I (obviously) still wanted to share some alternative/Rock n Roll Bridal styles… but I had to do something different.
First up I decided to add some more colours to my hair – I have been lusting over rainbow hair for months now and I was so excited when my hairdresser, Elbie Van Eeden said she'd be over the moon to do it for me! We dyed bits of my own hair (my base colour is Baby Pink by Stargazer and the highlights are Crazy Colour – Peacock Blue, Violette and Cyclamen) as well as adding clip in extensions dyed with the same colours.
Pretty awesome huh?!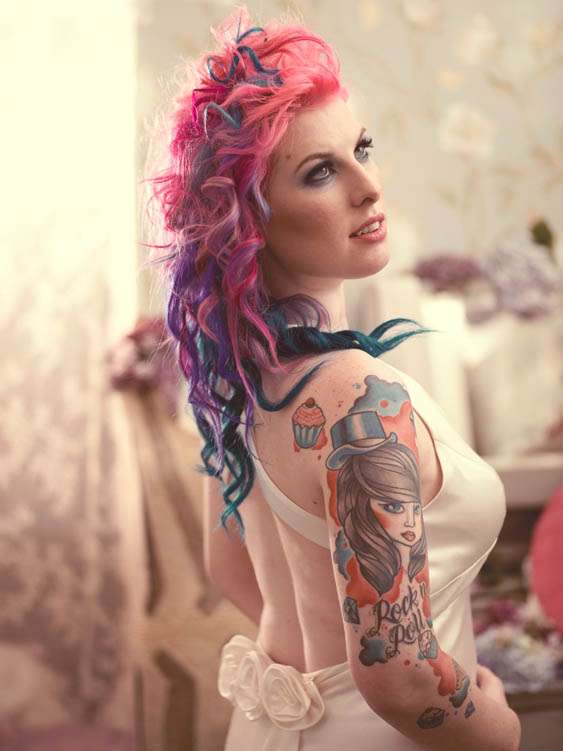 In a similar way, we wanted me to wear something different to anything you'd seen me in before. I have to admit, it took a little bit of persuasion from stylist Kate Barbour that I looked OK in a slinky number but after looking at these images, I might have to admit that she was right! The dress is by Caroline Atelier and is called Emmy (available through Luella's Boudoir) and I wore it with a Camelia Organza Flower by Victoria Fergusson.
For the group shot I wore an original blush vintage dress, created by Marilyn Monroe's favourite designer, a gold shooting star band by Jane Taylor Millinery and shoes by Emmy (full list of what everyone is wearing below the gallery.)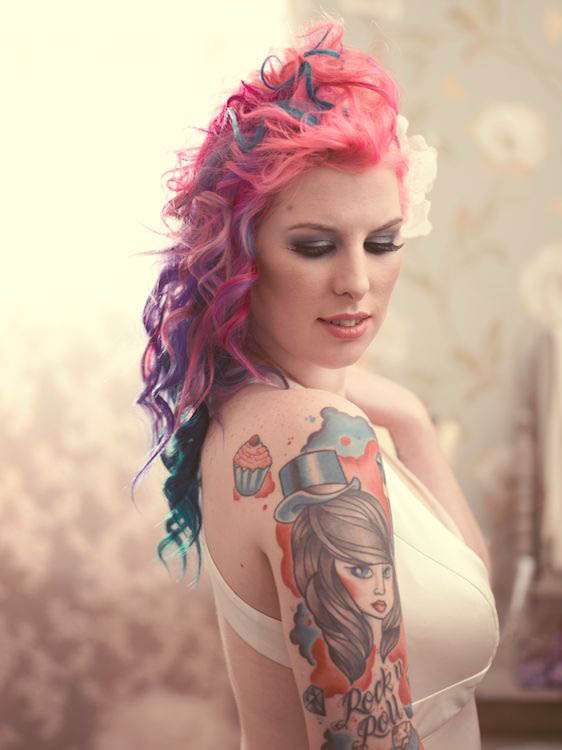 But wait…there's more! I also asked my friend Richard of FX Films to do the honours and film some behind the scenes action for us. I think you'll agree the result is amazing! This man is a video genius (and I guarantee you will be humming this song all day now)
At the end of the day, we got together for one final group shot. Being a blogger and working from home alone, can sometimes be a very lonely career path. However having these girls on the end of the phone/hanging about on Twitter/eager to respond to an 'omg I need your advice' email, makes being a wedding blogger the absolute best job in the world.
I love these girls for their individuality, for their spark and for their passion for their jobs.
I love these girls for the support they give me and their genuine attitudes. These are the girls that make the UK wedding blogging industry great…and they're all pretty foxy too!!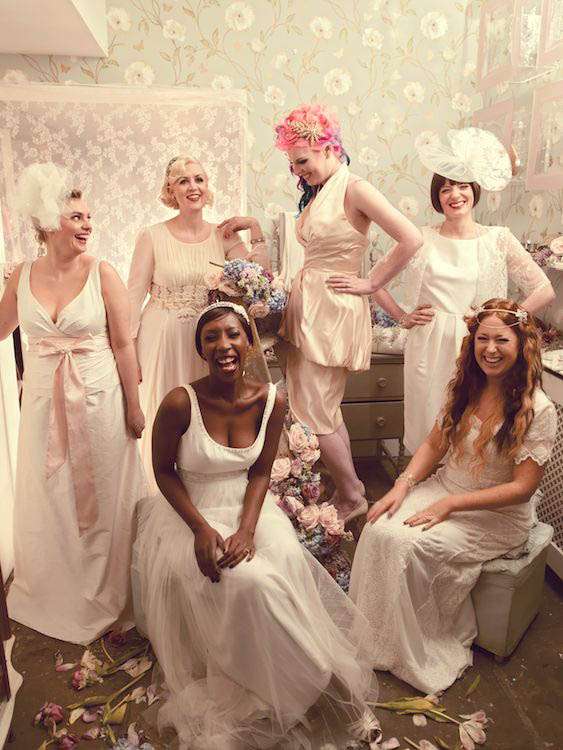 More photos and outfit info after the 'jump'
Group Shot Outfits (L-R)
All items are available for purchase through Luella's Boudoir
Charley:
Dress: Rose with pale pink sash £1650 by Luella's Boudoir
Accessories: Starlet Brooch £95 by Yarwood White and large frou frou flower headdress by  Real Princess Company £220
Annabel:
Dress: Audrey by Charlotte Casadejus £1990
Hair Accessory: Hollywood band £340 by Magpie Vintage
Accessories: vintage clip earrings £35 by Magpie Vintage
Amma:
Dress: Daisy by Lisa Redman £2000 & belt £250 by Lisa Redman
Hair Accessories: Cloud Nine headband £245 Athena headband £200 both by Victoria Fergusson
Kat:
Dress: Original blush vintage dress £1900
Hair Accessory: Gold Shooting Star Band by Jane Taylor Millinery £320
Shoes: Poppy by Emmy Custom Wedding Shoes £390
Earrings: Pure Crystal Link Earrings by Real Princess Company £55
Alexis:
Dress: Peony dress £1300 and lace bolero £320 both by Lisa Redman
Hair Accessory: Lace Tulle Disc Band by Jane Taylor Millinery £550
Accessories: Starlet cuff by Yarwood White £230
Shoes: Pearl with embellishment by Emmy Custom Wedding Shoes £390
Kelly:
Dress: Maimuna by Charlotte Casadejus £2100
Hair Accessory: New Rose headband by Yarwood White £205
Accessories: New Rose buff by Yarwood White £185
For information or to purchase any of the items listed, please contact Rachel at Luella's Boudoir on +44 (0)20 8879 7744 or by emailing info@luellasboudoir.co.uk
I know I've gushed away already bit literally, words can't express how thankful I am to everyone who worked so hard on this shoot. Show them some love would ya?!
Photography: Devlin Photos
Photographer's Assistant: Amy Bartlam for Devlin Photos
Dresses/accessories/location: Luella's Boudoir, Wimbledon, London
Stylist: Kate Barbour
Hair: Severin Hubert of The Hepburn Collection & Elbie Van Eeden
Make up: Alison Cameron & Kaz Fernando
Video: Richard Wakefield of FX Films
Flowers: Alison Trickey of Pollen Nation
Bloggers/Models