I adore featuring weddings like Alexa & Andy's the most. British, quirky, emotional and fun! The couple got married at Birmingham Registry Office on Easter Sunday and had the awesome Steve Gerrard on hand to take all their photographs. The room was really modern and had a gorgeous courtyard outside which made for some beautiful portraits.
The reception was held at The Bell, at Tamworth in Arden which they selected for it's informal and carefree nature. They knew their friends and family would have fun in the pub's relaxed atmosphere. The cake was made by Alexa's Mum after they saw something similar in a magazine and decided to have a go at making it themselves (that's exactly what we did!)
Alexa wore a dress, gorgeous little hat and corset were all custom designed and made by Jo at The Couture Company, at The Custard Factory in Birmingham. "I knew straight away that I wouldn't have a traditional wedding dress and I really like the 50s style full circle dress so did a bit of internet research and found Jo" she told me. She teamed this with shoes from Dune for the day time and pink, shiny Doc Martens for the evening! Love….!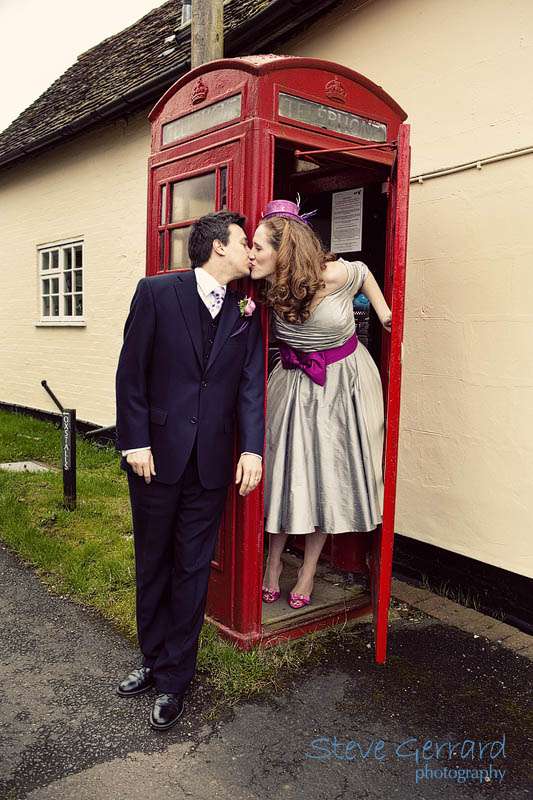 For their meal, they served good old fashioned fish n chips to their guests,"It really keep in with the relaxed and informal style we were aiming for" said Alexa. They really did make their wedding their own day. "We had a magician that came between the daytime and evening receptions and he was really good. Our Band was The Cartoon Kings and they were amazing. They got everyone up and dancing. We had an amazing day, and it was exactly how we wanted it. We didn't do things because they were 'expected'.We didn't want a first dance, so we didn't have one. We had the speeches after the starters, so no one felt stressed and could relax. (my Mum gave a 'surprise' speech too!)" Alexa concluded.
Thanks so much to photographer Steve and to Alexa & Andy for sharing their faaabulous wedding with us today.
Credit: Steve Gerrard Photography
Bride's Dress, Hat and Corset: The Couture Company
Shoes: Dune
Bride's Boots: Doc Martens
Earrings: Claire's Accessories
Necklace: Cancer Research
Wedding Ring: Vintage – belonged to Alexa's Nan
Groom's Outfit: Roy Palin in Coventry
Ties: Ebay
Ceremony Venue: Birmingham Registery Office
Reception Venue: The Bell, at Tamworth
Flowers/buttonholes for men: The Flower Centre in Northfield, Birmingham
Female buttonholes & bouquet: Diy
Bridesmaid Dresses:  Phase 8
Flower Girl Dress: TK Maxx
Hair & Make up: Diy
Favours: Mini Eggs