No joke, I've been looking forward to seeing this wedding for weeks. I met up with photographer Emma Case a little while ago when she was down in London and as we wondered around Topshop (obviously the first place one might head when in central London!) she was eager to tell me all about this amazing wedding she'd just shot. It sounded phenomenal then and it's even more awesome when I've put these images to the story.
"Liz & Steve were married in Worthing at the Worthing Dome" photographer Emma told me, "which has the most amazing art deco cinema on the ground floor and a gorgeous sun room with a balcony on the first floor where they hold civil ceremonies and the reception. Opposite to this scrummy building was the beautiful beach and Worthing Pier…. errr… wow. Liz wore a jaw dropping fishtail dress with a cute faux fur shrug, a cute pearl necklace and a birdcage veil… ahh man this photographer was so in her element! Oh and her shoes! Bright red!… yummy, yummy, yum, yum. Steve also looked pretty dapper in a cool navy suit teamed with a purple tie and matching purple thistle boutonniere."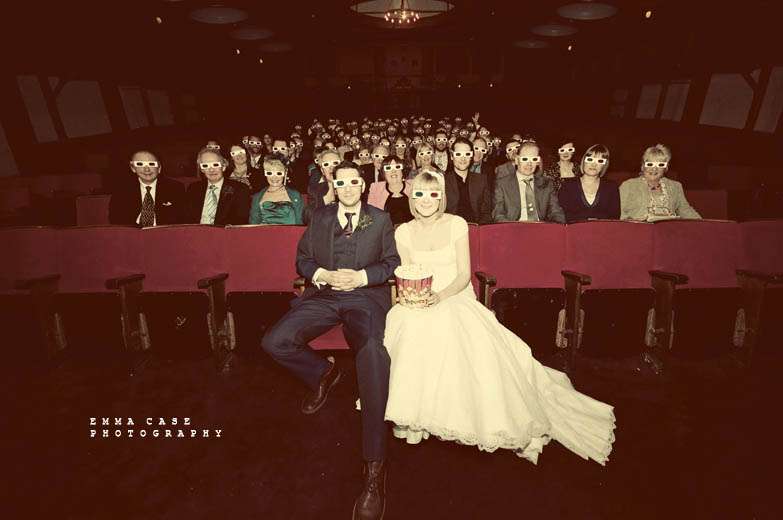 "The ceremony was beautifully relaxed and then whilst the wedding party celebrated with glasses of champagne I was given 45 whole minutes with Liz and Steve… (big grin). We walked along the pier and then found the most amazing little retro cafe along the seafront… (these shots might actually be my favourite ever).
Liz and Steve then rejoined their guests and tucked in to a gorgeous buffet and listened to the Father of the Bride's very emotional speech and then everyone watched Steve's very funny slide show story of how he proposed to Liz.
Even the table decorations were cool…. cute homemade vinyls with music legends such as Elvis as table names, gorgeous wild flowers and cute badges as favours. Oh and an old vintage typewriter for guests to write little messages! Everything was finished off with some kick ass music, lots of dancing and The Photo Booth. I'm tellin' ya the whole thing was just beyond ACE."
Thanks to a very excitable Emma for sharing this amazing wedding with us today..and stand by people, I have some very cool and exciting projects (yes, plural!) with Emma coming up soon which I can't wait to tell you all about!
Credit: Emma Case Photography