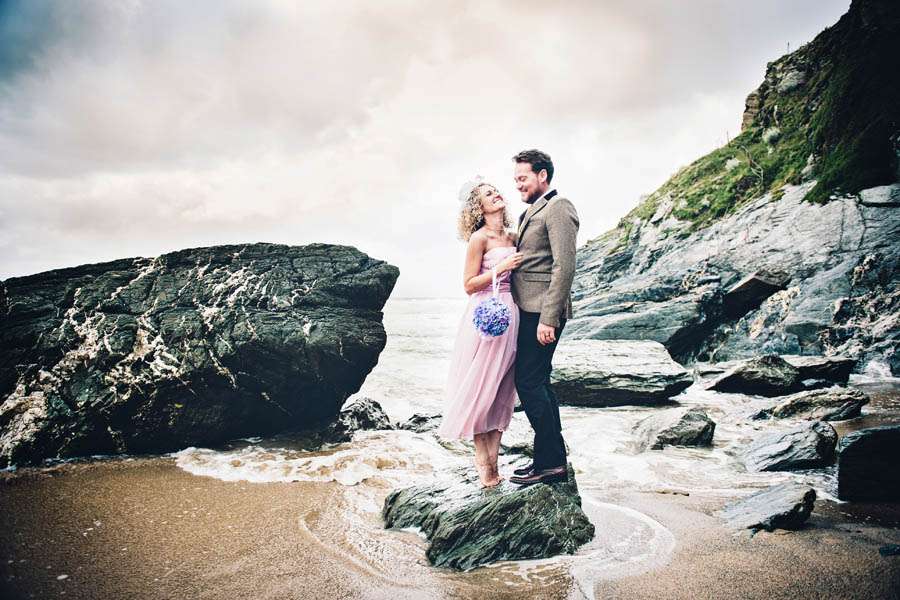 It's unusual for me to split a wedding feature into two parts, but as Sarah & Doug had a two day wedding celebration with each event styled very differently, I felt it was quite appropriate. The first part of the wedding took place on Friday 15th June where they had their legal ceremony surrounded by just a few close family and friends on the beautiful Lusty Glaze Beach in Newquay. Lusty Glaze is a gorgeous secluded horseshoe cove surrounded by 135 foot cliffs – perfect for their intimate ceremony.
"Our ideas grew organically", Sarah explained. "They just kept coming and because of us being surrounded by family and friends who would help out we could make it all happen. Your wedding only happens once, so we wanted it to be magical for everyone. We found things we loved and made them ourselves, only buying things we absolutely had to partly because we had a budget, but also we knew what we wanted and how we wanted it to look – distinctive."
"We knew that we wanted to have a custom made ceremony that was personal and about 'us' which left the question of the 'legal bit'! The house where we were staying (and had our reception) wasn't licensed and the local registry office was just plain scary (sorry St Austell) so we needed to find a place to just have a ceremony which was not easy!"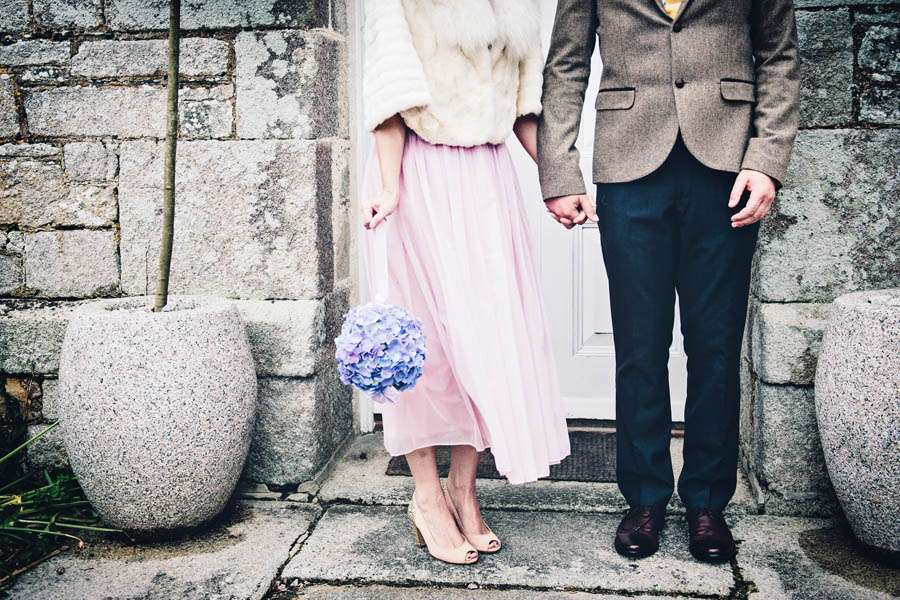 "Our friend was managing a hotel in St Austell so we had asked him if we could get married there – a quick ceremony and a glass of fizz and done, just with family and the bridal party. But he then left the hotel a few months before the wedding and so in the end it didn't feel right to get married there. So we did a lot of research into places we could just have a ceremony. Most hotels won't touch you as they want you to have whole thing with them. We looked into tee-pee villages and caves, but they all had price scaling (i.e. it's one price if you have 20 people then more for 30 and more again for 40 etc). As we weren't sure how many would be coming, we didn't want that restriction. We eventually stumbled on Lusty Glaze and managed to get a last minute viewing. It was an amazing venue. We live near the beach in Worthing (near Brighton) so feel in love with it. Plus there's not many places in England you can get married practically on the beach!"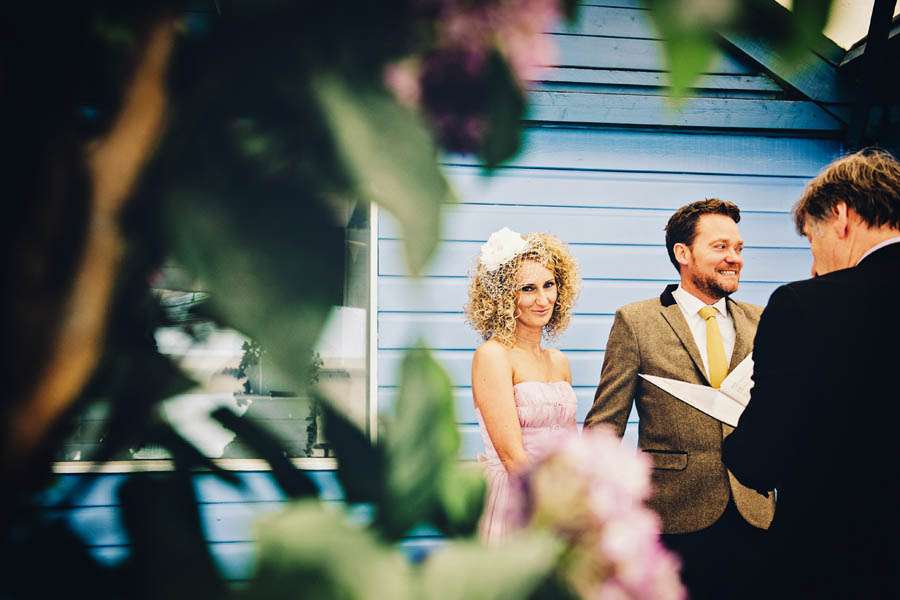 "The main reason that we were our legal ceremony on a different day to our reception was so we weren't running around like headless chickens because of the different venues. I think the main lesson we learnt was to go with the flow, don't panic if things change, just trust, everything happens for a reason!"
Sarah wore a pink dress which she found at Retro Daisy during her hen do! Her necklace was hand crafted by a jeweller in Worthing and made from the left over pieces of the headpiece that she wore on the Saturday. Her headpiece was from Monadel. She also carried at hydrangea pomander which was a gift from her maid of honour. "She insisted I had flowers for the Friday", the bride laughed, "luckily I listened to her, they were amazing!!"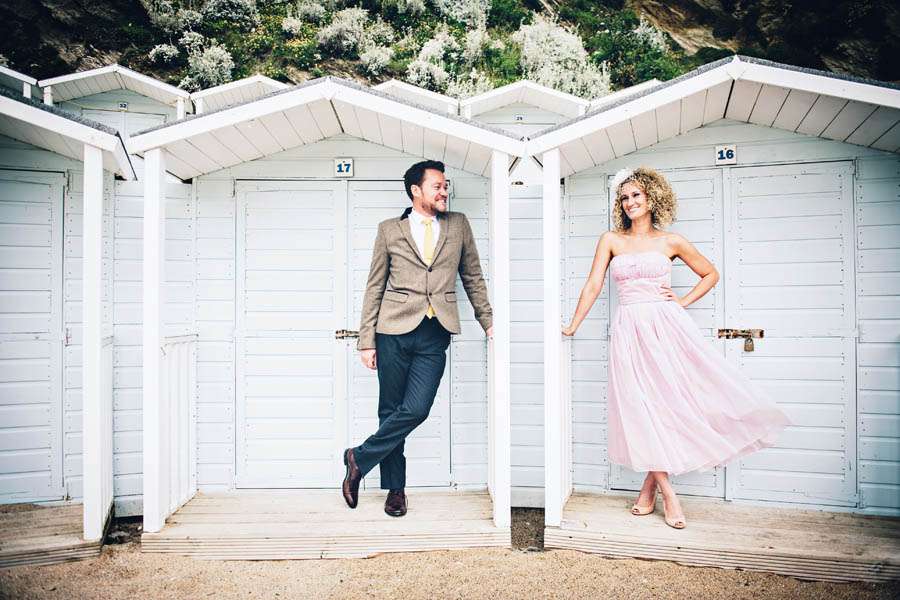 Utterly stunning. I love that they had such an intimate ceremony and in such a gorgeous location! Be sure to pop back at 3pm today for part two – their colourful marquee reception!
Supporting Cast
Photography Credit: Blooming Photography
Venue: Lusty Glaze Beach, Newquay
Bride's Dress: Retro Daisy
Bride's Shrug: Vintage
Bride's Shoes: Topshop
Bride's Headpiece: DIY
Bride's Necklace: Monadel
Groom's Outfit: Various
Flowers: Ginny's Flowers
Transport: Truro Vintage Bus Company