I love Megan & Brodie. I loved them as soon as I featured their Rock n Roll engagements a few months ago. So when Alica of In the Now Weddings & Events emailed me to share this kick ass wedding she'd helped to organise my first thought was "Hey, I know them!"
When Megan & Brodie decided to get married, they knew they wanted it to feel homey and old fashioned, with a little rock and roll thrown in.  They decided to have the ceremony and reception at the uber trendy Marvimon House, an awesome sustainable loft space in downtown Los Angeles.
The pair are both vegan and we wanted to have a 100% vegan wedding. They served a delicious, locally grown, vegan buffet, Megan made 150 cupcakes and 8 dozen cookies and their friend (and maid of honor) homebrewed all of the beer!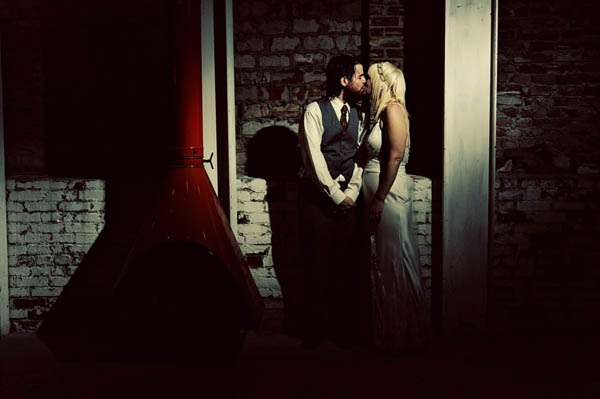 Megan's dress was a sample-sale-purchased Elizabeth Fillmore gown(Tattered Tulle from her Spring 2005 collection) and Brodie scored an absolutely amazing 60's suit from Jake's Vintage.  They constructed a DIY photobooth, made 3 sets of favours and did all their own flowers.
Thanks to event organiser Alicia for sharing this awesome wedding with us and to Megan for sending me all the juicy details!
Credit: Hazelnut Photography
Event Organisation: In the Now Weddings & Events