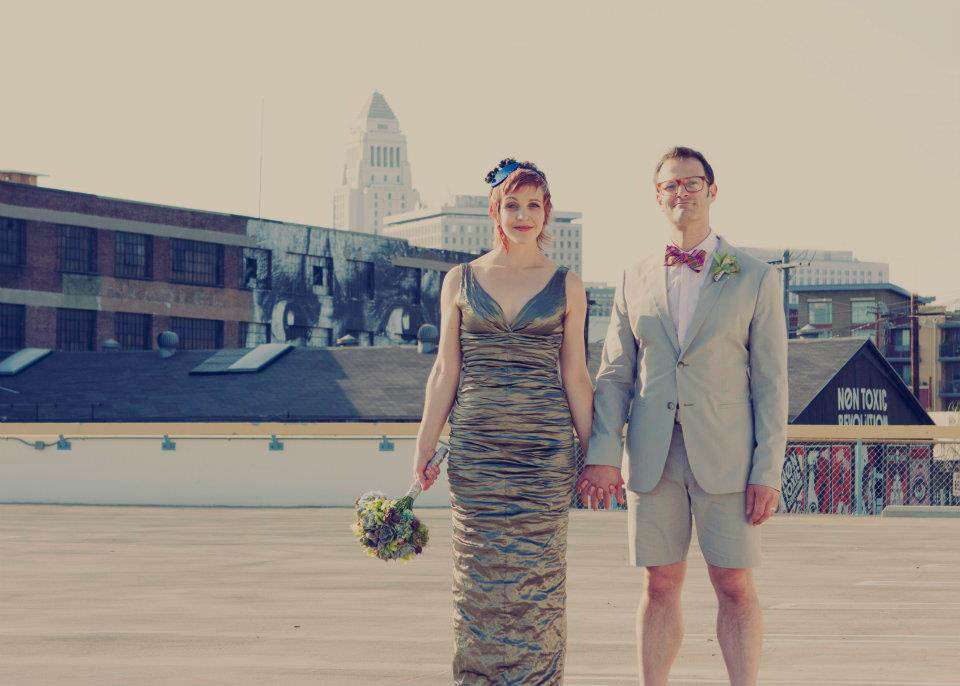 Amber & Jo's art gallery wedding was held in downtown LA. They kept things informal and low key, really wanted to focus on the ceremony and hoped to create a real community feel.
"We wanted our wedding to be a representation of the things that are important to us and that we love, so we put a lot of thought into the details of the wedding", explained Amber. "We tried to create an experience for everyone that would be a memorable celebration of our love for each other and for our friends and family. Our venue, ArtShare, a non-profit that supports low income youth to get involved in the arts, was perfect in that it allowed us to support a great organization while also providing the perfect physical space. The venue is part warehouse (reminiscent of some of the great downtown LA parties we've been to); part art gallery, which created a lovely reception space; and part theater, where we had the ceremony. It also provided a great spot for photos, with the downtown LA skyline in the background and that uniquely LA combination of colorful murals, graffiti, historic buildings and palm trees."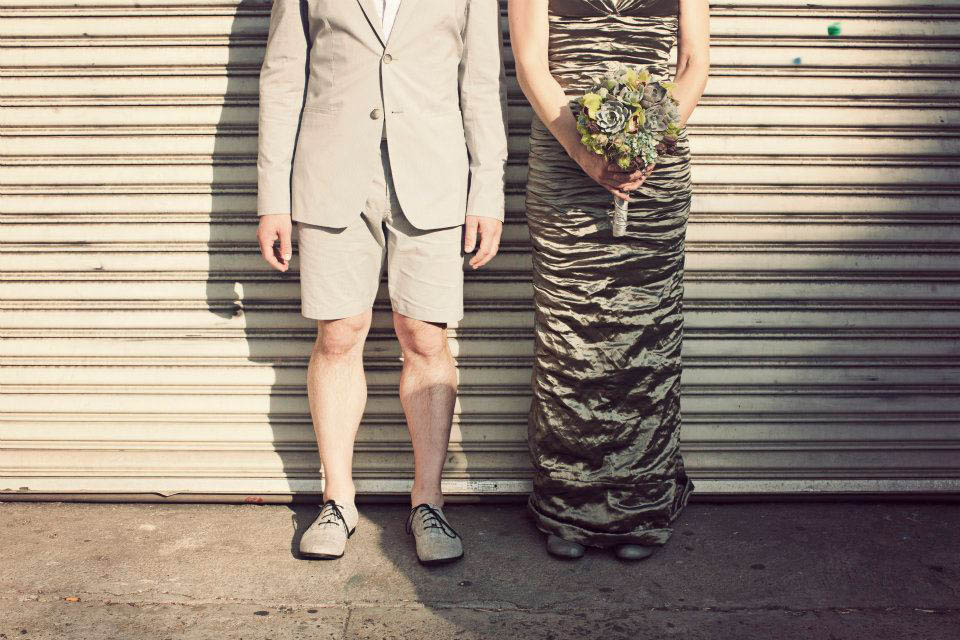 "For our ceremony, we didn't want it to feel like a show or performance that our guests watched. Instead we wanted it to be more like a community gathering, where our friends and family showed their support for us and made a vow to continue to support us through any rocky times to come. Two of our best friends, a couple, officiated the wedding. We asked our guests to share with us their thoughts, wishes, advice, and hopes for us relating to love and commitment. It was a remarkable gift to us to get to hear from them. We wrote our own vows and kept things very simple."
"We found plastic glowing orbs for the flower girls and ring bearer to line the aisles with before we walked down them. We had to search high and low for metal stands to put them on, as they came with stakes to be used in the ground outside but in the end my ever-resourceful dad helped us find table leg extensions, which he cut to be the right size. They went really well with the industrial, urban feel of the space. The orbs have since then been put to good use at parties and on group camping trips."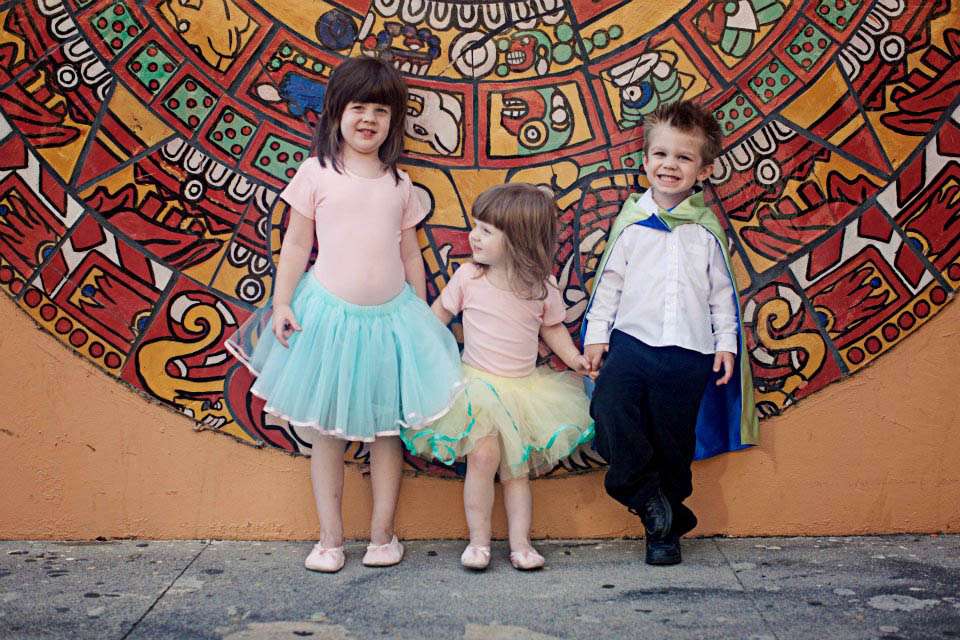 "A creative friend created a beautiful space for the ceremony that complimented our glowing orbs. She used round paper lanterns and cardboard wrapped in tin foil. She also made our invitations, using a design inspired by succulent leaves and images from chemistry."
Amber & Jo really wanted to support independent artists and vendors through their wedding, so they opted to work with small businesses wherever possible. "We wanted the wedding to represent our own style and aesthetic as well as our values. We bought the flower girls' tutus and the ring bearer's superhero cape from etsy sellers. We chose fabric with four awesome designs to make our own colorful napkins."
"My headpiece with berries on it was created by a local artist and the wedding favors, colorful crazy socks (which we both always wear), were purchased from a company that was able to assure us that they were made under safe working conditions (i.e., not by kids in a sweatshop). The socks were also something that we knew people would get use out of. We didn't want to give away something people would just toss in the trash the next day. Occasionally when we're hanging out with a friend or family member, they'll pull up their pant leg to reveal that they're wearing the socks – eeeeee! It's so fun to see them enjoying them!"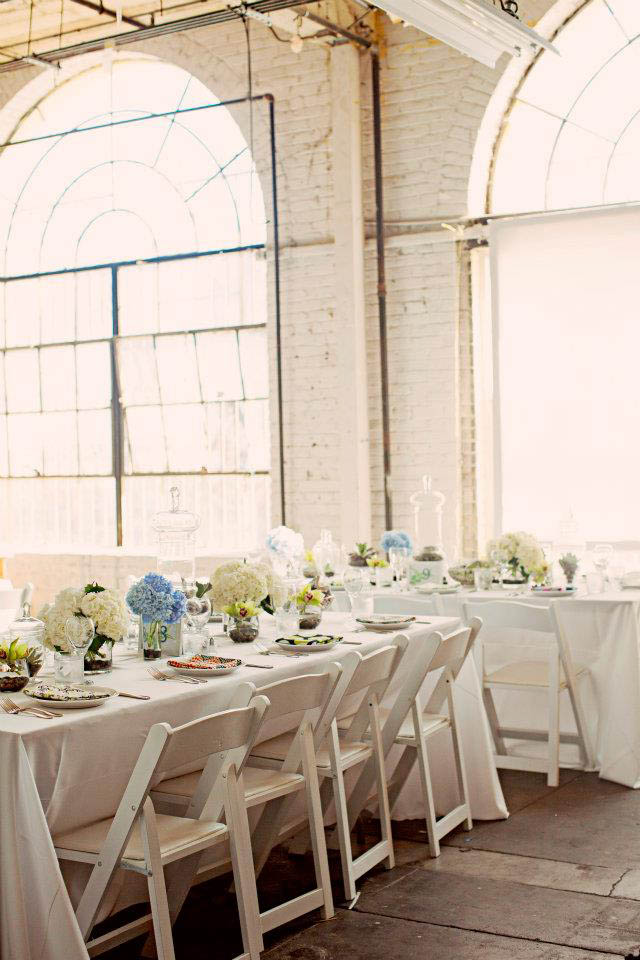 The venue was so beautiful to begin with that it didn't need a whole lot of decorating. For their centrepiece they chose succulents and a few flowers for colour. They placed them all in vases that the guests could take home afterwards. It was also vital to Amber & Jo that they were a 'green' as possible. "We had a vegetarian, family-style meal that even our carnivore friends enjoyed, with plenty of vegan options", Amber continued. "Then, we pulled out the surprise – an ice cream sandwich food truck with amazing homemade ice cream and cookies! It was awesome to have everyone hanging out outside enjoying the summer evening."
"Our rings we're pretty unique. We got inexpensive wedding bands and Joe recorded both of us saying 'I do', then created an image of the waveforms of our voices that we had engraved on the rings (each ring has the other person's voice on it)."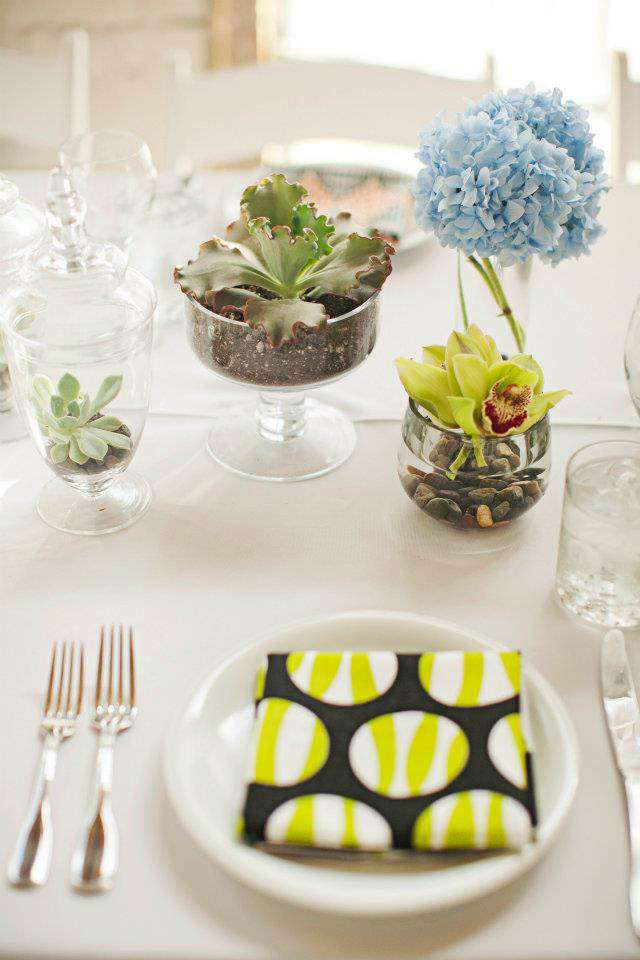 I love that idea! In fact I love this entire wedding. Thank you so much to Amber & Jo and wedding photographer Hayley Rheagan for sharing with us today.