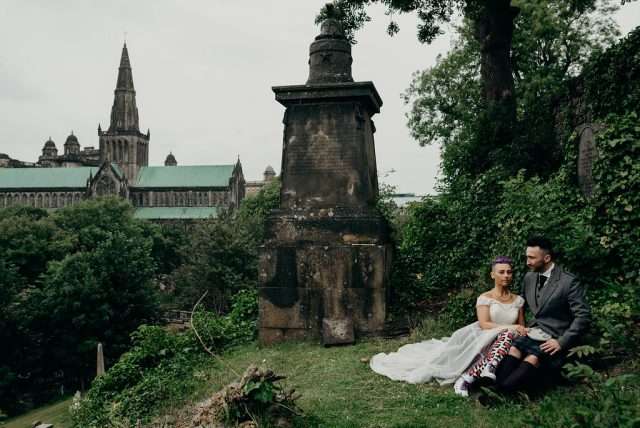 It's not everyday that you get a first look involving a unicorn mask, but for Stuart and Angelica that was one of their must-haves – and quite rightly so. Their July wedding, described as "casual unicorns" with a dash of Scottishness, was organised in three months, and mostly long distance across the Atlantic too. Despite that, it also features a secret Alice in Wonderland twist and some pretty incredible gothic architecture too.
"Our day was set in the beautiful architecture of Glasgow City Chambers Building, smack in the middle of Glasgow", said Angelica. "it had a very unique feel to it from the start. We sat all the family down in the Kelvin Room of the ceremony building whilst I arrived with my bridesmaids and went into a private room for our first look. We're both very happy we did the first look before walking down the aisle, as we're pretty sure one of us would have fainted!"
And you might faint when you see the photos – Stuart and Angelica both wore masks for their first look, and giant rubber unicorn and horse masks at that. Stuart explains: "When we met in Australia we both had these stupid masks on, so we incorporated them into the first look, and this inspired the unicorn association." Underneath that unicorn mask, Angelica has some pretty rad hair herself – with gorgeous lilacs and blue-y tones it reminds us of the Northern lights, and this smoky purple colour palette continued into her outfit. Alongside a bunch of lavender, Angelica wore a blue stoned ring borrowed from her cousin, and her grey-toned wedding dress was a lace-topped David's Bridal design, upcycled using her sister's prom dress and a belt and bow made from tartan scraps (leftover from Stuart's kilt).