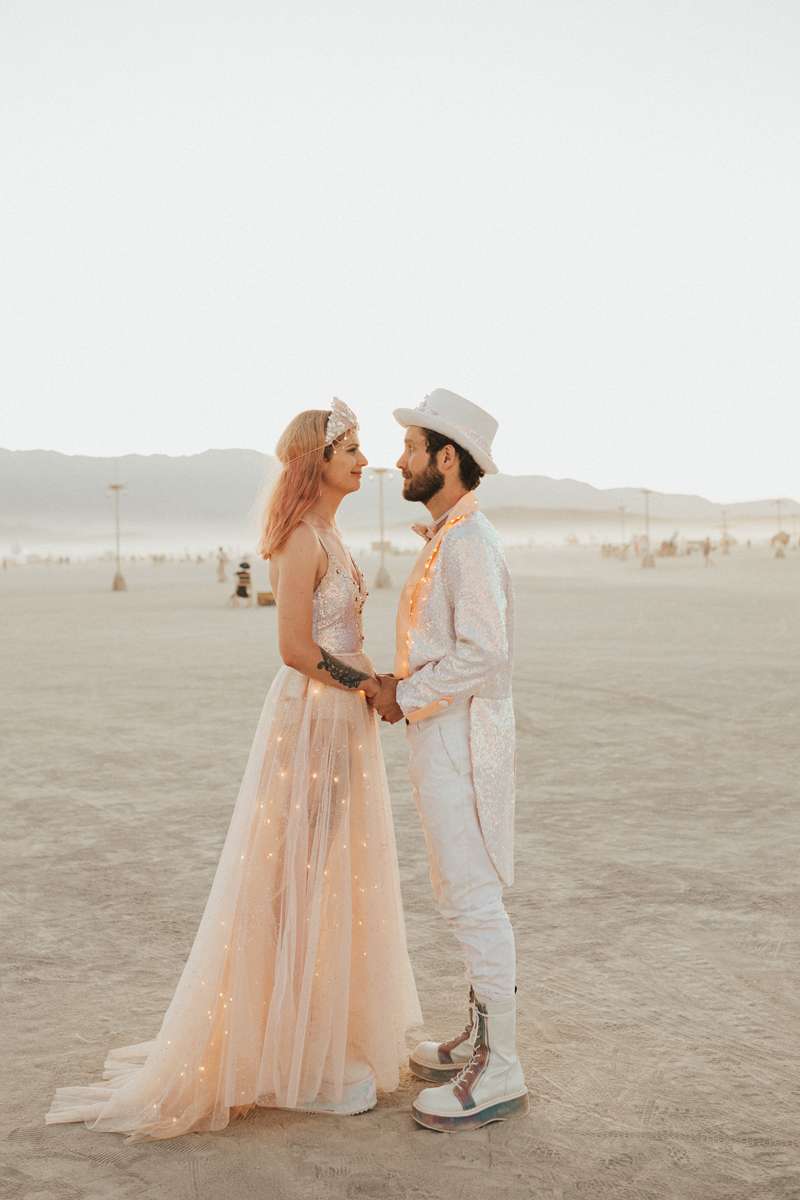 GASP! Kelsie and Andy's wedding is about to knock your socks off because Keisie got hitched in a LIGHT UP DRESS, Andy looked just as swag in his iridescent sequin tuxedo and they had photos atop a giant unicorn sculpture at Burning Man. I meaaaaaan, this is pretty much what all Rock n Roll Bride wedding dreams are made of!
Their Burning Man ceremony took place in August and their reception back home was in November. They were legally married on 'Tutu Tuesday' at Burning Man by the host of their theme camp (Barbie Death Camp) 'Doc Pyro', who is ordained. He stood inside life-sized Barbie box to marry them.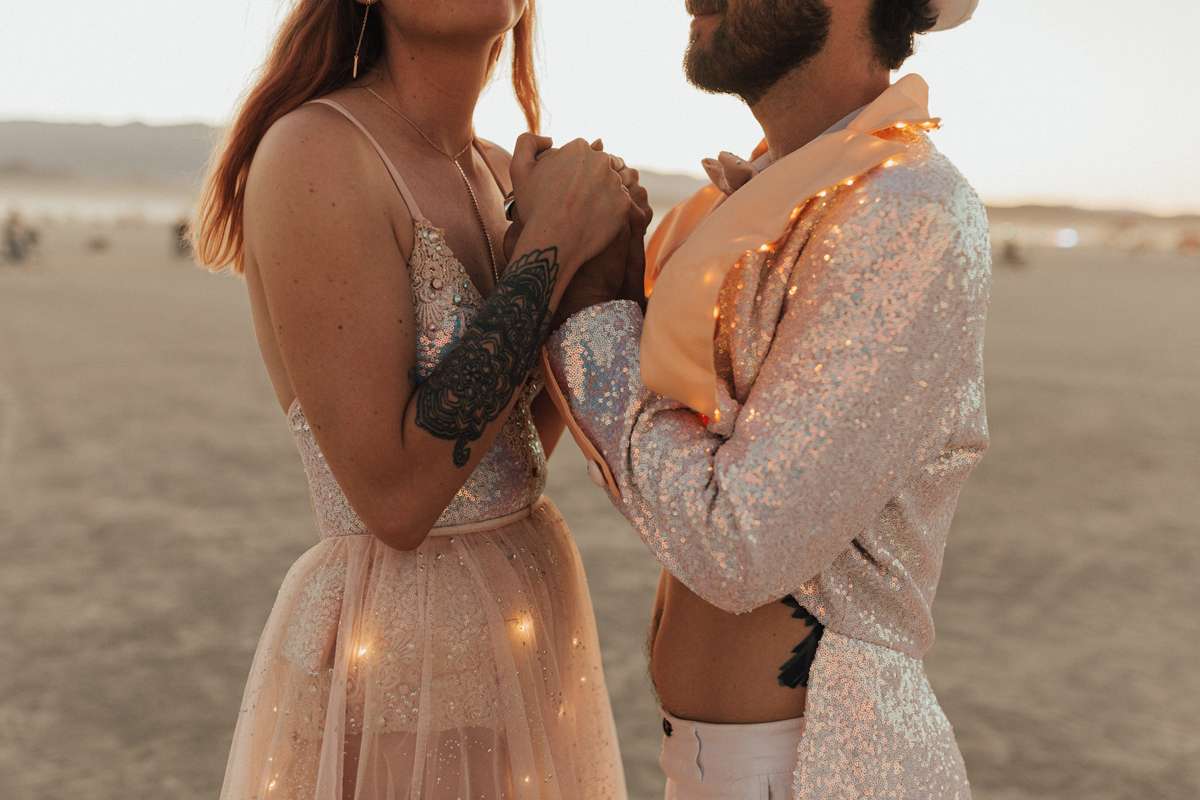 "We were already planning on going to Burning Man when Andy proposed", Kelsie began. "I had the idea to get married there when I was listening to a Burning Man set by one of my favourite electronic producers, Monolink. Why not combine our absolute happiest place in the world with the happiest day of our lives? I never wanted to have a traditional wedding with a large bill. I couldn't understand why you'd not spend the money travelling the world and get married in a place where there is an almost infinite amount of beauty, art, music and community instead? I used Rock n Roll Bride for a lot of inspiration as well as Instagram and Pinterest for outfit ideas."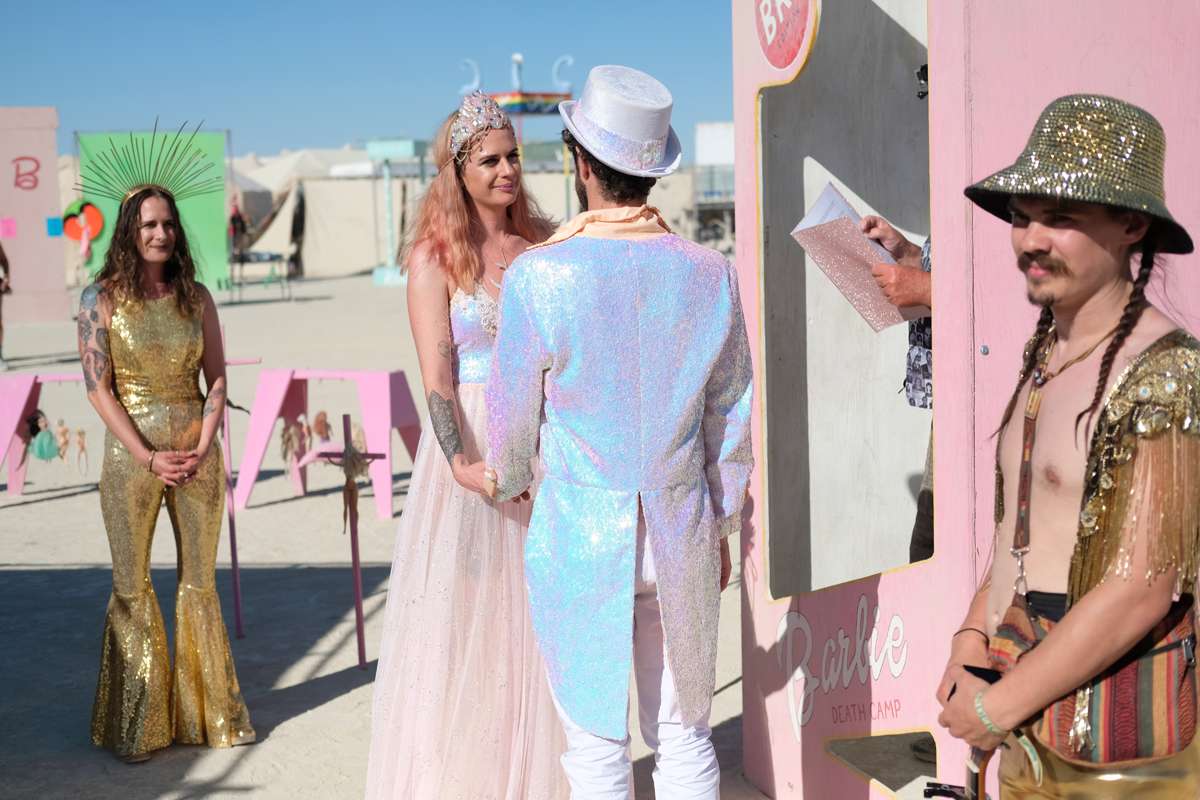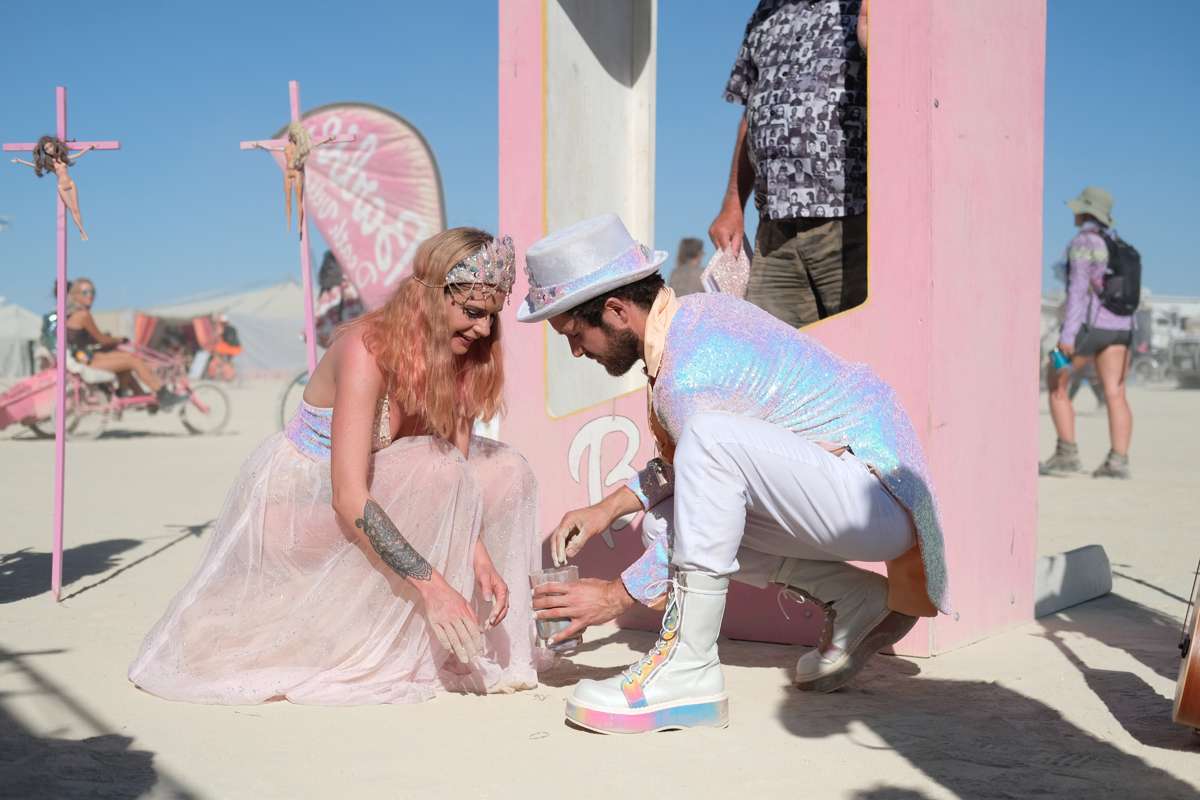 "It took just over a year of planning, from researching the best places to hire RVs to reaching out to theme camps, waking up at 5am to try to buy Burning Man tickets online and the most important – finding out how to legally get married at there", she continued. "We wrote our own wedding ceremony and dreamed up our own wedding outfits. We had huge dreams and a small budget ($30k (AU) for both weddings and our travel). Luckily everything fell into place without a hitch!"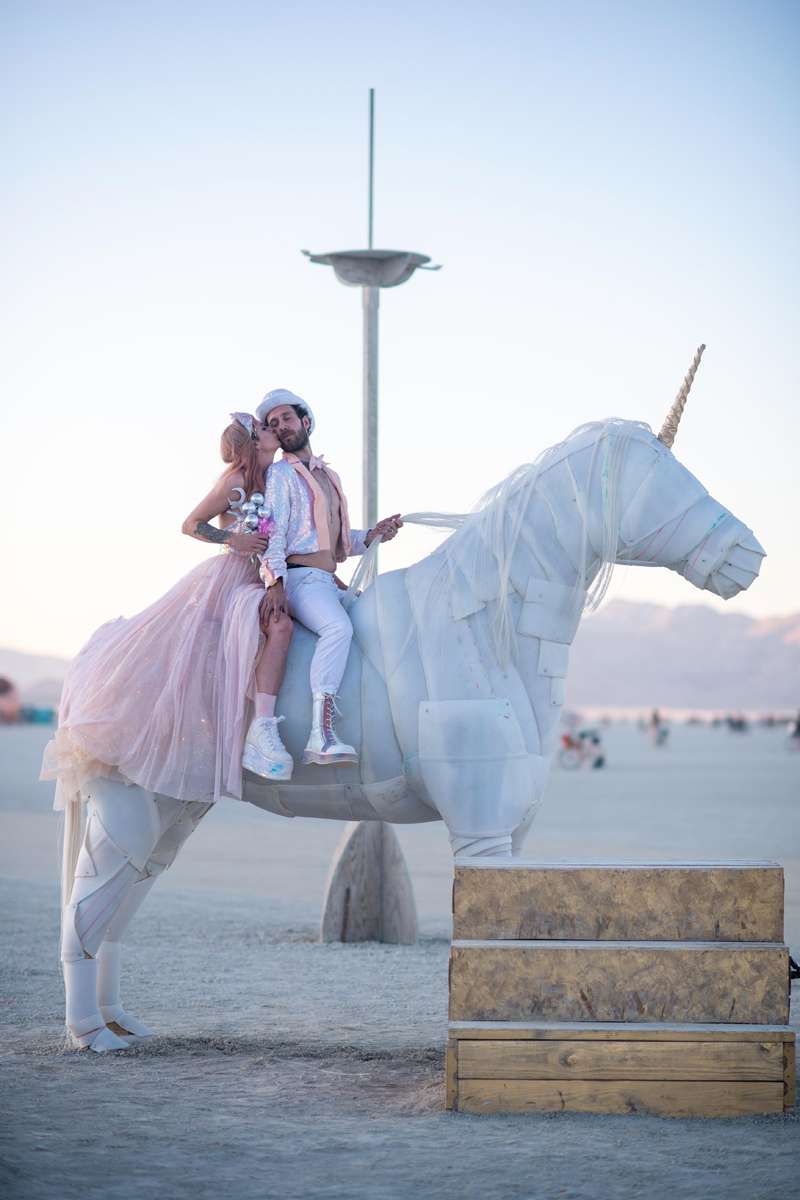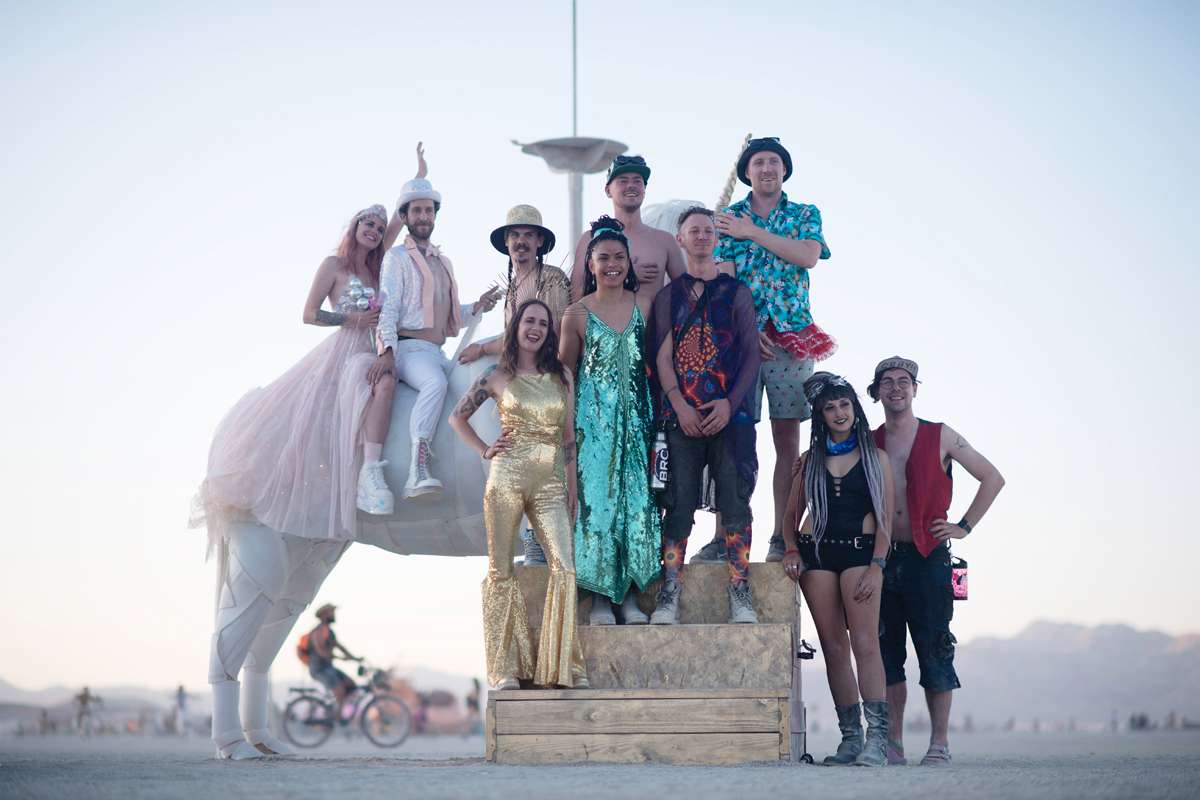 "I walked down the 'aisle' to Heart of Gold by Neil Young sung and played on an acoustic guitar by my twin sister Rachel and her husband Drew. I was around 40 mins late and our celebrant was getting annoyed because he wanted to go off and party somewhere! We had a sand ceremony with a twist. Months before our trip, I got my older sister Haidee to bring over a bag of sand from a beach in Dunedin, NZ – the city that we met. We brought this over to Burning Man and combined it with the dust from the Playa. We then brought that home and at our Melbourne celebration, we combined with dirt dug from our garden. The sand, dust and dirt represents our past, present and futures combining as one life together. We invited everyone we met at Burning Man to attend our wedding ceremony and we were so touched that a few actually came. It was a beautiful mix of sequins, sweat, dust, and love!"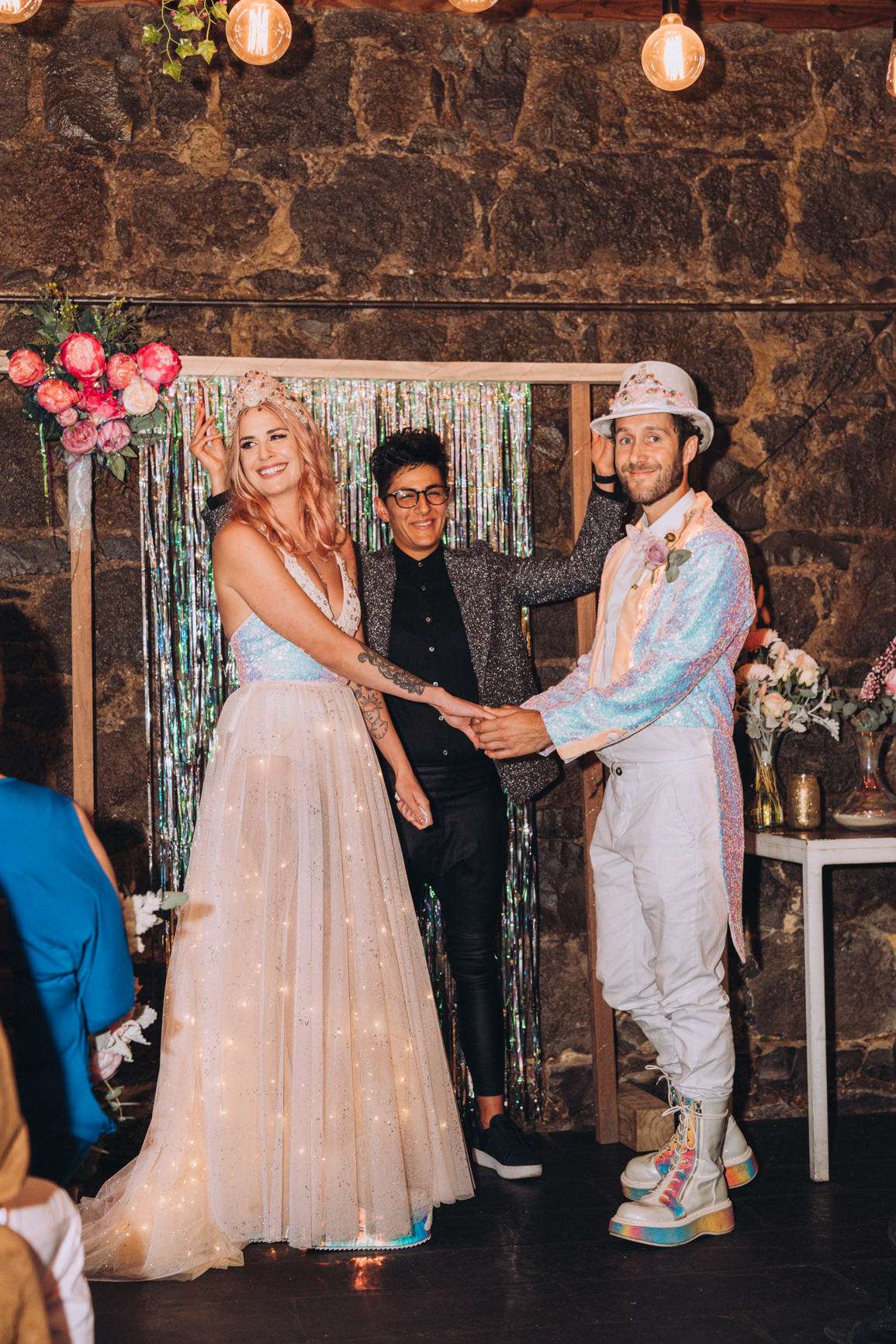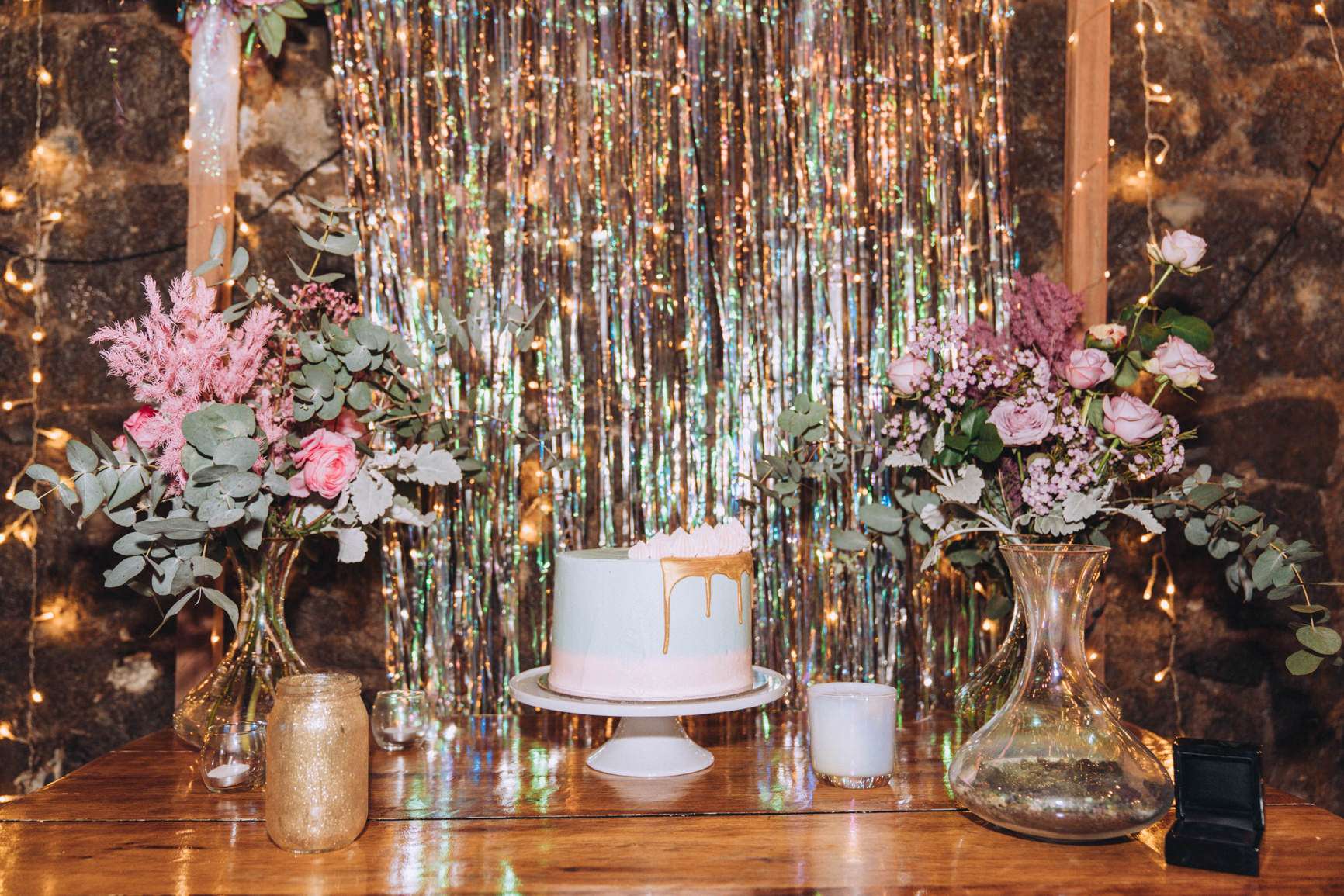 It was important to have some close family and friends with them too so they invited a select group of people to go along with them, however their big reception back home in Melbourne is where they celebrated with most of their loved ones. Since they were then already legally married when they returned home, instead of hiring another officiant they asked one of Kelsie's her closest friends, Naz, to help them repeat their Burning Man ceremony with some small script changes for their family and friends.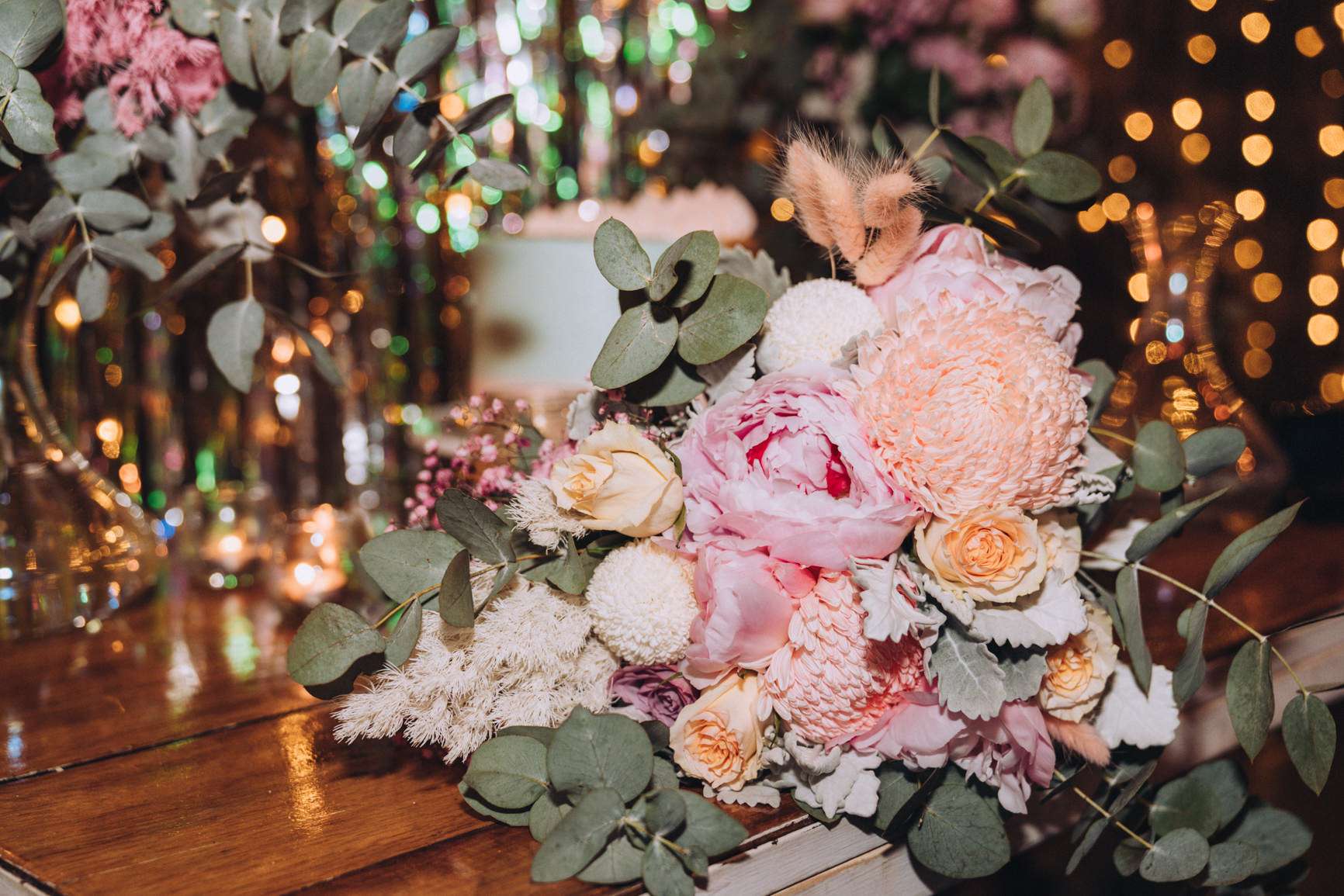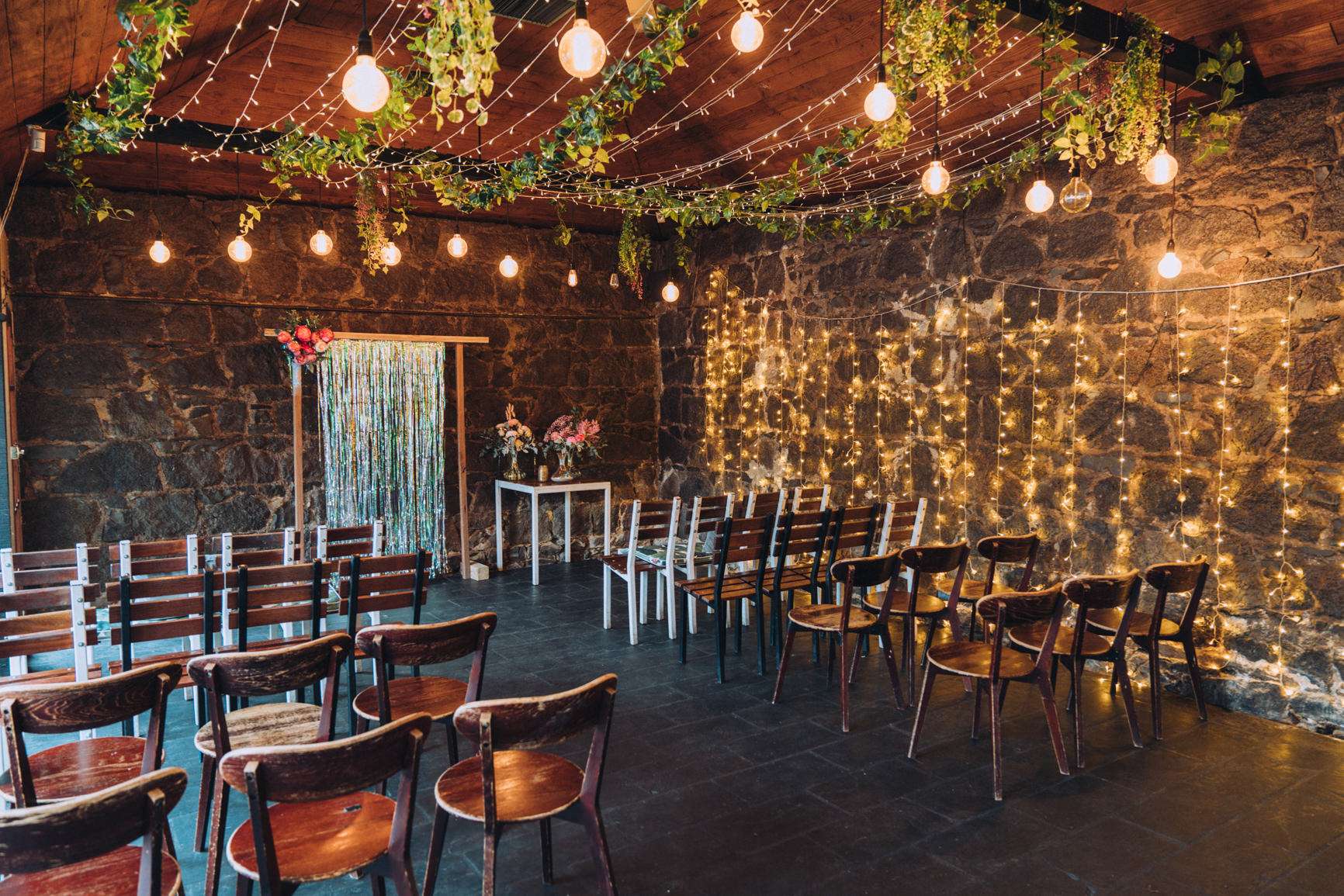 "In Melbourne we had SO MANY fairy lights! Andy built us a wooden altar which I covered in tinsel, more fairy lights and fake flowers to be married in front of. The best thing about planning our wedding was all the excitement! It was amazing to see our friends and family be so excited for us and the countdown was so much fun. The worst part was feeling like we nearly bit off more than we could chew, trying to plan two weddings and two months of international travel all at the same time… It was a lot but wee were super organised and split the jobs up into sections which made it so much easier."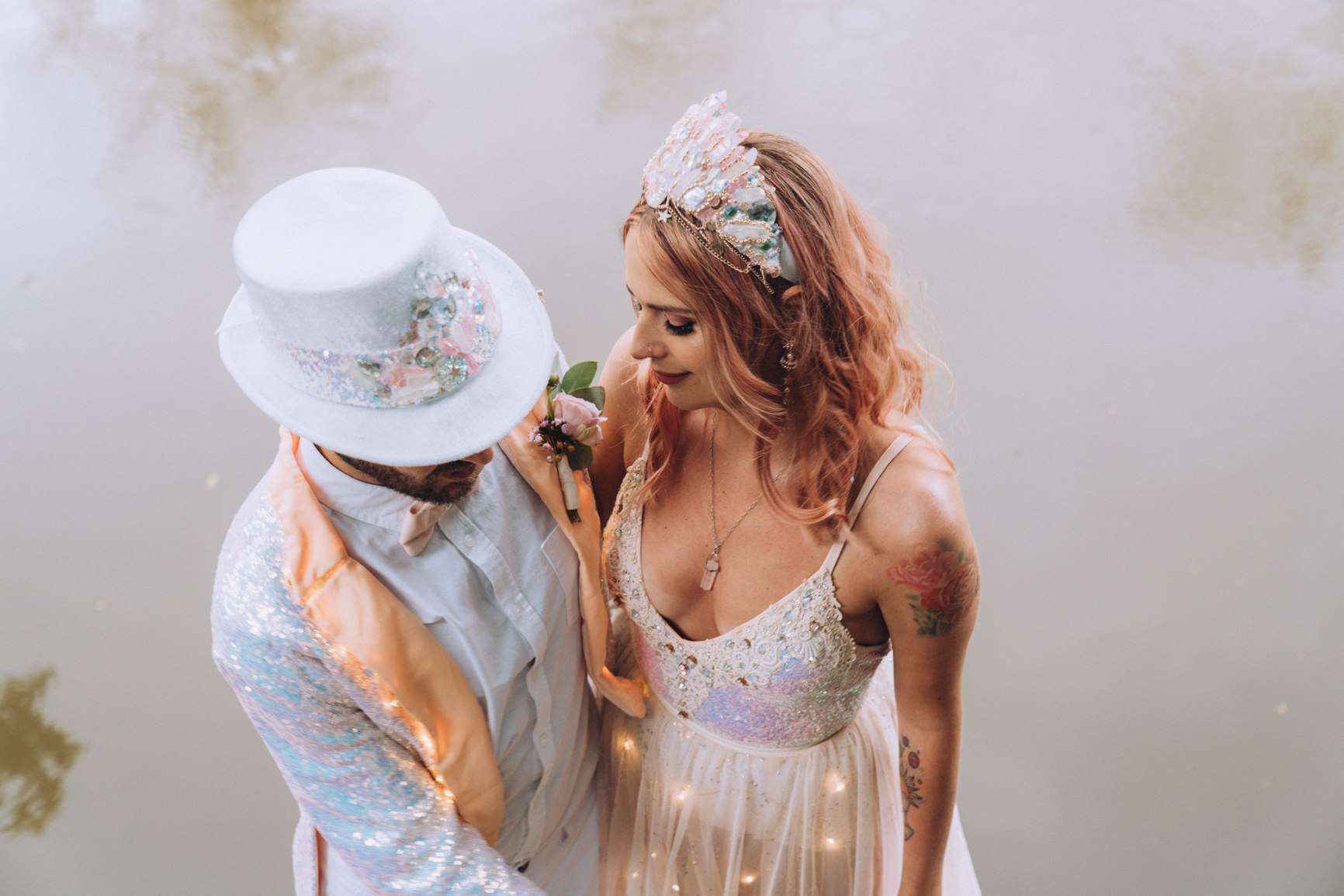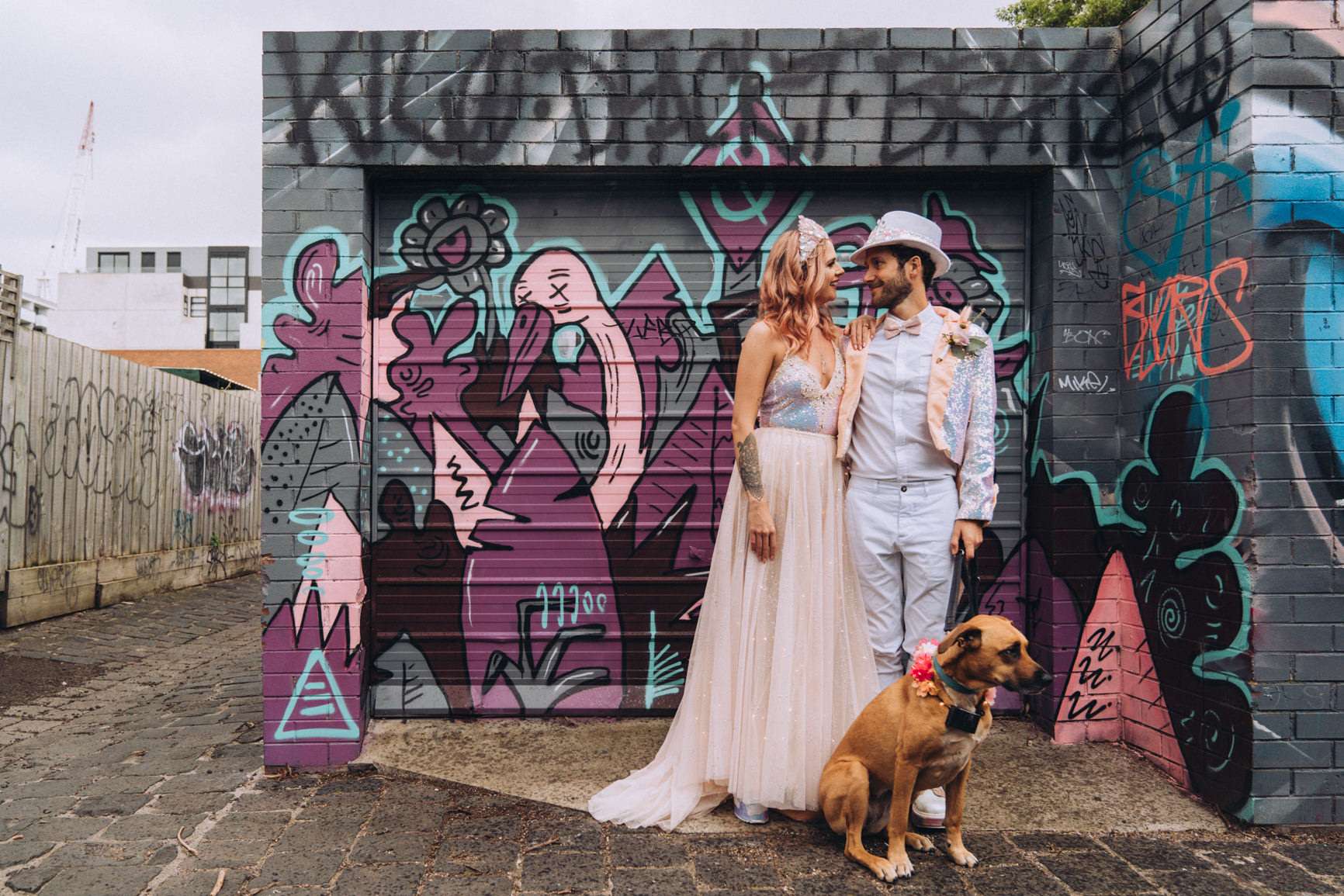 Kelsie's light up tulle skirt, iridescent leotard and Andy's sequin tailcoat were made by Tamara Claire, a dressmaker from Melbourne who works in a bridal store but who also makes custom costumes for drag queens and cabaret performers. "It's common knowledge at Burning Man that you must light yourself up at night time so I desperately wanted to have a light up wedding dress and luckily found a dressmaker who was fine to painstakingly stitch in 20 metres of fairy lights into a tulle wedding skirt!"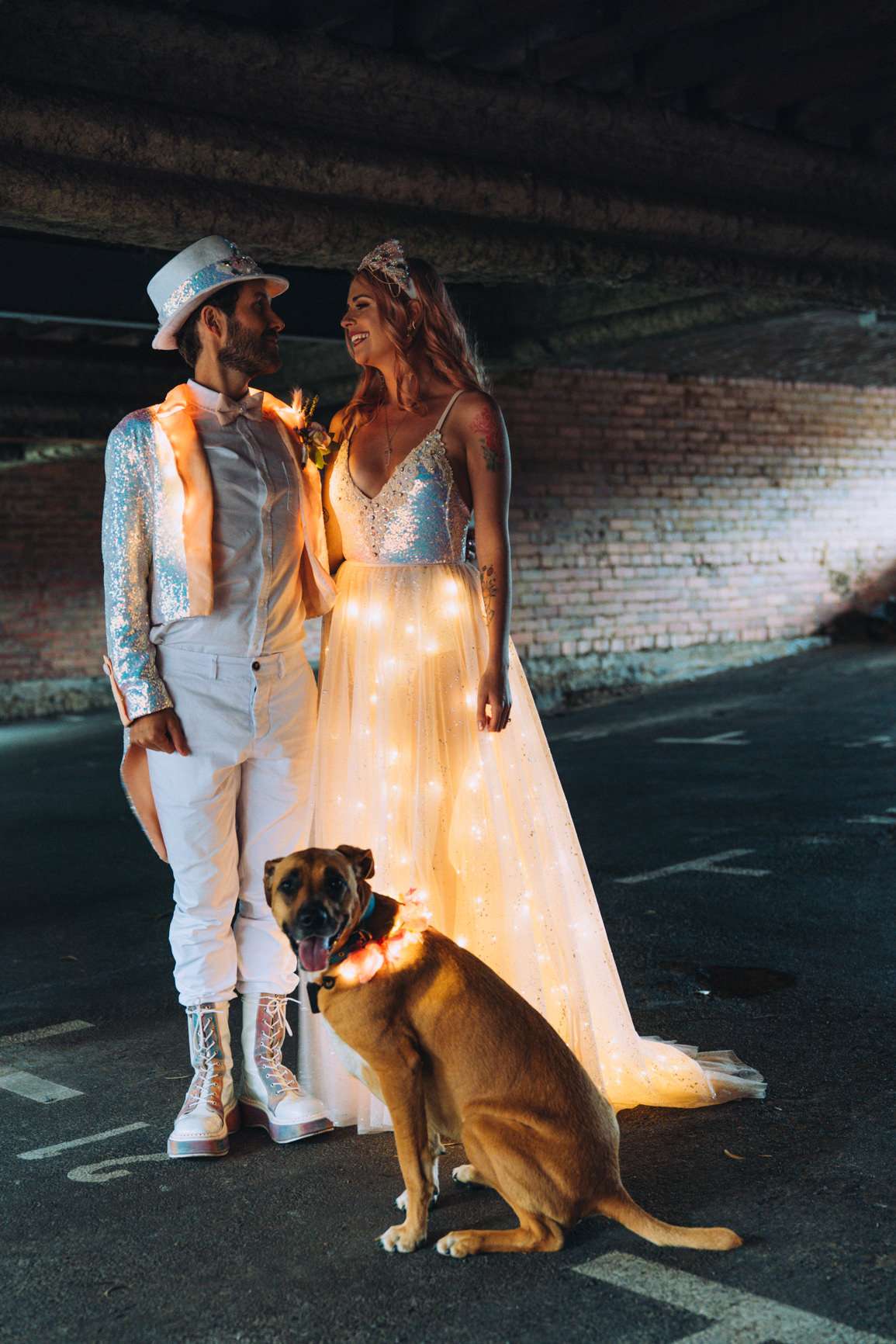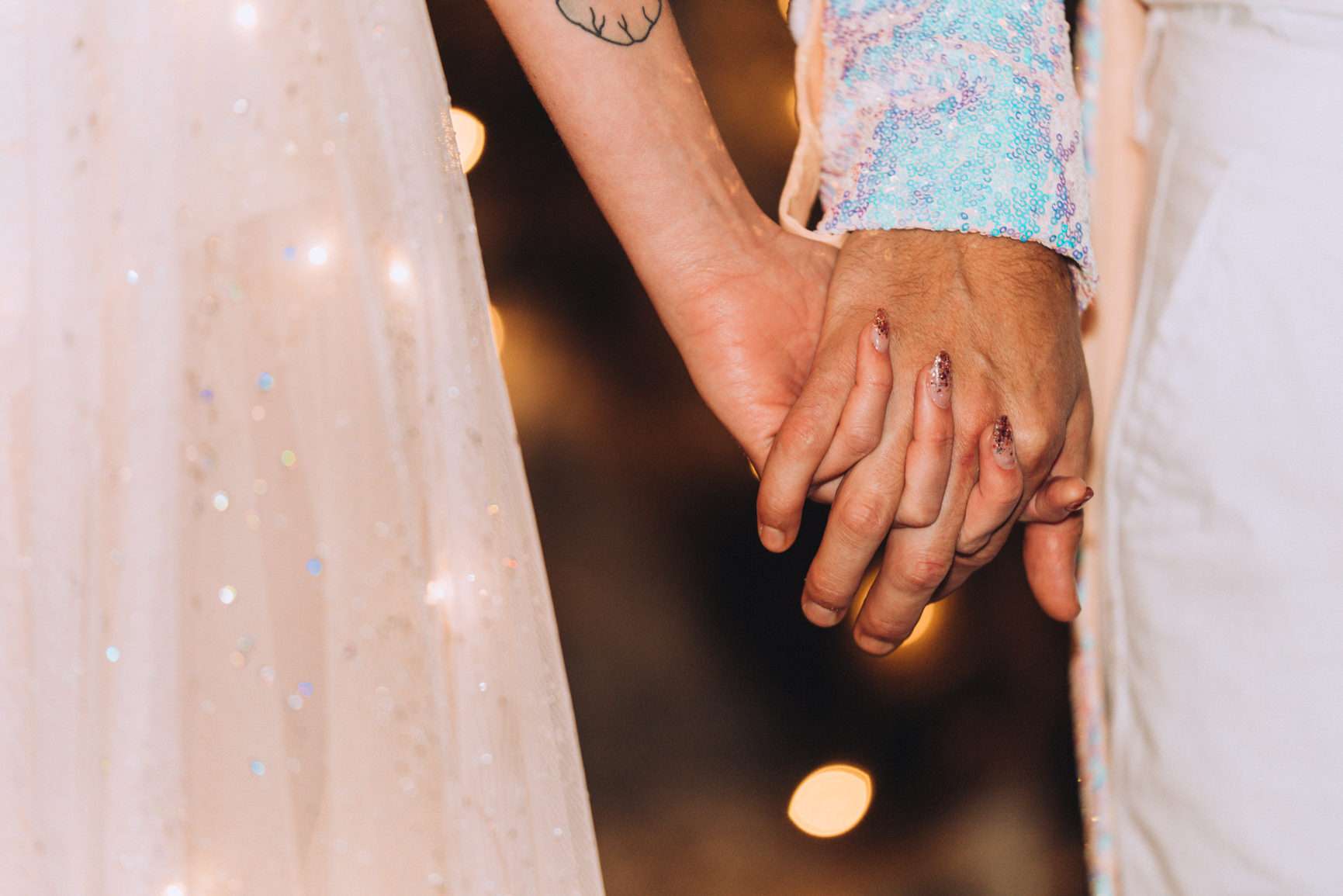 Kelsie's platform holographic sneakers were from YRU Shoes and Andy's vegan leather reflective rainbow platform boots were from Demonia. Kelsie created her crystal crown herself with rose quartz, rainbow quartz, rose gold chains and rhinestones bought from Etsy. She then used the left over crystals to jazz up Andy's cheap $2 top hat.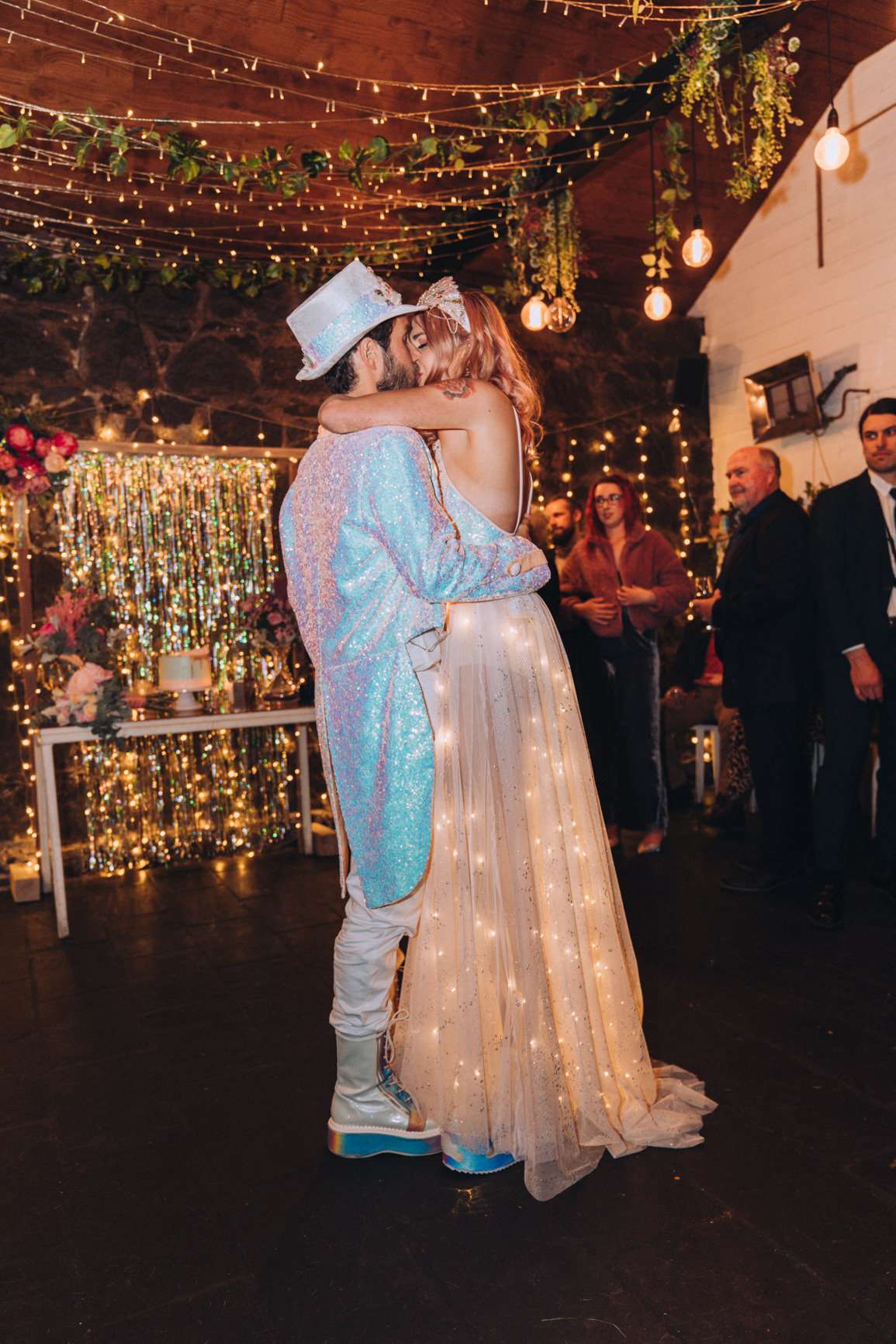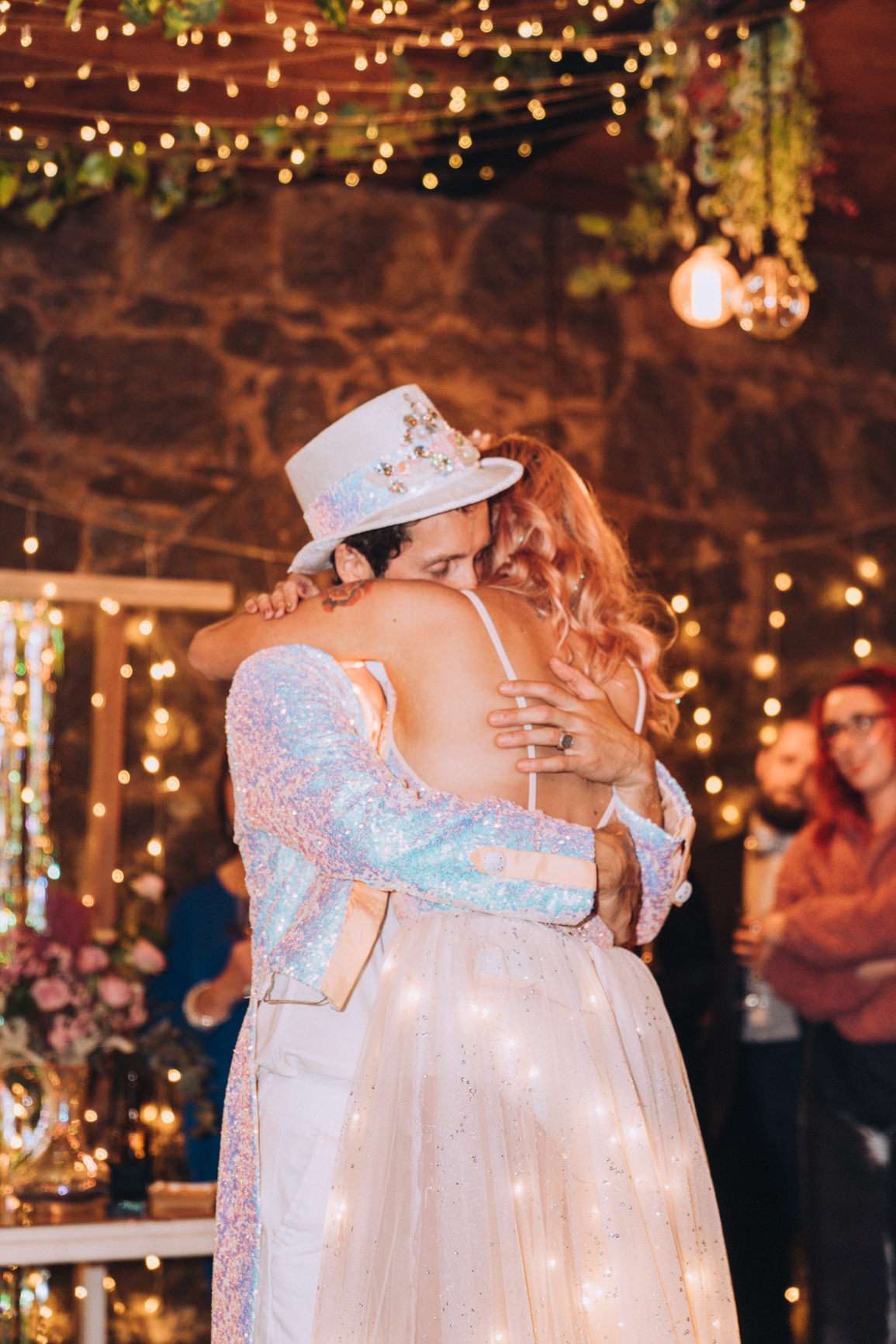 "Our advice to other couples would be to listen to your gut when you are planning your special day", Kelsie concluded. "You're getting married for you and your relationship, not for anyone else and let that shine in your plans. Think about what makes you and your partner happy and let that guide your decision making. It'll be the best day of your life if you do!"