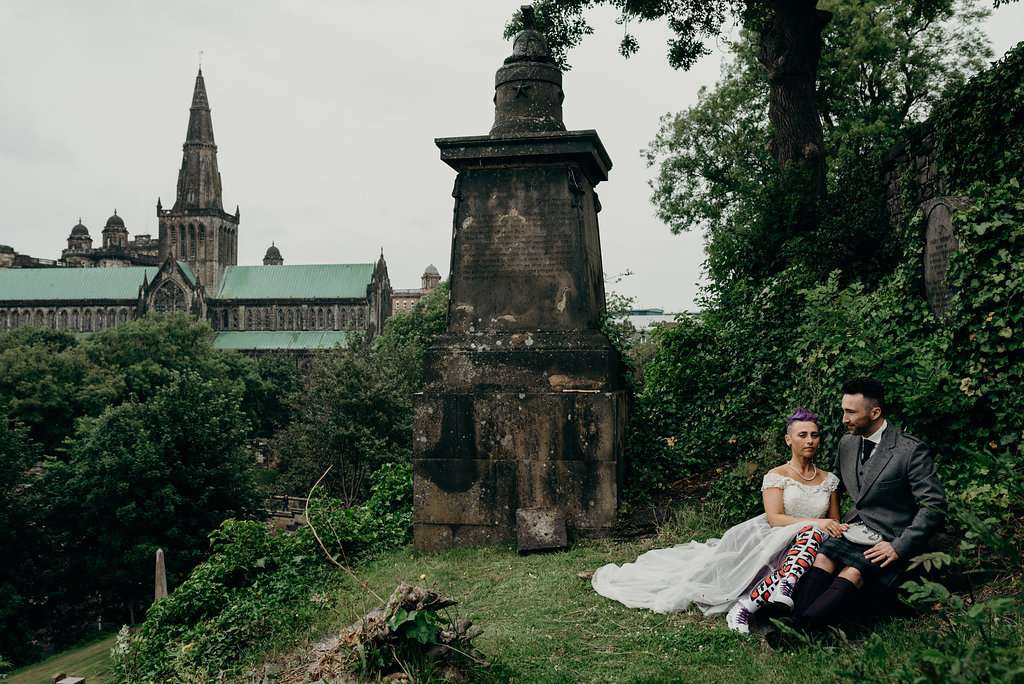 It's not everyday that you get a first look involving a unicorn mask, but for Stuart and Angelica that was one of their must-haves – and quite rightly so. Their July wedding, described as "casual unicorns" with a dash of Scottishness, was organised in three months, and mostly long distance across the Atlantic too. Despite that, it also features a secret Alice in Wonderland twist and some pretty incredible gothic architecture too.
"Our day was set in the beautiful architecture of Glasgow City Chambers Building, smack in the middle of Glasgow", said Angelica. "it had a very unique feel to it from the start. We sat all the family down in the Kelvin Room of the ceremony building whilst I arrived with my bridesmaids and went into a private room for our first look. We're both very happy we did the first look before walking down the aisle, as we're pretty sure one of us would have fainted!"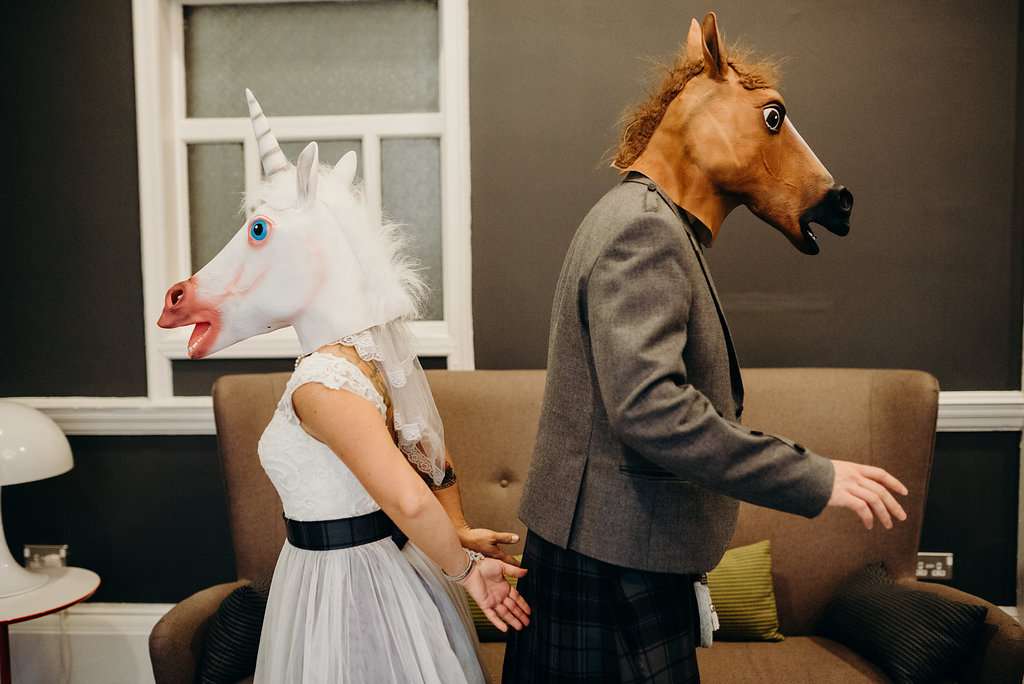 And you might faint when you see the photos – Stuart and Angelica both wore masks for their first look, and giant rubber unicorn and horse masks at that. Stuart explains: "When we met in Australia we both had these stupid masks on, so we incorporated them into the first look, and this inspired the unicorn association." Underneath that unicorn mask, Angelica has some pretty rad hair herself – with gorgeous lilacs and blue-y tones it reminds us of the Northern lights, and this smoky purple colour palette continued into her outfit. Alongside a bunch of lavender, Angelica wore a blue stoned ring borrowed from her cousin, and her grey-toned wedding dress was a lace-topped David's Bridal design, upcycled using her sister's prom dress and a belt and bow made from tartan scraps (leftover from Stuart's kilt).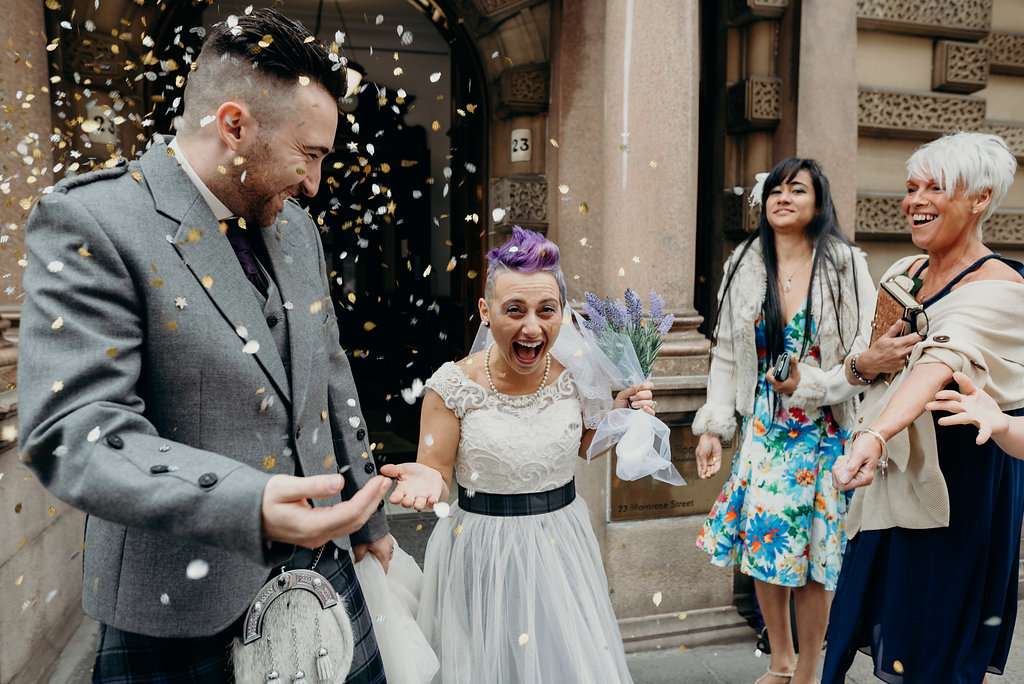 Below the dress (I know, I know, we've only just met) Angelica wore Converse that her and her best friend had customised, and playing card tights. These looked epic (and probably felt epic) when they were skipping through the rain on the day; I'll just never get over a shot with a leather jacket, dreamy bunched up tulle and trainers as it's an award-winning combo.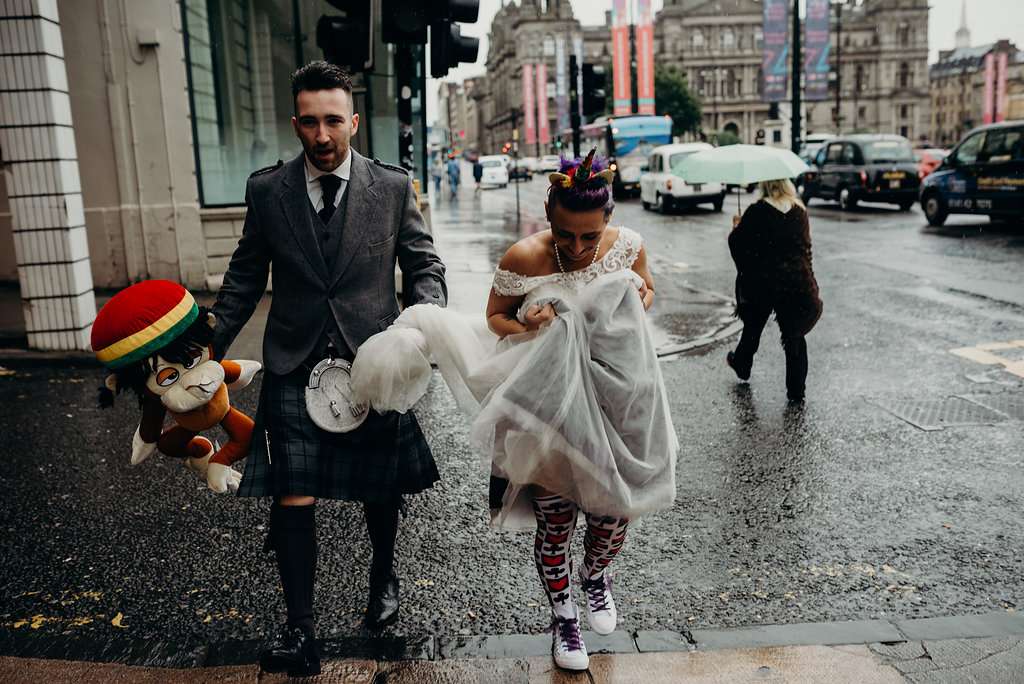 Stuart and Angelica were keen to have the day take place in areas nearby one other, to minimise time consuming, expensive and complicated transportation of guests. This meant they meticulously researched areas for their couple shots, and boy did Fiona Higgins deliver. From whimsical lush foliage backdrops to the punchy graphic windows of a comic store to blue tiles and parking bays for epic city centre cool, the couple's shots are the perfect portrait of a unique story. It was also an excellent way to save money!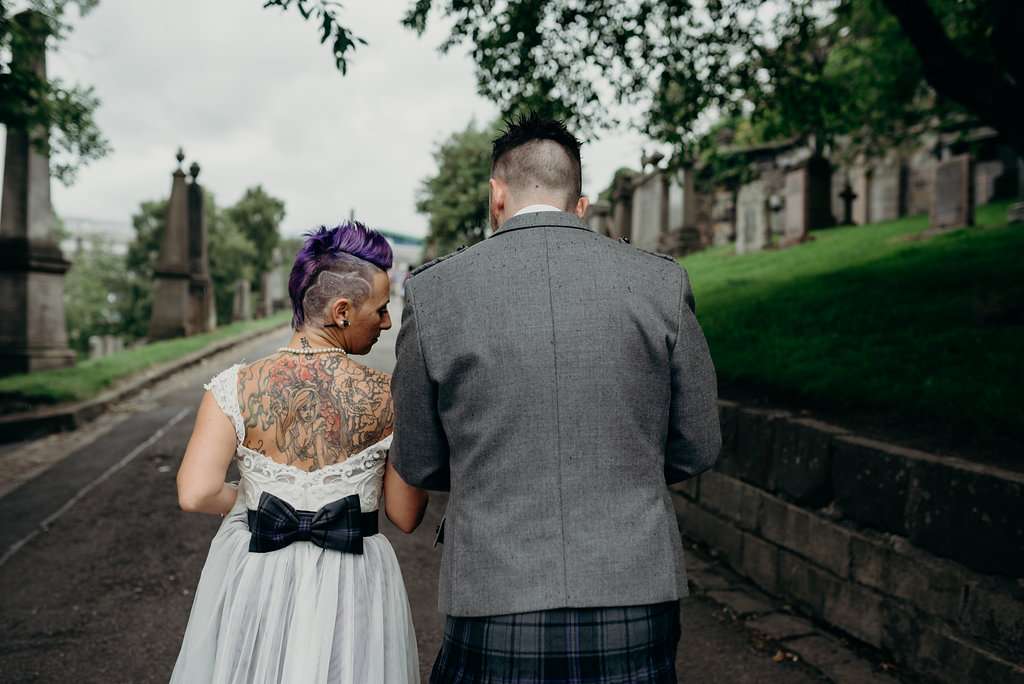 Oh yeah, did we mention there's a mini Alice in Wonderland themed photo shoot in there too? At the bottom of the most grandiose spiral staircase we've ever seen, a top-hatted Stuart and a blonde Angelica lay surrounded by playing cards and a larger-than-life pocket watch in homage to the epic Alice-inspired tattoo on her back (which looks amazing in her Bardot-neckline wedding dress. HELL YES to the head tattoo too – absolute queen of cool!). Check out Fiona's sweet double exposure too – fitting for a queen of hearts. After that they moved to Sloan's Bar for a cute-as-hell unicorn cake (you know how we feel about unicorns) and a ceilidh into the wee hours.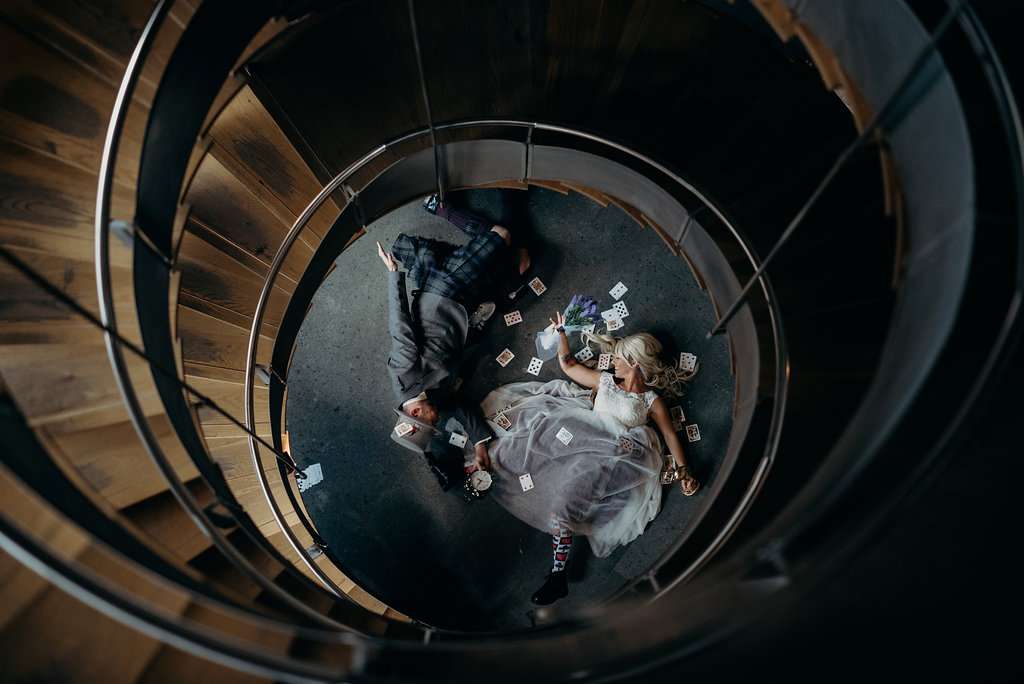 Angelica and Stuart's personality oozes out of their wedding photos and this was something they knew they wanted from the start. "Coming up with all the weird ideas we had for the wedding and sharing them with family and friends was the best thing about planning our wedding," they explained. "We honestly researched and had enough help that looking back – without sounding like we have too much ego – we kinda knew everything we wanted to know."
Although they wished they'd had more time to plan and less distance to plan it over, their post-wedding marital bliss advice is "Don't stress so much on the day! Things tend to fall into place. You are getting married because you're happy and in-love together after all, so things tend to just tend gravitate and work on the big day…that's what best men and maid-of-honours are for, right? Don't forget to enjoy the experience!"