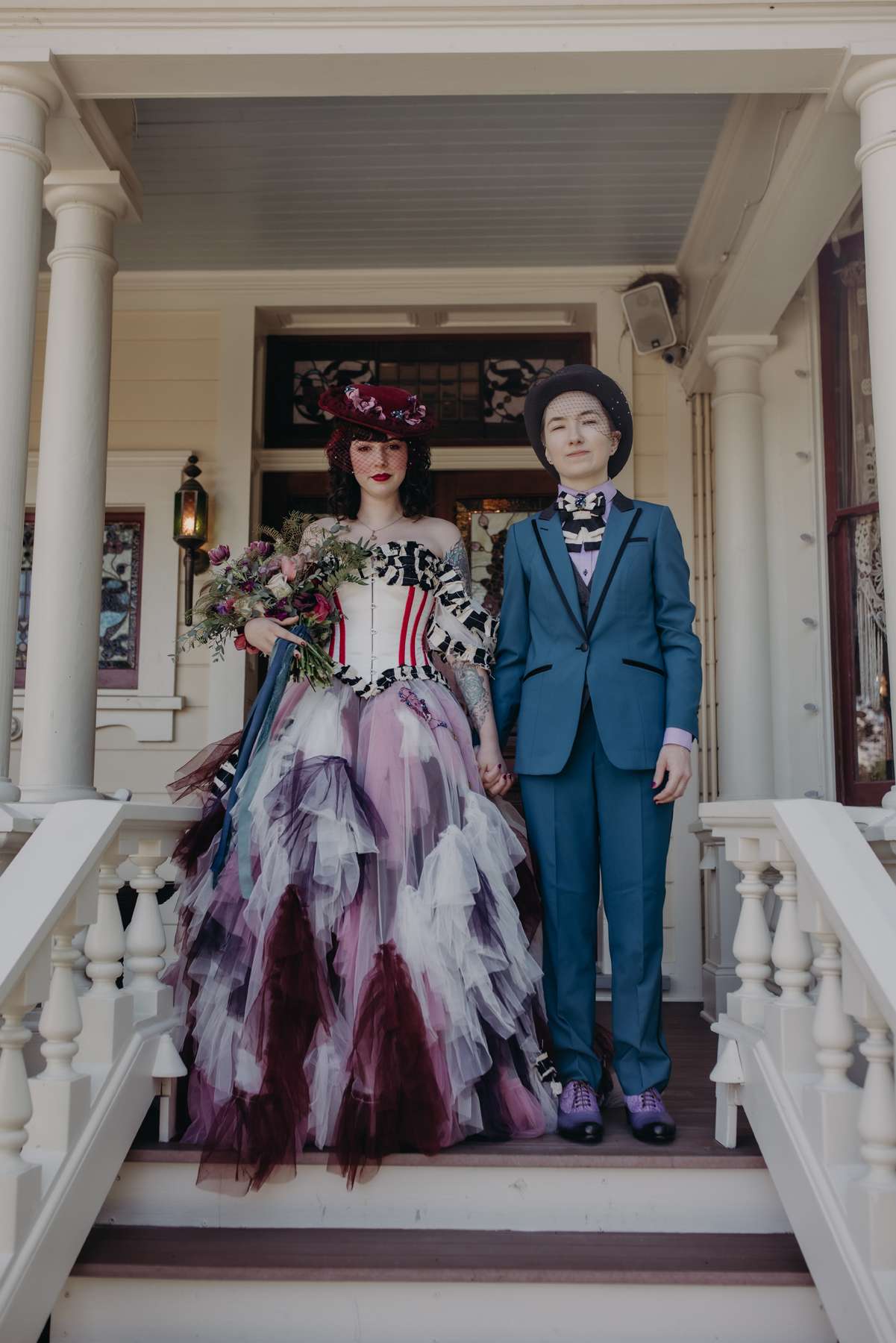 Hannah and Kay's unique wedding theme blended gothic aesthetics with the cheerfulness of a springtime tea party. Unfolding at a restored Victorian mansion, the stunning location with it's isolated, romantic, old world fantasy vibe served as the perfect canvas for their imaginative celebration.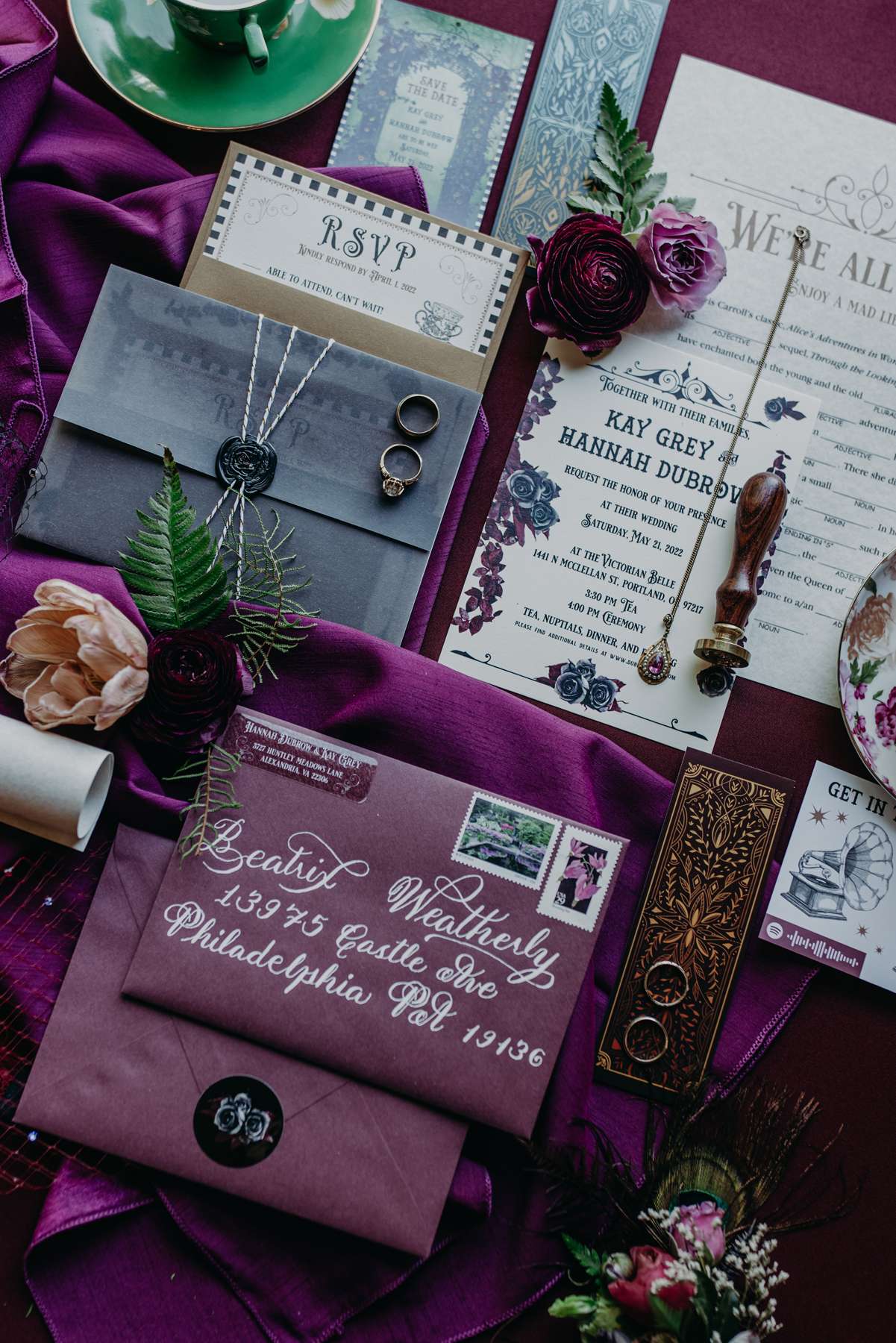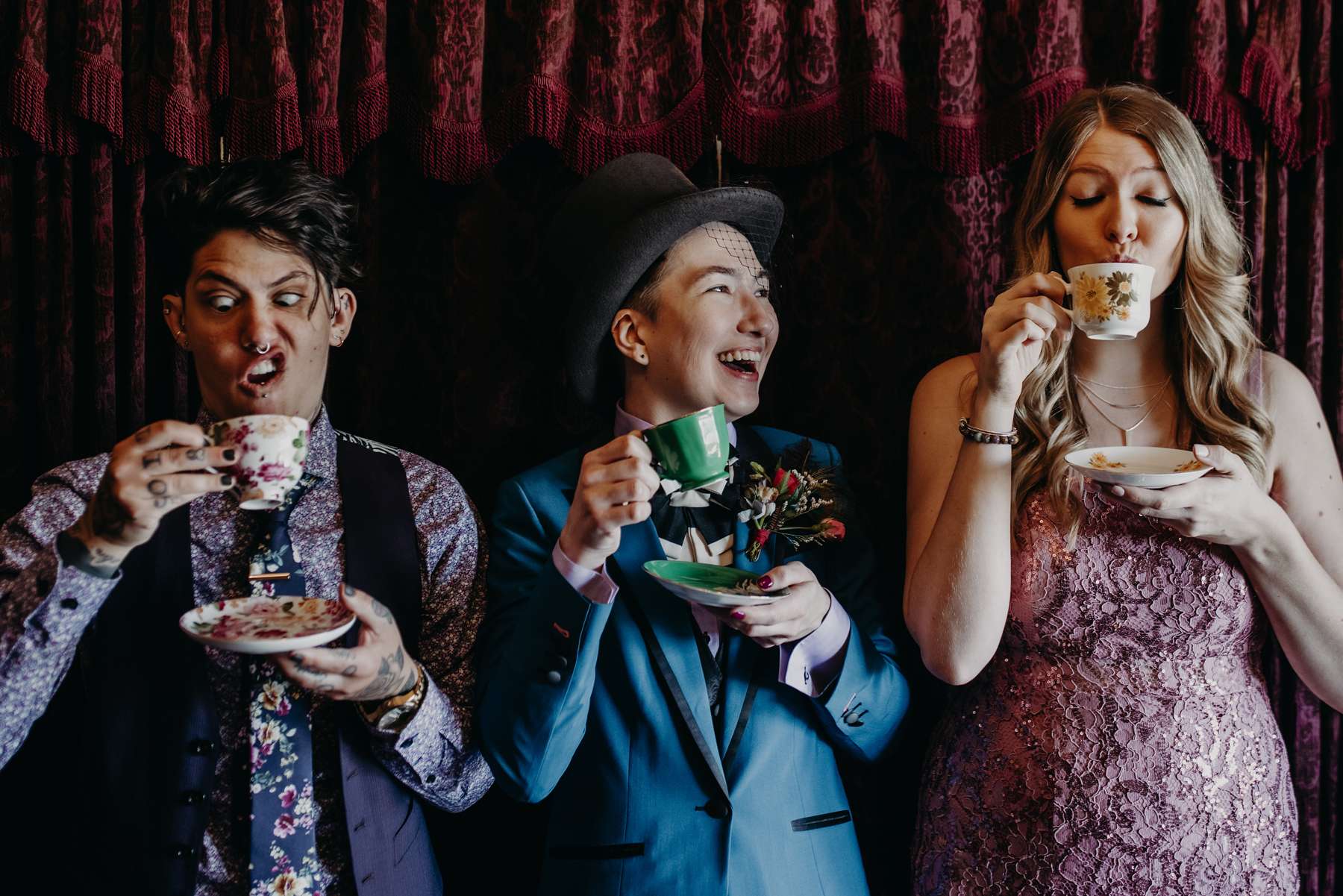 The inspiration behind their wedding was deeply rooted in the couple's creativity and imagination. "As a couple, we have a very imaginative inner world", Hannah told us. "For our wedding, we wanted to invite our friends and family into that world. Guests were encouraged to walk throughout the house and explore all the original craftsmanship and antiques. We had croquet on the lawn, and there was a lovely garden, fountain, wrap around porch and gazebo. The details we put into our theme made it a truly unique experience. Typically, a wedding schedule begins at the start of the ceremony, but we included a pre-ceremony tea party because we wanted our guests to have a chance to visit and enjoy the venue."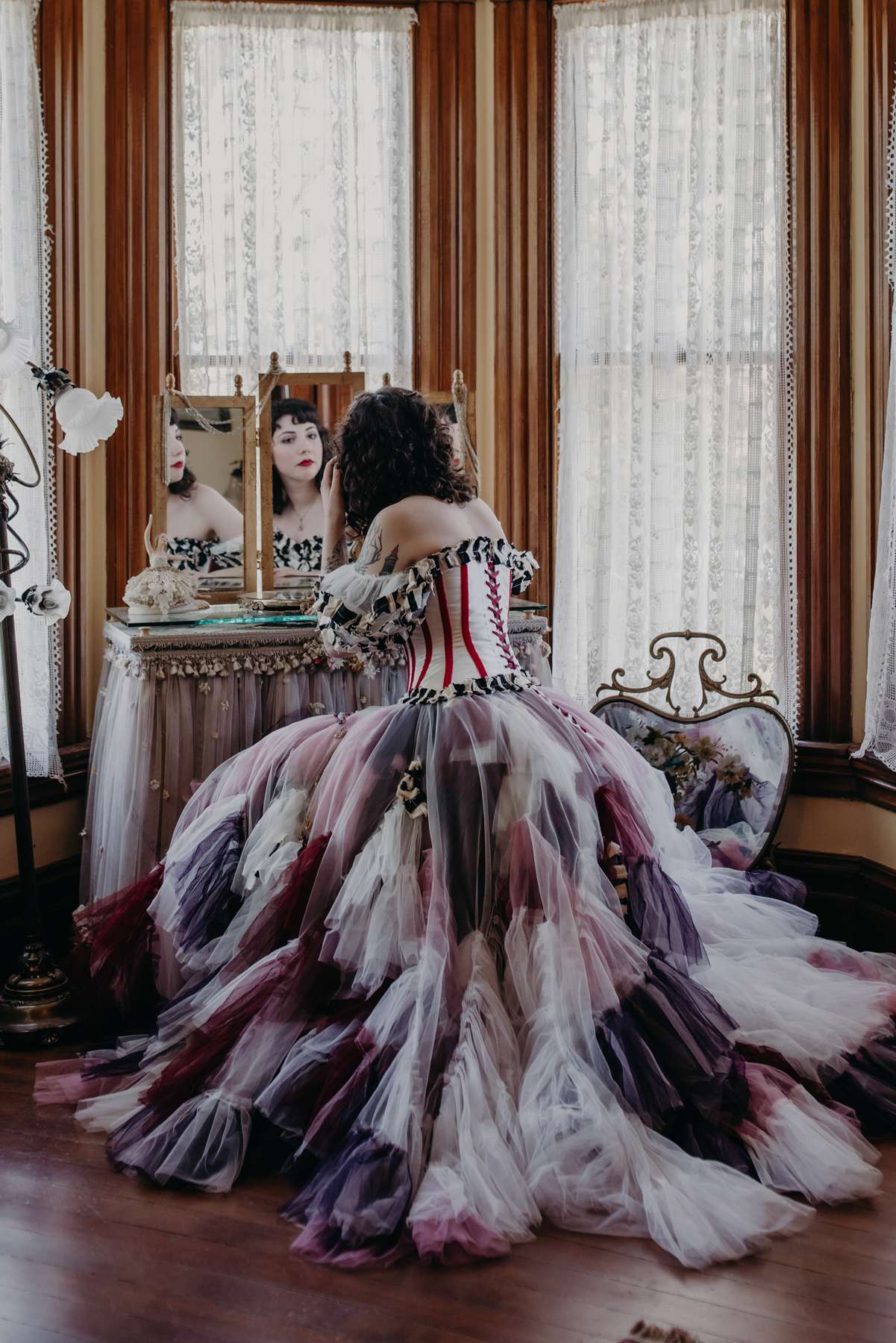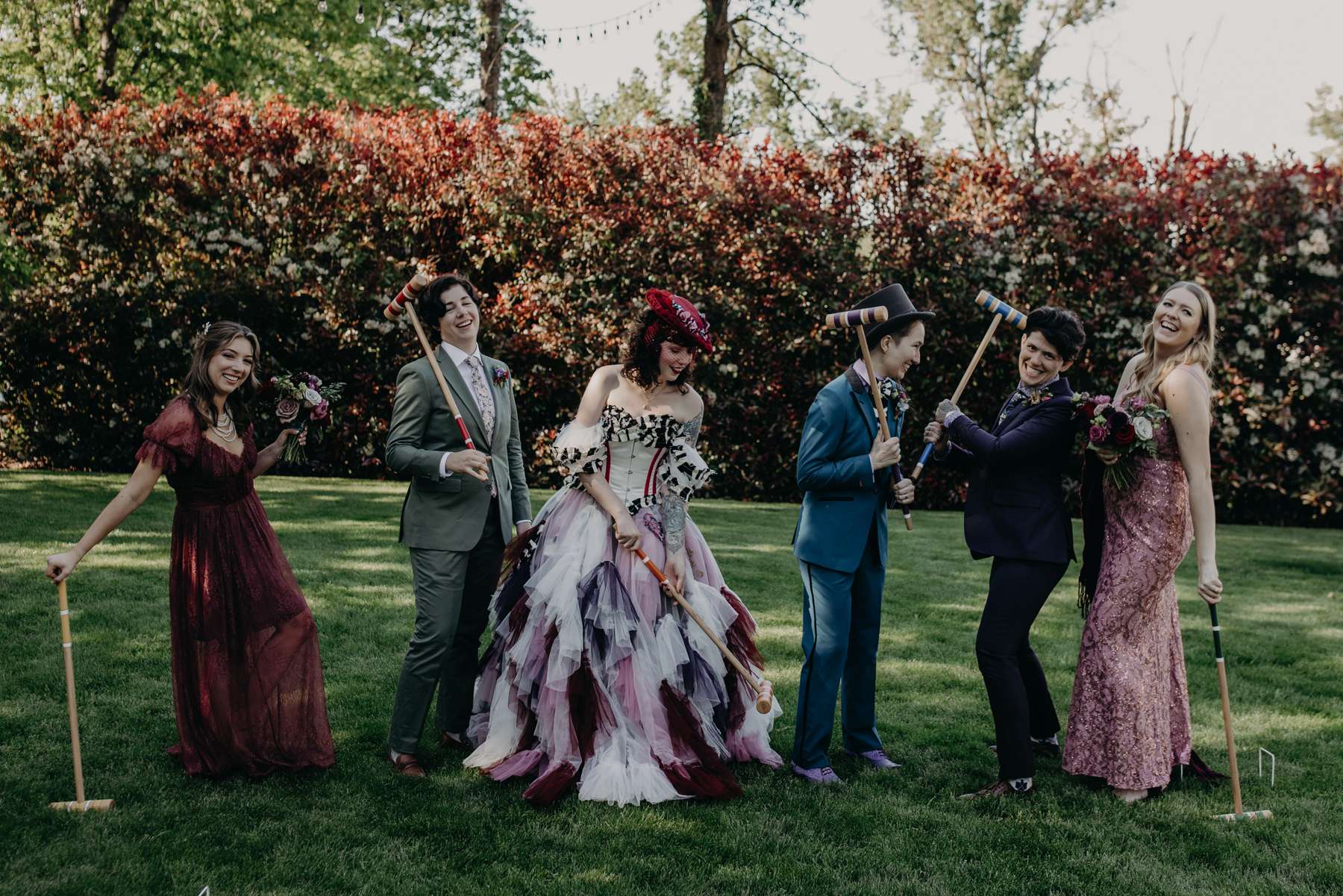 Planning a wedding is not without its challenges, and for Hannah and Kay in particular, they found it difficult managing expectations of guests. A bridesmaid's unreliability led to a tough decision to uninvite her, which was really hard, but ultimately was the right decision for them. "Even though it was disappointing, we're glad that we eliminated a source of negativity from our memories of the wedding day", they said. "Additionally, we had one side of the family who wasn't comfortable with the idea of attending a homosexual wedding and we weren't sure if they would come, but they did! While on the other side, there was family that had planned to come, but many backed out at the last minute. This flux in understanding the guest list was a challenge emotionally because as we were planning the wedding, these are the people we imagined being surrounded by. For each one that decided not to come, it was hard not to be disappointed or feel as if they weren't taking our wedding seriously."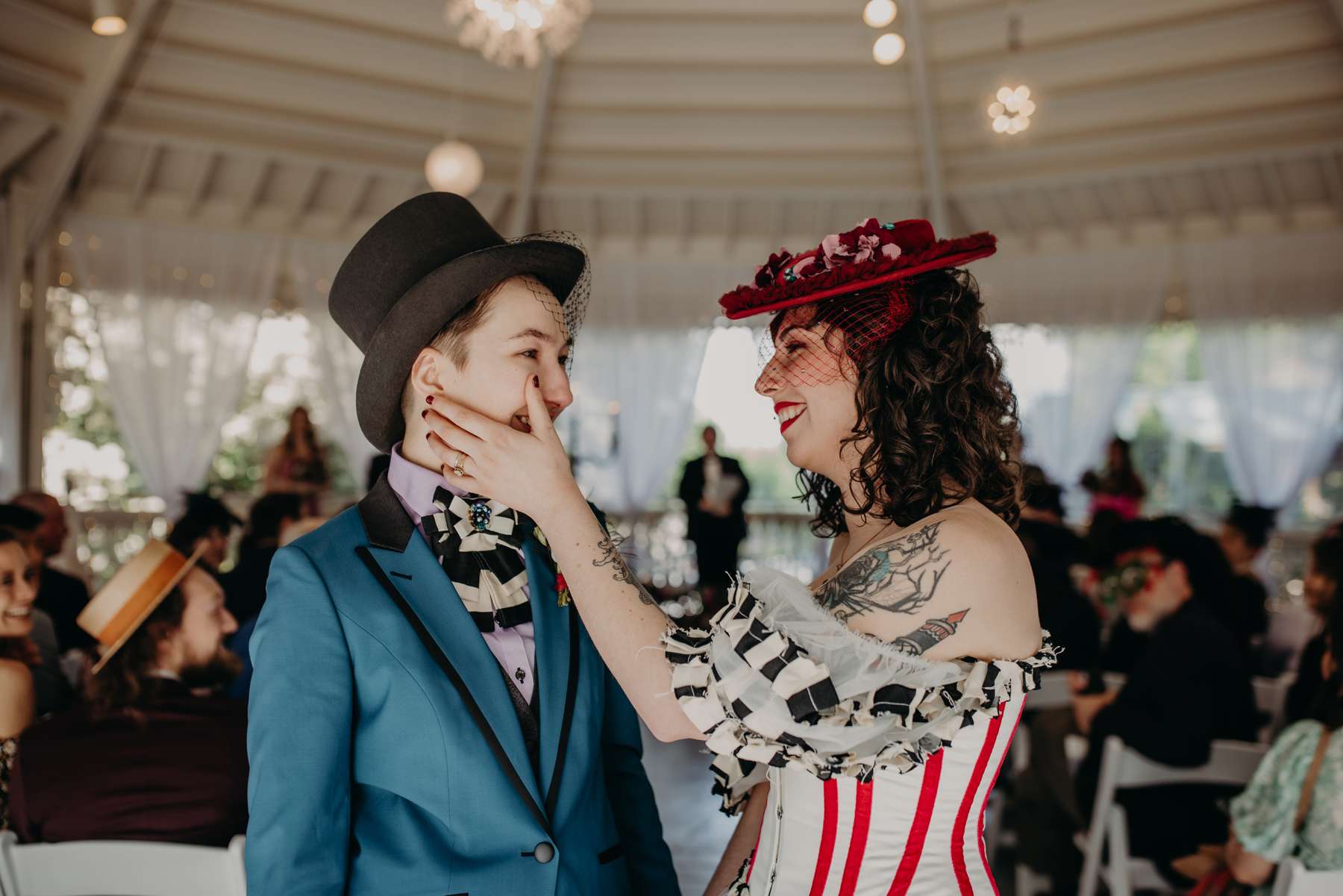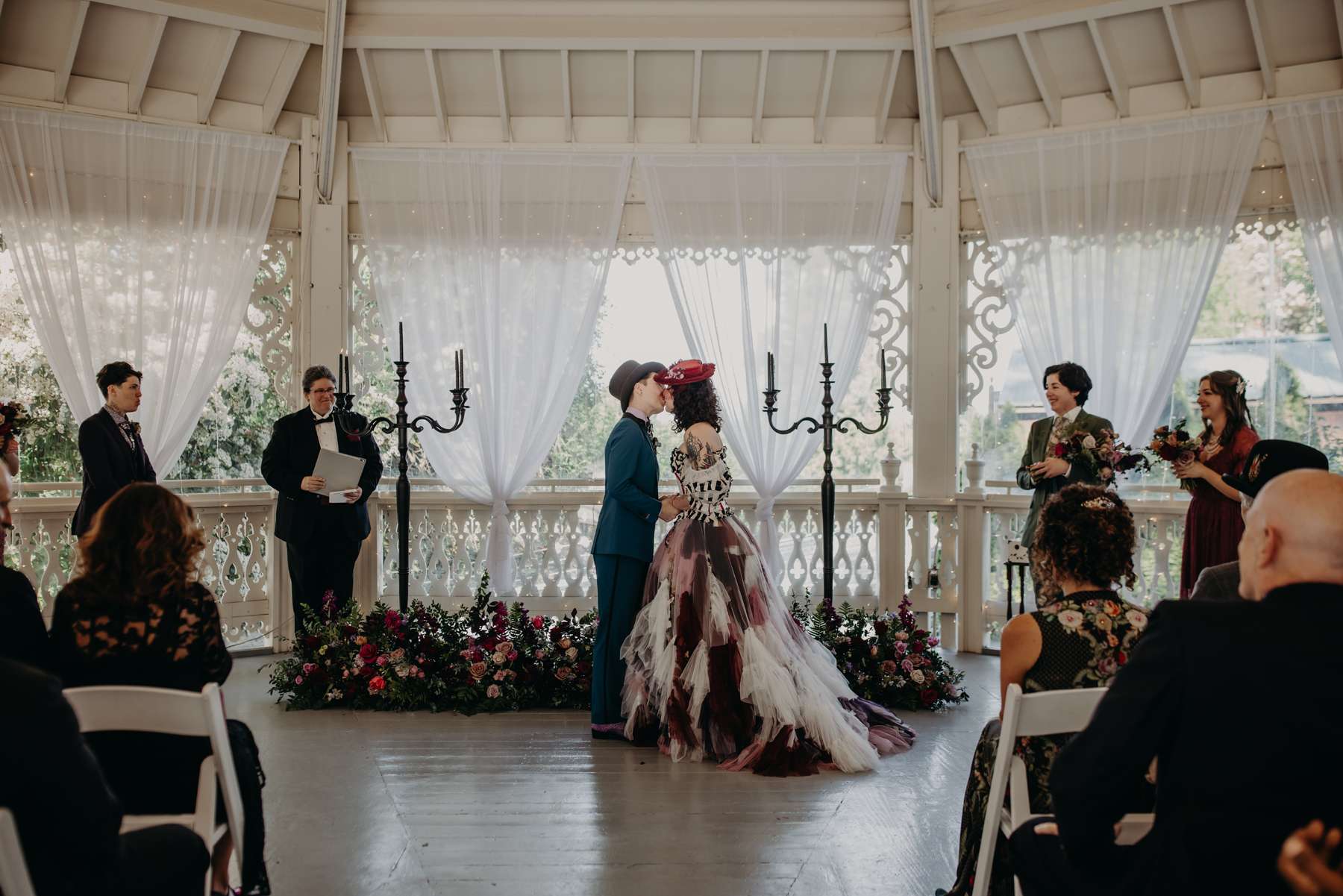 However, when they got to the day, none of that drama mattered. The ceremony was led by an older friend and mentor who had fought for LGBTQ+ rights. The whole experience was beautiful, emotional and just what they hoped it would be. They walked down the aisle to Antonín Dvořák's Serenade for Strings in E major, Op. 22. It was very dramatic and romantic. The newlyweds then walked back up the aisle to the upbeat notes of Joan Jett's Let's Do It.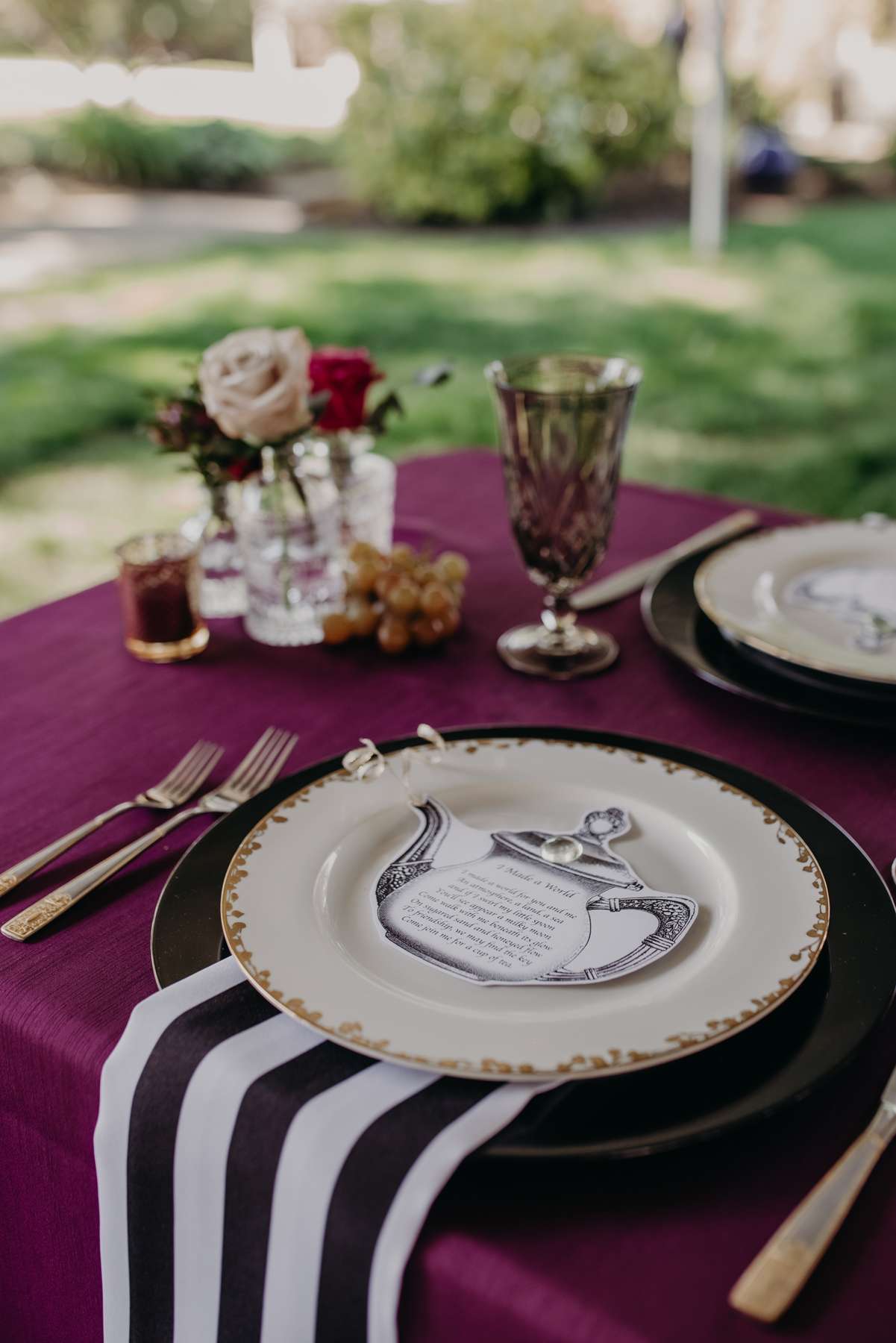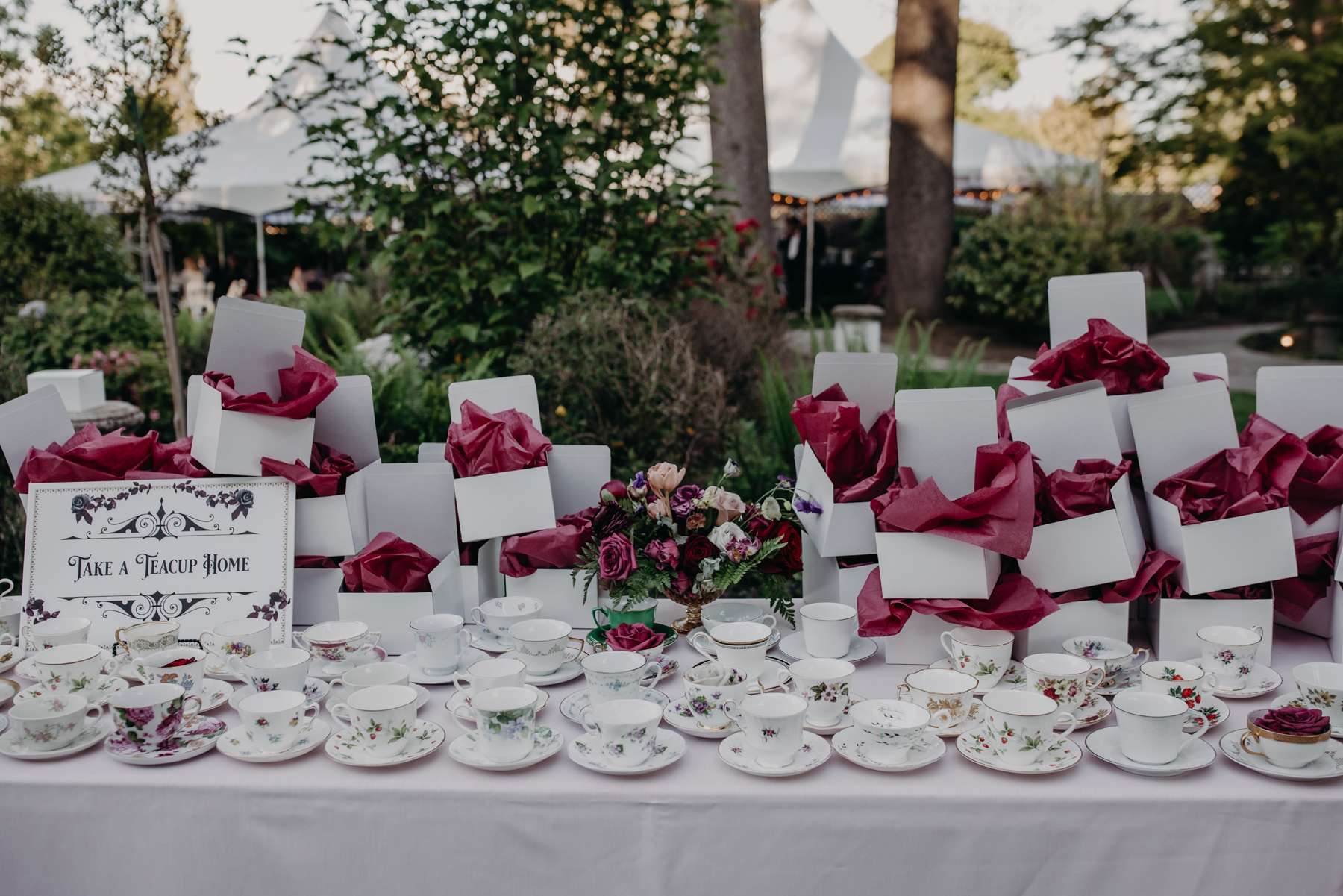 The highlight of the reception was the speeches, each one more touching and special than the last. The couple also injected personal touches into the wedding through their DIY projects from the invitations where Hannah hand-addressing envelopes with calligraphy to the thrifted teacups and a custom puzzle station.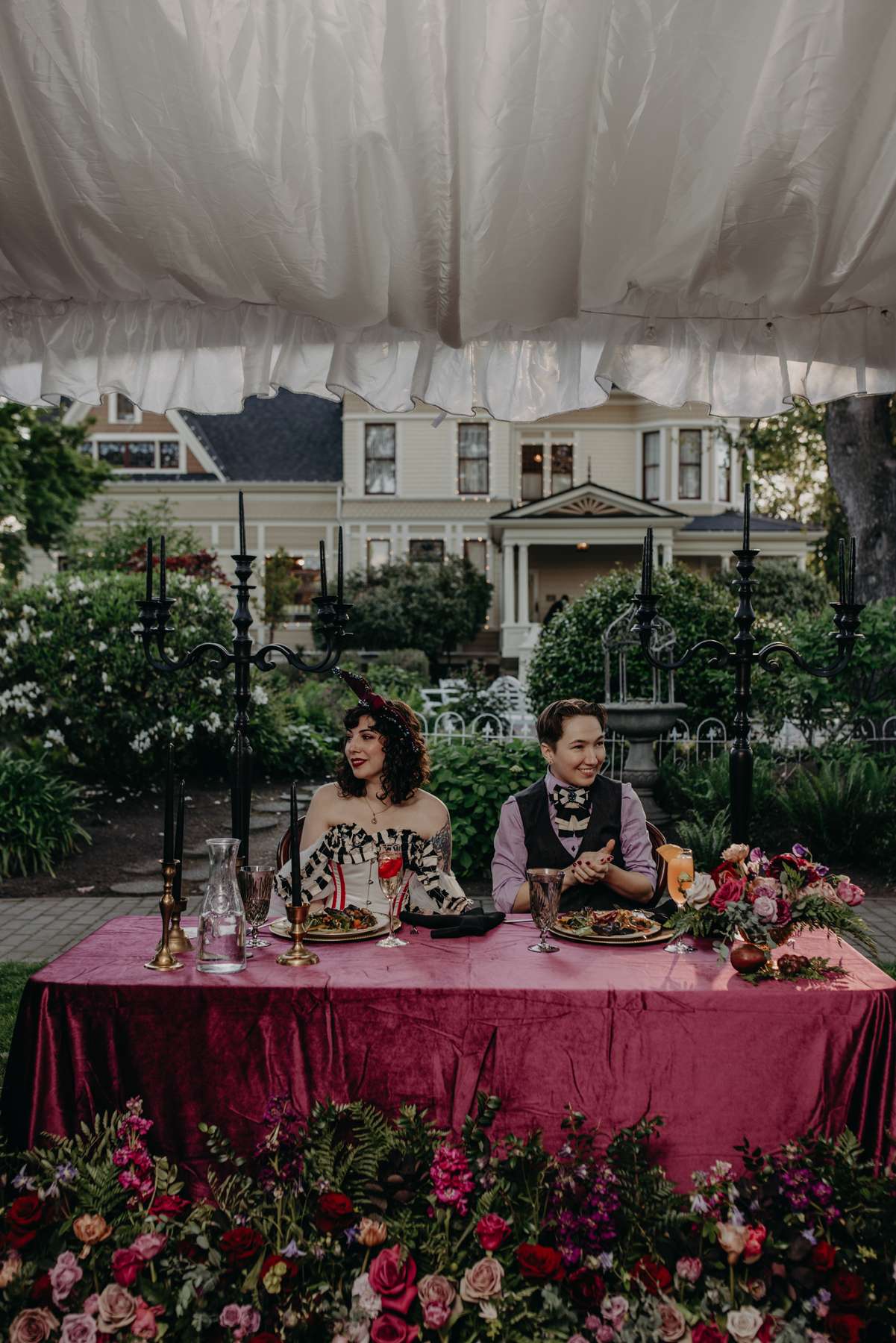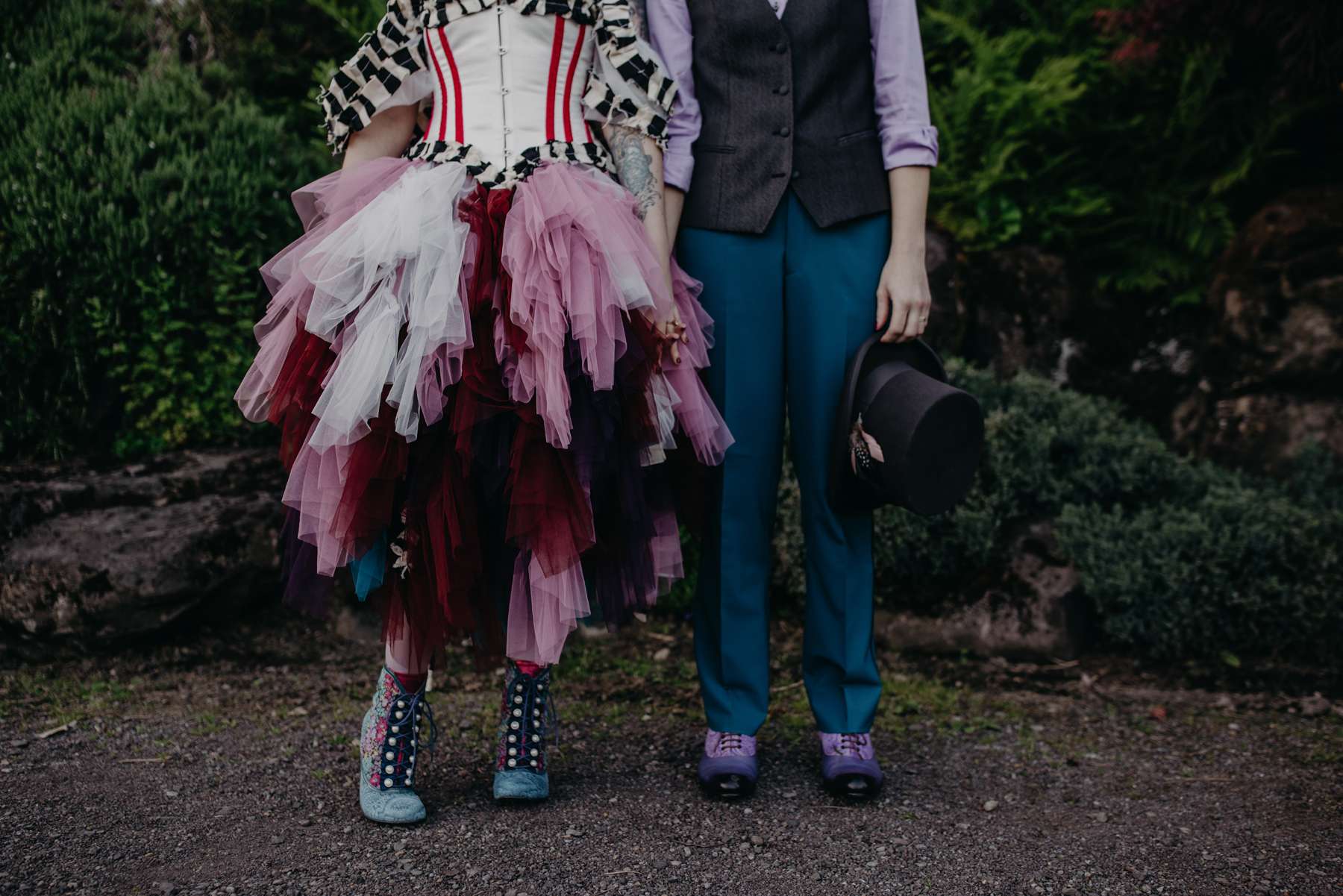 For Hannah, planning her custom outfits with Rosie Red Corsetry and Immy Howard Millinery was her favourite part of the planning. The gown transformed from floor-length for the ceremony to short for the party. She explained, "I was incredibly lucky to be able to work with Rosie Red Corsetry. When I shared our theme with her, she had a very clear image in mind for my gown which would transform from a floor length skirt while walking down the aisle, to a short one for dancing. Rosie even beaded a darling teapot and teacup detail onto my skirt. I worked with Immy Howard Millinery on my headwear and she also made a a veil and neckpiece for Kay to tie her custom turquoise tuxedo in with my gown. Our outfits came together perfectly. There is a lot of pressure to be more beautiful on your wedding day than you have ever been in your life, and in our outfits, we did feel that beautiful."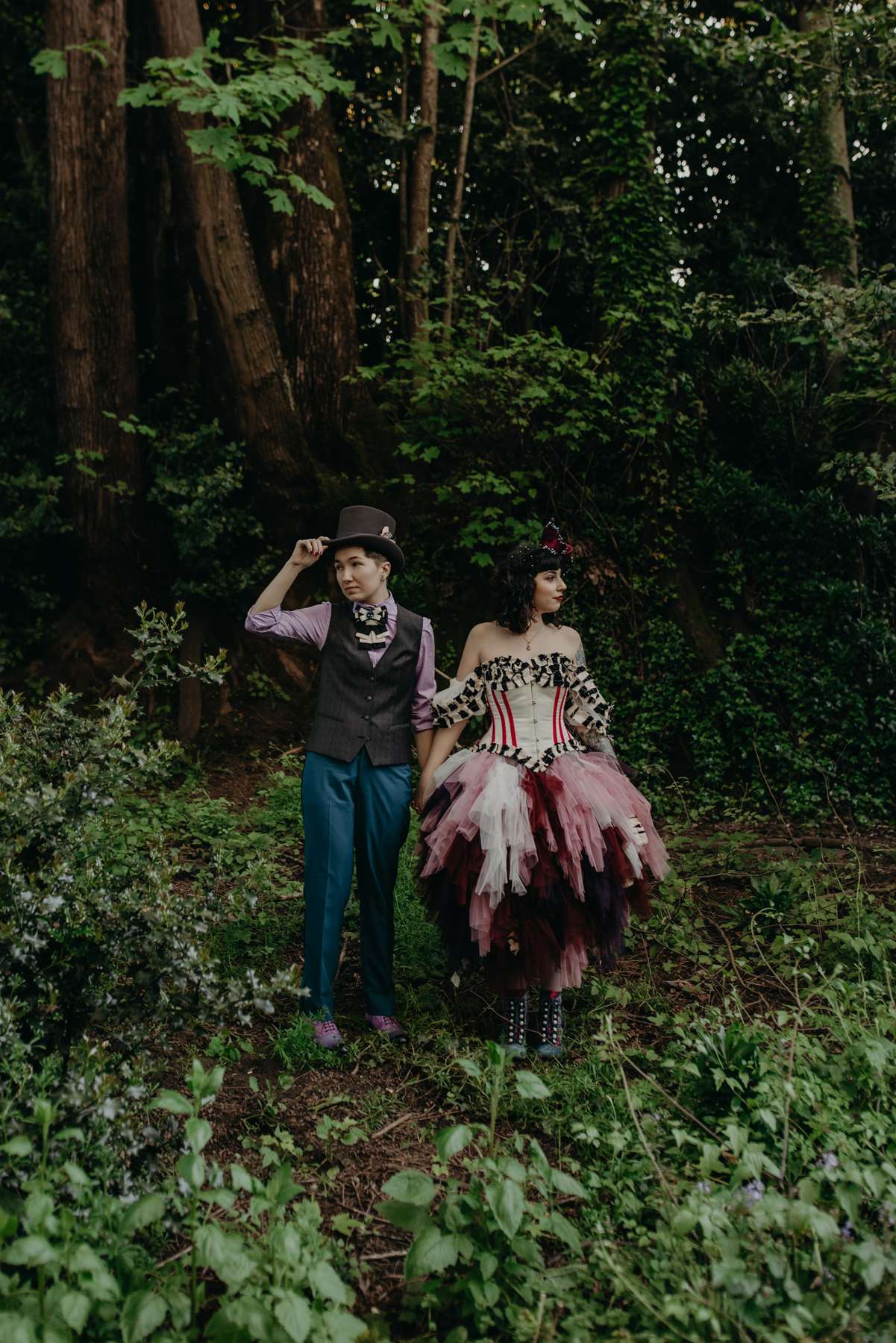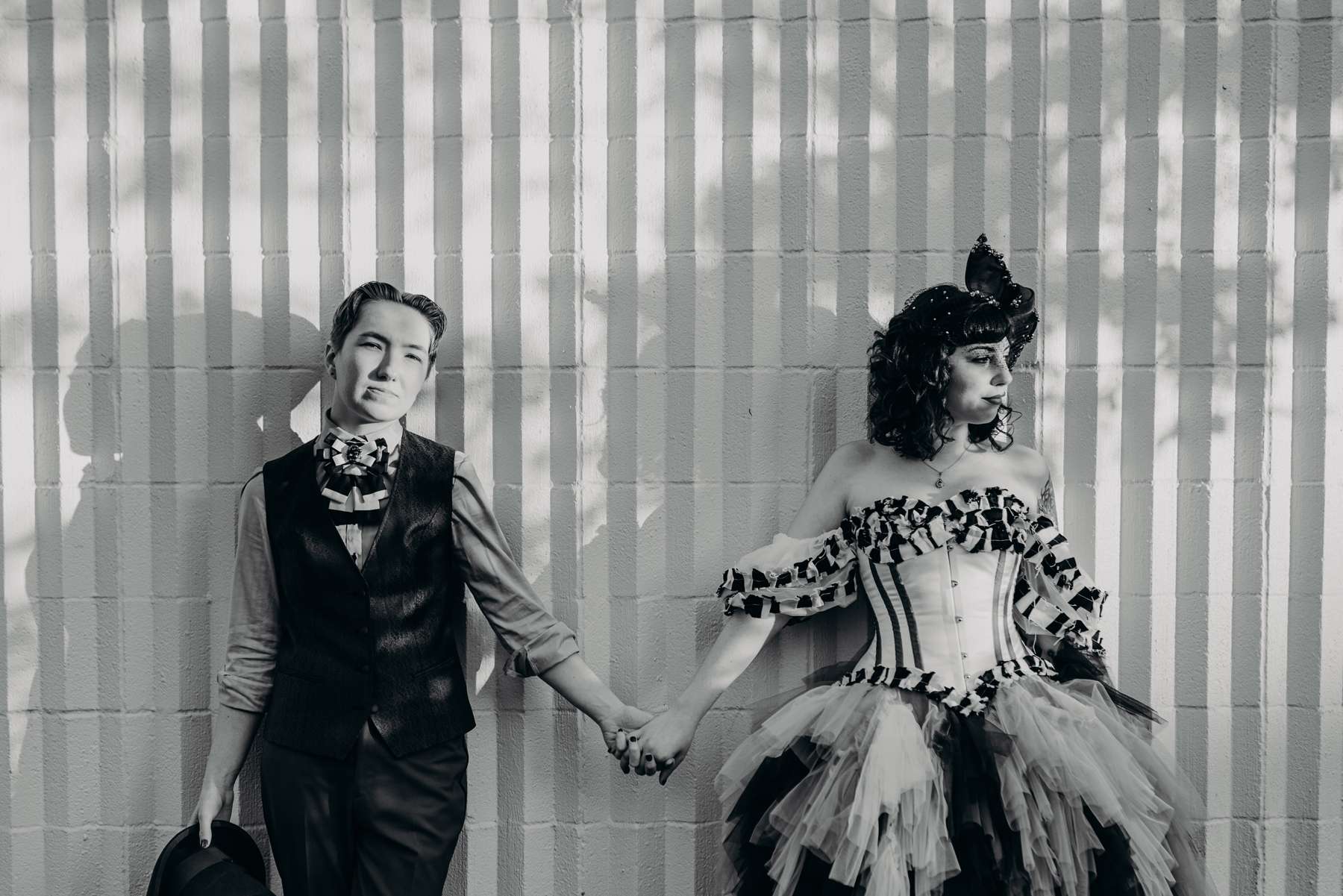 Hannah and Kay's wedding journey was a testament to their imagination, love and tenacity through difficult times. They concluded, "There was a point when we had to ask ourselves, 'Is the cost of the wedding worth it?' The reason we decided that it was, is because it's an investment in a truly lifelong memory that bonds a new family together. The wedding day was an intimate experience that both sides of our families now share with each other, and with us. We will all reminisce on this day for the rest of our lives."