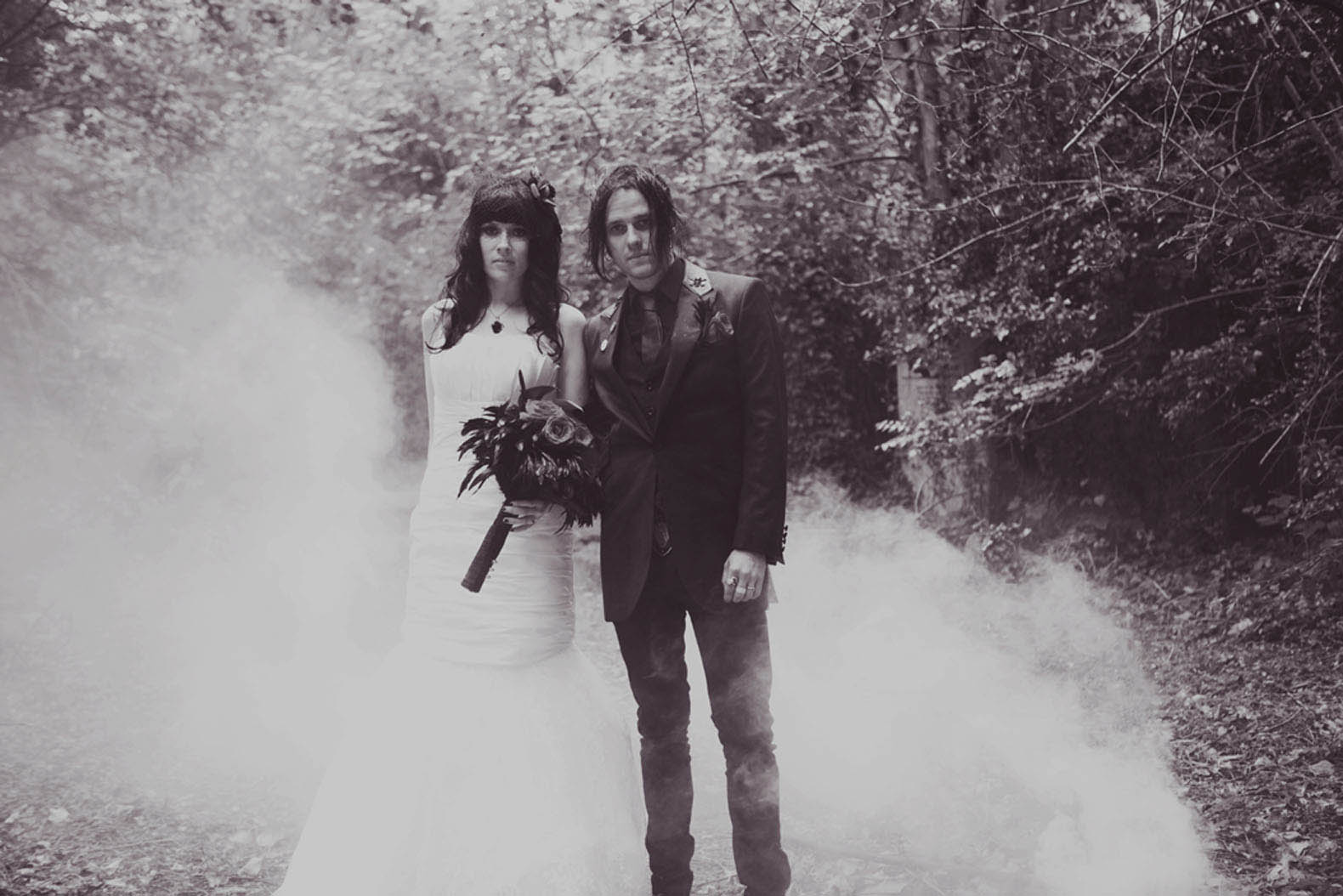 Some of you may remember Alix & Zach from their gothic tea party engagement shoot. Well I'm thrilled to be able to share their wedding with you today – and guess what, the smoke came with them!
After getting ready at The Rookery Hotel (somewhere which I've actually stayed – its a beautiful hotel!) the couple were married at Lauderdale House in Highgate. The reception was held at somewhere that's fast becoming one of my favourite London venues, The Metal Works in Islington.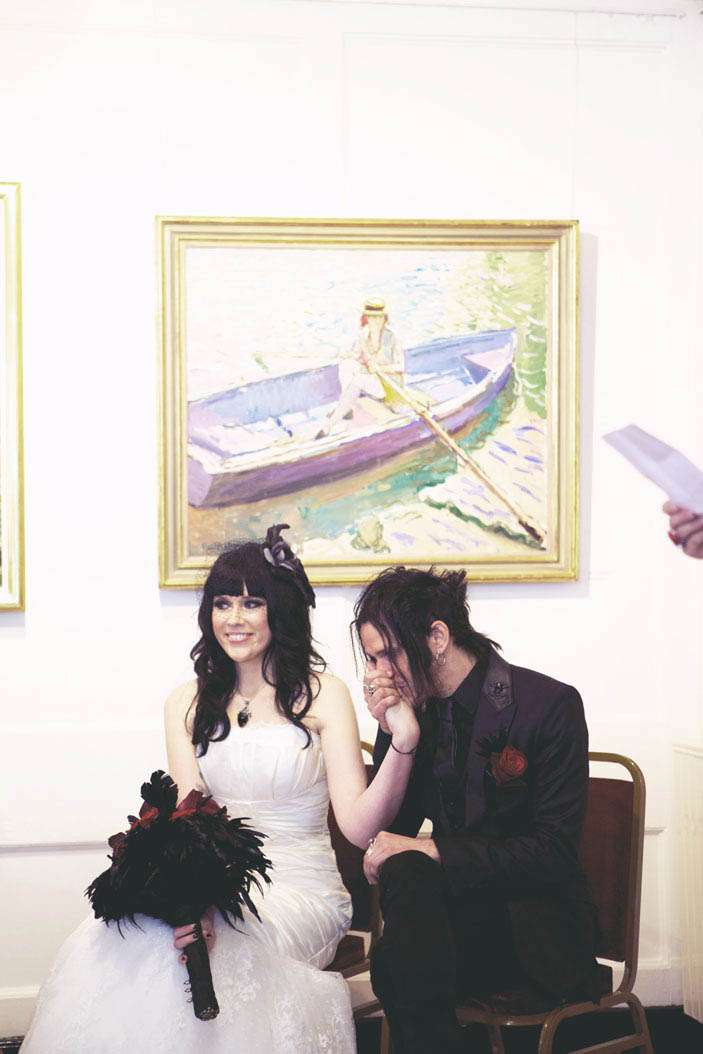 Newlywed Alix told me all about it. "We wanted everything to have a very lush, maturely decadent, and darkly dramatic feel.  Our theme was more romantic from a by-gone age than modern Goth. We were inspired by all that is dark and whimsical…a fusion of Victorian vamp, fanciful garden beauty and Old-World luxe tweaked with flavours of Rock n Roll and Carnival/Circus…elements included mismatched French style furniture, vintage silver ware abound with roses and ostrich feathers and candelabras all in a rich palette of blood red, deep plums, black and white."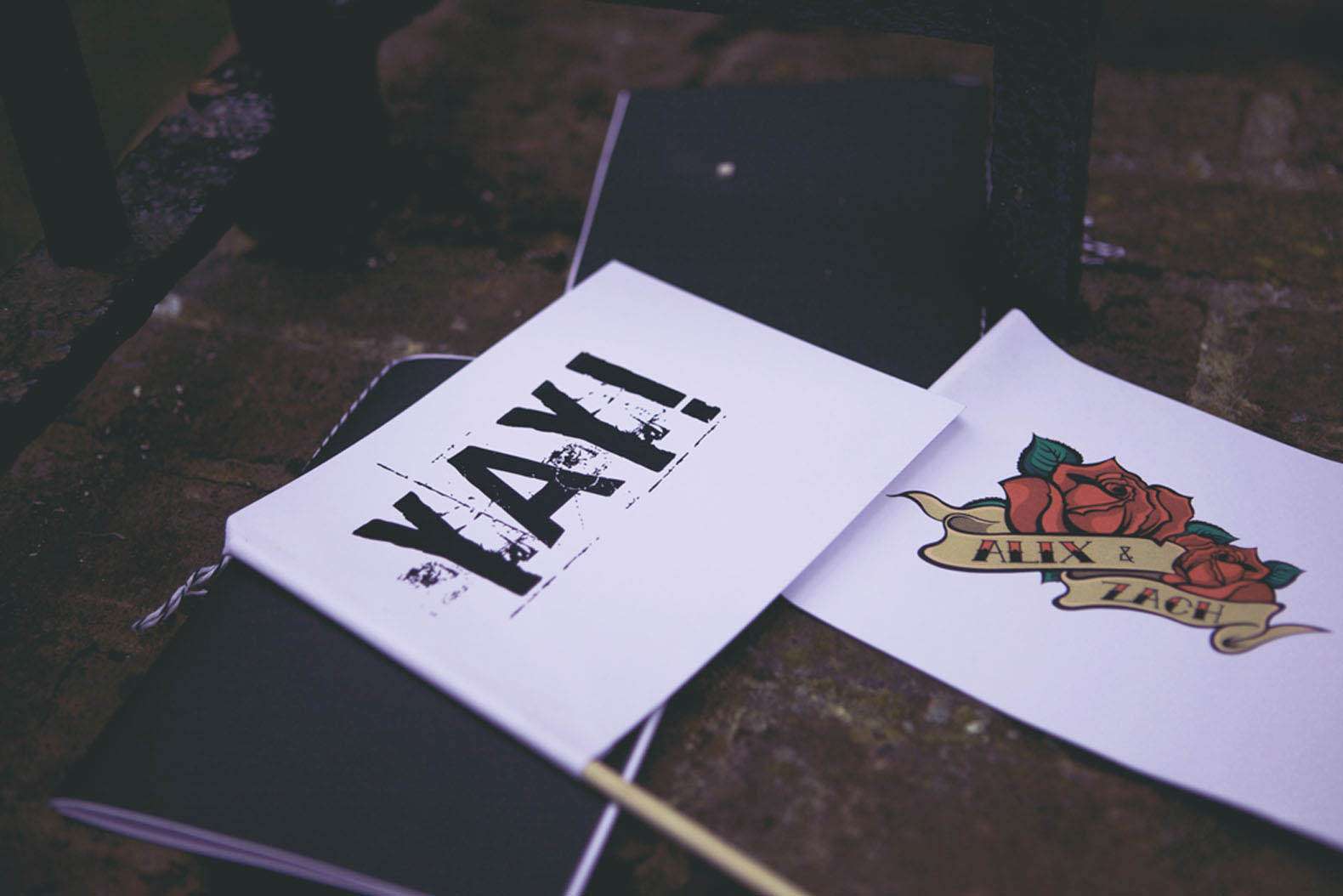 "There were many elements that made our wedding a little bit different and very Rock n Roll," she continued. "I walked down the aisle to Sweet Child O Mine by Guns N Roses – and when guests arrived at the ceremony we had string quartet versions of Black Sabbath, Nirvana, Aerosmith and Metallica playing.  We wanted to incorporate an ancient Celtic handfasting ceremony as a nod to my Irish heritage which our celebrant was happy to do.  We added a paragraph to the program to explain what it was about so it wasn't lost on the guests!"
As part of their day, the couple went away with their photographer Lisa Devlin for a photo shoot in a nearby cemetery. They brought along smoke pellets and the photos are quite frankly stunning! Certainly worth some time away from their guests I reckon. "We loved doing the photo shoot in a beautiful ivy covered Victorian cemetery – it started to rain and I had to clamber over brambles in 4" heels but it was totally worth it and I cannot believe Lisa managed to get such an amazing smoke effect from the smoke pellets – ever since we did our engagement shoot I feel nothing looks right without a little bit of smoke wafting into view!"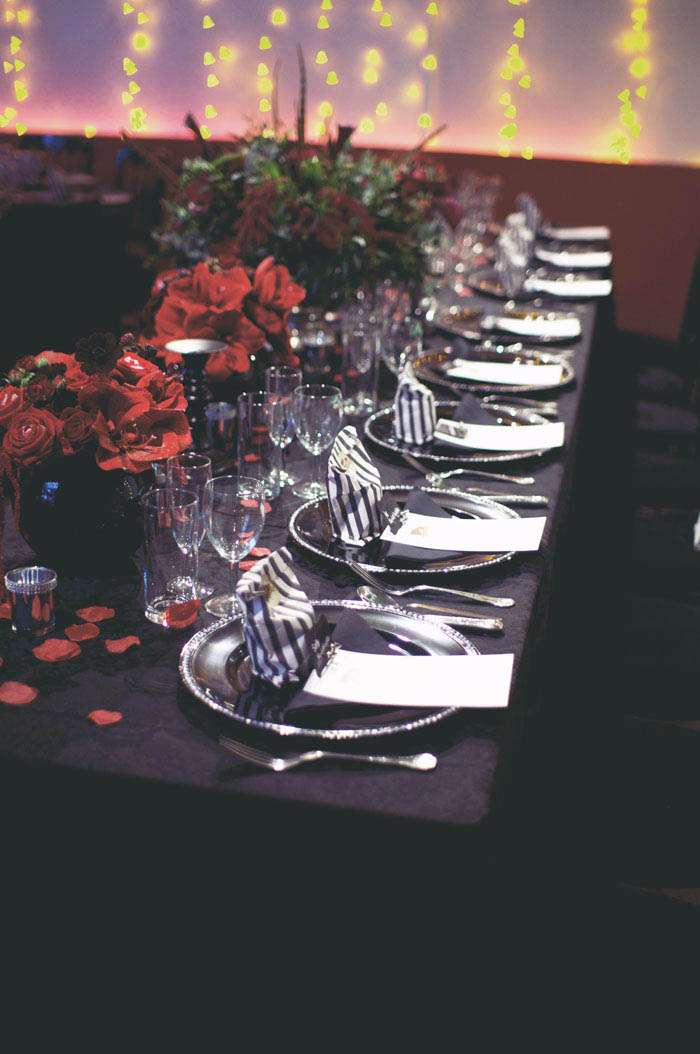 "We weren't too fussed about doing a first dance as we totally ran out of time to do any choreography/come up with an original idea/figure out something funny to do.  Speaking to The Metal Works venue a few weeks before the wedding they described the time the circus came to the venue. My jaw dropped with excitement as this worked perfectly with the carnival twist that was creeping into the wedding.  So for the first dance to "Without You" by Motley Crue Zach and I twirled around on the dancefloor for about 20 seconds and then the aerial silk performers took over to finish the dance!  It looked great and was the last thing anyone expected."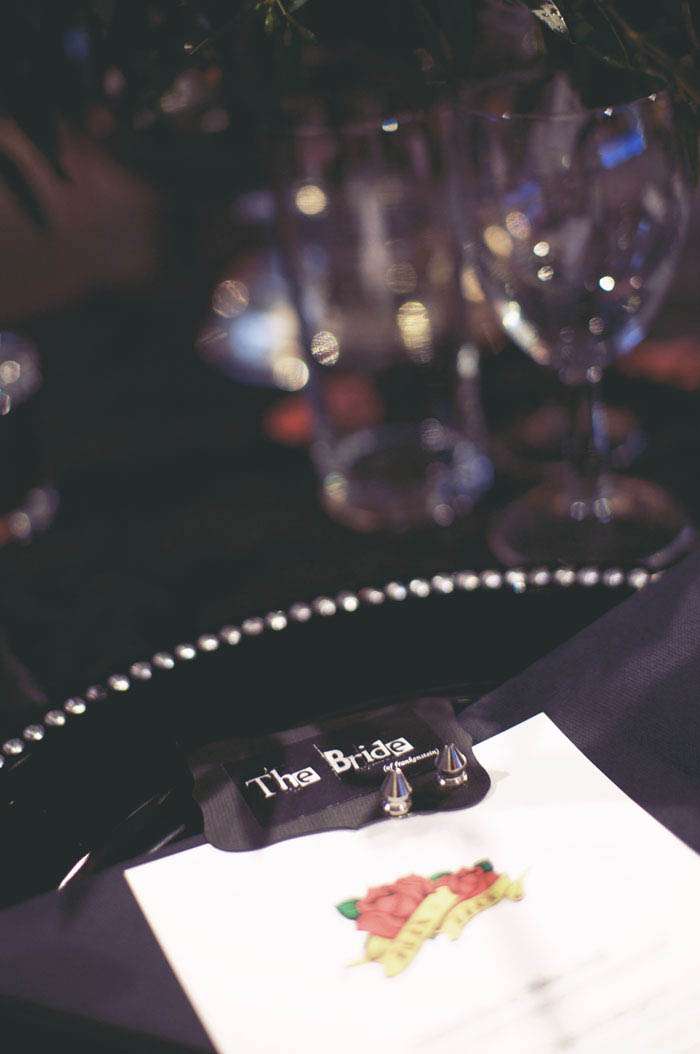 "As I am Vegan and Zach is vegetarian it was important to us that the food we had at the wedding reflected that.  We worked with the very Rock n Roll and super talented Jake from Octopus Food on creating a menu that everyone couldn't help but love because it was just so damn tasty – even if it was completely meat free! It was a bit of a gamble especially for the evening BBQ – but everyone said they loved the food so that was awesome!"
"One of many funny bits of our wedding was when one of the evening guests arrived, dressed in drag as Nancy Spungen, along with his friend dressed up as Sid Vicious!  The dress code for the evening was Rock n Roll Royalty so this was hysterical.  But even better was the look on my Dad's face!"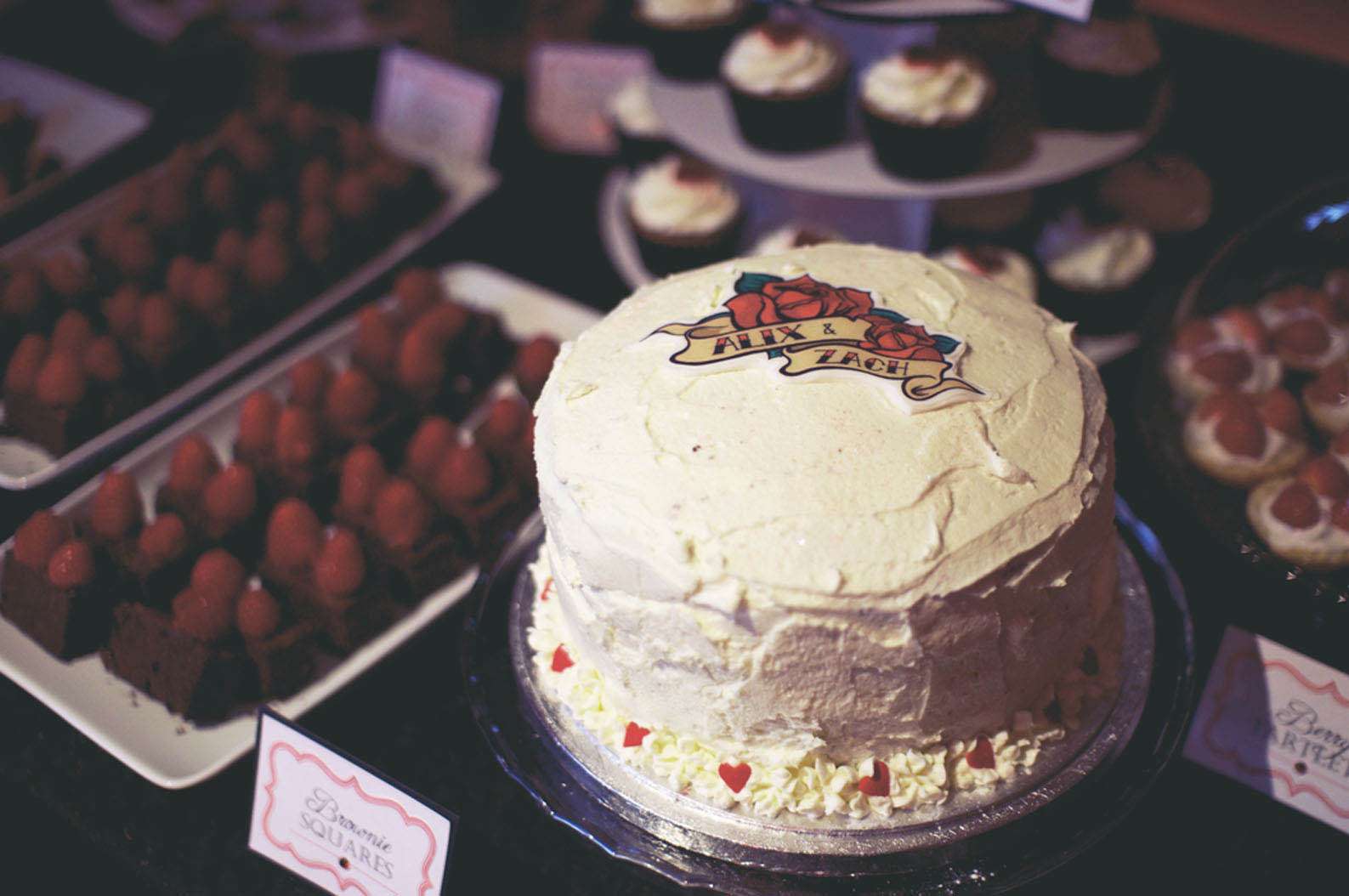 The couple DIYed a lot of their wedding with some extra help at the last minute with on-the-day-styling from Josie from Savoir Weddings. "We DIYed a huge amount for the wedding mainly because I couldn't find in shops or on the internet the things I envisaged for our wedding.  My Mum and Dad made jam using fruit from their strawberry farm in the Cotswolds for the favours along with a 'love potion tea' complete with love spell.  My Dad also made the wooden A and Z letters which he painted white, covered in black lace and then attached to black and white striped ribbon to hang – they worked out to cost about £20 for the 2 which was much so cheaper than buying something similar and turned out way more on-theme. I designed the pin badges, programs and flags, with a huge amount of help from my friend & graphic design guru, Colin."
"We weren't allowed to throw confetti at the ceremony venue so instead we got the guests to wave flags and streamers.  The streamers were made again by my Dad and me by screwing small metal hooks into wooden cake dowels and then threading black and white ribbon and lace through the hook. I got everyone to collect jam jars which I covered with black lace, these then became candle holders and vases. I wanted to have a guestbook that also doubled up as a decoration so it would catch the guests' eyes so they wouldn't leave without signing it!  I cut out some red and white hearts some I covered with some of our favourite bands' album covers in corresponding colours like Guns N Roses, T Rex, New York Dolls, Black Sabbath etc.  The hearts were attached to bakers twine with pegs so guests could write their message and peg it back on – by the end of the night we had touching messages graffiti-ed all over the hearts and an interactive wedding decoration to boot!"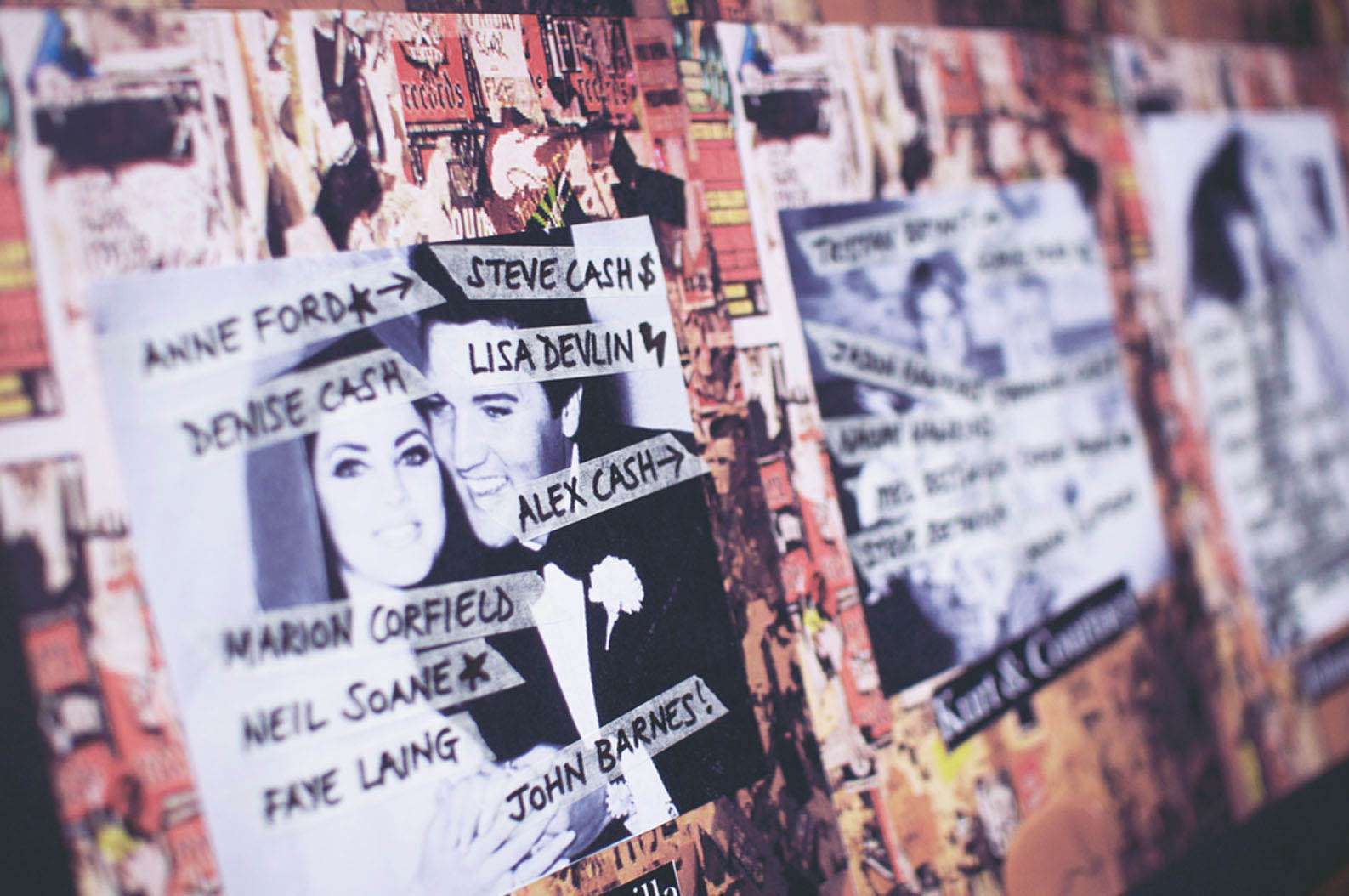 "The place cards were made from black bracket gift tags which I bought from etsy I then printed the guest's name and added 2 metal studs for a bit of punk attitude. Finally, I made the wedding cake, and wedding cupcakes –which of course I HAD to baring in mind I own a bakery. We also hired quite a lot too, obviously not many venues provide black tablecloths and black studded plate chargers as the norm!  This bumped the décor cost up a bit but was totally worth it.  We hired the French lounge furniture from Prop Solutions – who were really helpful and eager to work within our budget unlike some other hire companies I approached.  The furniture looked great against the cobbled street in the group shots.  I bought some battery operated fairy lights which we cellotaped into the shade so it could be switched on when it got dark."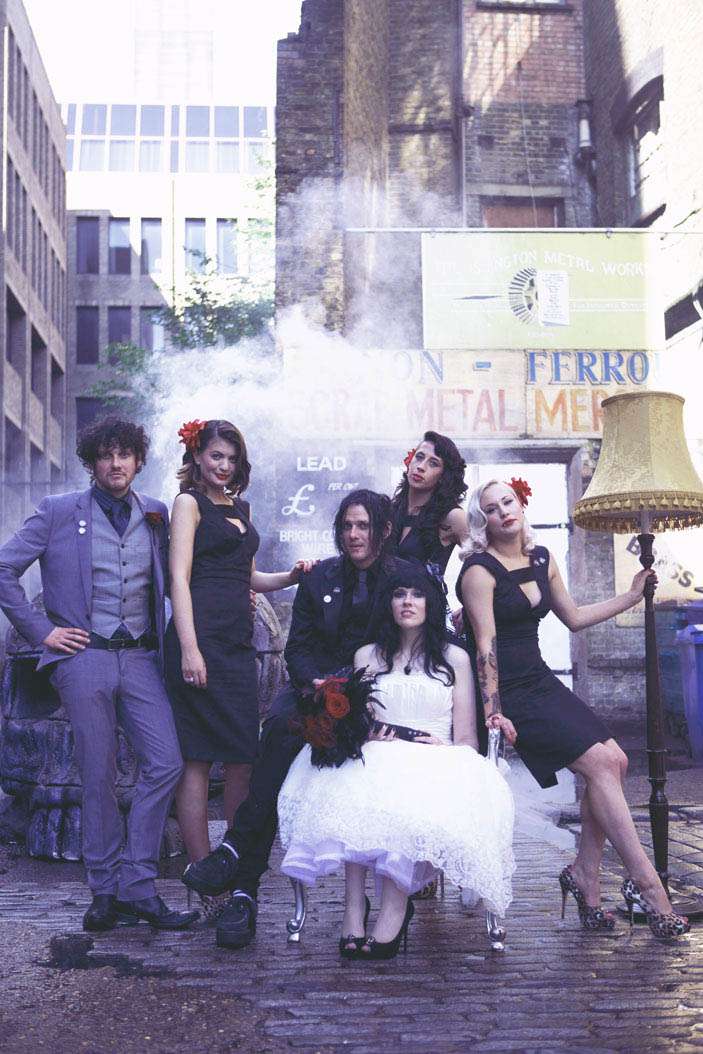 Ahh there's just so much to take it but I love it. Alix & Zach really certainly have released my inner goth. I love everything.
Huge love and thanks to Alix & Zach for sharing their wedding with us and to Lisa Devlin for sharing her photographs.