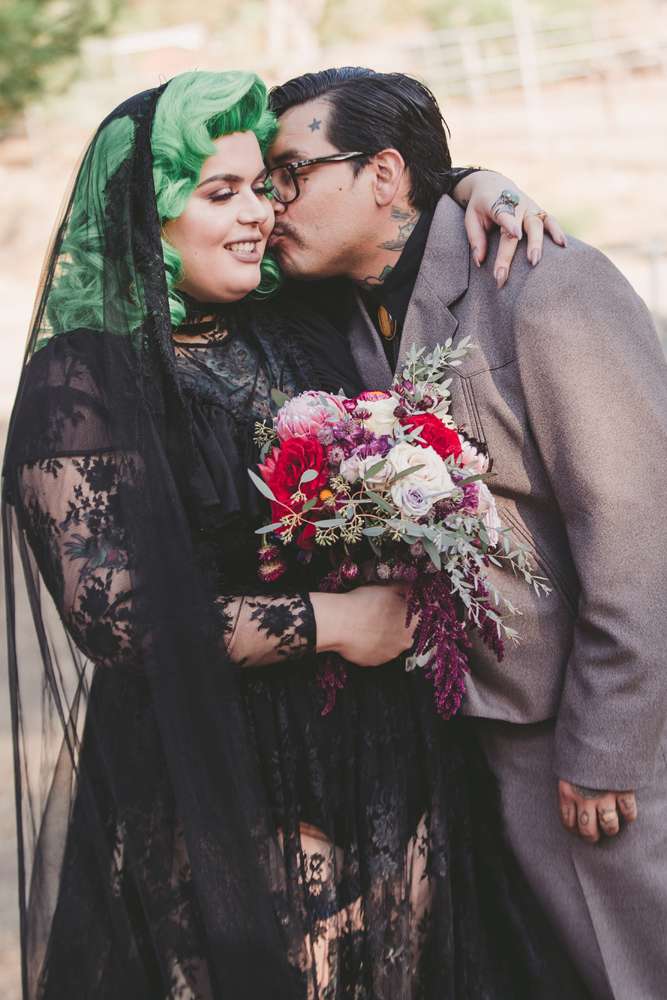 Vanessa and Vincent didn't want a theme for their October wedding, even going to far as telling people who asked that their theme was "shit show" (LOL) but undeniably, by bringing their own likes and personal style into their day, they created a wedding that reflected the bride's gothic aesthetic and the groom's family values.
"We really just wanted to have a wedding that reflected our kooky personalities but were on such a budget", Vanessa began. "Luckily, we have so many talented friends who were so generous to volunteer their time to help make our wedding a little more us and a little less stressful. Jokes, it was so stressful!"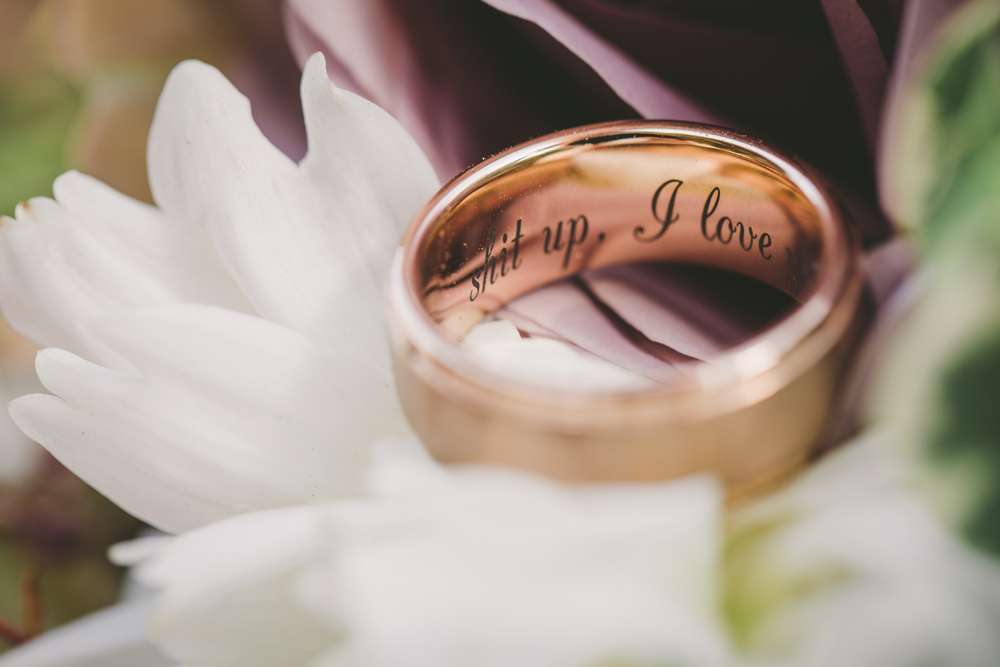 "Our real inspiration was just that we are broke and wanted to get married! We have two sons, one of us got really sick and while planning a wedding on top of hospital visits we both had full time schedules. So many friends came to our rescue but we didn't want to make anyone feel obligated so we went into our wedding day knowing A LOT was going to go wrong. But it wouldn't have been our wedding without the hiccups so it made it so special."
They decided to keep their guest list small, not only to save the budget but so they didn't have to keep a lot of other people happy! "I was trying to satisfy everyone so the smaller the better!" the bride laughed.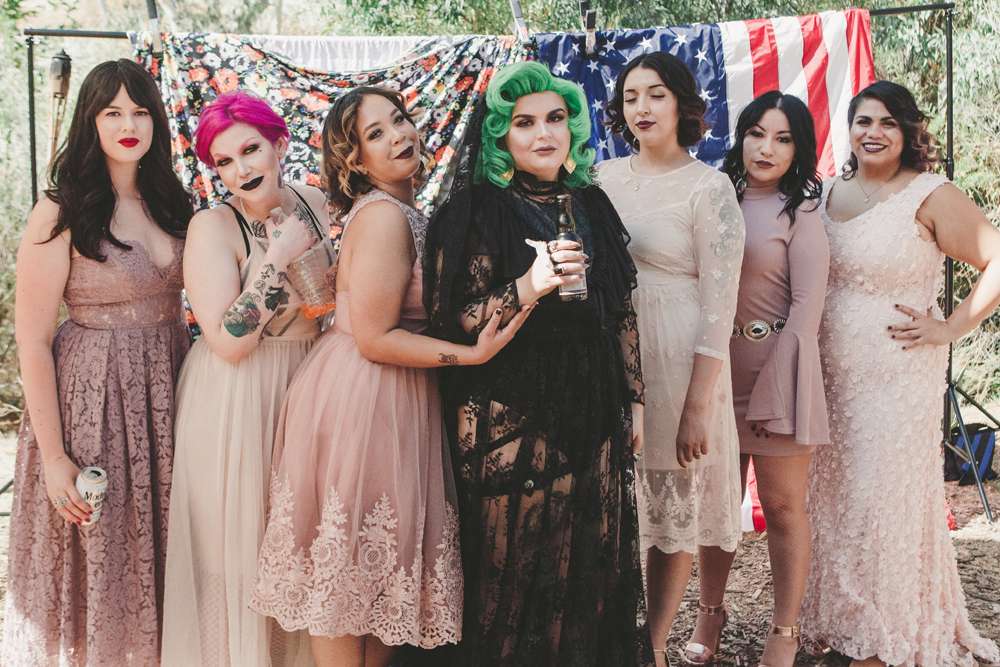 The ceremony, held outside at Reptacular Ranch, Los Angeles, was officiated by a friend and was the only really important part of the day for them both. "It started with our sons, who were wearing Halloween tuxedo shirts, walking down the aisle to Mother's Day. Vincent and the groomsmen then followed with Morrissey's cover of Moon River. Then the bridesmaids came in to ABBA's Take A Chance. Finally I followed to Lou Reed covering This Magic Moment and as soon as I saw Vincent standing there I starting sobbing like a baby. Our friend Leo, who is one of the funniest guys we know, married us under our archway that we worked so hard on that was destroyed before we even got to the ceremony (don't leave your homemade archway outside for 10 hours before the ceremony!) We wanted to keep it short and sweet but we also wanted to make sure we came up with our own vows. We were then announced to The Searchers' Needles and Pins….We put so much thought into our ceremony music."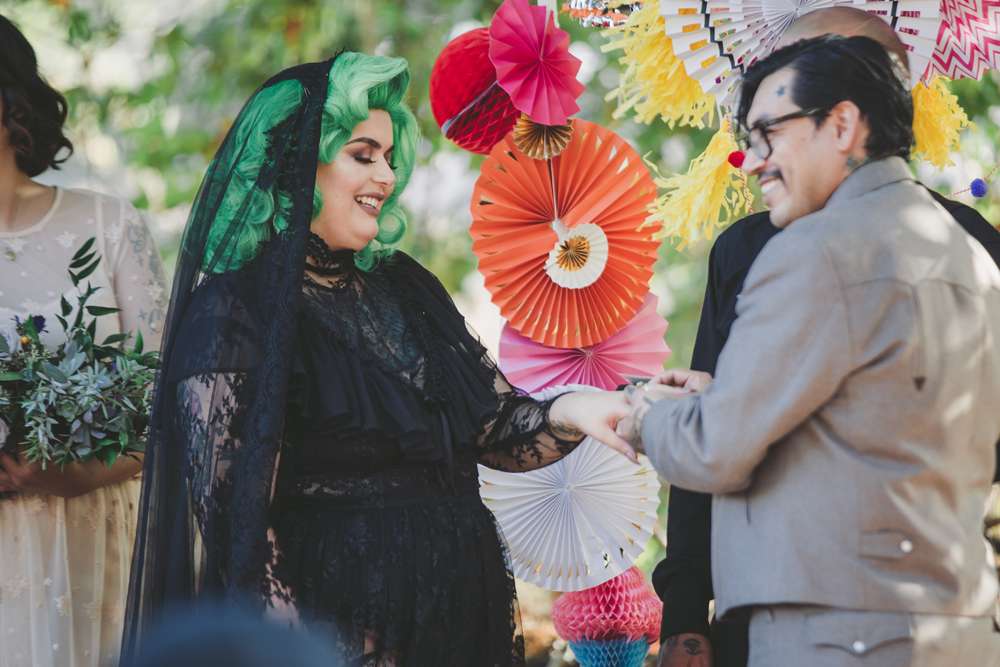 Although not everything went to plan, at the end of the day they were married and that was the most important thing. "Our biggest cost was the flowers but we saved on the booze, which was a gift. Our highlight was putting our outfits together. The worst thing was dealing with other people! Why do some family members think the wedding is about them!? If we were to get married again we would definitely just have an intimate wedding for just our closest friends! We honeymooned at Hicksville Trailer Palace in Joshua Tree which was amazing. We would highly recommend checking out!"