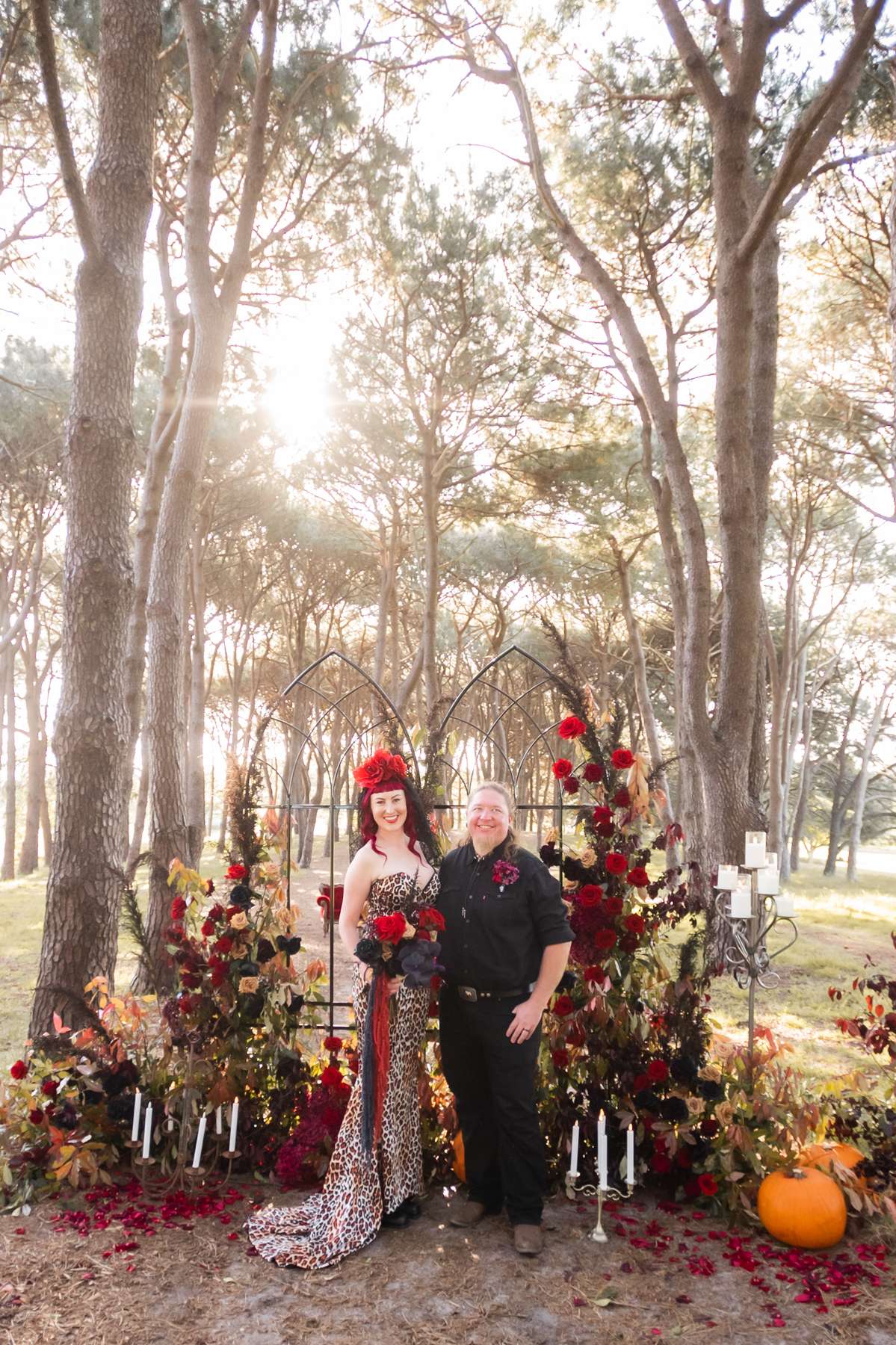 When Steph and Tyler made the decision to get married, they knew that a standard, traditional wedding was not for them. Instead, the couple decided to go all-out and plan a unique Halloween-themed wedding, complete with a Lurch impersonator, Texas-style food, and their own special spooky touches.
"We wanted the day to feel more like a massive party," said Steph. "We wanted to make it our own, and make sure it was something that was unique and special to us."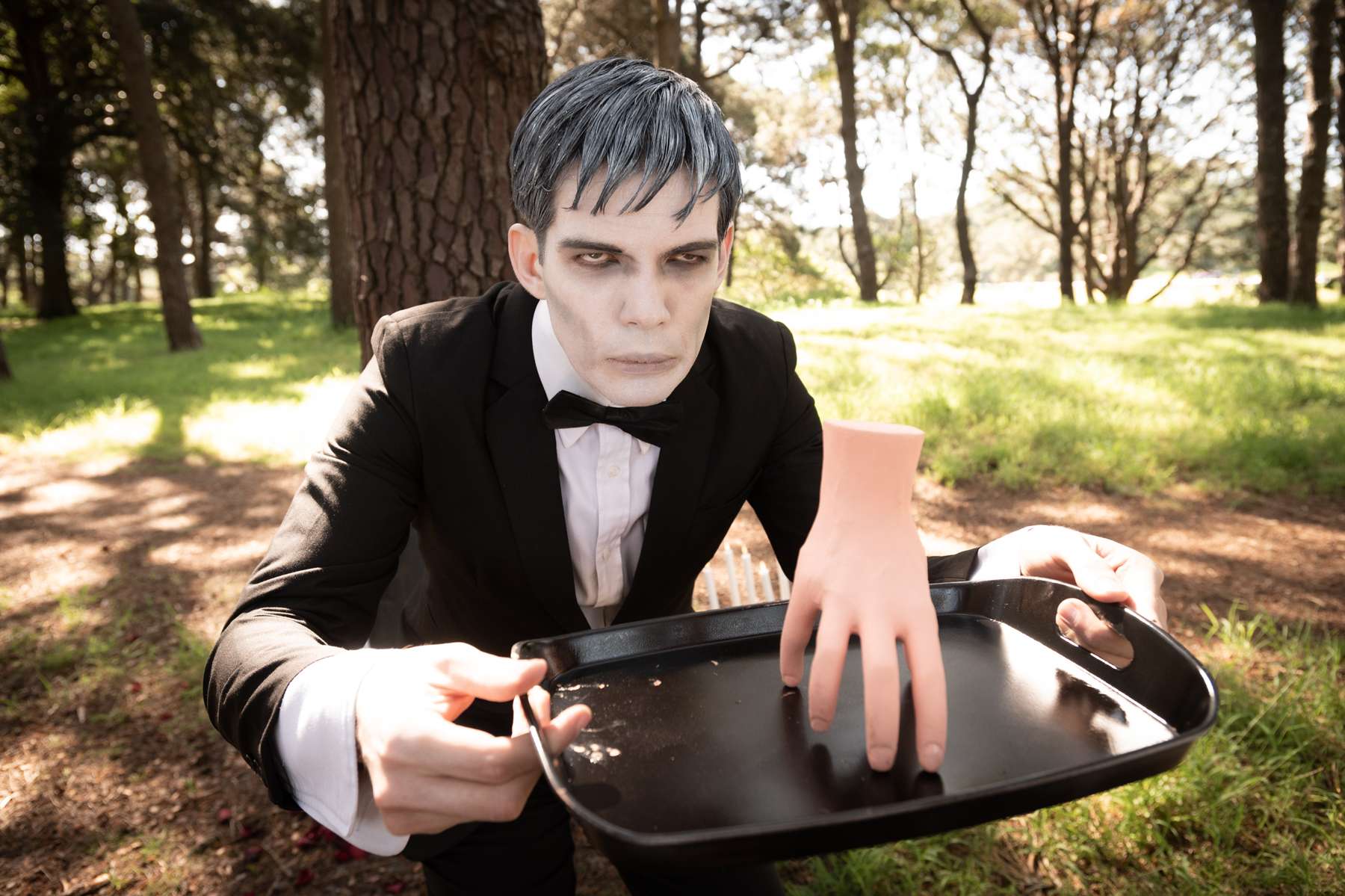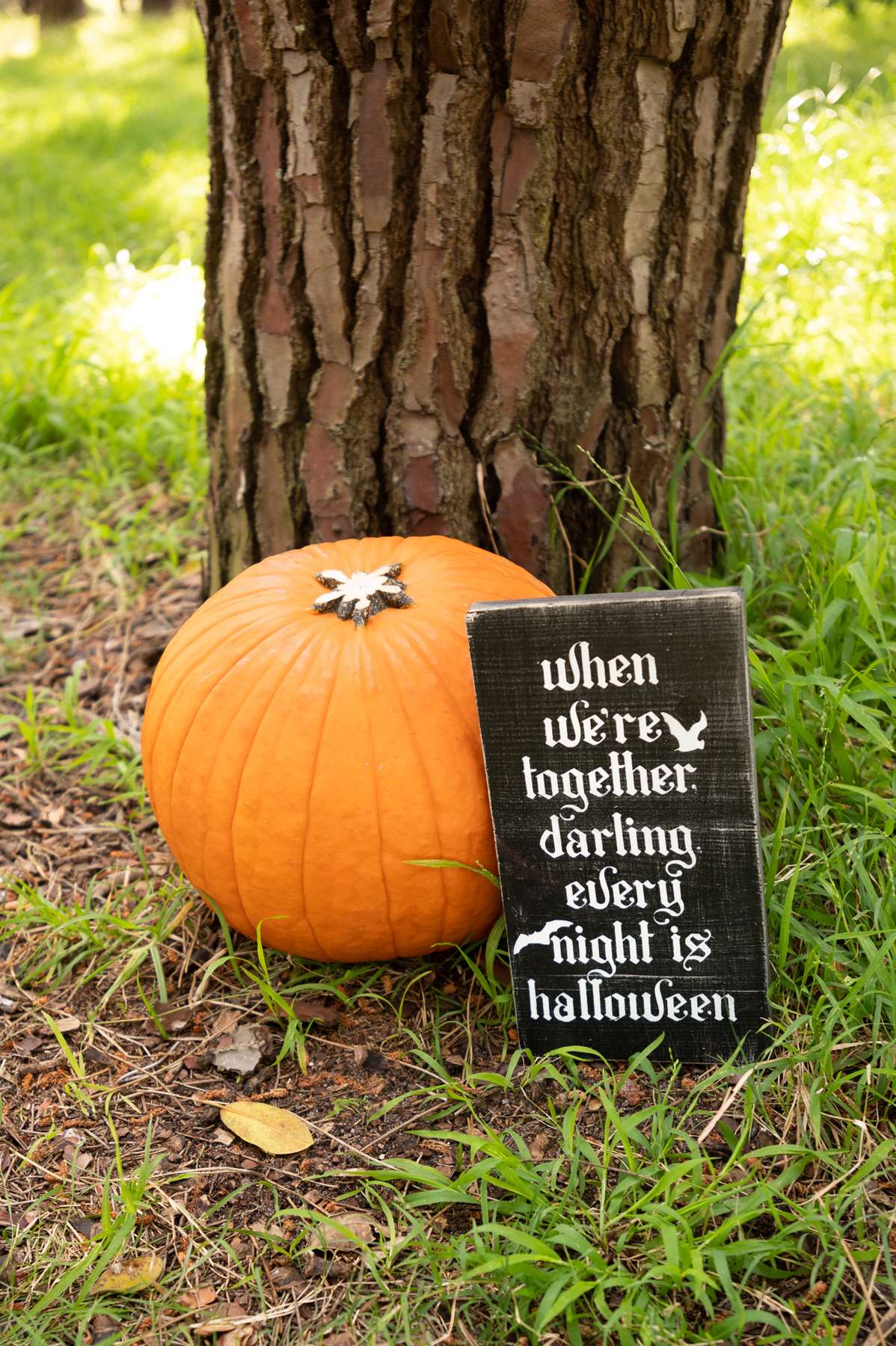 The couple enlisted the help of wedding planner The Marmalade Sky to help bring their vision to life. "We used a creative and colourful stylist to really get the Halloween theme across," the bride continued. "We had two pallets of Jack-o'-lantern size pumpkins and a few other added touches."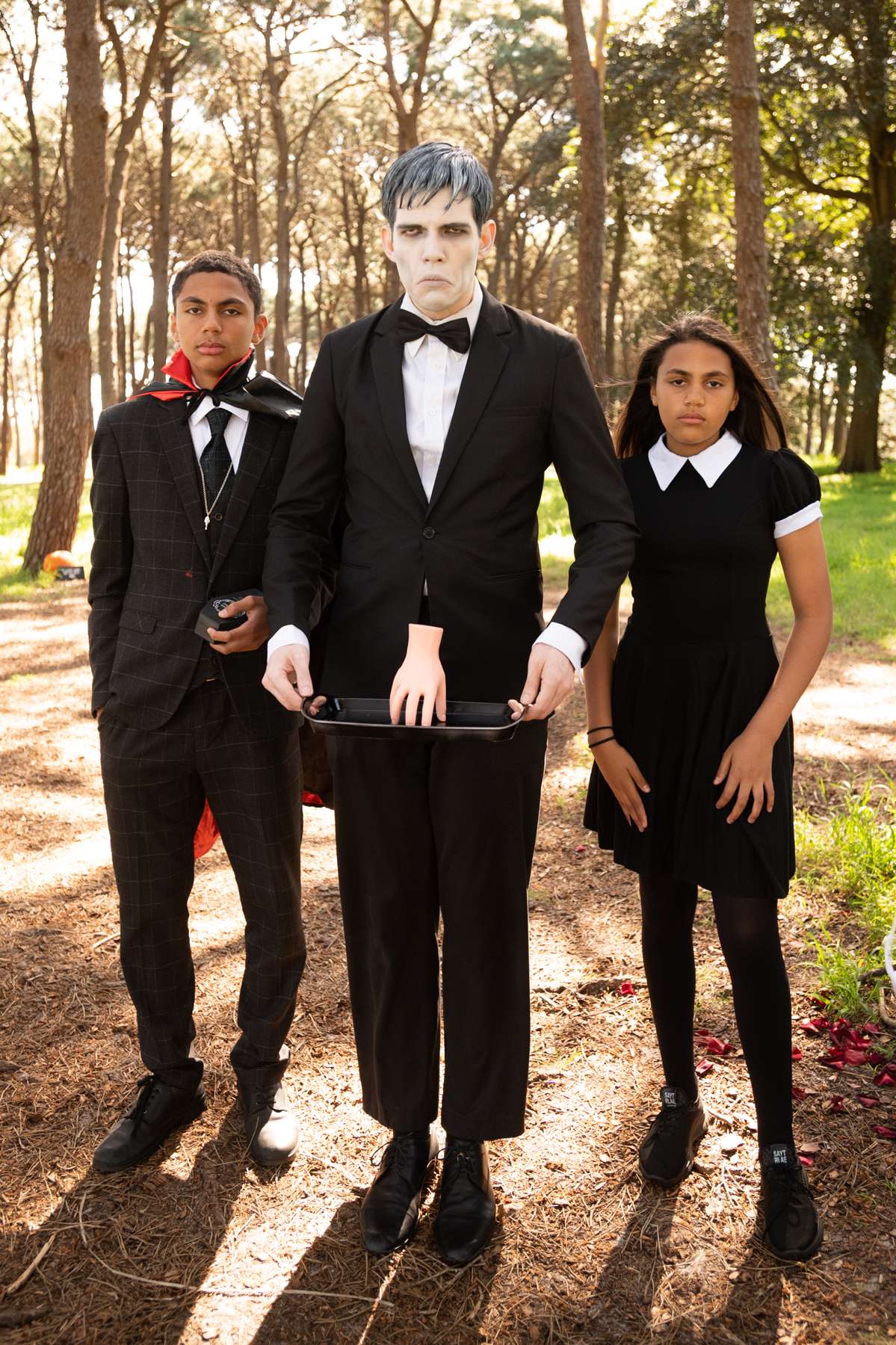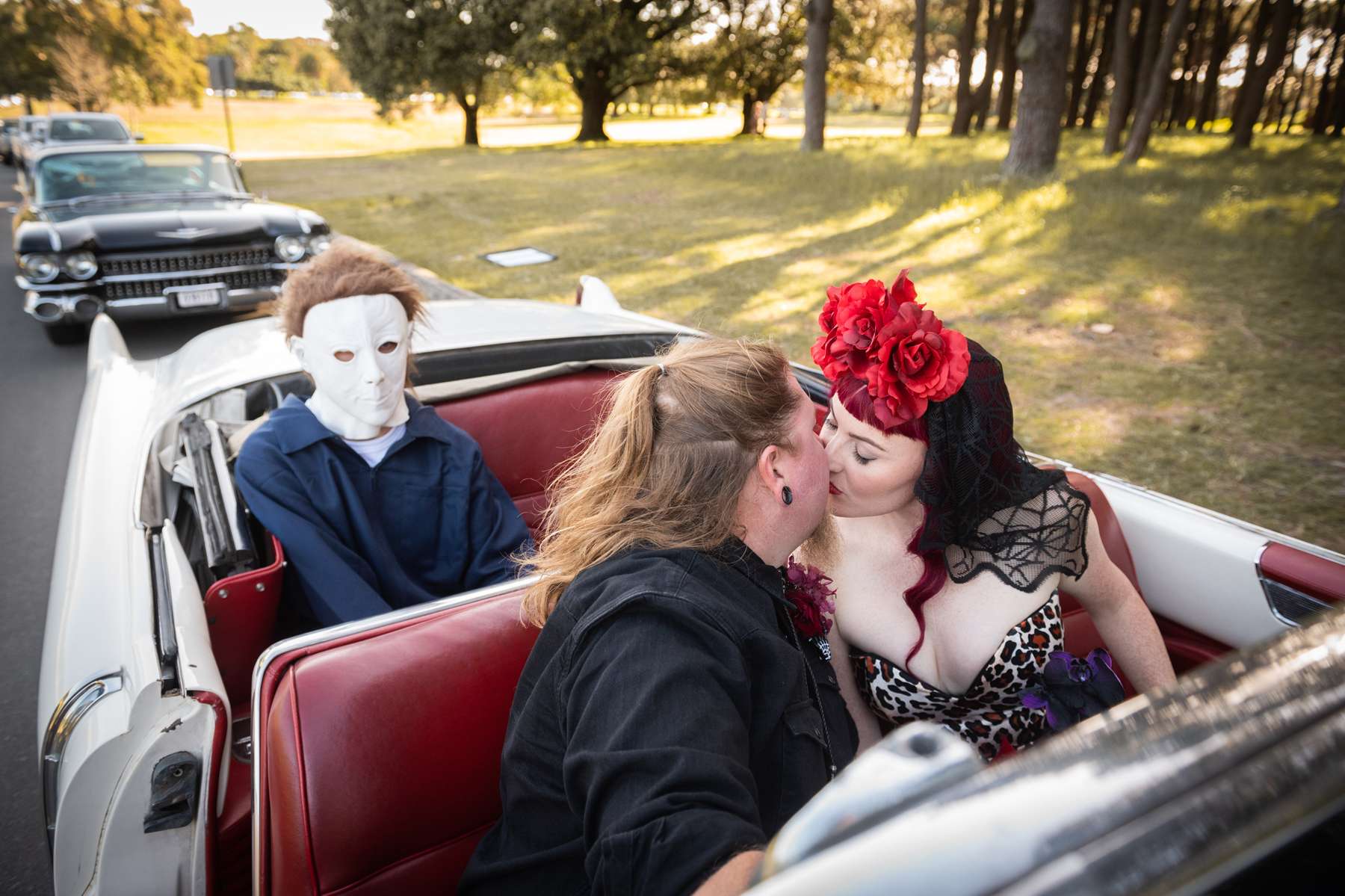 The ceremony was held at Centennial Parklands in Sydney, and was filled with Halloween songs and spooky decor. The first entrance song was The Addams Family theme song, followed by the acoustic version of Hold my Hand by Lady Gaga for the bride's arrival. "The ceremony location was inspired by Twilight so we played a few songs from the Twilight soundtracks, with a mixture of Halloween theme songs followed with acoustic emo/rock after the ceremony", she said."Our vows were a combination of our favourite Halloween quotes, sayings and personal words and inside jokes."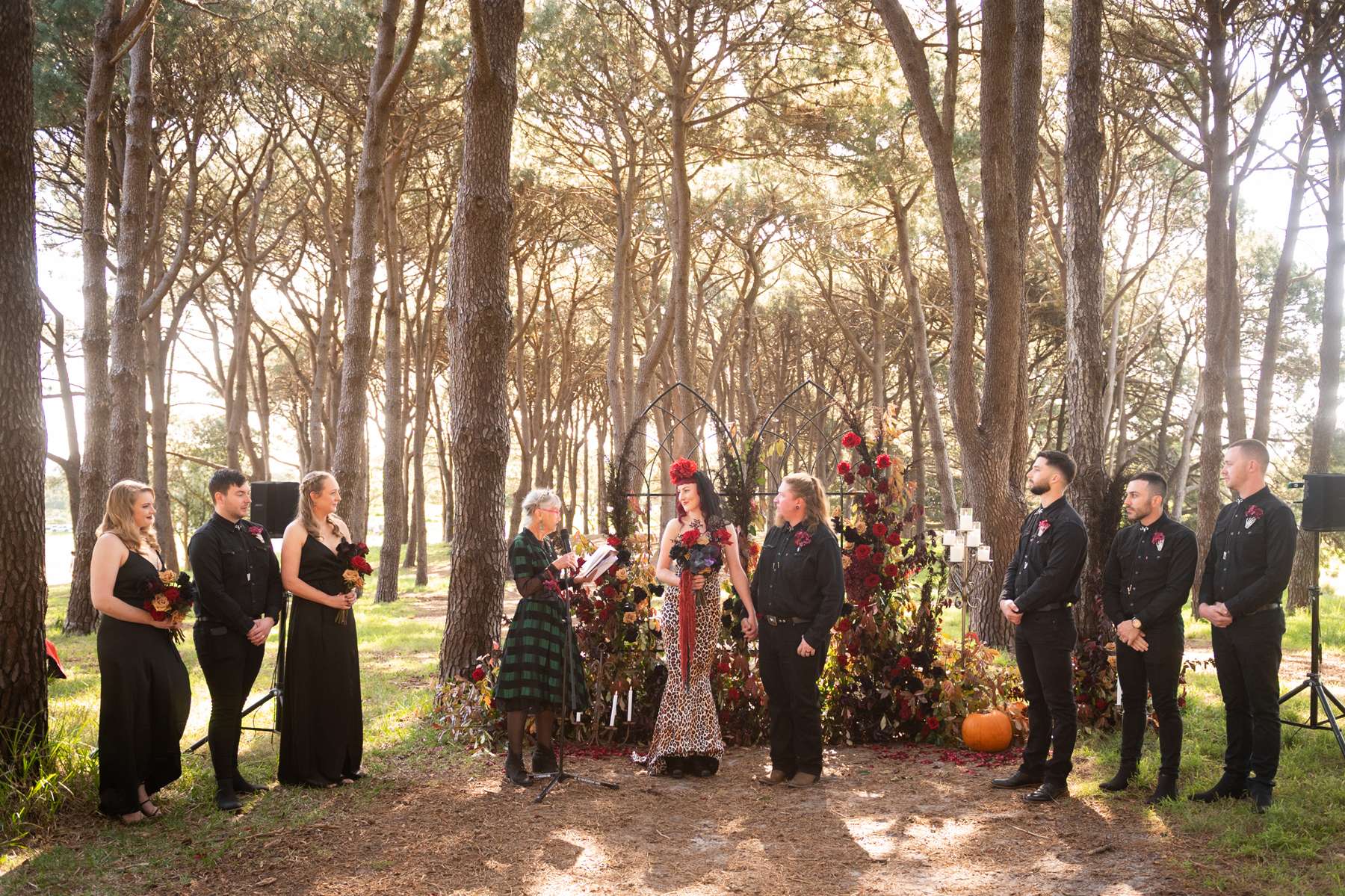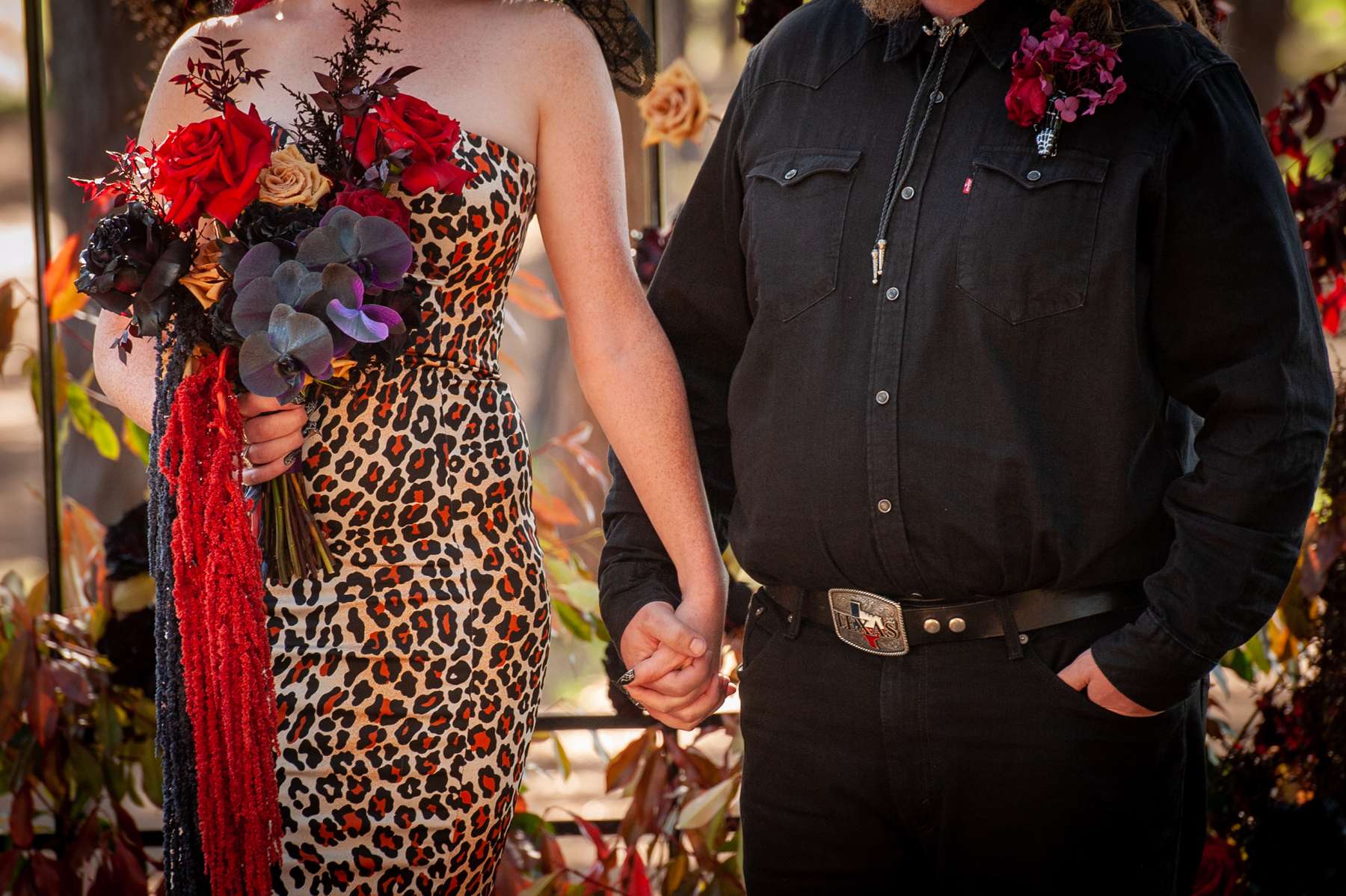 After portraits, including 'weapons horror character pictures' of their bridal party, Steph changed into a second, black Morticia Addams inspired dress, and they had their reception at Surly's American Tavern, where the couple served traditional Texas barbecue and had a range of other treats, as a homage to the groom's Texan background.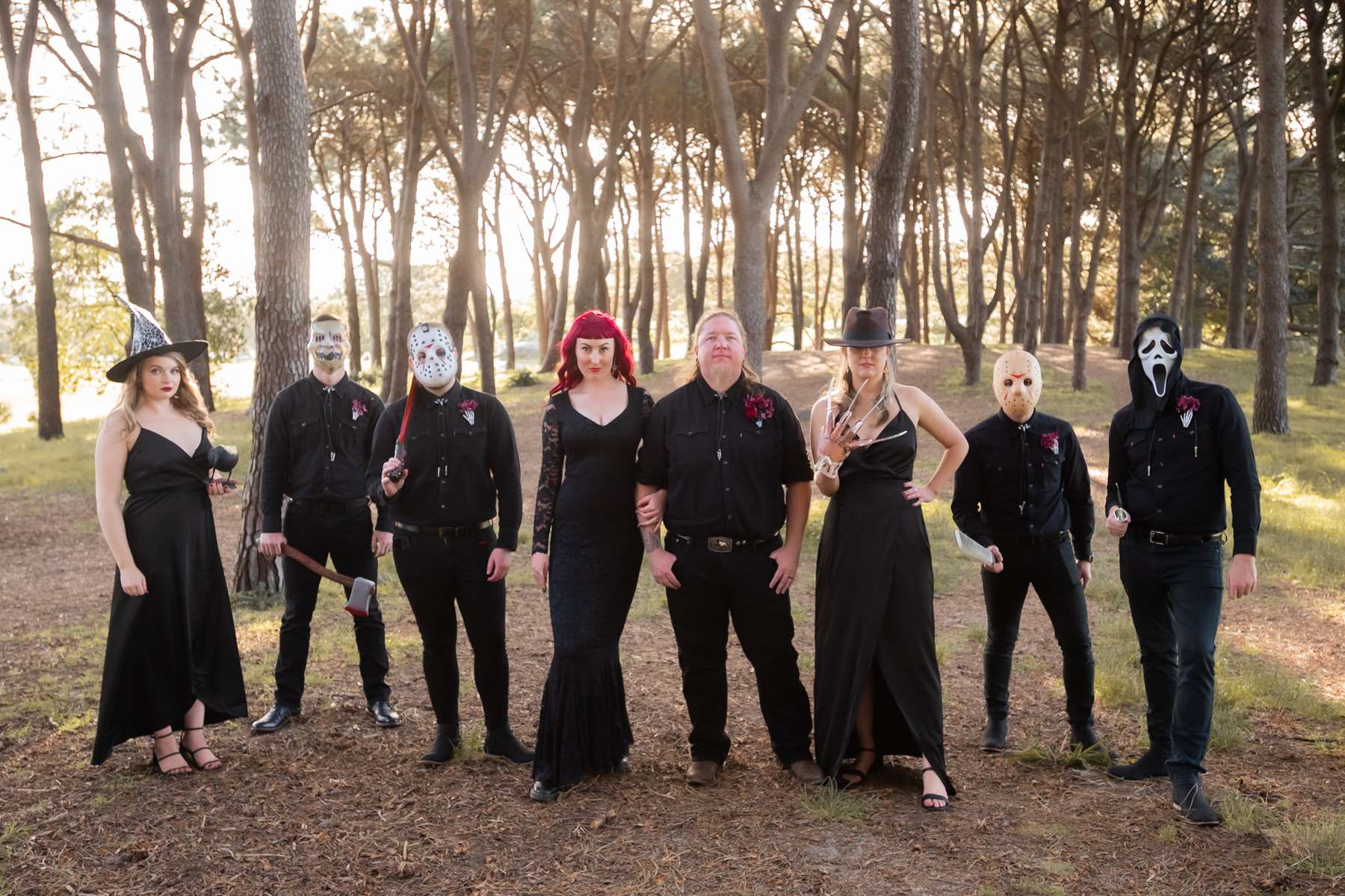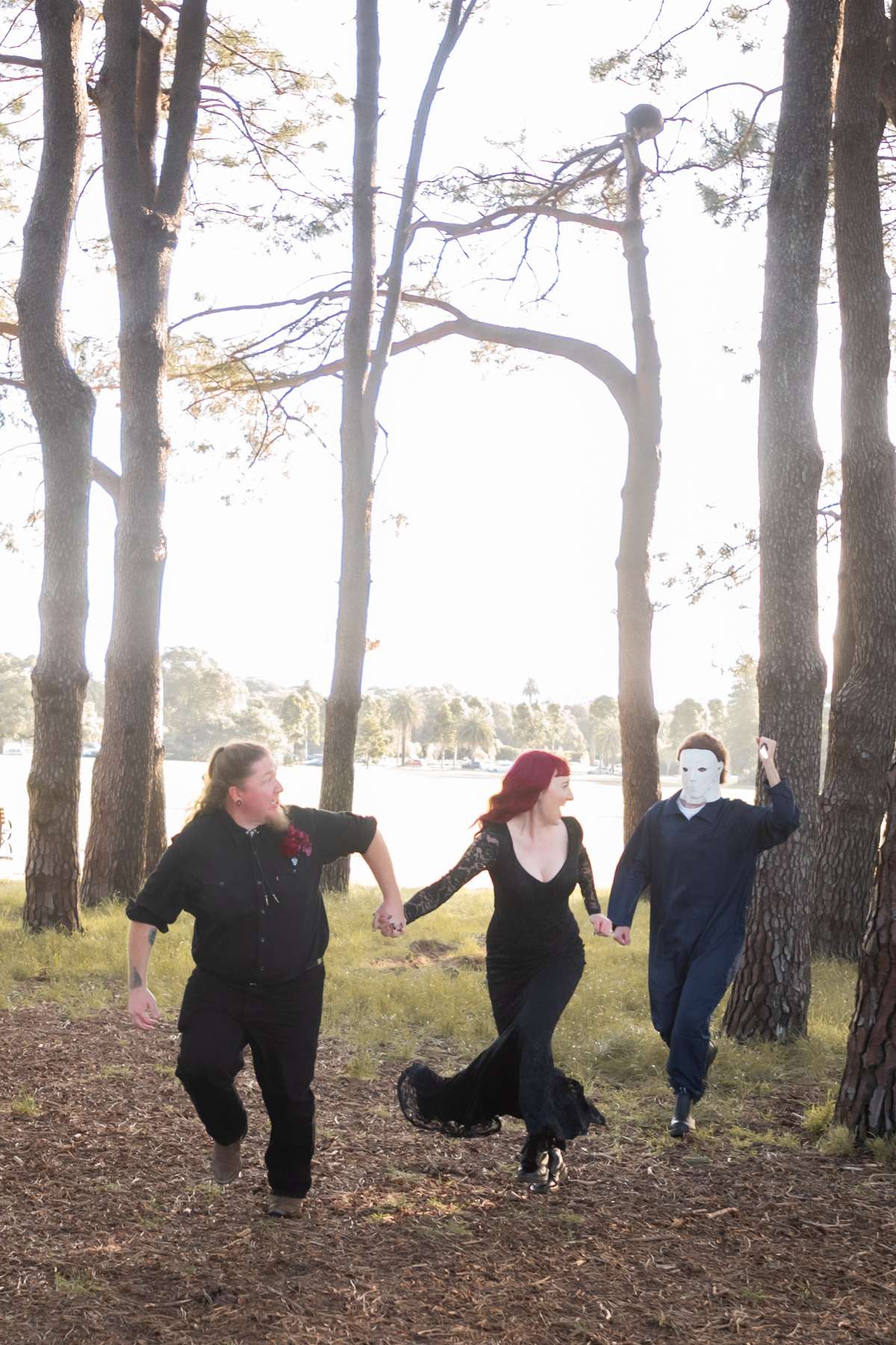 "Tyler being from Texas and well known for BBQ we wanted to share that with our guests, they explained. "On the menu we had traditional BBQ, 12 hour pulled pork, smoked chicken thigh, hot link sausage, fried chicken and waffles, cornbread, tater tots, mac 'n' cheese and mac 'n' gravy. We opted to have pumpkin pie instead of a traditional wedding cake, along with pecan pie, New York cheese cake and vegan donuts."
The couple also paid particular attention to their decorations, with a few special references. "We had a coffin ring box custom made by someone on Etsy," said Steph. "We also had personal items from my Halloween collection, like a coffin bedside table, skull decorations, a large neon 'Till Death' sign, black burning candles, pumpkins and black roses from the ceremony. Gifts for our guests were BBQ sauce bottles for our favourite barbecue joint in Austin, with personalised thank you messages on the back."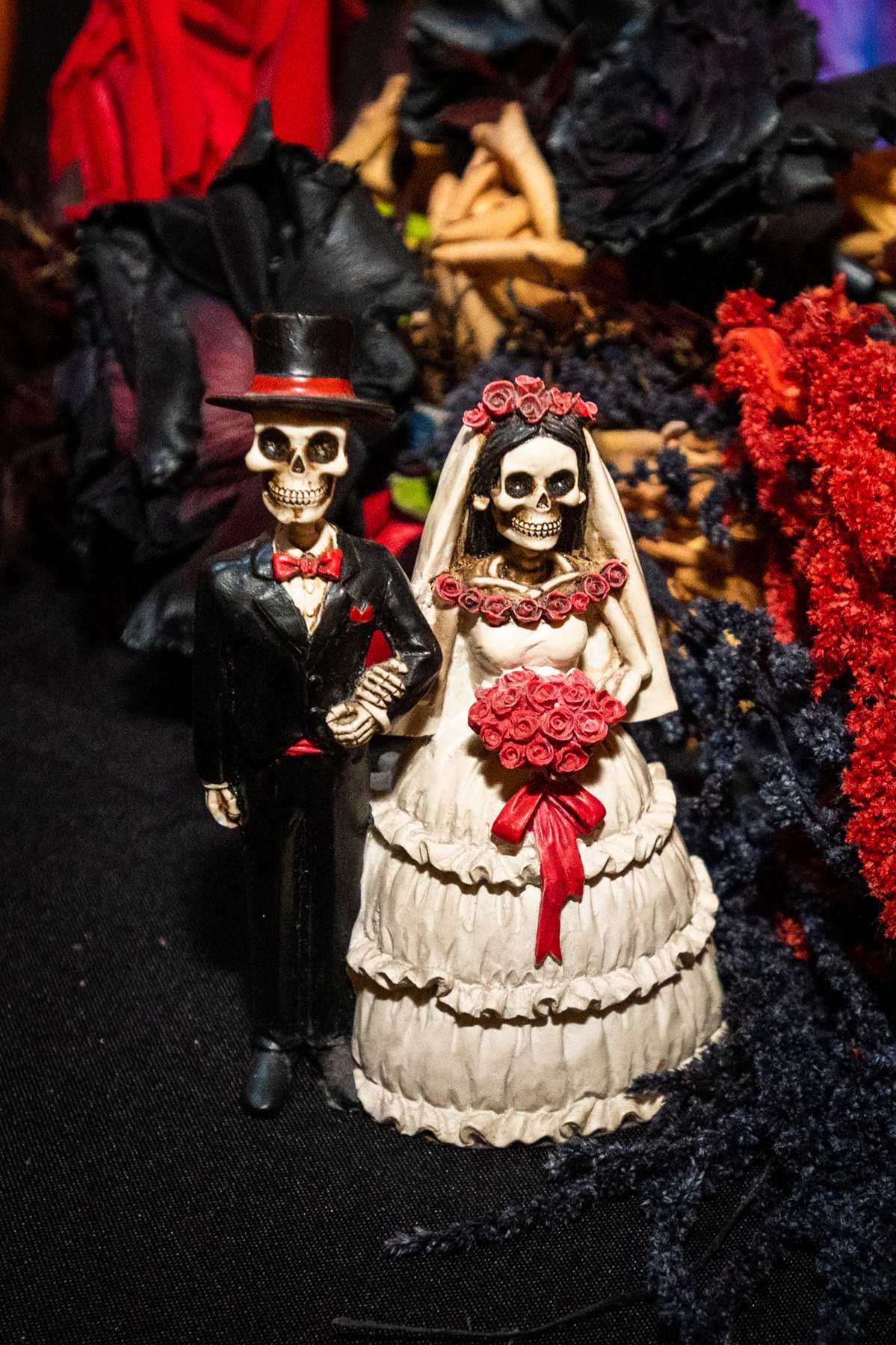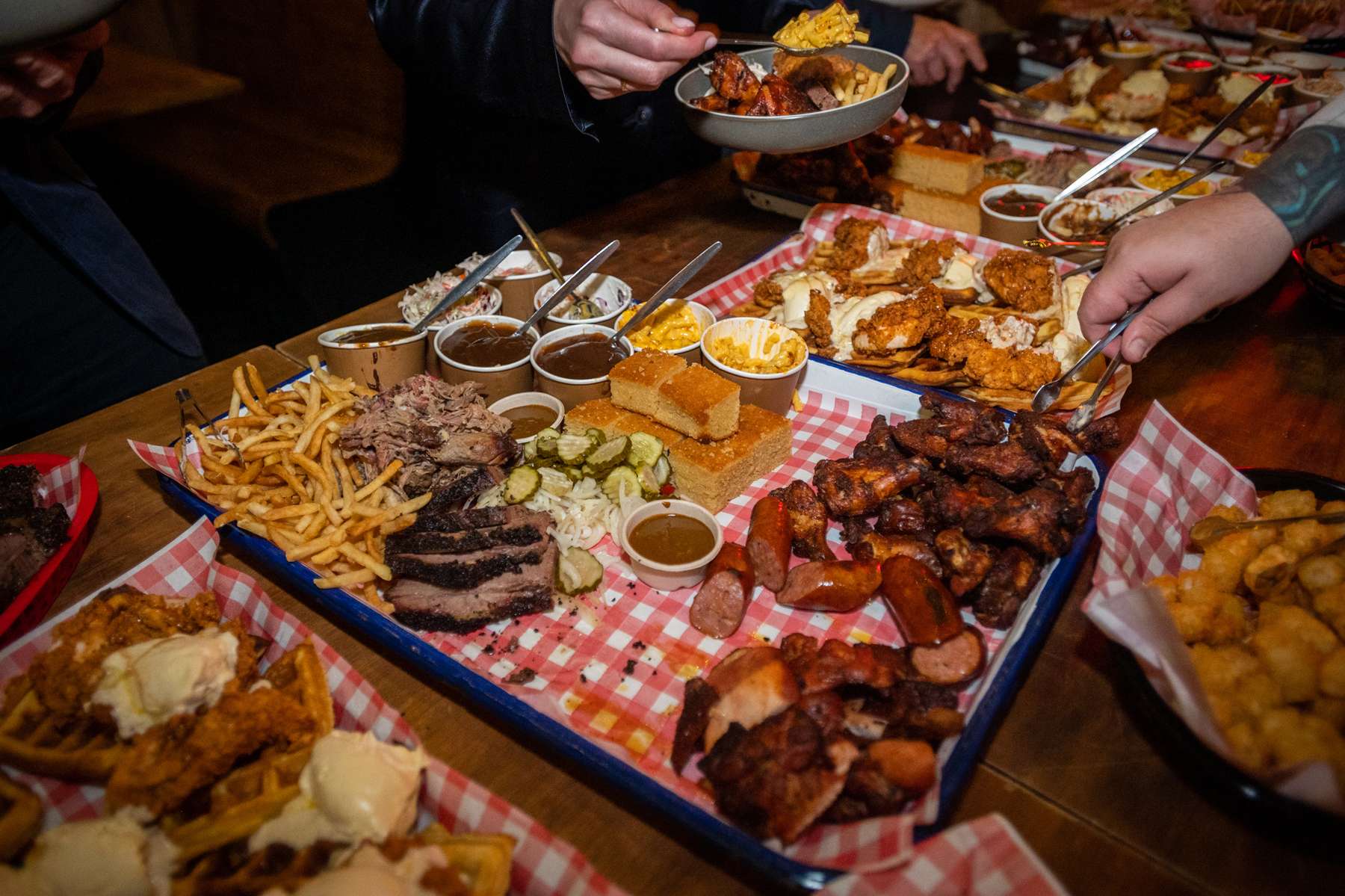 When asked for advice for other engaged couples, Steph had one important tip: "Do it your way, don't feel like you have to follow standard wedding traditions. Stop doing boring weddings with a boring white dress. Use bold colours and themes!" We could not agree more!