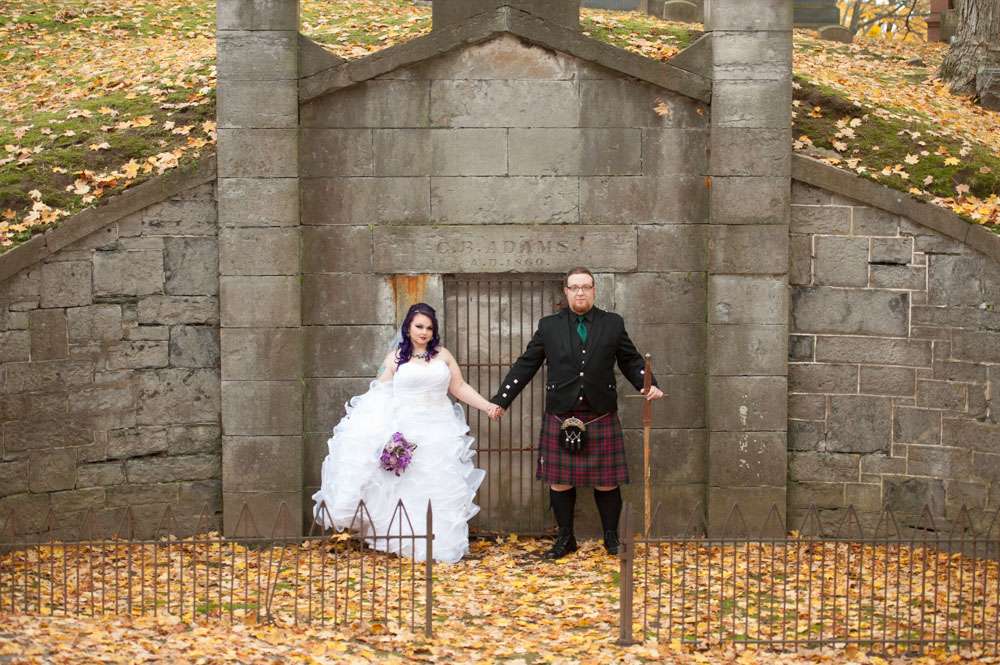 Courtney and Todd were married on October 31st and had a Halloween wedding at Bradley Chapel at Fort Hill Cemetery in Auburn, NY.  The cemetery made for the perfect location for their portraits too!
"I love cemeteries and I have always said that if I ever got married, it would be in one", Courtney wrote. "We're both big horror fans so getting married at a cemetery on Halloween just made sense! We really wanted to capitalise on the whole Halloween and horror theme. We used real toe tags as escort cards and instead of table numbers we assigned every table a horror movie. We also incorporated 'jumping the broom' into our ceremony, which is something that none of our guests had ever seen before."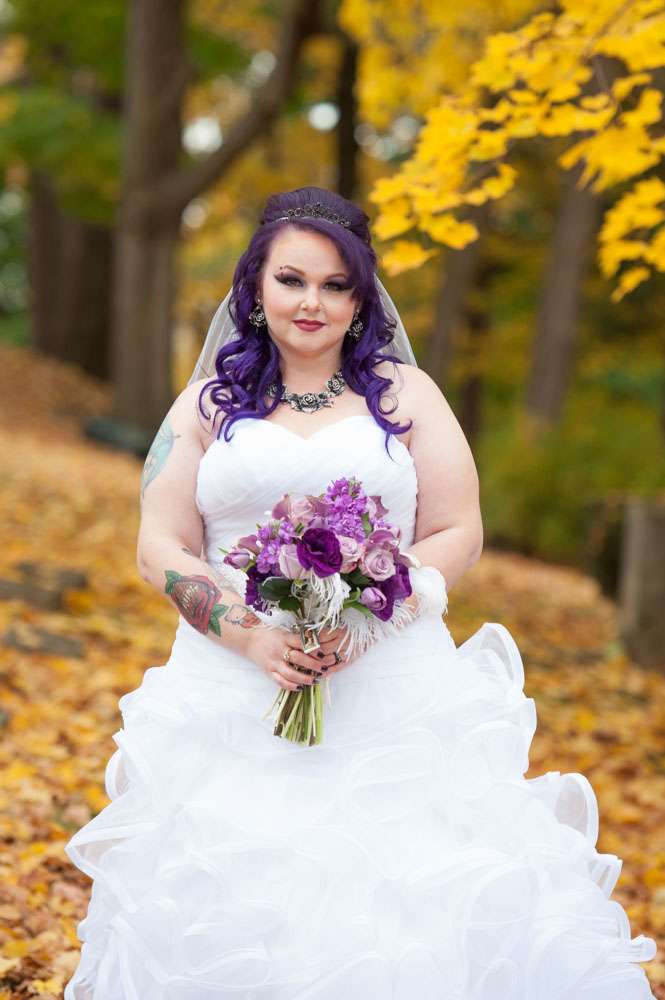 The bride wore a beautiful princess style dress from David's Bridal with gothic style accessories that all came from eBay. "For years I had told everyone that I would be wearing a black dress when I got married", she explained. "I looked and tried on a few black dresses but I never got that 'bride' feeling until I tried on a white one. I fell in love with the third white dress I tried on, and purchased it without even giving it a second thought. From that day on, I had to keep the colour of my dress a secret from EVERYONE!! I wanted it to be a huge shock when the doors opened and I came out in white. It was especially hard to keep the secret from Todd. Especially since I made my own veil. He asked me one day why I was making a white veil and I had to tell him that it was for a friend who was getting married as well. So imagine his surprise when I walked up wearing a white dress and the veil that I made right in front of him!!"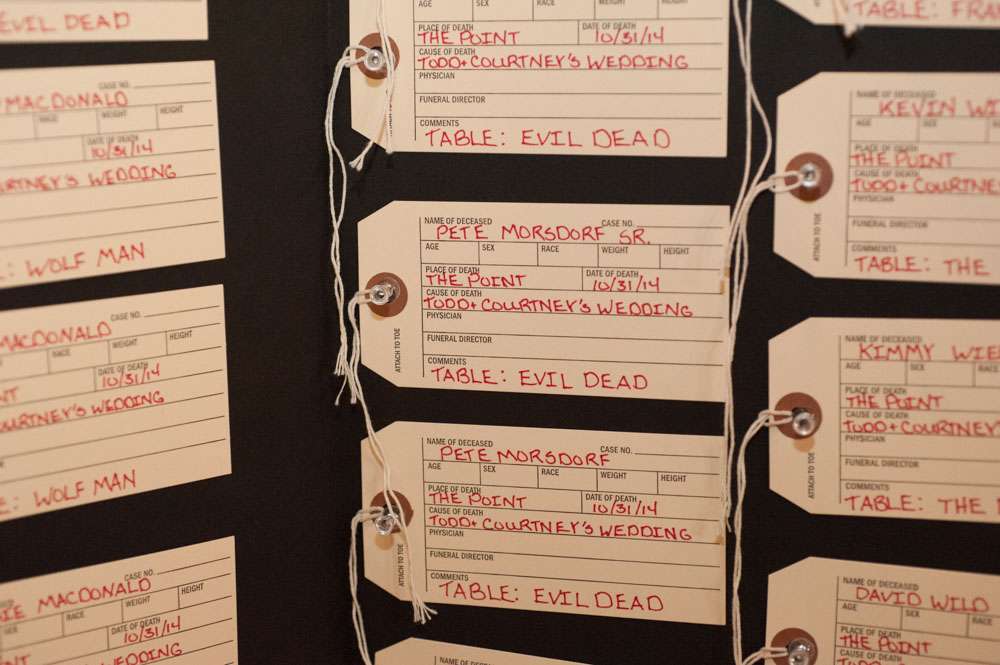 To continue their horror and Halloween theme they had a Hellraiser card box, an Evil Dead guest book and the tables were all named after horror movies. They served homemade pumpkin cookies and even their stationery was on theme as they sent out Ouiji board inspired invitations!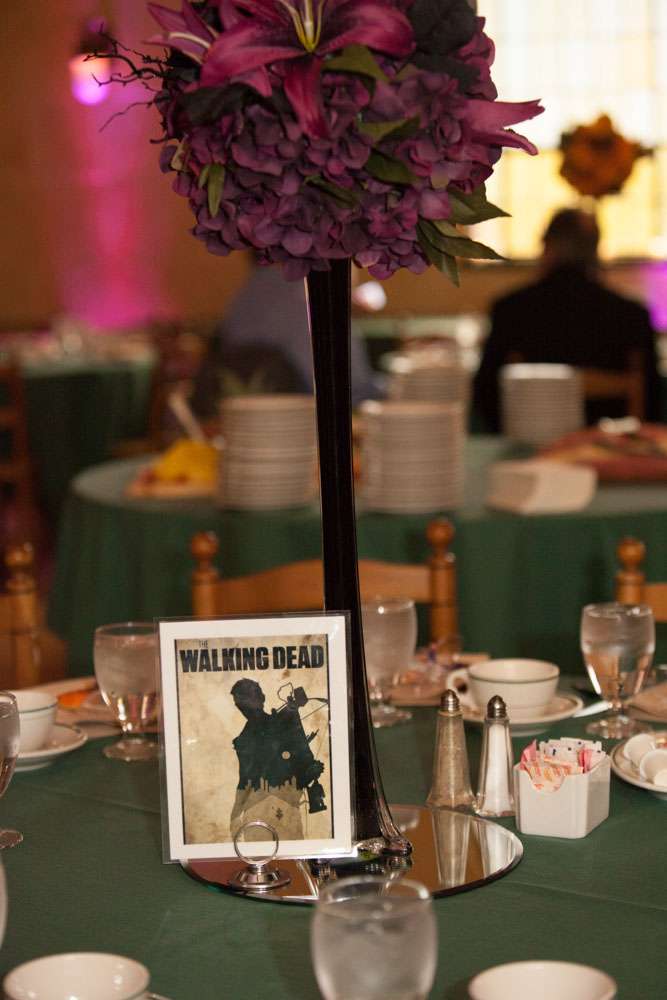 "I lost my mom four months after our engagement and eight months before our wedding date", Courtney concluded. "Finding a way to honour her memory without hanging a black cloud over the wedding was a little tricky but very important to me. I attached a photo of her on her wedding day along with an urn containing her ashes to my bouquet. During the ceremony my brother walked down the aisle carrying a small bouquet, which he laid on the pew in the seat where she should have been sitting. I didn't see him walk down the aisle that day, but as soon as I saw the photos I was in instant tears. I thought that people would think it was strange for one of the groomsmen to carry flowers, but it turned out to be a beautiful tribute."