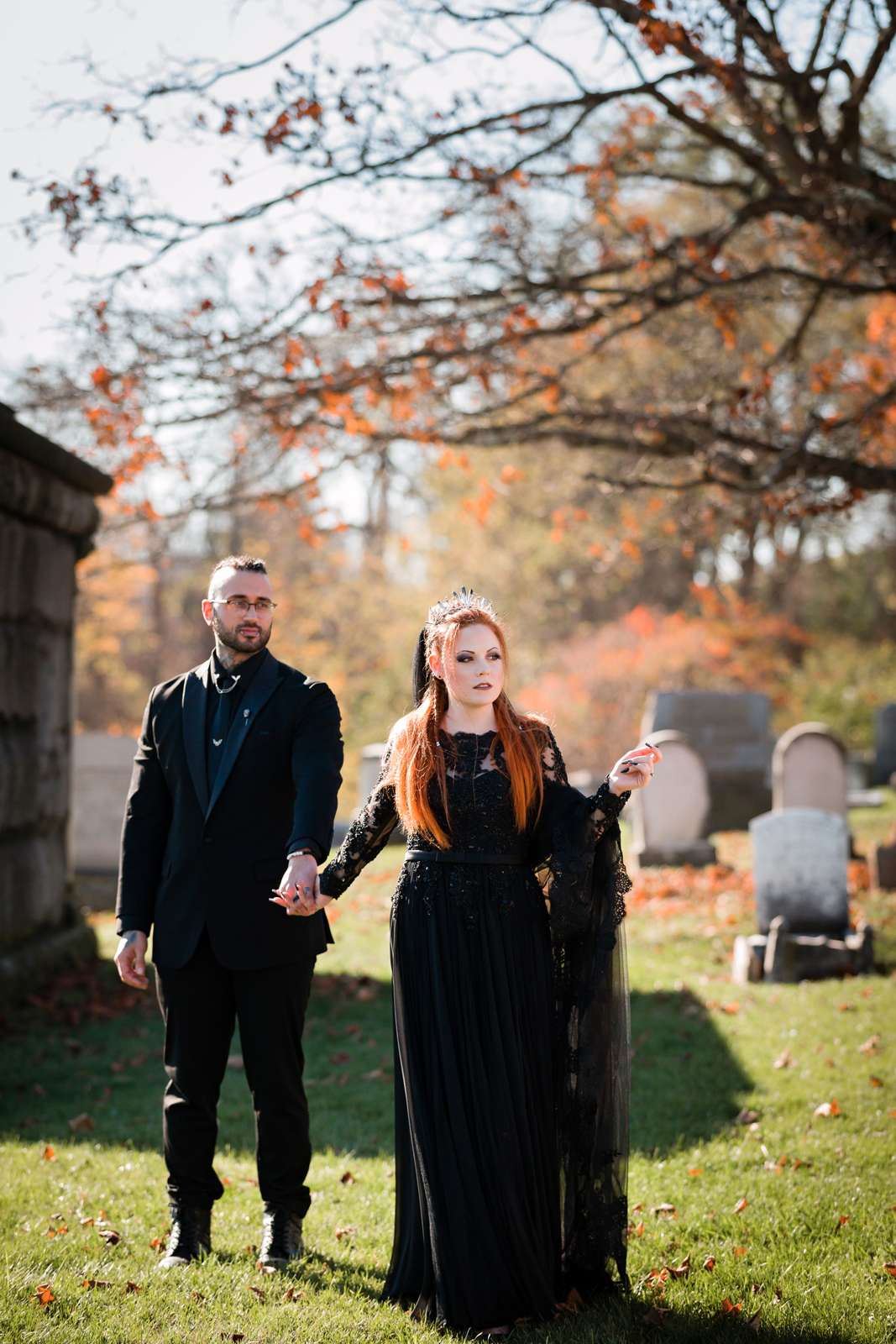 Heather and Anthony chose October 31st 2020 as their wedding date but they didn't want the usual themed wedding with Halloween decorations and costumes. Instead they wanted their day to feel traditional but in black instead of white, "I like to think it was quite the creepy yet classy affair", said the bride. For the colours, they went with a ghostly grey and magical magenta except for their outfits which were all-black.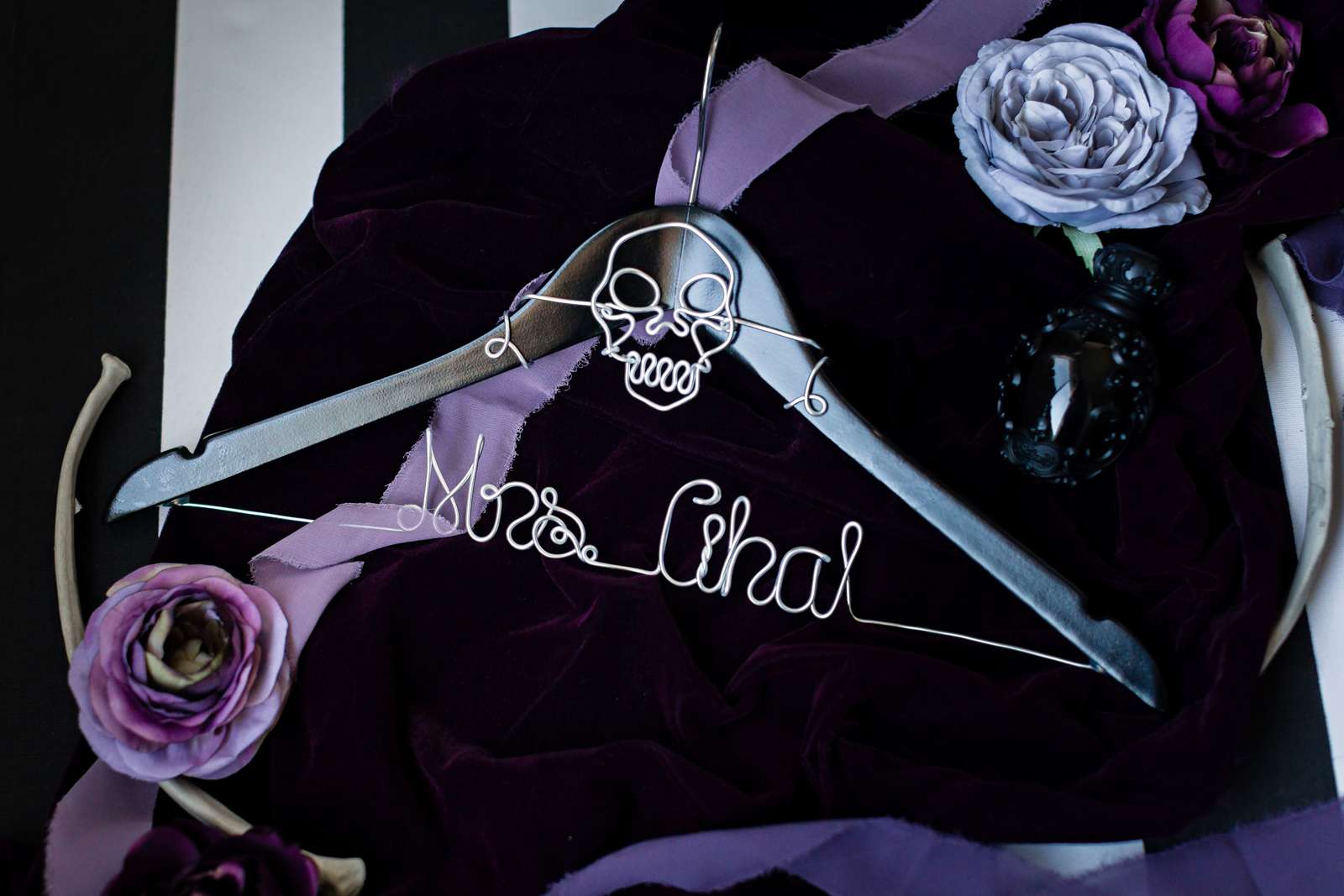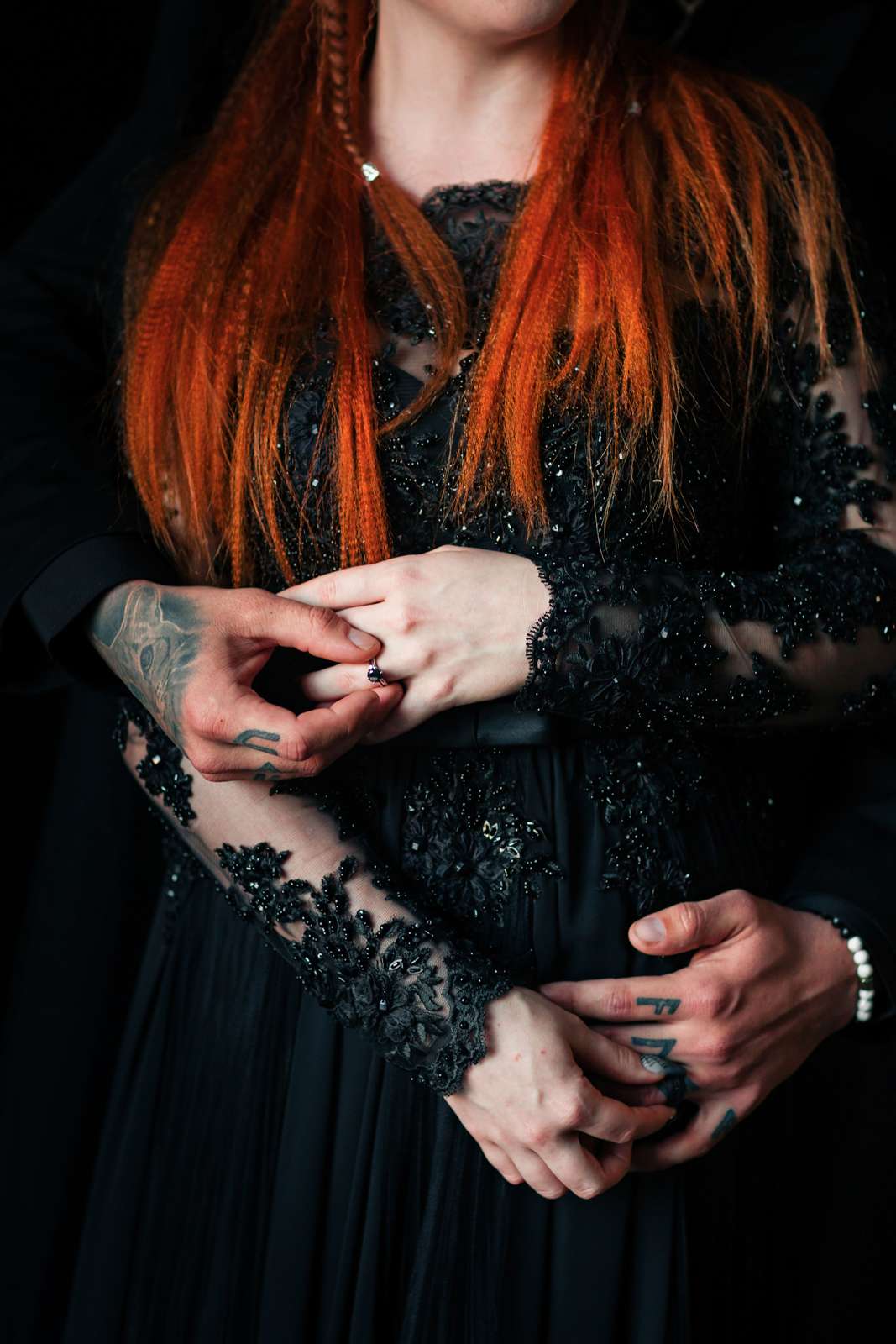 "I was so excited to marry my soulmate, but was worried that planning a wedding might be too overwhelming or costly", Heather told us. "I love Las Vegas and was seriously considering eloping or having a small group of friends and family join us down there, but I grew up watching Say Yes to the Dress and Four Weddings on TLC so I wanted the big party and celebration with our entire group of family and friends."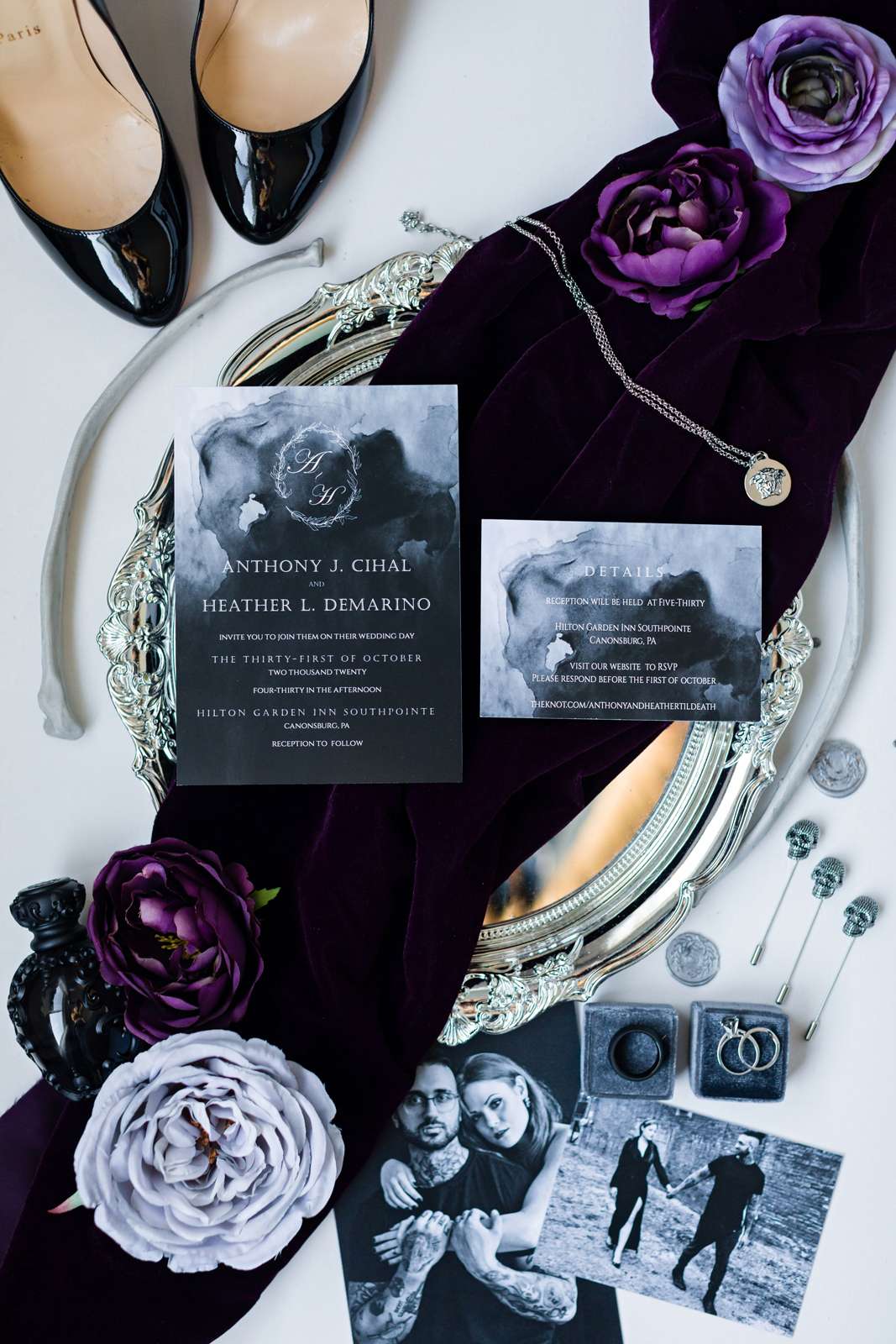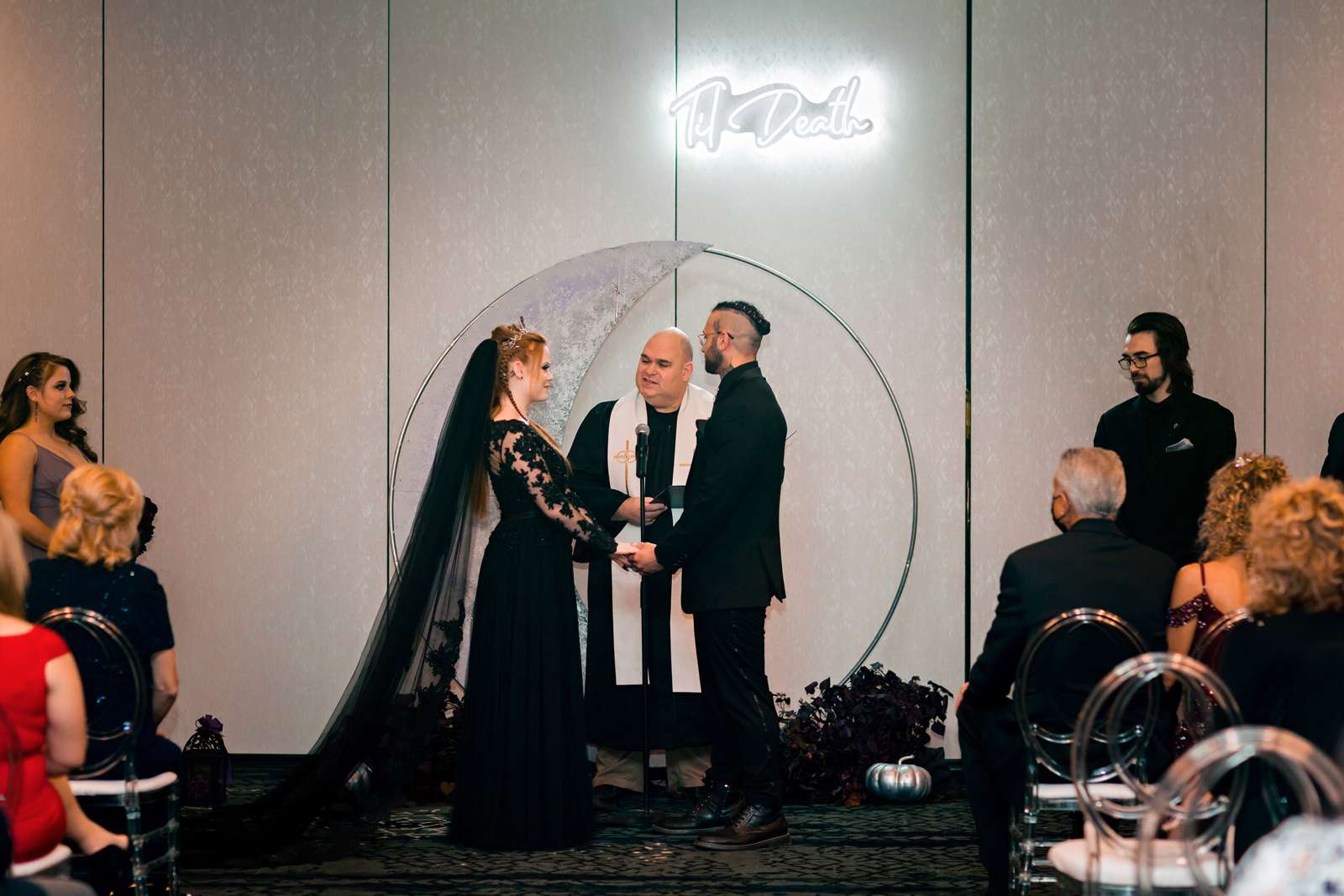 The day was held at the Hilton Garden Inn in Pittsburgh. The bride wore a black dress by Badgley Mischka (which she'd picked out before they even got engaged!) She fell in love with it because it was a traditional dress but just in black. She paired it with a black veil, silver crown with crystals and carried a faux flower black, purple and pink bouquet.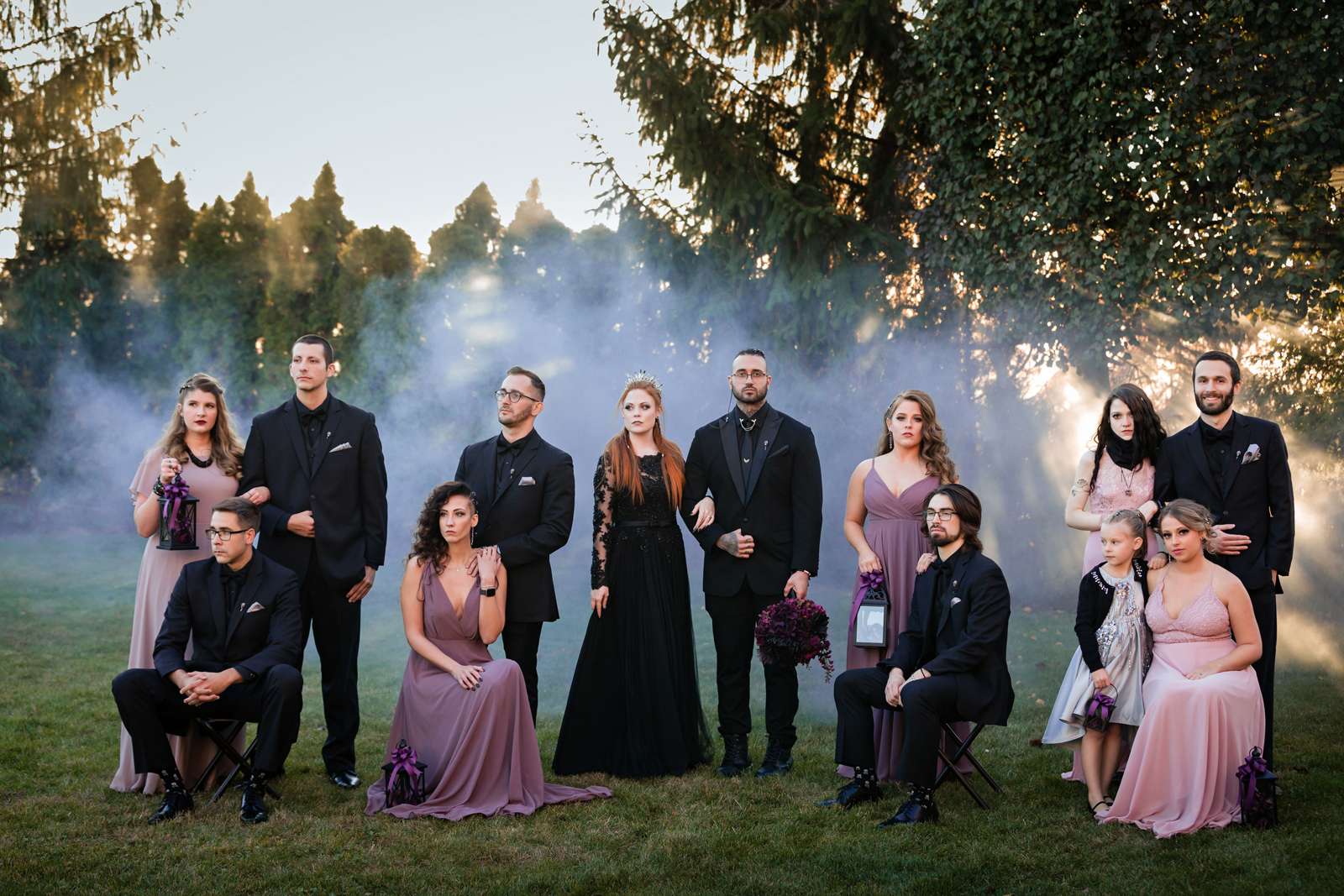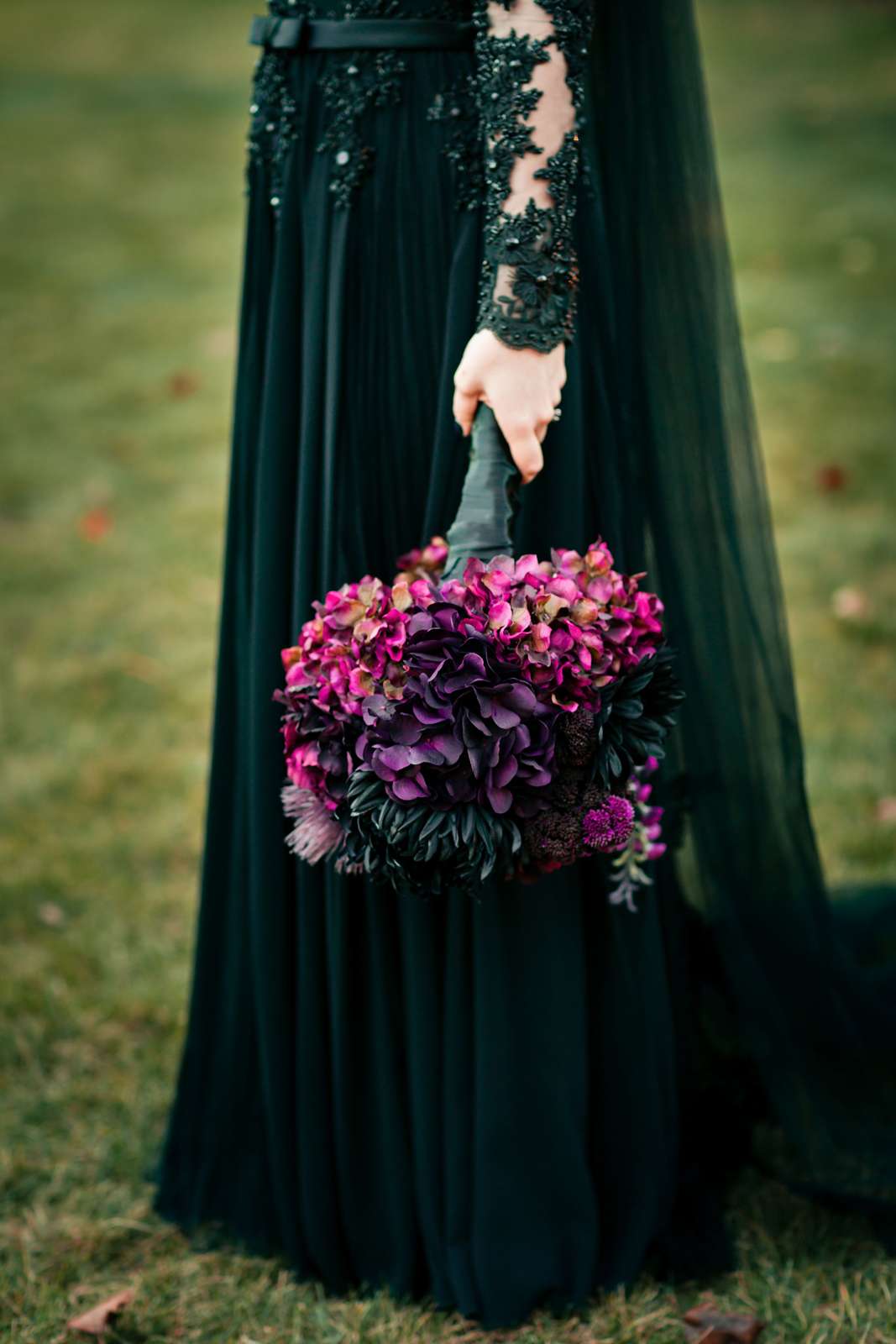 "It was actually quite a struggle to choose a bouquet", she continued, "Obviously, I wore a black dress so even though I loved the idea of dark or black flowers, I didn't want them to just get lost in my dress. I knew that I wanted something unique to pop, but still something dark. I thought about making a skull bouquet of white flowers and then two white anemones with dark centres for the eyes and crafting the smile out of black wire. The more I thought about it, I didn't want things to be too literal so I scratched that. I looked into buying a broach bouquet, but yet again it didn't completely sit well with me, it felt too flashy for what I was going for. One day, I was sitting playing around with some flowers for the table displays and realised I could just go with those flowers and others in the magenta colour scheme. So, I went back to Hobby Lobby for supplies and made my own bouquet. I felt really pleased with it and how it fit with the rest of the wedding décor as well."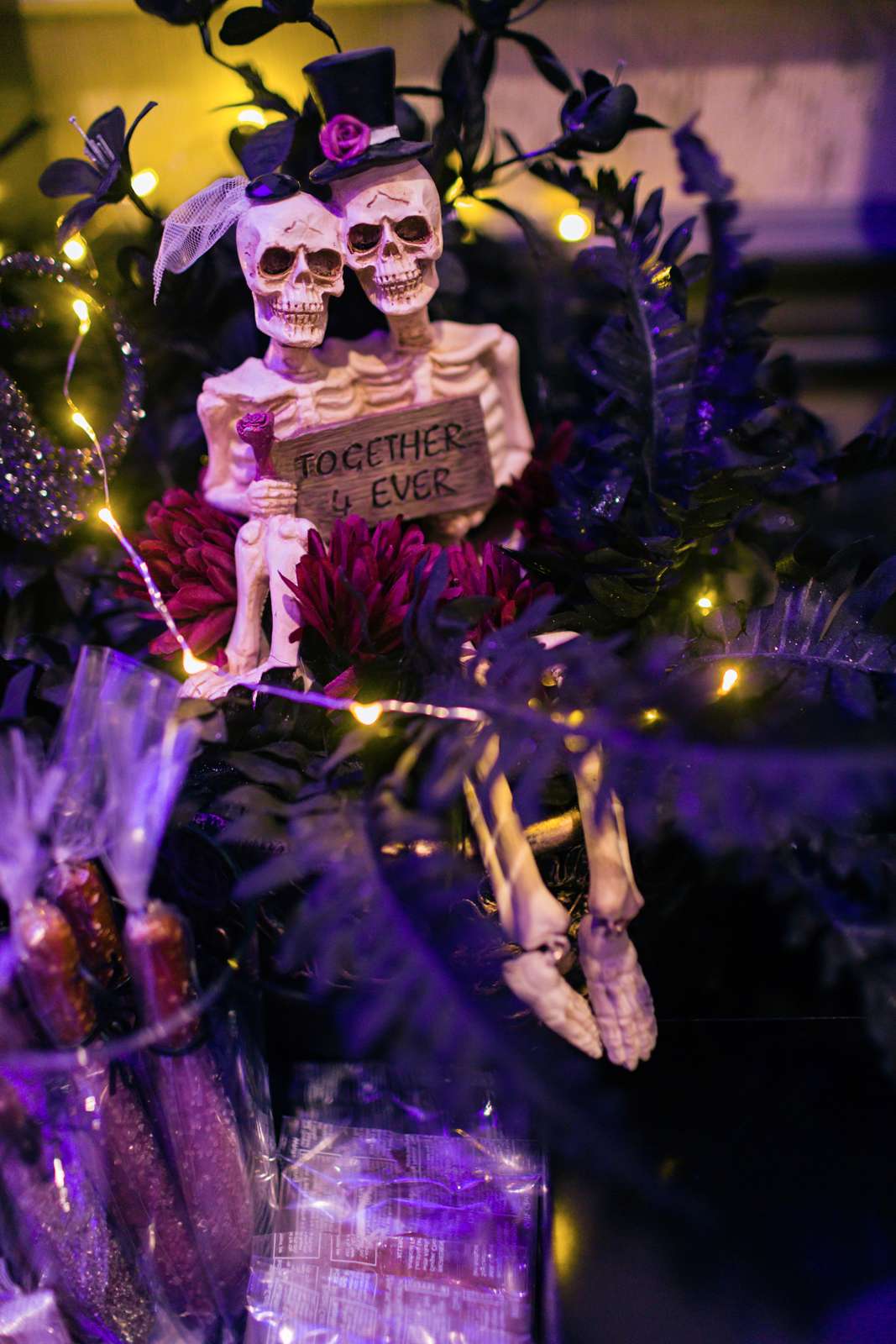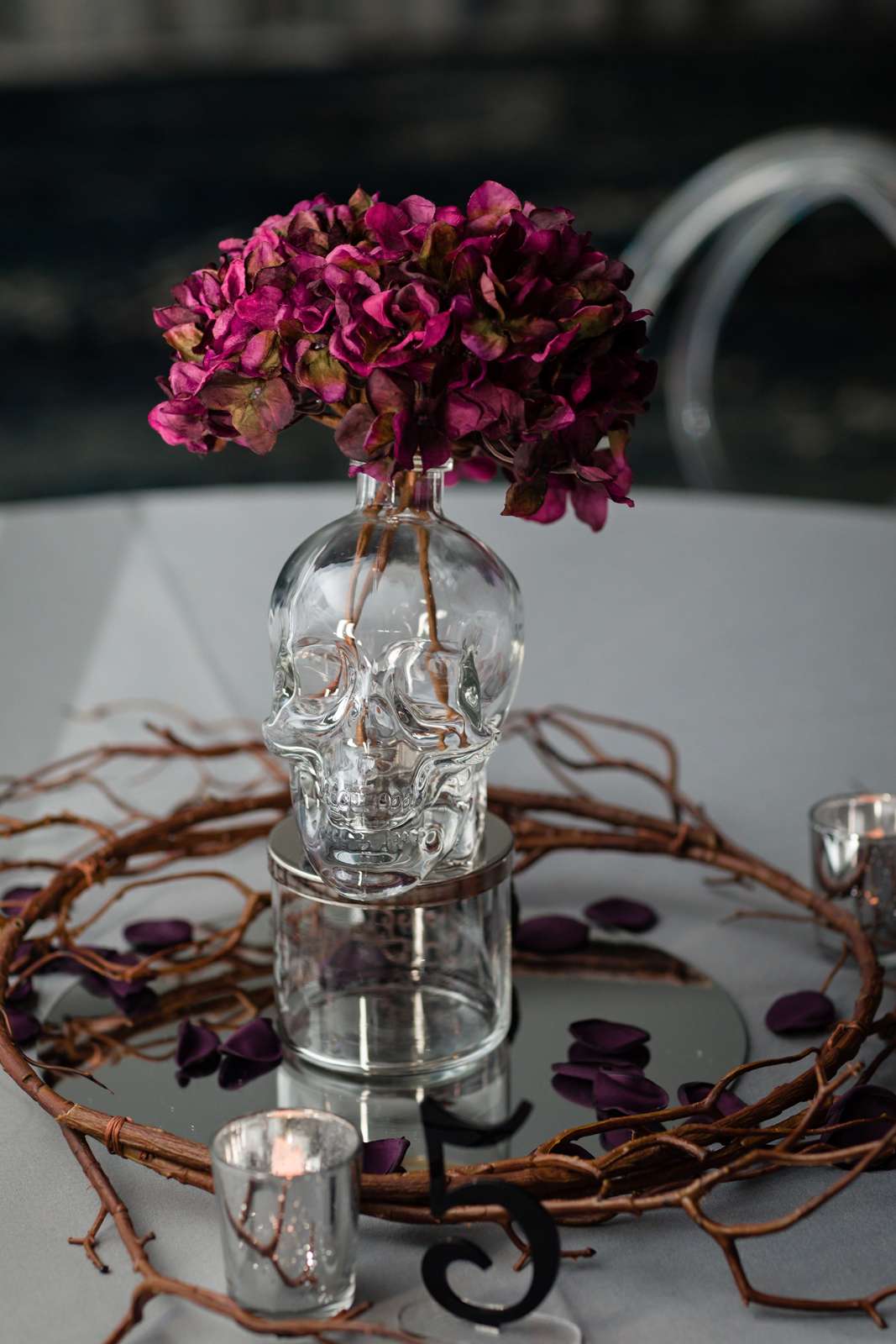 The cake was grey with pink and purple flowers (after their baker informed them that black icing would turn everyone's teeth black!) and for décor they took a less is more approach with skull figures, a 'til death neon sign and Crystal Head vodka bottles for the centrepieces. "We paid extra for the clear ghost phoenix chairs and I will never regret it. I swear those chairs were a huge part in making the reception have that mystical fantasy feel. Of course, the hubby said, 'So, we are paying more to be less comfortable?' LOL!"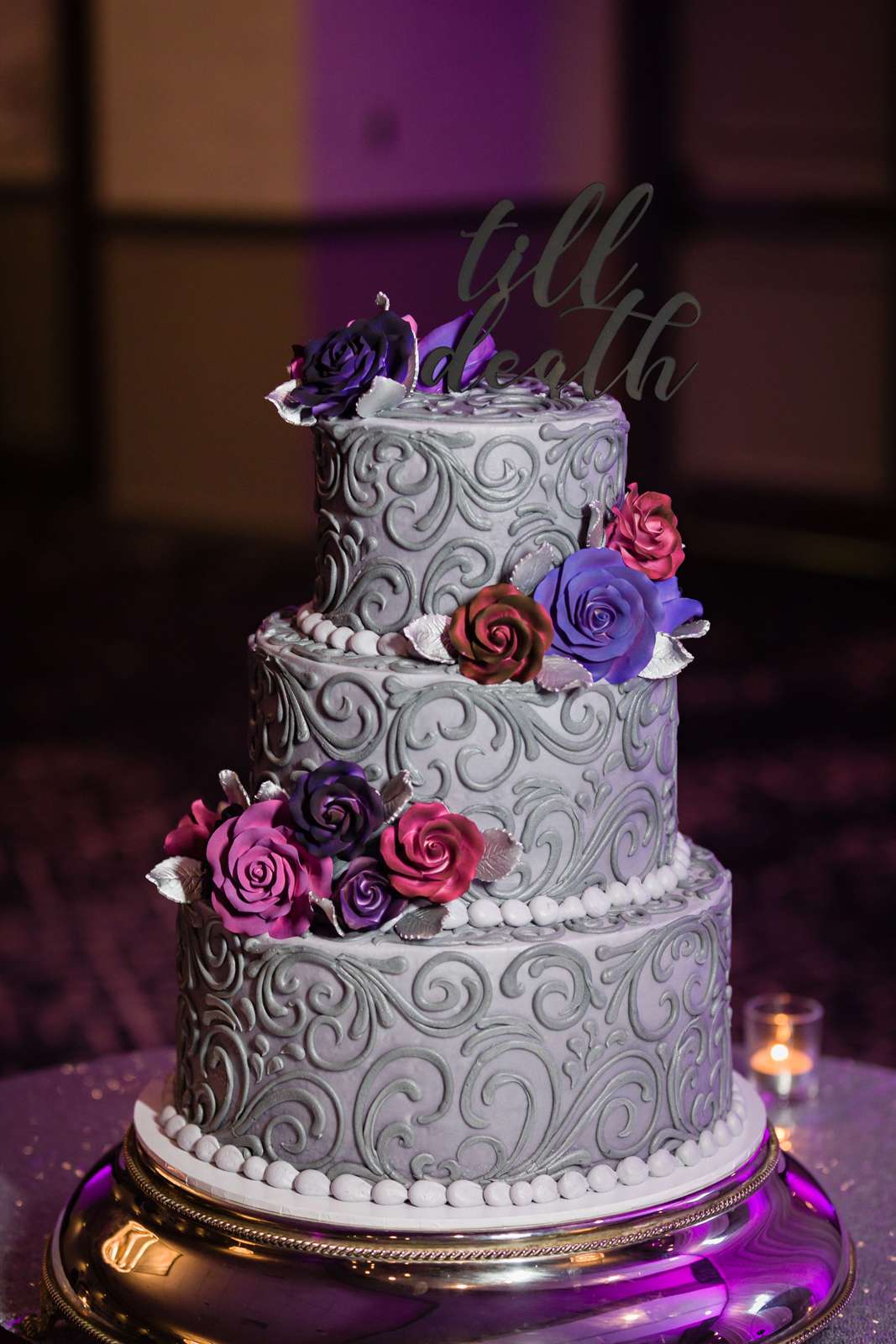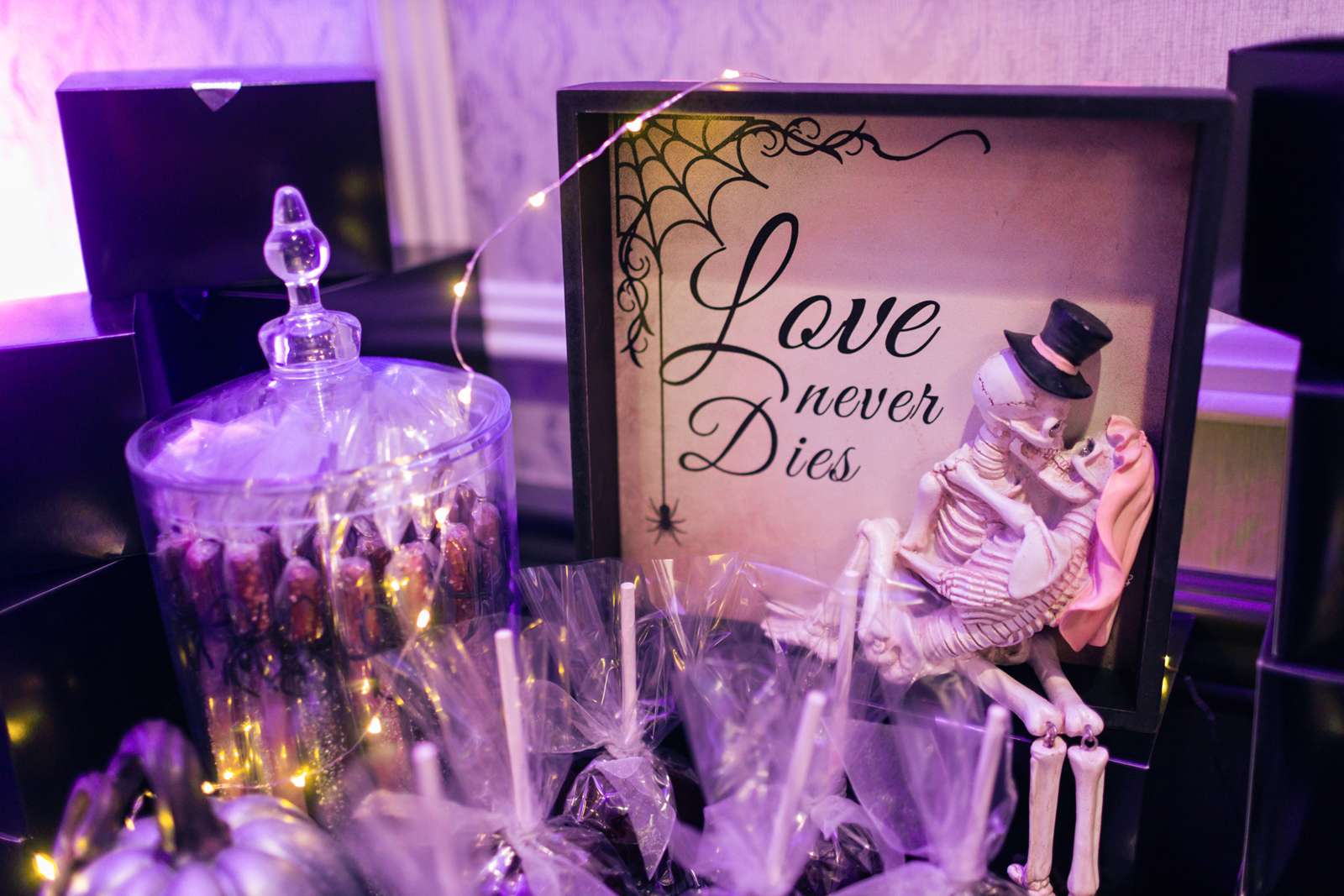 They planned the wedding in just ten months and had the most perfect for them day. "Covid obviously made things a little complicated, but we pulled through", she concluded. "We even said that if everything fell through that we would still get married on Halloween without the reception because we just couldn't wait to be married and wanted that date."
Oh and Heather did still get her La Vegas idea too, because they honeymooned there afterwards!