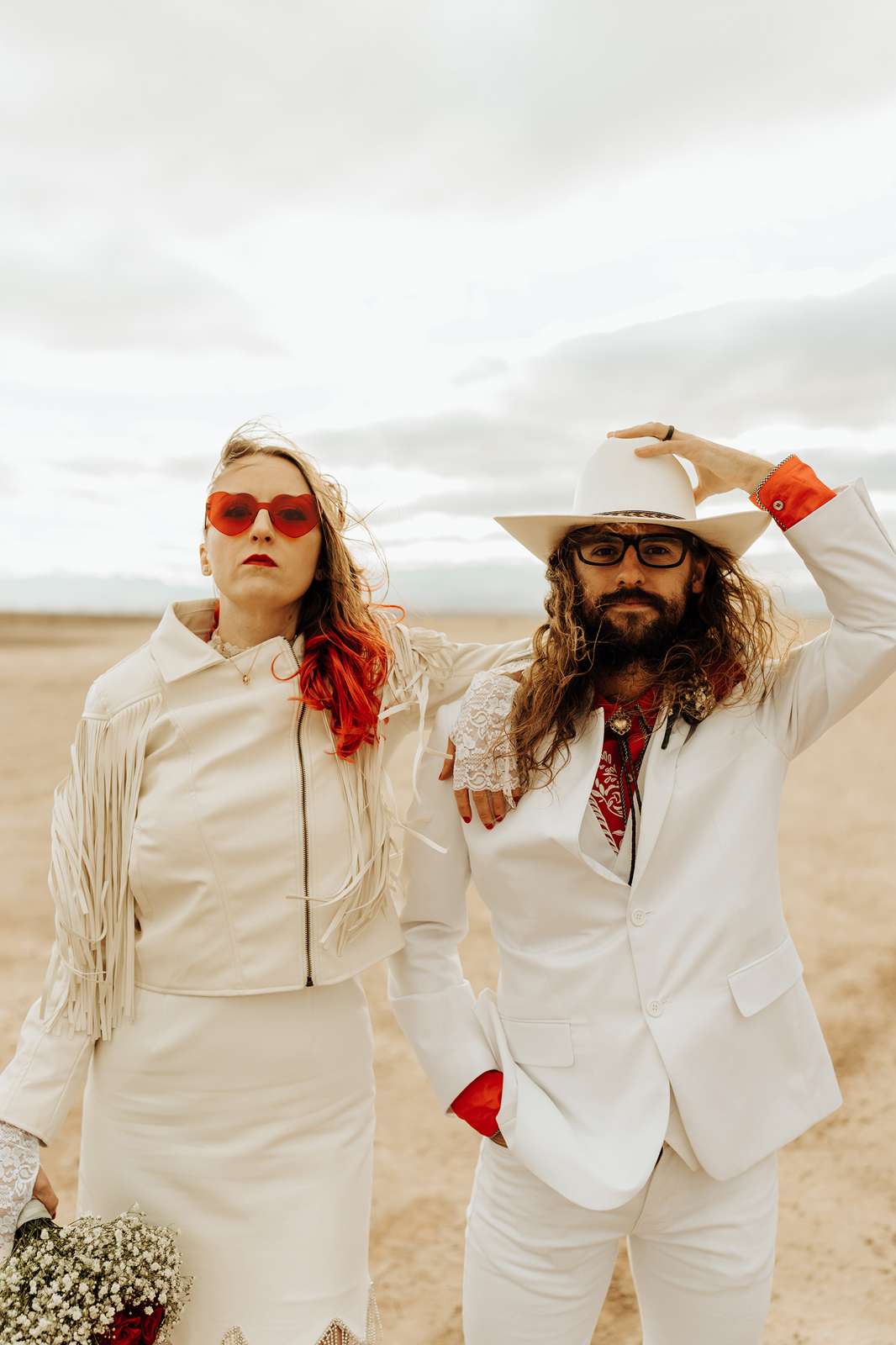 In an era where wedding planning can be stressful and financially straining, Colette and Jesse decided to take a different approach and elope in Las Vegas. Inspired by the style of a vow renewal in Vegas that they'd seen on Rock n Roll Bride and creative editorial style weddings, the couple set out to plan a Western Valentine themed wedding for under $5,000.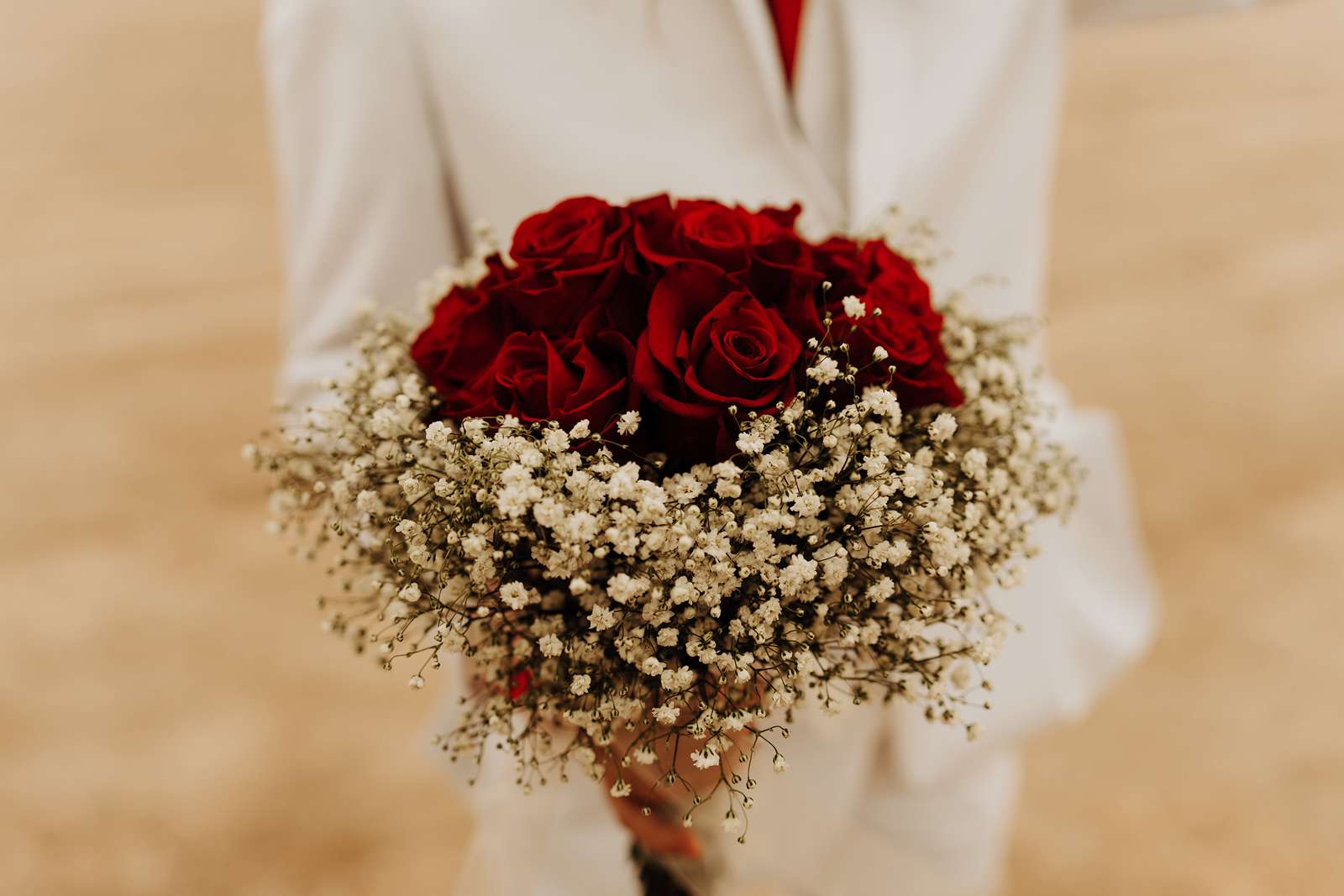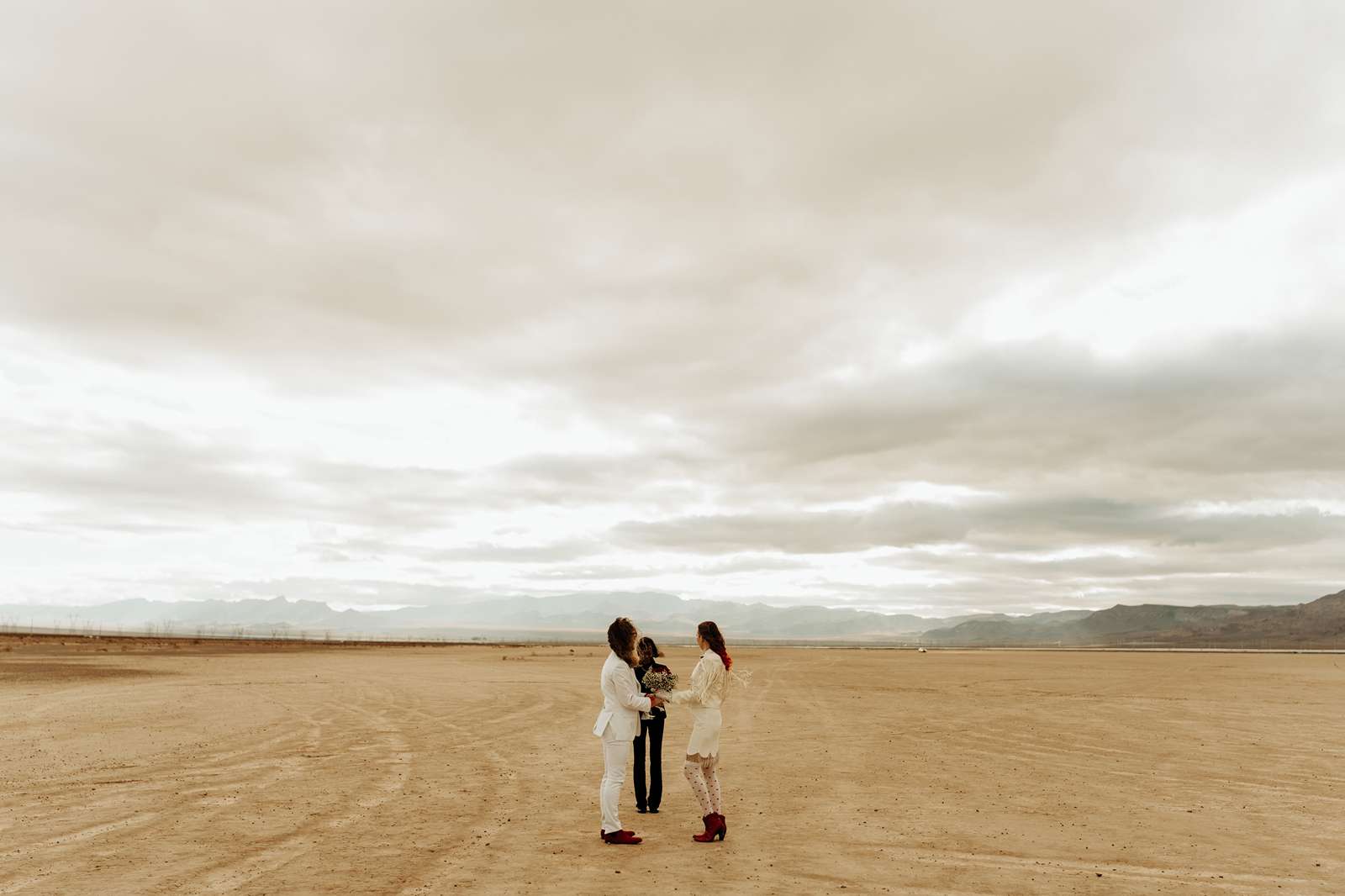 "We didn't want to do the traditional chapel route," Colette explains. "I'm a writer and editor, and it was important to me to have knowledge of and ultimate control over our ceremony script. We also weren't aware of the homophobic history of some of the chapels and the conveyor-belt feel of others."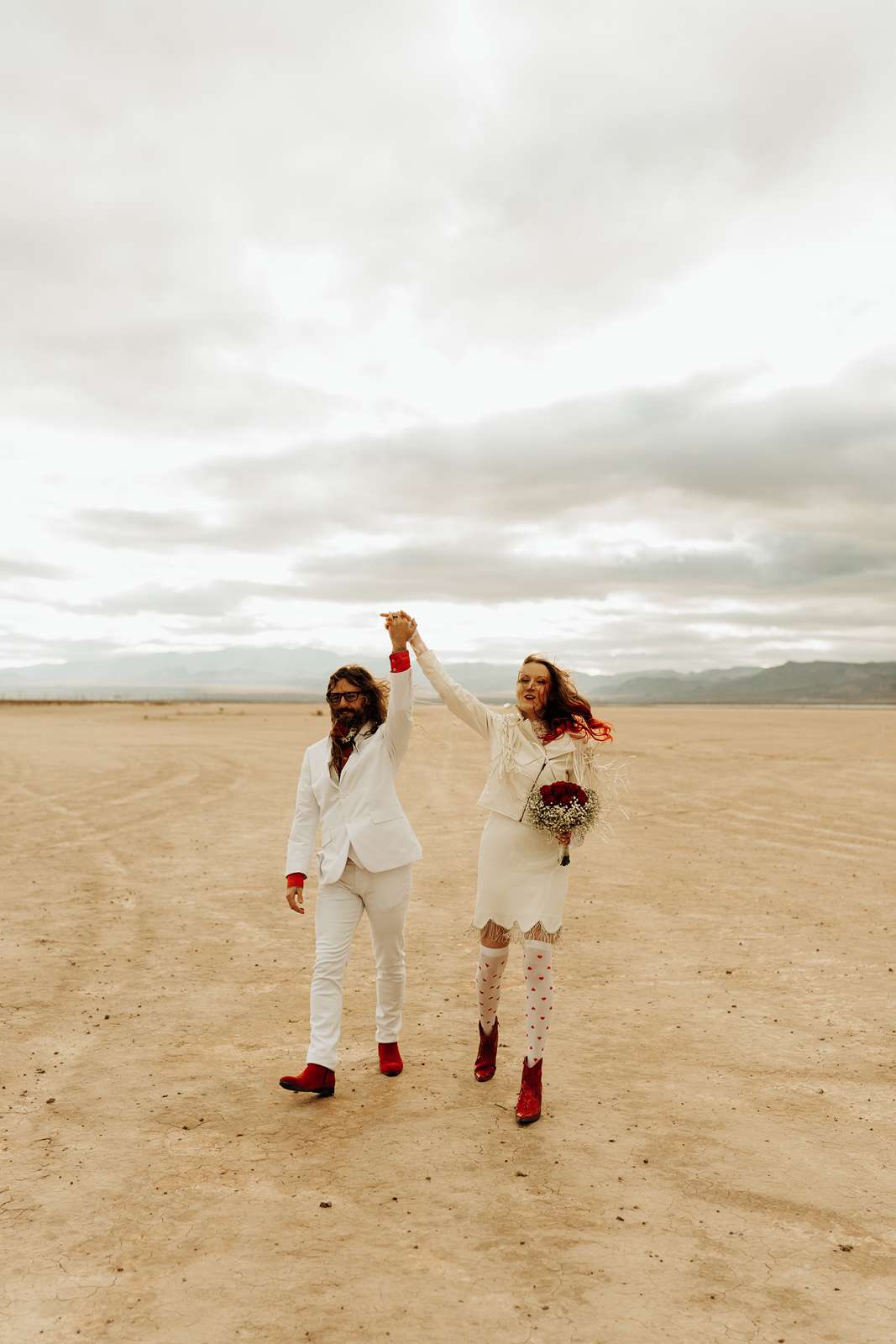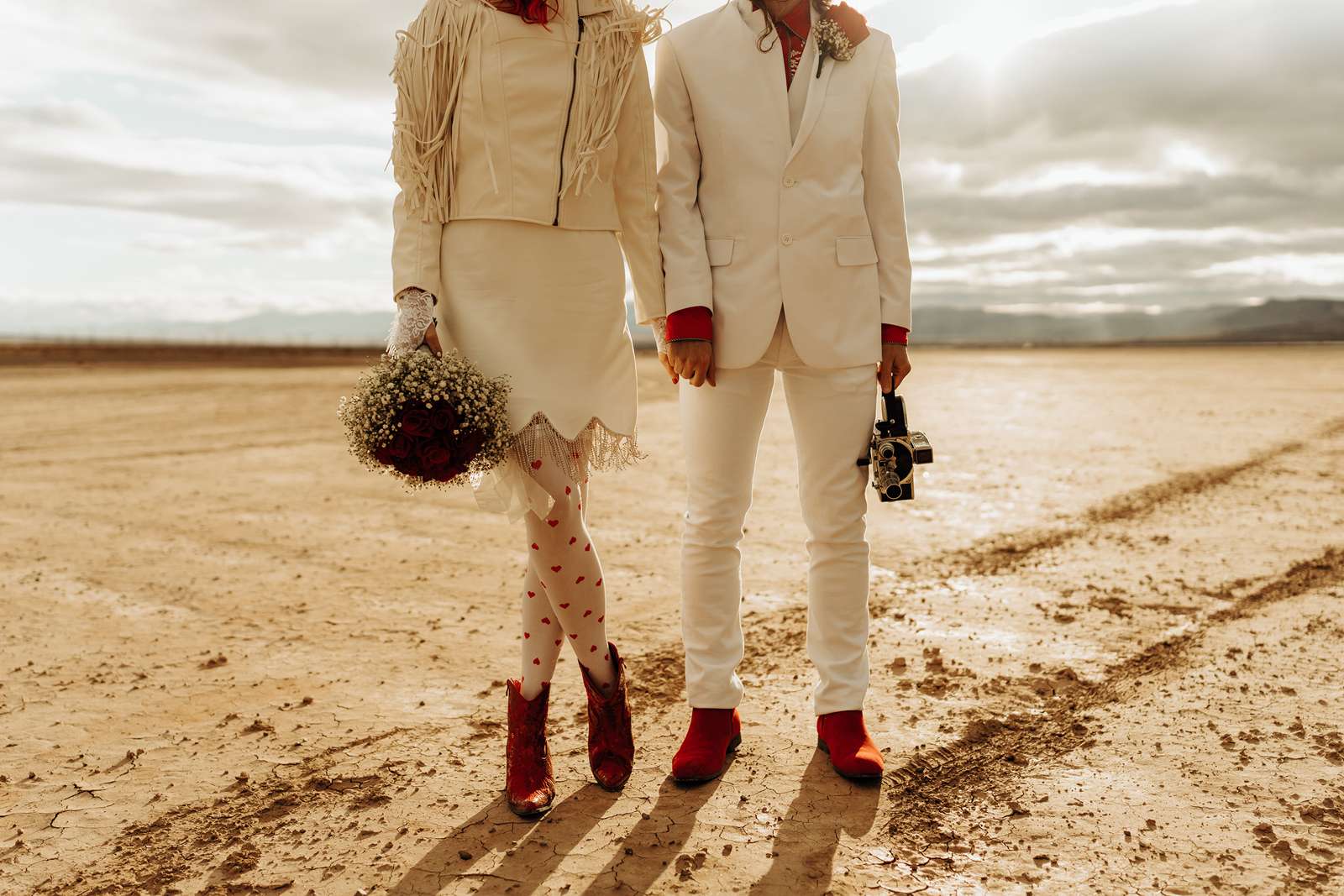 The couple faced several challenges while planning their elopement so they chose to forgo a chapel ceremony and exchange their vows in the desert instead. "It was windy, and it was hard to hear the officiant," Colette says. "But it was a spiritual moment. I was touched to see my partner cry when I said my vows." Afterwards, the couple celebrated with a Mexican meal at the patio of the Mandalay Bay, where they had first decided upon eloping. "We even ran into an Elvis impersonator on Fremont Street," Colette says. "It was cool how strangers congratulated us on the street."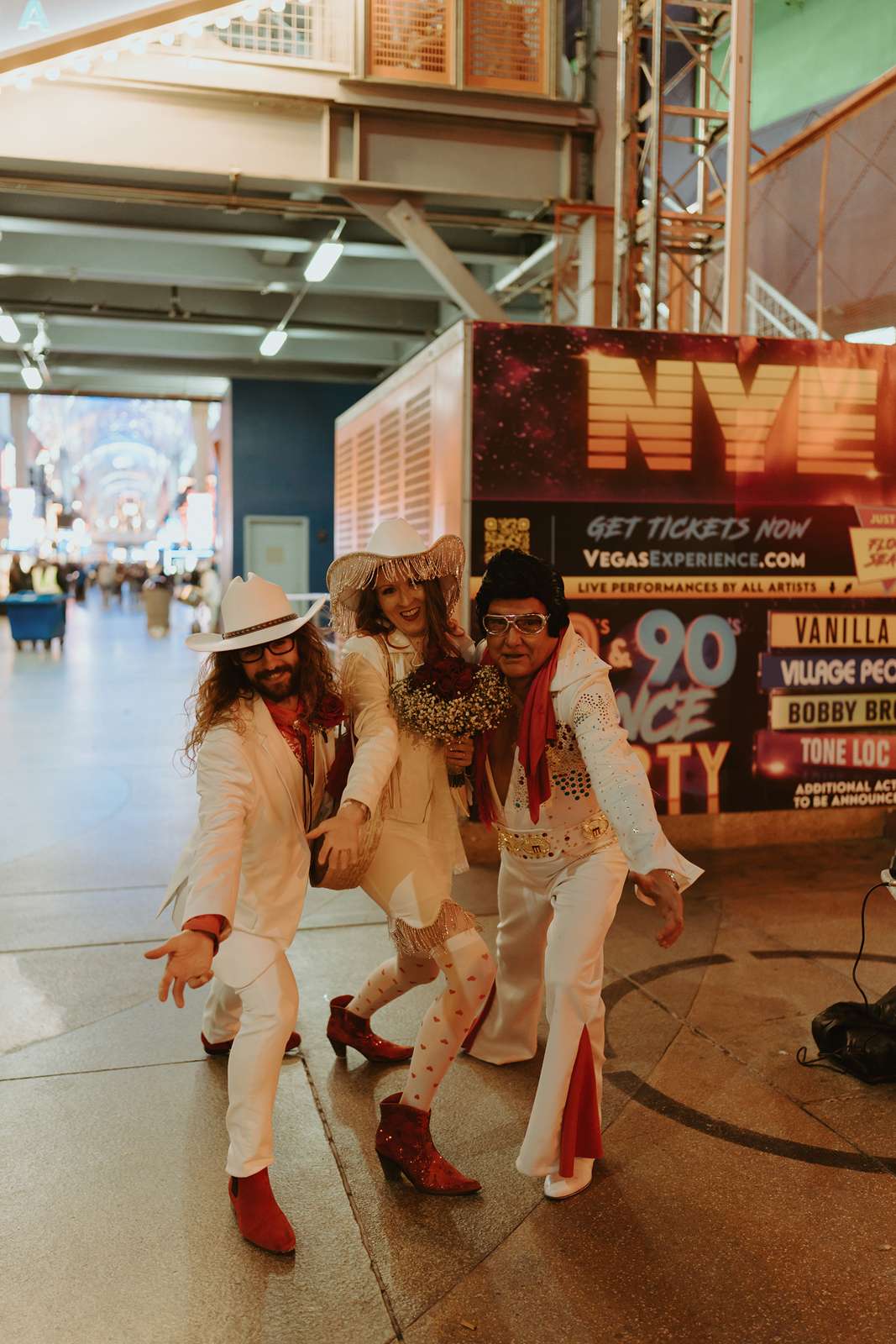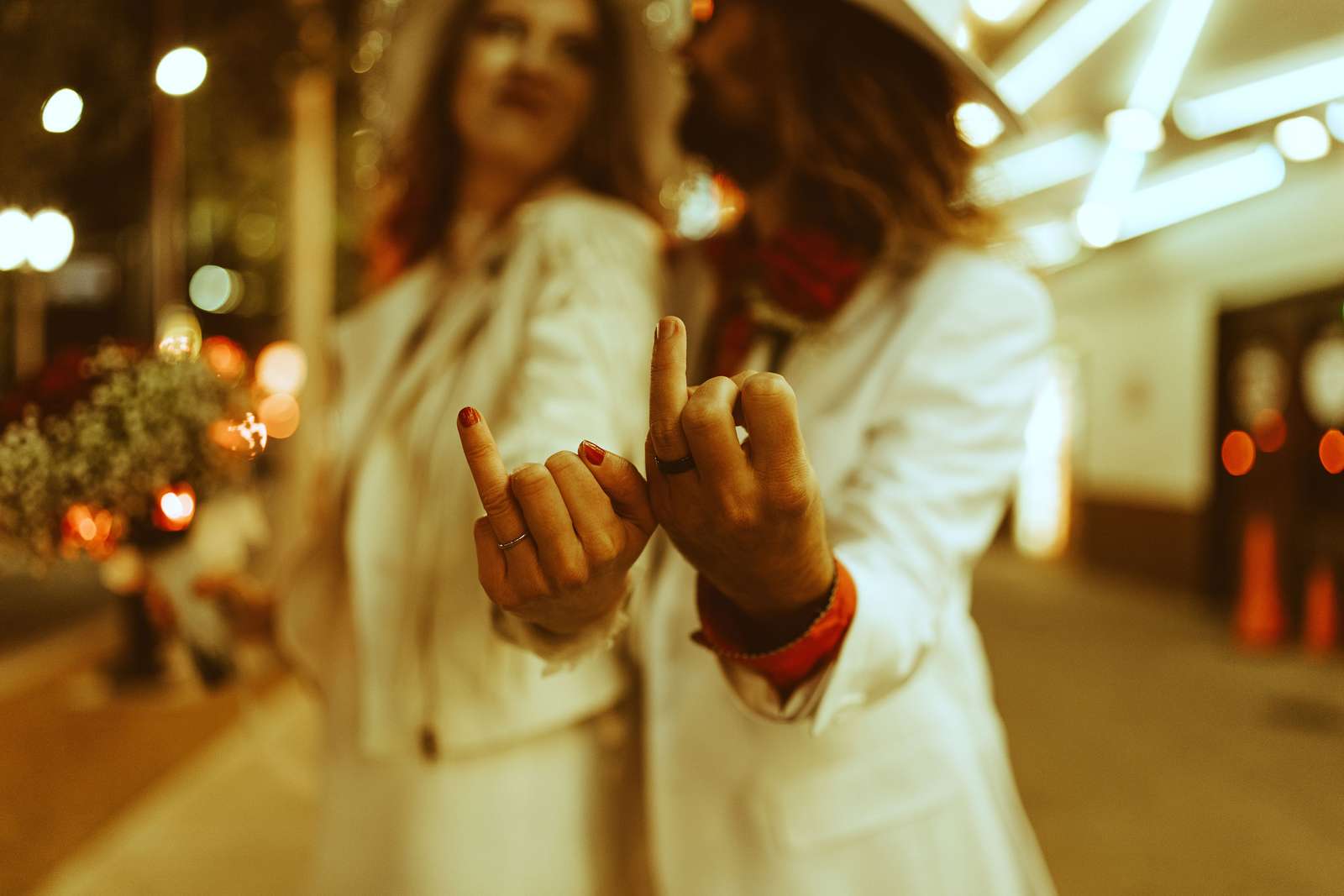 When asked about her favourite experience planning the wedding, Colette spoke fondly about choosing their outfits. "I felt like planning our outfits was its own art project. We both came together on what individual looks we wanted that also matched. I tried to make my own bouquet to save money without realising wedding bouquets are different from regular bouquets (like for one, they take out the rose thorns!)" In the end, she got her bouquet from a local florist and wrapped some red heart lights around it herself.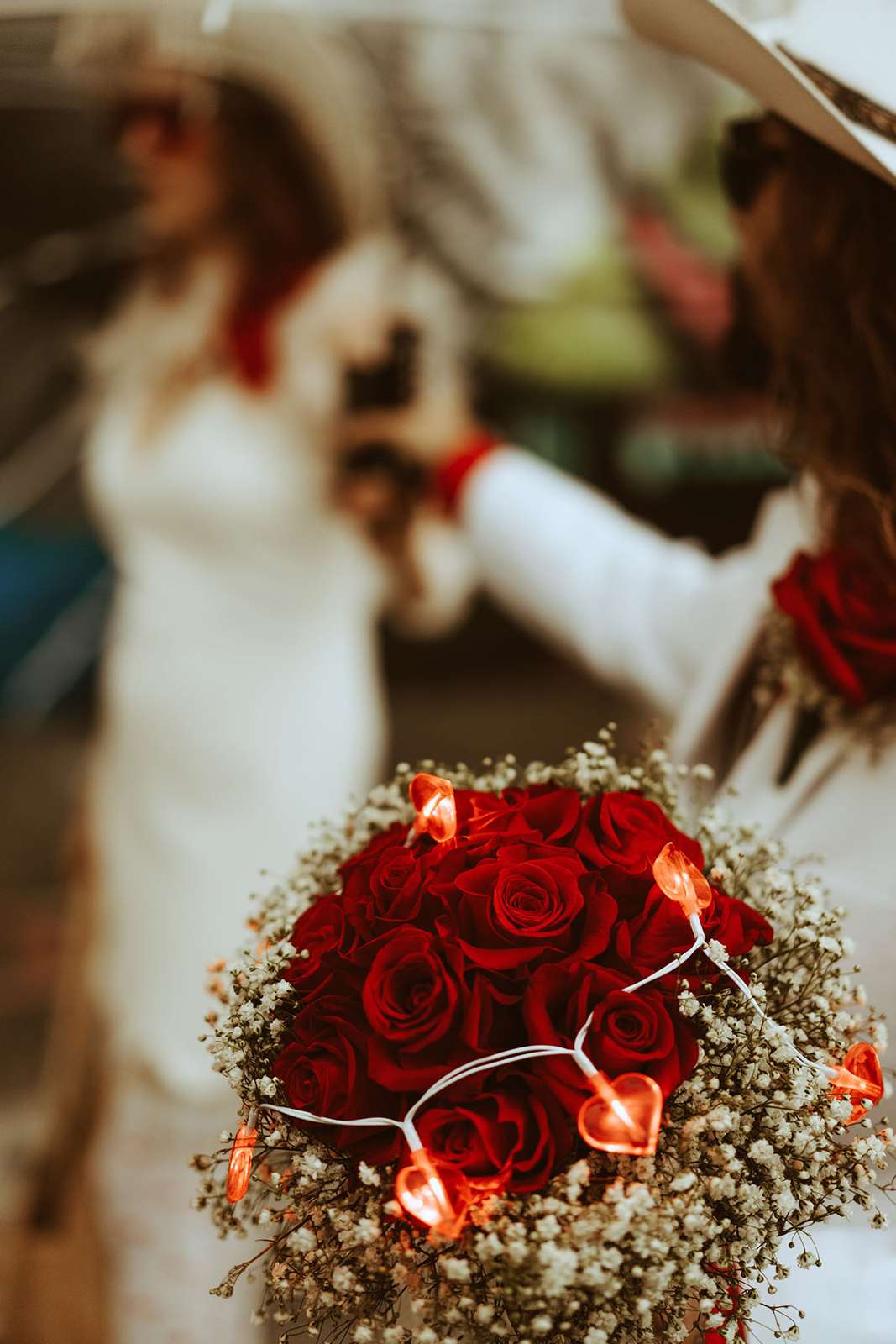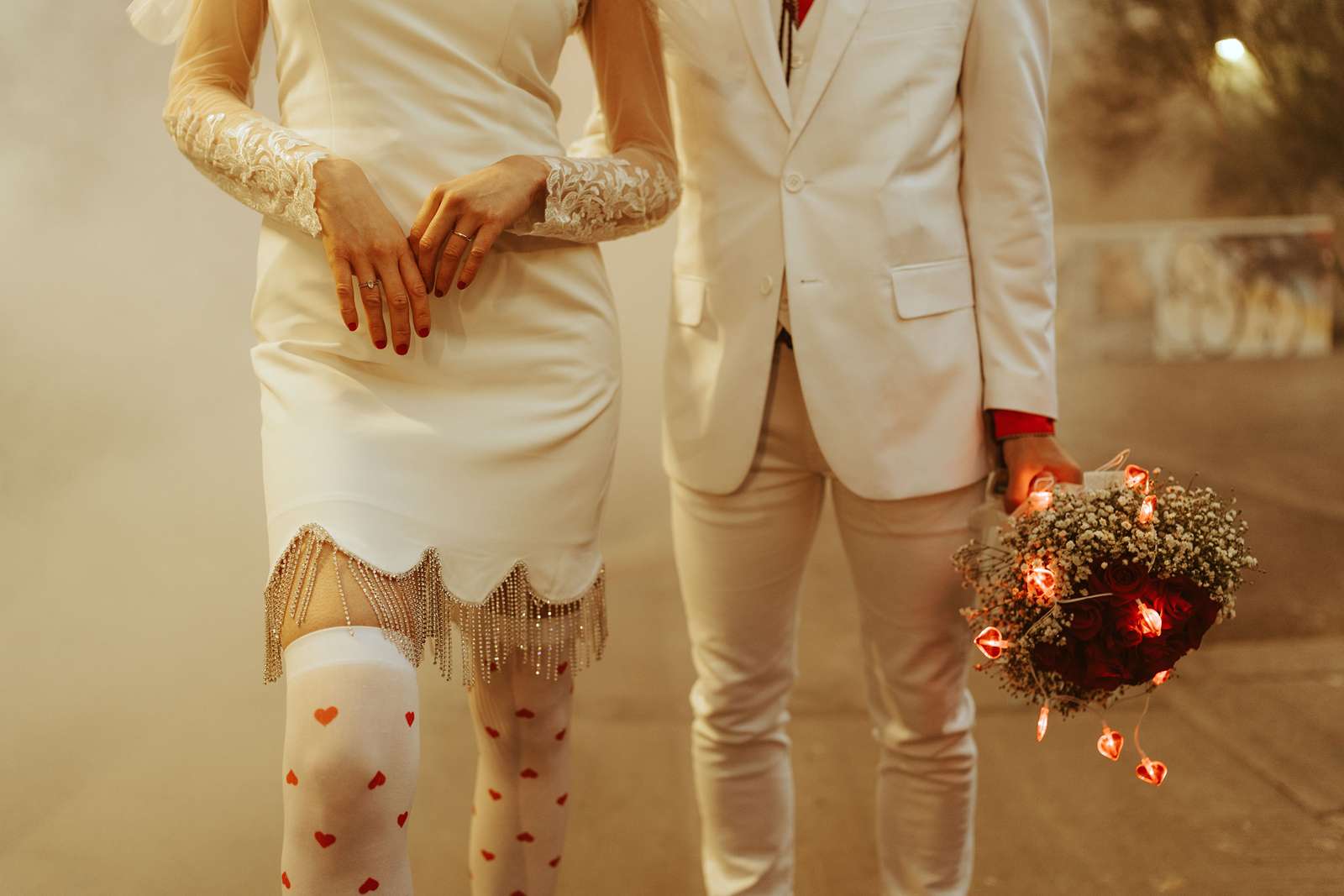 Colette was determined to feel like herself on her wedding day, so a traditional wedding gown just wasn't going to cut it. Buying something non-bridal also saved money. "I tried on a traditional couple-thousand-dollar dress that I really liked, and it was the only one I tried on in the traditional bridal store", she explained. "But it not only felt wasteful, it felt kind of empty. Like just put on a generic pretty white dress someone you don't know made for anyone to wear. Where was I in that? I wanted to create art with our wedding by curating different pieces that formed a statement. Though not gonna lie, sometimes I still think about that fancy dress! I also remember the shop owner, though nice, trying to manipulate me into buying by saying someone else might buy it if I didn't ACT NOW. That made it ironically easier to say no. I remember her trying to use the line 'It's the happiest day of your life' as persuasion. But anyone who runs some logic through that statement would find that there's no need to spend more than you feel comfortable with, because if it's 'the happiest day', then it'll be happiest day regardless. Plus for me the happiest day was when we decided to get married."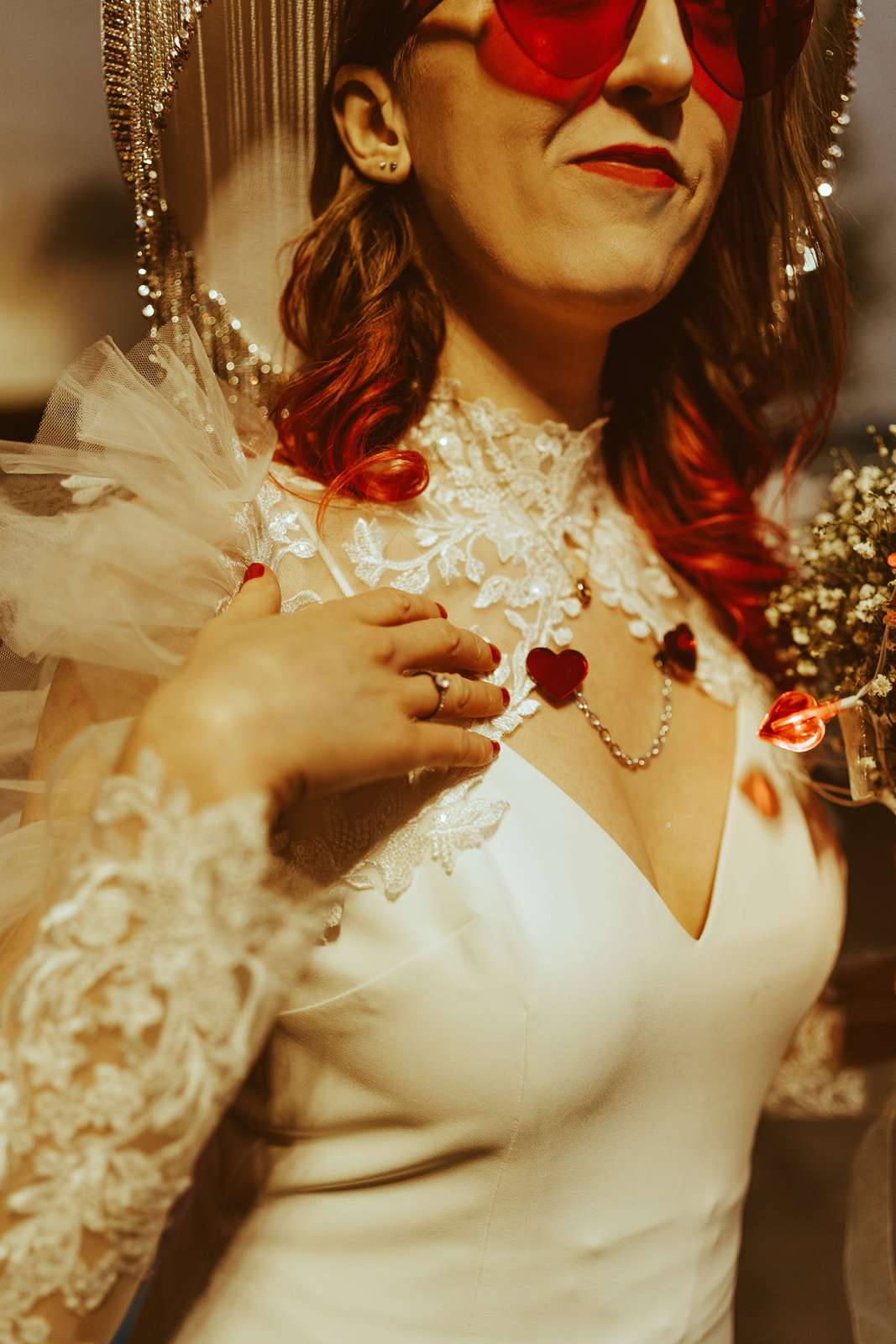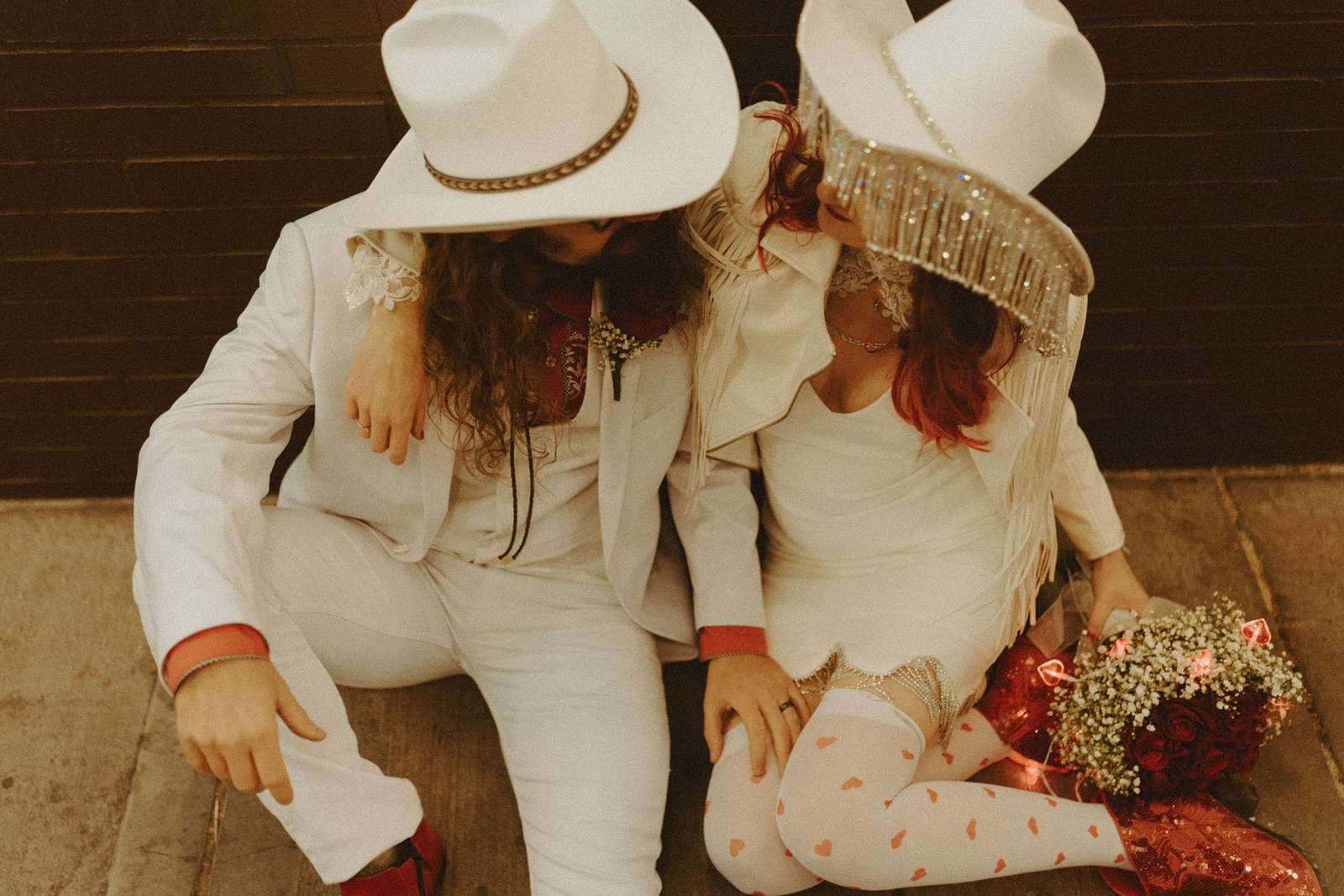 Colette also expressed that setting boundaries with family and friends was important, especially as they eloped without any guests "A lot of people deal with pressures from their families and friends about how things should be done," she says. "I think the wedding planning is a great template for setting boundaries in your relationship going forward. Even if someone wants things done differently, this is your chance to set an example and tell people that you will make your own decisions as a couple going forward."