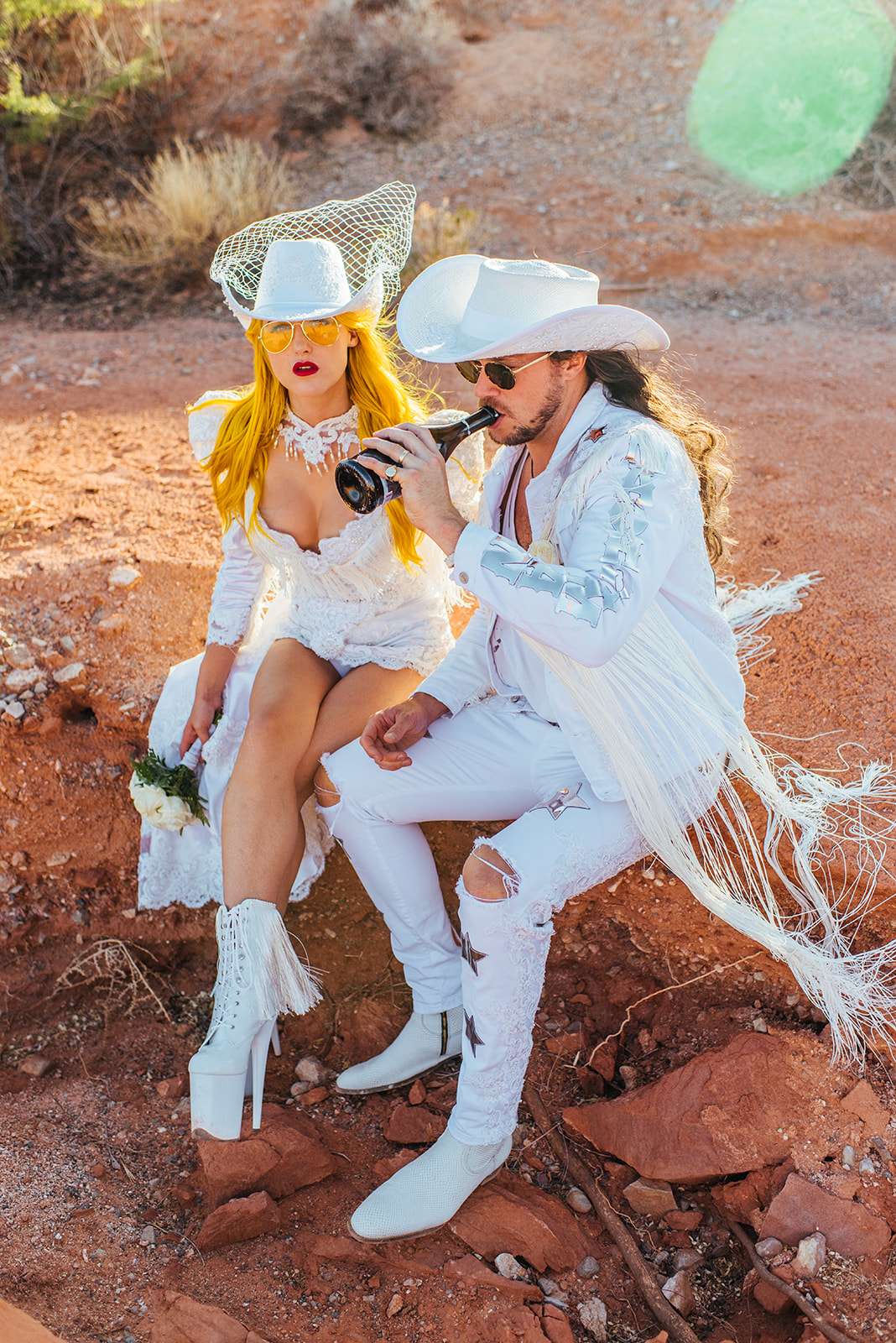 You probably know Sophia Hilton already – bad ass business babe behind the iconic Not Another Salon on Brick Lane. She even has her own series on BBC Three (I've definitely not cried watching those makeovers… Oh no ma'am). Married to Jorel for five years, the pair decided it was time to celebrate so zipped over to Sin City for a vow renewal to end all vow renewals.
Look up 'Rock n Roll wedding' in the dictionary and there will be a photo of these two right there.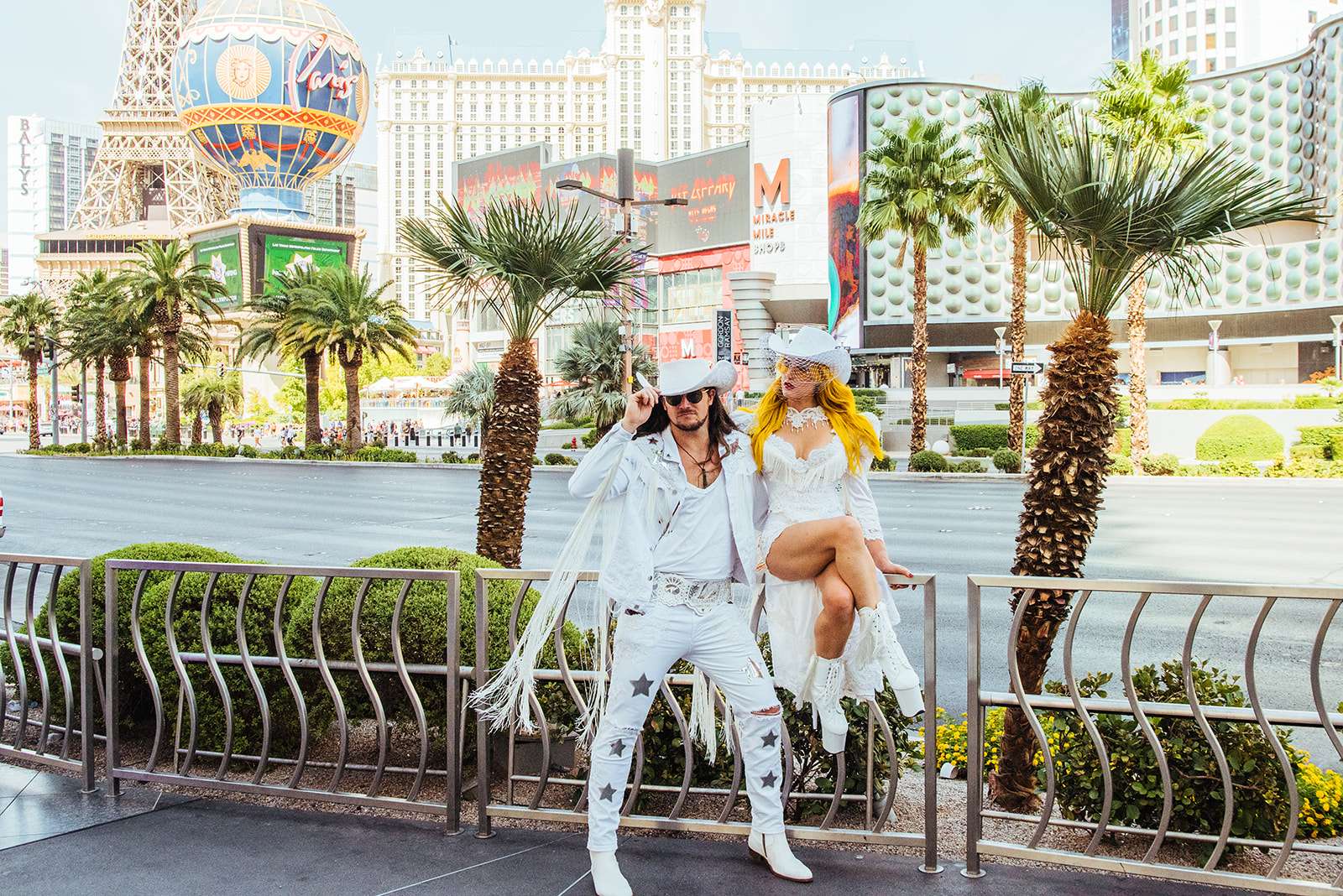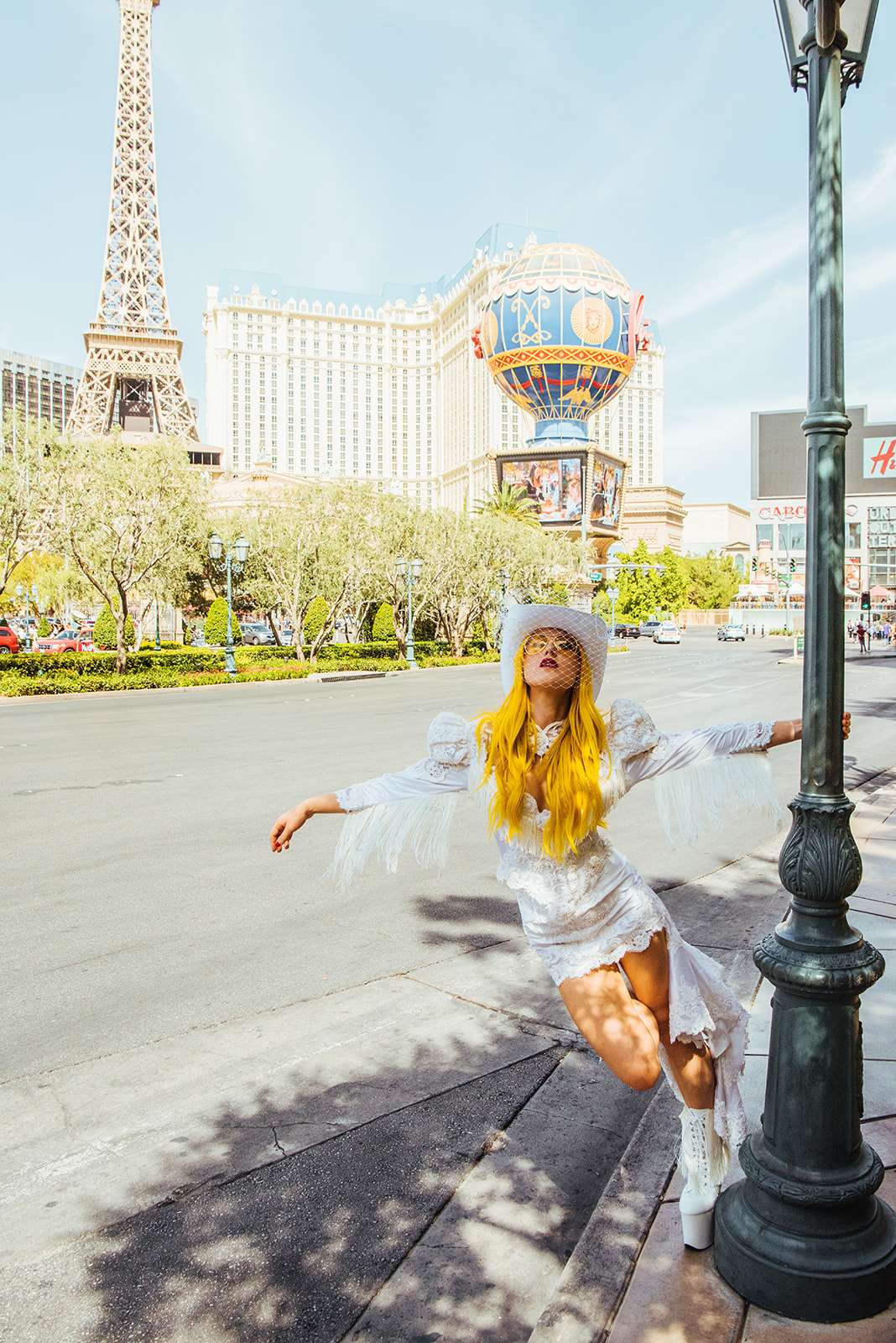 "We met in the back of a taxi, drunk, at 6am", Sophia told us. "Shortly after, we moved to Madagascar together to volunteer for six months. We then moved to England, got married, opened a hair salon and had a baby. We are now planning to adopt. We decided to renew our vows to have the wild version we couldn't have with the family the first time. Going OTT together was so fun. Having our reception at Sapphire Strippers was super funny, I mean Jesus, we did everything not be parents for one night and really lived a fantasy life!"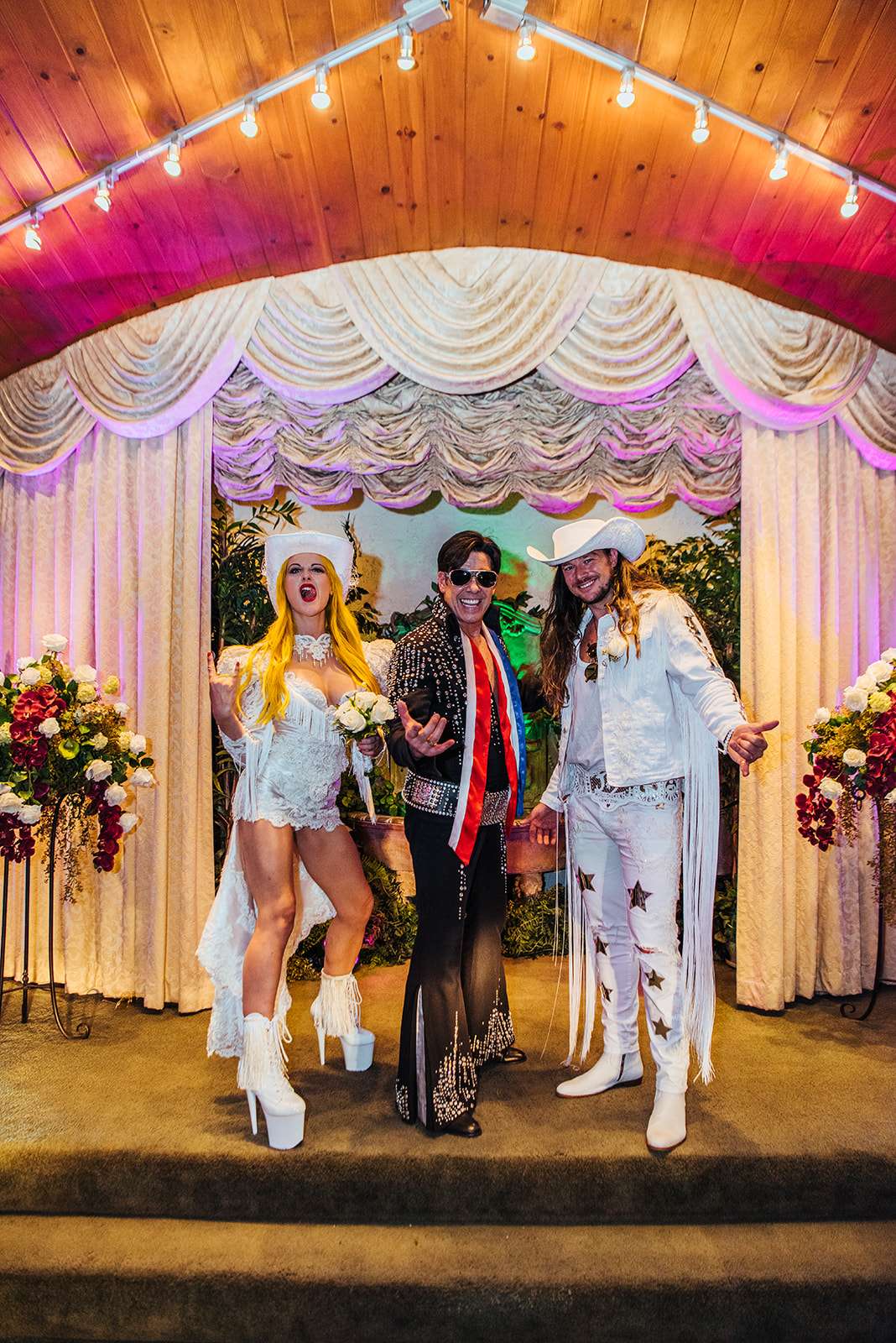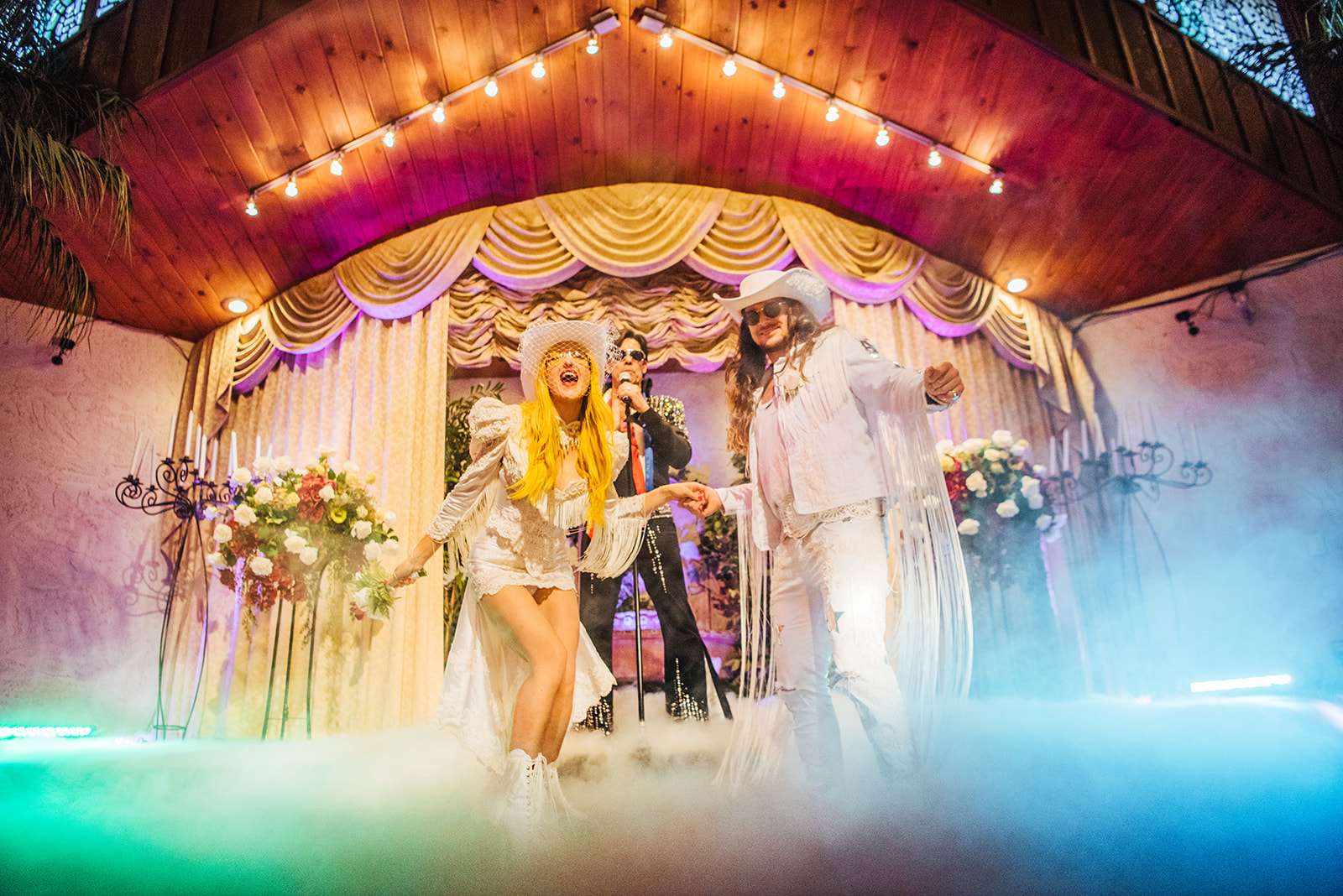 They found organising the day pretty easy and stress free (Vegas will do that to ya!) opting for Viva Las Vegas weddings for the ceremony and booking Ashley Marie Myers to document the antics. That was basically it! Everything is was on the fly, hilarious and exactly what they envisioned. "It didn't take much planning at all. When you get rid of other people everything gets easy!" she laughed.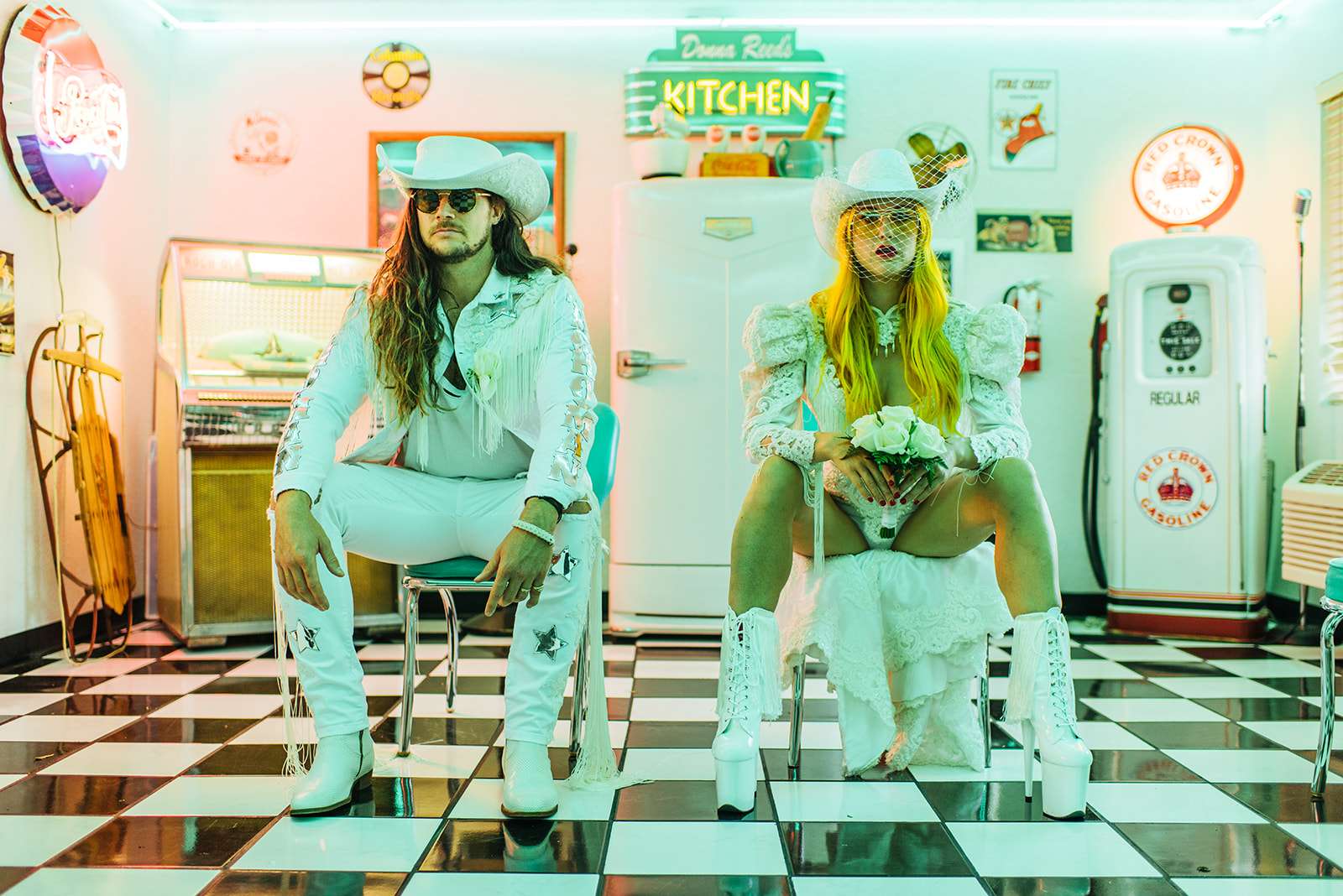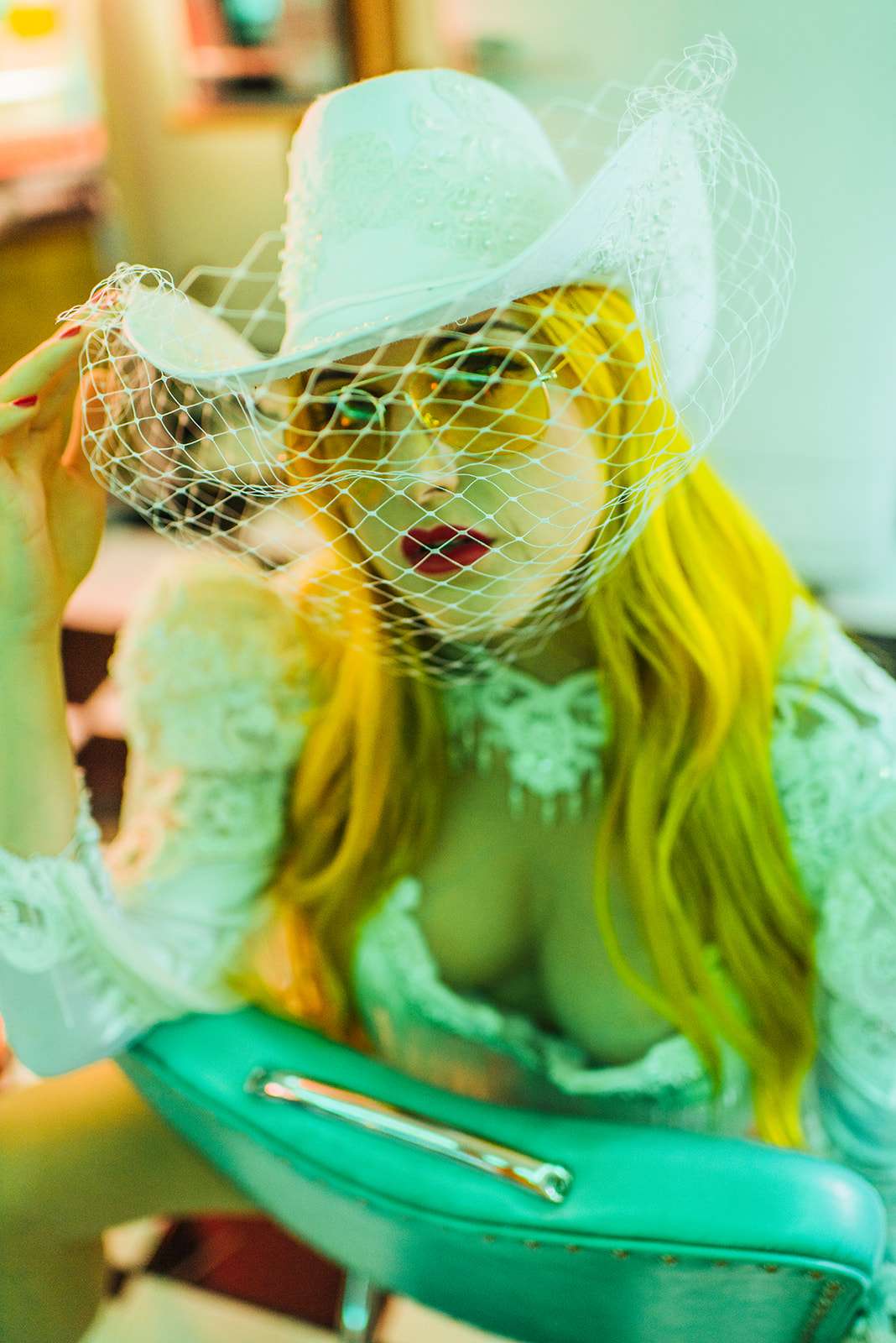 "We were super excited for the ceremony", Sophia continued "… and sweaty. The desert looks incredible but in all honesty it's painfully hot, even at sunset. But I'd do it all again in a heartbeat. We ended up falling more in love than ever before. Elvis was a sweetheart, it was 39 mins and super fun. I'm just so glad I didn't bring anyone with us. I really didn't want to share the attention or change the vibe from both of us."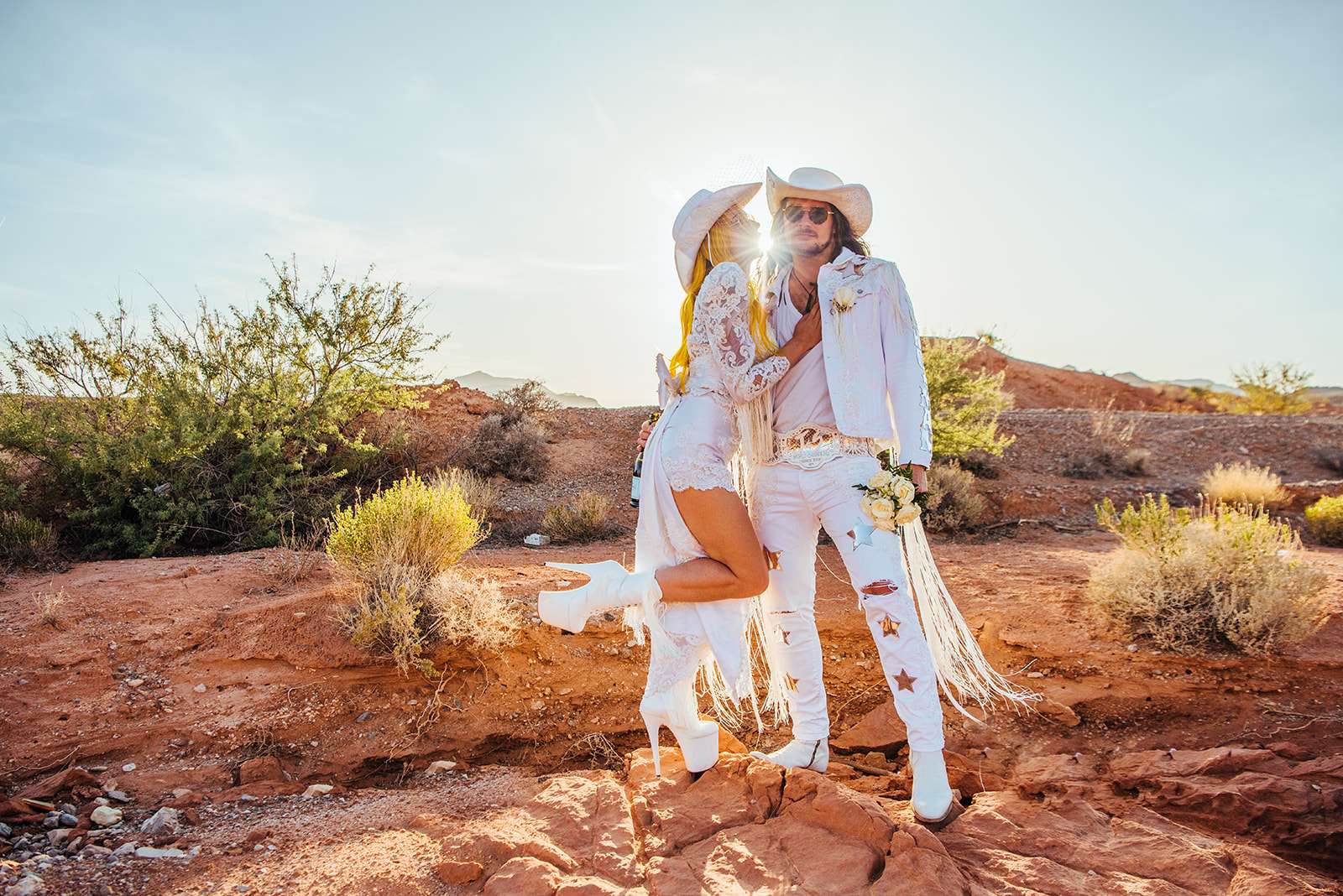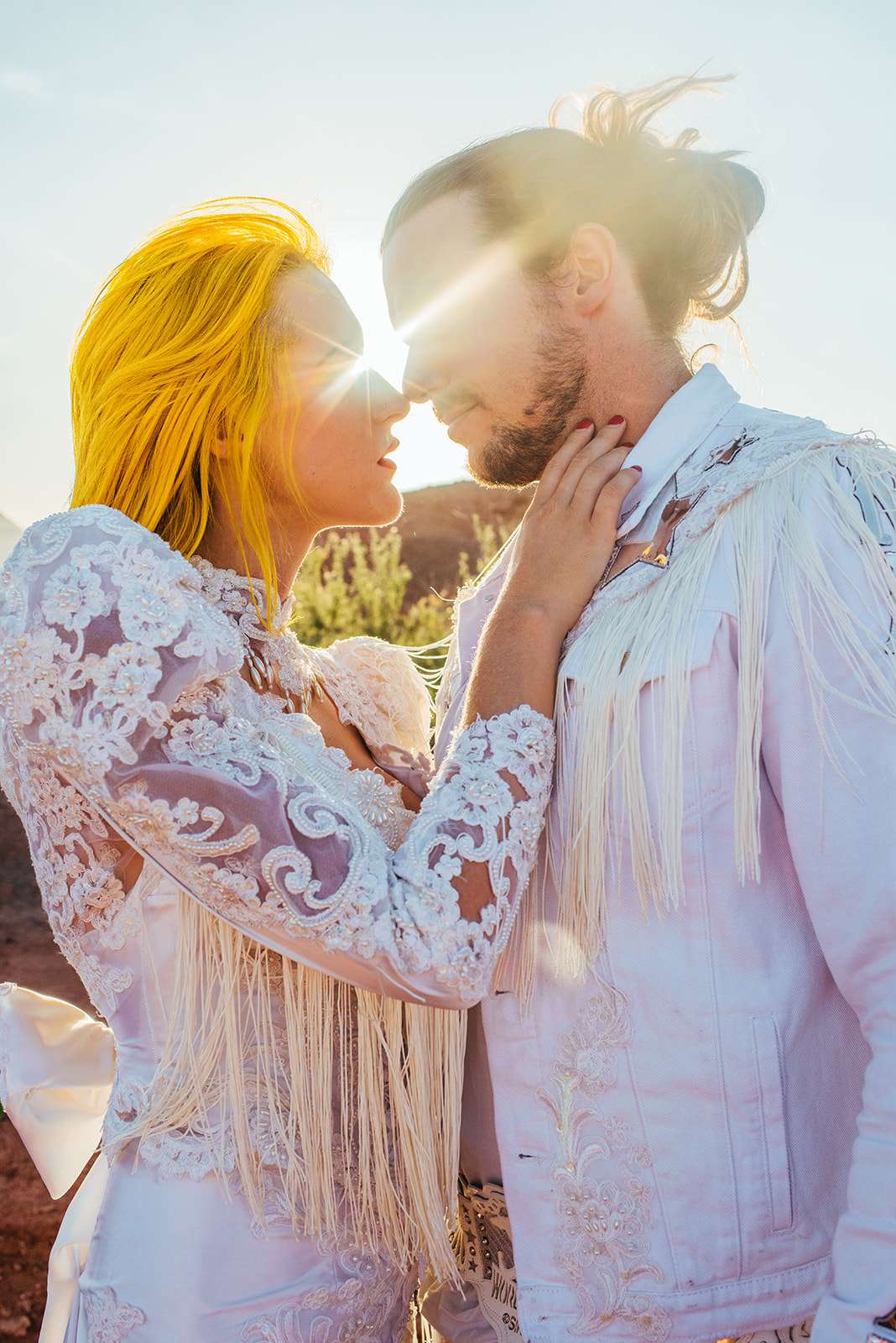 Sophia wore a vintage 80s dress, chopped up and made her own, which just happened to be the exact same dress she wore five years ago! She writes, "My original wedding dress was found in a charity shop in America. My friend chopped it up for me and made it into a fishtail, so it became 80s and modern all at the same time. Two years on I was in a charity shop in Australia and found the same dress! This time with more elaborate sleeves but certainly by the same company. I bought it again for no reason, just because I loved it and it sat under my bed."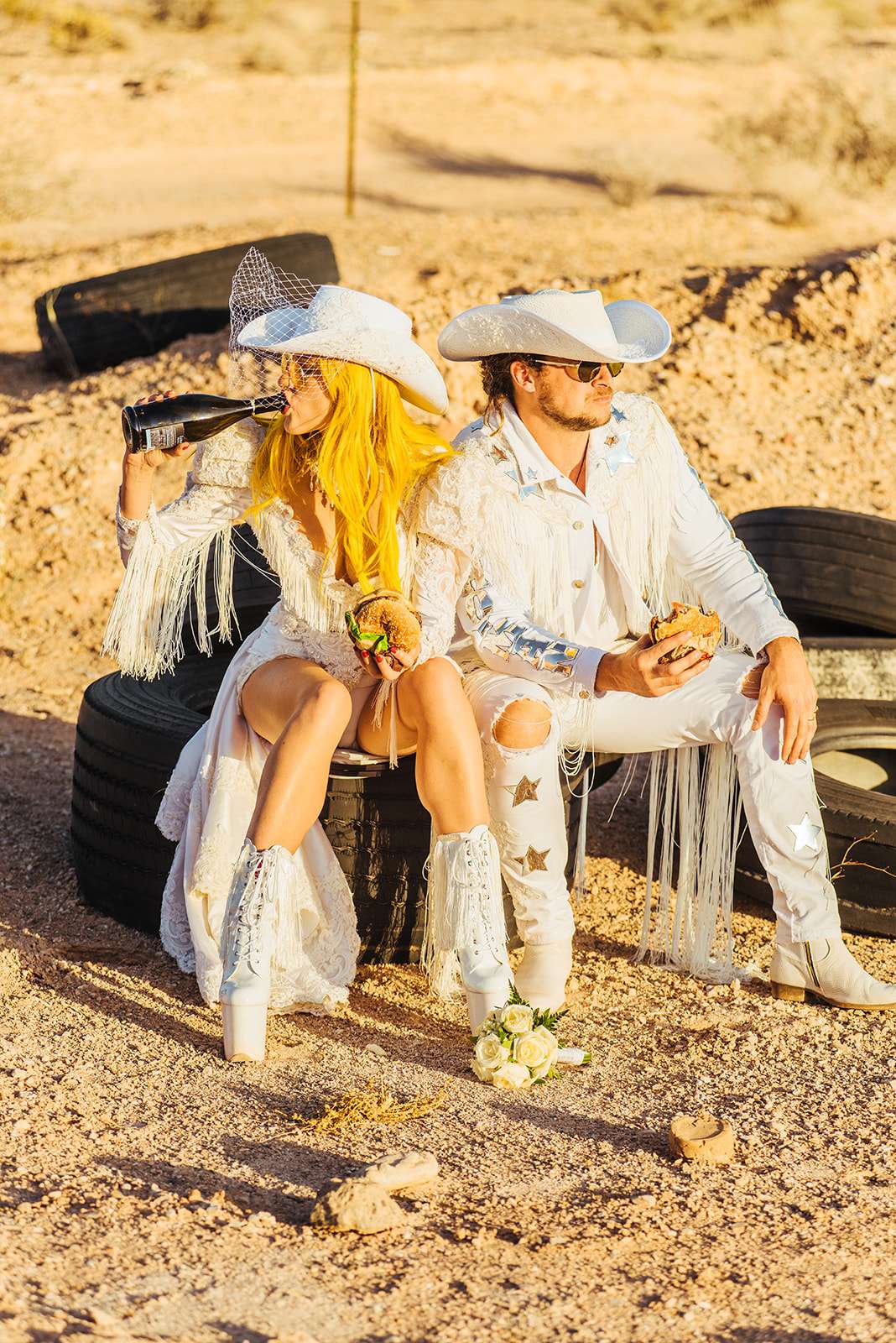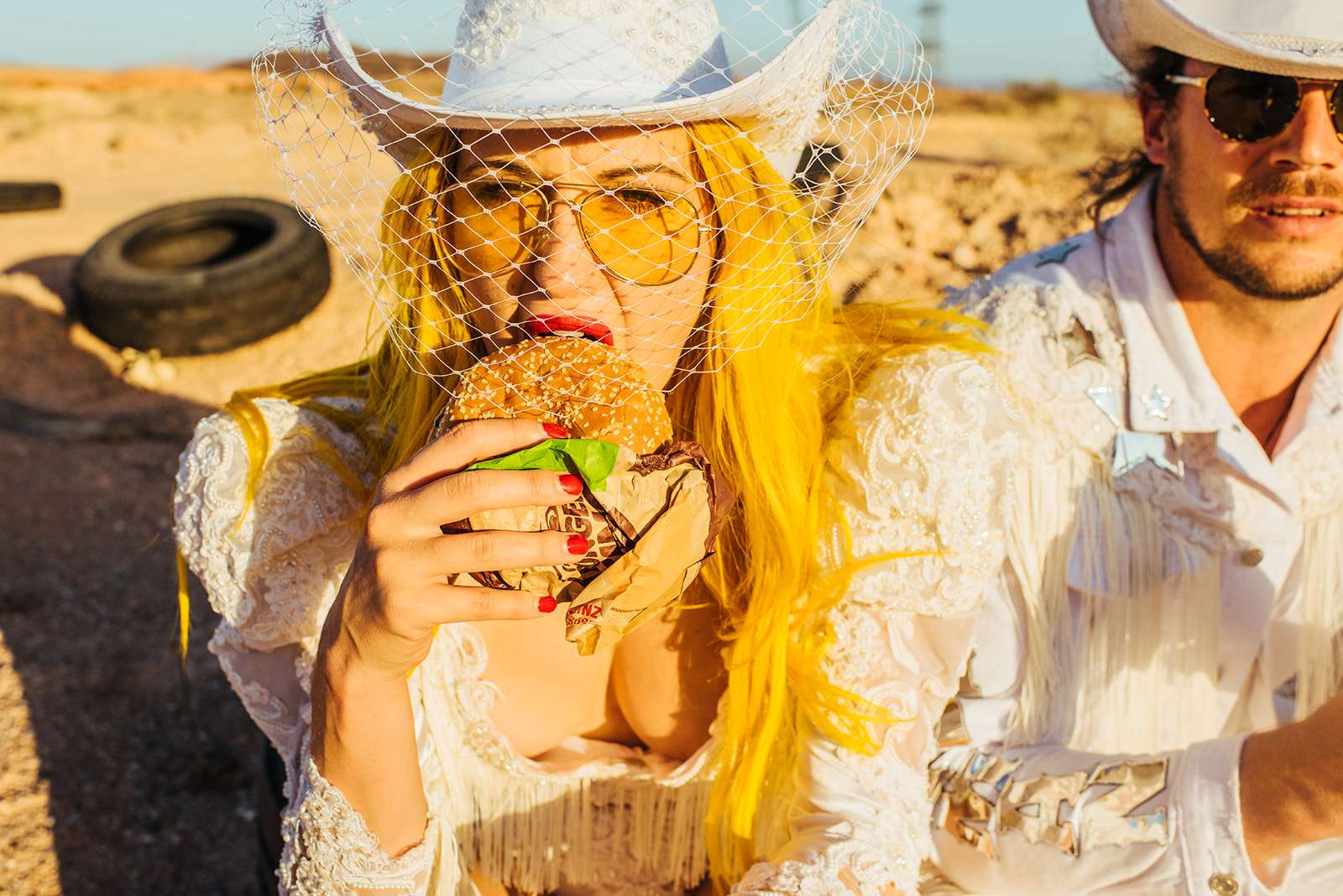 "When it came to the Vegas wedding three years later, it made perfect sense to chop it up for a whole new vibe and my designer Monika Bereza did an incredible job. She also made my matching bag and customised boots. Both original dresses were under $70. We used all of the leftover lace from the train on the dress to customise white double denim for Jorel to wear. He loves wresting so we added a wrestling name down the side."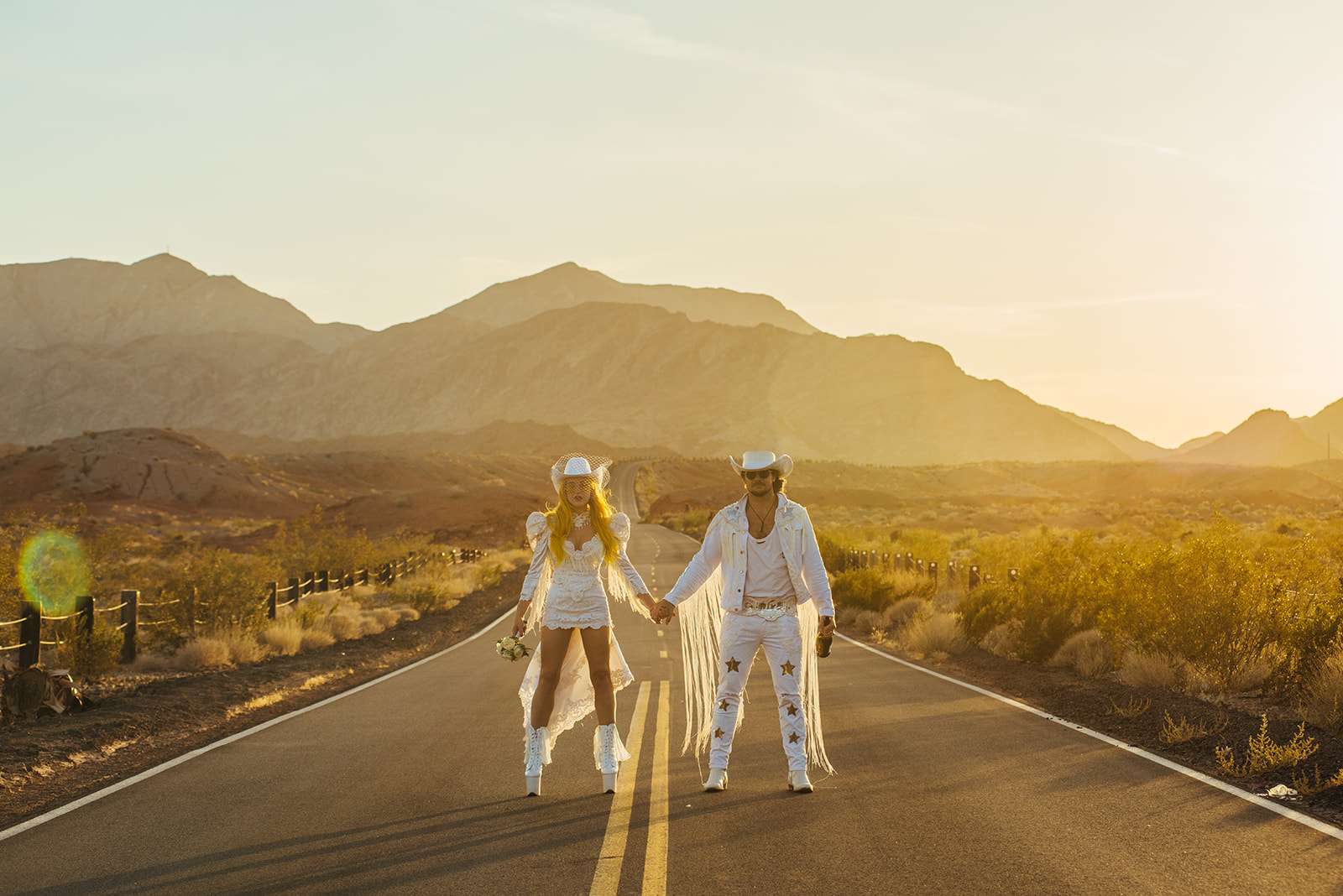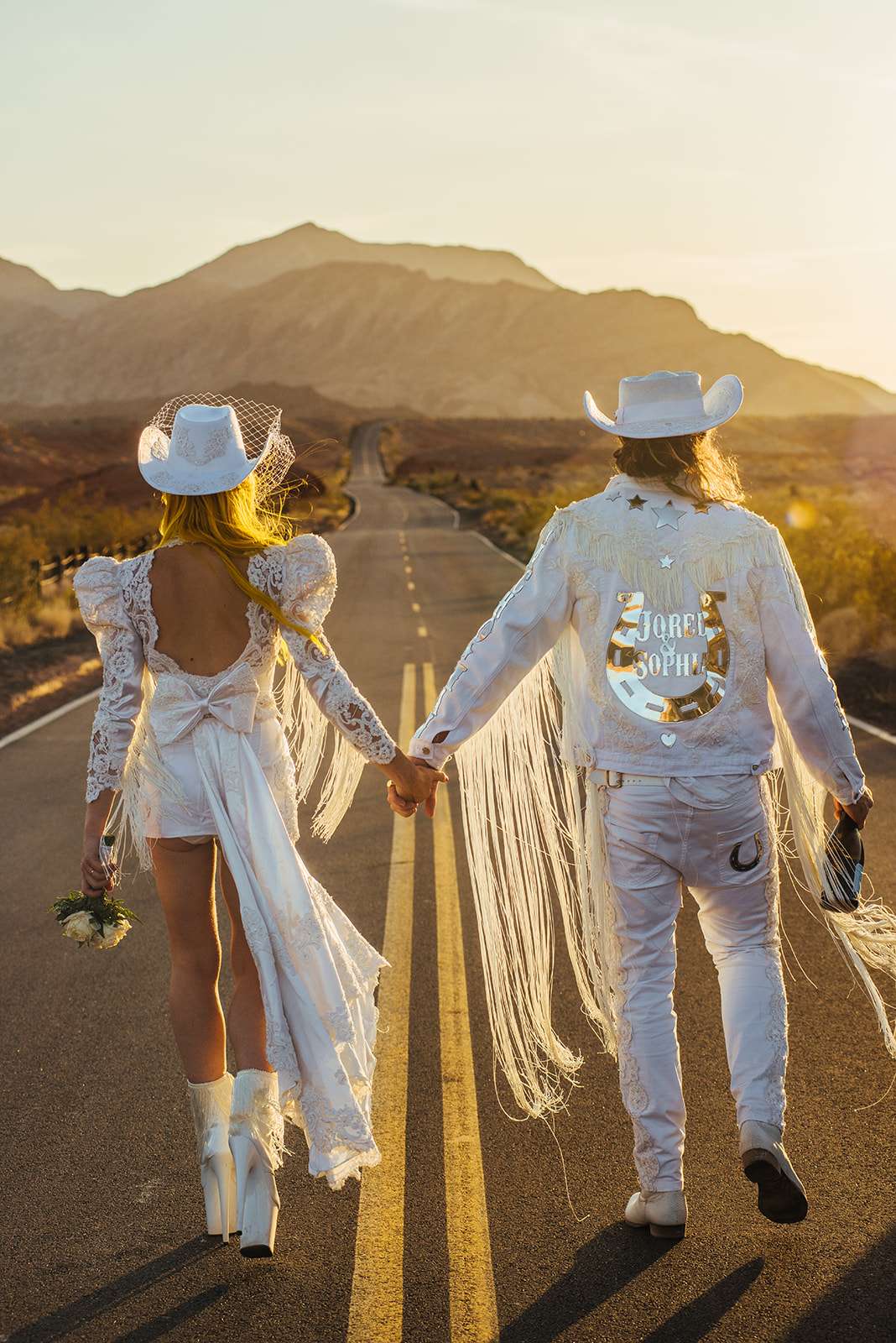 "My advice to other couples reading this would be don't wait 10 or 20 years to do something like this. Elope early and really enjoy those first years. We've decided to do this now as each year I feel less inclined to want to do this kind of trip. Hell, maybe I'm growing up. So we thought we'd go and do it hard now… before we can't think of anything worse!"