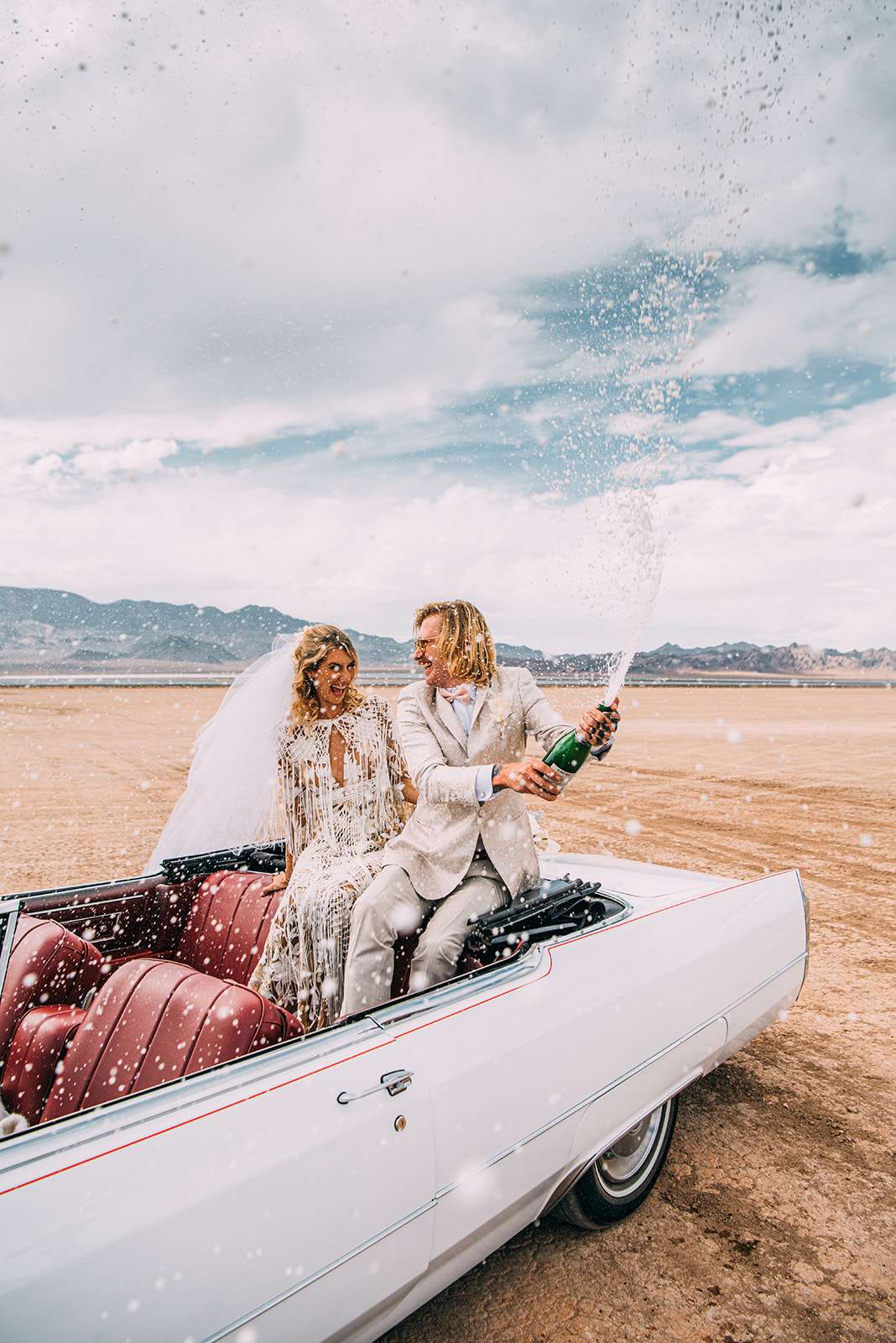 Nothing screams Rock n Roll Bride more than a Las Vegas wedding and Kerissa and Nick – with their money throwing, sequin dress and white suit wearing, desert photographing, marrying by Elvis day are rock 'n' roll through and through! They even hired one of our favourite Las Vegas photographers, Ashley Marie Myers to do their pictures.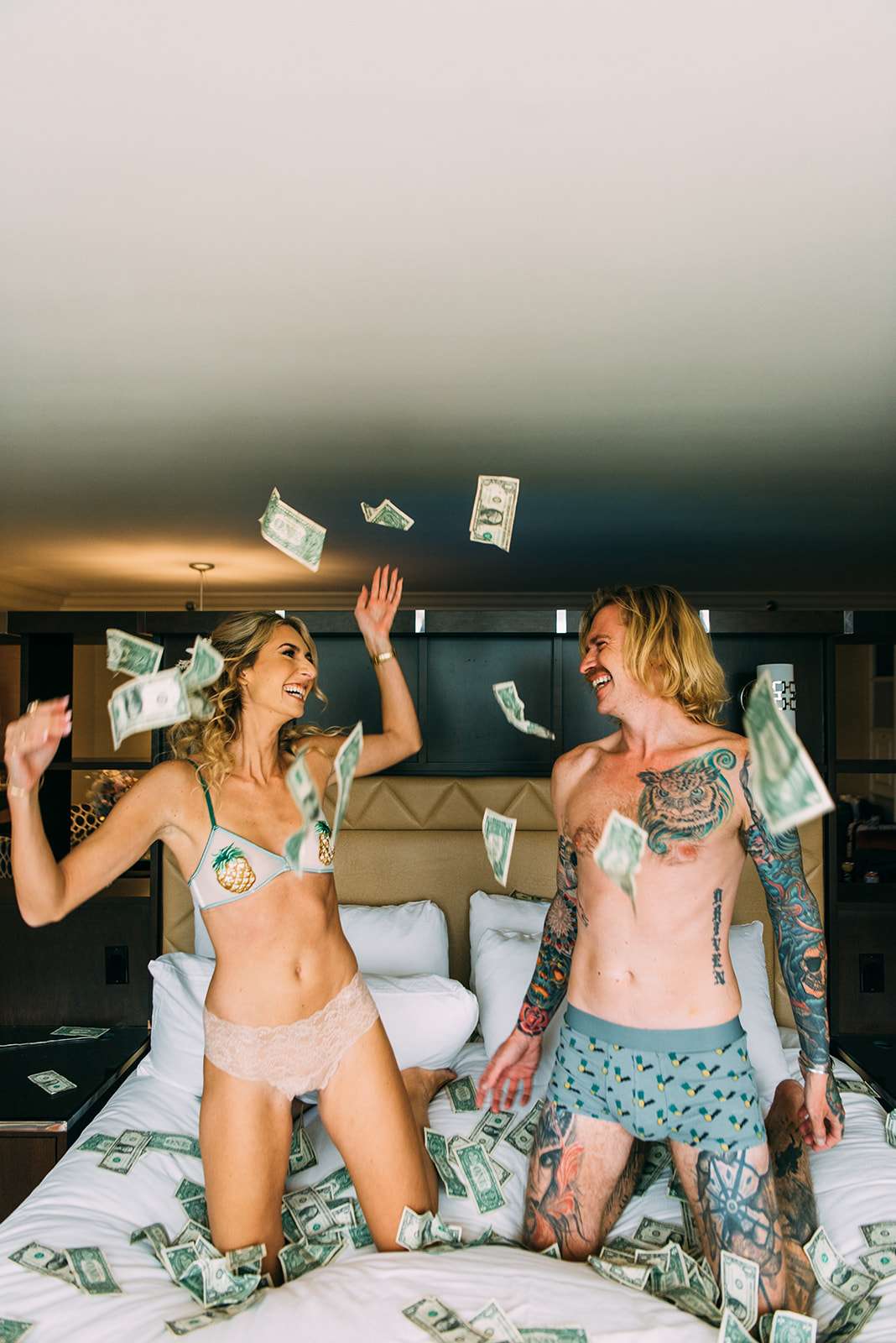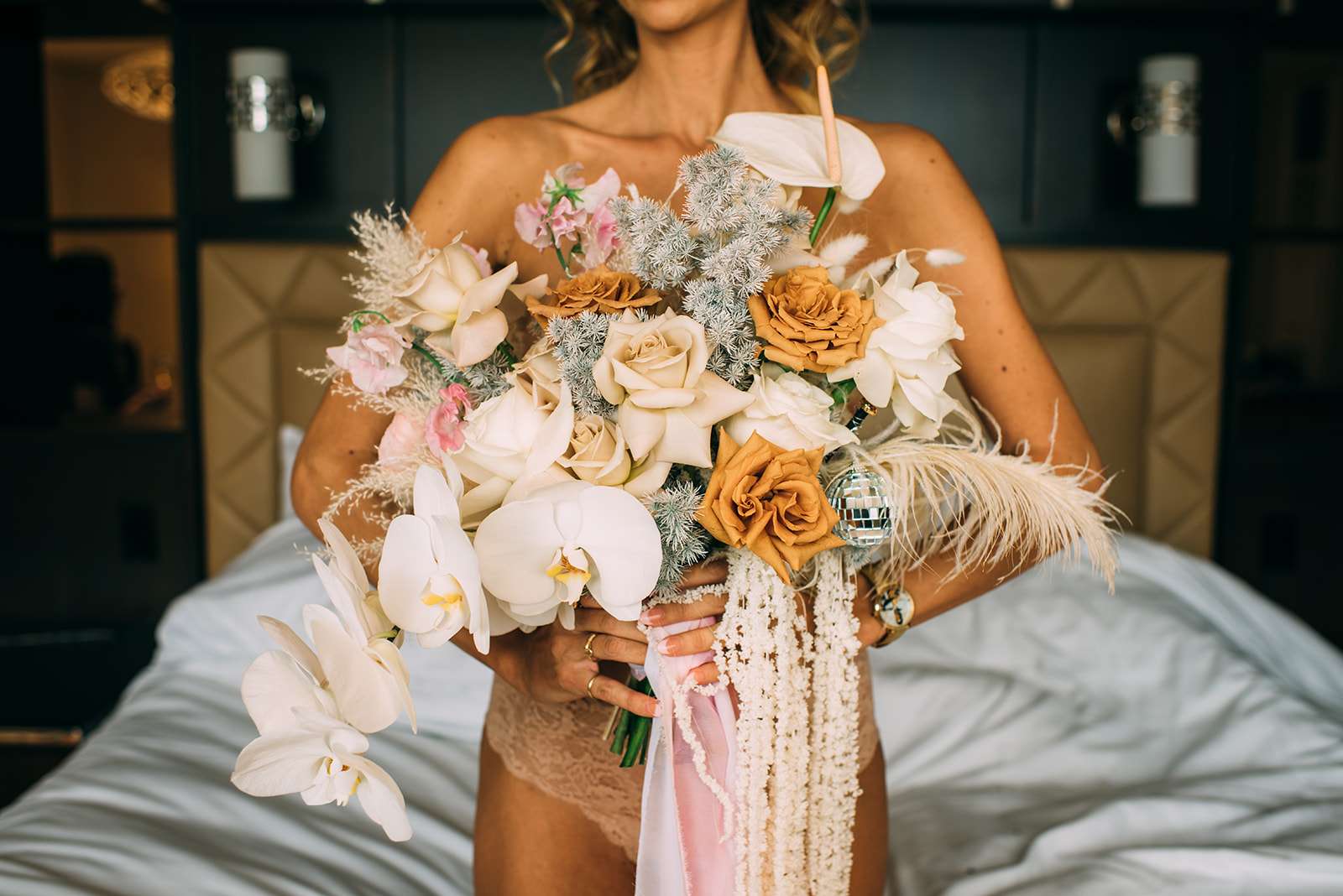 Kerissa, a California girl met a tattooed boy, Nick from Missouri, when they both moved St. Croix in the US Virgin Islands in the same week. Nick proposed September 2020 in Tahoe and the two decided to run to the city of love to be married.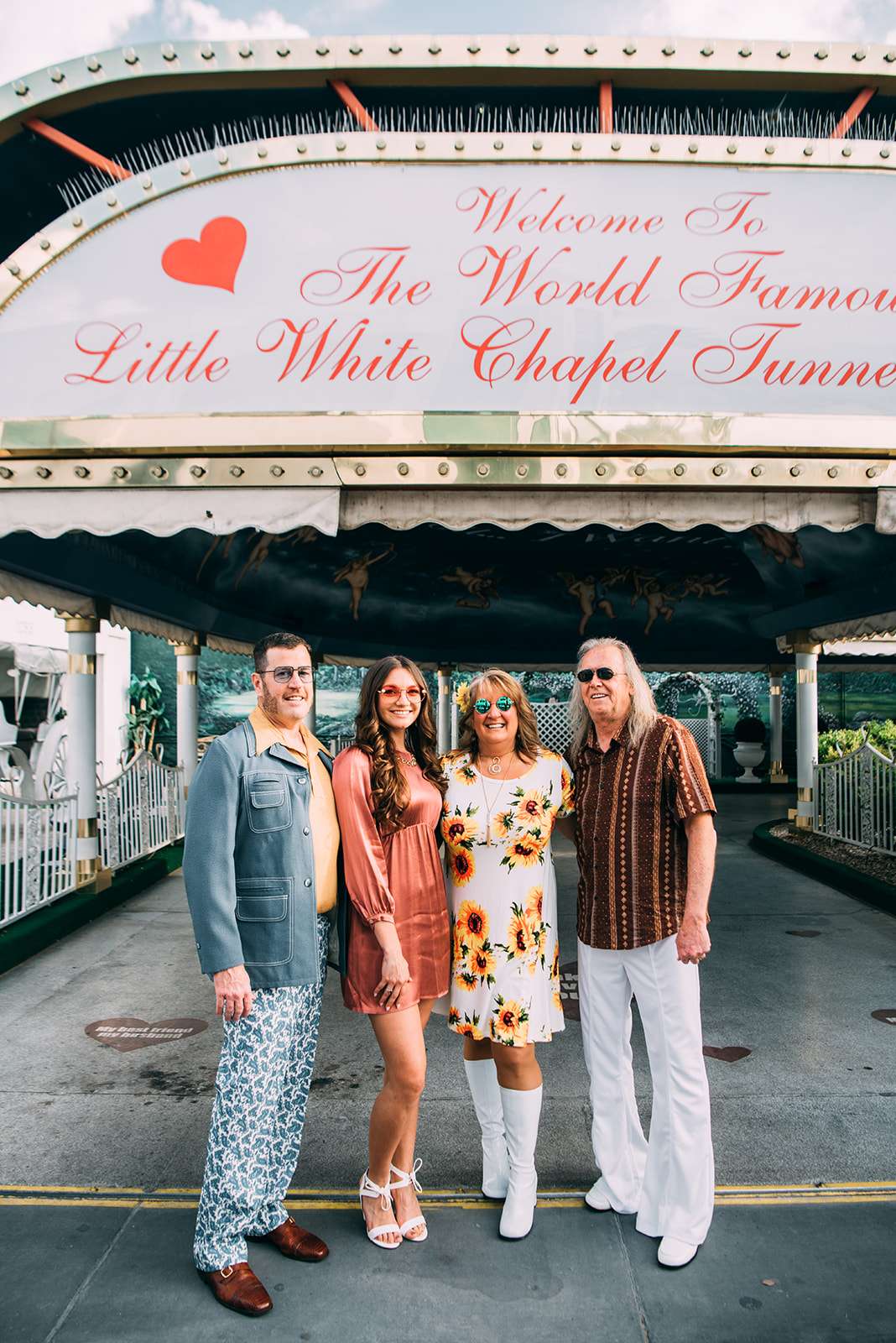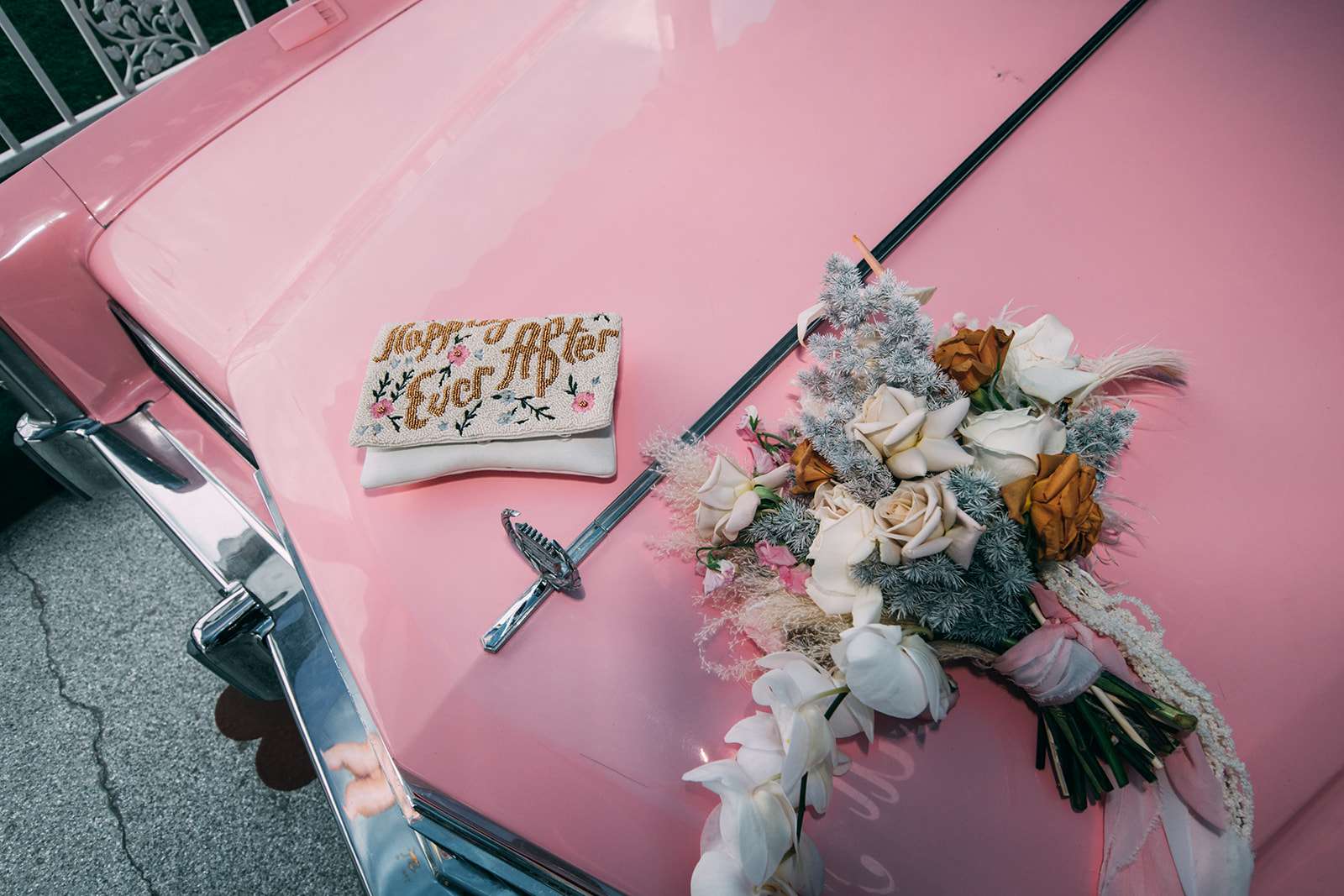 Part elopement, part traditional wedding (they had some of their loved ones in tow), their ceremony was held at A Little White Wedding Chapel with a reception at The Mayfair Supper Club. The groom decided that their 20 guests should dress appropriately for the occasion too!
Kerissa explains, "When the guests started arriving to Vegas they all told me my husband told them to dress 70s, like the movie Blow. I had no idea he told the entire 20 wedding guests to dress in theme. I naturally was going with nostalgic Vegas and already thrive in the 70s retro boho vibe that's super in right now. Between the two of us, we had the same vision and the 1966 white caddy just pulled the whole thing together. It's funny because we originally were planning a big island wedding and I just couldn't find a venue with what I wanted that would fit our guest list. The first decision I made was my dress and it just so happened to be even more perfect for Vegas than the original island wedding."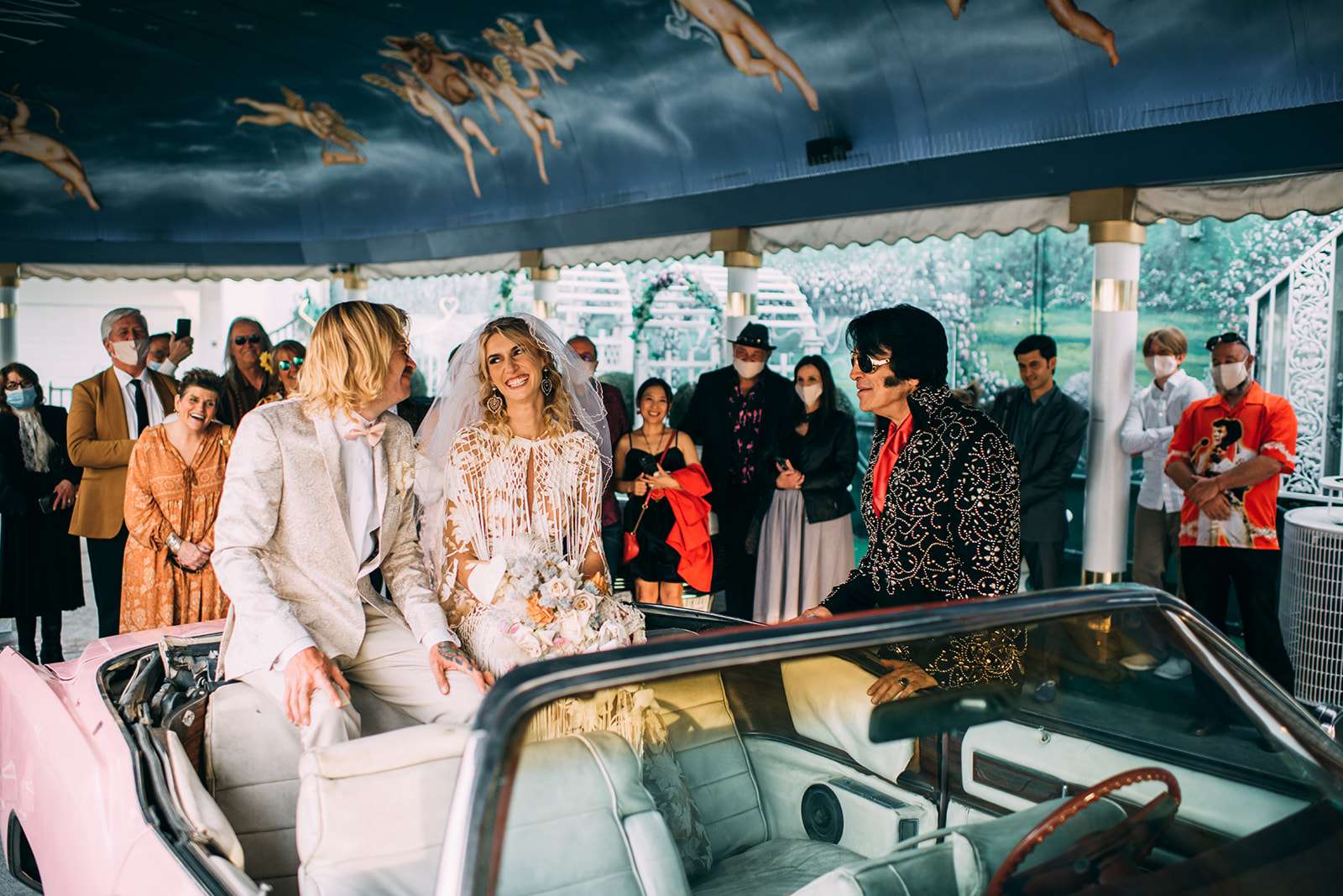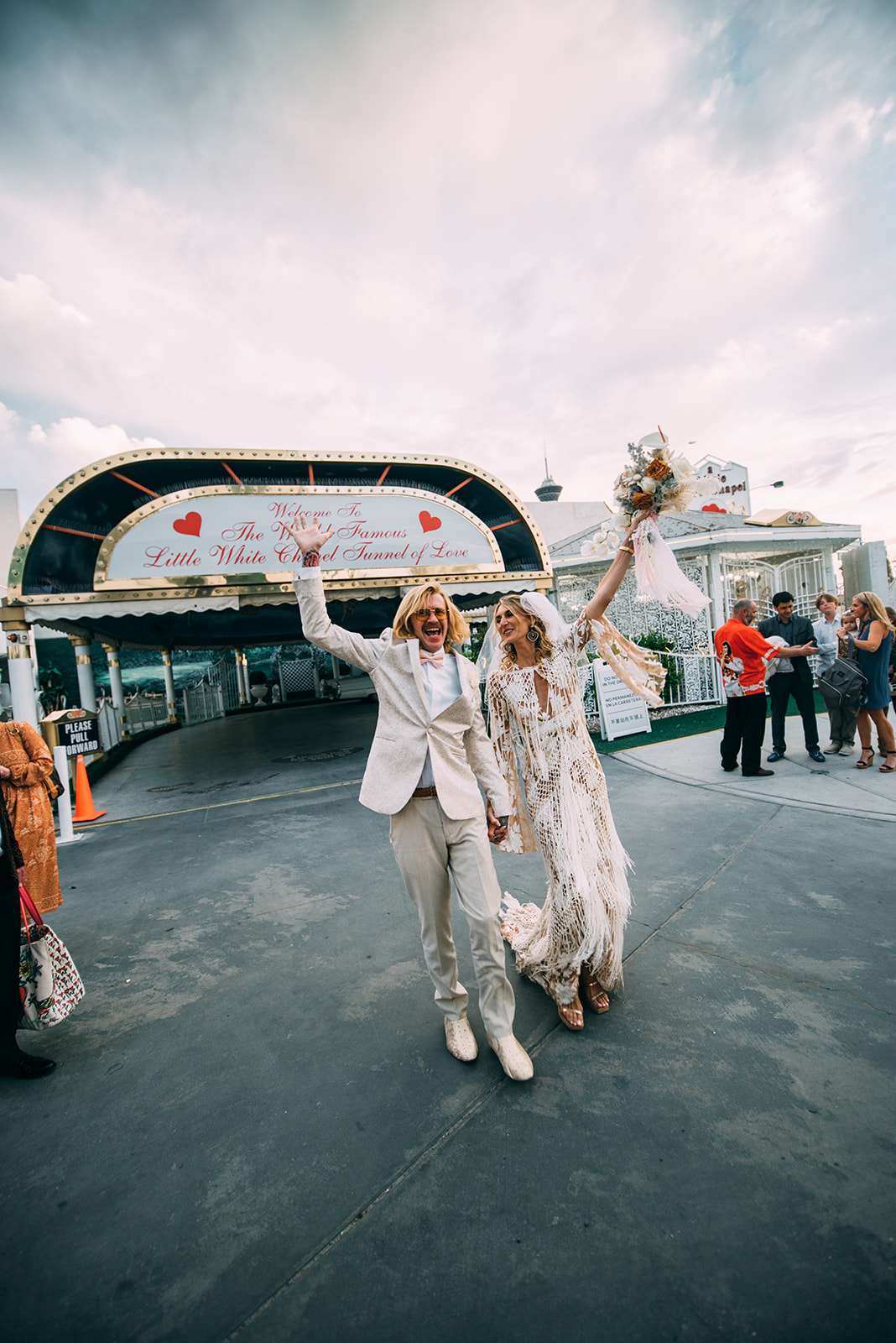 The pair were also inspired by Rock n Roll Bride! "I found the cutest article about a couple in Rock n Roll Bride who did their 10 year vow renewal in Vegas, I was inspired by their intimate, spontaneous and private event. I found out who the photographer was, stalked her photos and that was that we were getting married in Vegas. With the pandemic happening as I was making my wedding decisions, Vegas' price tag was very attractive and I realised I could have a smaller budget than my island wedding and get everything I wanted. I did, I got everything I wanted including the honeymoon in Palm Springs under my budget that was even less than if we got married on island. Picking my photographer, Ashley, was also a no brainer. Her vibe and style was so Vegas and a perfect match for us."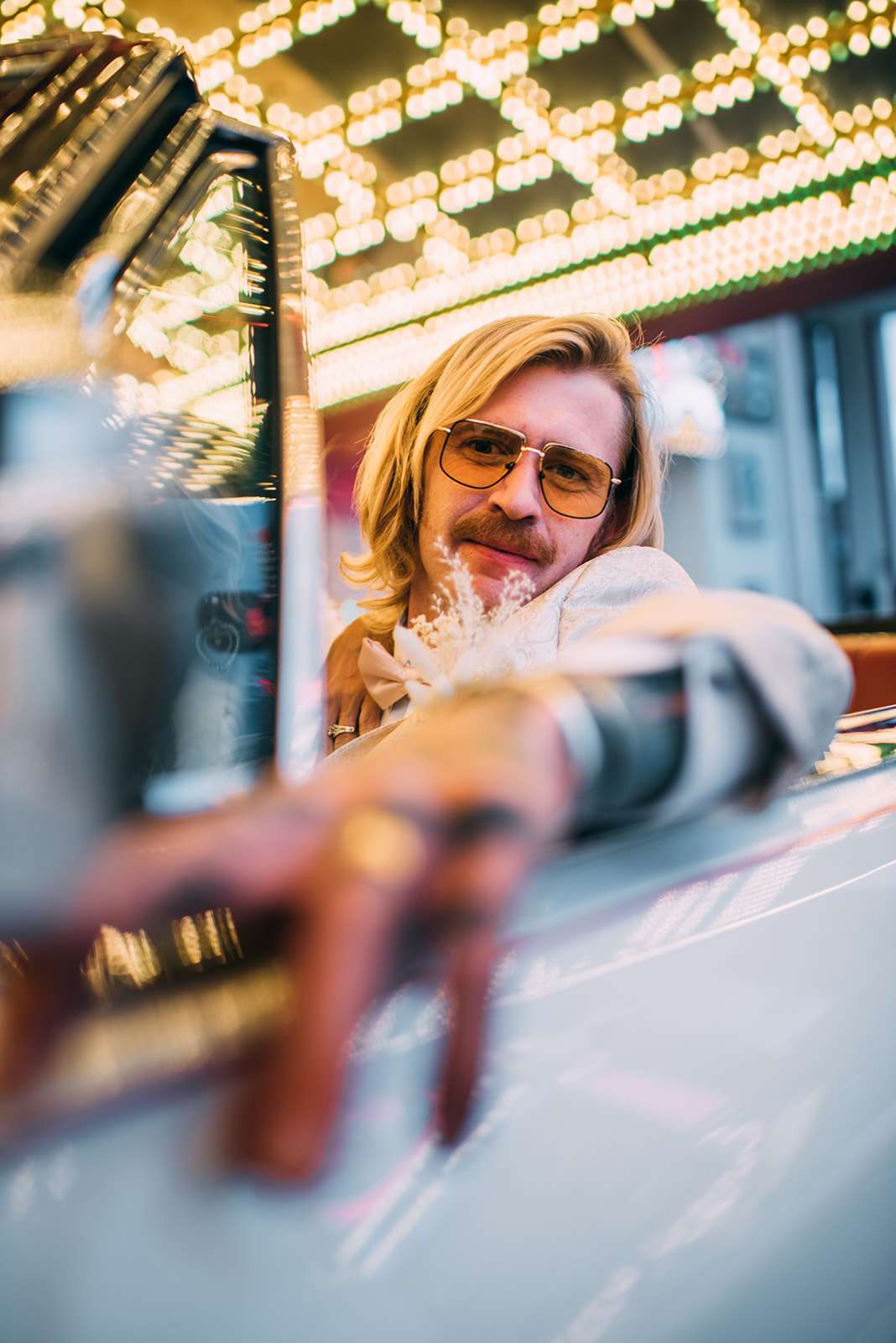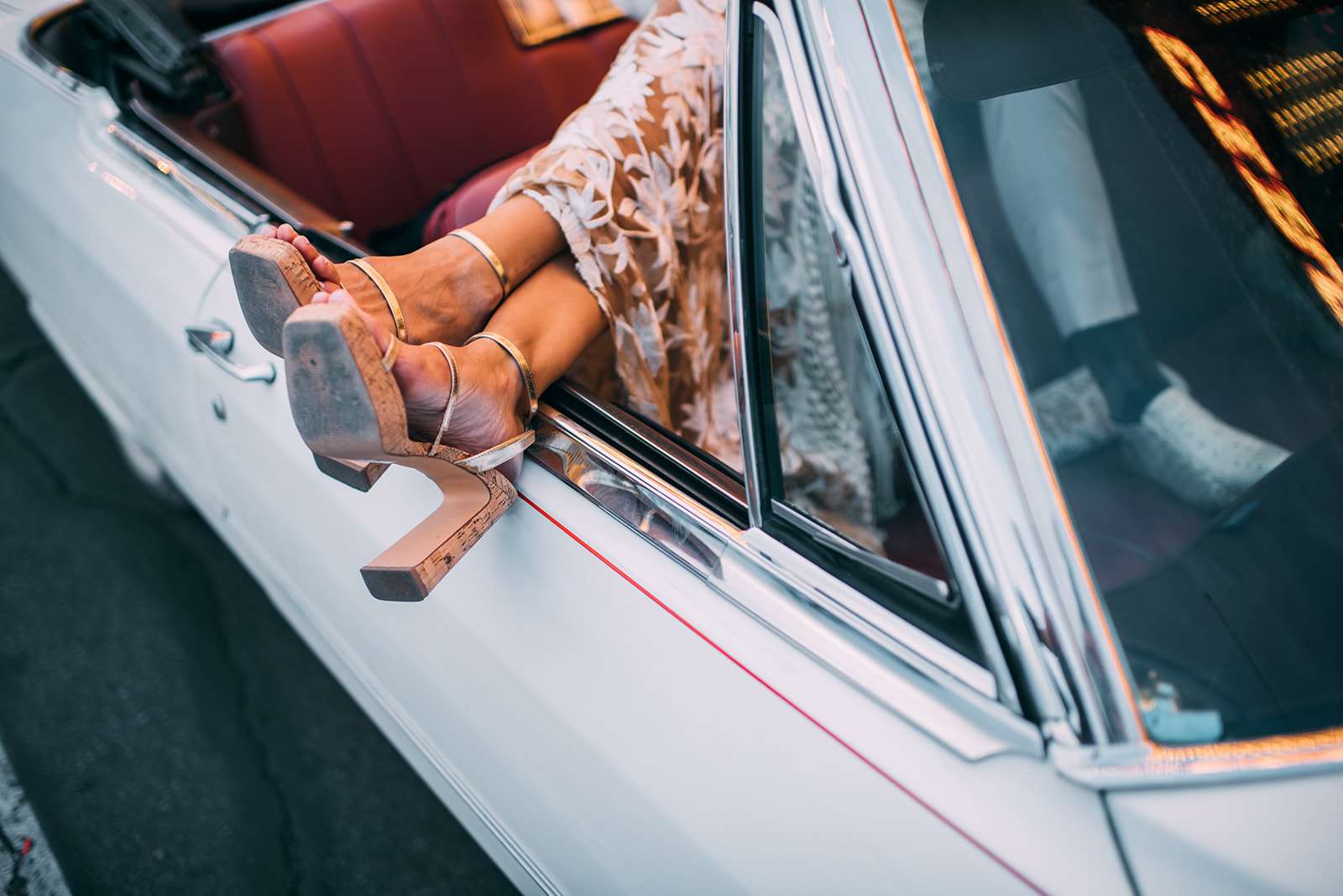 The bride's second-hand Rue de Seine gown came from stillwhite.com and with it she wore her mother's earrings and veil. Her jacket, rings and watch were all previously owned by her late grandmother. "My My Noni passed when I was a young teen and she always loved Vegas and Elvis, so I knew Elvis would be the one to marry us. I wore one of Noni's old Elvis watches. I barley wore anything new, my dress was second-hand and everything else was worn from the beautiful women who raised me and made me the woman I am today. It was beautiful how it all came together so perfect. I probably saved a lot by wearing heirlooms and it meant that much more to me than some fancy price tag."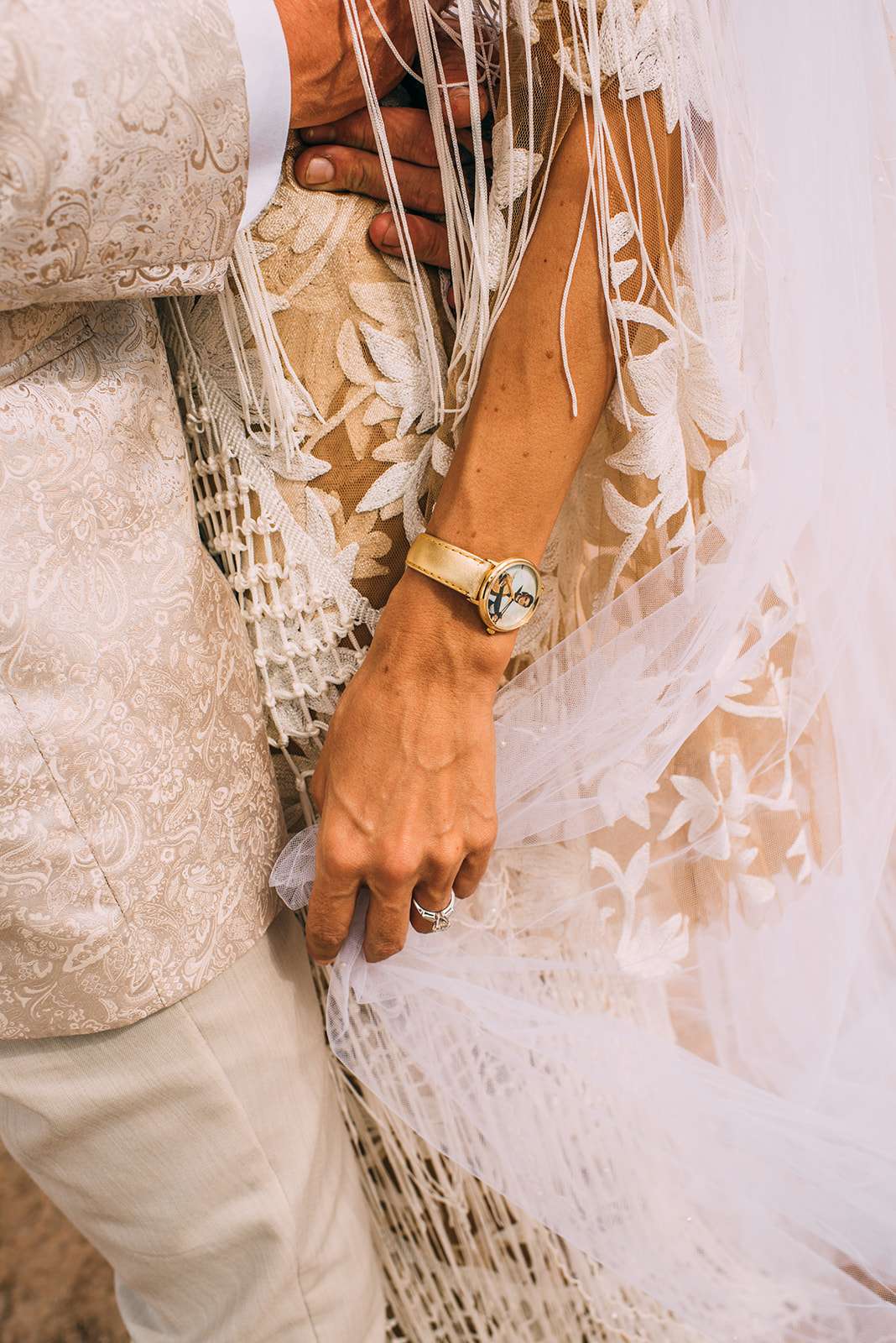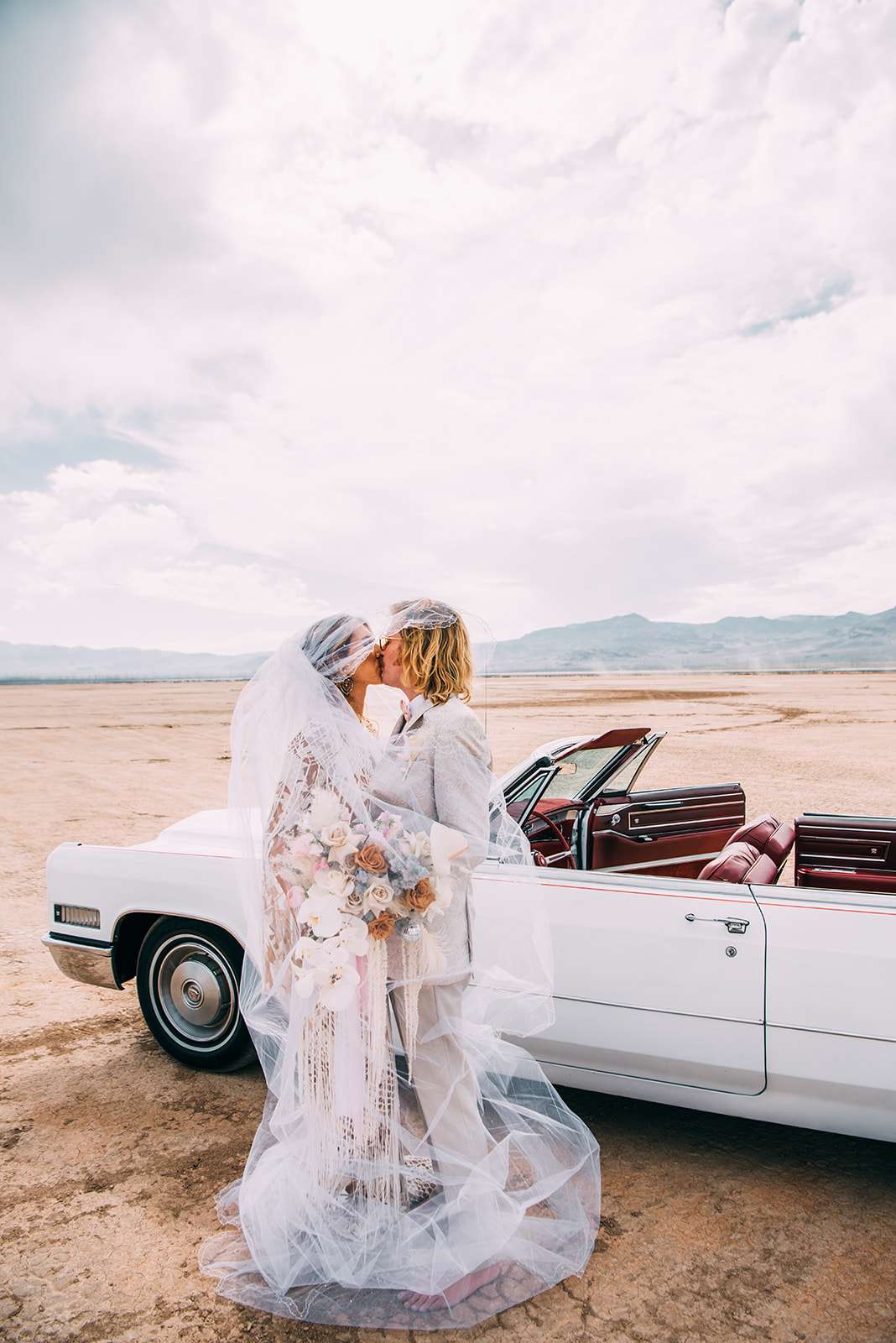 "The best thing about our wedding was that we got to have everything we wanted because I made a budget, stuck to it and made decisions that made sense for both the budget and our love for each other", the bride concluded. "I went big in terms of style, but we saved by going small with the guest list."