Alex and Tamara actually met in high school, and although it took several years for their relationship to blossom (despite Alex' regular attempts to take Tamara on a date!) once they finally reconnected they were inseparable, and soon found themselves creating a life together.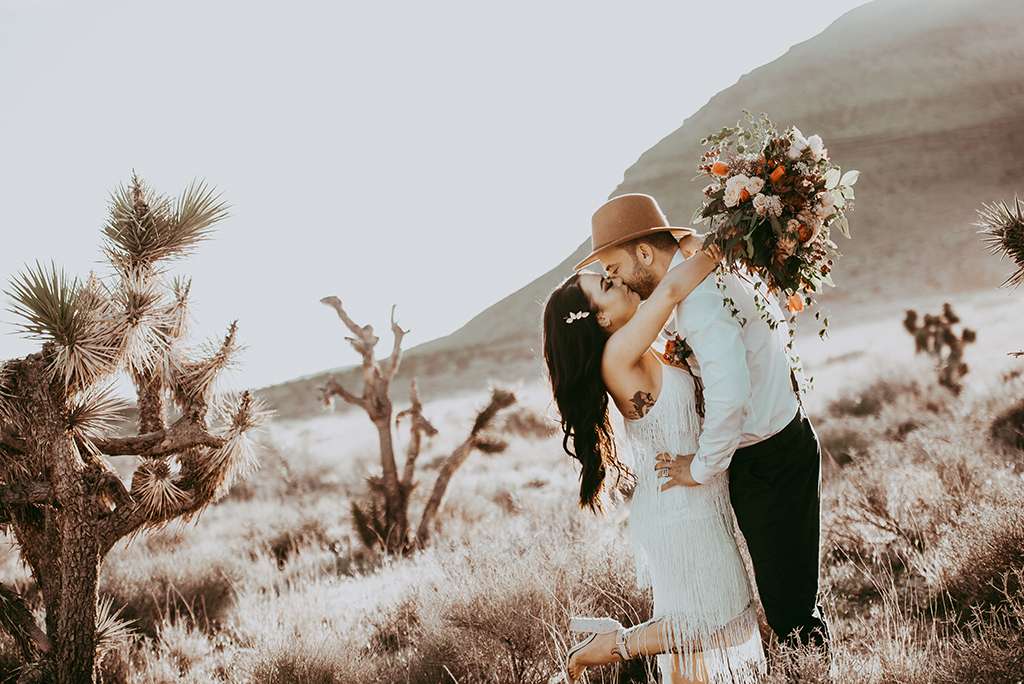 The laid back couple hadn't actually planned to get married, instead they had just booked a fun getaway to Vegas – in fact Tamara actually thought that marriage was never on the cards for them. "I always thought if two people love each other why do they need to be legally bound to one another?" said Tamara. But after three years of living together, two pit bulls and two children later, they thought it would be the perfect way to complete their family unit. They always knew they wanted a stress-free, easy-going wedding so a Las Vegas elopement was perfect for them – carefree and super fun, just like them.
They flew in from Canada at 9.30pm on April 5th, rented a white Dodge Challenger and set off to the commissioners office to pick up their marriage license. Then they drove to the first drive-thru wedding chapel they could find near the strip and tied the knot at 11:59pm. It really was that simple!
The next day, they met up with Jamie of Jamie Y photography to do their photo shoot – running around Vegas and the desert wild and free, soaking up each other's company. "It was my favourite part of our wedding," said Tamara, "it reminded me of when we first started dating – carefree and without responsibilities. It made a nice change from being parents of two children under the age of two!"
Without guests, their costs were completely slashed – their biggest expenses were their flight and hotel accommodations. They had no catering or entertainment to consider, so the Las Vegas strip provided them with all the fun and exceptional food they needed. Alex wore a suit he already owned, and Tamara picked up a dress on ASOS so they made savings there too.
Tamara's advice for future brides and grooms is to make sure your day is what the two of you want, whatever form that may take – and try not to worry about anyone else's expectations. And if you're on the fence about getting hitched entirely? "I never thought being married would feel different, but boy was I wrong," says Tamara. "Something about marriage made me feel so much more connected to Alex. Not that I loved him more than I had before, but I loved him differently. I felt like we were a unit, like we were the extensions of one another. I was his and he was mine. And our family circle became complete."