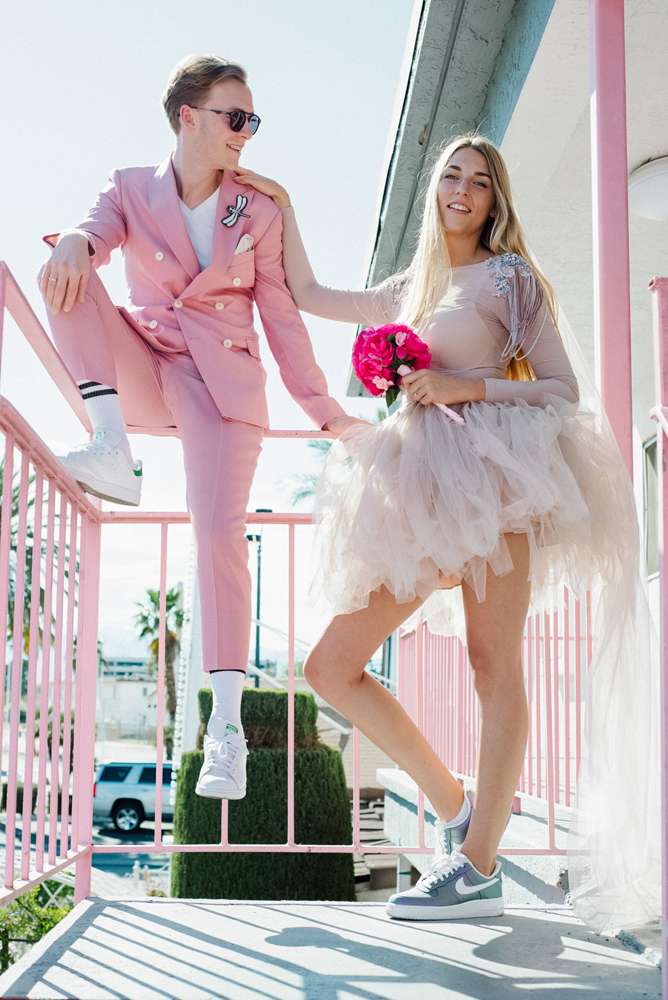 A bride in a blush pink tutu skirt, the Las Vegas desert as a photo backdrop and a budget of just €2000 – yes, that's right, you are able to bear witness to one of the coolest weddings we've ever had the pleasure of publishing!
"I met my future wife more than 3.5 years ago in a cold December, just before Christmas", the groom began. "The idea was to pick a Christmas gift for myself so I'd decided to go to perfume boutique where she worked as a sale assistant at the time. It was one of those 'love at the first sight' kind of stories. She was the best Christmas present ever!"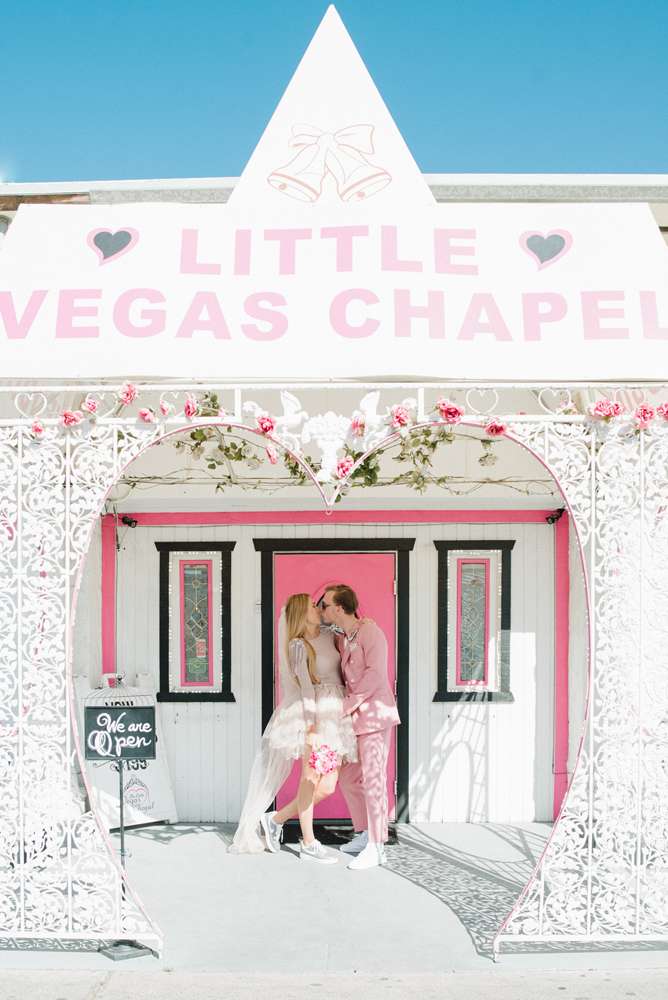 Gintarė and Edvinas, who live in Lithuania, flew to Vegas in May to be married by Elvis at the Little Vegas Chapel. Following their quickie ceremony they did photos with their local photographer James Westray all over the city. The ended the night with burgers and beers at their hotel pool – now what can be better than that!?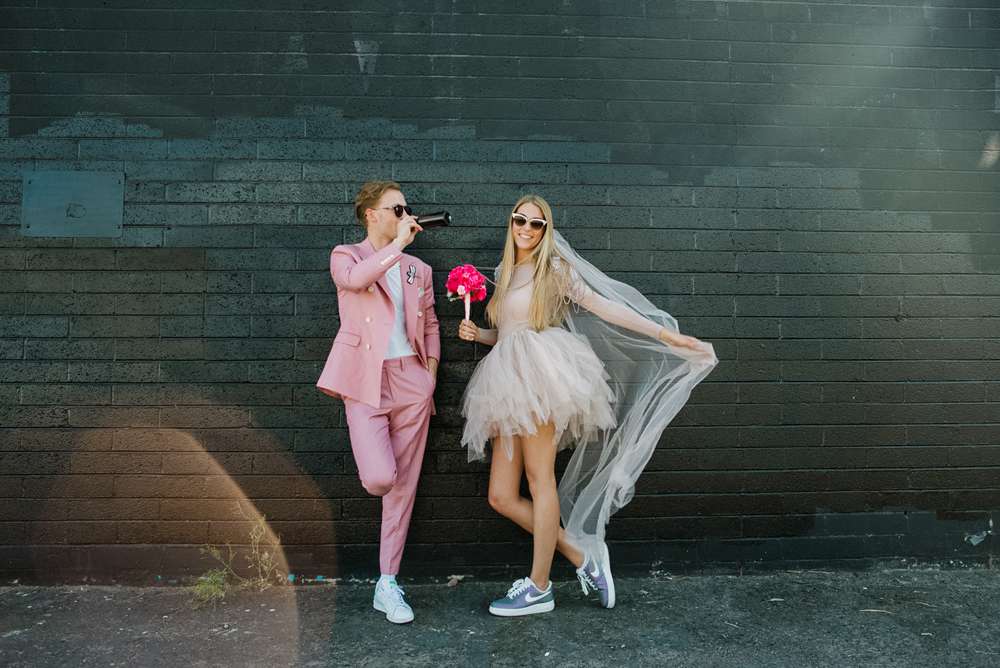 "Our wedding was a blend of what we are and what Vegas is", Gintarė took over. "A spoonful of let's go crazy, a pinch of sense and a bucket of love. I believe Las Vegas was what influenced us the most, but we also tried to stay true to our inner selves, I guess you could say we have a Rock 'n' Roll mindset!"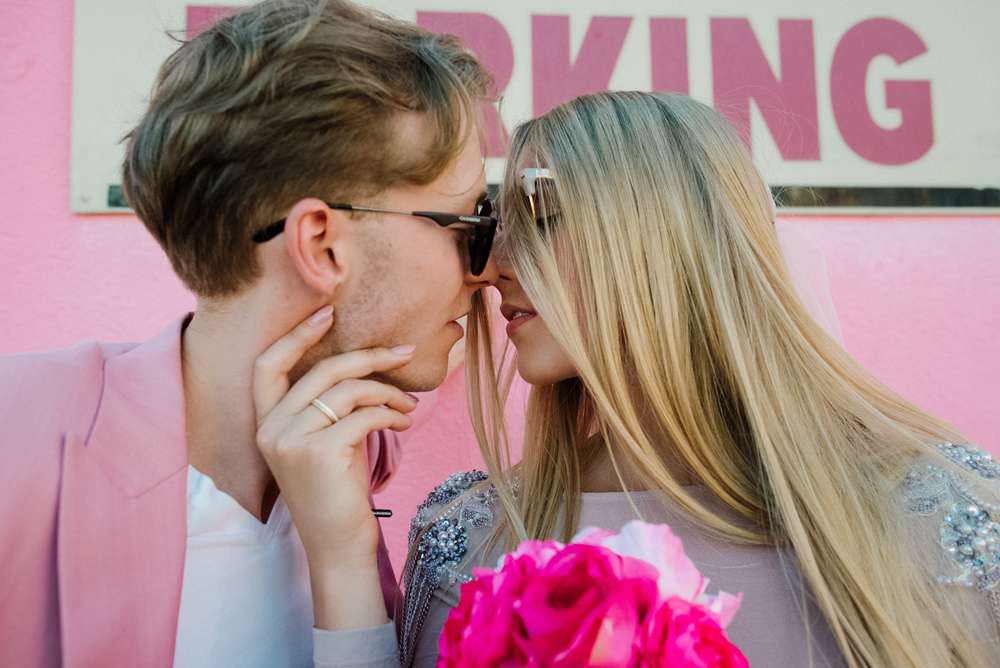 "Our ceremony went by in a blink of an eye", she continued, "but we had Elvis themed vows, a little dancing, kissing and crying. We're glad Elvis was in a Elvis mood (if you know what I mean) so it really softened the tension as we were pretty nervous!"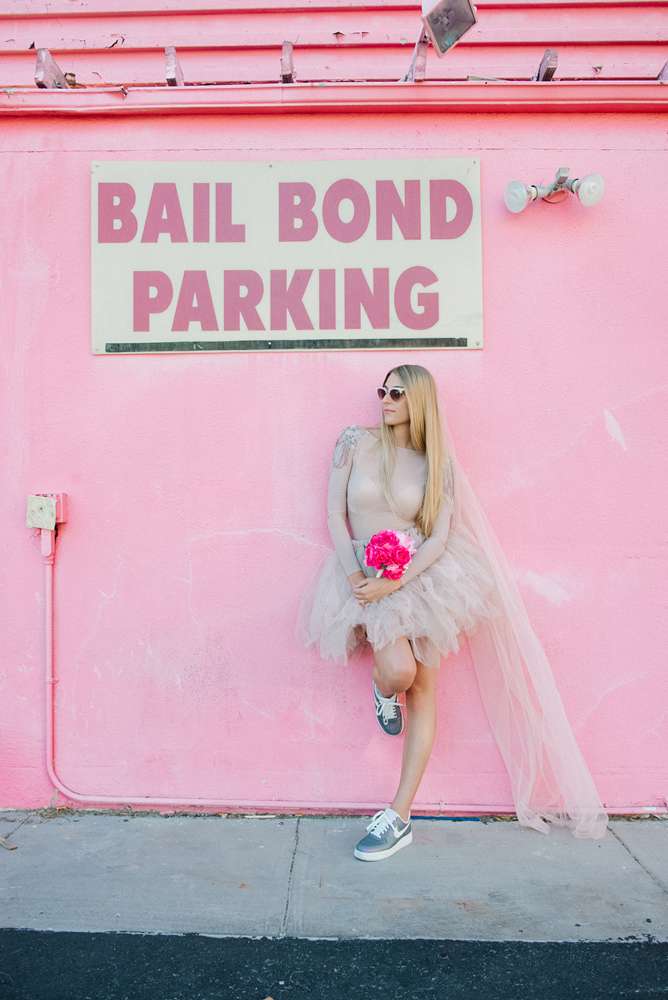 The bride's incredible outfit was made by Aurelija Beliakaitė which she accessorised with Nike trainers. Living in a county that is known for mostly traditional and conservative weddings, they knew doing things their own way in Las Vegas was the only way they wanted to say 'We do'.
"In our beloved country, Lithuania, such a crazy pink wedding is not a very common thing. People usually have very traditional big white weddings and feel a lot of duty to their family and friends. It's not a secret that parents often play a big role on a wedding budget and rules. We heard so many opinions from friends and family how our weddings should be so we decided to do it our way. Some people hated it, some people loved it and some even did the same! It's so cool to be an inspiration! We wore wondering if it would be as fun as we thought without our families and friends… but it turned out it was one of the best things ever. Sorry guys – haha!"
"Relax and don't get crazy, make your wedding nice for yourselves and have fun", the couple advise. "You don't need bunch of money to get married, it's not about that big fancy cake. Vegas, we'll be back!"