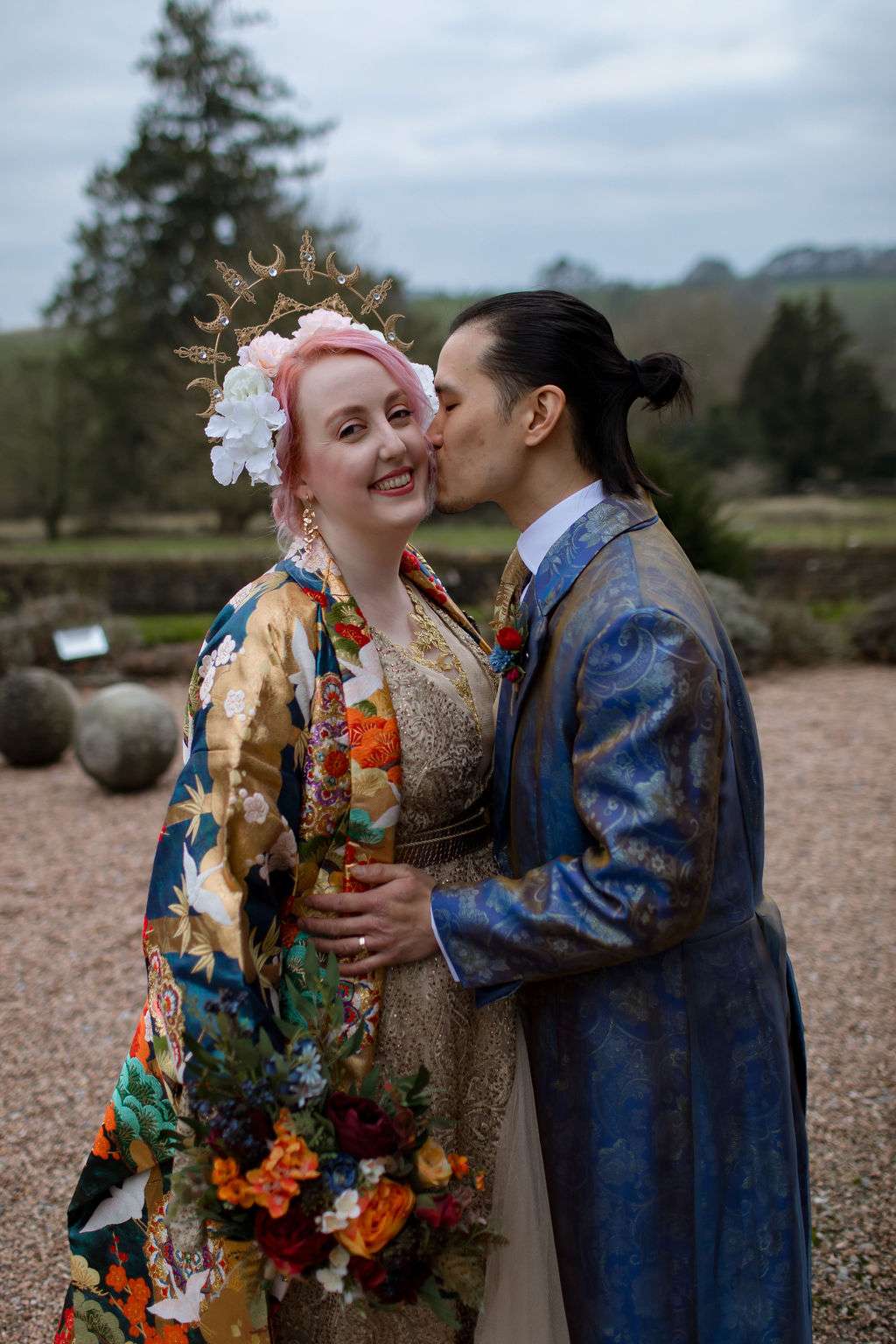 For Chiok and Steph, who were married in January at the Grade II listed Huntsham Court in Devon, it was important that they had a day which not only reflected them both, but felt laid back with with the minimum amount of pomp and ceremony required. They wanted to draw on aspects of our lives together so a lot of the wedding was influenced by their favourite things such as video games, music, good food and drink, and their strong relationships with our friends and family.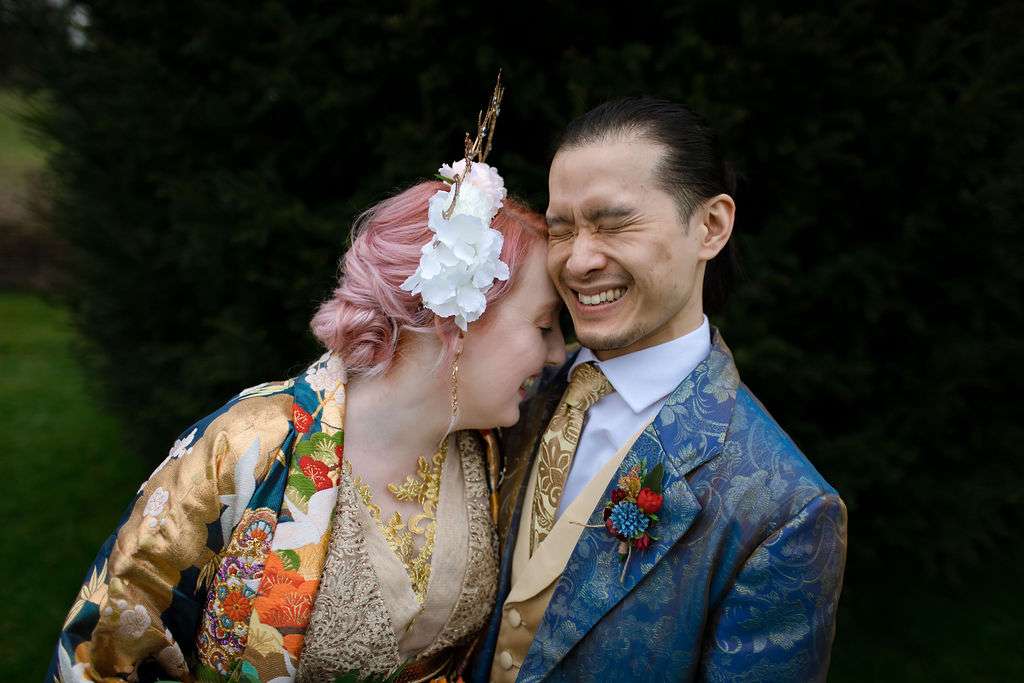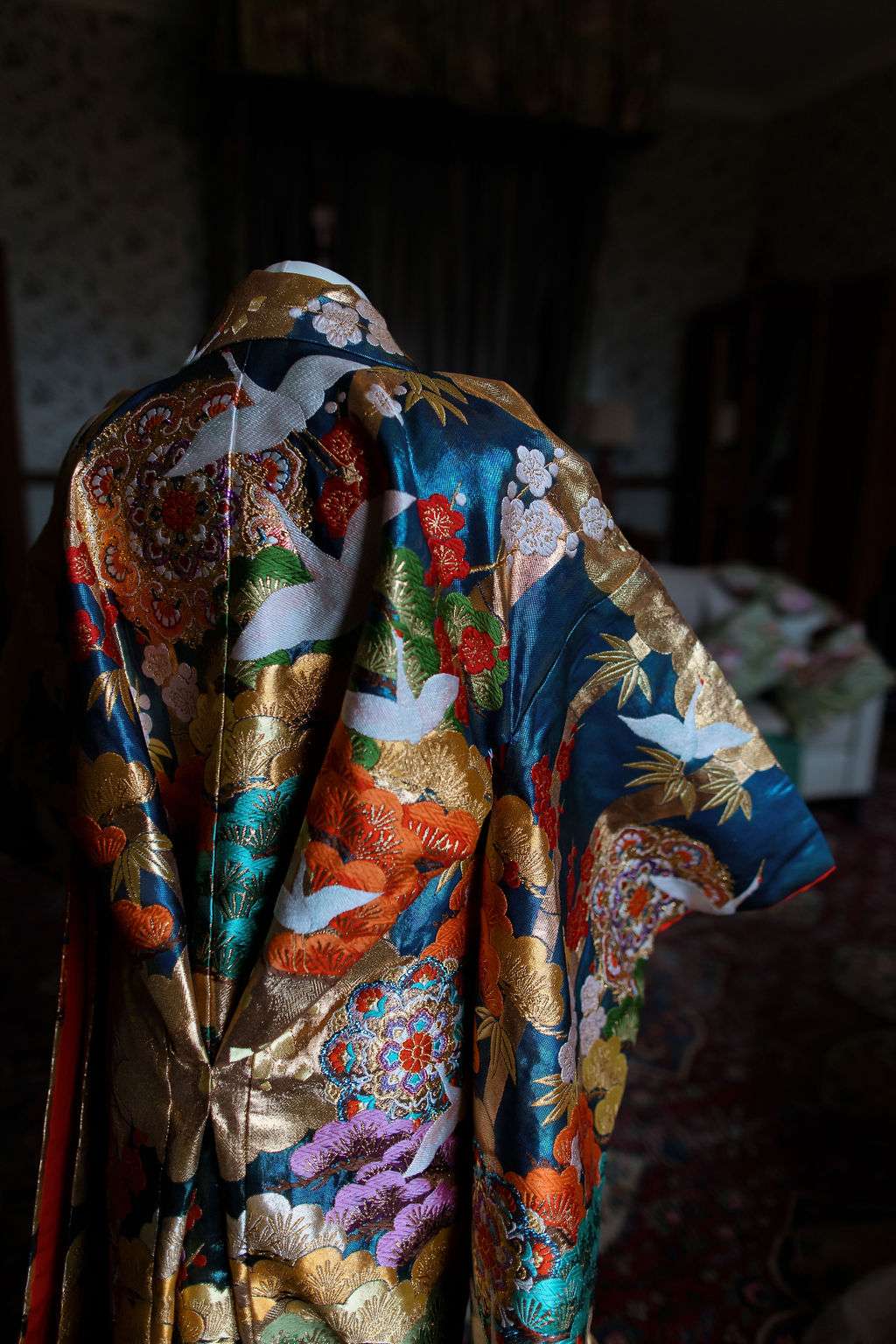 The bride writes, "We were inspired by a mix of things, but mostly we wanted to create something ourselves, that was unique to us. As well as being cost-effective, it was a big part of our decision to make a lot of things such as the decorations. We were able to get hold of a huge bulk load of fake flowers for cheap from a local theatre prop-house that was closing down. We spent many a weekend in the living room with a hot glue gun putting everything together and was even able to make the table name cards using a Word document and some basic photo editing skills!"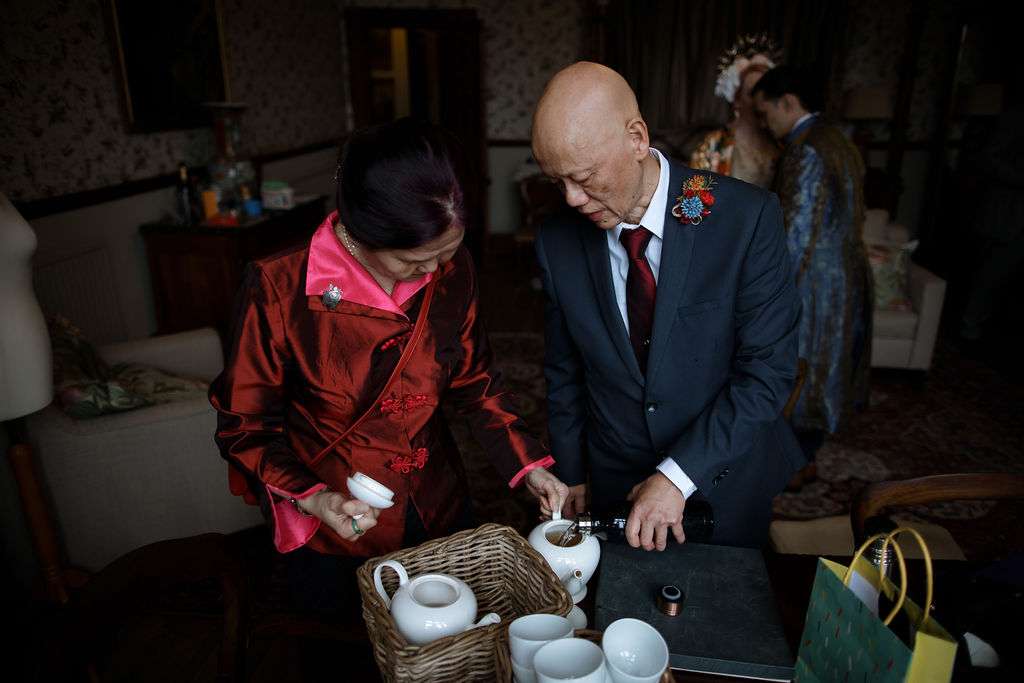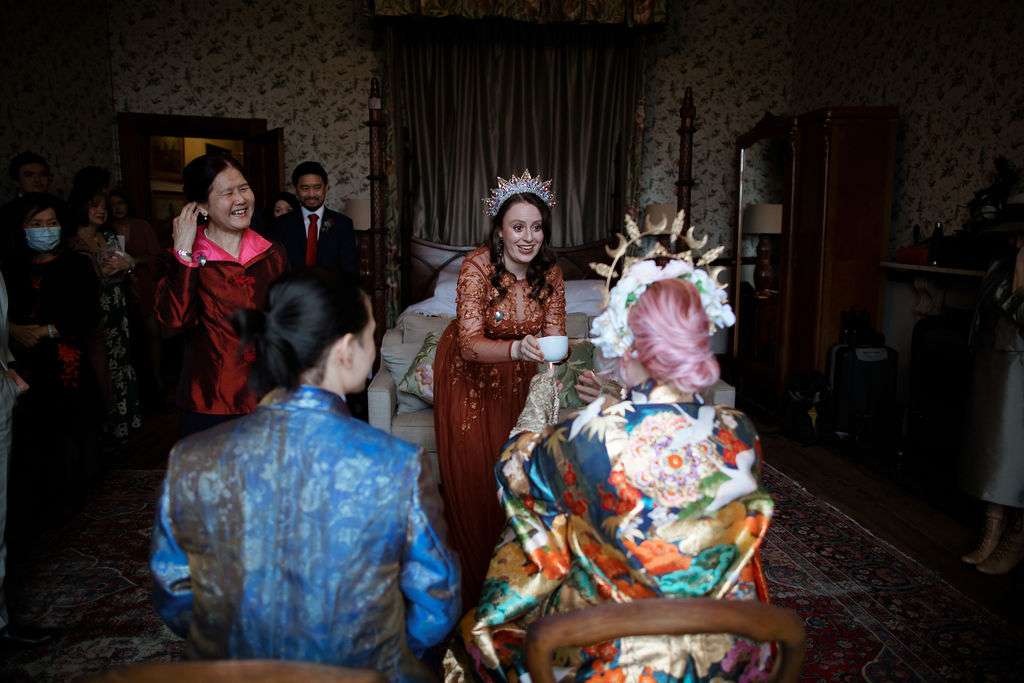 They used locations from their favourite video games for the table names and put fairy lights in empty bottles of their favourite drinks on the tables. They also made Chiok's coat and the cufflinks which he gifted to the groomsmen. They were styled on the WASD keyboard keys as they all play games together and cast in pewter.
"The bride's party each wore a matching brooch that we fabricated from a design Steph created of a Rat and a Sheep based on our Chinese Zodiac signs", Chiok continued. "The same design was used for the wedding favours given to each of our guests; a commemorative coin cast in pewter with our zodiac signs on one side and our names around gingko leaves. The dots around the border representing the 107 guests with us that day. It was a huge endeavour to mint and polish all those coins, but worth it for the sentimental value."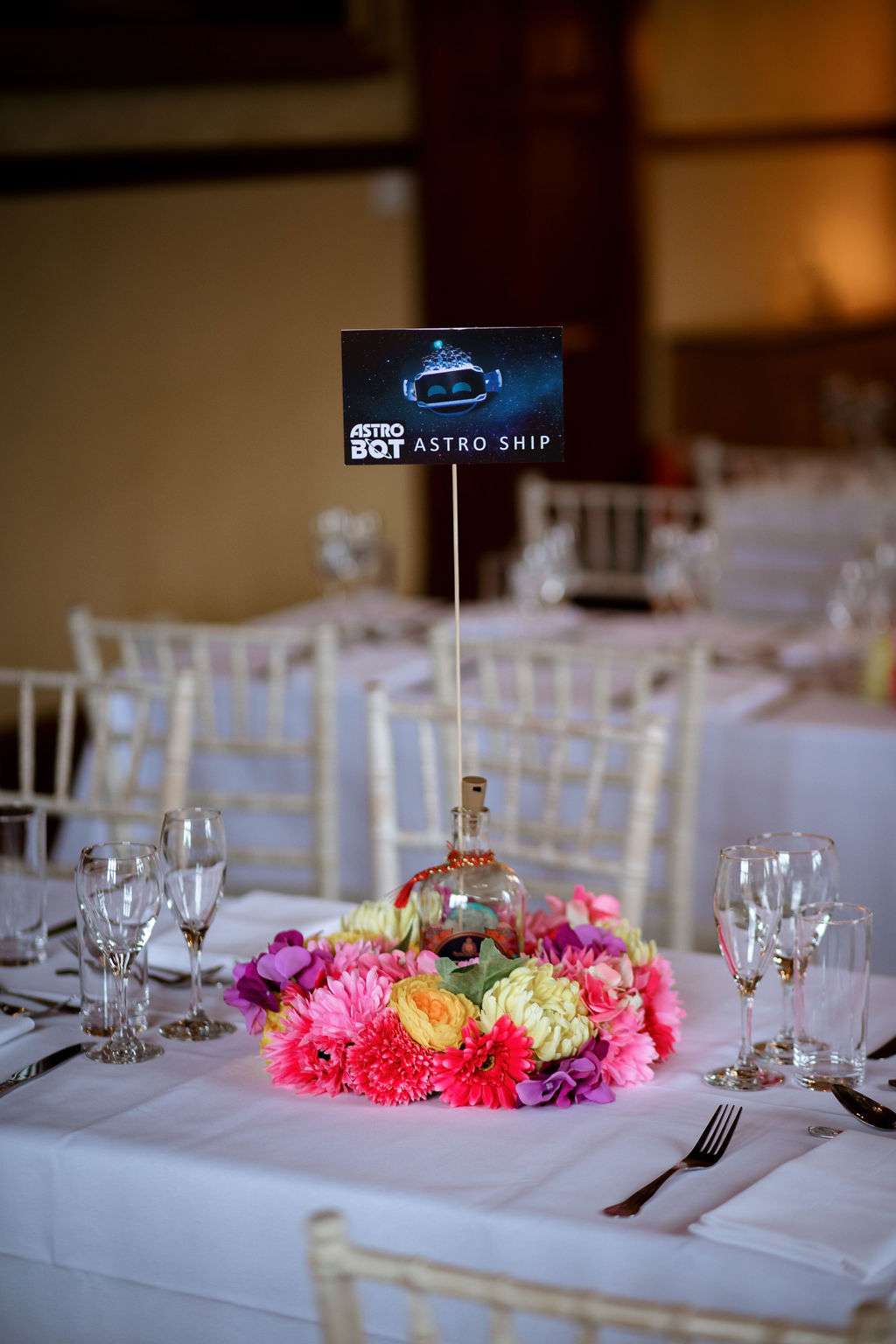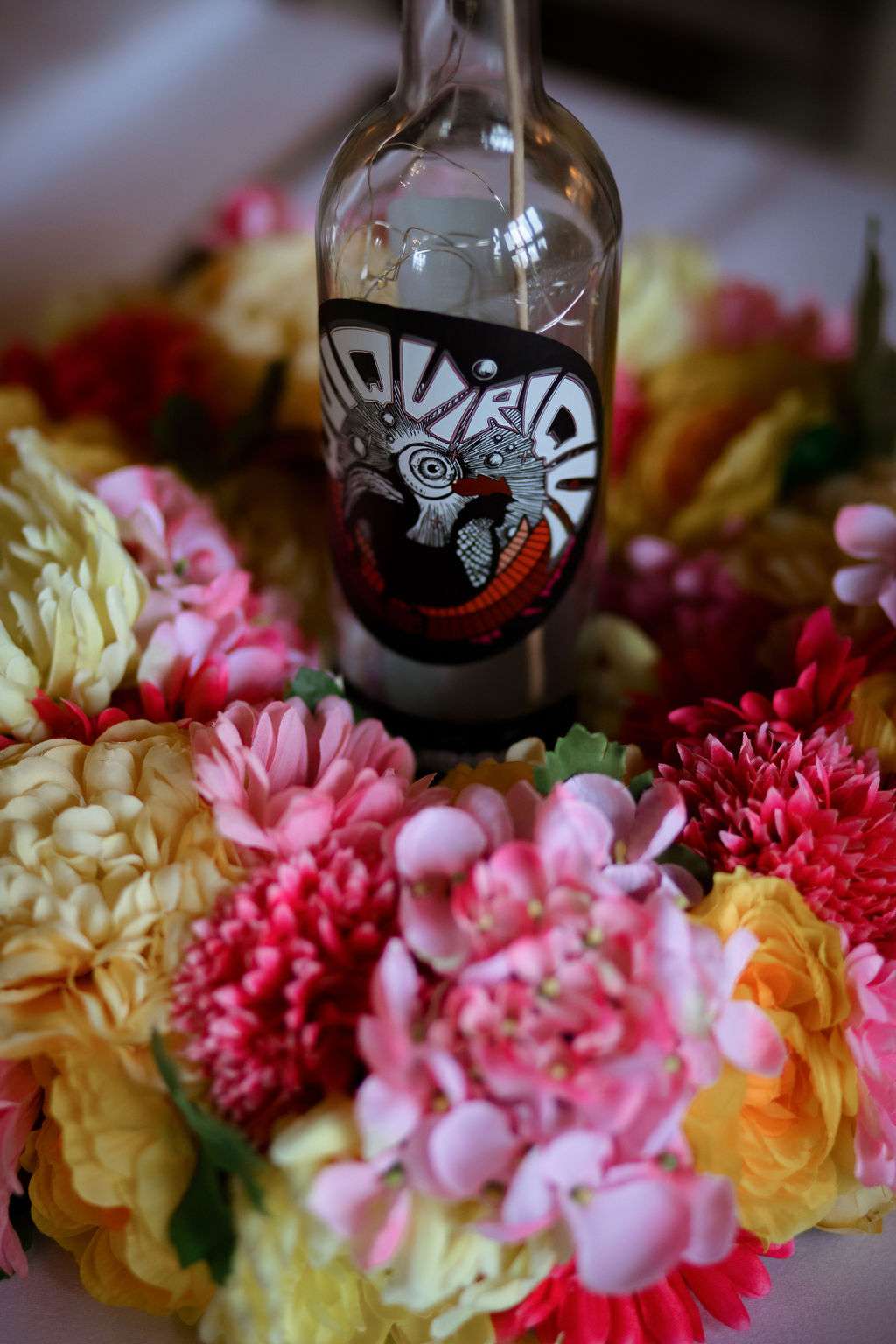 Choosing bright colours helped offset the gloomy winter weather and made for some beautiful photographs. The dress code for guests was 'fabulous' which indulged many of their guests who brought their colour and flair to the January weekend! The bride wore a nude Teuta Matoshi dress, off-set with a brightly coloured Japanese Uchikake wedding kimono.
"I collect kimono and had always wanted to wear one for my wedding", she said. "I found the one I wore by chance online and fell in love with it immediately. The vibrant colours inspired a lot of the décor for our day and even inspired the colours for the bridesmaids' dresses too."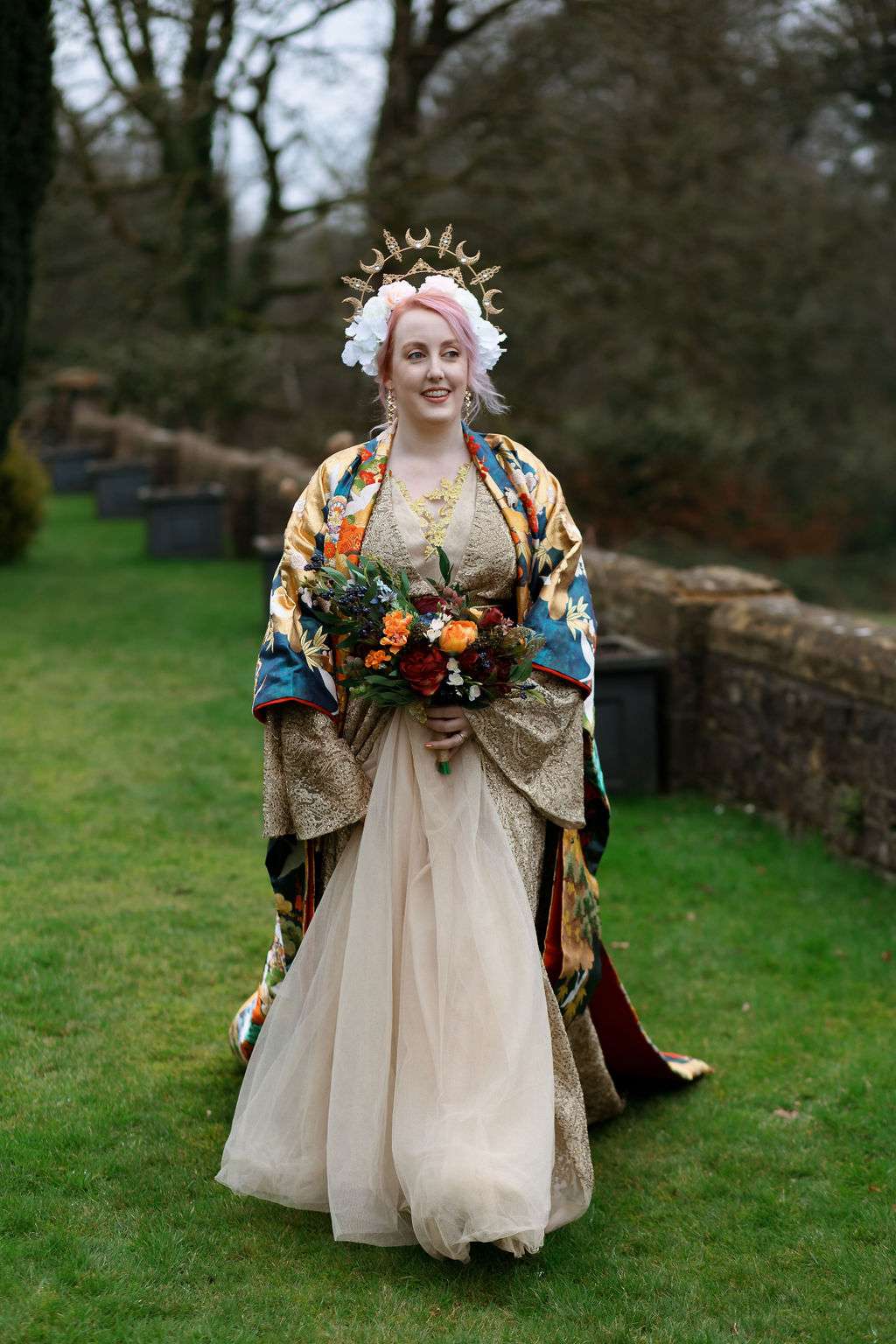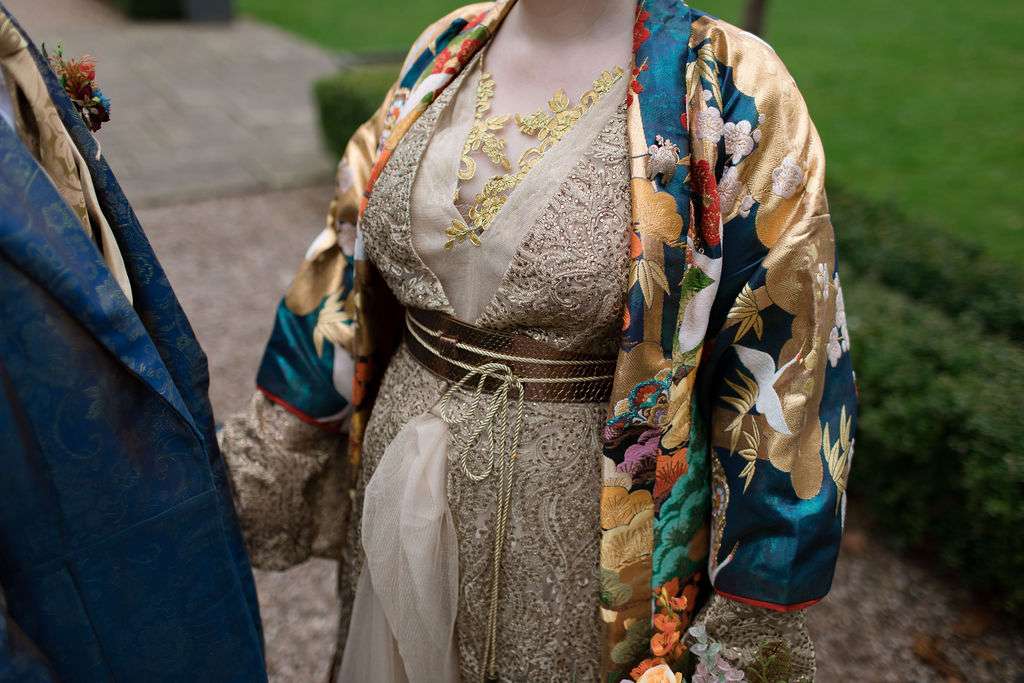 The groom wanted something totally unique and bespoke for his outfit too. He explains, "I always wanted my wedding outfit to be a bit 'extra'. It started with me creating a gold satin shawl collar waistcoat based on my love of 3-piece suits. The back was donated from one of Steph's old kimonos which featured a hand-painted crane bird and landscape. Steph came up with the idea of my outfit having lights based on inspiration from Claire Danes' 2016 Met Gala dress. I designed a long, pleated coat that would work for the day and the evening; the main design was a gold/silver brocade on royal blue fabric with a blue/gold silk organza on top. This layer disguised the netting in-between which I hand-wove 150 meters of fibre optic strands throughout that flowed from my shoulders down to the skirt of the coat. The strands were put into bundles and attached to a 3D printed lighting harness that housed strips of addressable RGB LEDs connected to an Arduino board inside the lining. After learning Python coding language, I programmed custom lighting animations to reveal an Aurora Borealis effect to our unsuspecting guests in the evening!"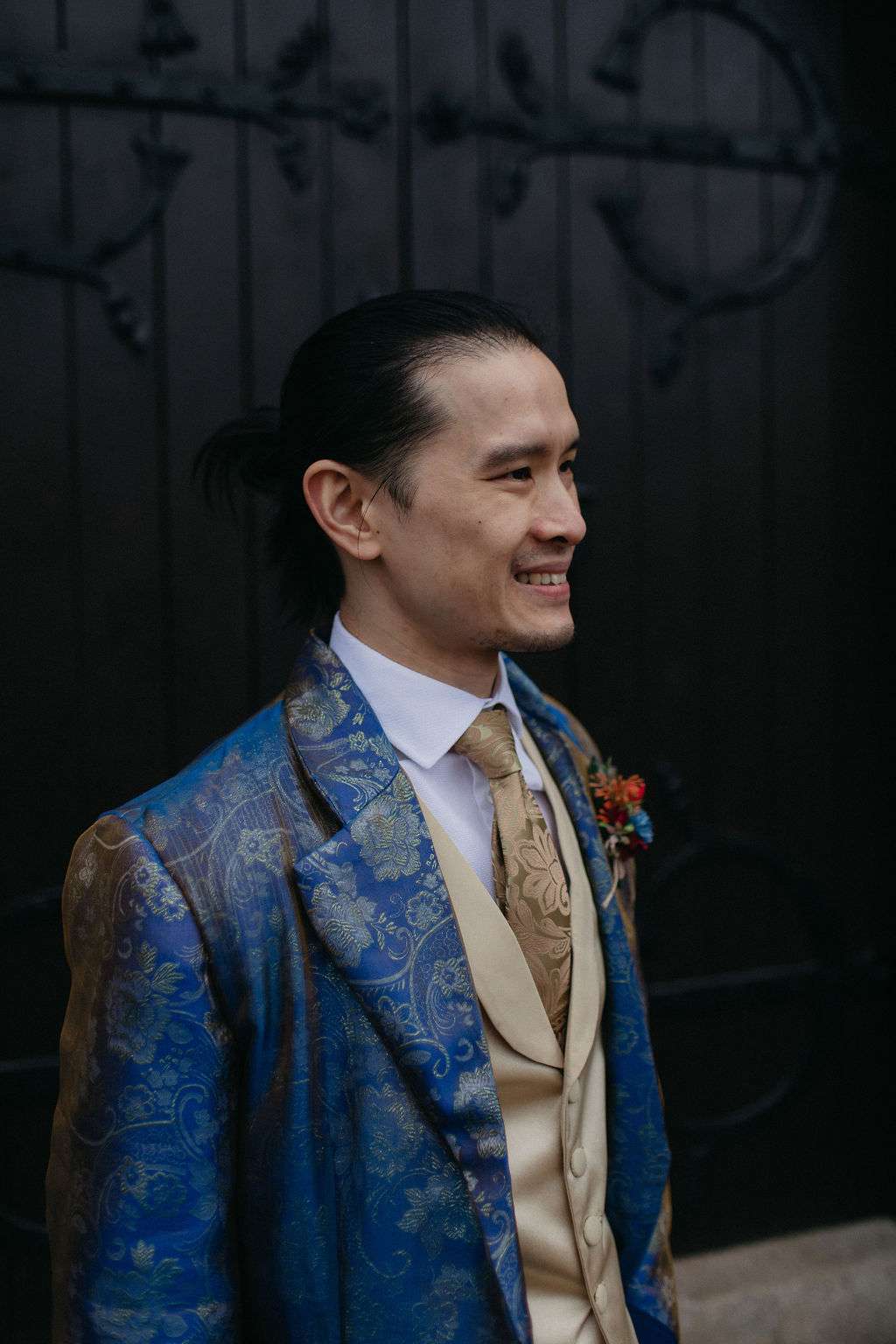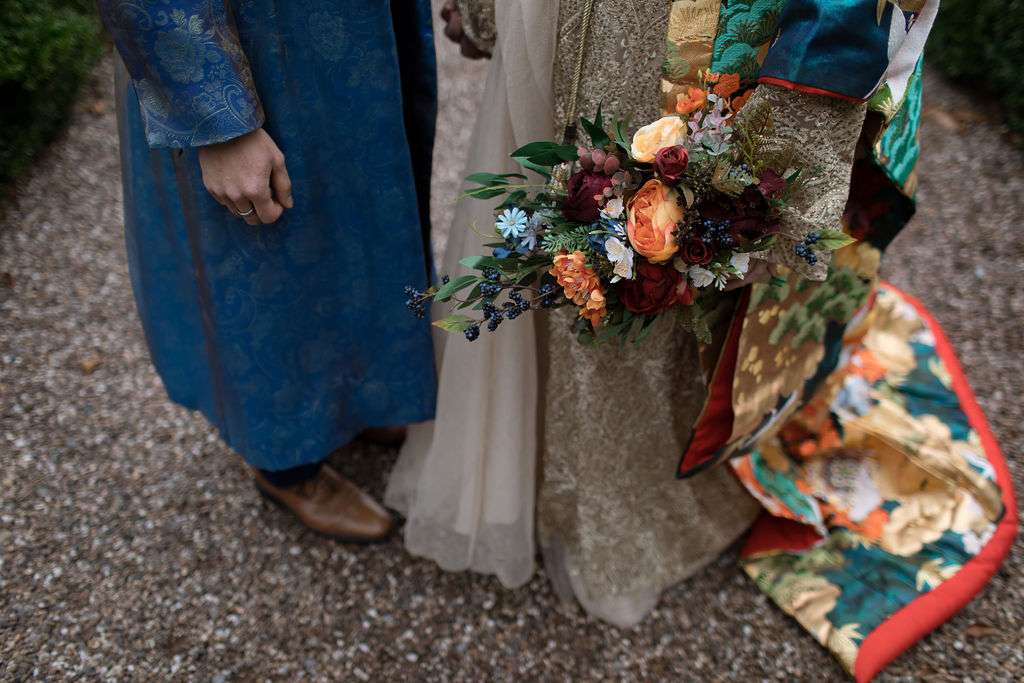 The ceremony incorporated music the Legend of Zelda: Breath of the Wild soundtrack. The bride walked down the aisle to Rito Village by TPR ft. Roxane Genot, and they exited to Korok Forest by ViolinGamer ft. Coxev.
"I expected to be so nervous about having to stand up in front of all our guests and go through the ceremony and our vows as I have big-time performance anxiety", Steph said. "But on the day I felt nothing but excitement when I walked down the aisle with my Dad and felt totally calm throughout the ceremony, It truly felt like a meant to be moment."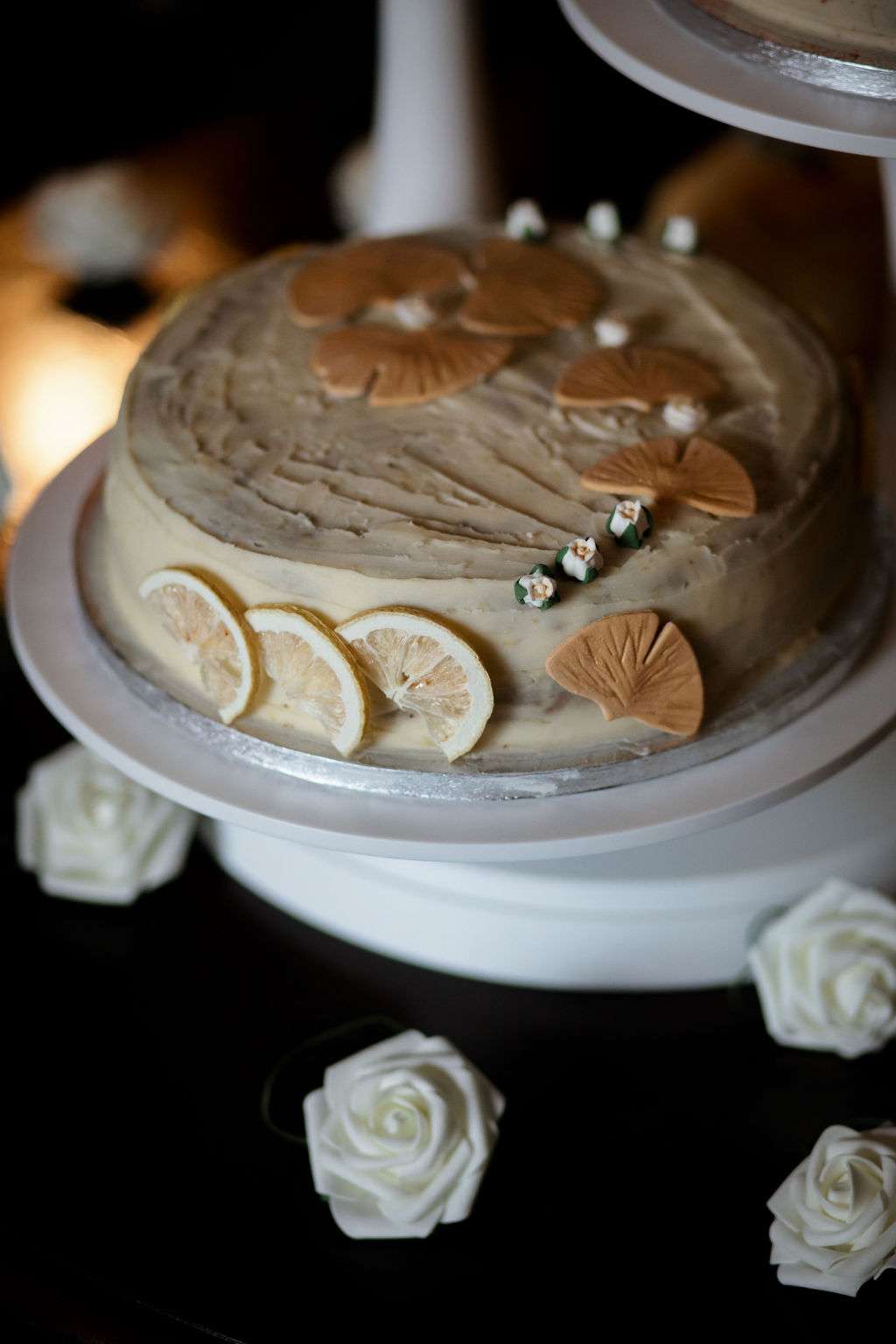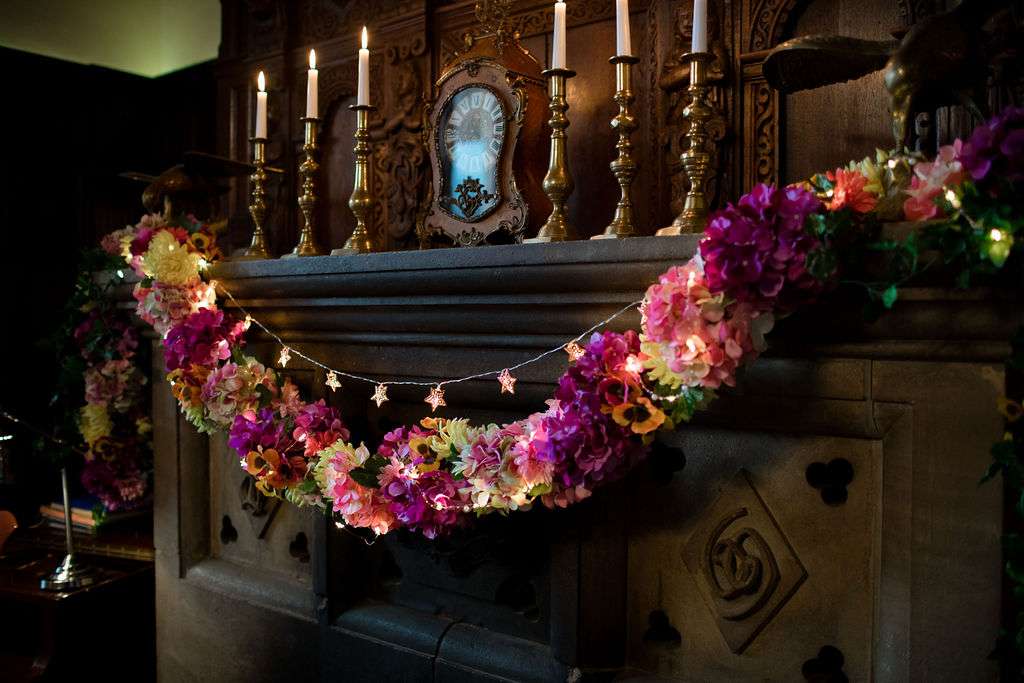 After the ceremony they had a Chinese tea ceremony, the meal and then a really unique and totally 'them' first dance. "Our first dance was on arcade dance pads to one of our favourite songs, Lone Digger by Caravan Palace, with a slideshow of photos together being projected on the big screen!" Chiok explained. "It was a pleasant surprise for our guests. We managed a costume change for the evening entertainment with Steph donning a tasteful 3-piece suit and I was able to activate the lights in my coat for some atmospheric twinkle as another hidden surprise whilst we danced through the night."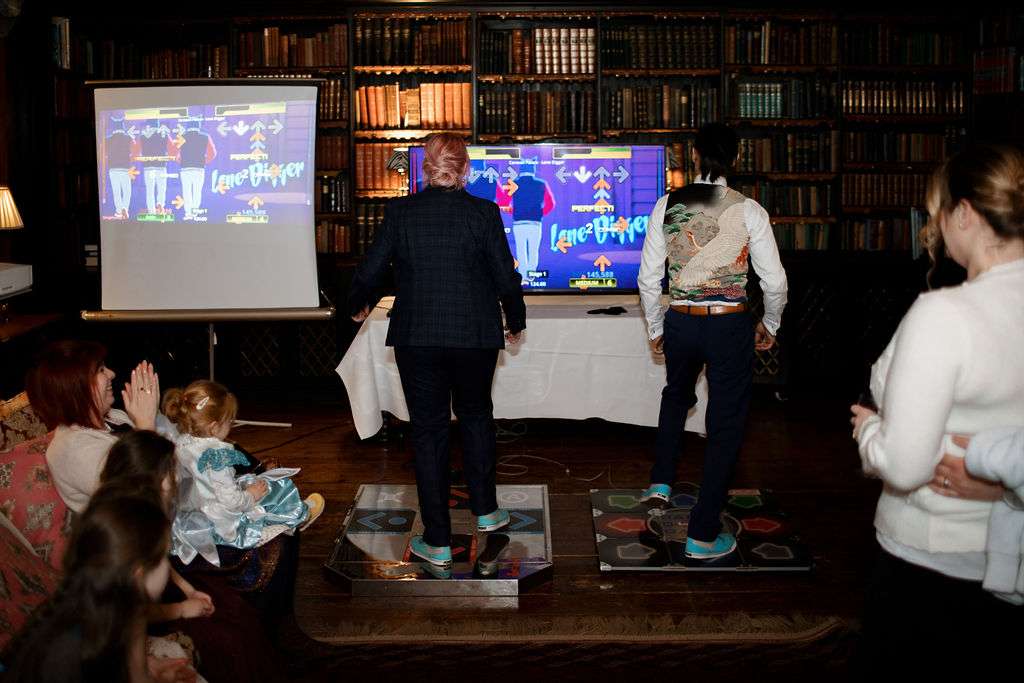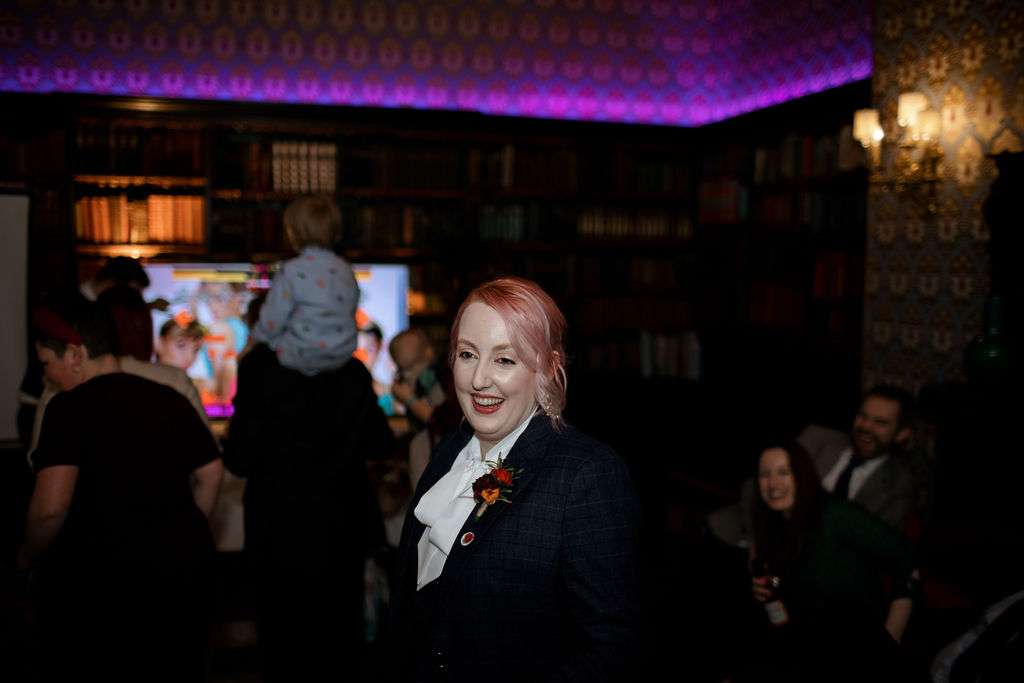 When asked if they had any advice for other couples, they responded, "Take your time and remember that you as the couple are the only ones that know what you want out of your day. Weddings are often a big family affair which sometimes has the side effect of the couple trying to meet the expectations and desires of everyone else instead of themselves. It is absolutely OK to create your wedding exactly as you want it; it's your special day!"
We couldn't agree more!