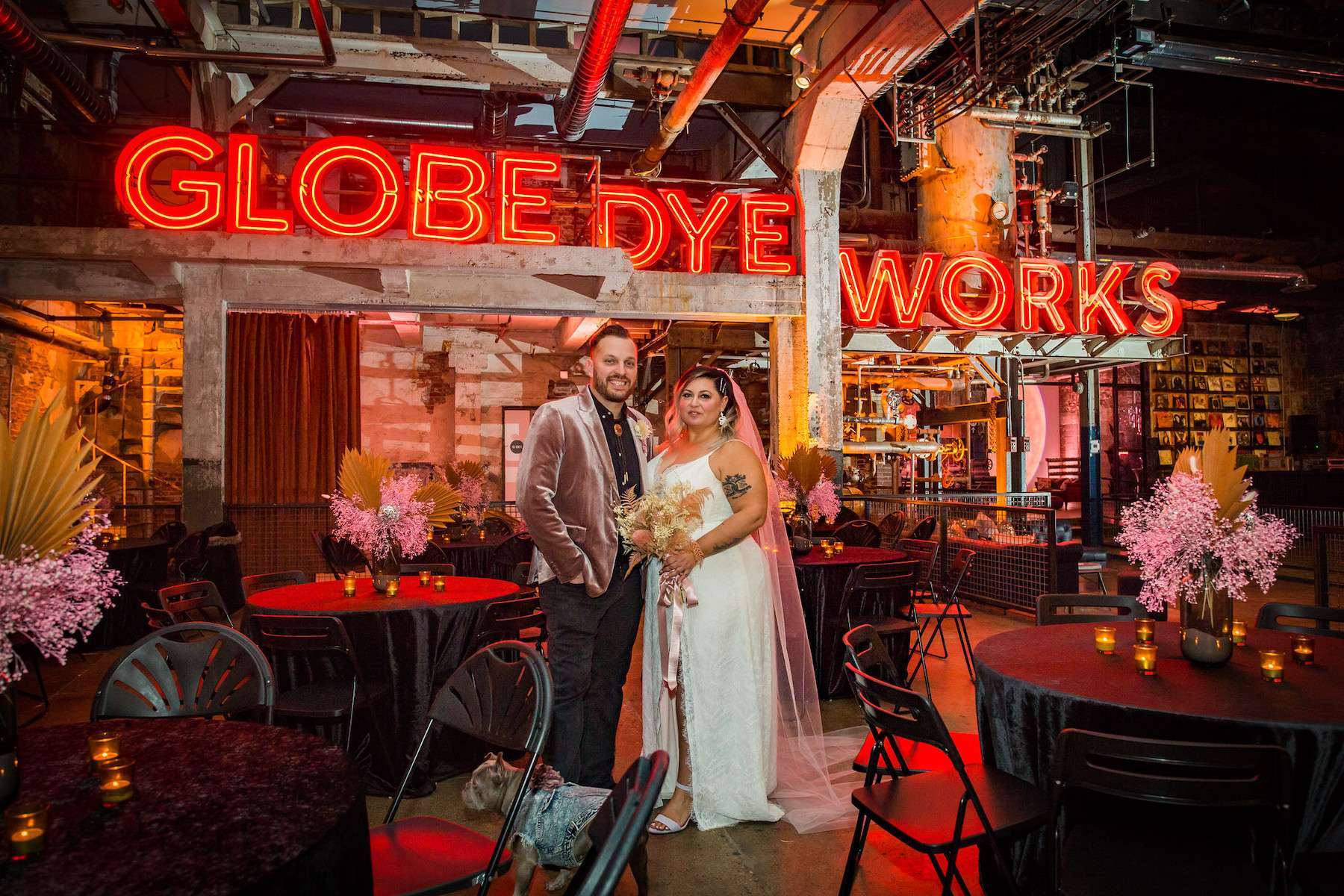 With playful and fun vows, full of Elvis puns in honour of their officiant, Kylie and Chris filled their day with the things they loved.
Kylie is a booze publicist, so they created a customised menu for their day. Sticking to their theme, they wanted the menu to really stand out and named all of the cocktails after their favourite Eagles' songs. She told us, "I took the beverages very seriously! The Libations Menu was carefully curated, and I worked with the team at Backyard Originals (they're a local team of bartenders that make liquor ready mixers) to create customised cocktail mixers so my cocktails could be pre-batched for easier service and to eliminate a wait at the bar."
Flowers were mostly shunned in favour of disco balls, although $300+ worth of hot pink baby's breath adorned the tables in gorgeous displays by Lucky Dog Studio. Kylie told explained, "My bouquet and Chris' boutonniere were from Old City's Petit Jardin en Ville – they were dried floral so we could keep them as keepsakes and are more sustainable. I also had a couple of dried Australian native flowers in my bouquet, as I'm an Aussie!"
The couple's biggest expense was the glassware rental. With drinks being a major feature of the day, it was vital that they were served beautifully. "I hate the waste of throwaway cups and nice stemware was important to me as we focused on a strong bar programme!" Kylie told us. They also rented a champagne fountain for a touch of fun and luxury.
With a boozy theme running through the day, Kylie and Chris chose bespoke beers as their favours; a custom Australian Sparkling Ale, as a tribute to Kylie's Australian heritage, and brewed by My Local Brew Works, located in Globe Dye Works, Philadelphia.
"Chris and I were able to participate in the brewing process and the guys even added special Australian hops to make the recipe authentic AF! The bottles were dressed with custom holographic labels and we named the beer TCB as an ode to our Elvis impersonator officiant. The beers were also adorned with tiny disco ball ornaments!"
With a day centred around the things they loved, Kylie and Chris finished the day dancing with their guests to a 70s playlist, with a late night set of old school hip hop. Having worked with a range of different people to pull off the perfect day, Kylie said the best thing about planning their wedding was "Working with my friends at Lucky Dog Studio," and offered advice to future couples, "Don't be afraid to ask people for help! They want to help you!"