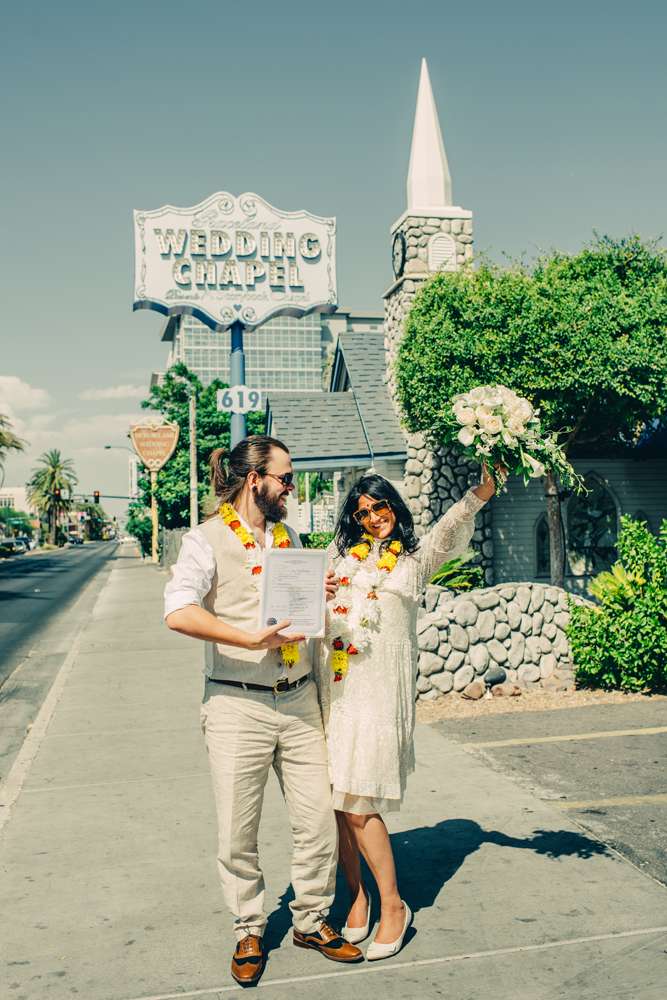 Pia and Chris met through their mutual love of Rock n Roll, when they were both using the same recording studio. Pia ended up joining Chris' band and they've been playing together ever since.
They got engaged on Valentine's Day and the very next day they found out she was pregnant! They began by trying to plan a big family wedding, with guests from New Zealand (where Chris is from) and the US (where Pia is from) travelling over to the UK (where they now live) but it all proved quite difficult and stressful with a baby on the way. In the end they decided to throw tradition completely out the window and to elope. This also negated the issue of having a religious ceremony. With the bride's family being Hindu and the groom's, Christian, they would have probably ended up needing two ceremonies to keep everyone happy, which they really did not want. So, with Pia seven months pregnant they flew to Vegas and were married by Elvis instead!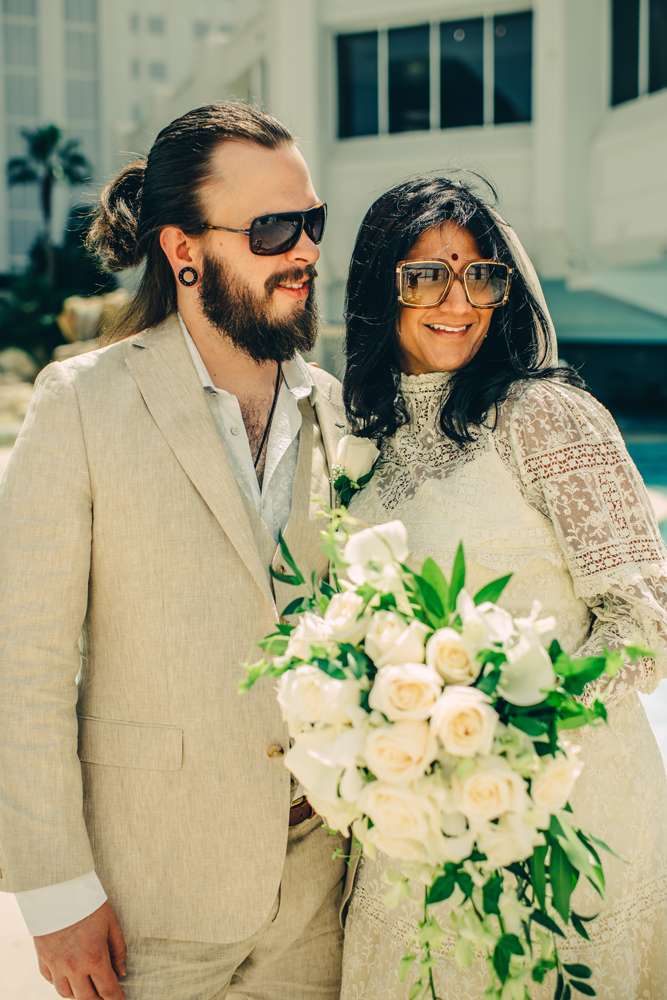 "Our wedding had a retro and 1970s feel with an old school Vegas vibe", Pia said. "We are very inspired by the fashion, music and the general feeling of the 1970s so this inspired our wedding too. I love looking at old, classic weddings photos of Mick and Bianca Jagger, Priscilla and Elvis, John and Yoko and the final scene in The Graduate. I also love pictures of the Beatles in India and wanted to bring in some of those elements and my family's traditions in with the Hindu garlands and the bindi."
Their ceremony was held at The Graceland Chapel which they followed by taking photographs around the city with their photographer Ashley Marie Myers, ending the night with a private dinner for two at the Eiffel Tower Restaurant overlooking the Bellagio fountains.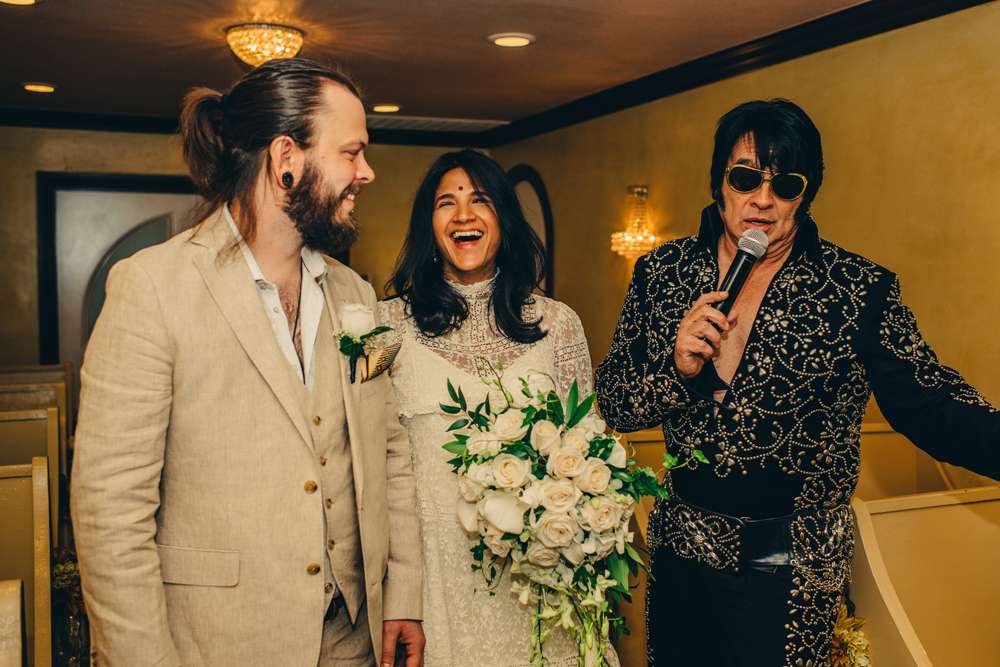 "Our ceremony was hilarious and very intimate all at the same time. Basically, Elvis serenaded us with I Can't Help Falling in Love as he walked me down the aisle. The minister asked 'Who gives this woman away?' and he said, 'I do, Elvis Presley' in his Elvis way. It was hilarious. And then the minister began his service and then introduced Elvis for another song; Its Now or Never. It was so surreal and hilarious with him singing and the minister dancing at the front. The rest of the service was really lovely and Chris and I exchanged our vows. It was just very chill and all about us making a commitment. Chris is usually not the best at expressing himself so it was really amazing to hear him put his heart on his sleeve. And then the ceremony ended with some Viva La Vegas!"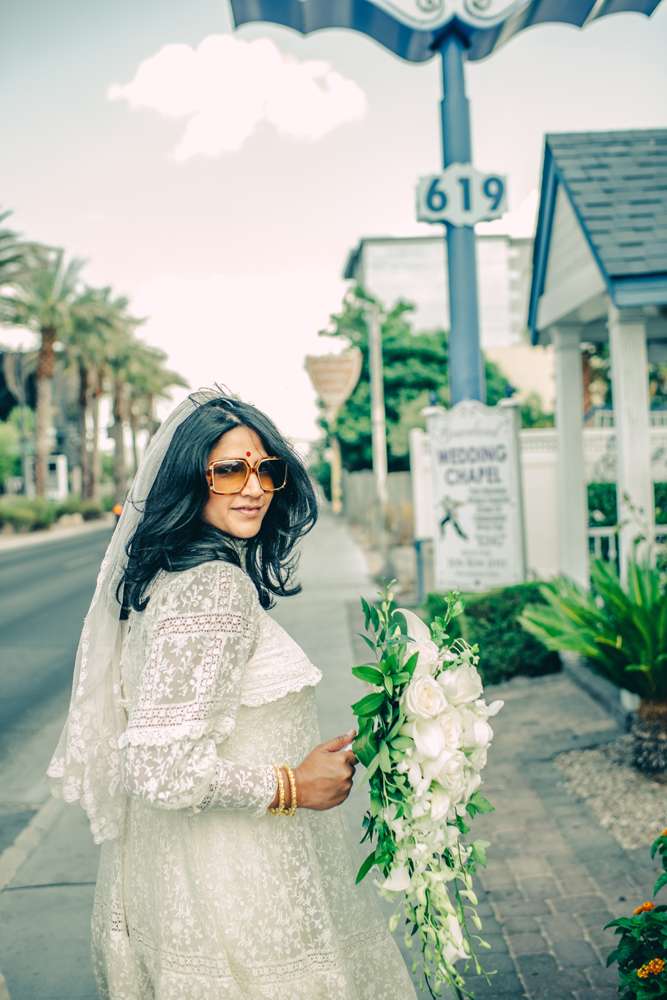 "The best thing about planning our wedding was keeping it a secret", she explained. "No-one knew it was happening but us. Chris' best friend sent us a text on the day from the UK saying 'Hey what are you up to today?' and when we sent him some pictures later he couldn't believe it!"
They didn't even tell their parents they were eloping, but luckily, everyone was thrilled for them! "At one point Chris' Mum said to him in a message 'Please just no Vegas!' so he was a bit nervous to tell her, but she actually thought it was great. All our family and friends did. Everyone was just really happy for us. No one was upset which was a relief.  My Mum passed away last year and the last time I hung out with her I told her Chris and I would love to just elope to Vegas and she said we should totally do it. Its nice to know that I had her approval too."