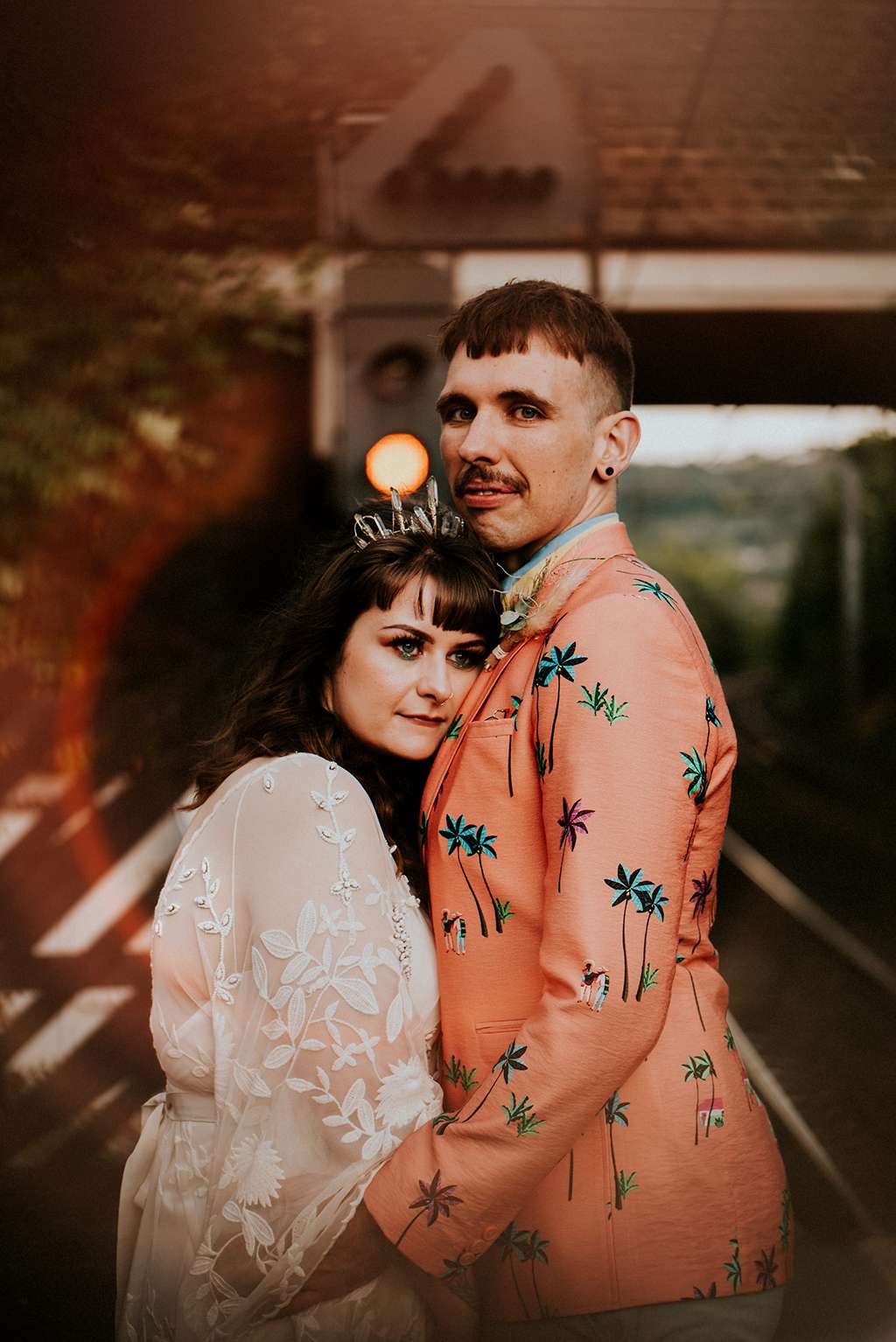 The couple's love of 1960s decor and 70s disco inspired Simon and Xanthe's September 2019 wedding. In fact, their reception venue, Caroline Street Social Club in Saltaire, was the first thing they booked and based the rest of their theme around.
With it's super cool retro decor; original '60s wallpaper, plush faux velvet seating and dark wood clad walls, the couple needed to do little in the way of dressing the venue. They bought in a variety of paper garlands and hanging decorations to frame the stage where their pièce de résistance was placed; a crescent moon seat made by Simon's dad and grandad.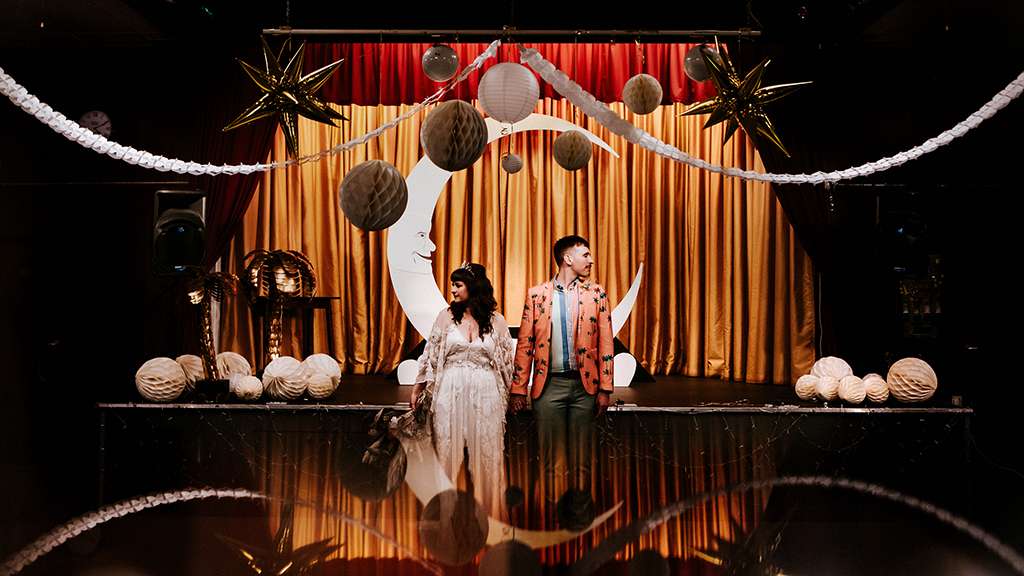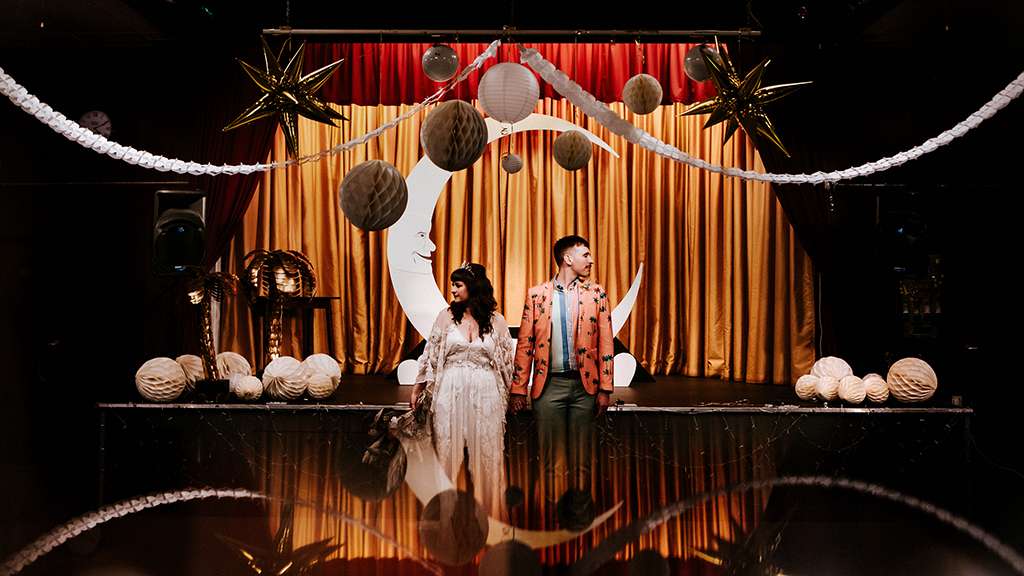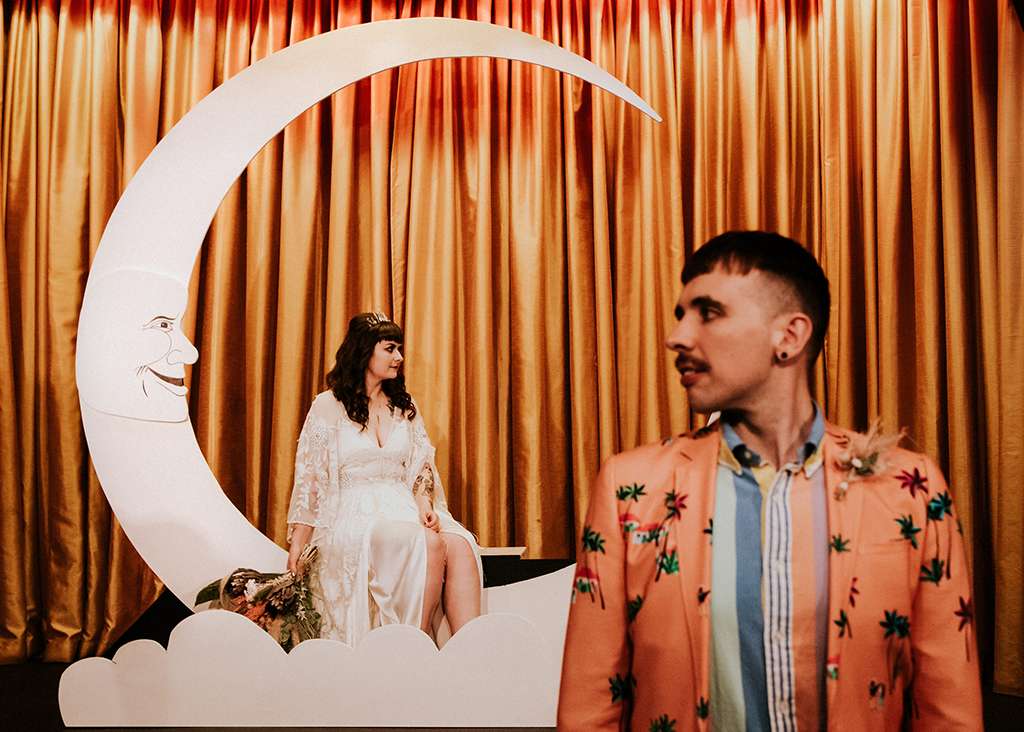 "We wanted a relaxed day which wasn't too formal and stuffy as that really isn't 'us'," said Xanthe. "We didn't do any of the traditional stuff such as first dance, speeches, bridesmaids, favours etc. We essentially just wanted to have a big party with all of our family and friends without having to sweat the small stuff which you'd usually worry about at more traditional weddings. Whilst I still wore an ivory dress, I went for a less traditional look with the big sleeves and all the fringing and Simon went totally non-traditional with his incredible tropical print jacket!"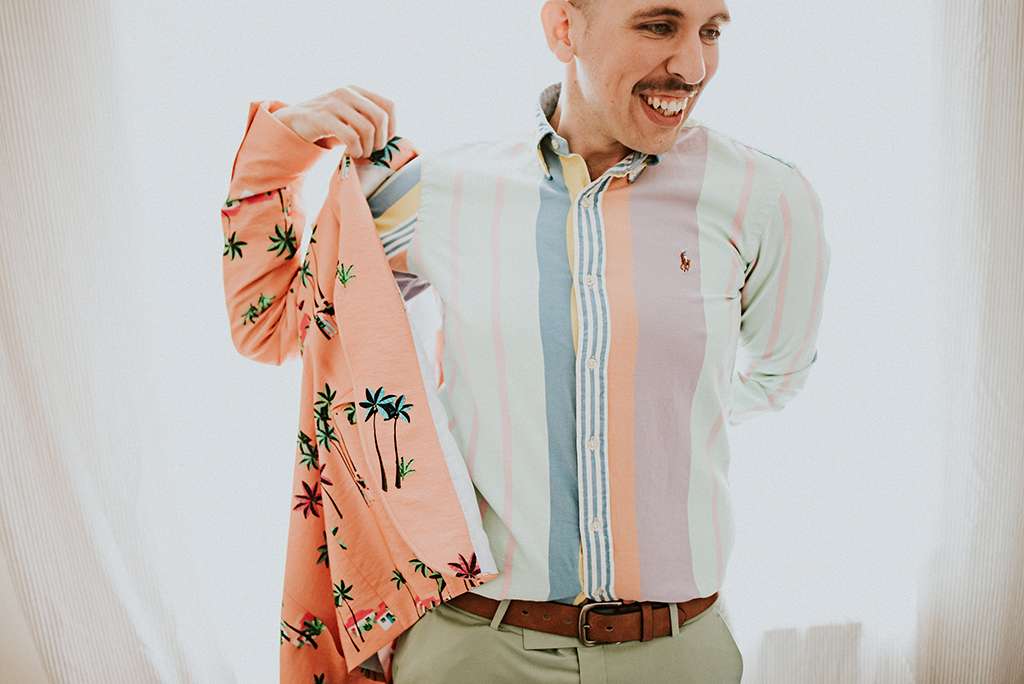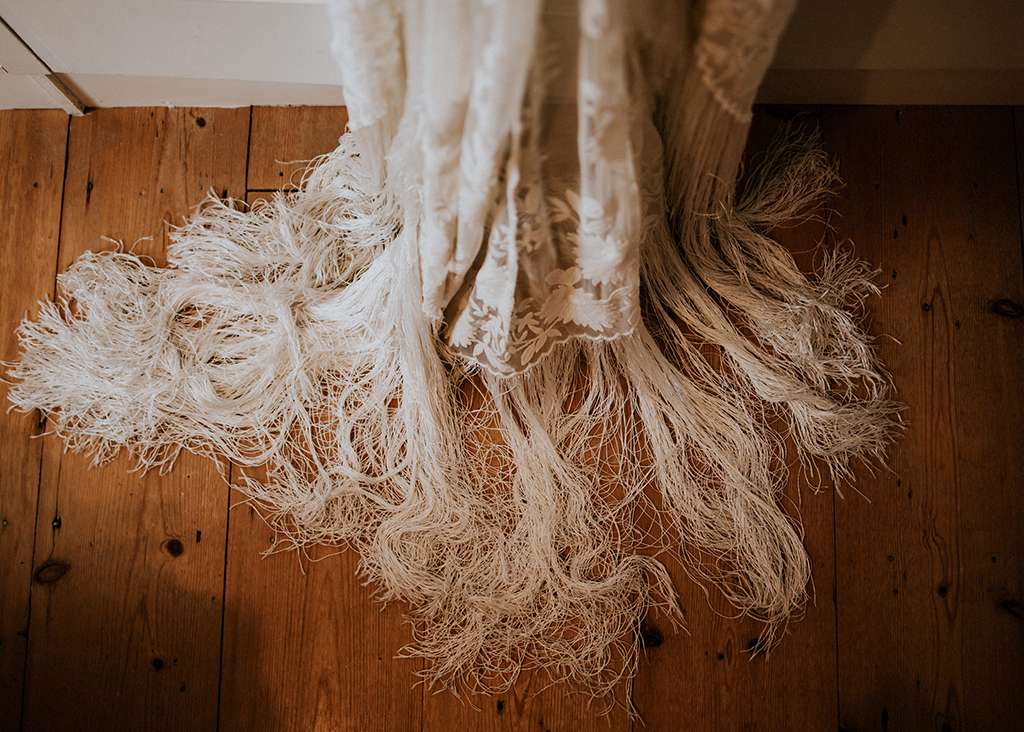 As they don't like being the centre of attention, the couple chose a small ceremony, at Victoria Hall in Saltaire, the beautiful UNESCO world heritage site village where the couple are lucky enough to live. The room they chose for the ceremony was upstairs, with views over the village, the mill and up to the moors. Their five year old daughter Sylvie walked down the aisle first, and then Xanthe followed behind with her Dad to Toothpaste Kisses by The Maccabees playing.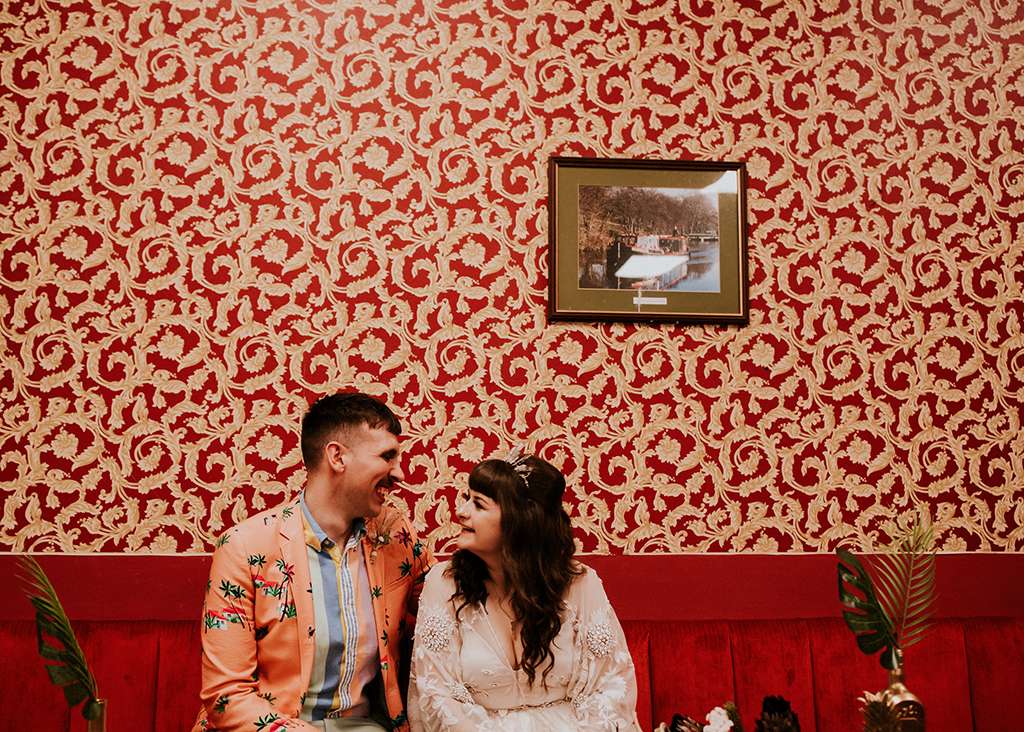 The biggest expense in the couple's £10,000 budget was the catering; they really wanted to make sure their guests were looked after so planning the food and drink was one of the most important aspects for them. They had a relaxed buffet from a local artisan bakery in the day and then wood-fired, Neapolitan style pizza served from a converted 1970s Dodge van in the evening. They saved a pretty penny with their venue hire at only £60 for the day, and the super cheap social club bar prices were a hit with their guests, too!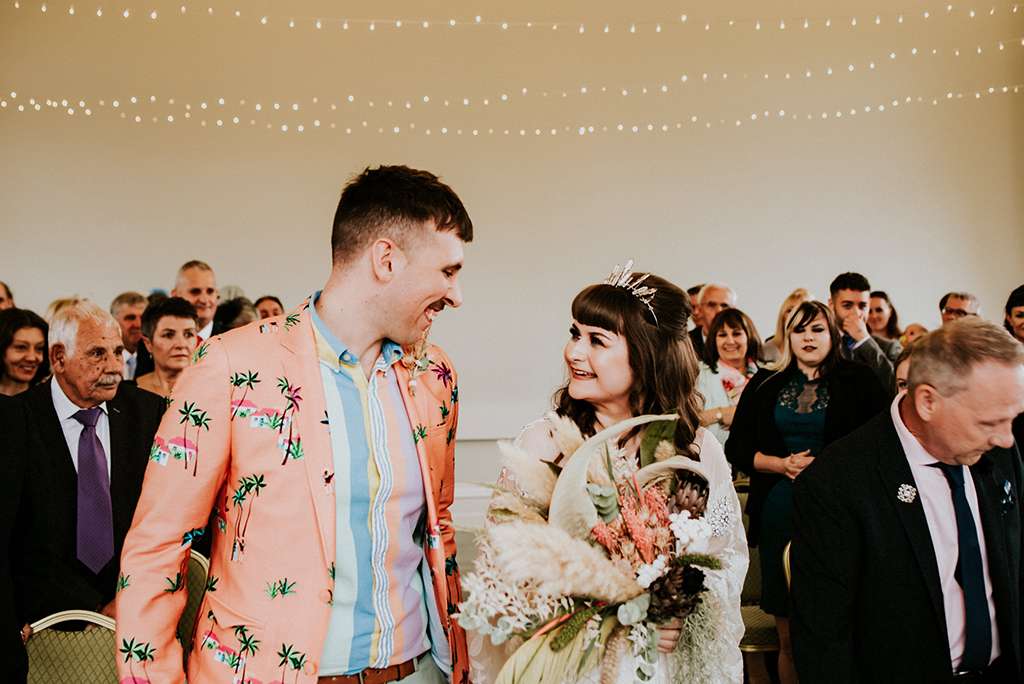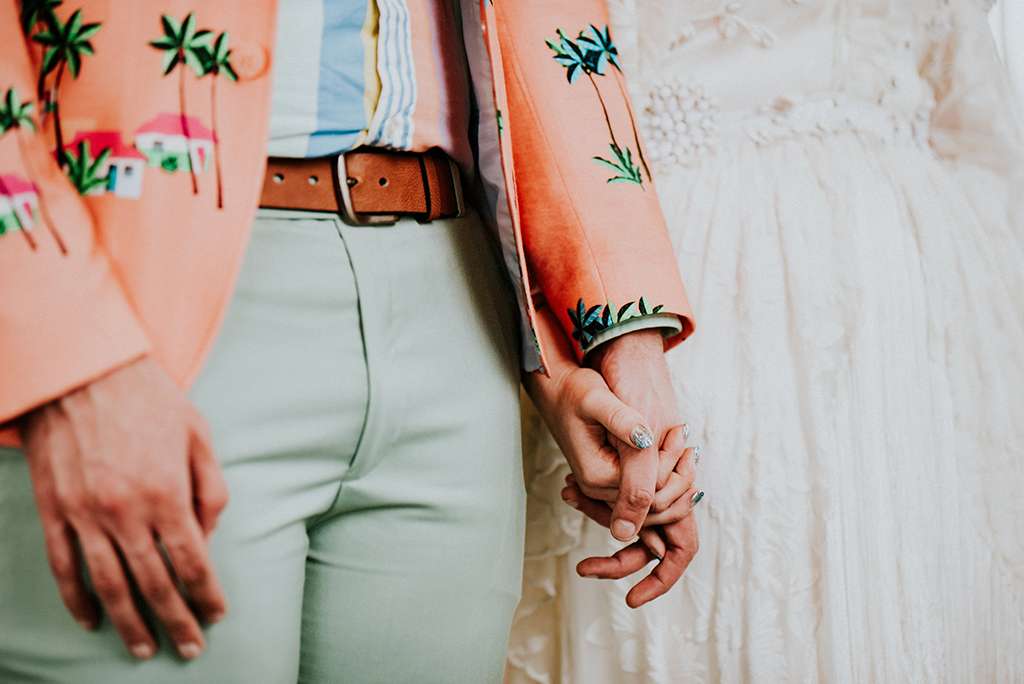 "The best thing about planning our wedding was actually getting around to do it after 11 years together!" laughed Xanthe. "In retrospect, the only thing we would have done differently is taken a small part of the day to find somewhere quiet and have a drink together, just the two of us. We spent so much time catching up with friends and family that we didn't actually spend that much time together after the ceremony. And eat the food! Everyone told us how delicious it was but we were so busy we didn't get around to eating much!"