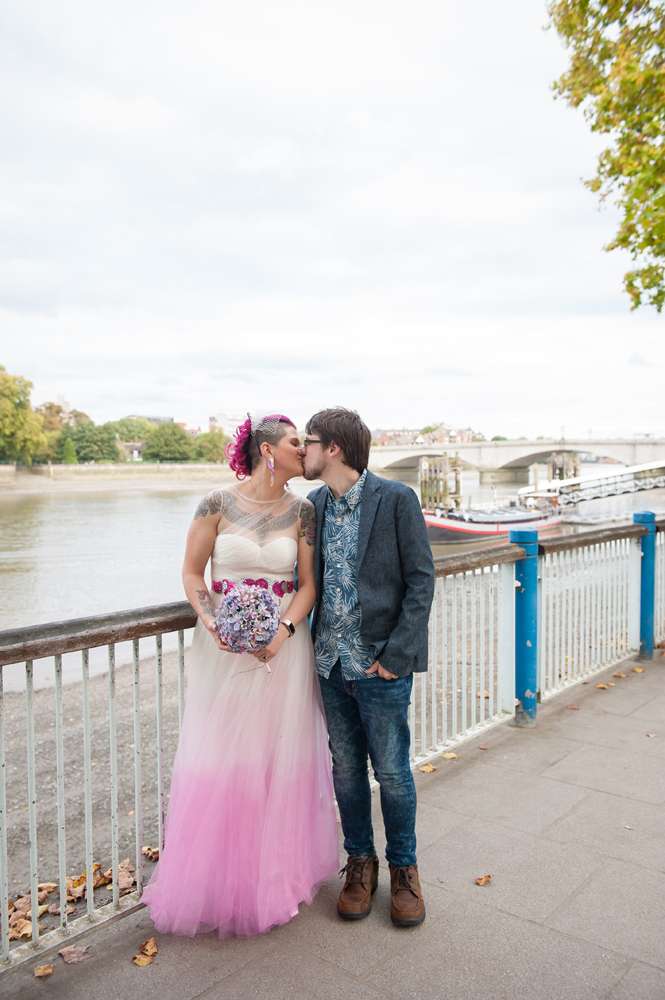 Jennie and Scott's Putney pub wedding was a riot of colour and a day of totally relaxed fun. The couple were completely chilled about the day – even when things weren't going to plan – and you can see how beautiful the results were in the gorgeous pictures from Kat Forsyth!
They had both their ceremony and reception in the Duke's Head, Putney. Alongside a theme of "pink, grey and very, very relaxed", the couple drew inspiration from the pub itself and its quirky atmosphere and décor. Their ceremony was held in a quaint room upstairs, which was decked out in pink and white puffy decorations and confetti balloons and mismatched chairs. The sash windows were thrown wide open for a stunning September afternoon, all soundtracked by classical cello versions of old rock songs. Despite Scott messing up his vows when promising to be faithful, and Jennie hardly being able to get the ring on her finger due to the heat, they said "We giggled, we laughed, and it was perfect."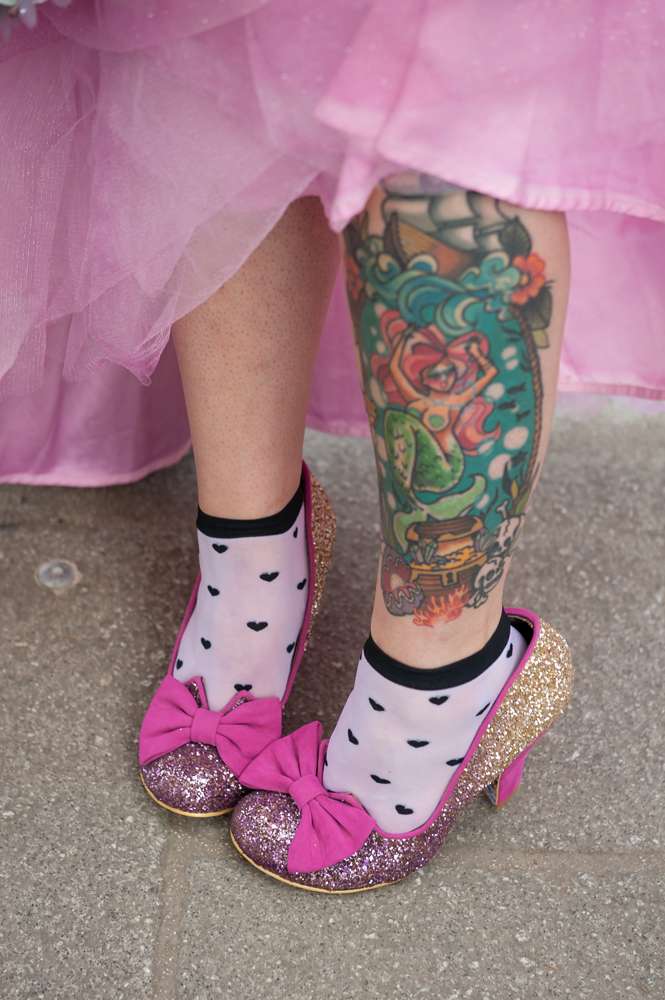 A graphic designer by trade, Jennie did loads of bits herself, which both saved money and helped make it super personal. Finding the little details to add to the day was her favourite part of planning. "Each thing brought a little smile!" she explained. "Being a graphic designer and hands-on person, I made everything I possibly could. I did the bouquets, the guestbook and little confetti bags were made by me and so were the cake decorations, which still sits in the house today."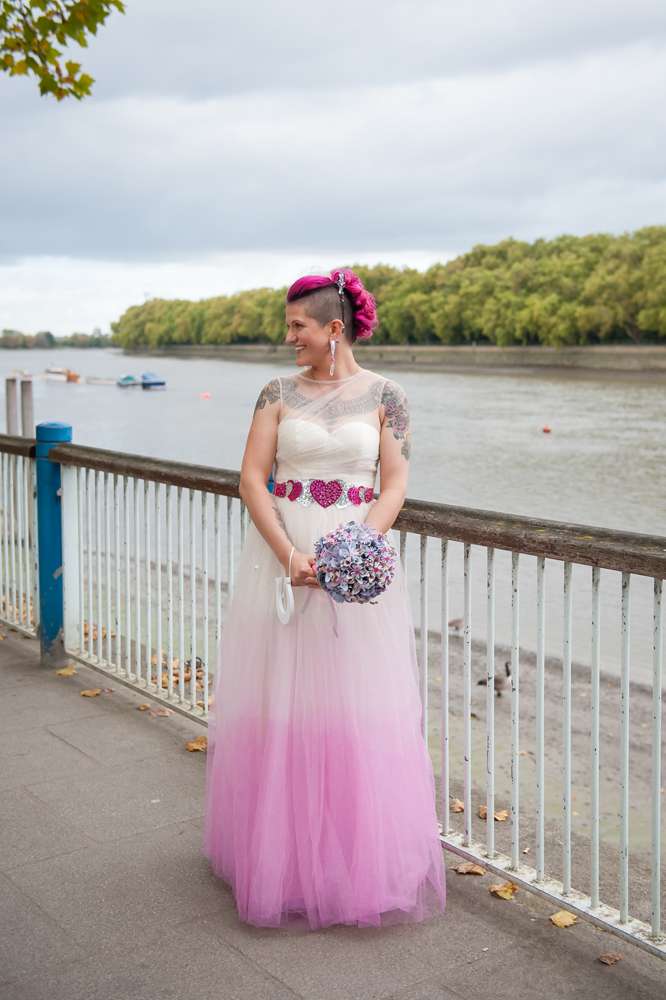 Jennie also dip-dyed her own wedding dress, a full-length sweetheart neckline dress by Chi Chi which she picked up in the ASOS sale for £30! She styled it with a Crown & Glory belt, Irregular Choice shoes, custom plugs from Etsy and cat ears which she made herself. Scott kept his look casual with jeans and a patterned shirt from the high street, and the bridesmaids picked their own dresses, ending up with very similar black floral numbers which worked perfectly on the day!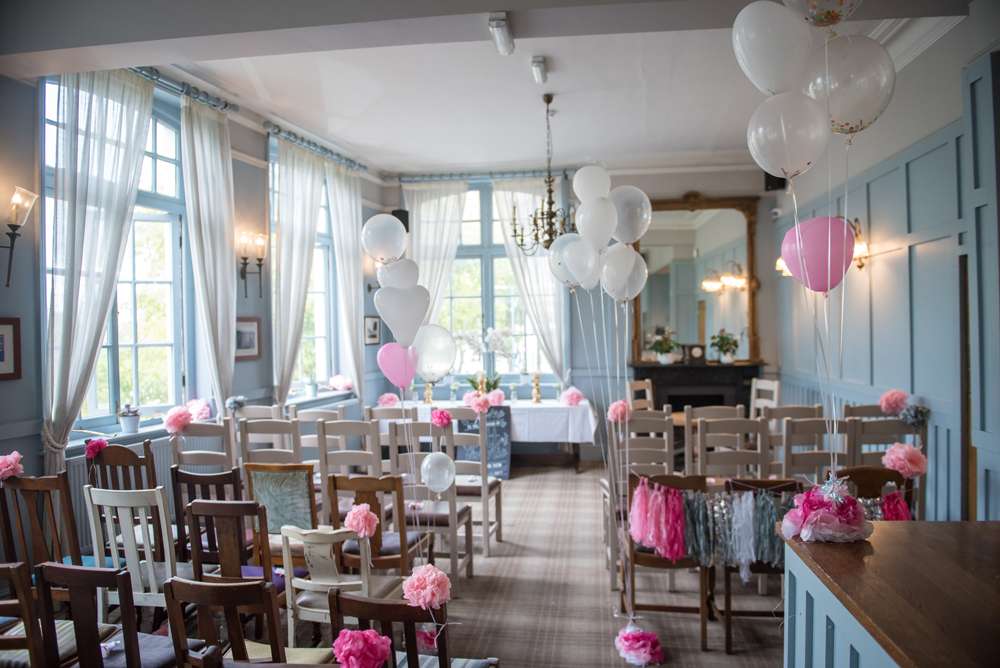 In total they spent just £3000 on the way with the biggest portion going to the venue. "We wanted everyone to have a fab time and not worry about getting drinks so we paid for the tab and we got the venue for free!", she said. "Doing the invites myself saved us hundreds and the DIY flowers were so much cheaper. We also gave them as gifts to the bridesmaids. All the decorations came from eBay at a fraction of the price I'd seen elsewhere. I also made the guestbook where everyone could slot in little message hearts to us."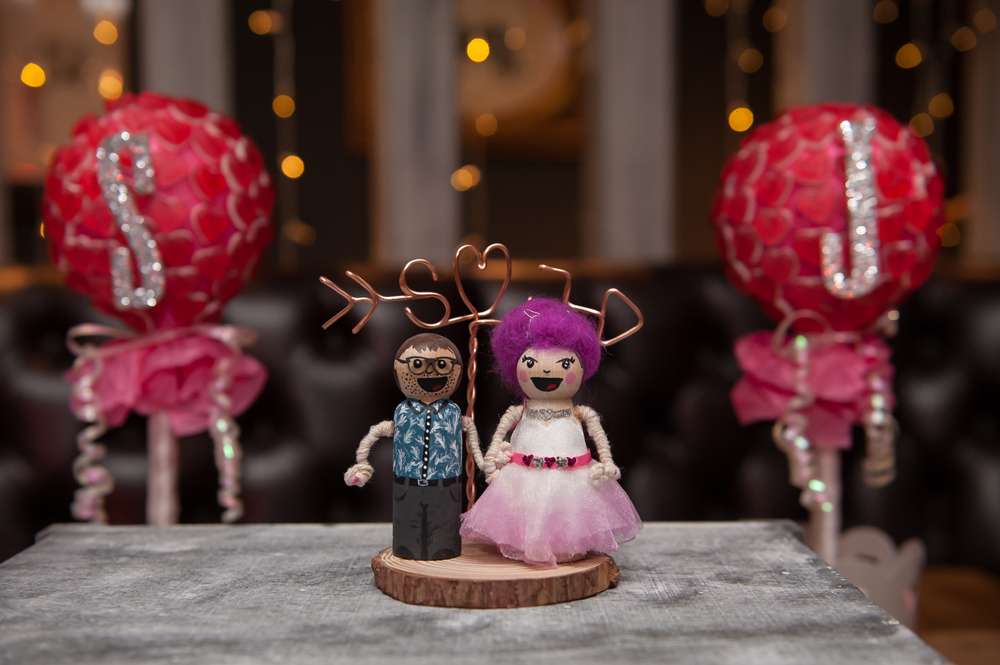 "Have fun, no formalities" was their motto, making the day super colourful and unique. There was an open bar, copious amounts of food, incredible vegan cake from Lawley's Bakery, lots of board games and props, and just good simple music in the background, making for the perfect afternoon and evening. "We just wanted everyone to come to the pub with us – while we were dressed fabulously, of course!"