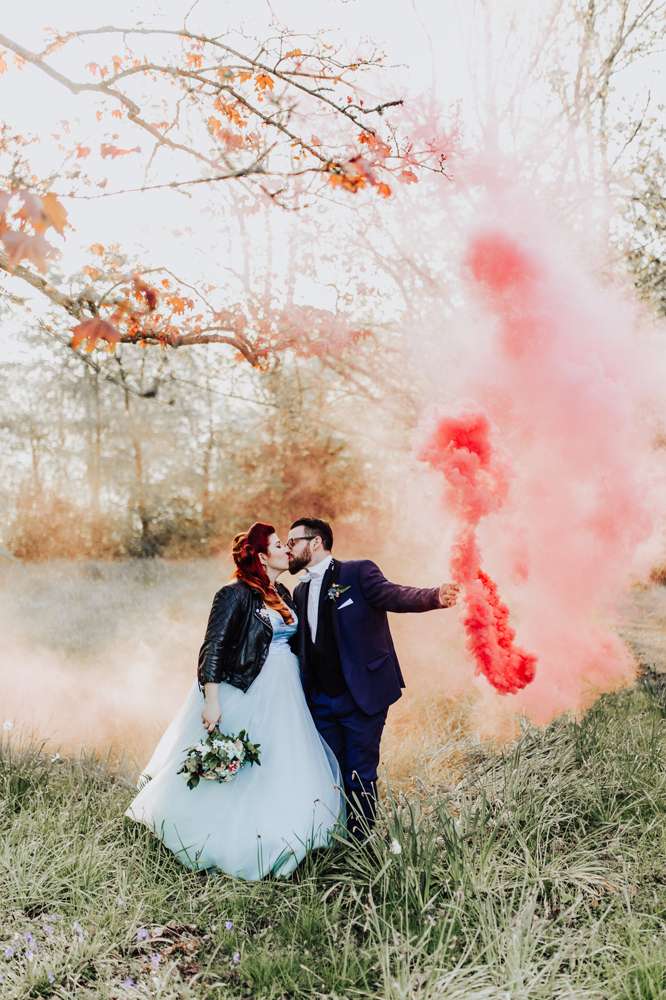 Meet Tesni and Andrew: Married on May 4th, they had small touches of Star Wars throughout the day, but also included their other favourite movies and novels (lots of Terry Pratchett!) in the table names and decorations. The pregnant bride chose to wear blue as a nod to their son who was due two months after the wedding… And, even better, she found it for £500 in a closing down sale!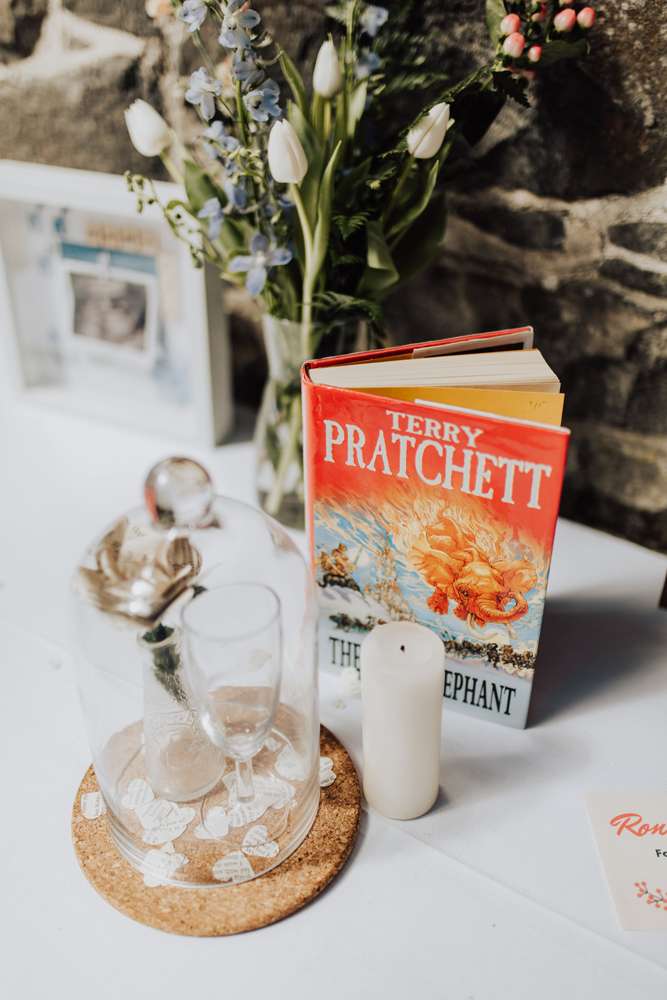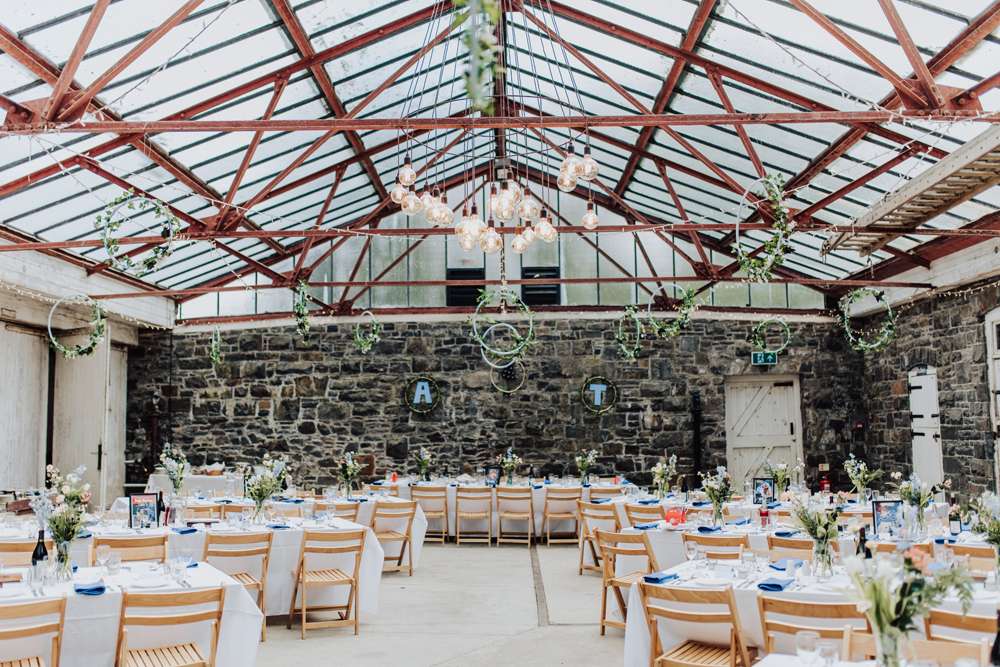 The day had an elegant, vintage and timeless feel, but also feel personalised and very 'them'. "Our wedding theme was to just tell our story – eclectic, personal and slightly geeky!" said the bride.
The ceremony was originally planned for outside, but to make things easier for the seven-month pregnant Tesni, they moved it indoors to the great hall at Plas Dinam Country House at the last minute. "Its stunning moulded ceiling and deep coral walls went perfectly with our colour scheme", she explained, "and everyone staying in the house had eaten a pre-wedding dinner made by my mum in there the night before so it just felt completely relaxed."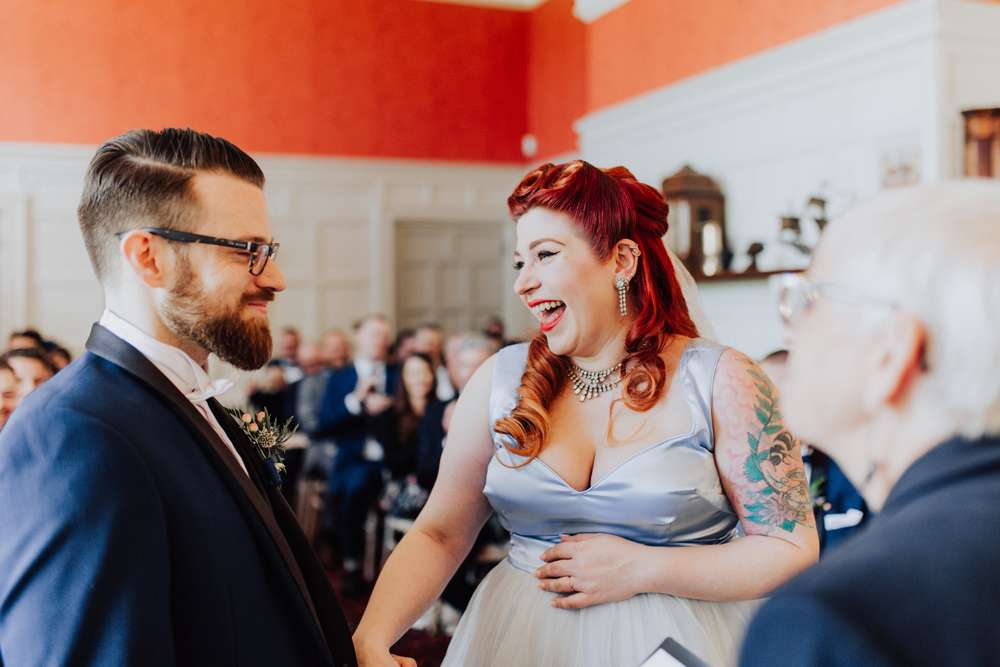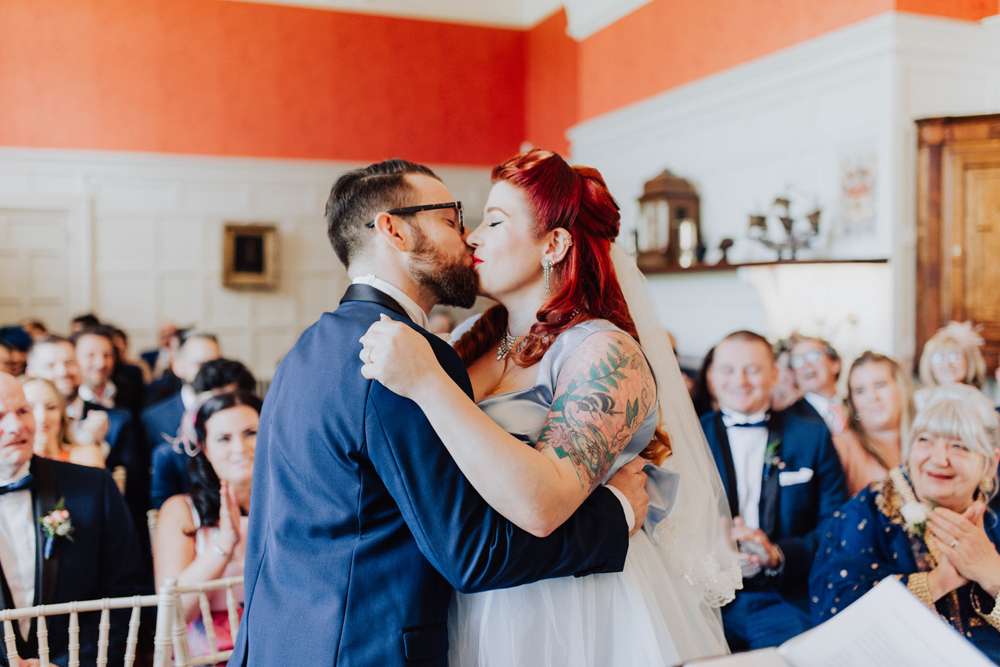 "We were all tearing up after the readings by my nephew and Andy's sister, but this was balanced by the comic relief in the impromptu high five when my wedding ring went on as I was worried this wouldn't fit due to the pregnancy swelling! We just couldn't stop smiling through the whole thing, and the baby started wriggling around the second he heard his Dad's voice! Seeing him there waiting for me looking so dapper after saying goodnight the evening before, was the best part of the day for me. We'd definitely recommend going with this tradition and spending the night apart as it felt so good to hold hands again at that point and know that we would be doing just that for the rest of our lives."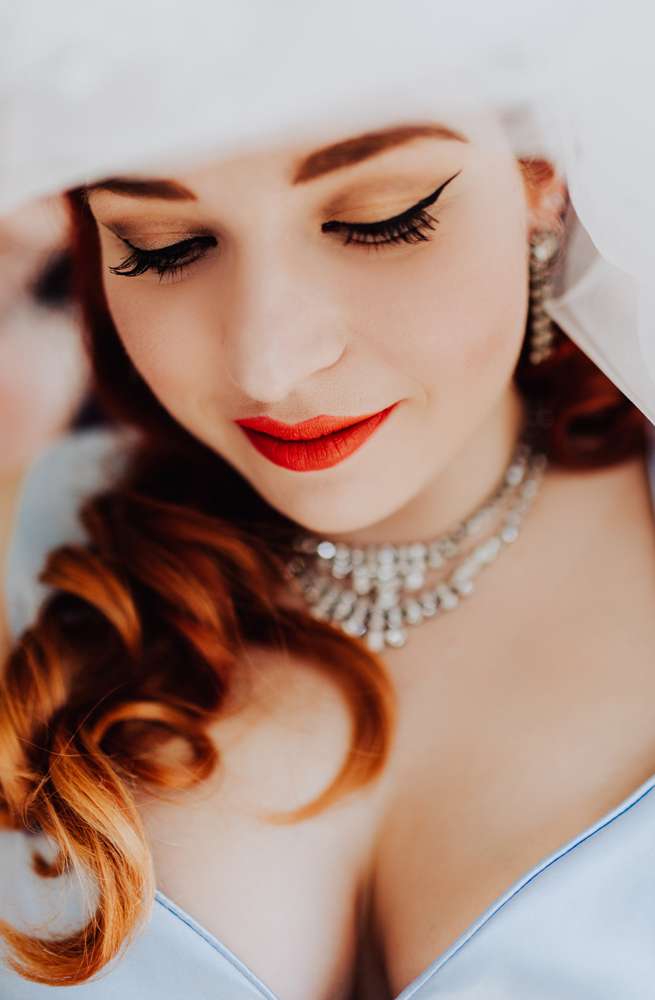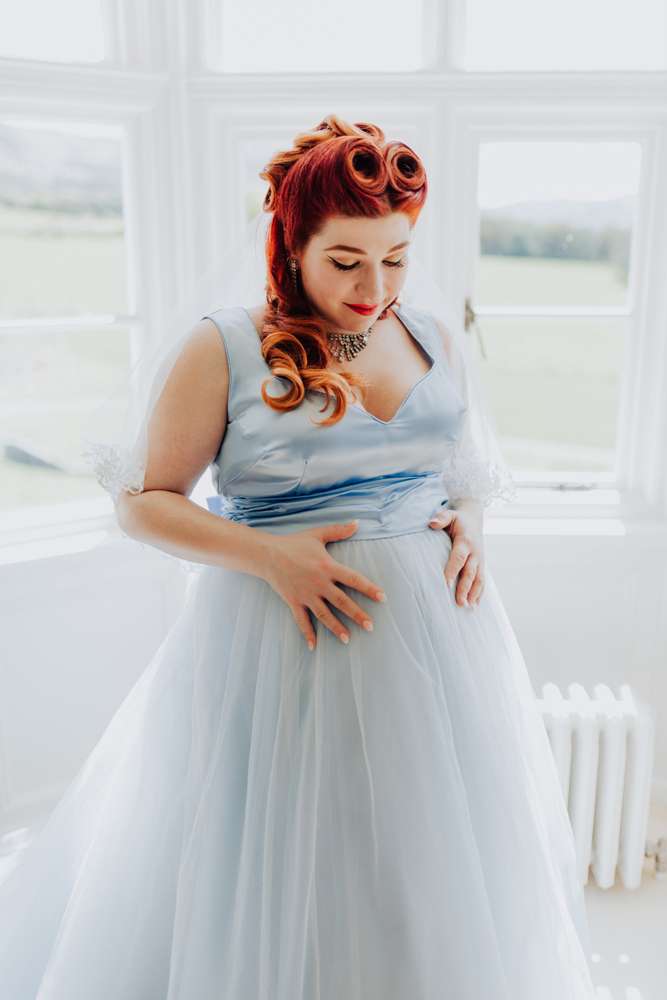 They opted to have their speeches before dinner while the sharing platter style starters were served. This kept everything relaxed and meant the speakers didn't get too drunk first (HA!) "The speeches were one of our favourite parts of the wedding. We particularly loved my sister Alwen's 'silent movie' style speech done with chalkboard style signs and set to a backing track of songs with special meaning for us including Sisters from White Christmas and Lime in The Coconut from Practical Magic."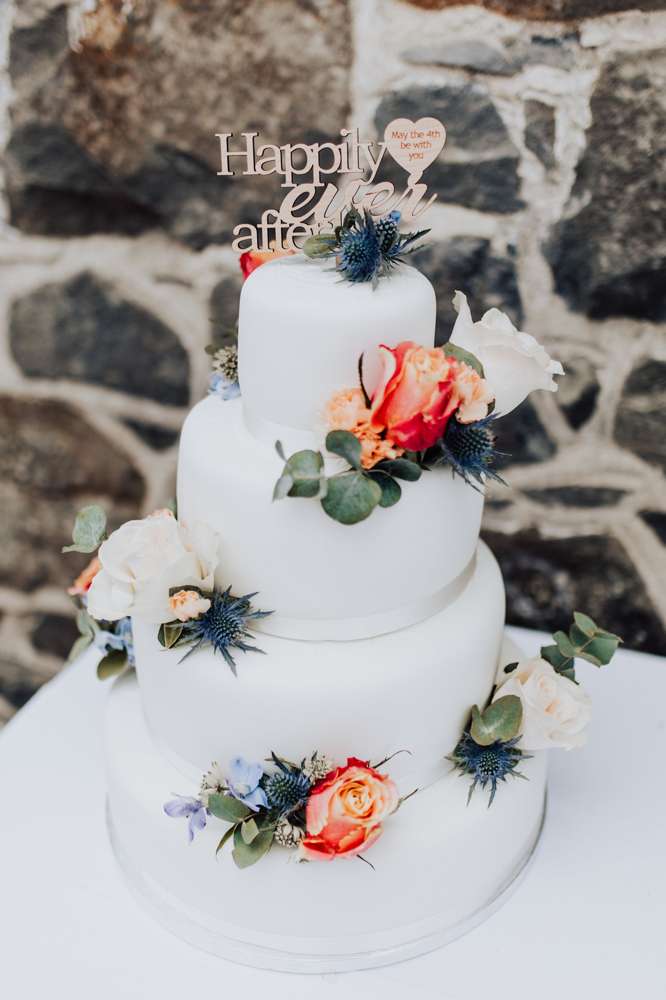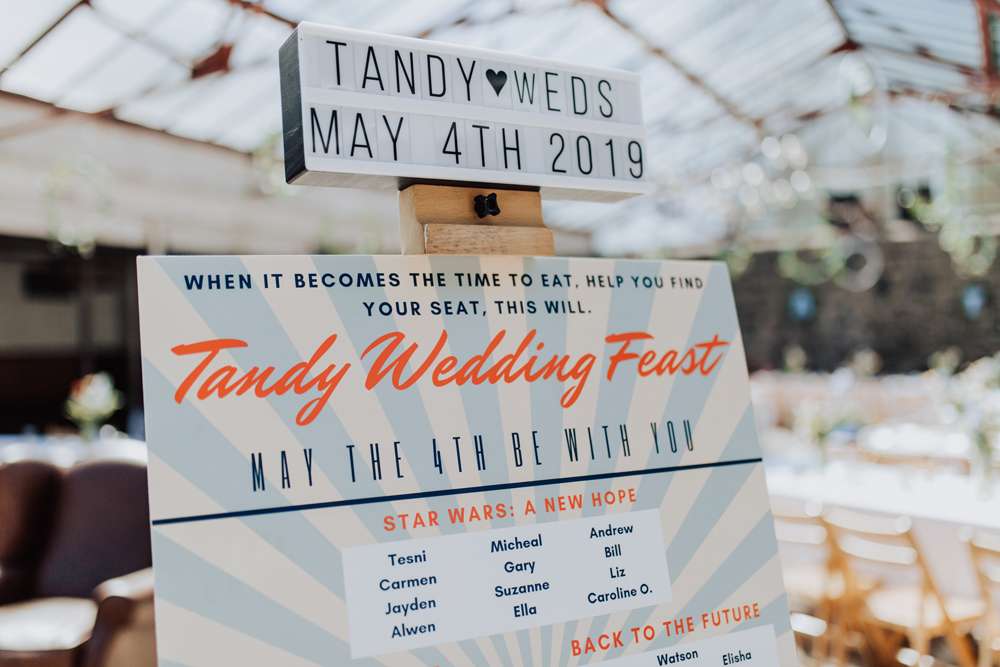 This was very much a DIY wedding. Their self-decorated cake came from Marks & Spencer and the flowers were bought wholesale from Triangle Nursery the day before and arrived by the bride and an army of helpers. They made the centrepieces, buttonholes and bouquets, and Tesni's also included paper flowers made from the pages of her dad's favourite book, The Fifth Elephant by Terry Pratchett. The left-over pages were then hand cut into heart shaped confetti for the tables.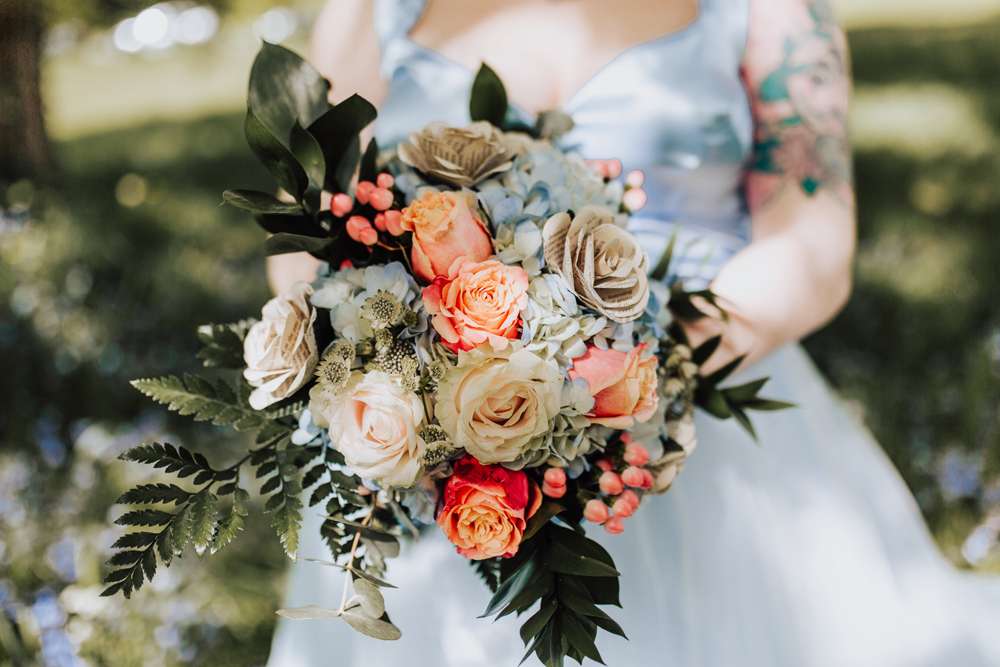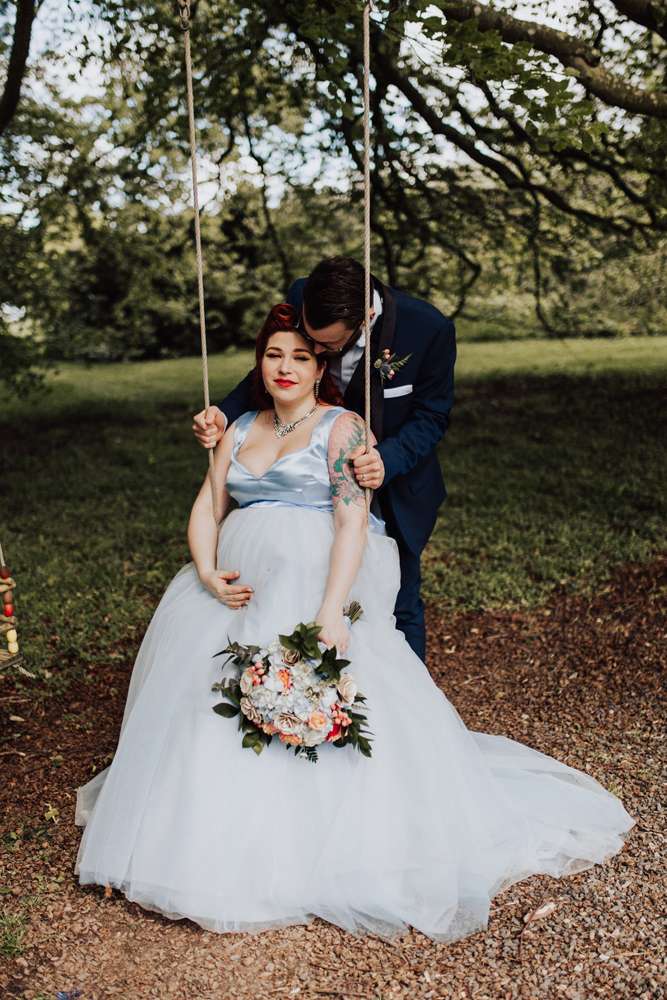 "Along with the flowers, stationery and everything else, we made pretty much all of the decorations ourselves and bought the wines for the meal on a booze cruise to Calais which kept costs down and made for a fun weekend away with our parents too! Andy found images of floral hoops on Pinterest which we loved, so we made our own using spray painted hula hoops and fake flowers, they looked amazing hanging from the ceiling and cost around £200 which was a fraction of what it would have been to have a florist do them."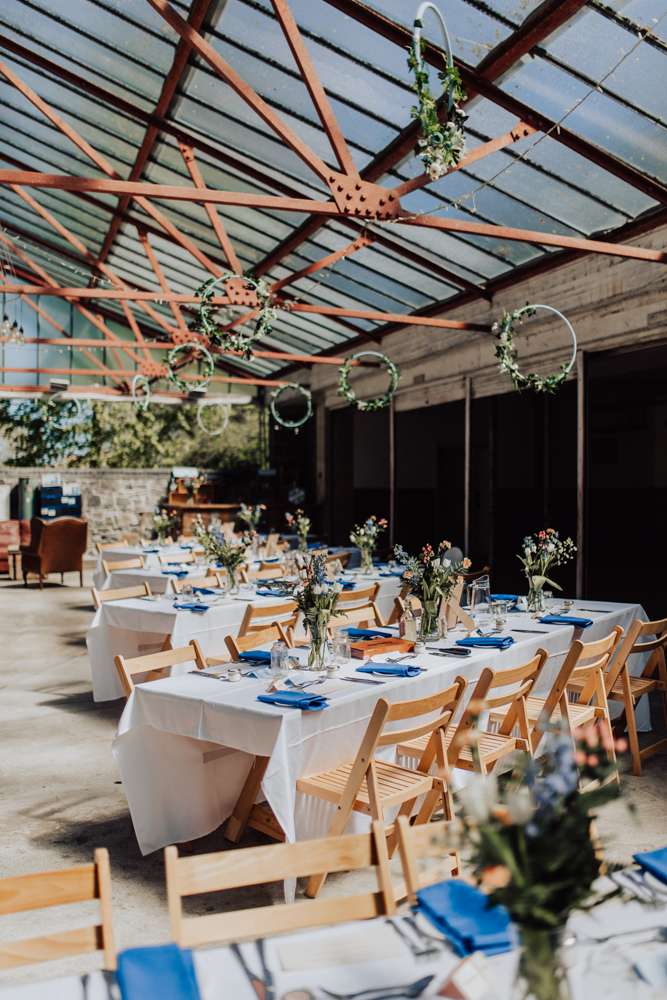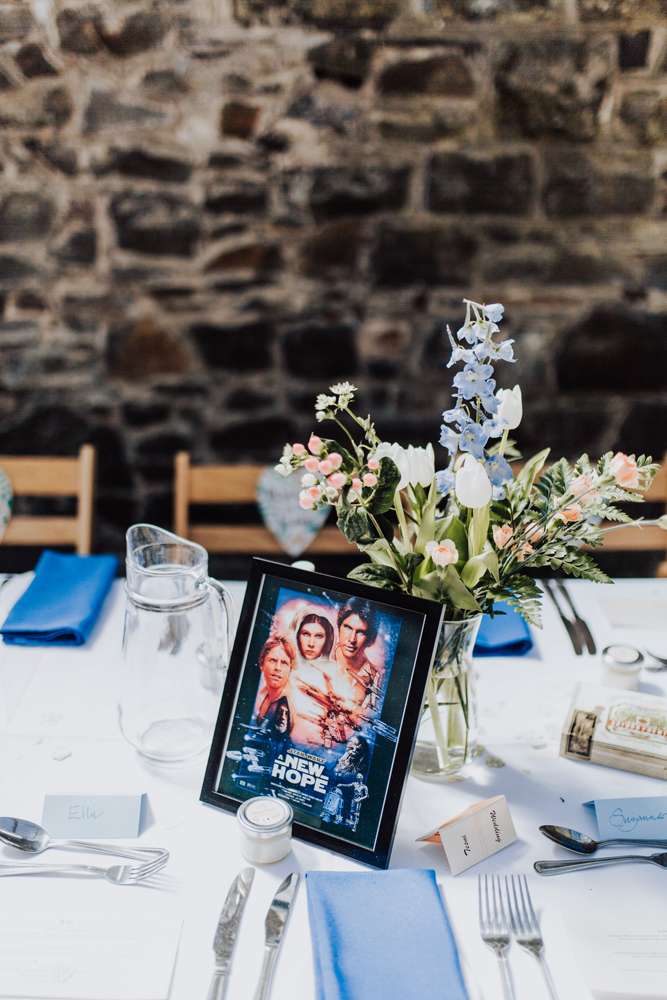 "We're big collectors/hoarders, so used vintage cigar boxes to stash bubbles and mini pencils on the tables and we made up origami 'chatterboxes' with crosswords and word searches to keep people entertained. The kids either got a goody box at the table or a book for the littlest babies so no one was missed out. The table signs were printed movie posters from our favourite films displayed in frames from Poundland which we are now using to display wedding pictures on the walls at home."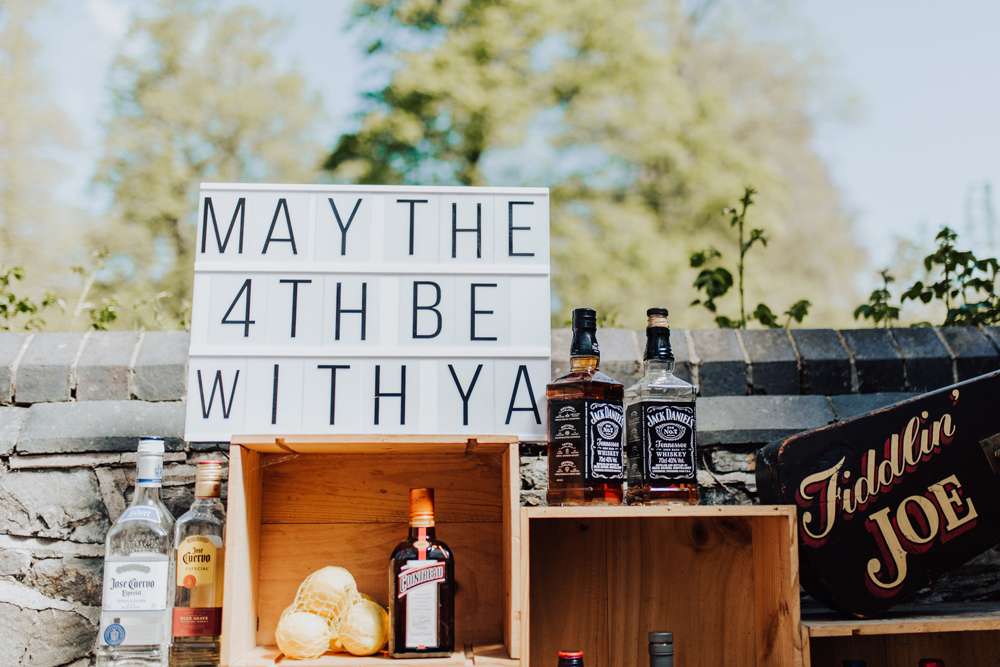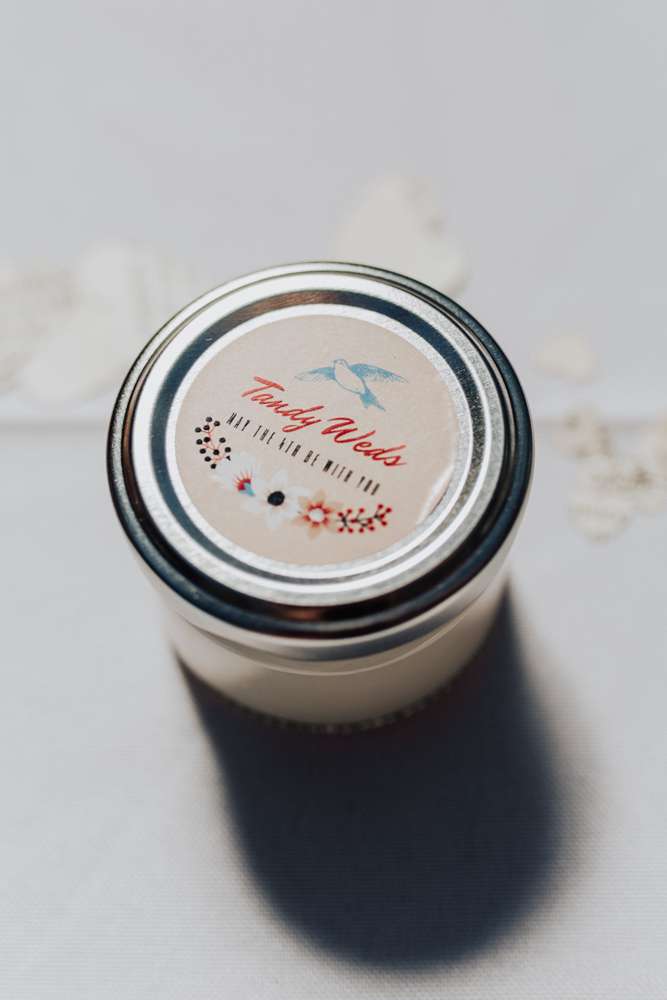 "We also set up a tribute area to my Dad with one of my favourite photos of us at a Dinosaur park, together with one of my Terry Pratchett flowers and a glass of the toast champagne covered with a glass bell jar. We saved this glass and took it down to Tenby on our honeymoon to deliver to the sea where his ashes were scattered. This really helped me and my family to feel like he was as involved with the day as much as possible for a dead dude."
Their advice to anyone else planning their wedding would be to "Talk about what you want together before you do it. Also, we maybe would have pared back some of the DIY projects as there were quite a few bits that didn't actually make it out which went completely un-missed in the end. Think about what you need to do, would be great to have, and then finally what would be nice to include, and then scrap any of the last category if you're running short on time/money/will to live! No one missed the inflatable Lightsabers or half practised first dance waltz – everything was perfect."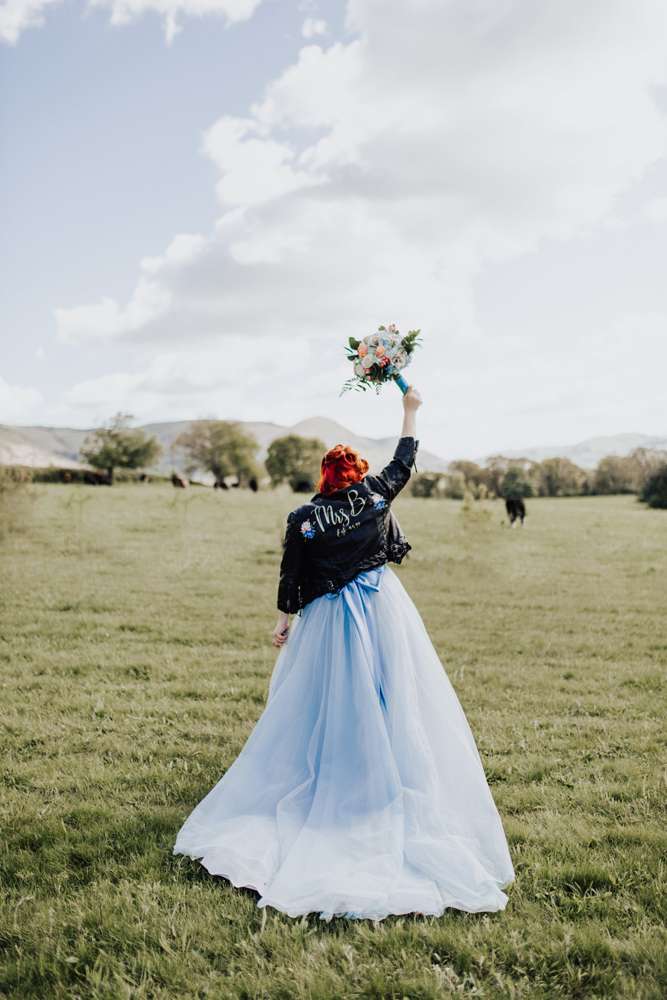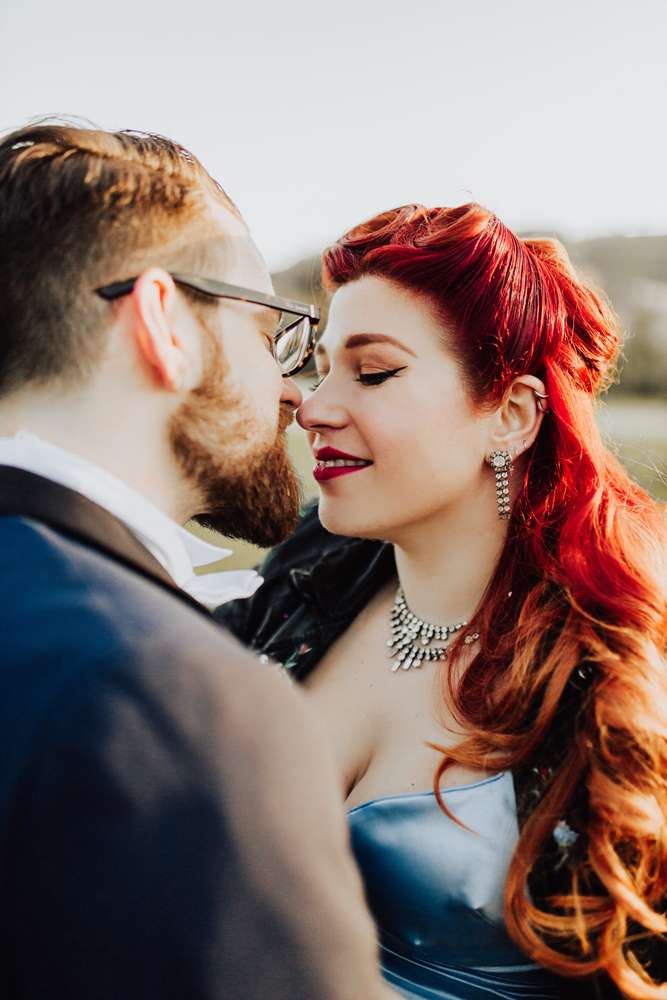 And finally, for other pregnant brides-so-be, Tesni added, "Don't stress about the dress – find someone to adapt the one you have and embrace it! Also, get a pair of wedge heeled trainers as these are a goddamn genius invention and won't fall off your feet like flip flops in the evening. Make sure you have a pair of flight socks you can wear the day before and morning of to minimise foot and leg swells so you'll be in the best shape possible for getting down that aisle. Finally, find a photographer whose work you LOVE as you will look different from normal so it's important your pictures reflect the best of you. Get some beautiful photos with hands on the bump so you can remember that there were three of you making a commitment to each other that day."