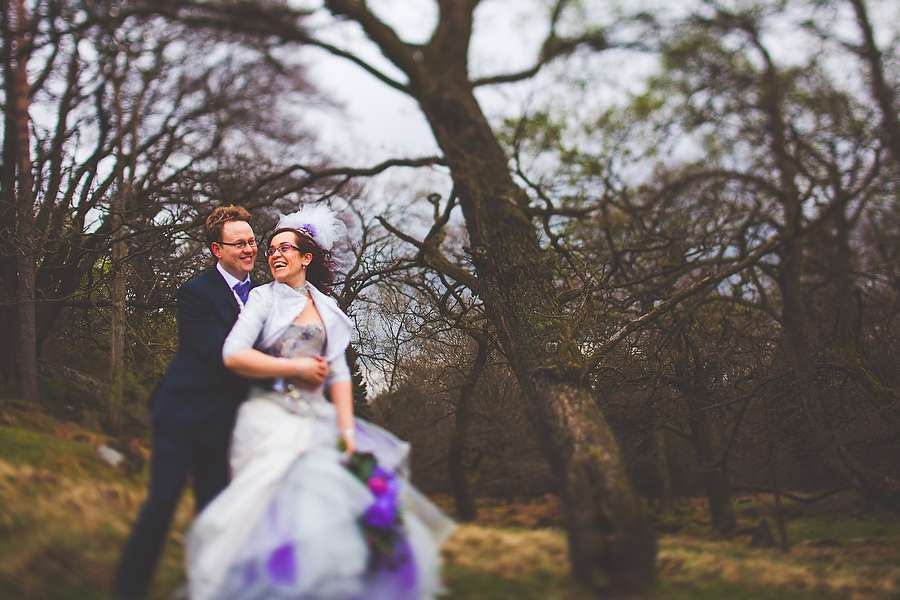 Facebook loves these guys. How do I know? Well because I sneak peeked a photo of them (with the focus on Jane's epic Terry Fox wedding dress) and people went crazy for it. Cue the most 'liked' wedding photograph on my facebook page ever. 430 (and counting) likes to be precise. Mind = Blown.
So needless to say, I'm assuming there's a lot of Rock n Roll Bride's out there eagerly awaiting seeing the rest of this wedding… and just when you thought it couldn't get any better I have 3 words for you.
Star. Wars. Theme.
And yes.. they we're married on May 4th. Contained yourself? Then I'll begin…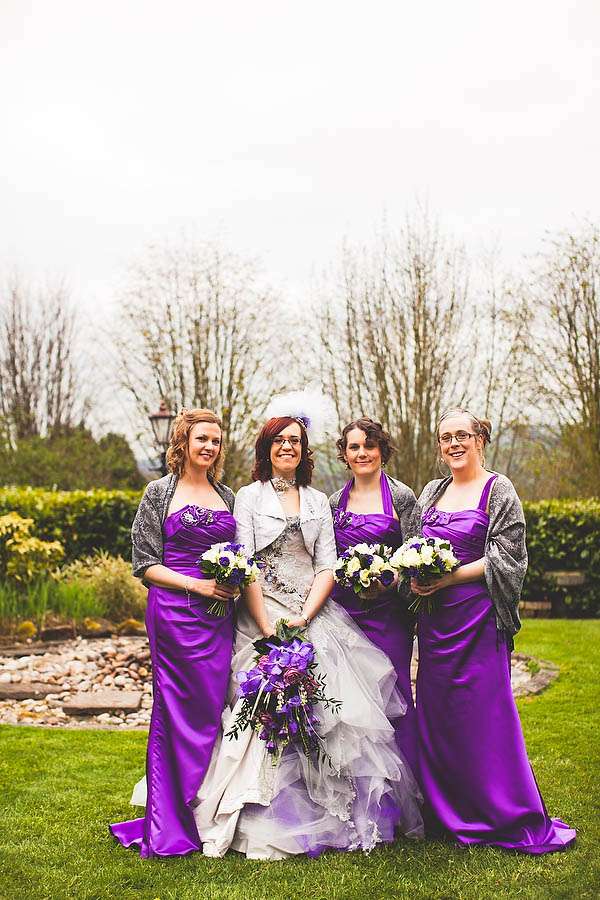 Jane & Neil were married at The Maynard, Derbyshire. "We chose 'Star Wars Day' as our wedding date as we are both fans of the films, proud to be geeks and it tied in with the 'geek chic' theme", Jane told me. "We were also lucky that it was a Friday before the bank holiday weekend.  Plus, how can either of us ever forget our anniversary now? We chose Jon of S6 Photography as our wedding photographer. I knew we were going to hire him as soon as we stepped into his front room and Neil instantly clocked his flat screen tv, PS3 and Xbox 360.  Neil is a gadget and gaming geek and the fact that Jon gave a photo presentation on a digital projector (and his awesome dog loved Neil) sealed the deal. It also helps that he does the most amazing photos and we both fell in love with his blog!"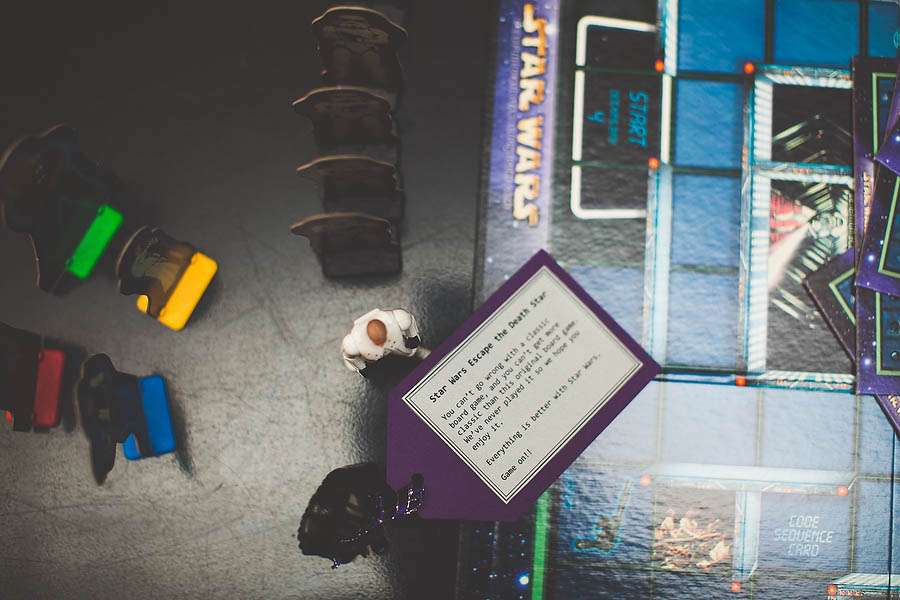 "We were very lucky to find such a perfect venue so close to where we live. The contrast between the old exterior and the modern interior went perfectly with the mix we wanted between traditional glamorous wedding and a funky geek party. The colour scheme of the wedding was purple and silver and the fact that the bridal suit was purple with a red Bakelite phone, similar to the original bat-phone, was just perfect. We also fell in love with the ballroom with its beautiful ceiling, parquet dance floor and purple curtains."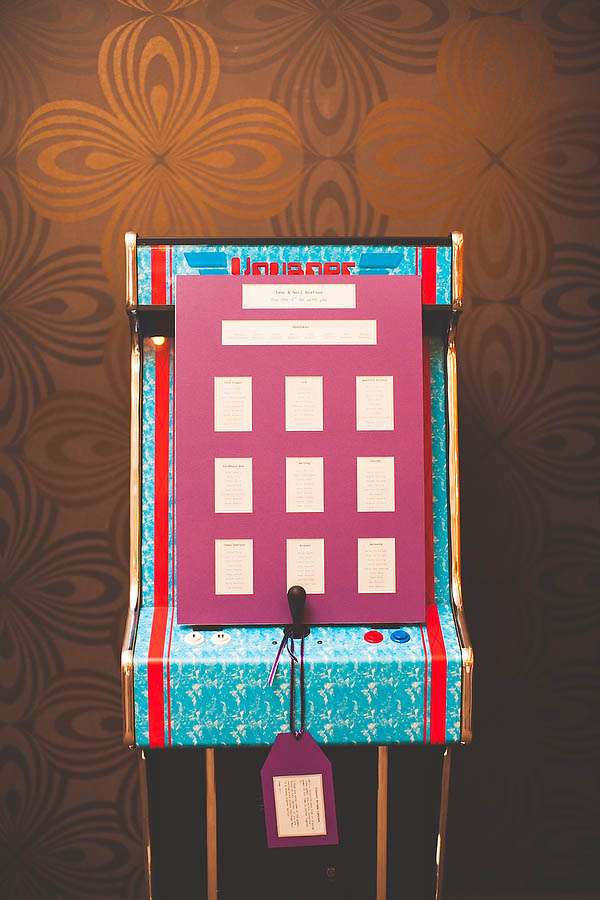 The geek theme continued throughout the reception. From the Super Mario themed wedding cake to the 8-bit and video game themed stationery. "We introduced the geek theme right from the start with an 8-bit (pixel art) wedding cake design save the date, and an 8-bit bride and groom invite. The seating plan, the menus (which we called The Wedding Manual) and the place cards was handmade by my bridesmaids. The table name theme was 'iconic elements from video games' and Neil designed the table name cards for each of the tables. He chose some of his favourite objects, characters, vehicles and special moves from his favourite video games, and included some great 'in game' quotes. We also had star wars themed board games (R2-D2 Operation, Clone 4 (connect 4), Star Wars Guess Who and Escape from the Death Star) and I made tags for each to explain why they were there and encourage our friends to play them, and an arcade cabinet which we rented. It also doubled brilliantly as a seating plan stand. We also found a tin in the shape of a Death Star which we used as a ring box and some great prints by a Sheffield artist called Jim Connolly. The two pictures represented myself and Neil, his was 'The Man of Steel City' and mine was 'Use the Source' (a handy Star Wars link there)."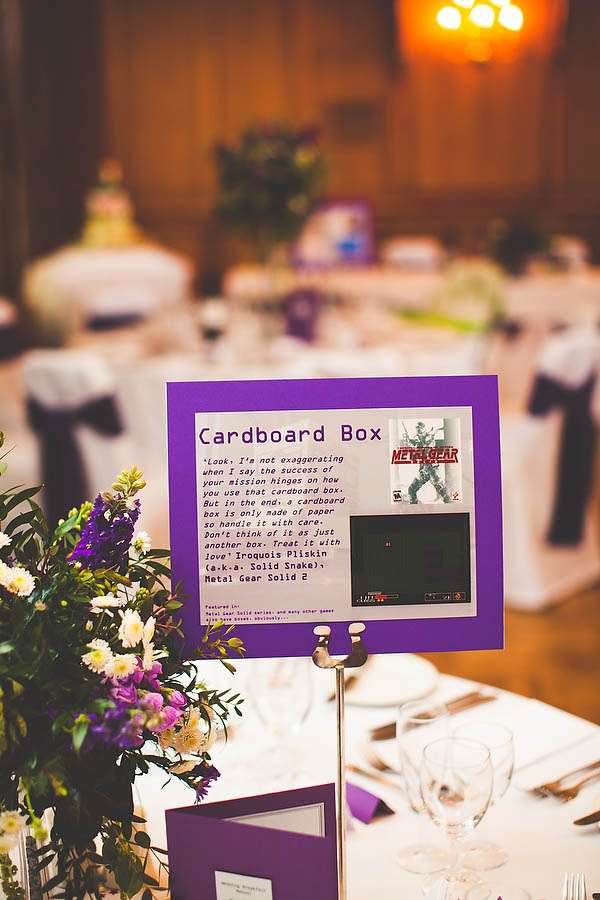 "Music is really important to Neil and he spent a long time composing the track lists for different parts of the wedding", Jane continued. "The build-up music was made up of instrumental tracks and inconic themes from movies, tv and video games which were designed to get more tense and dramatic as the time for my entrance approached, culminating in the Imperial March. My entrance music was the main theme to Superman (which we saw on our first date) and our exit music was the main theme to Star Wars. We also had playlists for the wedding breakfast and all the breaks. Our first dance was the theme to Star Trek Enterprise (Faith Of The Heart by Russell Watson), and in the break between the Ceilidh Band's performances I moshed to Nirvana's 'Smells like Teen Spirit' (which has been a dream of mine for a while to mosh in my wedding dress)."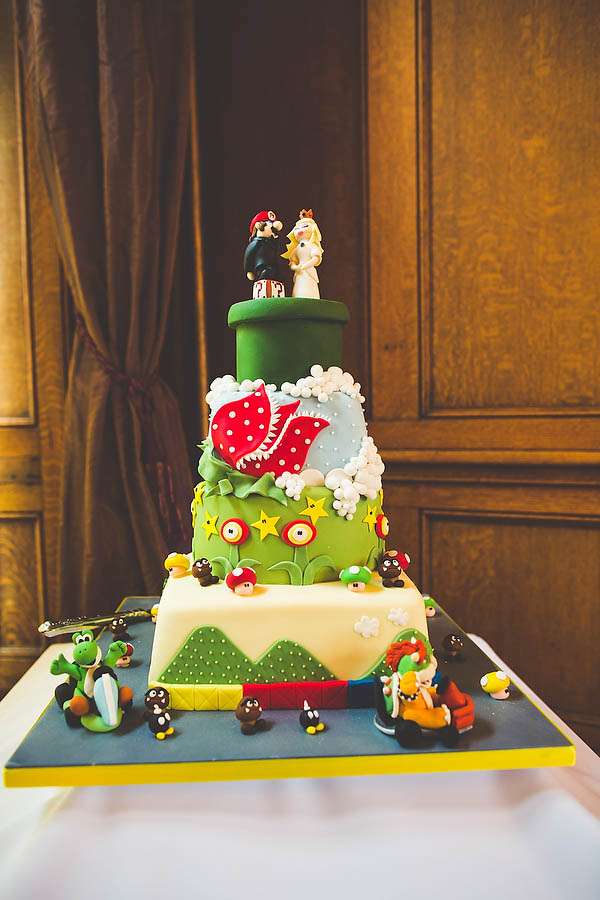 "Our inspiration came from our love of everything geeky and the fact that we are proud of it", the bride concluded. "We wanted to do something different that matched our personalities and would mean that everyone would know this was our wedding. The date of May 4th meant we were going to have a lot of Star Wars references in the wedding, but we didn't want just 'a Star Wars themed wedding' as our love of geekery is much wider. Neil had the initial ideas for the Mario cake, video game inspired table names, arcade cabinet and music, then we worked together to get them to be just right for the big day.  We weren't afraid of doing things differently. The fact that we worked together to make it our special day, combining both our loves and interests meant that we had an amazing individual day that was very unique, really fun, and very us."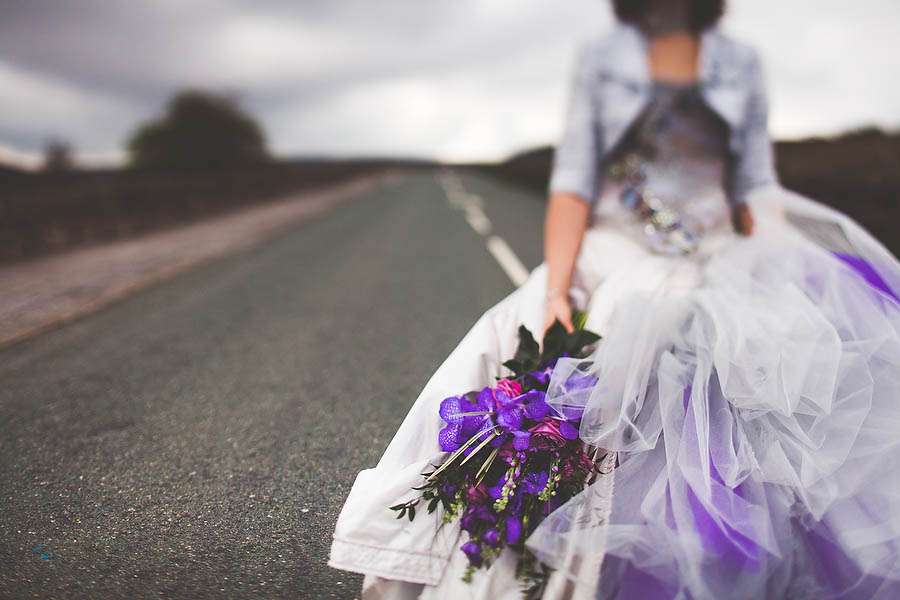 AAAAAMAZING! I'm utterly loving the geeky weddings right now (as is Gareth, unsurprisingly they're his favourites!) so huge love and thanks to Jane & Neil and photographer Jon for sharing today.
Supporting Cast:
Photography Credit: S6 Photography
Venue: The Maynard, Derbyshire
Bride's Dress & Accessories: Terry Fox
Bride's Shoes: Irregular Choice
Groom's Outfit: Moss Bros
Bridesmaid's Dresses: Kelsey Rose
Cake: Love Candy Cakes
Flowers: The Green House
Hair: Amanda Fox
Band: The Foolish Virgins
Stationery: DIY